It is an exciting moment when you have decided to get a German Shepherd to join your family. They are beautiful dogs, and are very popular, ranking second in popularity in the United States by the American Kennel Club (AKC) and ranking highly as the choice of dog for the military or as a security dog.
But most of all they rank highly with families as the GSD (German Shepherd dog) develops strong bonds and affection for them. In this article we will look at the best breeders within the Wisconsin area, that will assist you in your search. If you are unsure about how to choose a good breeder, please check out this guide.
We have a lot of content to cover, so let's dive right into our list of breeders please note that they are in no particular order.
1. Alpha German Shepherds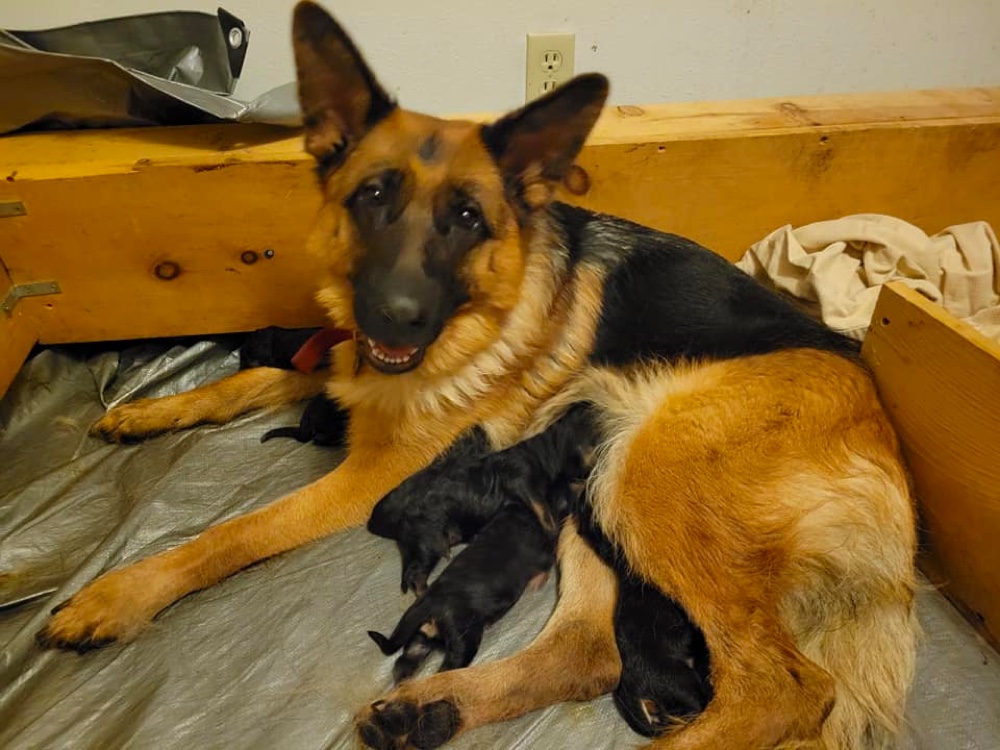 The team at Alpha is an enthusiastic and dedicated bunch of people who love what they do and are dedicated to producing the cutest, healthiest, top-quality GSD pups. Alpha is a small family breeder of German Shepherds but that will work for your benefit if you are looking to purchase a puppy, as the breeder gives personal attention to all puppies born into their care. The puppies and dogs live in the house with the family, which means from the day they are born, they are handled and socialized which is of vital importance for any young pup.
The breeders at Alpha are confident that their puppies have championship potential and that the puppies come with a written health and hip guarantee. And once you purchase, you get a health certificate from the vet and receive the pedigree going back 3 generations and a full AKC registration paper. A bonus is that they offer a shipping program so that you can still order your precious puppy even if you live out of the state.
2. Roche's German Shepherds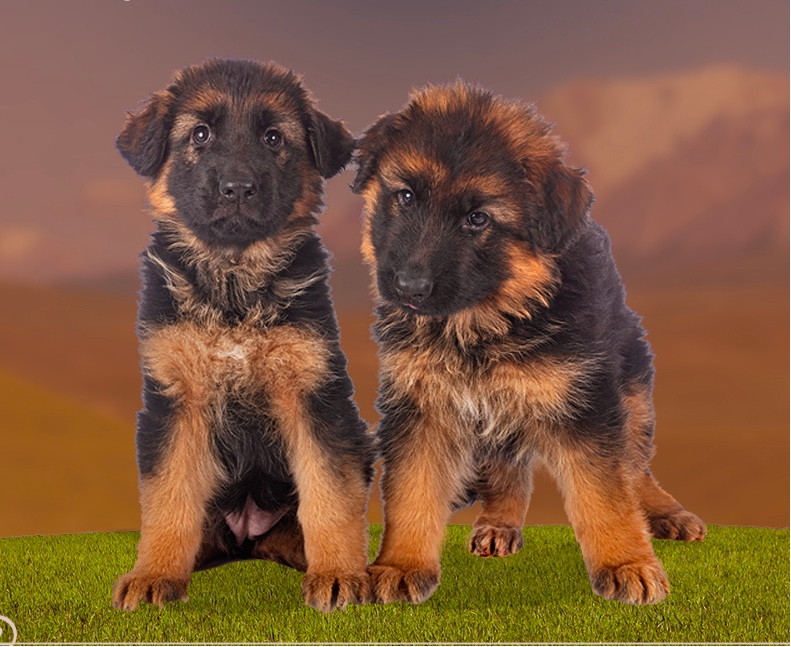 Their idea when they started was to produce a top-caliber German Shepherd that had a superior temperament and a pup that had character, and nerve and one that would be an ideal family pet. They have certainly achieved this goal. With three of the Roche's bloodlines rated VA 1 by the World German Siegers Show (which is the highest honor for any GSD) it has made them one of the sought-after breeders of the breed. The puppies produced by the Roche Breeders are highly prized and are perfect for families, they are good workers excelling in search and rescue organisations, the police and so much more. The breeders do not fly their puppies to owners, but ground transport can be arranged for an additional fee.
Roche pride themselves on raising their puppies in a home environment, which produces puppies who display courage, intelligence, and loyalty that can only be obtained through ethical and respectful breeding. Plus, they stand behind their dogs and will respond to any problems you may have which gives a high level of trust and respect.
| | |
| --- | --- |
| Owners | Jeff and Rhonda Roche |
| Breeder history | Began in 2009 |
| Location | Woodview Trace, East Troy Wisconsin |
| Email | pedigreegermanshepherds@gmail.com |
| Phone number | 262-592-3009 |
| Website | pedigreegermanshepherds.com |
3. Casamoko Shepherds
Casamoko Shepherds are very conscientious breeders who have two to three litters per year. They proudly state that they are not a kennel that has numerous litters, as the health of their dogs and puppies is paramount to their breeding. They are a proud AKC Breeder of Merit which means Casamoko has been honored as a responsible breeder who has gone above and beyond on health issues, temperament, and genetic screening as well as placement of puppies in responsible homes.
Their dogs are well-socialized and attend training classes from an early age. The puppies are raised as part of the family and the breeders say that they breed as a hobby, and not a business. Many of their dogs compete in obedience, agility therapy work, service dogs and so much more. These shepherds are blessed with dedicated and caring people, and it comes through in the canine offspring.
| | |
| --- | --- |
| Breeder history | Began breeding in 2005 |
| Location | Somerset Wisconsin |
| Email | kthalfen@hotmail.com |
| Phone number | (401) 248 4634 |
| Website | casamoko.com |
4. Vom Geliebten Haus German Shepherd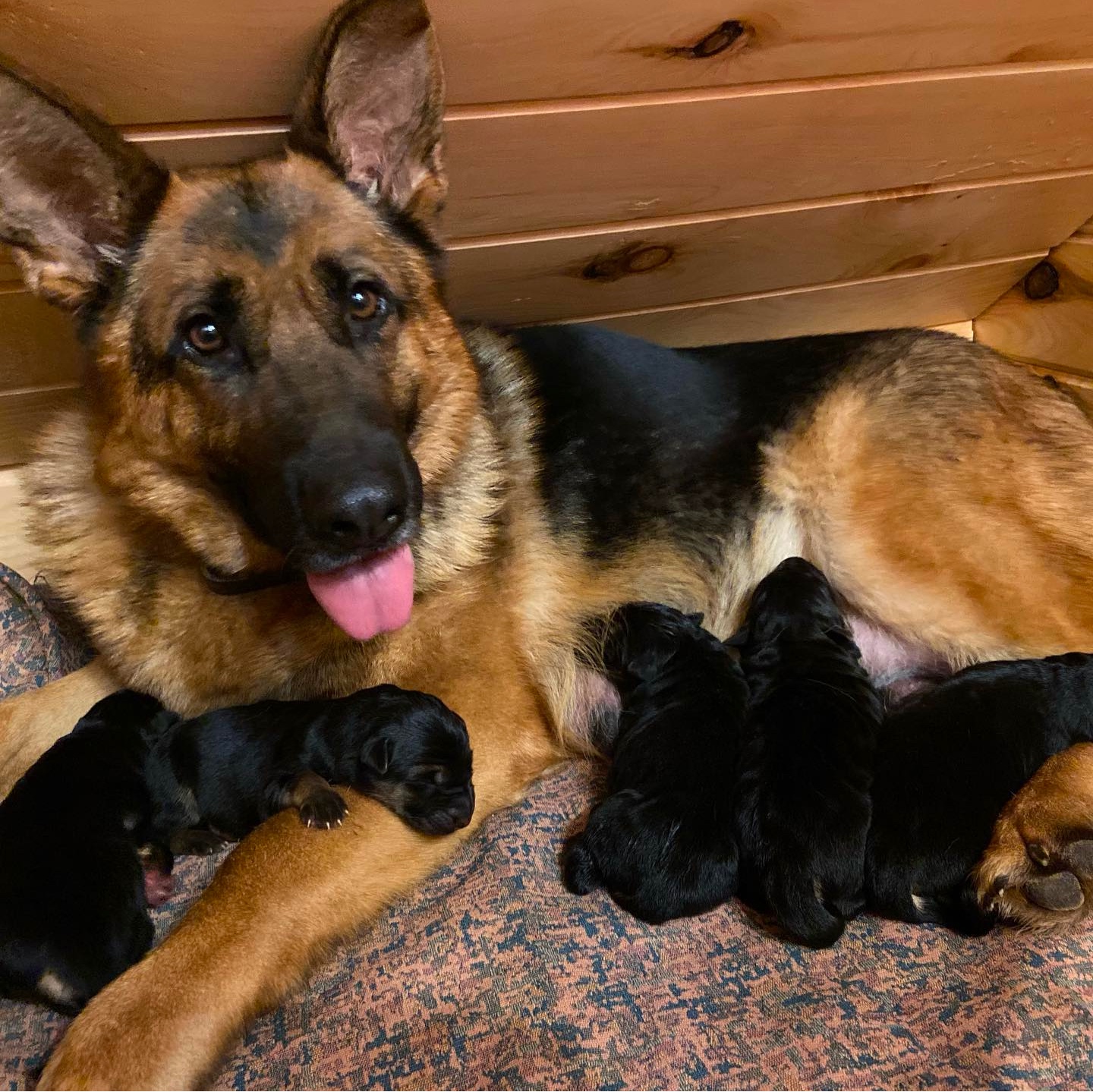 What a perfect location for a dog breeder – 60 acres of farmland close to Menomonie Wisconsin! The dogs and puppies are part of the family way of life, they live in the family home complete with children and adults, so they learn how to interact with people very quickly. They are socialised from the moment they are born not only by family members but by many visitors and friends of the family. Vom Geliebten Haus prides itself on being a small family breeder and the family owns all the dogs, so they take active management of the breeding. They ethically refuse to overproduce puppies quoting their motto that they strive for quality, NOT quantity.
It is a busy learning time for the active little puppies who give their mum the run around with their mischief. At eight weeks of age, they get to meet the vet, and get examined, microchipped, and vaccinated. I bet the staff at the vet's just love handling those adorable pups. Ground delivery for your puppy can be arranged for an additional cost, although they suggest air cargo service for longer trips.
5. Brimka Haus
Not just a breeder but one with strong ethical standards. They are against breeding any dog of any breed that is not certified free of hip and elbow dysplasia (as are most reputable breeders).
They also have strong views regarding diet preferring a raw food diet for their dogs, they reject spaying and neutering as they fear it can lead to increasing a dog's aggression, and don't re-vaccinate after shots unless it shows the puppy is not immune, which they make clear to potential buyers. All their concerns are geared toward producing a happy, confident dog for both the breeder and the new owner. All puppies are AKC Registered and come with pedigrees.
It was noted that many buyers left comments about the great information they get when they purchase a puppy which covers all those sudden concerns about what to feed a new pup and suggestions like playing classical music to calm them, and so much more. So, their care doesn't stop after you drive away with your new puppy.
| | |
| --- | --- |
| Owners | Brimka Haus |
| Breeder history | Started in 1994 |
| Location | Madison Wisconsin |
| Email |  laura@brimkahaus.com |
| Phone number | 608-405-6360 |
| Website | brimkahaus.com |
6. Von Der Stadtrand German Shepherds
A deep love of animals, especially the German Shepherd, plus the best of German import bloodlines has produced a dog that is loyal, loving, and intelligent. Not only that, but they are amazingly obedient and protective towards their family. The famous dog Rin Tin Tin canine star of yesterday's movies is the inspiration behind their dogs. People who have purchased a puppy often turn out to be repeat customers who rate the Von der Stadtrand breeding program as a five-star breeder. The puppies are perky and very playful, little bundles of fur with adorable floppy ears which give it instant appeal. Their dogs are active competitors in Schutzhund and Conformation shows over the last 20 years. But they are also great family dogs that look great, perform beautifully, and have a heart of gold.
7. Kenlyn German Shepherds
A home of many champions, Kenlyn German Shepherds are not strangers to awards for their beautiful German Shepherds. In 2018 they were awarded Dog of the year award, and their dog Rumor was no stranger to awards, clocking up 104 All Breed Best in Show wins! Kent and Liz breed exceptional dogs that produce puppies for show, performance, and especially for family companions.
Their dogs are impressive as you will see from their photos on their website. But more impressive is their dog's desire to please, and the great disposition that their dogs exhibit. Their German Shepherds are a versatile breed whether they are in service, as a show dog or if you just want a loving dog to add as a family companion, Kenlyn German Shepherds can help you find the beautifully healthy, strong in build, and a real softie of a companion that has a hidden protective edge.
| | |
| --- | --- |
| Owners | Kent Boyles and Liz Oster |
| Breeder history | 30 years of experience |
| Location | Edgerton, Wisconsin |
| Email | kentboylesgsd@aik.com , marquisgsd18@msn.com |
| Phone number | (608) 201-3034 |
| Website | kenlynshepherds.com |
| Facebook | Kenlyn German Shepherds |
8. Inferno Shepherds
A small home-based breeder on a rural 9-acre property. The dogs are family members and live with them in their home. The puppies are socialized thoroughly, and they are used to being picked up, talked to, held, and love any game that you may initiate. The puppies come with AKC papers, a health guarantee, a puppy kit, and LIFETIME buyer support. That is how confident the breeder is that you will love their shepherds. Their puppies are health tested and health guaranteed.
Inferno Shepherds have OFA hips and elbows which is very important as some German Shepherds can suffer from hip joint dysplasia which is a painful condition. The breeders believe that careful breeding and raising those cute furry pups the right way from the start makes a desirable solid adult.
| | |
| --- | --- |
| Owners | Rena Christman |
| Breeder history | Breeding since 2010 |
| Location | Rice Lake, Wisconsin |
| Email | infernoshepherds@gmail.com |
| Phone number | (218) 391-8224 |
| Facebook | |
9. Zeal German Shepherds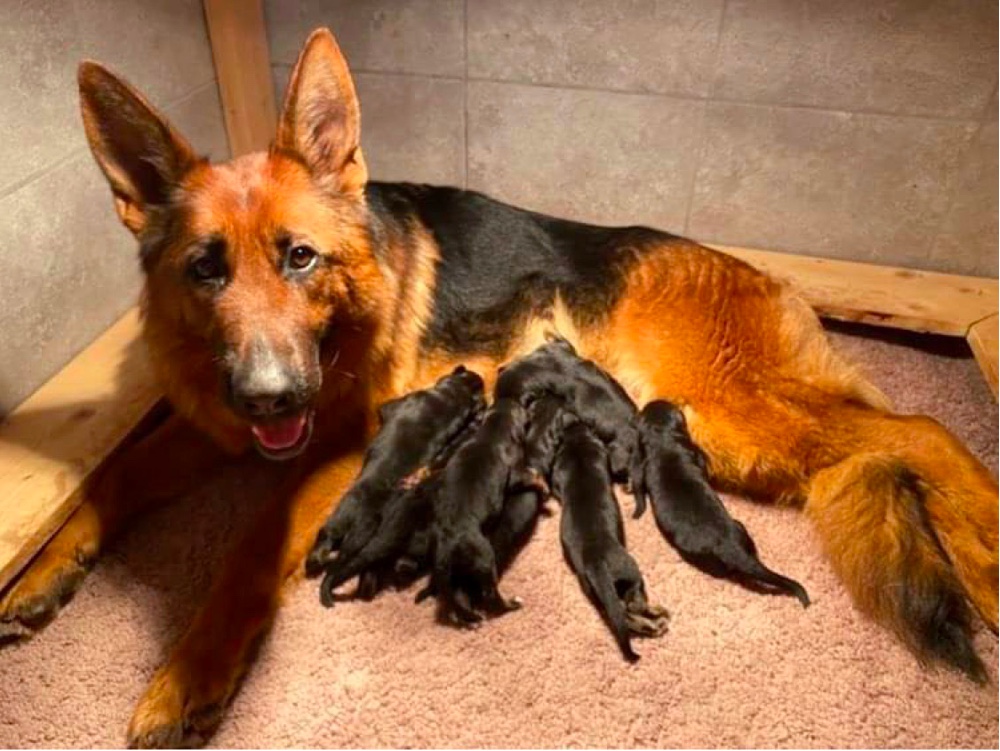 The goal of Zeal German Shepherds is to be producing the finest German Shepherd litters of puppies for sale in the world. They only have the first-generation progeny of World Champion German Shepherds at their kennels, with many more champions in future generations. They import litters from the top breeders in the world to build the strength of their future champions. Their dogs are gorgeous, and their temperament is impeccable. Boasting a strong physical build, beautiful snouts, and dark eyes, they can look right into your soul. They are members of the AKC and expect nothing less than excellence and they believe you should too.
| | |
| --- | --- |
| Owners | Kevin and Steve Zawilinski |
| Breeder history | 10 years of professional experience |
| Location | Door County, Wisconsin |
| Email | info@zealgsd.com |
| Phone number | (847) 770-7861 |
| Website | zealgermanshepherds.com |
| Facebook | |
10. Foxwood Kennels
Foxwood is a State Licensed Dog Breeding Facility that breeds top-quality family pets and companions. They pride themselves that by selective breeding has led to a beautifully proportioned dog with the proper angle and stable temperaments. Most of their puppies go into homes as companions and confidants. But some have excelled in training as excellent tracking, Search & Rescue, and in the search for Narcotics.
Foxwood Kennels produce a dog with large heads, heavy bone structure, and large feet with tight toes. Their adult dogs are impressive, while their puppies are adorable. Puppies are sold with a 1-year guarantee, health record, major discounts to a local veterinarian clinic as well as handling and housetraining instructions. All purebreds will also leave with limited AKA registration papers.
| | |
| --- | --- |
| Owners | State Licensed dog breeding facility |
| Breeder history | 28 years of experience |
| Location | Little Rapids Road, De Pere Wisconsin |
| Email | foxwoodkennels@yahoo.com |
| Phone number | 920-336-8780 |
| Website | foxwoodkennels.com |
| Facebook | |
My Top Pick
My personal pick from the list of German Shepherds breeders is Alpha German Shepherds for the following reasons.
They are a very family-oriented breeder, and their dogs and puppies live with the breeders in their house, so the dogs are used to family life, being handled, and being used to people.
Alpha breeders also supply a lot of information about their dogs, and I love that they offer pedigree going back three years to the new owner. The puppies or dogs come with a health certificate from the vet and a hip guarantee. On top of that, they do offer a shipping program if you are out of state.
But what we think shouldn't be the only thing you take into consideration.
Do your research and see what breeder resonates with you and be sure to ask the right questions and get the documentation and certifications that you require.
It may take a bit of time to do your research, but it will be well worth the effort.
You might want to check: Top 4 Best German Shepherd Rescues in Wisconsin
German Shepherd Breeders in The Other States
German Shepherd Tips and Resources