If you have decided that it's time for a new German Shepherd puppy or you are thinking about getting your first German Shepherd, you need to be sure that you know how to get connected with the right breeder. Dog breeders are not governed by any central organization that tells them how to run a business, and it can be easy to get connected with a puppy mill instead of a really good breeder who breeds responsibly.
Looking for a dog involves a lot of emotion, and it can be really stressful if you are not sure what to look for when shopping for a breeder. You will need to be certain that you are not going to buy from a breeder who will break your heart by breeding a dog that is not healthy. German Shepherds are a breed that can have some very serious health concerns if breeders are not responsible about the litter that they are creating. You will want to know what to look out for so that you can get a puppy that is healthy and bred to be a fun and happy companion for you and your family.
If you are ready to learn some more about how to find a reputable German Shepherd breeder and what to avoid when shopping for dogs, you should keep reading!
What is a Reputable German Shepherd Breeder?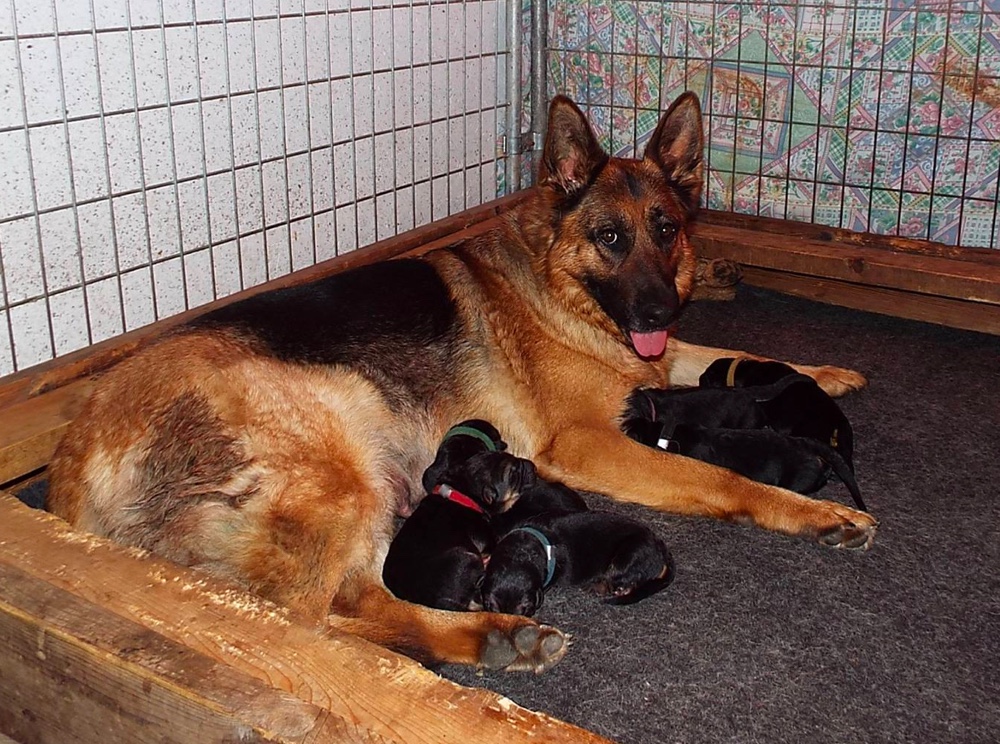 Reputable in the dog world means that the breeder is focused on improving and preserving the breed. The breeding programs of these breeders are focused on making sure that there are no defects inside their breeding program and that common health issues for the breed are not a factor in their breeding program. This means that eye issues, heart issues, dysplasia issues, and more are not a factor for the program due to selective breeding and testing of the dogs included in the breeding program.
The breeder does not have to be AKC recognized to value these kinds of careful considerations, but it is typical for most reputable breeders to be AKC-recognized breeders or breeders of merit. The breeder might also be recognized by a sport dog breeding association if they are breeding working or performance dogs instead of show dogs. These breeding programs will be governed by different kinds of considerations if the dogs are to be used for hunting or other kinds of sport than if they are to be used for shows.
Reputable breeders are known as ethical breeders, and this is important even when you are looking for a pet-quality dog. You will want to have a nice dog that is also healthy, and that will get to enjoy a long lifespan. Having your heart broken by a dog that is not healthy from a young age can be avoided in most cases.
How do I Tell That a Breeder is Reputable?
There are some key things that you need to look for when you are trying to decide if a breeder is reputable or not. These things can usually be determined just by looking at the breeder's website, but you might need to call the breeder and ask some questions if the information is not already available online.
1. Spay or Neuter Clause
All reputable breeders will have a spy or neuter clause to make sure that people do not buy their dogs to use for at-home breeding programs. This means that you cannot keep the animal that you buy from the breeder intact and be in compliance with your purchase contract. While people do sometimes disregard the spay or neuter clause, most breeders will insist on having one signed if they are reputable.
2. Health Guarantee
All reputable breeders will offer a health guarantee that outlines which kinds of conditions they have certified their dogs for. This means that hip and elbow dysplasia, eye issues, heart problems, and more should be mentioned in the health guarantee. This is the most important factor for most people, even if you are shopping for a pet-quality dog. You will want to be sure that you can surrender a sickly dog back to the breeder if there are problems that you cannot afford to care for or are not skilled enough to address on your own.
3. Return Agreement
The return agreement will cover what conditions are allowed for owners to return puppies. Most reputable breeders will allow a no-questions-asked return policy so that no dogs that they have bred will end up in the pound. You will want to be sure that you check on this part of the contract since owning a German Shepherd is not for everyone. You don't want to be working with a breeder who will not take back a dog they have bred if you run into trouble with caring for your pet.
4. Puppies Are Only Sold Through the Breeder
A reputable breeder will never sell puppies through a pet store or any other seller. A reputable breeder will only sell directly to their customers. This is one of the things that most people are not aware of when they are shopping for a German Shepherd. If you see a German Shepherd in a pet store, you need to be aware that this dog likely did not come from a responsible breeding program. Shopping directly from the breeder is key if you are looking for a purebred dog of any kind.
5. The Dogs Are in Good Condition
Always look at the pictures of the dogs that are on the website to make sure that they are in good shape. If the breeding pairs look old, sickly, or not otherwise in good condition, you will not want to get a puppy from the breeder you have been researching.
6. The Breeder Will Agree to Meet With You
If you have a dog breeder in mind who will not agree to meet with you in person, you should be worried. While not every breeder has the time to meet with everyone who wants to get a puppy, most breeders will be sure to meet with every potential new owner of a dog that they have bred. Breeders usually love to show off their dogs and their breeding program, and you should be worried if you are not allowed to come to see the animals that the breeder owns before you reserve a puppy.
7. Pricing
The pricing of a reputable breeder will be in line with other purebred dog breeders of German Shepherds. You will have to spend about $1,000-$2,500 for a purebred German Shepherd. Prices that are much lower or much higher should be viewed with suspicion.
How do I Tell if a Breeder is a Backyard Breeder?
Besides the above factors that will help you to identify a skilled and responsible breeder, you can also look out for some other common signs of irresponsible breeding.
1. Puppies are for Sale Only on Holidays
Puppies that are sold just at holidays or during peak seasons when people will be looking for a puppy for kids is usually a hallmark of a backyard breeder. If the dogs are advertised just to kids or just to locals, this can also be a key sign that you are dealing with a backyard breeder.
2. Pets Are For Sale At Places Like Grocery Stores
If you see German Shepherd puppies for sale at a grocery store or a mall, you will know that you are dealing with a backyard breeder. These kinds of practices are not ideal at all for the welfare of the puppies, and you should steer clear of this kind of puppy purchase every time. A not responsible breeder will never sell dogs in settings like this without being sure who they are selling to.
3. Puppies Look to be in Poor Health
If the puppies seem to be in bad condition, you will also want to steer clear of getting a puppy from this breeder. You will start out behind the eight-ball if you get a puppy that is not healthy and is struggling to get well. If you are up for trying to rehab a sick pet, then you can choose to get a sickly dog to save it from a sad life, but you need to be aware of the kind of journey that this will place you on.
Some Things to Look for When Considering Breeders
| | | |
| --- | --- | --- |
| Criteria | Reputable Breeder | Backyard Breeder |
| Purchase contract | Yes | No |
| References | Yes | No |
| Breeding justification | Preservation and improvement | Money |
| Knowledge | Lots | Limited |
| Adheres to Breed Standards | Yes | No |
| Health Screening | Yes | No |
| Return to Breeder Clause | Yes | No |
| Waiting List | Yes | No |
| Breeding types | One or Two | Multiple |
| Recorded Lineage | Yes | No |
| Genetic Screening | Yes | No |
| Breed Club Member | Yes | No |
| Involved in Sports or Show | Yes | No |
| Sustainable breeding practices | Yes | No |
| Can visit puppies and breeder | Yes | No |
How do I Find a Reputable Breeder?
If you are not sure that you are able to determine which breeders are reputable just by doing your own research, there are some other ways that you can get connected with a reputable breeder. You will be able to use these resources in a variety of ways just to make sure that you are getting a list of dogs that are perfect for your goals.
1. Talk to a Vet
Your vet or another reputable vet in the area can help you to find breeders with ease. After all, they see all the animals in your local area that have health issues, which means that they are familiar with the breeders who are not creating healthy dogs. You will be able to get a list of dog breeders you do not want to work with as well when you reach out to a vet to find a reputable breeder.
2. Dog Shows
Dog shows can help you to track down the right breeders who are creating dogs who are healthy, meet breed standards, and are bred for great personalities and temperament traits. You can see the dogs that the breeder creates in person, and you will be able to get connected with the wider breed community when you visit a dog show.
3. German Shepherd Clubs
German Shepherd clubs are common, and you can get a list of breeders to work with from these groups as well. These are the kinds of organizations that are concerned with the welfare of the breed, and they are a great resource for finding the right dog for your needs and your preferences.
4. Friends and Family
Do you have a friend or a family member who has a German Shepherd? Maybe you will want to get a dog from the person that they shopped with for their dog. This can be the best way to get in touch with a breeder who creates quality litter without having to do a bunch of research.
Questions to Ask Breeders When You Are Doing Research
1. Have the Puppies Been Socialized?
This is a key factor for success, particularly when you are a pet owner looking for a dog that will integrate readily into your family. Puppies should be socialized right away and should continue to be handled and trained as they are growing up at the breeder. You will want to be sure that you are not getting a dog that has never been handled, as this can lead to issues like biting, running away, and fighting with other animals in the house.
2. Can I Meet Your Dogs?
You will need to be aware that some breeders are very cautious about their meet-and-greets because of the risk of infection and other issues that can be caused by letting dogs meet the public at large. Make sure that you ask if there is a time that they do meet and greets or if there is an event that the dogs will be attending to compete that you can use as a means to see the animals that the breeder is creating. This can be a big issue for those who are not even sure if they will get along with a German Shepherd, and you might want to avoid breeders who will not let you meet any of their dogs, even if they are reputable for this reason. You should be certain that you want to have a German Shepherd in your life before you get one, and meeting the parents can be a big benefit toward making an informed decision.
3. Are the Parents Registered Dogs?
While it might not matter to you to be able to access AKC registration for your dog, you should still consider AKC registration mandatory if you want to be sure that your dog has been bred responsibly. Being certain that your dog's parents are AKC registered can help to prove that you are working with a skilled and responsible breeder. The AKC requires that certain standards be met for dogs that are registered as breeding animals, and this means that your pet will be more likely to have been bred to meet set standards that are designated for the welfare of the breed.
4. Will You Deworm and Vaccinate?
Responsible breeders will always deworm and vaccinate their puppies before they are released to their new owners. This is one of the best ways to make sure that the breeder that you are working with is an experienced and responsible breeder. Plus, puppies have to stay at the breeder until they are past the date of the recommended first worming and vaccination age. If the breeder is unwilling to provide these services, you will want to find another breeder to buy from.
5. Have the Parents Been Tested for Health?
Qualified breeders will make sure that they test the parents of all of their litters. This testing helps prevent passing on health conditions that are not good for the welfare of the breed and not ideal for the future owners of the puppies that the breeder is making. Responsible breeders will be able to tell you which tests they perform on their breeding pairs, and they should be willing to provide information about the testing specifically if it is requested.
6. Do You Have Pink or White Pedigree Papers
This question means that you are asking if the breeder has pink pedigree papers, which means that the father and mother have both been surveyed. These certifications state that the dog has an ideal temperament and that they are fit for protection work. White papers indicate that the dogs have not been surveyed, but they have been graded. While these things will matter more if you are looking for a working dog, these papers can also help show that the breeder is experienced and that they are breeding for temperament as well as physical attributes.
Reasons That it is a Great Idea to Shop With a Breeder
While there are many people that will give you a hard time buying from a breeder and not rescuing a dog, there are many reasons that you might want to take this route. Rescue dogs can have lots of inherent health risks associated with their mixed or irresponsible breeding, and they might have been abused as well. Rescuing pets is always a kind thing to do, and for some people, this can be the right choice.
However, if you want a purebred German Shepherd that is free from genetic flaws and that has not been mistreated or given a strange start in life, you will want to steer clear from rescues. If you are looking for a purebred dog, rescues can be one of the worst places to get a dog due to the puppy mill situations that these dogs usually come out of. As an added caution, German Shepherd dogs are very smart and sensitive, and they do not usually prosper in homes that are not a good fit for their needs. When you choose to get a rescue dog that happens to be a German Shepherd, you will often find that you are taking on a big project that can often be complicated and stressful.
If you are up for the challenge of rehabilitating a German Shepherd that has come from a rescue, you should, of course, go for it. However, if you are looking for a dog that you know has not been through lots of less-than-ideal experiences and you want a dog that you know is certified to be healthy, shopping with a skilled breeder is always the right choice.
Next step, read our guide on: How To Choose a German Shepherd Puppy From a Litter
German Shepherd Breeders in The USA
Conclusion
If you have been struggling to find a German Shepherd to join your family, you might need to use this guide to help you to get in touch with the right breeder in your local area. Working with a skilled breeder is really important, and you need to be sure that you are not buying a puppy from a mill or a backyard breeder if you want a healthy dog. Responsible breeders will work hard to improve the breed and will not sell you a dog that is going to be unhealthy.
German Shepherds are a wonderful breed, and they are a great fit for those with kids in the family or other pets. If you work with the right breeder, you will be able to get a dog that will be healthy, loving, and fit right into your home with ease.