If you are looking for a German Shepherd then you are looking for a fierce, loyal, and sassy companion. This breed is by far one of the most versatile breeds that are great companion dogs, easygoing service dogs, or strong and protective working dogs. No doubt no matter what life your pup is destined for there will be no shortcomings in their mouthy and spirited personalities.
Getting a German Shepherd Puppy is no quick choice but in this blog, you will find a list of reputable breeders who has that special pup waiting for your family. Here there are ten German Shepherd Breeders in Georgia. This list is to help you determine the breeder you would like to go through but remember to always talk to them and make sure you know what you want from the breeder and the bloodline.
1. Caine De Lup
First up on the list is Caine De Lup, a hobby breeder, and training facility. They breed dogs to European standards by selecting specific temperaments, pigmentation, bone structures, and health tests. Hailing from Romania, the owner Alex uses his six years of law enforcement and fifteen years of first-hand border patrol experience to provide the best pairing, care, and training for the pups in his care. All his dogs have German 'Pink Papers' and/or AKC registration whether they are imported German Shepherds from Europe or bred in America.
When raising the puppies in his facility he insures they are well-socialized and will be placed in the proper homes upon leaving for their forever home. Starting from day one they handle and work with their pups in order to be certain he has a good understanding of their personality so they can be placed properly as a family, working, or protection dog. His German Shepherd Puppies are bread from old bloodlines such as those from the Czech Republic, Germany, Slovakia, and Romania producing pups with high drives, dominant personalities, and good athleticism.
While producing the impressive pups all his sires and dams are health checked and titled to prove and show the reliability and versatility of all their offspring. With competitive titles in Schutzhund and IPO, his breeding stock is well-proven on the working side. They are all tested for any condition that can be passed on to the litter within their genetics.
With the pedigrees in his breeding facility, it ensures that you will have good strong, and healthy pups with health guarantees up to 14 months of age with proper testing. There is also a guarantee for once you get the pup upon their immediate health once you receive them. All pups receive vaccines and deworming prior to going to their new homes.
Caine De Lup Contact Details
| | |
| --- | --- |
| Owner | Alex |
| Location | Atlanta, Georgia |
| Email | cainedelup@gmail.com |
| Phone Number | (404) 319-7035 |
| Website | cainedelup.com |
| Facebook | Canine De Lup |
2.

Southern Legacy German Shepherds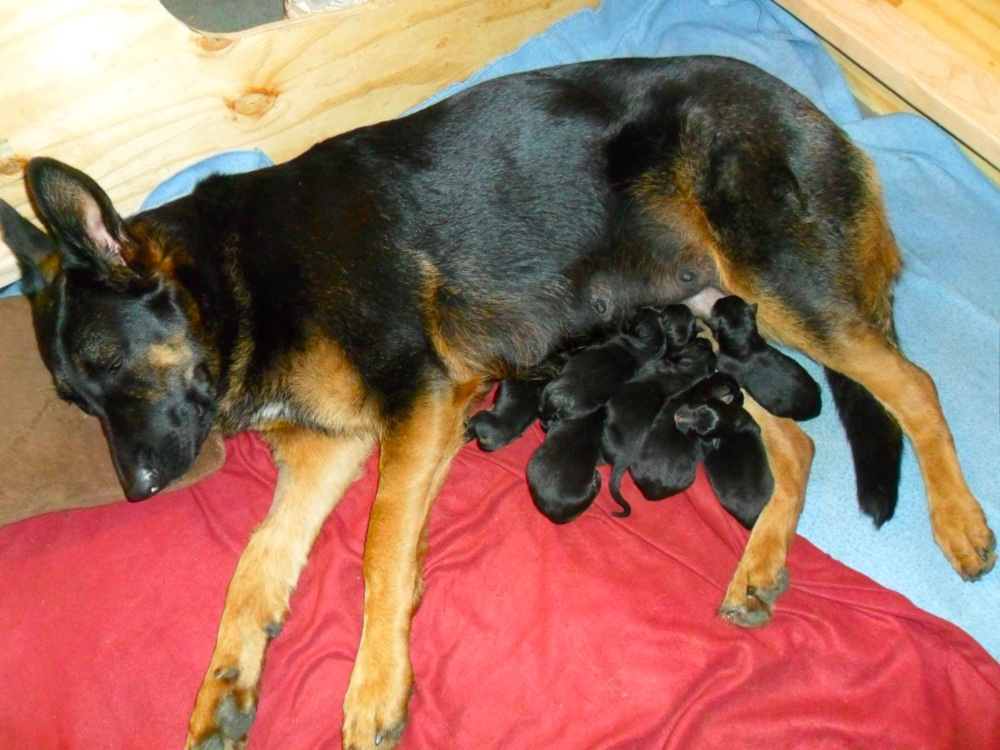 Companions are a priority here, with large old-world size and ACK-approved breeding standards. If you are looking for a low-drive German Shephard that is easy to train and well suited for family life, then these puppies might be for you. Owned and operated by Michelle Brooks you will find a small-sized operation producing German Shepherds focused on optimum health and temperament.
The pups being raised in the house allows for them to be socialized around basic household hustle and bustle, small animals, and the comings and goings of guests. It also teaches early about the life of a foot-warming couch lover.
Health is another priority for these German Shepherds, so they get all the vaccines and deworming before they become a part of your household. And all of the sires and dams are health tested and have negative results to go with the low drive demeanor before breeding to insure happy, playful, and calm puppies.
Southern Legacy German Shepherds Contact Details
3. Von Anna German Shepherds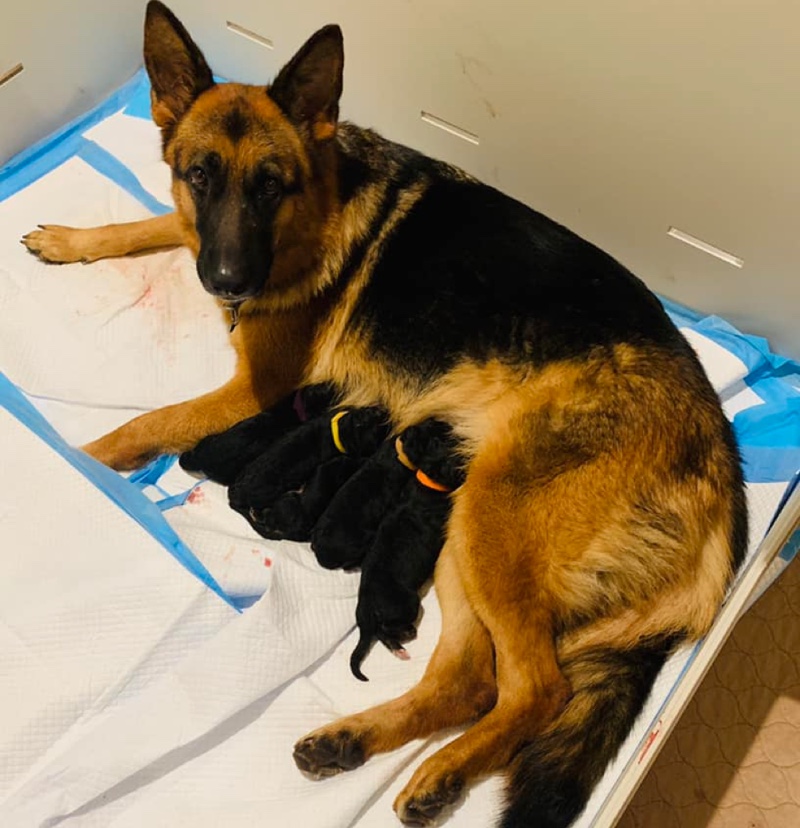 Next up is Von Anna German Shepherds who started with high-quality West Germany Champion Bloodlines with proven titles. With such strong Pedigrees, this breeder is one of the few who have adopted the early neural and social developmental method. And they are sure to give your pup the head start to continue the multigenerational Champion line while bolstering the ACK register with titles and strong lineage.
Focusing on the Red and Black coated German Shepherds they make sure to put the health of the puppies they breed first to insure the long and healthy life of any pup they produce. During development, they are taken around schools, nursing centers, early child development, and other places to create a ground solid foundation for further socialization throughout their life.
With the solid foundation, their show and breeding puppies are more often found in the life of a family dog but are still well suited to work and show as they grow older. To create a well-rounded dog, they are housed and socialized in the family home. And they also receive all their shots and deworming before being released to their new homes at eight weeks. To start off their new lives once they leave the facility, they are well-socialized and independent so as to avoid possible separation anxiety when leaving their mom.
When getting a German Shepherd puppy from Von Anna they also have their ACK registration paper with a three-year generation and a microchip so your pup can always be found.
Von Anna German Shepherds Contact Details
4. Kennels Von Lotta German Shepherd
For twenty years Yuliya studied the bloodlines, strengths, weaknesses, history, and current development of the German Shepherd along with training and showing the breed. Creating her kennel, she has several titles and champion lines to produce some of the best pups. Breeding for a stable and self-confidant temperament, her pups can be trained for a variety of tasks but never compromise on looks. Raising the dogs in her care she weens them off on a natural raw diet and raises them on a mix of kibble and raw diet.
Taking exceptional care of the pups to provide the best socialization and human bonding time she can to give them a boost once they go off to their new families. With special care to choose the right sires and dams for each litter, she produces to give the strong working traits while making sure she has a well-rounded and desirable family pup. Introducing the pups at early ages to all the sounds of a busy house and them starting to introduce a variety of stimuli outside after six weeks of age. They are also introduced to the comings and goings of several people and groups of all ages.
Health is also a large factor in the development of the pups with a natural raw diet to ensure the best diet to support growing puppies need the start off with mall things such as sardines and is slowly introduced to other proteins and food sources. They also receive all the vaccines and deworming they need before they leave. With this, they also have a two-year hip and elbow warranty, health warranty, and information about all their vaccines given to them.
With each pup, they go home with a fitting collar, security blanket, and lifelong support if anything should arise. She also sends them home with an information packet for information on raising your pup and a microchip for if they ever get lost.
Kennels Von Lotta Contact Details
5. Von Orenburg
Caring deeply about where their German Shepherd Puppies end up, they make sure to screen and ensure that the right pup is going to the right home. Keeping their facility and breeding standards in line with the German Breeding Standards they keep all their dogs with titles and proven show ability. And keeping meticulous records of their pedigrees and lineage of each puppy.
Talking with every potential client to determine if they will have a pup that best fits their desires and home life, they make sure to match every pup to the best home they can. Through gene testing and health panels, they ensure the best of their dogs taking special care to match sire and dam for the best possible litter outcome they can predict.
When talking to them it is best to discuss what vaccines and deworming, they will already have done and if more would be needed after receiving your German Shepherd. And every pup goes through their 'kindergarten' training to set up solid basics for when they start their new life.
Von Orenburg Contact Details
| | |
| --- | --- |
| Owner | Michelle and Lee Howell |
| Breeder Since | 2012 |
| Location | Leesburg, Georgia |
| Email | vomorenburg@yahoo.com |
| Phone Number | (229) 347-2487 |
| Website | vomorenburg.com |
6. Oher Tannen German Shepherds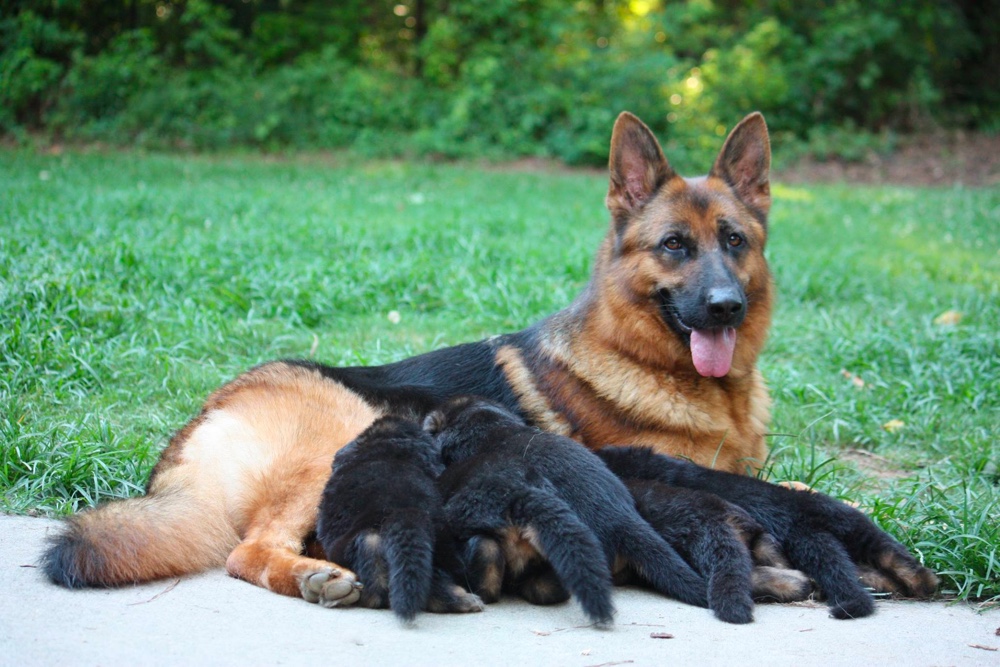 Dedicated to all things German Shepherd Nadia takes in the wonders of being a breeder while enjoying the showing, training, and raising of this personality-filled breed. Being an approved AKC H.E.A.R.T. German Shepherd Dog Breeder, SV Association for German Shepherd Dogs, Universal Hundsport, and United Schutzhund Club of America she has several awards and titles under her belt with the devotion she shows this breed.
Devoting herself to the German Breeding Standards she aims to work for the breeds with exceptional intelligence, courageousness, playfulness, good nature, and solid pressed nerves. She looks at each bloodline with such detail to insure she is pulling the best dog into her lineage and is diligent in making sure her dogs have a good score on their hips and elbows.
And it's not just puppies she helps home there are also dogs over a year old that she is certain to have a health score and vet-approved health score. No matter what the dog's health is her priority so if you need help with food, finding a trainer, or a club for your dog she will make sure to help where she can. To top off all the help she gives, when you get a dog from her, she also gives a list of 'Do's and Don'ts' to help you start off on the right foot for your pup.
Oher Tannen German Shepherds Contact Details
7. Schafer Haus German Shepherds
With world Champion German Shepherd Bloodlines, they take the health of their puppies very seriously. All of their dogs are proven and checked for excellent hip and elbow scores to keep the breed standard set in Germany. All dogs have papers, AKC registration for domestically bread dogs and German Pink Papers for imported dogs.
With health as one of their main priorities, they make sure to discuss the future career of any pup you might receive from them so they can place the proper pup with the right home. Spending a lot of time with each litter to get a good sense of the personalities of each individual pup so they get the best in their life and the family has the best compatibility for them.
And the diligence is well rewarded as they offer a three-year warranty for any genetic issues that would lessen the quality of life of the puppy you receive, but he also has a warranty for fair/better or un-certifiable hip. Everyone is taken into consideration for placement for the best quality of life possible, just ask him yourself!
Schafer Haus German Shepherds Contact Details
8. Heinerburg Shepherds
As a licensed AKC judge, Nancy has 23 years of experience evaluating German Shepherd Dogs with the ACK breed standards in mind. She started her career with her first German Shepherd when she attended the Ceno Von Heinerburg where she was talking and discussed with judges, breeders, and trainers before exhibiting herself placing second. Purchasing their first Dam ONYX, they bred her starting their line of champions.
Continuing on they have bred a limited number of pups with litters coming every three years to support the strength of their line and insure the titles of their offspring. Continuing with such a small breeder there is not much that their pups are known to receive, so asking the owners and discussing their offspring could give you hidden success with a well-titled pup and great family companions.
Heinerburg Shepherds Contact Details
Owner
Nancy Harper-Mulvaney and Ron Mulvaney
Breeder Since
1960
Location
Alpharetta, Georgia
Email
nancy.harper@heinerburgshepherds.com

ron@petaircarrier.com

Phone Number
(678) 523-9940
Website
heinerburgshepherds.com
9. Advanced K9 GA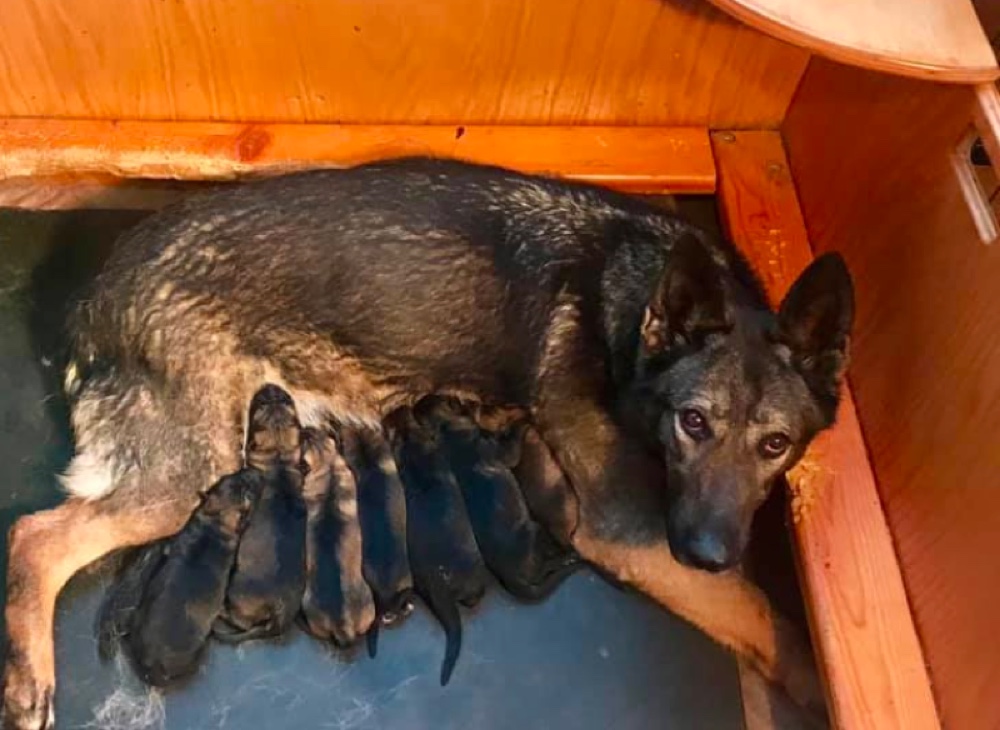 Breeding imported stock, their dogs are good for a variety of jobs from SAR to protection work. If dedication and high drive are what you want, then they might have the puppy for you. Their dogs are available for imported AKC registry, and a list of proven titles they are great for producing offspring that are bred to work. With health tests and training packages available, they could be good to talk to about your next high-drive German Shepherd puppy.
With a list of imported dogs, they are not just specific to one breed, but they also have Belgium Malinois for the more experience working dog owner. They will work with you and your specific desires to help choose the right dog for you. Especially since their program is targeted to maintain strict adherence to the WUSV (The World Union of German Shepherds Societies) standards for breed clarity and improvement.
Advanced K9 GA Contact Details
10. Alexanderhof Kennels
With close relations to the military units in both Germany and America, Heidi obtained her first German Shepherd to train for schutzhund. Using her fifty years of experience, she has worked closely with law enforcement and other agencies going to schools, nursing homes, and clubs to work with people and dogs. Now she is an approved AKC, UKC, and Alliance of Therapy Dog evaluator.
With each generation, she is focused on the structural physique, temperament, and ability to move. To do so she imports from some of the best and most well-known kennels in Europe to get the best pups she can with each litter. Desiring a High drive, she chooses her breeding pairs selectively to ensure the health and performance of the pup to give a solid foundation for any future titling.
To care for her pups she starts them off by weening them onto a diet mixed with kibble, home-cooked food, and high-quality moist food with fresh bones thrown in. And they are constantly handled to provide a good foundation for socialization. Along with constant monitoring in a special whelping area in the first few weeks after birth.
Alexanderhof Kennels Contact Details
My Top Pick
With this list, I would decide to look further into the Schafer Haus German Shepherds breeder as they have proven their dogs' abilities with several high-ranked titles and provide good warranties and health guarantees. Their goals for the pups in their care and the diligence they take with their health seem to best suit a sport dog handler and active lifestyle.
They give a good understanding of their dogs and what they have earned without pushing the titles too much. They show their devotion to their dogs with the small things they share on their website and how they appear to care for their pups. From these first findings on the website, they seem to hold close to the desires of what I would look for so they would be my first pick to talk to.
But always make sure to do your own research into the puppy that would be best suited for you, don't just take our opinions on all this. Your needs are different from every other person, so not every breeder is going to work for every person. Just remember to always look for a reputable breeder who holds the dogs and puppies in their kennel to the ideas that best suit you and discuss what you both see in the future of their pups.
You might want to check: Best German Shepherd Rescues in Georgia
German Shepherd Breeders in The Other States
German Shepherd Tips and Resources