If you have been thinking about getting a German Shepherd puppy, you need to know what to be prepared for when you pick up your new canine buddy. There are many things that need to be done to care for a puppy this age. You should be ready to give your German Shepherd puppy the attention and care it deserves when you get them back home. This stage of a German Shepherd's life is a busy one but one of the most memorable parts of a dog owner's journey with their dog.
Before you get a German Shepherd puppy, you should be sure that you know what having one will be like. This guide will help you to be ready to take care of your young puppy, and it will also prepare you for what the German Shepherd breed needs as it grows. If you are ready to learn some more about German Shepherds of this age, you need to keep reading!
Related Post:
What to Expect From a 3-Month-Old German Shepherd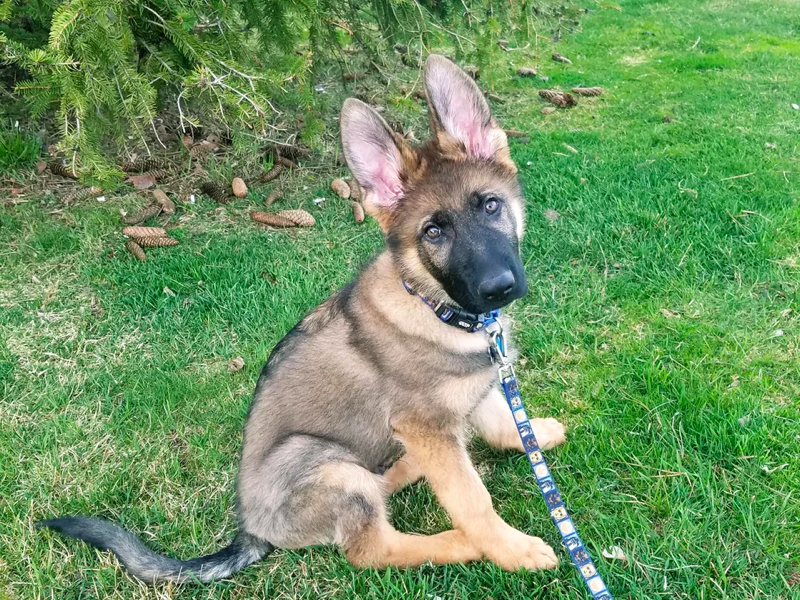 Your 3-month-old German Shepherd will be a busy, active, playful ball of energy. They will not be ready to be taken for runs, and they won't be able to work for extended periods of time on new tricks due to their attention span, but they will be getting closer to the age where more intense work is possible. You will likely be able to count on their potty training more and more at this age, and they will be growing in leaps and bounds. Male dogs will be a bit taller than female dogs overall, but puppies can also grow at their own unique rates during this phase.
Feeding your puppy right can make a big impact on their overall well-being, and you will need to be sure that you are taking care of your dog's needs in this way while also caring for their training and their exercise needs. If you have picked out a hunting dog, you might notice that your puppy is more energetic and a bit more likely to chew things up or get into mischief. Show dogs can be less energetic, but they will still need lots of exercise and attention on a daily basis.
You will want to be sure that you have time to spend with your puppy all day long, and you will need to make plans with regard to getting your puppy out during the middle of the day until they are about a year old. Most little puppies can only hold their bladder for about four hours, so you will need to make sure not to forget about this consideration once your puppy is home from the breeder.
3-Month-Old German Shepherd Puppy Schedule
Having the right schedule for your puppy can be critical. You need to be sure that you stick to a plan to make sure that your puppy has what they need every day. Caring for a puppy is easiest when you stick to a schedule, and your puppy will benefit from having a routine that they can count on every day. Keeping a routine in place also makes it much easier to train your puppy, which can pay off later on when they get bigger and have even more energy.
| | |
| --- | --- |
| Time of Day | Activity |
| 8:00 AM | Walk or let puppy out |
| 8:15 AM | Feed puppy/let puppy out |
| 9:00 AM | Walk puppy |
| 11:00 AM | Play with puppy |
| 12:00 PM | Possible snack for puppy/ let puppy out or walk them |
| 2:00 PM | Walk Puppy |
| 4:00 PM | Train puppy and play with them |
| 6:00 PM | Feed Puppy/ Let puppy out or walk them |
| 8:00 PM | Play with puppy |
| 10:00 PM | Let puppy out or walk them before bed |
3-Month-Old German Shepherd Puppy Size
The 3-month-old German Shepherd is growing rapidly. Male dogs will almost always be about 9-11 inches in height, while females will be about 8-10 inches tall. The weight of a puppy can increase rapidly at this age as well. Your puppy might start out their third month around 22-30 pounds, but they can jump up to 35 or 40 pounds really quickly. Working dogs that are bred for hunting or other kinds of hard work might not be as big as dogs that are bred for show.
Different breeders might also want to breed taller dogs, which means that your puppy might be bigger at this age but not weigh as much. There are many different variables that can impact the size of your puppy when they are three months old, but your puppy should be somewhere around the average size. Very small animals might need to see the vet if they don't seem to be growing. While your dog might be perfectly healthy, a very small puppy could have health reasons that are holding back its growth.
How Much Exercise Does a 3-Month-old German Shepherd Puppy Need?
Your 3-month-old German Shepherd will need to be exercised at least twice a day. Each dog can be a bit different when it comes to exercise needs. Your dog might not be as high energy as other puppies, but most dogs will still need to at least go on a walk twice a day. This is the kind of engagement that your puppy will need to prevent boredom and naughty behaviors that you don't want to encourage.
Puppies often benefit from this kind of time with their owners because it helps them to build a bond with their new family and to learn new life skills. Puppies that have been weaned from their mother will need the support of their new family to take care of the needs that their canine family used to provide. This is one of the times in a puppy's life that you can help them to grow and succeed, and you will be able to help them do that by making sure that they get enough exercise.
How Much Sleep Does a 3-Month-old German Shepherd Puppy Need?
German Shepherds, at this age, will sleep a lot. They are growing, and they are playing hard during this phase which means that your puppy might sleep for as much as five or six hours during the day. This is perfectly normal for a healthy puppy and nothing that you should worry about. If your puppy is not energetic at all and is sleeping a lot, this might be a sign that something is wrong, but if your puppy is playing hard and sleeping just as hard, that is totally normal.
Make sure that you are patient with your puppy if they cannot sleep through the night at this age without needing to go outside. Most puppies cannot hold their bladder until they are about eight months of age throughout the night. You will see improvements in their ability to wait to go outside around six months of age, but you should plan to let your puppy out in the middle of the night for at least a few months after you get them. Some dogs are better at this skill than others, so you might not get as lucky as you hoped with this part of your training and routine. Don't worry. However, things will get better as your puppy grows.
Puppies can often fall asleep in the middle of playing, and if your puppy does this, don't be worried. This is also a really normal puppy behavior and not something to be concerned about. Just like small children, sometimes puppies aren't aware that they are tired until they simply slump over with fatigue. Don't worry, your puppy will be back up and running around after a quick power nap in most cases.
How to Train a 3-Month-old German Shepherd
You should always train your German Shepherd with patience, no matter what age they are. Puppies can have a short attention span, which means that you will need to be careful to be understanding when their attention wanders. You might need to motivate your puppy to pay attention to treats, and it can be a good idea to break up your training sessions into smaller periods. This can help with their ability to learn, and it can ensure that your puppy doesn't get bored and get into things that they should not be bothering.
If you have other puppies in the house or other dogs, your puppy might learn as they work on their skills too. This can be a really ideal situation for homes that have an older dog in the house that can help with the training of a younger puppy. Many older dogs will automatically start to teach a new puppy how to behave, and this can help to take the work out of your hands and put it into the hands of the pack.
Many people are the most overwhelmed by the training aspect of getting a new puppy, but you can handle this part of the job if you are patient and if you get help when you need it. There are many dog trainers who can help you to get started on training your puppy with the right skill set. Knowing what to do can help to make the process of training your puppy really easy and fun every day.
How Much to Feed a 3-Month-old German shepherd
Giving your puppy the right food can make all the difference in their growth and their well-being. Make sure to feed high-quality puppy food to your puppy. Breeders and vets can help you to find the right puppy food for your needs with ease. There are many foods on the market, but not all of them are properly balanced for healthy growth. You will want to be certain that you are not feeding a low-quality product to protect your dog's bone health and healthy growth.
Make sure that you do not overfeed your puppy either. Fat puppies can be unhealthy puppies. While puppies can have growth stages where they seem a little bit chunkier than in the weeks before, they should never be obese. You might be doing damage to their joints or putting strain on their organs if you make your puppy too hefty, so be careful to feed them the amount of food that the food manufacturer recommends.
If you want to feed your dog raw food, you should not start them on a raw food diet until they are at least 8 months old. Puppy food has a very important place in the growth and development of dogs, and you should not skip this part of your dog's dietary needs as it grows. There are also some very real problems that can be associated with feeding raw diets to dogs. If you do not have a reliable source of good meat products or organ meats, you might need to reconsider feeding your dog this kind of diet. You can also get raw diets from the grocery store or from a pet store, but you should be certain that the product is carefully stored and carefully formulated for your dog's well-being.
Many raw diets do not offer dogs all of the nutrition that they need to remain healthy. You need to be certain that you speak with a breeder or a vet to get more information about feeding raw before you make the change. When your puppy first comes home, you will not need to worry about feeding raw, but you should be informed about the realities of this dietary choice if you want to convert your dog's diet later on.
How to Deal with 3-Month-Old German shepherd behaviors
If your puppy is a normal puppy, you will find that there are some common behaviors that you might have to deal with. You might have to deal with potty training issues or nipping, or even just a lack of focus from time to time. Knowing how to handle these issues can make a big difference in your puppy's bond with you. All puppies can display behaviors that you might not want to foster. This is just like with children, and training your puppy can require repetition of the same lessons over and over for a while until your dog understands what is expected of them.
There are some common behaviors that many puppies try out to see if you will accept them. These are typically things like nipping, jumping on you, or barking when you don't want them to. All of these behaviors can be discouraged easily in puppies if you are consistent in your response to these actions when your puppy takes them.
If your puppy is nipping, you might need to work with a skilled trainer to get some support in stopping this behavior from happening. It is much easier to deal with nippy behavior when dogs are young than when they are older. You will want to be sure that you are firm but not mean when you tell your puppy not to nip or bite, and you should consider working on a way to redirect your puppy's attention to other, more positive behaviors.
Potty training can be tough in the beginning, but the best way to handle potty training is to make sure that your dog gets to go out every few hours when they are this age. Being sure that your puppy gets to go outside often can help to eliminate issues with accidents in the house. You should also consider getting a puppy-sized crate so that your puppy will be less likely to make messes in the house when you are away. Crate training can be critical for your dog in case they need to go on a trip or stay in the hospital later in life as well.
If your puppy is jumping on you too much and you want to stop them, there are various methods that you can use to discourage this problem. You will want to use a firm voice when you tell your puppy no, and you should consider bending your knee to make your puppy back up and stop jumping on you. This can be the easiest way to discourage a common behavioral issue that many big dogs deal with later in life.
Any health Problems Happen in a 3-Month-Old German Shepherd
Very young German Shepherds are not likely to have health issues. There are always rare conditions that can crop up, such as eye problems or unexpected injuries, but overall, your puppy should be really healthy. Young animals are almost always really healthy, which means that you should probably be more concerned about being able to deal with caring for older animals that are experiencing common health issues that can impact the German Shepherd breed.
German shepherds, as a breed, can have some common health ailments that you might want to know about before you get your own puppy. These conditions can be avoided in part through responsible breeding, which is why you should always get a puppy from a skilled and responsible breeder. Buying from a puppy mill or a backyard breeder can lead to an increased risk of common health ailments that you will probably want to avoid at all costs.
German shepherds can still be prone to the following conditions, even when you get a puppy from a responsible breeder who works hard to keep their litter free of these conditions.
Hip and elbow dysplasia
Eye problems
Heart problems
Bloat
Peri-anal fistulas
If you are not sure about being able to care for a dog with these conditions, you should look into them some more. These are not always life-threatening conditions, but they can greatly impact your dog's overall well-being, and they can sometimes lead to surgeries or care that must be done at home. While all responsible breeders strive to breed litters of puppies that are free from these defects and that will not suffer from health problems in their middle-aged or older years, this is not always possible.
Remember that the average lifespan for this breed is 9-12 years. You will want to be sure that you are prepared for this reality, as well as the possible challenges of cancer and other serious health conditions that older dogs can end up getting. Most people will tell you that the love of their dog is worth all the care that they might need as they age, but you should be certain that you are ready to provide this kind of support for your dog if it is needed.
Many people only think about the puppy years and the young dog years and never think about what older dogs might need as far as care. Being sure that you are prepared for these realities can help you to make a more informed decision about getting a German Shepherd dog.
German Shepherd Puppies Are Energetic and Fun at Three Months of Age
If you have been looking to add a loyal, sweet, and fun dog to your family, a German Shepherd is a great choice. You will love everything about your German Shepherd, and if you are prepared to get a puppy, you will not have any trouble caring for or training your new friend. The German Shepherd breed is ideal for those with families and kids, and your dog should be happy and healthy so long as you get your dog from a skilled breeder.
This guide will help you to get the right dog for your needs and to be prepared to help your new friend adjust to life with your family with ease.