The Original Site

PetVR.com launched on 08/11/2005 and has been helping pet parents find pet-friendly vacation rentals for over 15 years. PetVR.com is a valuable resource with a database of more than 5,200 Pet-Friendly Vacation Rentals, Homes, Cabins, Hotels, Resorts, Inns, and Bed and Breakfasts.
And we don't just include places in the United States but have also researched and found pet-friendly accommodations in 24 other countries. Our website is easy to navigate; by simply clicking on the US map, you can quickly and easily find your desired destination. And, for international locations, we have listed them in alphabetical order.
"More than 67 percent of pet owners travel with their pets," Dow Scoggins, president and creator of PetVR said. "And, according to surveys, nearly 40 percent more would travel with their pets if they found it easier to do so. So, it makes sense to provide a quick, easy resource for them."
PetVR.com Today
Over the last 15 years, we have enjoyed sharing our knowledge about great pet rentals with other pet lovers. However, we felt it was time to expand our website to encompass more than just vacation rentals, so we have changed our name to Pet Vacation Resources.
We know that pets are an important part of the family, and including them in travel plans have become more popular, which is why our new website will be the ultimate resource for traveling with your pet. We will regularly post fun, engaging, and educational articles such as How to Prepare for Your Pet's First Camping Trip, Safety Tips for Traveling Pets in the Car, How to Plan for International Travel with Your Pet, How to Pack for Your Pet on an Extended Vacation, and more.
And PetVR is not just about dogs; we include articles regarding traveling with other family pets such as cats, birds, small critters, and even exotic animals. Regardless of if your pet has fur, scales, or feathers, we are here to help answer all of your questions regarding vacationing with your pet.
And don't worry. Our new format will encompass all of the original articles regarding vacation rentals, and we will continue to update our vacation rental database.
The folks at PetVR are passionate about traveling with their pets, making it possible to write from our hearts and our experience. Though we need to draw from outside resources at times, you can be confident that our writers have done extensive research to ensure we only pass along the best and most reliable information.
We at PetVR strive to make preparing and vacationing with your pet both easy and fun. We love vacationing with our pets, and we hope you do too.
Thank You for visiting!  We hope you'll bookmark our site, tell your friends, and visit often!
About our Team
1. Jessica
Avid Camper, Traveler, and Pet Mom of 5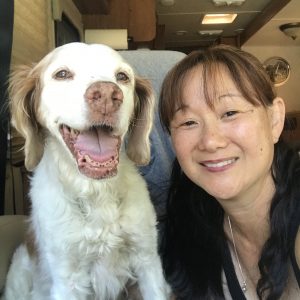 Jessica is a freelance writer out of the Twin Cities, where she lives with her husband, four dogs, and a cat. She attended the University of Minnesota, where she graduated with her BA in English Literature.
She and her husband love traveling, and they bring their whole family along as much as possible. Though Jessica and the family spend most of their vacations traveling in their RV, they also enjoy staying at various hotels and resorts.
Jessica is a former vet tech and dog trainer, and though she no longer works in either field, she does keep up on the latest training techniques. Also, Jessica volunteers with American Brittany Rescue, where she uses her background to help rehabilitate dogs before they go to their forever families.
Jessica's four dogs are Sophie, a 15-year-old Brittany, Calvin, a 13-year-old Brittany Jack Russell Mix, Ginger, an 8-year-old Brittany, Mira, a 10-month-old Brittany Pointer Mix, and Lily, a 22-year-old long-haired cat. And they all love traveling!
2. Holly Ramsey, Ph.D.
Country Girl, Animal Enthusiast, and Breed Preservationist
I have been a part of a dog-loving family from the day I was born. My parents began a hobby/show kennel in 1977; I was born three years later and grew up with Collies, Rottweilers, and German Shepherd Dogs. My father also had a cattery where he bred and showed Persian and Himalayan cats. We enjoyed the antics of the cats and kittens until it was determined that I was highly allergic to cat dander.
I started in the dog show fancy at age 13, showing Collies and Rottweilers. My family then moved from the big dogs, except Collies, and started in Dachshunds and Poodles (Minis and Toys). Through the years, there have been many special dogs and dog breeds pass through my life and my home including the Yorkshire Terrier, Cairn Terrier, Pembroke Welsh Corgi, Japanese Chin, Shih Tzu, and Pomeranian.
My very first job, outside of my parents' kennel, was at a dairy farm when I was 14 years old. I helped with the milking, mucked stalls, cared for the newborn bottle calves and bucket calves, and helped put up hay. I also helped with the care of the horses that were housed at the farm. Through the years I have been a pet sitter, caring for a plethora of animals including snakes, hamsters, guinea pigs, dogs, chickens, ferrets, and even goats and miniature horses. I have also been an assistant to a few professional dog handlers and dog trainers, where I learned so many valuable life lessons.
Today, I breed and show Japanese Chins and Collies, my teenage daughter shows Shih Tzu and Pembroke Welsh Corgis, and my mother (my father has since passed) breeds and shows Miniature Dachshunds and Pomeranians. We are still a dog-loving family that is passionate about dog shows and while we do not get the chance to travel often, we have been known to pack up the van and head out across the country to a dog show. Our travel adventures always include the dogs so I have become quite adept at travelling with dogs and gathering tips and tricks to ensure my dogs are kept safe and healthy when on the road.
While I do not take traditional vacations, I have a lot of experience with travelling via air or vehicle with a dog and have even done so internationally. I do enjoy hitting the local and state parks and hiking trails with my Collies and my daughter's Corgis, and even will bring along a few small dogs on shorter, less strenuous hikes. No matter how long the planned excursion, I always follow my checklist and make sure every precaution is taken to make it a fun and safe outing for humans and canines.
3. Molly Weinfurter
Animal Writer, Rescue Dog Advocate, and Dog Mom of 2
Molly Weinfurter is a freelance writer from Wisconsin who specializes in writing about animals, specifically dogs. She currently has two dogs of her own, both of which are rescues. Mabel is a Shih Tzu and Taco is a Jack Russel Terrier mix. Molly is very passionate about saving rescue dogs, and she often discusses the importance of adopting dogs in her writing. Her passion first started when she adopted a Maltese named Zoe for her 12th birthday. Zoe was a senior Maltese who had been rescued from a puppy mill. From that moment on, Molly wanted to help more dogs like Zoe get a second chance at life.
In order to help dogs in need, Molly is currently applying to be a dog foster parent. She has dreamed of fostering since she was a kid because she knows it's a great way to help give dogs a comfortable place to stay while they wait to be adopted. She's also looking forward to volunteering at her local animal shelters once they open to the public again.
Molly is also an amphibian enthusiast. As a kid, she had two salamanders named Sally and Sammy. Now, she is currently preparing her home for a rescue Axolotl named Wooper, who was surrendered to an exotic animal rescue after losing a leg (but don't worry, it'll grow back!) Throughout her writing career, Molly has also written about other types of animals, including cats, reptiles, and fish.
While she doesn't travel often, she always takes her Shih Tzu Mabel with her when she does. Mabel loves riding in the car, flying in a plane, and even riding on boats and bikes! One of Molly's most frequent trips with her dogs is camping. Mabel loves exploring the campground, hanging out near the water, and sleeping in a tent, but Taco is a bit more hesitant. Taco is not as familiar with travel, so car rides, unfamiliar places, and being near water can be intimidating for him. But Molly always tries to include both Mabel and Taco on her adventures because they're important members of the family.