If you are reading this you either are a first-time German Shepherd dog owner or you definitely are considering adding one to your family. If you already own a German Shepherd dog, then you probably have a clue as to how much time and attention these furry angels demand to stay strong and healthy. From nutrition to overall health checks and even grooming, your German Shepherds require all the attention they can get.
Regular grooming is essential for your furry companions, especially if you want them to look clean and healthy. One sure way to groom your German Shepherd is by bathing them regularly using some good quality canine shampoo to keep their coat looking luxurious and rich. With that being said, there is the question of how often you should bathe your German Shepherd dog.
In this article, we discuss bathing your German Shepherd dog. We provide information on how often you should bathe your German Shepherd alongside providing useful tips to help you in properly bathing or cleaning your German Shepherd dog
How Often Should You Bathe Your German Shepherd Dog?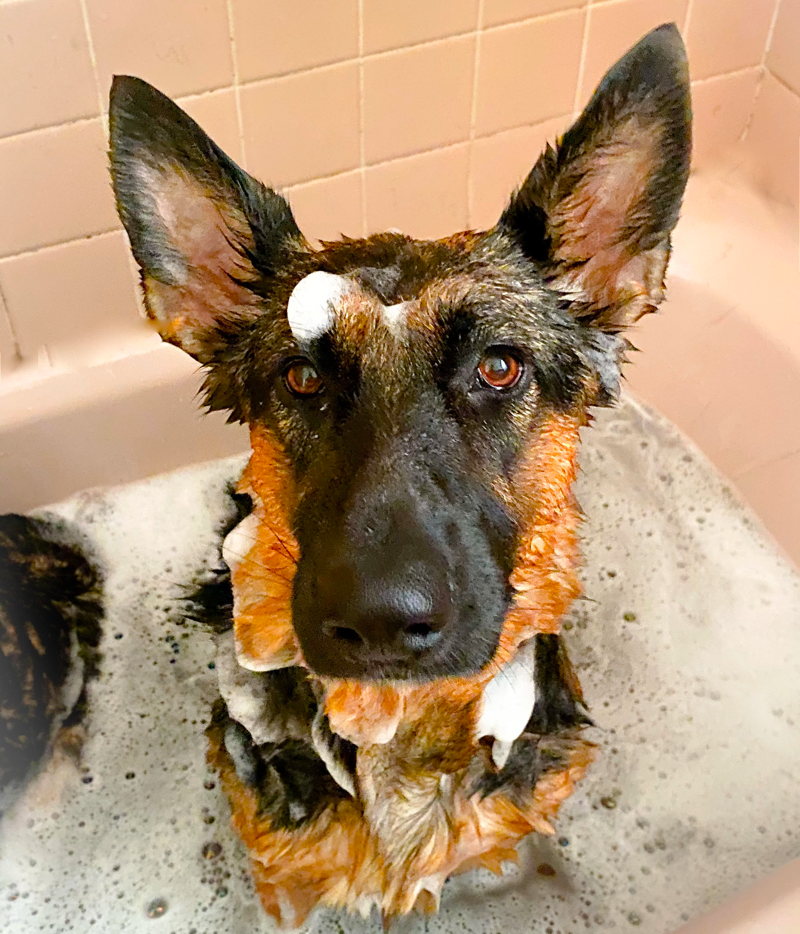 German Shepherds are not humans, they do not require to be bathed every day as you might actually be doing more harm to their luxurious coat than good. The idea is to limit bathing your German Shepherd dog to at least once in 1 to 2 months. This is to help protect the natural oils that are being produced by the skin which can be very good for the German Shepherd coat.
Without these natural oils present in the skin, The skin of the German Shepherd would fast become dry and patchy, which could cause more problems for the coat, affecting its luxurious and rich look.
Although 1 to 2 months is the most recommended time range for bathing your German Shepherd dog, it can be sooner or later depending on a few personal factors that can influence this decision.
For example, let's say your German Shepherd goes out into the field and plays in a dirty mud puddle, and comes back soaked from head to toe. Would you wait 1 to 2 months to give him or her a bath? Of course not. In order to keep your house and your dog clean, you would be forced to give him or her a bath. The same goes for a stinky dog, you definitely would want to give your stinky German Shepherd a bath.
Another factor that could affect how often you bathe your dog would be how often you brush your German Shepherd dog's fur. German Shepherds in general need to be brushed many times a week due to their high shedding propensity, but also, in order to keep the fur looking clean and prevent external things from getting trapped in the fur, you are recommended to brush and bathe your dog regularly.
Bathing My German Shepherd Dog, Useful Tips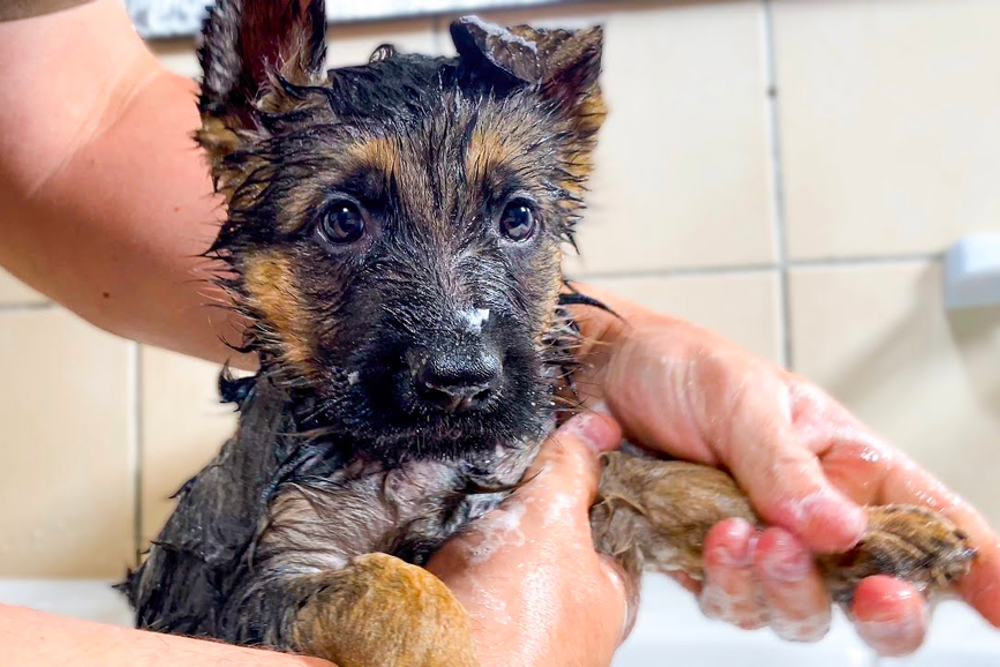 Bathing an energetic and playful breed like the German Shepherd can be a true nightmare to certain breeders especially because most dogs do not like taking baths. You would most likely spend a large portion of your time trying to get your German Shepherd dog to cooperate and simply stay still for the bath or trying to stop them from getting away from the bath.
But with a lot of patience and constant reassurance that it would be okay, your German Shepherd should get pretty used to taking bath, and who knows, they might even look forward to it. But for this to happen, a lot of training would have to go in.
In this section, we would teach you how best to bathe your beloved German Shepherd dog properly, but before then, here are some tools you will really need;
A high-quality Canine Shampoo
At least 3 clean towels
A non-slippery mat just in case you are using a bathtub
The tub or container large enough to bather your German Shepherd in
A sponge
The first step would be to get your German Shepherd in the tub. Now you might struggle with this for a bit, but once you get them in, pour a little warm water on their body to get them wet. Try to avoid wetting their head as they might not like this and would try to leave the bath. Also to avoid leaving a mess on the floor as dogs tend to shake off the moisture from their head when it gets wet.
In the next step, you would need to apply the bottle of high-quality canine shampoo to the German Shepherd dog and then begin to lather your German Shepherd dog all over its body starting from the neck to the tail and the feet. Ideally, this could be done with the use of a sponge, but if you do not have a sponge nearby, you can easily do this with your fingers. Fingers can be much more thorough with the lathering than a sponge.
With the body fully done, you can then proceed to lather the head of your German Shepherd dog. But you definitely would want to keep the shampoo as far away from the eyes and ears as possible. A good hack would be stuffing your dog's ears with cotton buds to keep the lather out.
Once you are done lathering your German Shepherd, you would want to wash off the excess lather with warm water. Again, be careful when washing off the lather on the German Shepherd's head, you can end up putting some in the eyes of the German Shepherd. You can use a small pale to scoop the water from a bucket and slowly pour it over the German Shepherd's head in a controlled manner.
The last step would be to properly dry your German Shepherd dog. Use the towels to this effect, keep a separate towel for the German Shepherd's head, and ensure the drying is thorough. If in the winter you can use a hair dryer to dry its coat, you have to be careful though, so as not to burn the coat of the German Shepherd dog.
The Right Shampoo
Choosing the right shampoo is crucial to bathing your German Shepherd and maintaining their coat. German Shepherds can be quite rough, especially when playing. So it is possible for your German Shepherd to pick up some infection caused by bacteria or fungus along the way.
In such sad cases, your dog would need to bathe regularly, and you should speak with your vet for the right antifungal or antibacterial shampoo to use. These are specially formulated shampoos with the right ingredients to keep your dog free from symptoms like itching and other skin problems that might develop.
Brighten Your German Shepherd's Smile
Another important grooming practice would be to clean the German Shepherd's teeth. As a large breed, the German Shepherd is usually known as a voracious feeder, they have a large appetite and can go through large meal portions in a day. With that comes the risk of having food stuck in their teeth which could in turn lead to the development of bad breath, gum diseases, and plaque.
The recommended time range for brushing your German Shepherd's teeth is a minimum of 3 times a week. Again, this could be higher depending on a few reasons. Personally, I feel brushing your dog's teeth every day is a great idea, simply because they eat every day.
But brushing your German Shepherd is not an easy task, as you have to properly train them to get comfortable with brushing. You need a good quality canine toothpaste for this and it can only be canine toothpaste as dogs have a high tendency to swallow the toothpaste along the way and canine toothpaste is safe for swallowing.
The process of brushing your German Shepherd's teeth can be easily done by letting your dog sniff the toothpaste before use. You can also put a little toothpaste on the tooth of the German Shepherd to further get them used to it.
Start brushing your German Shepherd's teeth in a circular motion, closer to the gum lines in order to get a proper cleaning.
Cleaning Your German Shepherd's Ears
Your German Shepherd's ears still need to be properly cleaned, just not during the process of bathing your dog. Instead, do this as a separate practice. The cleaning should be done at least once each week.
Before getting started, you would need to discuss with your licensed vet for recommendations on the proper ear wax drops to use for cleaning your German Shepherd's ears. Once you have obtained the ear drops, you need to pour a few drops into the ears of your dog which should instantly begin dissolving the excess ear wax that might be building up in your German shepherd's ears. Your dog should naturally shake out the remaining moisture trapped in its ears by shaking its head.
For the outer part of the dog's ears, you would want to use a dry, clean towel or cloth. Avoid stinking anything into the ears of the German Shepherd dog as you might be causing more harm than good.
And of course, never use water as a substitute for ear drops. While the ear drops would help dissolve the gathered ear wax, water would only sit there and cause complications. Ear drops are the only proper objects to go into your dog's ears.
Dealing With The Excess Shed
As we have already stated, how often you brush your German Shepherd dog's coat has an impact on how often you bathe your German Shepherd. This special working dog breed, they are heavy shedder. This is large because the German Shepherd is born with 2 coats, the inner coat, and the outer coat.
Both coats have their various uses as the inner coat acts as a sort of insulator to keep them warm while the outer coat is more focused on protection from injury and harsh temperature changes.
There are currently two heavy shedding cycles for the German Shepherd dog at which point they would need to bathe more to help reduce their shedding propensity during these two large cycles. To know if your German Shepherd has entered into any of these large shedding cycles, you would need to pet them. If you notice a large chunk of hair during this period, then they are in their shedding cycle.
In addition to regular bathing, your German Shepherd should be brushed regularly to help reduce the level of shedding it undergoes. This should be done each day using a proper de-shedding brush. Ensure that your brushing technique reaches both the inner coat and the outer coat.
Regular brushing could also help strengthen the bond you establish with your German Shepherd, as it shows them you truly care for them.
Getting Professionals To Do The Work
If the process of bathing or generally grooming your German Shepherd fees too overwhelming for you to handle, there is always the option of hiring a professional groomer to do this for you. Now, I don't recommend this as you don't get to strengthen the bond you have with your dog if someone else grooms and cleans them, but professionals do have their advantages.
They should be well equipped with the proper knowledge, skill set, and equipment or tools to help get the job done. The process of choosing the right German Shepherd dog groomer for you should be really sacred and should be done with a lot of care. Don't just go online and search for any random groomer, do some level of research.
You could also discuss with your trusted vet for any ideas on recommendations to help with grooming your dog. The American Kennel Club website also gives a few recommendations for top grooming services to try out.
In case you do not know, proper, reputable dog groomers undergo certain training and even come out with certifications to show that they are competent. The AKC has a S.A.F.E grooming program that produces lots of reputable groomers, you can discuss with them but always make your research, and ask for their certifications and their grooming methods.
Final Thoughts
Be gentle when it comes to bathing your German Shepherd dog. Try to use the right products, especially those made specifically for dogs. Keep their eyes and ears very sacred as the wrong practice might do more harm than good. And don't be afraid to ask for help from professionals. You can check the website for helpful articles like these.
Read More: