The DDR German Shepherd, I'm sure you must have heard about them, are they a different kind of German Shepherd breed or just another line? Well, if you went with a different line, then you simply are a genius because that is exactly what they are.
Also known as the East German Shepherd, the DDR German Shepherd is a special line of the German Shepherd bred in the mid-1940s to be great guards or protective dogs. In this article, we do a deep dive into this German Shepherd line.
We'll be providing information on everything you need to know about the DDR German Shepherd, from their history and origins to their lifespan, and their temperament, We'll also be touching on various training tips to get the best out of your DDR German Shepherd, so do ensure you read on till the end.
The DDR German Shepherd At a Glance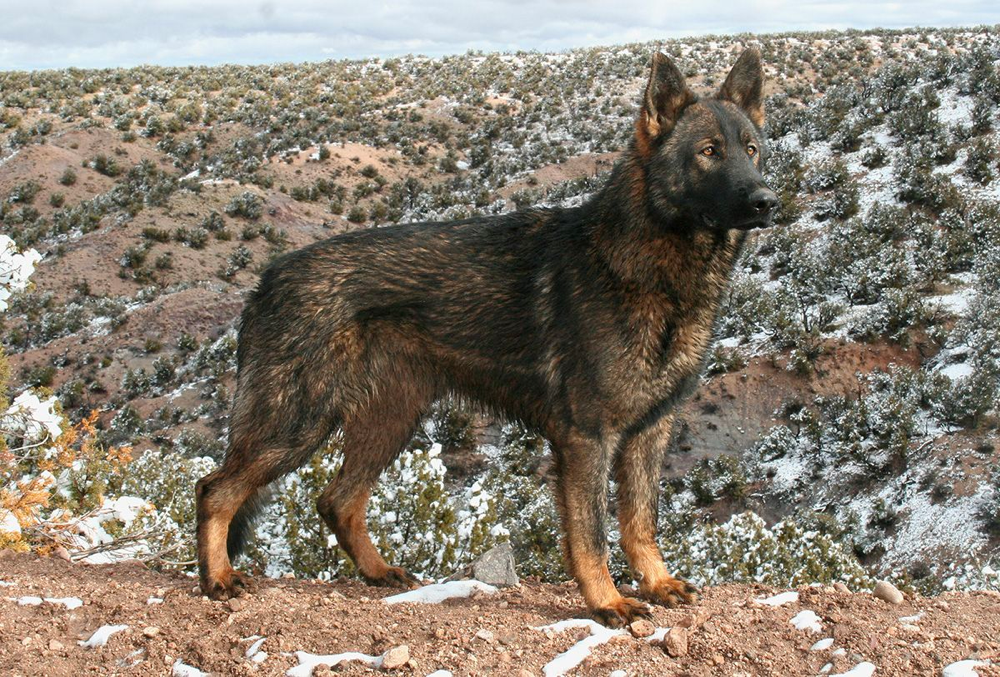 DDR German Shepherds are blessed with a very strong build, they are quite powerful dogs that also maintain a high intelligence which further makes them easy to train. They are also highly energetic, able to go long distances without being too tired, and are quite protective of the people and things they care about.
| | |
| --- | --- |
| Weight Class | Ranges from 46 lbs to 89 lbs |
| Height Class | 21 inches to 26 inches |
| Colors | Black, Tan, Sable |
| Average Lifespan | Ranges from 10 to 14 years |
| Temperament | Loving, very protective, loyal, very trainable, intelligent |
| Suitable for | Experienced owners, active families, singles and couples |
| Energy Level | Very Energetic |
| Trainability | Very Trainable |
| Sociability | Very sociable |
History and Origin of the DDR German Shepherd
You might be wondering how the DDR German Shepherd came to be, let's find out. The DDR German Shepherd (Deutsches Demokratische Republik German Shepherd), has its origins tied to the cold war era.
During this era, a faction known as the East German Communist Party decided to establish a special line of the German Shepherd breed in the military that would make excellent guard dogs. This is because at that time, the government of East Germany had issues with desertion attempts from their military base and they were trying to deal with it decisively.
They had done a deep look into the German Shepherd breed and had felt these superior dogs could be the solution to their problem. While breeding, they targeted some superior traits that could help improve the dogs' performances in both military and police work.
These traits were high resistance to harsh weather and great jump ability allowing them to scale easily over 6-foot walls. The result of the breeding program would form the DDR German Shepherds, a powerful German Shepherd working line.
As in the early 90s, when Germany became unified, the steep demand for the DDR German Shepherd began to decline with some being abandoned, neglected, or even put down. In an attempt to keep this breed variety alive, some breeders sold the DDR German Shepherd to other German Shepherd breeders.
What Does The DDR German Shepherd Look Like?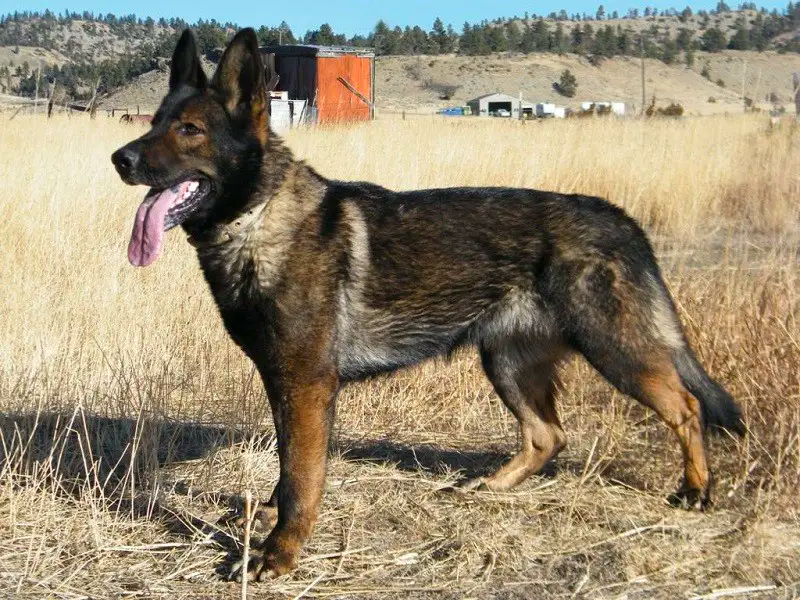 The DDR German Shepherd dog has a lot of similarities to the West German Shepherd dog, however, there are some notable differences that we would look at now;
1. Appearance
When it comes to appearance, DDR German Shepherds are blessed with a fiercer and larger look than the regular West German Shepherds. They come with larger heads and blockier heads than that the West German Shepherd.
They feature a larger muscle mass than the regular German Shepherd and their chests are thicker with a distinct barrel shape that supports a confident posture. You will often find the East German or DDR German Shepherd dog used in most show competitions due to their great conformation. Their backs are straighter than that of the West German Shepherd dog.
Looking at the paws and limbs of the DDR German Shepherd, you will find that they are a lot larger and stronger which makes them better suited to walking on rough terrains than the regular West German Shepherd.
2. Coat
East German Shepherds come with a long dual coat type that is a lot thicker and more luxurious looking than the regular German Shepherd. The upper coat is quite thick and acts as a sort of resistance to harsh weather.
The undercoat acts more as an insulator to be able to keep the warmth of the German Shepherd so they rarely feel cold even when exposed to regular cold. They do need frequent grooming to maintain the coat's luxurious look.
3. Color
DDR German Shepherds or East German Shepherds often come in two main colors the Solid black color and the sable color, but it is also not rare to see a tan-colored DDR German Shepherd. They offer less color variety than the regular show-line German Shepherd.
DDR German Shepherd

Temperament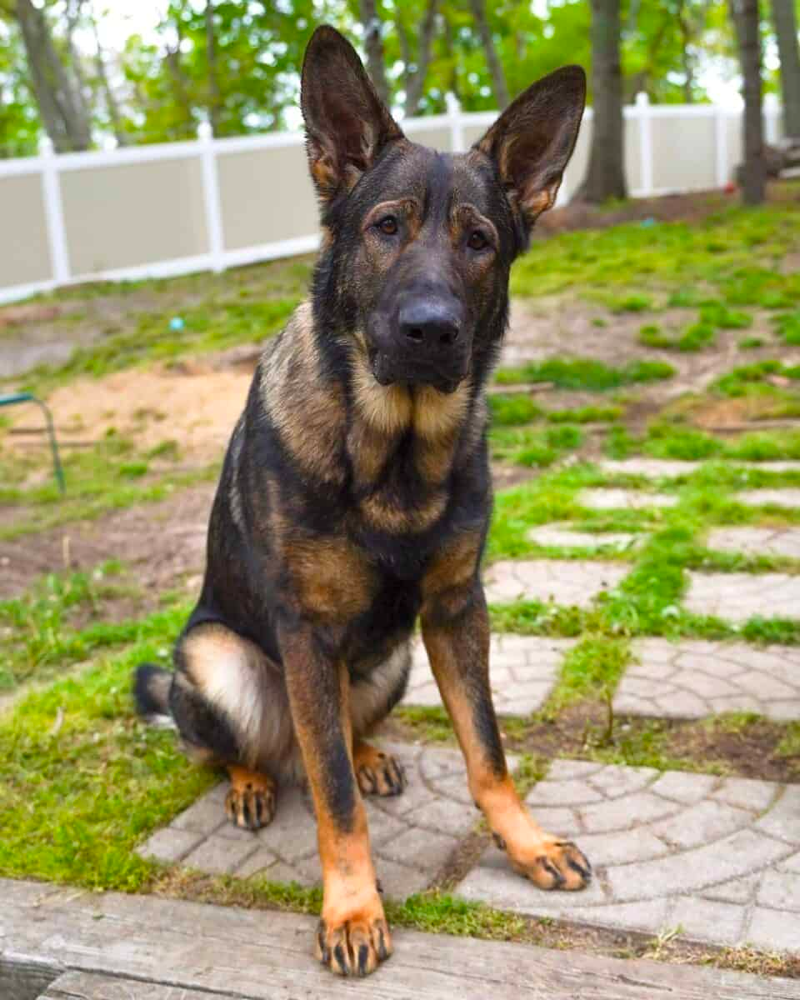 When compared to their high energy level, you will be surprised to learn that the DDR German Shepherd possesses a calm or even temperament. This is because they are bred to be a much more confident variety of German shepherds.
Oftentimes, you will find that the DDR German Shepherd appears to be in control which when compared to their impressive work ethics, makes them great work dogs. Because they appear as calm and confident dogs does not mean they aren't aggressive.
In fact, you would find that they can become more aggressive than the regular German Shepherd in some situations, but this should not be a problem for an experienced owner or handler.
They are quite intelligent, and this could make them stubborn to deal with sometimes, but with proper training, you can get the best out of your DDR German Shepherd. One last detail you need to know about this German Shepherd variety is that they can be quite destructive sometimes.
This is usually a result of not properly engaging them in activities like exercises and training. They are very energetic and if left unreleased, this can lead to them displaying negative behaviors to keep from being idle.
How Long Do DDR German Shepherds Live?
The life expectancy of the DDR German Shepherd is quite similar to that of the regular German Shepherd dog even though they are from a distinct bloodline. Your DDR German Shepherd on average should have between 10 years and 14 years to live.
It is worth noting that this range can be more or less depending on a few factors, but do not expect that much different from the regular German Shepherd because they are from a different line.
To get the best out of your German Shepherd, you would want to place them on a proper health routine that opens them up to a healthy life. This can be through proper nutrition, regular exercises, and regular health checks or vet visits.
Potential Health Risks of DDR German Shepherd
DDR German Shepherds don't suffer from most health issues that the other German Shepherd dog lines do have, and this often is the result of proper breeding and superior conformation. Take hip dysplasia for example.
While it is possible, the DDR German Shepherd rarely suffers from hip dysplasia, and this is most likely due to the early breeding practices that breeders of the East German Shepherds make use of.
Asides from hip dysplasia, we can confidently say that the proper breeding practices employed by breeders of the DDR German Shepherd have made the special line less prone to at least 50% of the regular health defects the German Shepherd is known for.
But it will be foolish to assume that the East German Shepherd doesn't suffer from all health defects prone to the breed, so you have to be quite observant. Monitor your German Shepherd for any signs of a health problem.
For example, if your East German Shepherd shows signs of lameness or stiffness, it could be a sign of a possible joint or bone disease. It is also possible for a DDR German Shepherd that is a cross of two different breeds to inherit the health defects of its other parent.
Be very close to your family vet, Do not skip any of the checks that are mandatory for your dog, ensure they are updated on all their vaccinations and deworming, and always ensure they are given the proper nutrition.
How Much Exercise Does a DDR German Shepherd Need?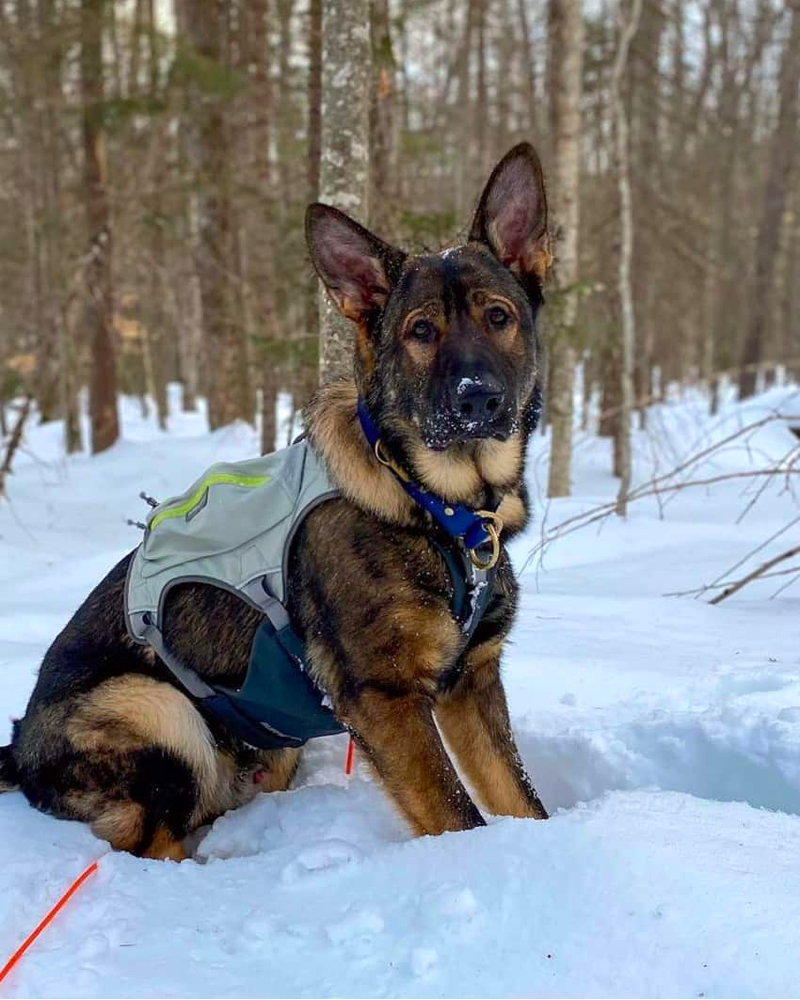 It is important to know that the DDR German Shepherd is packed full of a lot of energy. And as such, they can easily become troublesome if they don't get enough exercises or activities that could help get rid of all that pent-up energy.
We heavily recommend a few simple activities for at least 30 minutes a day that can be suppressed across the day to help keep the breed occupied. A good example will be taking a walk around the neighborhood.
The intensity of the exercise should depend on the exact age of the German Shepherd. You can also try other exercises like a game of fetch using a frisbee. You can also take your German Shepherd jogging or to make it interesting, take it bike riding but have them chase after you. You'll be surprised how much energy these angels have in them.
If you happen to have a doggie pool or a lake or pond nearby you can take your German Shepherd swimming. They can also go hiking and on other fun adventures.
Asides from physical exercises, mental exercise is required to help strengthen their intelligence and commit them to think properly. With the right games and puzzles, you can stimulate your German Shepherd's mind.
Do DDR German Shepherds Shed A Lot?
Yes, they do, the coat of the German Shepherd is quite thick and wooly, and as such the DDR German Shepherd has a high propensity for shedding. There are two specific time periods in the year in which the DDR German Shepherd is known to shed more.
When compared to the regular German Shepherd, it is believed that the DDR German Shepherd sheds more than the regular Shepherd. This is because the coat of the DDR German Shepherd is thicker.
Grooming Needs For DDR German Shepherd
Because of the high shedding propensity of the DDR German Shepherd, It is recommended that you brush your German Shepherd's coat often to help keep the shedding under control. When doing this you need a proper tool like a slicker brush for your German Shepherd.
In addition to proper brushing, they also need to be bathed every 3 months to 4 months, it can be more or less depending on a few factors and scenarios. Ensure you are making use of a proper canine shampoo for your German Shepherd. This would help keep its coat looking rich and luxurious.
Proper dentition is also needed, make use of a proper canine toothpaste of high quality for your German Shepherd. Their nails should also be trimmed regularly, but you should be careful not to cut too deep as German Shepherd's nails are quite delicate.
And finally, if you do not have enough time to properly groom your German Shepherd yourself, you can always hire a professional groomer to do it for you.
DDR German Shepherd's Trainability and Intelligence
When compared to other German Shepherd types, the DDR German Shepherds show a slightly higher intelligence level, and this is all in the breeding program. For the East German Shepherd, they were bred to make great working dogs, and to be great working dogs, they do require a high level of intelligence.
With great intelligence comes great trainability, and the DDR German Shepherd is arguably one of the easiest dog breeds to train. To train your German Shepherd, you do require firm but proper leadership. This is because the breed can be a bit stubborn to deal with sometimes.
An experienced handler should have no problem with training the DDR German Shepherd, but if you are a rather inexperienced, owner, consider enlisting the help of a certified dog trainer to help get the best out of your dog.
With proper training your German Shepherd can make a great police dog or military dog, they can become good family protection dogs, excellent herding dogs, sport dogs, service or therapy dogs, and of course, great family dogs.
How Much Do DDR German Shepherds Cost?
Before looking at the price of owning a DDR German Shepherd dog, we have to take a look at the rarity of this special variety of German shepherds. In that aspect, yes they are quite rare, and this is because the breed lifespan for the dog only lasted 40 years (from 1949 to 1990).
This makes the breed very rare, to the point that the bloodline is often regarded as an elite bloodline. Moving back to the cost, they are obviously more expensive than the regular German Shepherd.
With a regular German Shepherd, you can expect to pay between $500 and $1500 depending on the breeder you patronize, but for a DDR German Shepherd, the cost should fall between $1500 and $3000 depending on the breeder you intend to patronize.
Another factor that could greatly affect this price would be the level of training the dog has received. Working dogs receive a lot more training than pet dogs, so expect to pay some more for a working DDR German Shepherd than you would for a pet DDR German Shepherd.
Also, you should be quite careful when making payments for an East German Shepherd dog. A true DDR German Shepherd would come with the right documents and papers to show it.
DDR German Shepherd Breeders
1. Vom Banach K9 German Shepherd and Puppies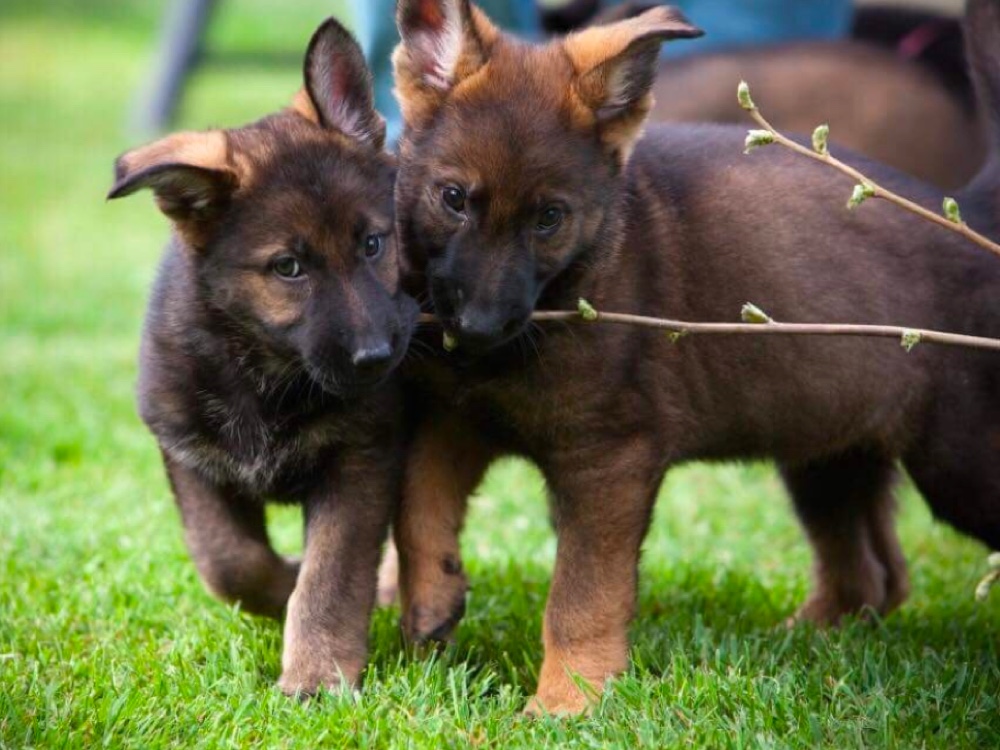 Vom Banach K9 is a top-notch German Shepherd breeding service that operates in the United States, Port Orchard, Washington to be precise. They are quite interesting as they specialize in the breeding, training, and all-round raising of top-notch German Shepherds from some of the best lineages out there. They are centered on producing through working German Shepherds with impressive drive and the right build to match it. Julie Marlow is the breeder behind this impressive program.
Looking at their breeding program you'll find that they only use German Shepherd sires and dams that are imported from top proven bloodlines as they come directly from East Germany (DDR German Shepherds), the Czech Republic, and Slovak. These dogs are made to undergo complete health checks including the standard genetic health checks to be sure they are free from any genetic health issues and even orthopedic health checks, having their hips, elbows, and hearts checked by licensed professionals.
The puppies are raised in a great environment that is spacious, stimulating, clean, interchangeable, enriching, and age-appropriate. The puppies get a sound start as they get to build their confidence through decent exposure to lots of new environments and experiences. They get to interact with people of varying age ranges to help them become more socialized and they undergo proper training to make them great working dogs. They also offer special dog training if interested. Your puppy should be healthy and come with a written health guarantee and records of their received shots and dewormings.
2. Rodina Straze German Shepherds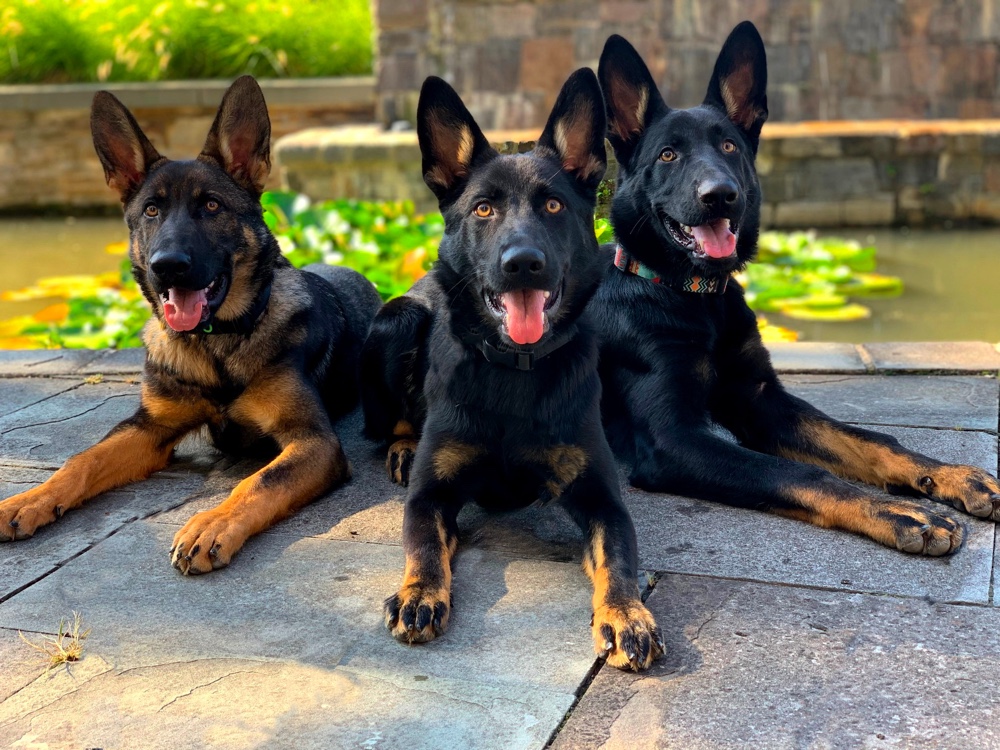 Located in Frederick, Maryland, Rodina Straze is another top German Shepherd breeder that is focused on producing high-quality German Shepherds from some of the best lines out there. They are focused on working line German Shepherds and strive for excellence with their program. Marie and Mike Donahue are the breeders behind this exclusive breeding program, all their dogs are registered by the AKC and each of them is raised under the strict rules set by the AKC. Their dogs make great family dogs as well as awesome work dogs.
Their program is focused on using the best of the best, which is why they import their German Shepherd sires and dams, making use of DDR German Shepherds and Czech Republic German Shepherds. Each line was brought in to help improve the overall breed integrity of the working German Shepherd. Rodina Straze German Shepherd sires and dams are tested for genetic health defects and they also have their OFA hips and elbows available.
The dogs are raised in the family home which is located in Frederick, Maryland. There, they are provided with proper puppy enrichment protocols like Puppy Culture to help give them that much-needed start. They get to interact with people and other animals each day and they are exposed to lots of stimulating textures, sights, and sounds. You should be getting a health guarantee with your puppy, medical records of the shots, dewormings, and checks and your dog should also receive basic training.
Is The DDR German Shepherd The Right Dog For You?
So, with all that has been said so far about the DDR German Shepherd dog, is it the right dog for you or your family? Let's find out. First off, it is important to know that all German Shepherds, not just the DDR German Shepherd, require a lot of attention and commitment, so if you must own one, be prepared to provide all these and more.
They are also very energetic, so the ideal owner or family should be an active family that could take out the time to exercise their German Shepherd through regular walking or jogging, hiking, swimming, and a lot more. If you do not have any of these traits, consider getting a calmer dog.
When it comes to children, with proper socialization at a young and tender age, your DDR German Shepherd should get along with them fine, in fact, they are blessed with a protective nature, so your DDR German Shepherds could not only play with them but also protect them from hostile situations.
But they do require supervision by an adult when around small children (i.e babies and toddlers), this is due to their large size which could be quite harmful to the delicate child. So if you are an active owner and family that is interested in meeting the required commitment and attention of the DDR German Shepherd, then they are right for you, if not look for a smaller well relaxed breed.
Conclusion
There you have it, all you need to know about the DDR German Shepherd line. Remember to do your proper research when searching for a breeder of this German Shepherd line. Ask the right questions and ask for the proper documents.
This is all we have for you in this article, you can check the website for more engaging articles like these.