German Shepherds are very smart dogs. They have highly sensitive noses and ears which can pick up sound at a very good distance. In fact, it is said that the average German Shepherd's hearing is 7 times better than that of the average human. They can pick up different types of sound that would ordinarily not be available to the regular human being, from high-pitch sounds to low-pitch sounds that are kilometers away.
With this level of sensitivity, regular and proper cleaning of the German Shepherd's necessary. If you do not know how to go about cleaning your German Shepherd's ear, count yourself lucky as you have come to the right page.
In this article, we provide you with all you need to know about the German Shepherd's ears. From the structure of the ears to the problems that can affect the ears if left dirty. We also provide some useful tips on how to clean your German Shepherd's ear properly. So do read till the end to learn more.
Understanding The German Shepherd's Ear Structure
Before getting into details on how to properly clean and maintain your German Shepherd's ears, it is very important that we get a full understanding of the German Shepherd's ear structure and exactly what it entails.
If you do not already know, the German Shepherd's ears are similar to the human ears in some ways as it is made up of four parts. These are the Pinnae, the ear canal, the middle ear, and the inner ear.
Starting with the Pinnae is the outer part of the ear which is visible to the eye. For dogs in General, the pinnae can be used to express the emotions that they might be feeling at a particular time. When alert or happy, they can stand upright and when sad, they can become floppy.
The Pinnae of the German Shepherds are upright most times and they feature a wide opening. This particular feature helps improve airflow into the ear canal which keeps it dry and prevents the build-up of moisture in the ears.
But the German Shepherd isn't born with such perfect ears. As puppies, their ears are floppy and often described as lazy. However, as they get older, within 8 months or so, their ears undergo change.
After the Pinnae, the German Shepherd is blessed with an L-shaped ear canal. If you look down the ear canal of your dog, you'll find that it goes straight down and then makes a sharp angle progressing toward the inner ear of your dog.
The ear canal of our dog's ear is where the cleaning is really needed as they can easily get moist and lead to a buildup of debris and wax which can cause some serious health issues for your dog.
As you progress through the ear canal of the dog, you stumble into the middle ear which houses the eardrum or tympanic membrane. This is a thin barrier that is quite delicate, but because of the anatomy of your dog's ear, it can be rather difficult to reach the eardrum of your dog when cleaning.
If there is however an ear infection in the middle ear, chances are that there is a tear in the eardrum of the ear. After the middle ear, we get the inner ear which is located as you progress down the ear.
In the inner ear, there are three bones that are responsible for hearing and balance. These three bones are the stapes, the incus, and the anvil. The cochlea and the vestibular fluid are the main organs responsible for hearing and balance.
It is possible for ear infections affecting the middle ear to progress through the inner ear also, if this happens, it is possible, that your dog might lose its hearing.
Getting Your Dog Used To Clean
Trust is very important when trying to clean your German Shepherd's ears. As we have already stated, the ears are quite sensitive to the German Shepherd, so you should expect some resistance from your dogs when they feel something touching their ears.
You can get your dog used to the act of cleaning their ears by regularly handling their ears from a young age. Pet their ears regularly as you play with them, you will find that they actually enjoy having their ears played with.
As you play with their ears, you can try rubbing and touching the inside of their flaps to see their reaction, this will get them to trust you with their ears. You can also run your fingers through the exterior of their ear canal by holding the pinnae first.
While bathing the dog, try to touch their ears to see their reaction, if they react well through all these, you can occasionally give them treats as a reward or even give them enough playtime.
Cleaning Your German Shepherd Ears, Step-by-Step Guide To Help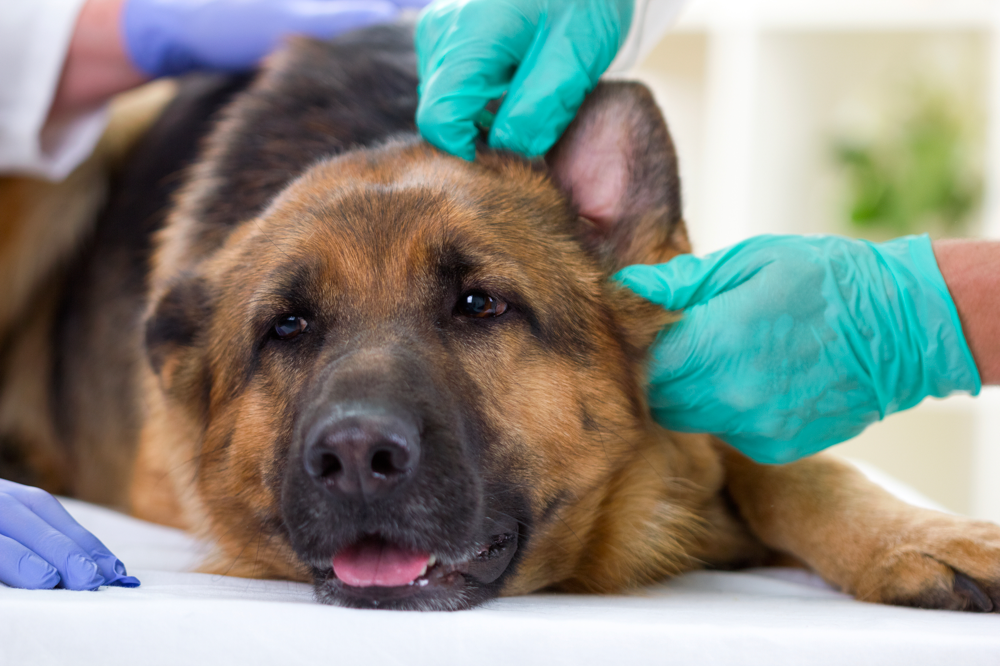 Although cleaning your German Shepherd is heavily recommended as you can help prevent some serious health issues by cleaning the ears, doing this improperly can actually cause more harm than good to your German Shepherd.
This is why there are certain tips that can help you in cleaning your German Shepherd's ears. Remember, the eardrums are quite delicate so avoid cleaning the ears with force or forcefully jamming the eardrum.
To properly clean your German Shepherd's ears, you can follow the steps listed below;
Step 1. Read The Environment
German Shepherds react differently to ear cleaning so it is quite helpful to know what works well for your German Shepherd. Some don't have issues with cleaning their ears while in a tub after a bath.
However, some German Shepherds prefer you clean their ears while on an elevated area like a table. If this is so for your German Shepherd dog, then it is essential you set up a proper, clean grooming table for your dog.
Step 2. Gather Your Cleaning Supplies
These are cleaning supplies for your dog's ears, not for your house, so it is essential you discuss with your vet what proper cleaning supplies to use for your German Shepherd. In general, you will need towels, cosmetic pads or cotton balls, or ear-cleaning solutions.
Step 3. Get Your Dog Ready
With your cleaning supplies and environment ready, the next step is to get your dog set up. If your dog is still not used to you cleaning their ear, you will need to get a leash ready to hold them in place as this is a delicate process.
Step 4. Start The Cleaning Process
Now we can begin the cleaning process. The first thing to do is grab your dog's pinnae from the middle part and then hold it firmly in place while lifting it. This will grant you access to the ear canal.
With access to the ear canal, you can then pour the ear cleaning solution into the ear canal filling it. While doing this, you can massage the base of the German Shepherd's ear. If you hear the fluid squishing, don't be alarmed, this is normal.
For the use of a medicated solution, you can keep the liquid in place for 5 to 10 minutes before releasing your dog and shaking its head to let the liquid out of its ear. And there you have it, your dog's ears should be clean.
Step 5. Clear Out Any Visible Debris
With the cotton ball or cosmetic pads, you can wipe out any visible debris located on the inner flap of the dog's pinnae. Do not use tissues, they tend to fall apart when exposed to liquid, and cotton swabs can cause some irritation.
Step 6. Go To A Vet If You Notice Any Abnormalities
Check your dog properly for any signs of abnormalities that might be gotten from cleaning their ear. This can happen in the form of a discharge or in their behavioral patterns. If you do notice anything, take them to a vet immediately.
If you can't seem to clean the ears of your dog properly, you can always hire a professional to do this for you.
What Cleaning Solutions Should You Use For Your German Shepherd?
This is always a question best answered by a licensed professional. There are certain basic ear-cleaning solutions available in stores. Hydrogen Peroxide or alcohol can be used but always consult with your vet before doing anything.
But using alcohol or hydrogen peroxide in your German Shepherd's ears does have its problems. One is alcohol can cause some pain especially if your dog has sores in its ears and hydrogen peroxide is a general irritant.
There are certain remedies you can make use of but again, it is always important that you ask your professional vet for the right cleaning solution to make use of.
How Often Should You Clean Your German Shepherd's Ears?
Some recommend that you clean your German Shepherd's ears every time you bathe or groom your German Shepherd, but this will be bad especially if you bathe your German Shepherd every 2 weeks.
What is proper, is that you always check your German Shepherd's ears for any signs of an infection or health problem as early detection can go a long way in getting rid of the problem.
If your German Shepherd's ears are healthy, then proper cleaning can be done every 4 weeks to 6 weeks. Just ensure the solution you used is specially made for the cleaning of dogs' ears.
Problems With Not Cleaning Your German Shepherd's Ears
By not cleaning your German Shepherd's ears, you open them up to a few health problems which can range from slight to severe if not treated properly. And although infections are a common cause of ear problems with dogs, other health issues can also be at play. A good example will be the growth of tumors in the ears of your dog.
These are the Common Causes of Ear Infections In German Shepherds
Ear mites
Ear mites are very small parasites that are usually found to be living in the ears of puppies and adult dogs. For the German Shepherd, they can lead to a buildup of debris which can cause ear infections.
Allergies
Allergies especially through food can be manifested through ear problems for your German Shepherd dog. And although the breed is normally not known to suffer from many allergies, White German Shepherds do have a high susceptibility level.
Bacteria
Bacteria buildup is quite a common cause of ear infections for German Shepherd dogs. This is mostly due to a moist middle ear or ear canal.
Signs and Symptoms of Ear Infections For Your German Shepherd
The good thing about the German Shepherd in relation to having an ear infection is that they are very sensitive and oftentimes can't hide that they are going through discomfort. In some cases, a mild ear infection can cause a dramatic response from your German Shepherd.
Be on the lookout for the following signs of an ear infection with your German Shepherd dog;
Head Tilting
Redness of the pinnae and the inner ear canal
Head shaking
Abnormal discharge can be of any color (watch out for bloody discharge)
Foul smell or odor
Scratching the ears, they can also place their paws on their heads
Inflammation or swelling around the ears.
Patchy fur around the ears
Nystagmus is an abnormal movement of the eyes.
Final Thoughts
Regular ear cleaning for the German Shepherd dog doesn't have to be an everyday affair, but it is quite important that you regularly check their ears for a sign of an ear infection. Failure to do this can lead to some serious health challenges for your dog.
Always stay in touch with your trusted vet as they can help you stay updated on health issues that might affect your dog. Be gentle while cleaning their ears as it is quite sensitive and you don't want to cause a rupture on the eardrum of your German Shepherd.
And if you can't handle cleaning your German Shepherd's ear, there is always the option of hiring a professional to do it for you.
Read More: