The German Shepherd is truly one of nature's greatest canine gifts to mankind. These large furry angels are blessed with an impressive temperament, size, high intelligence, and impressive coat, and are overall highly trainable. The German Shepherd is a true multi-purpose breed that can be used as a family dog, a search and rescue dog, a narcotics dog, a security dog like a police or army dog, a sport dog, a herding dog, a hunting dog, and a therapeutic caregiver dog.
With this high level of diversity and versatility, it is no surprise that some if not most puppy owners are looking to breed their German Shepherd dogs and produce more German Shepherd puppies for their family members and/or friends. In this article, we touch more on the topic of the German Shepherd heat cycle. We explain fully that a heat cycle is for the German Shepherd dog and how to easily spot one for your dog.
We also provide information on the duration of a German Shepherd heat cycle and even provide some very useful tips that could be helpful in managing the various stages of the German Shepherd heat cycle. Even if you do not plan on breeding your German Shepherd, having a proper understanding of your German Shepherd's heat cycle, could still prove important someday. If you want to learn more, do read on.
The first stage or first experience of a heat cycle for your German Shepherd puppy is expected to begin during the age range of 6 months to 12 months. At this stage, there are a couple of signs to look out for in your puppy.
What Does It Mean For Your German Shepherd To Go Into Heat?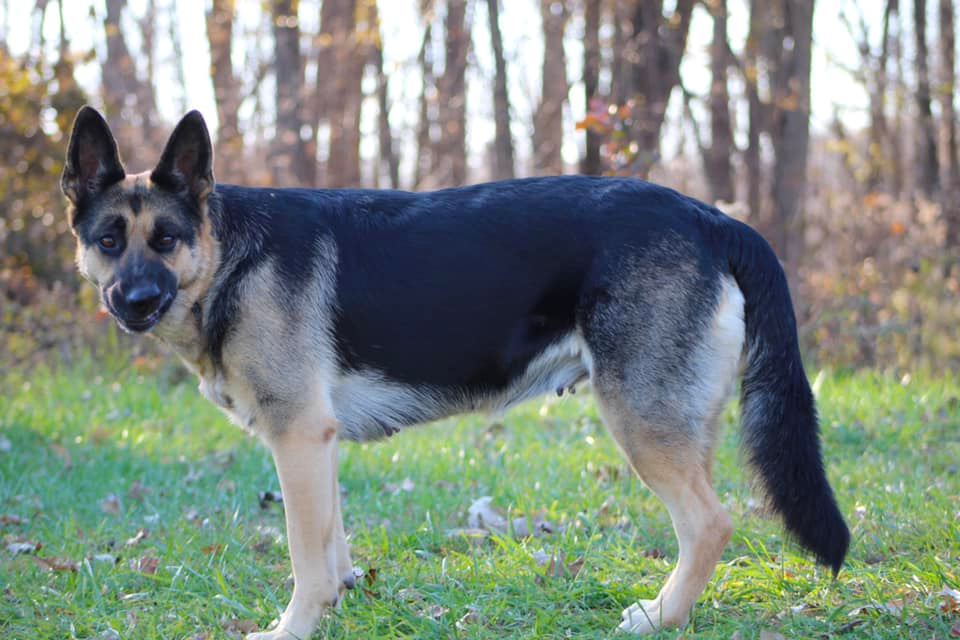 If you're a first-time puppy owner or a novice when it comes to puppy jargon and lingo, you might be sitting there, wondering; "What does it mean for a German Shepherd to go into heat?" Well, it is pretty simple, a German Shepherd in heat simply is any female German Shepherd that has achieved sexual maturity and can now actively produce new puppies.
Two key words to note there are "female" and "Sexual maturity". This is because you might also be wondering, "why only female German Shepherds?", or be asking, "Don't male dogs go into heat?". The short answer is no. You see, only female dog breeds (in this case German Shepherds), can go into heat or reach a point in their reproductive cycle when they become more receptive to mating with male dogs and general breeding.
The female German Shepherd, like most female dog breeds, they do experience this heat period in their reproductive cycle about twice each year. Another name for this heat period is called the Estrus. During the Estrus of a German Shepherd, there is a reported sharp increase in the estrogen levels of the German Shepherd dog and then followed by another sharp decline or decrease in the estrogen levels. This is then followed by the release of eggs ready to be fertilized.
How To Know When Your German Shepherd Is In Heat
A great way to know if your German Shepherd puppy is in heat is by simply observing them for any signs or symptoms that might suggest so. It is nearly impossible for a German Shepherd in heat to hide it, as there are certain signs and symptoms she would display during this very interesting period.
A lot of these symptoms would be discussed better in later sections of the article, but to give a broad overview, here are some of the symptoms or signs to look out for in your German Shepherd to know if she is in heat.
A color change in the appearance of their discharge.
Enlarged teats and a swollen vulva.
A sharp loss of appetite for your German Shepherd.
Tail flagging to one side of the body.
Regular or frequent urination and a lot more.
A change in the personality of the German Shepherd.
Weird mounting behavior by the female German Shepherd
When Does Your German Shepherd Puppy Go Into Heat For The First Time?
Ideally, the female German Shepherd is expected to first go into its first heat cycle at 6 months of age. At this point, your German Shepherd puppy should be sexually mature. Some larger dog breeds have also been shown to have a late heat cycle that could range from 9 months of age to 12 months of age.
It is also very possible for a female German Shepherd dog to go into its heat period or cycle at a much later age. Some German Shepherd dogs might not see their first heat cycle until they reach the age of 18 months to 24 months. In the end, it all depends on individual dogs and their genetic variations.
Now, it is worth stating that just because your German Shepherd has entered into its first heat cycle or Estrus, does not necessarily mean that they are indeed ready to be bred. Most experienced German Shepherd dog breeders would advise that you wait until your German Shepherd puppy reaches its 2nd or perhaps 3rd heat cycle before you consider breeding them.
If you do make the mistake of breeding your dog early during her first Estrus or heat cycle, you can heavily risk the health of the pregnancy she carries as her body might not be fully matured or developed to carry the pregnancy.
How Long Does a German Shepherd Stay in Heat?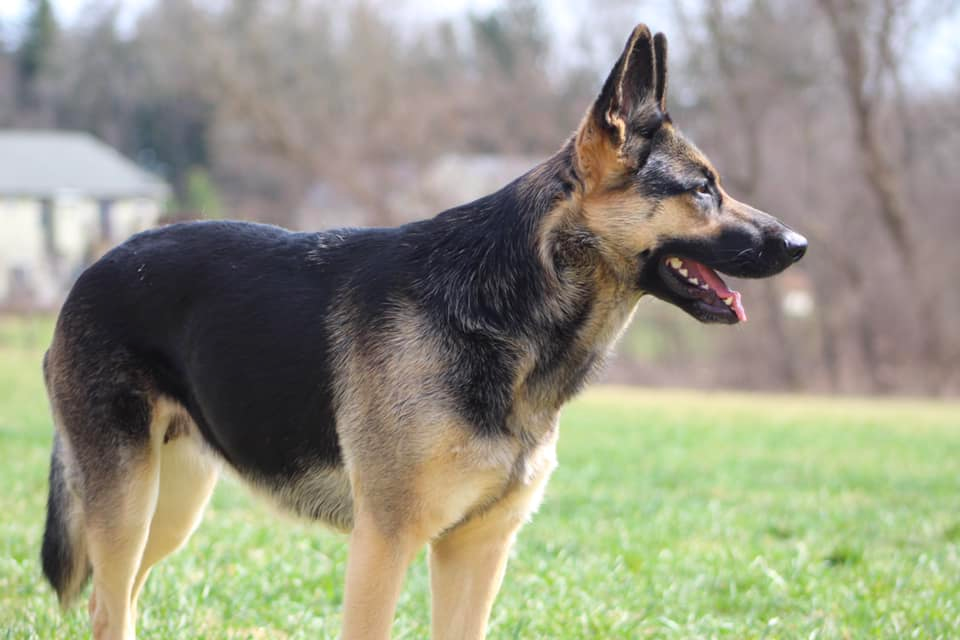 Another important question to ask is how long the heat period or cycle last for the female German Shepherd dog. The first Estrus of a female German Shepherd dog does not really last as we should be looking at a duration of 4 days to 15 or 16 days. During this stage, there is a high possibility that your German Shepherd puppy would get pregnant if she mates with any available or willing male partner.
It is very important to note that there is a possibility of a German Shepherd getting pregnant before the Estrus or heat cycle begins. How? Well, the sperm cell of the male German Shepherd is known to be motile. This means it can survive in the genital tract of the female German Shepherd for a period of 11 days.
The Stages of The German Shepherds' Heat Cycle
To have a full understanding of your German Shepherd's cycle you need a full understanding of the various stages it entails. For the German Shepherd puppy, there are a total of 4 stages to their heat cycle that exists. These stages showcase different signs and symptoms to help track your German Shepherd's development. They are the:
Proestrus Stage
Estrus Stage
Diestrus Stage, and
Anestrus Stage.
Proestrus Stage
As the name already suggests, the Proestrus Stage starts a few days after the first Estrus is seen. It has a relatively short time frame as it can last for a period of 4 days to 20 days. There are a few signs to look out for that betray if a German Shepherd is in the Proestrus Stage. These are;
The bloody discharge
One first sign to point towards the Proestrus stage of your German Shepherd during the heat is a bloody discharge. For the German dog, you might notice some signs of bloody discharge on the bedding, pillows, and even floors.
At this stage, you might see your German Shepherd licking itself or discharging the bedding and floorings quite often. The appearance of this bloody discharge would be white in color.
If you do notice either the bloody discharge in various areas of the home or your dog clearly licking itself a little too much, this is a clear sign of the Proestrus Stage.
Swollen Vulva
The swollen vulva is another sign to look out for pointing towards the Proestrus stage of the German Shepherd. It is a lot easier to spot than the bloody discharge or even the excessive licking your puppy does.
The teats of the German Shepherd might also swell in the process, and you should also look out for the abdomen of the German Shepherd dog as they should be a lot darker right about now
A Change in Behavior
Behavioral change is also quite common for the female German Shepherd dog as she should be going through a rush or wave of emotions right about now. They might become much more clingy or quiet and also feel a little bit aloof and nervous. At this stage the progressive it is possible to spot a lack of appetite.
Tail Flagging or Tucking
As stated earlier, the puppy should start feeling a rush or wave of different emotions. One such emotion would be a lack of confidence and obvious insecurity for your German Shepherd dog.
To show their lack of confidence, it is not weird for a female German Shepherd to tuck or flag or hide their tail behind the vulva during this stage in their Estrus Cycle. This is because she shouldn't yet be used to this much attention from eager male dogs.
Estrus Stage
During the Estrus stage of the heat cycle, a lot is being done. The German Shepherd is given enough protection during this stage. It should last for a period of 5 days to 14 days. So not a lot of change can be affected. A few of the symptoms that are associated with the Estus stage include;
A Change To The Discharge Of Some Dogs
The bloody Discharge that is associated with the Proestrus Stage should now have changed from a color to a red or pinkish red to a straw-colored discharge.
At this point, your German Shepherd won't be staining your beddings or floorings any longer as they should be done with the colorful discharge.
Behavioral Change
Your German Shepherd should now have a complete rush of different emotions during the Estrus to stage. You might find your German Shepherd puppy quiet in one moment, and then in the next, she would be bouncing around any male dog she quickly fancies.
She should be very happy and cheeky around male dogs as her ears become even perkier than usual. She should get very creative and almost begin hunting her desired male dogs by leaving a strong scent to attract them to her.
This stage can be interesting to watch, but it is highly essential you pay close attention to your female German Shepherd as she might find every male dog she sees interesting and might end up mating uncontrollably. Watch them closely to prevent accidental pregnancies.
Training does help out a little, but it is worth noting that it is not about the enjoyment of the female German Shepherd. It is more about satisfying the natural instincts to breed, which again is very natural.
It is also natural for your German Shepherd puppy to lose her appetite at this stage in her life. The adult German Shepherd. And for the male adult dog that is being seduced by the female German Shepherd, the strong scent that she leaves can stir up the emotions of the male dogs and if not properly trained, they can result in biting and large barking to get to mate with the female German Shepherd.
The entire breeding stage should be properly planned, especially from the Proestrus stage, so you can have some sort of idea of how fertile the German Shepherd dog might be.
Tail Untucking
As we stated earlier, the tail of the German Shepherd puppy becomes tucked during the Proestrus stage. Well, during the Estrus stage, the tail of the German Shepherd becomes untucked again. She might keep her tail a little upright to come off as playful to other male dogs in order to flirt with them.
Diestrus Stage
Once the Estrus stage is done, the next stage to come in is the Diestrus stage. This stage has a very long time period as it can last between 60 days to 90 days, which is quite a lot. At this point, most of the signs from the Proestrus stage would return.
Her tail should find its way around her vulva again, and she should become less distracted. She also should no longer be fertile during this stage but should still produce the scent that attracts other male dogs to her. You still have to keep her in close proximity to you at most times.
Anestrus Stage
Once the next 90 days of the last Diestrus stage are completely done, the next stage to come in is the Anestrus Stage. This should also last another 60 days to 90 days until the female German Shepherd puppy makes her way into a new cycle starting with the Proestrus stage.
Track this cycle of your German Shepherd as the only way you can spay a German Shepherd dog is at the end of her final; stage in the heat cycle. When the time is right, try to keep the vets closer for some good advice on what to do next.
Female German Shepherds and Sexual Maturity Age
As stated earlier, simply reaching a heat period or having a heat cycle doesn't mean a German Shepherd is sexually mature. The heat cycle only ensures that a female German Shepherd is able to mate with other males and produce new puppies.
Sexual maturity has a lot to do with both physical and mental maturity or development. A sexually mature German Shepherd should be physically able to handle the gestation period of the pregnancy and this can only be built with time.
Emotional maturity is also quite important as it contributes to the overall sexual maturity of a dog. In essence, your puppy should take a period of 2 years to attain full sexual maturity.
Dog Heat Cycle Calendar
As a responsible dog owner, you should have a proper dog heat cycle calendar to help you properly track your German Shepherd's health during this process. This would help you figure out what stage they are in and what possible symptoms to expect.
There are several online apps you can download to help you properly track the heat cycle of your German Shepherd puppy. But in all, these are the days to be expected for each stage of the Estrus cycle to last;
Proestrus: lasts from 4 days to 20 days
Estrus: lasts from 5 days to 14 days
Diestrus: lasts from 60 days to 90 days
Anestrus: lasts from 60 days to 90 days
Managing Your German Shepherds' Heat Cycle
Now that we know so much about the German Shepherd's heat cycle and how it works, the next section of this article is dedicated to helping you properly manage and care for your German Shepherd during the heat cycle.
Here are a few tips that you can try to help make your beloved German Shepherd's heat cycle go smooth and easy.
Try Not To Interfere With The Heat Cycle
As the saying goes "mother nature knows best", it is important that you trust your German Shepherd and let them go through this process without much interference. Now, letting nature run its course, doesn't mean you should allow your German Shepherd to mate with every dog she sees.
The idea is to not stress your dog further by getting involved with the symptoms or signs that they might develop along the way.
Always Love Your German Shepherd
As we already know, the Estrus cycle can be pretty stressful for your German Shepherd dog. This is why it is important to always show them the care and attention she requires by showing her love.
During this stage, your female German Shepherd would become even more clingy and emotional than usual. When that happens, the biggest support you can show her at that point would be by giving her your attention and overall love.
Go on regular walks with her, clean any messes she might make during that period instead of yelling at her and give her all the cuddles she requires.
Always Use A Leash
When walking with a female German Shepherd that is in heat, you definitely need to keep her on a leash to stop her from running off with any male dogs she might pick interest in. When in dog beaches, parks, and any other public space, leashes could help out a lot.
Isolate Your Dog
At some point, your German Shepherd might show more interest in mating with their dogs than it might show in spending time with you. If this happens, it is always wise to keep your puppy isolated and away from other dogs, especially males.
However, keeping them in isolation doesn't necessarily mean they should be kept away from human or social contact. That might be causing more harm than good for your German Shepherd.
Preventing Your German Shepherds from Going into Heat
If you don't have any intentions of breeding your dog further, you can consider having them spayed by a licensed professional to keep them safe. Spaying your German Shepherd can save both you and your dog the stress that comes with the heat cycle.
So what exactly does it mean to spay your German Shepherd puppy? Well, the whole process of spay involves surgically removing the whole reproductive organs from the female German Shepherd to keep her from having any puppies and stop her from going into heat.
The best age to spay your German Shepherd dog should be dependent on the heat cycle of your dog. For most owners, it is recommended to spay your puppy from 6 months and above depending on your plans for the German Shepherd.
What Age Do Your German Shepherds Stop Going into Heat?
There is no menopause for the female German Shepherd dog. This means it is possible for your German Shepherd dog to have continuous heat cycles all the days and years of her life. In this case, Spaying does seem like a highly recommended option for your puppy.
But, even though your German Shepherd dog might have heat cycles all her life, the duration of each stage in the cycle does get fewer and fewer as they grow old.
Do German shepherds Get Infections After Their Heat Cycle?
It is possible for a German Shepherd to pick up some infections during the process of their heat cycle. One such infection is Pyometra. This is a life-threatening and serious infection that can affect the uterus of the German Shepherd.
It is mostly caused by hormonal changes during the heat cycle period but the good news is that it can be treated. Some of the symptoms involve vomiting, an infected vulva, collapse, pain, and a bloated abdomen. See your vet if you notice any of these symptoms in your dog.
Conclusion
Caring for your German Shepherd dog is oftentimes a full job. The heat cycle can be a very stressful time period for your female German Shepherd. Still, we recommend that you properly care for your dog. Show them all the love and attention they require.
That's all we have for you in this article, you can check out the website for more engaging content like this.