If you are a German Shepherd owner, you should already know how energetic these adorable angels can be. German Shepherds have a reputation for being hardworking dogs and this reputation they clearly do live up to as you mostly would find them running around the yard, jumping from one spot to the other, and outright having fun.
Even though we enjoy the higher energy and positive temperament of the German Shepherd, there are days when a little less energy and a little more peace and quiet would be highly appreciated. If you belong to this category and are wondering "at what age does the German Shepherd actually calm down?", then you certainly are on the right page.
In this article, we provide some useful information as to why the German Shepherd is highly hyperactive, help you figure out the right age at which they actually calm down, and even provide some useful tips that can help or assist you in calming down your German Shepherd companion. So, let's get this article started.
The German Shepherd's hyperactive trait is quite natural for the dog breed. However, as they get older, you should see a slight decrease in the level of energy they display. By the 7th or 8th year, they should spend more time resting than running around.
Why Are German Shepherds So Hyperactive?
The Hyperactiveness of the German Shepherd is often caused by a lot of factors. Here are some of the factors responsible for their hyperactive trait;
Breed Origin and Genes
If you take a close look at the history and origin of the German Shepherd breed, you'll know that they were originally bred to make herding dogs or canines. And as herding dogs, they were required to run around chasing cattle. This active lifestyle might be a good reason as to why German Shepherds are hyperactive.
Also, looking at the Genetic composition of the German Shepherd breed, you would find that they do possess the tyrosine hydroxylase gene, which is also known as the TH gene. This is a rare gene mostly found in Siberian Huskies, it is believed to cause hyperactivity in dogs as well as impulsiveness.
Hyperkinesis
What Attention Deficit Hyoer-Activity Disorder or ADHD is to humans is exactly what Hyperkinesis is to dogs in general. This is a mental condition that can be found in some dog breeds like the German Shepherd. In fact, according to a study done in Finland, German Shepherds are said to have the highest prevalence of Hyperkinesis among other dog breeds.
Symptoms of Hyperkinesis in dogs include Hyperactivity, impulsiveness, fast heart rate, and a short attention span.
Lack Of Proper Physical Exercises
As we already know, German Shepherds are very active dogs and they do require a decent amount of physical exercises each day to stay healthy and also help them release any form of energy that might be stored within their bodies.
If these German Shepherd dogs don't get their much-needed exercises, they can end up frustrated and this can translate to them being destructive, especially around the house. It is always important to engage them in activities like swimming, regular walks and even running.
Lack Of A Proper Mental Exercise
Mental Stimulation is just as good as physical stimulation and for dog breeds as smart as the German Shepherd, a lack of proper mental exercises can lead to frustration which can in turn lead to complete hyperactivity.
There are certain activities you can engage your German Shepherd dog in to improve their overall mental stimulation. Anything ranging from puppy puzzles to herding challenges and agility sports can help deal with this problem.
Innate Playfulness
The temperament of the German Shepherd dog is generally playful and this can be both good and bad. The adult German Shepherd dog can very much still just be a puppy at heart. According to research, German Shepherds, like most herding dogs, are known to be the most playful dog breed.
This can further translate into hyperactivity for the puppies as you would mostly find them running and jumping all over the place.
Stress and Anxiety
Stress and anxiety are two mental and physical conditions that could lead to hyperactivity in both humans and dogs. Anything can cause stress for your German Shepherd puppy, from sudden loud noises to a sudden change in the environment.
This can lead to other symptoms like excessive barking, licking, panting, and eventually, anxiety. Anxious German Shepherds are restless and can develop different responses which might look like excess energy.
To Get Some Attention
German Shepherds are some of the most loyal dog breeds you can ask for, they love every moment spent with their owners and sometimes might be extra playful when seeking attention from their owners.
Boredom can also be a great reason why German Shepherds are often hyperactive. If this is the case, indulge your German Shepherd some more. Spend some time with them and keep them engaged and entertained.
What Are The Signs That Your German Shepherd is Hyper-Active?
It is very important that you know the difference between a naturally happy German Shepherd and a hyperactive German Shepherd. It can be quite difficult to tell because both states do show high evidence of activity, but for a naturally happy German Shepherd, they do come with a relaxed state in which they can be distinguished by the happy, high tail that they wag. Also when a dog is happy, you can easily bring them in to pet them.
For a hyperactive dog, however, there are certain key differences to look out for along the way. A hyperactive dog usually comes with some slight evidence of aggression. They usually attempt to bite or bark at unusually high levels and often move around by lunging, jumping, and running for no particular reason or control. Playing with a hyperactive German Shepherd can be a lot rougher than usual.
When Does A German Shepherd Actually Calm Down?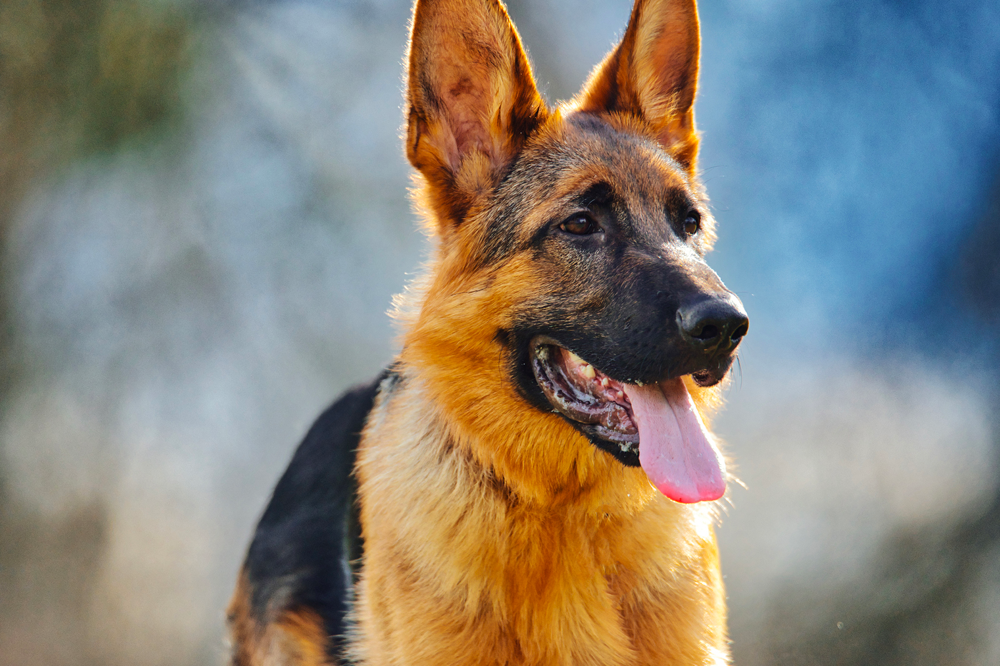 With all these reasons, it is pretty easy to understand why a German Shepherd becomes very hyperactive. But with that understood, when do they actually calm down? Well, using the generally accepted range, it is expected that your German Shepherd puppy should begin to see a decrease in hyperactivity between the 6th years and 8th years.
Even though that is the generally accepted age range for German Shepherds to become calm, it is still important to note that all German Shepherds are unique and might have a different period to become calm.
Here is a proper German Shepherd timeline that shows you the actual hyperness of your puppy Stage by Stage;
Stage 1: The 3 weeks to 1 month German Shepherd
During this stage, your German Shepherd is still getting familiar with the world and is highly interested in exploring it. Now, they do show high curiosity at this stage, but their bodies are still too young to show hyperactiveness.
Stage 2: The 2 months to 4 months German Shepherd
Your German Shepherd puppy should have a short attention span at this stage in their life. Energy levels should slowly begin to increase and as such, they should become more playful around the house while still being very curious angels. You might experience some difficulty training them at this stage in their life.
Stage 3: The 5 months to 1-year German Shepherd
During this stage is when your German Shepherd should be most in their hyper state. This is because they would have a lot of natural energy to play with and would most likely be sexually mature at this stage.
Stage 4: The 2 years to 6 years German Shepherd
Other dog breeds should begin to see a decline in the level of hyperactivity at this stage, but for the German Shepherd, it might still linger for a bit. They do begin to calm down though as their attention span becomes sharper.
Stage 5: The 7 years and above German Shepherd
By the 5th phase or stage in their life, the German Shepherd puppy should become more focused and should start seeing a significant drop in their energy level. Hyperactivity should take a sharp decrease and your German Shepherd would most likely spend more of his or her time resting during the day.
Other sure ways that you can ensure your German Shepherd is calm can be through the training and socialization process. Always keep socialization and training as a priority when choosing the right breeder for you and even after receiving your puppy, these two should be very important to you.
Always ensure your puppies get the needed training by either you or a licensed professional. Training your puppy yourself can help you ascertain full command over them and even help you build a stronger bond with your puppy.
Socialization can also be done by you, properly ensuring your puppy is exposed to all the right stimulations to get them more used to or familiar with the world and help with eliminating any possible evidence of stress and anxiety in your dog.
What Are The Ways To Calm Your German Shepherd?
Now that we realize we can actually calm our German Shepherd dogs without possibly waiting 6 years to 8 years to fully keep them calm and in check, the next is to figure out how to do it. Try any of the following methods.
Always Regularly Exercise Your German Shepherd
As we have already established at some point in the article, regular exercises are very good for the German Shepherd dog. Exercise can help with the proper release of whatever pent-up energy might be stored up in your German Shepherd puppy.
The logic behind regularly exercising your German Shepherd is simple, if you keep them exercised often and feel tired often, they do not have the extra energy to be hyperactive and would mostly spend a lot of their time sleeping or resting.
Mentally Stimulate Your German Shepherd
Asides from physical exercises, it is important that we mentally exercise our German Shepherds to keep them happy and constantly active. Try mentally stimulating your German Shepherd dogs by involving them in various dog puzzles that are a bit challenging.
You can add a reward at the end of the puzzle to keep them interested for long. German Shepherds are highly intelligent dog breeds, so try to make it challenging enough to keep them going at it for a while.
Train And Socialize Your German Shepherds
We have already explained how crucial it is to properly train and socialize your German Shepherd dog. Training them can help knock out many of the bad habits that come with a hyperactive dog by keeping them under control. And since the breed is highly intelligent, their trainability level is also quite high.
Socialization, especially during the early stages of their growth is also quite crucial in shaping their growth. By properly socializing your German Shepherd, you can get them familiar with people and different situations or environments that could naturally keep them stressed.
Socialization also helps keep your dog tired because it takes a lot of energy to explore new stimulations or interactions and by the end of each socialization session, your German Shepherd could feel a lot more tired than they did at the start of the session.
Take your dog to some good dog parks so they get to meet with other pets and properly socialize. You can also consider taking them to new environments and letting them explore the environment by themselves.
Watch Their Diet
You might be wondering how watching your dog's diet can significantly affect the level of hyperactivity your dog faces. Well, what you do feed your dog can have a positive or negative impact on the behavior and energy level of the dog.
Foods with low amounts of protein and a high dose of sugar can be quite detrimental to your puppy. These are high-energy foods that could leave your German Shepherd very hyperactive. Instead, invest in feeding them rich organic foods. If you need help coming up with a proper dietary plan for your dog, then you can consider consulting with your German Shepherd.
Conclusion
A hyperactive German Shepherd should not be more than enough for you to handle, especially if you follow any of the tips that we have listed above. Always remember that German Shepherds require a lot of time and commitment, be sure to give it to them.
And remember that socialization and training are quite crucial in shaping the lives of each German Shepherd puppy or dog you own.