Liver German Shepherds are one of the most unusual color patterns within the German Shepherd breed. This dog looks just like a regular German Shepherd and is actually black and tan in some cases, but with a light undercoat. German Shepherds actually come in a variety of colors, but the AKC does not recognize these unique colors. Many people think that the other colors also indicate that the dog will have health issues, but these colors are not always linked with any risk of these problems.
Liver German Shepherds are unique, and you might have to work hard to find a breeder that sells dogs in this color. However, if you love a unique coat pattern, you might want to seek out this breed in this unique color for you and your family. This is a loving breed that you will enjoy adding to your family for years of companionship.
Other German Shepherd Colors
What is a Liver German Shepherd?
This kind of German Shepherd has a lot in common with the traits of the regular German Shepherd. The major difference is that this German Shepherd has a diluted light brown coat that is caused by a recessive gene. This is a lighter color, but it still looks like a black and tan coat. The other standards of the breed are observed in Liver German Shepherds. They will look just like an AKC—registered dog other than their color.
This dog's color difference will be most noticeable in the undercoat. The undercoat is often fluffier, and it is light brown. This dog will also have a light nose and light eyes in most cases. This version of the German Shepherd often sheds year-round as well. The top layer of the coat might be wirier than the undercoat, which will be pretty soft and very fluffy in Liver German Shepherds as well.
Overall this dog will look just like a regular German Shepherd, but the changes to its coat are really noteworthy. This is one of the reasons that this dog will stand out in a crowd, but you will not have to part with the qualities that you love about the German Shepherd breed.
Are Liver German Shepherds Rare?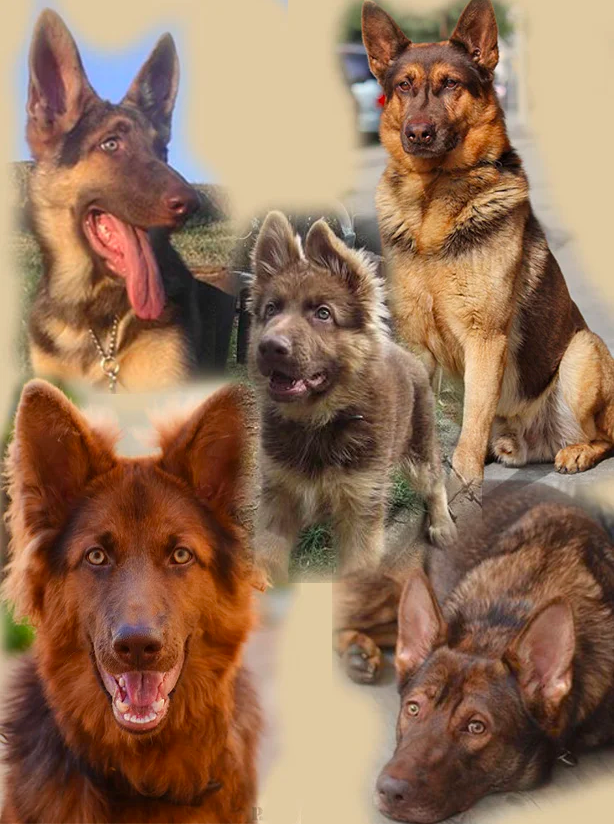 Liver German Shepherds are quite rare. This is because color is caused by a recessive gene that has to be expressed. This gene can only show up connected with the right genetic combinations. At least one of the parents of Liver German Shepherds needs to be liver-colored. Both parents have to carry the gene to make the offspring eligible to be Liver in color.
Not all of the puppies are likely to be Liver in color, either. There might only be one Liver animal in each litter. This means that the waiting list can be long even when you find a breeder who is able to produce these dogs. Liver German Shepherds are also not AKC registerable, which makes it even more likely that you will struggle to find this color for your dog.
Liver German Shepherds at a Glance
| | |
| --- | --- |
| Height | Males can be about 26" tall, and females will be about 24" tall |
| Weight | Males are 66-88 lbs, females are 45-72 lbs |
| Lifespan | 9-13 years |
| Color | Light nose and eyes with a liver undercoat. Can come in many colors |
| Suitable For | Agility, competition of various kinds, family life |
| Temperament | Loyal, smart, sweet |
| Exercise Needs | High energy until they enter old age |
| Good With Other Pets/ Kids | Yes |
Facts About Liver German Shepherds
This color pattern cannot be registered with the AKC. You can usually register this dog with certain competition groups, however. The AKC status of a dog does not usually have anything to do with the requirements of the AKC. Liver German Shepherds are not as common because this color pattern is not allowed by the AKC.
One of the parents of a Liver German Shepherd has to be Liver in color. Both parents need to have the gene for the litter to have a chance of including dogs that are Liver in color.
This German Shepherd color can lead to a dog that is a bit smaller and a bit lighter than some other German Shepherds. They might also be fluffier in appearance, but that is not a requirement either. They have the same life expectancy and health risks as regular German Shepherds.
Liver German Shepherds will not appear Liver in color at first. Their undercoat will lighten up quite a bit until they are about a year old. They might get even lighter later in life as they start to go grey.
History of Liver German Shepherds
The German Shepherd breed has been around since the late 1800s. The original reason that the breed was developed was to create a good herding dog that was loyal and could protect flocks. Later on, the dog caught the eye of the military and the police because of their willingness to be trained to be ultra-protective.
The Phylax Society was the original registry that was created to foster the development of the breed. This was before the AKC was in existence. The original breeder was Max on Stephanitz, who spotted the first dogs and thought that they deserved to have their own registry. He quickly bought a breeding pair and started making litters of dogs to indicate the features that he thought mattered for the breed.
This registry only lasted for a few years due to conflicts among the registry creators. However, this was a great foundation for the breed characteristics that would later become the rules and guidelines used by the AKC.
The outcrop colors, like Liver, were not common, even these days. Outcrop colors were already not popular and were considered to be outside of the desirable traits for the breed. This was probably wise in one sense because this kind of color is linked with recessive genes. It requires competent breeding to make sure that litters have healthy puppies in this color. Breeding just for this one-coat pattern would probably lead to issues with the health of the dogs.
Today, the color is still not registrable with the AKC. However, that does not mean that you cannot get this color of the dog and that it will not be healthy. You can find breeders who create this color of dog responsibly, and you will have a good experience with the dog that you add to your family.
What does a Liver German Shepherd look like?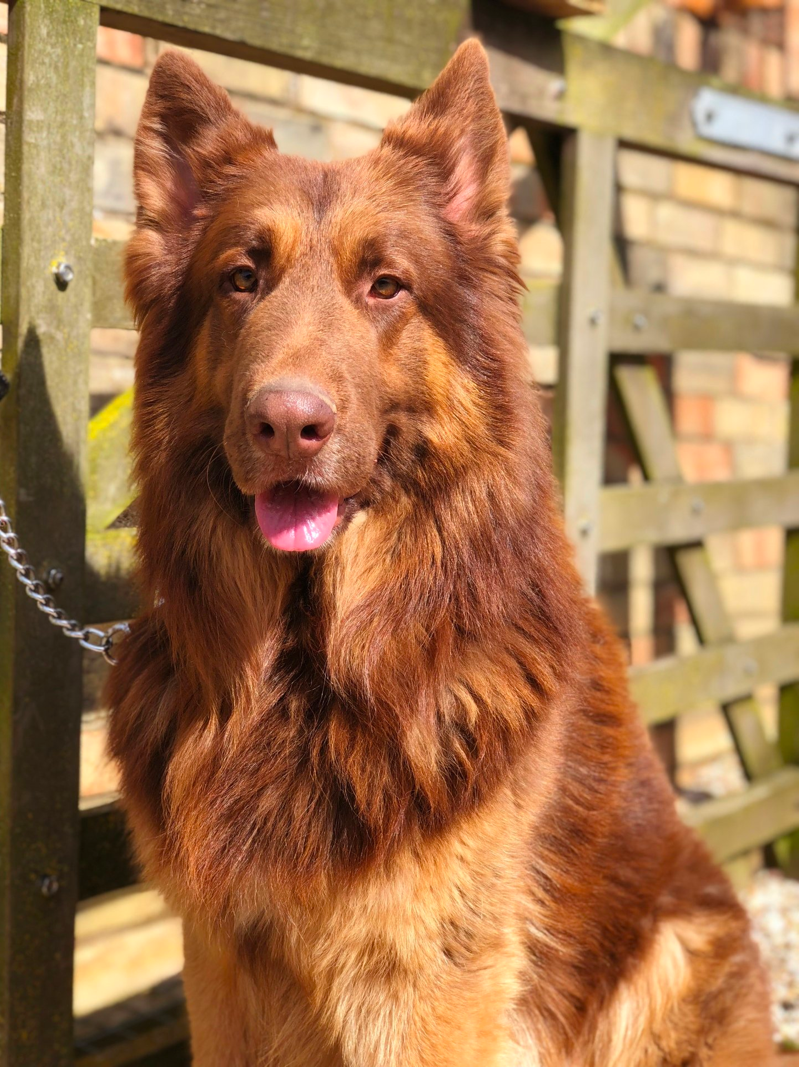 This color of a dog can actually vary. Many people think that the undercoat is all that is different, but the other colors in the coat can vary as well. These dogs can come in the following colors:
Black and tan
White
Black
Blue
Panda
Silver
These colors all look very unique, and some of them might not even seem like German Shepherd colors. They all have the same light brown undercoat. This makes the overall tone of the coat very different in appearance from the German Shepherds that you are used to seeing. People love the lighter color of these dogs, and they love that the top coat colors can be so unique as well.
If you want your German Shepherd in this color to retain the usual German Shepherd appearance, otherwise, this is an easy thing to guarantee. These dogs will look just like other German Shepherds, with the exception of their coat color. You will still recognize your Liver German Shepherd as part of its breed despite the color differences.
The Liver German Shepherd can be lighter in color and a bit shorter than some other German Shepherd dogs, but they will otherwise maintain all of the traits of the rest of the breed when it comes to looks.
How Long Do Liver German Shepherds Live?
This German Shepherd variety will live for 9-13 years. This is the standard lifespan for the breed as a whole, so you will not have to worry about a shorter lifespan related to this color. This dog shares most of the traits of the rest of the German Shepherd breed including the lifespan that these dogs enjoy.
Always be sure that you are aware of the common health issues that can impact big dogs. German Shepherds have a variety of possible health risks that your dog might not suffer from, but it is good to know about the reasons that your dog might have health issues down the road. Most of these conditions can be treated with ease, but it's worth knowing what to expect as your dog ages.
Food & Diet Requirements
German Shepherds need to eat high-quality food to be healthy. This can often be accomplished solely by feeding a high-quality kibble. Kibble diets are easy to feed and are made to ensure that your dog gets everything that they need from their daily feeding plan. German Shepherds should not eat table scraps or human food as they are more prone to allergies and digestive upsets than other dog breeds.
You can choose to feed your dog a raw dog food diet, but this can be problematic as a lot of these foods are not correctly balanced for good nutrition. You should be cautious about which brands you get food from and how much you feed of these kinds of foods. Some people prefer to feed butcher block cuts, but this can be really hard if you don't live near a butcher shop. Be very careful about just feeding meat products from the store on your own as this will not lead to a balanced or possibly even safe, diet for your dog.
Feeding is key to your dog's health and well-being throughout their life. You might need to adjust the amount that your dog eats as they age or if they have an injury and are not as active as before, but changing food all the time is not a good idea. You should have great luck with quality kibble, and the occasional healthy training treat for your dog.
Liver German Shepherds Exercise Requirements
Liver German Shepherds are very high-energy, especially as young dogs. They love to have a "job," and they want to be busy mentally all the time. Dogs that are not given enough exercise or mental stimulation can become destructive and naughty. Your dog will need at least a minimum of half an hour of exercise a day.
This is a breed that is hard to keep busy if you are away from home all day long or are not someone who likes to go for walks or runs. You can play with your dog with toys and teach them tricks and do things to keep their mind engaged if you are not someone who likes to be active. You can also take your dog to the dog park every day and let them play with friends and get some energy out.
Making sure that your Liver German Shepherd gets enough exercise is key, and you will need to commit to this part of your dog's care no matter what. Have this in mind if you have never had a high-energy big dog before. Your dog will love to spend this time with you, and they will bond with you really strongly through shared time like this each day.
Trainability and Intelligence
The Liver German Shepherd is a very beautiful dog that is also very smart and learns very rapidly. German Shepherds often can learn new skills in a matter of days, and they retain information really well. You will probably be able to teach your dog many, many tricks and skills, and they will be passionate about doing what you want.
This is one of the most trainable breeds on earth, and you will love working with this dog if you are passionate about playing with your dog and teaching them things. This is why the breed is so perfect for the military and the police. The intense loyalty of this breed makes them highly motivated to do specific tasks when they are requested, and the only reward they usually want is praise. This high level of motivation is key to this breed, and it can make them the best companion dog that you have ever owned.
If you are not prepared to train a dog on a daily basis, or you are feeling unprepared to handle this level of intensity in your pet, you might need to think about getting this breed, especially for a first pet. However, you can get help from a dog trainer, and you might find that your dog will fit perfectly into your life once you have a little bit of help.
Grooming Requirements
Grooming is a big part of this breed's care. You cannot neglect this part of your dog's health and well-being. You will need to plan to experience a couple of seasons of heavy shedding during the changes of season. The longer-haired your dog is, the more grooming it will need. You do not need to try and take care of this one on your own, and you can have a groomer keep your dog looking its best.
The coat of this dog is really practical and often quite easy to keep clean, and you just need to avoid things like undercoat matting. This can be very simple to do on your own, but a groomer will be more than happy to help your dog out when they are going through a shedding phase. Be sure that you do not wash your dog too many times a month and that you brush them once a week, and you should have their coat well in hand.
Health Risks and Conditions
The health risks for this color of German Shepherd are the same as those for black and tan dogs. This breed's main health risk is often heart problems and hip and elbow dysplasia. Breeders that are breeding with care will certify their dogs as being free of these defects. This is a key aspect of getting a healthy dog, and you should not take a puppy from a breeder that will not certify their animals.
Another health problem in this breed is bloat, which can happen when the stomach twists and requires emergency surgery. Dental health issues can be common as well, and your dog might need more frequent dental cleanings than other breeds of dog. Bladder stones can be common in some animals, but this can be addressed in most cases with a change of diet. Eye problems are also common in the breed, but again, breeders should certify their animals as being free of these problems.
Hemophilia does run in the German Shepherd's DNA, so you need to be sure that you are prepared to deal with this lifelong problem if your dog does end up with it. Epilepsy is also another problem that German Shepherds can end up with, and this can lead to a wide array of symptoms that can be easy or might be hard to control.
These problems are not that uncommon for large dog breeds, so you will need to do some reading about the kinds of problems that your German Shepherd might have with their health. This knowledge will help you to decide if this is the right breed for you.
How Much are Liver German Shepherds?
Liver German Shepherds can cost anywhere from $400-$2,000. Most breeders are not trying to get this coat color, and if they have a Liver German Shepherd puppy in the litter, they might want to part with it for a very affordable price. You will be more likely to pay more if you are able to get on a waitlist for a specifically colored dog that is bred by a responsible breeder. This is why paying more can be worth it so that you are sure that you are getting a healthy pet that will enjoy a long and happy life with you.
FAQs
Are Liver German Shepherds good for families?
This dog breed is great for families since they love kids and get along really well with other animals in the home. This is a high-energy dog that might not fit into your lifestyle, but if you are able to keep your dog exercised, you will enjoy every moment of your time with your German Shepherd dog and so will your family.
Are Liver German Shepherds good for first-time owners?
Liver German Shepherds can be a good fit for first-time owners, but you need to be sure that you feel ready to keep your dog exercised. You might need to access the help of a dog trainer to be sure that you are getting the skills that you need to take care of your dog properly. This is a very busy and smart breed but they are easy to exercise and they are so loyal that spending time with them is a real pleasure.
Do Liver German Shepherds darken with age?
These dogs will actually lighten over time in most cases. They often start out with a more solid-colored coat and then continue to lighten over time. This can be a surprise to some owners, so be prepared for this change to happen over time.
Are Liver German Shepherds Aggressive?
Liver German Shepherds will not be aggressive so long as they are handled correctly from the start. The German Shepherd breed is not aggressive, just protective. This means that you will need to encourage good listening behavior and tell your dog clearly when you do not agree with their inclination to see a threat in a situation. Dogs that are not encouraged to go after other animals or people will not become aggressive in any way.
How to tell if a German Shepherd is a Liver
This coat pattern is not that obvious when liver German Shepherds are puppies, especially in the darker coat patterns. However, within a month or so, the color starts to make itself known. The breeder will be able to tell whether their puppies are Liver or not based on their light noses and their light eyes, as well as their white toenails, however. These are the key signs that the liver coat pattern is present even before the haircoat itself changes color.
Is a Liver German Shepherd Right for You?
Liver German Shepherds are very beautiful and they are loyal and kind. This breed might be perfect for you if you want a dog that is great with kids, gets along well with other pets, and is very easy to train. You will enjoy years of love and companionship from your Liver German Shepherd and you will love that their coat color causes comments everywhere you go!
German Shepherd Tips and Resources