White German Shepherds are sometimes confused with albino dogs, but these dogs are not albino. Their white color is actually just a coat pattern that you can select from when looking at getting a German Shepherd. The gene that causes these dogs to have white coats is actually recessive, which is one of the reasons that it is not seen very often.
The White German Shepherd is a very distinctive and unique-looking dog. Other than their stark white color, they look just like a standard German Shepherd and offer their owners many of the same personality traits and skills. This is not the most popular color that German Shepherds come in, and it is not a recognized color with the AKC. That does not mean that there is anything wrong with picking this color for your German Shepherd puppy, however.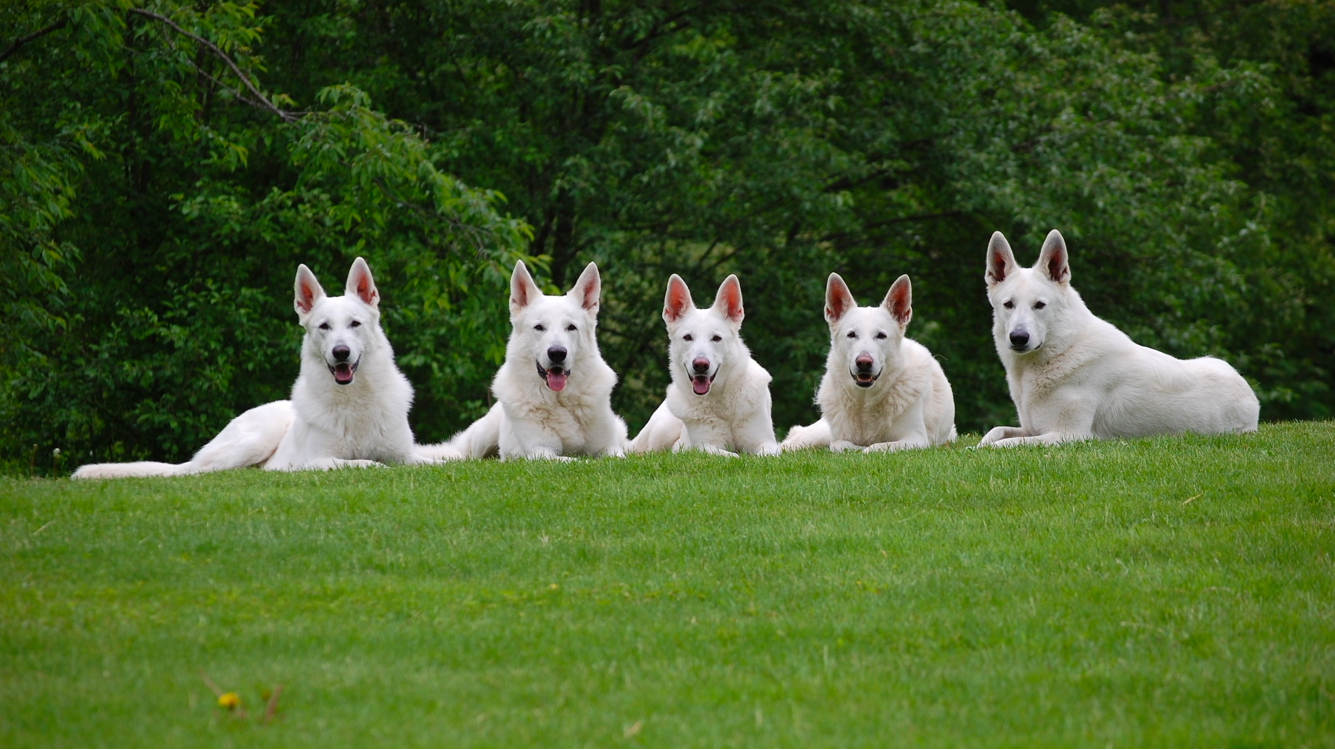 White German Shepherd at a Glance
| | |
| --- | --- |
| Height | 22-26 inches |
| Weight | 50-85 lbs |
| Coat Type | Short coat and long coat |
| Energy Level | High |
| Good with kids and other pets? | Yes |
| Lifespan | 12-14 years |
| Temperament | Kind and loyal |
| Exercise Needs | High energy |
What is a White German Shepherd?
A White German Shepherd is just like a regular German Shepherd but with a white coat. This color pattern can be seen in short-haired dogs as well as long-haired dogs. The White German Shepherd is the result of a recessive gene that is expressed in a litter of puppies. Dogs that are not white in color can express this gene, meaning that the parents of White German Shepherds might just look like standard German Shepherds.
White is almost always a recessive color, which means that most animals that have a white coat are the result of an expressed recessive gene. This is the case with White German Shepherds, which is part of why the AKC does not allow these dogs to be used as breeding animals. Unlike albinism, white is just a color, but that does not mean that it is linked with optimum health in some animals.
The AKC does not all most of the unique color variants that are possible within the German Shepherd breed to be registered as breeding or show animals. This does not mean that you cannot get a healthy dog that is not the standard colors, however. Just be sure that you are buying from a reputable breeder so that you can avoid the heartbreak of getting a dog that will not enjoy a long and healthy life.
Are White German Shepherds Rare?
White German Shepherds are not common because of the nature of recessive gene expression. These dogs are not a unique breed apart from the regular German Shepherd, but they are not possible without a specific arrangement of genes within a litter of puppies. Since these animals have been banned from registration in many countries, breeders also do not attempt to create this coat variant on purpose.
This means that you might end up having to shop around quite a lot to find a White German Shepherd. This will almost always be an animal that is not offered to show breeders or for competition either, and many breeders will not make it public that they have created a litter of dogs that includes animals that are white. There are a few breeders that do try to create dogs that are this color, and you will probably need to work with them to get a white dog to join your family.
History of the White German Shepherd
The German Shepherd breed has been around since the last 1800s. The original foundational breed was little known until Max von Stephanitz discovered the dogs. He bought a breeding pair of German Shepherd dogs that he had seen herding sheep and quickly created his own breeding registry. This breeding registry would serve as the foundational organization for the breed, and von Stephanitz was considered the founding father.
The German Shepherd breed quickly developed a reputation for being loyal, kind, and athletic. They were also good at lots of different tasks, like herding, hunting, and being family pets. It was only later on, after the advent of World War I, that this breed became closely associated with military and police work. The breed's fierce loyalty and incredible intelligence make it an ideal choice for this kind of work, and today, the German Shepherd is referred to as a "police dog" by many people.
The white variant of the breed has never been common. No one wanted to breed for this color, even in the early stages of the development of the breed. This meant that the gene was always expressed here and there, and the animals that showed it were not bred back intentionally to make more white dogs. This is ultimately a good thing for the German Shepherd breed since breeding animals with recessive genes to one another can be quite bad for the health of the litter that is created in this way.
The AKC uses the standards that were set out in the early 1900s to judge which dogs are a good representation of the breed. For many reasons, the various colors that are not part of the stated breed standard have been left out of the AKC's considerations. This means that these animals can be pet-quality, but breeders are almost never trying to create animals that will not end up showing.
White German Shepherd Appearance
The White German Shepherd will look just like a standard German Shepherd but with a white coat. They will be about the same height and weight, and they will have the same overall appearance. Sometimes White German Shepherds will appear a bit lankier and be a bit taller than standard dogs. They might also have a slightly more pointed nose, which might make them look more like a Husky dog.
Overall, all the different colors of German Shepherds still look like German Shepherds. There are some small variations in the appearance of these dogs when they are not the standard black and tan. This is due to some of the contributing dogs that originally built the breed. This can lead to slightly different appearances in the dogs from the standard AKC requirements, but these differences are slight and will not impact your dog's beauty.
The puppies are very fluffy, and they often look the same whether they are long or short-coated at first. White hair can look the same during the puppy phase, but over time, the coat will become longer and curlier over the first six months of their life.
How Long Do White German Shepherds Live?
The White German Shepherd can live for 12-14 years. However, it should be noted that the expression of a recessive color gene can sometimes be associated with other health issues. Recessive genes can often be linked to problems with joint health and immune health, so your pet might not live as long as expected, in part due to its color.
While the white coat of this dog is not linked with albinism, it can still be linked with other forms of recessive genes that lead to health issues. This is something that you will need to think about carefully if you choose to get a White German Shepherd. Being prepared for more trouble with health concerns is always wise when you select any white animal to join your family.
As healthcare for animals gets better and better, aging for big dogs improves. This means that your large dog will be much more likely to have a happy and healthy older age than dogs that you might have had in the past. Always make sure to check with your vet about the kinds of supportive care that you can offer to your aging German Shepherd to make sure that they can enjoy a happy and healthy old age.
White German Shepherd

Food & Diet Requirements
The White German Shepherd can be fed just like other dogs in its size and with its activity level. High-quality kibble food should be given to your dog for most of its meals. If you are feeding a quality dog food, you should not need to supplement your dog's diet with other forms of protein or vitamins.
Some people prefer to feed raw dog food. If you want to use this kind of food, just be sure that you are getting the food from a reputable source. Some raw foods are not as consistent in quality, which can be bad for your dog to hold weight and get the nutrition that they need. If you want to try and feed butcher block cuts to your dog, you might need to see if you can buy fresh from a local butcher shop. Never get any out-of-date meat from a source that is not a butcher shop because you might make your dog sick.
White German Shepherd Exercise Requirements
These dogs are very high-energy, and they will need daily exercise. This can include walks, going for a run, or playing in the backyard. Your dog might benefit from being involved with some kind of training as well, like agility work or even basic obedience training. White German Shepherds, just like other German Shepherd dogs, will want to enjoy a lot of time playing or learning new skills, even into old age.
If you are not someone who is very active and you do not have time to take your German Shepherd for walks every day at a minimum, you might need to hire someone to walk your dog or take them to doggy daycare. These kinds of adventures can help to fulfill your dog's needs on a regular basis so that they are not unhappy and they don't start getting into trouble.
German Shepherds are very kind to children, and you can easily send your White German Shepherd outside to play with your kids if that makes exercising them easier for you. Since German Shepherds can be protective of their owners sometimes, the dog park can be a hard place for your dog to have fun. Make sure you test the waters with just one or two other dogs before you take your German Shepherd to the dog park to play.
Working with a dog trainer can help you to figure out the right ways to entertain your dog and keep them exercised adequately. Some owners just don't realize how many ways there are to keep a dog from getting bored. If you have the right strategy in place, you can keep your dog entertained and active without needing to take up being a runner or going on long hikes a few times a week.
White German Shepherd

Trainability and Intelligence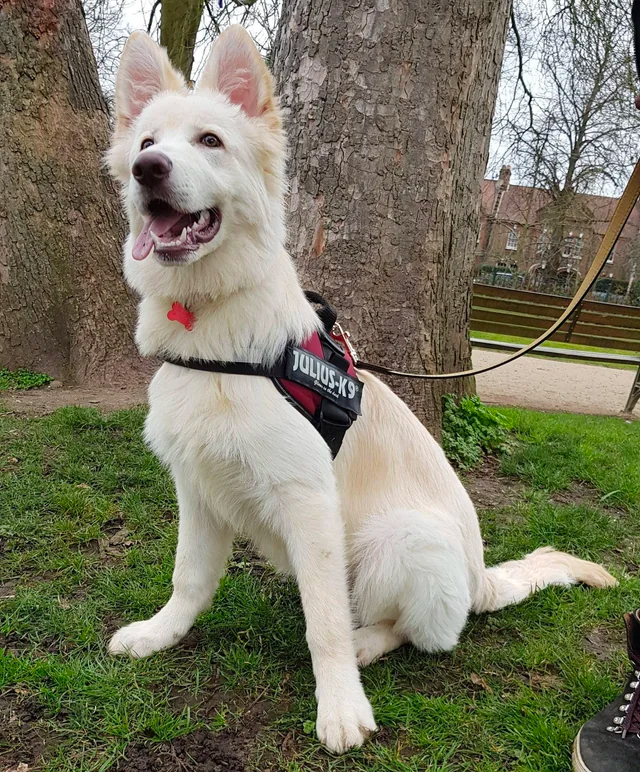 This is an incredibly trainable breed, and White German Shepherds enjoy learning new skills and spending time with their owners. They are always eager to engage in learning tricks and thrive when they are tasked with what they think of as "a job". Your dog will also remember all of its training quite easily and only need occasional refreshers to remember specific tricks and skills.
The German Shepherd breed is well-known for its intellect. This is one of the reasons that these dogs are so protective and so skilled at working jobs at the airport, for the military, and for the police. Your White German Shepherd will be just as smart as any other German Shepherd which can be ideal for some owners' goals.
White German Shepherd Grooming
Grooming of most German Shepherd dogs is really easy if they have a short coat. The short-coated German Shepherd will just shed significantly twice a year as the seasons change. Many German Shepherd owners just take their dog to the groomer during these shedding phases to get some help with managing the amount of undercoat that their dog needs to have removed. During the rest of the year, basic brushing and bathing are enough to take care of a German Shepherd coat.
If your White German Shepherd is long-coated, they will probably need more help to maintain their coat. You will probably need to take them to the groomer a few times a year. You will also need to maintain their coat more proactively at home by removing mats and taking care to keep debris out of their coat.
White German Shepherd

Health Issues
The White German Shepherd will be prone to all of the same health conditions and risks that regular German Shepherds are prone to. They can have hip or elbow dysplasia, although responsible breeders should certify their animals as free from this defect.
You should also be aware that German Shepherds tend to suffer from back and hip problems as they age. Arthritis is really common in this breed as well. Many German Shepherds are very active dogs, and you might need to add joint care and management to their daily routine at an early age. German Shepherds can also be prone to eye diseases and heart conditions. Large dogs are also more prone to bloat than smaller dogs.
Buying from a reputable breeder can make all the difference when it comes to your pet's health and well-being. If you cannot get health certifications from the breeder that you are thinking about buying from or if they are not clear about their goals to keep their dogs defect-free, you should look for a dog with another breeder. Buying an animal that is not healthy can be heart-breaking, and it also encourages irresponsible breeders to keep creating more litter of puppies.
How Much Are White German Shepherds?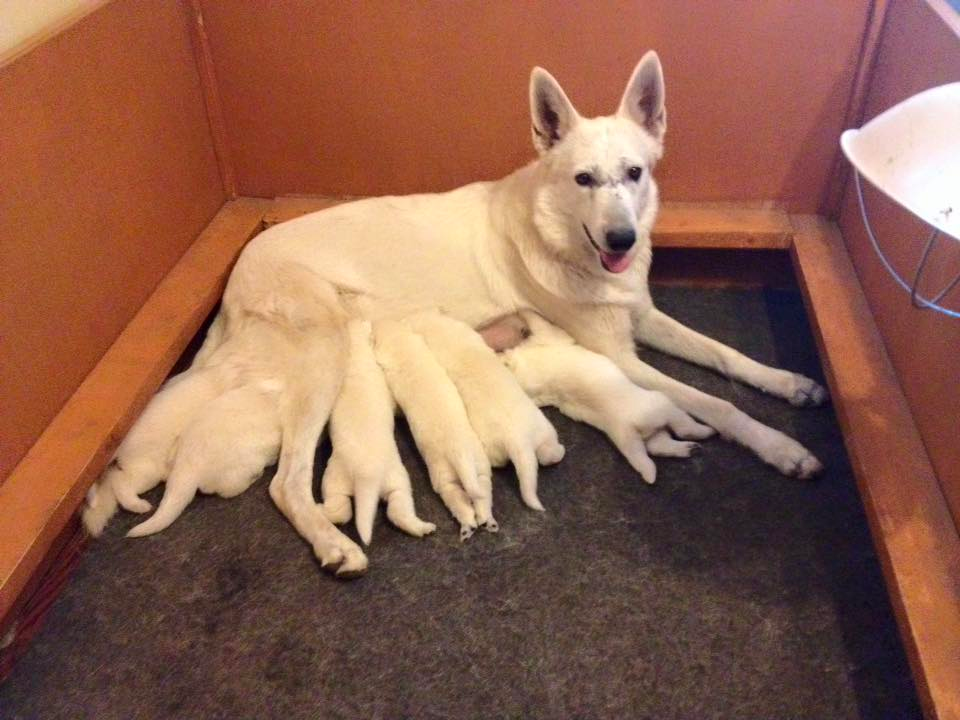 Many breeders who are trying to create this color of German Shepherd will charge about $2000 to $4000 for their animals. This is a hard color to breed for, which means that many breeders will only have a few white dogs in their program each year. You will need to plan to travel to find a breeder who is trying to create litter in this color as well. You might want to add the travel costs of tracking down this dog to your overall cost.
If you are working with a breeder that has some White German Shepherds that they are selling because of an accidental genetic cross, you might not have to pay as much. Most breeders who end up with white dogs by accident will make it clear that the dogs must not be used for breeding, and they will make sure that buyers for pet homes sign a contract that states that they will not breed the dog that they have picked out.
You might want to check out: Top 6 Best White German Shepherd Breeders Within The United States
FAQs
Are White German Shepherds good for families?
White German Shepherds are great family dogs. They are loving and loyal and get along well with other animals and with kids. This is not an ideal dog for someone who lives in a small house or an apartment, but if you have room for a big dog, you will not regret picking out a White German Shepherd for you and your family.
Are White German Shepherds good for first-time owners?
White German Shepherds are not always ideal dogs for first-time owners. This is because they are very high energy and because they can be quite protective of their families. If you are going to get a White German Shepherd for your first dog, make sure that you get the help of a dog trainer or go to puppy care classes while you are learning about your dog. This can help you to have a good experience with your new pet and to create the right home environment for success.
Do White German Shepherds change color with age?
White German Shepherds do not change color as they age. Dogs that are not quite might go grey over time around their muzzle or their eyes, but the White German Shepherd is already this color. You will not notice any change to the color of this dog as they get older.
Are White German Shepherds more aggressive?
White German Shepherds are not aggressive dogs by nature. German Shepherd dogs can become aggressive when they are encouraged to engage in behavior that is not ideal. You should be cautious about encouraging your German Shepherd to take action against anyone or anything that they are concerned about. Being protective is fine, but being aggressive is not a good thing.
How to tell if a puppy is a White German Shepherd
White German Shepherds are white from the beginning. You will know right off if your puppy is going to be white in color. There are other color variants that are not as obvious in the beginning when puppies still have their puppy coats. White, however, is a tough color to hide, and breeders know right away that the puppies in question are not going to be any other color.
Is a White German Shepherd Right For You?
A White German Shepherd might be the right dog for you if you love a loyal and intelligent dog that is great at many activities. White German Shepherds are beautiful and striking, and people everywhere will comment on how incredible your dog is when they meet them. White German Shepherds are relatively rare, and they are undoubtedly unique.
If you have been looking for a loving dog that will fit perfectly into your family, this could be the right breed for you to pick. Make sure that you are prepared to exercise your White German Shepherd enough and that you feel experienced enough to take care of a big dog with high energy needs. If you have cared for German Shepherds in the past, or you have had other big dogs in your family, you should be comfortable with the White German Shepherd that you have selected. White German Shepherds are lovely dogs that many people can create amazing memories with.
Other German Shepherd Colors
German Shepherd Tips and Resources