If you have always wanted a dog that will stand out from the crowd the Isabella German Shepherd is a great choice. This variant of the breed offers you all of the same temperament benefits as the standard German Shepherd, along with a beautiful and unique coat. This color pattern comes in a few different colors, and their light eyes will make them get compliments everywhere that you go.
Remember that you will usually have to pay more for a rare color or coat pattern in any dog breed. It can cost a lot more to get an Isabella German Shepherd than a standard German Shepherd. However, if your main goal in getting a dog is to have a unique and beautiful companion, then this version of the German Shepherd breed is probably perfect for your needs.
Other German Shepherd Colors:
Isabella German Shepherd at a Glance
| | |
| --- | --- |
| Height | Males will be about 24-26 inches tall, females 22-24 |
| Weight | Males will weigh 65-90 pounds, and females will weigh about 50-70 pounds |
| Coat Type | Long |
| Energy Level | High-energy |
| Good With Kids and Other Pets? | yes |
| Lifespan | 9-13 years |
| Temperament | Sweet, loyal, protective |
| Exercise Needs | High |
| Color | Silver fawn, Isabella Fawn, Silver Beige, Lavender, Lilac |
What is an Isabella German Shepherd?
The Isabella German Shepherd is the result of a rare genetic variation that combines the color variations from the bleu and the liver dilution. This means that the coat is entirely the result of recessive genes. This color pattern is sometimes called lavender or lilac as well.
These dogs have a fluffier and longer coat in most cases, and they will almost always have light eyes that are either blue or gray. Their noses might also be light brown to match the lighter tones in their coat. This dog can sometimes be mistaken for a Husky or some of the other longer-haired and light-colored dog breeds in this size category. They are actually German Shepherds, however, and are not directly related to these other dog breeds.
Are Isabella German Shepherds Rare?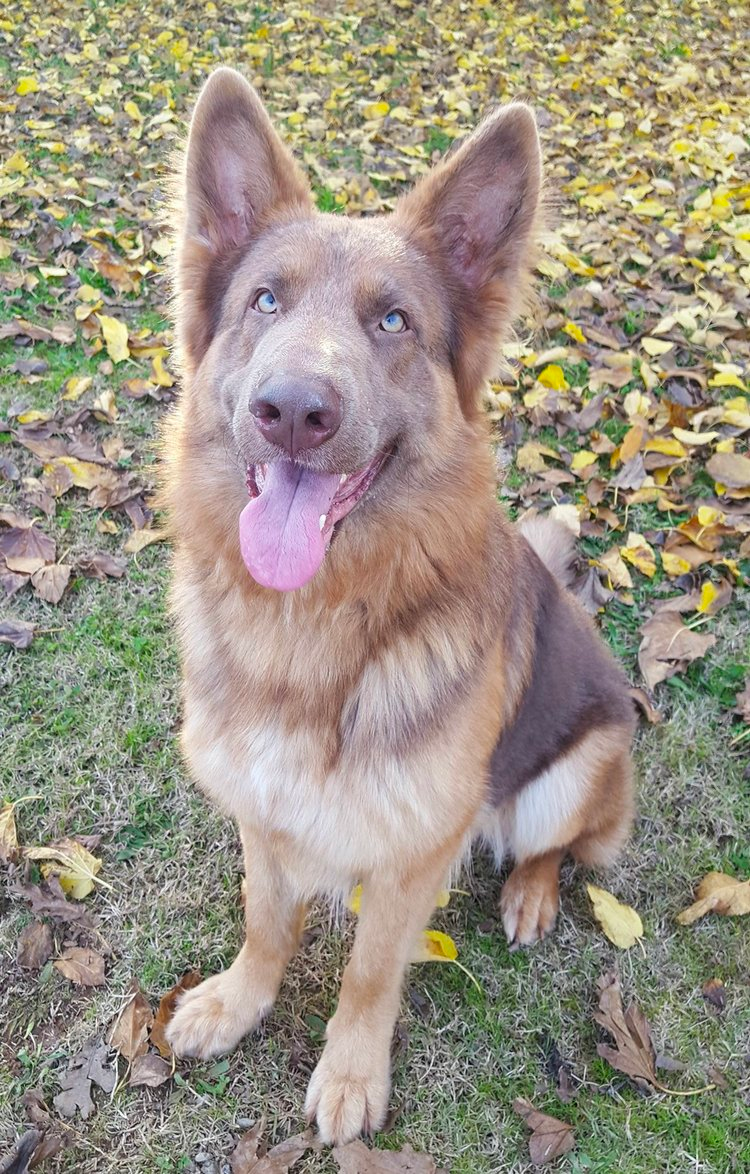 The Isabella German Shepherd is quite rare. This is because this color variant comes from two recessive genes that combine to make the color possible. This is not a common color in the German Shepherd breed, and it is not an AKC-recognized color either.
For the Isabella German Shepherd color to occur, both parents must have a particular recessive gene that allows the color to be expressed. This does not guarantee that all the puppies in the litter will express this gene, however. Breeders could produce a few Isabella puppies per litter or might not have any, despite having produced a whole litter of puppies with this color pattern in the past from the same breeding pair.
A reputable breeder will be needed in order to get a dog that has this coat pattern. It can be very hard to get a dog in this color, and you might be on the waiting list for a long time due to the rarity of this coat variation.
History of the Isabella German Shepherd
The Isabella German Shepherd is not a well-documented coat variant until quite recently. This is because the first German Shepherds that were bred intentionally to create the AKC-recognized breed were supposed to be black and tan. When the German Shepherd became more popular for working dog use and for the show, more breeders began creating litters of these dogs.
While the Isabella German Shepherd was not allowed to be registered by the AKC, these dogs were valued for the unique color that made them appear quite different than the other German Shepherds that were being bred for showing and for working jobs. Breeders might not have been breeding intentionally for this color in the beginning, but some breeders do work hard to create this coat pattern today.
The combining of recessive genes can lead to other kinds of health issues, so the AKC continues to encourage breeders not to try and create dogs in this color. There are very few breeders who can dependably create litters in this color, and there is little to no chance that this color will become part of the recognized association coat patterns that the AKC encourages.
Isabella German Shepherd Appearance
The Isabella German Shepherd looks just like a standard German Shepherd except with a unique silvery coat that is either sable, brown, or even golden in color. The Isabella dog might start out slightly darker and lighten over time. However, since their coats are so light to start with, you might not even notice this change taking place.
The coat of the Isabella German Shepherd is silky and slightly long. This means that you will need to provide more grooming care for this kind of German Shepherd than you would for a standard-coated dog.
An Isabella German Shepherd will almost always have a light pink or brown nose, and they usually have blue or grey eyes. They can also have blue-green eyes in some cases. This breed is about the same height and weight as a standard German Shepherd, but they can be a bit longer-legged and leaner in their bodies.
How Long Does an Isabella German Shepherd Live?
These dogs can live for 9-13 years. This is the same expected age range as for the standard German Shepherd. Getting your dog from a responsible breeder who certifies their dogs as being free of certain defects is important. This is particularly true since this is a color that comes from two recessive genes combined.
You should never get any dog from anyone who is not a responsible breeder. However, when you are trying to get a dog with a really unique coat, you need to be doubly sure that the dog that you get does not have a lot of health issues or problems related to inbreeding.
Most German Shepherds can suffer from hip and back trouble as they age, but there are things that you can do to help slow down this part of the aging process. Always make sure that you are prepared to take your dog out for enough exercise every day and that you take them to the vet if you notice something unusual going on. The sooner that your Isabella German Shepherd gets attention for health issues, the better, no matter how old they are.
Food & Diet Requirements
The Isabella German Shepherd will need to be fed a quality diet in order to be healthy. You will be able to source your dog's food from a variety of different companies that make balanced kibble products. Kibble is the easiest way to feed your dog, but some people prefer to feed a raw food diet. When you do choose to feed a raw diet, you need to be certain that you get the food from a reliable source. Raw food diets can be imbalanced, or they might have been contaminated during shipping.
Other people want to be sure to feed their dogs real butcher cuts. This can be hard to do, but if you are near a butcher shop, you might be able to change your dog over to this kind of feeding plan. You do need to be sure that you are prepared to feed your dog food like this, as some owners make the switch but really don't like to see this kind of food to their pet on a daily basis once they have to do it.
Feeding your dog quality kibble is often the easiest way to go. Your vet can help you to get the right food for your dog if you are not sure where to source your pet's food from.
Isabella German Shepherd Exercise Requirements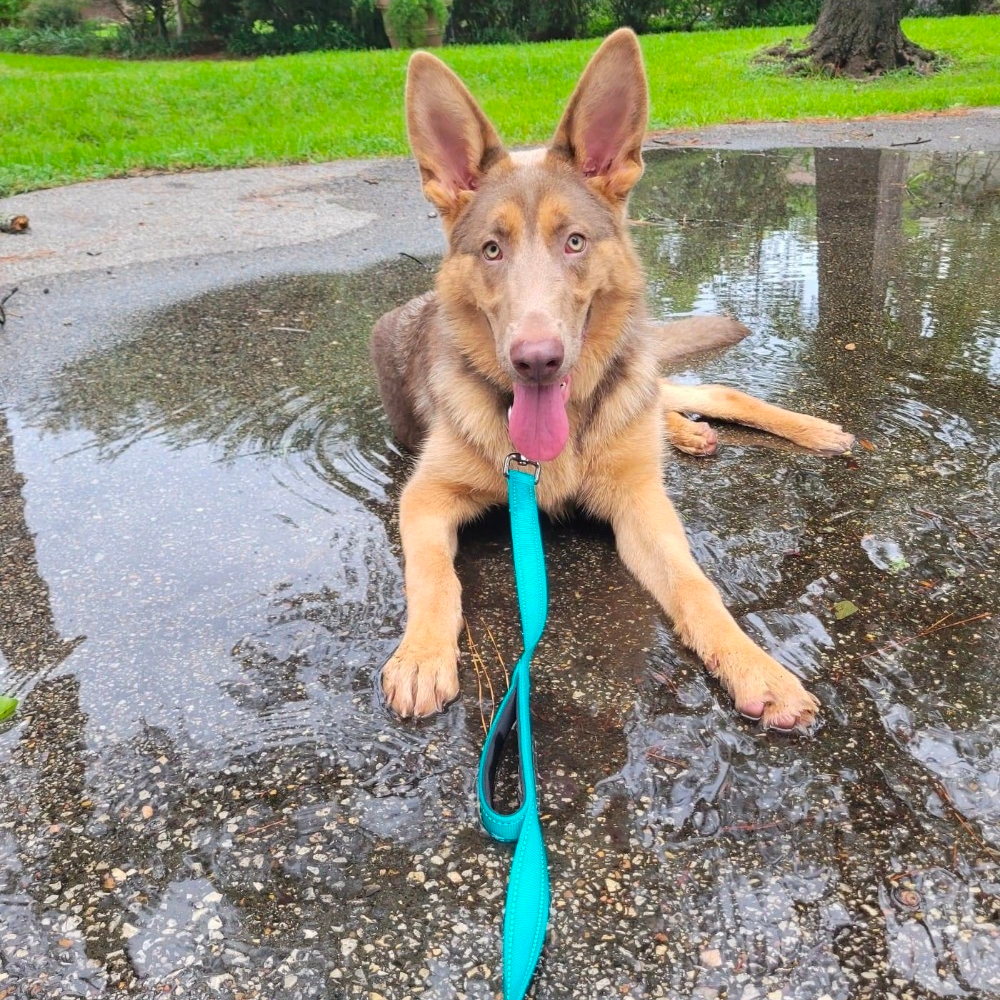 Your Isabella German Shepherd will require a lot of exercises when they are young. These are high-energy dogs who need to be busy and mentally stimulated every day. Keeping your dog busy requires daily walks or play, and you might need to be sure that you find things for your dog to do that challenge their brains. German Shepherds are working dogs, and they like to feel employed. Even if you make up games for you and your dog to play that keep them busy, this can be a great way to keep your dog happy and healthy.
Isabella German Shepherds love to go hiking and walking with their families. They also love to play with children and other animals in your home. If you have kids, you can trust your Isabella German Shepherd to play with them gently and quite happily for hours.
Isabella German Shepherd

Trainability and Intelligence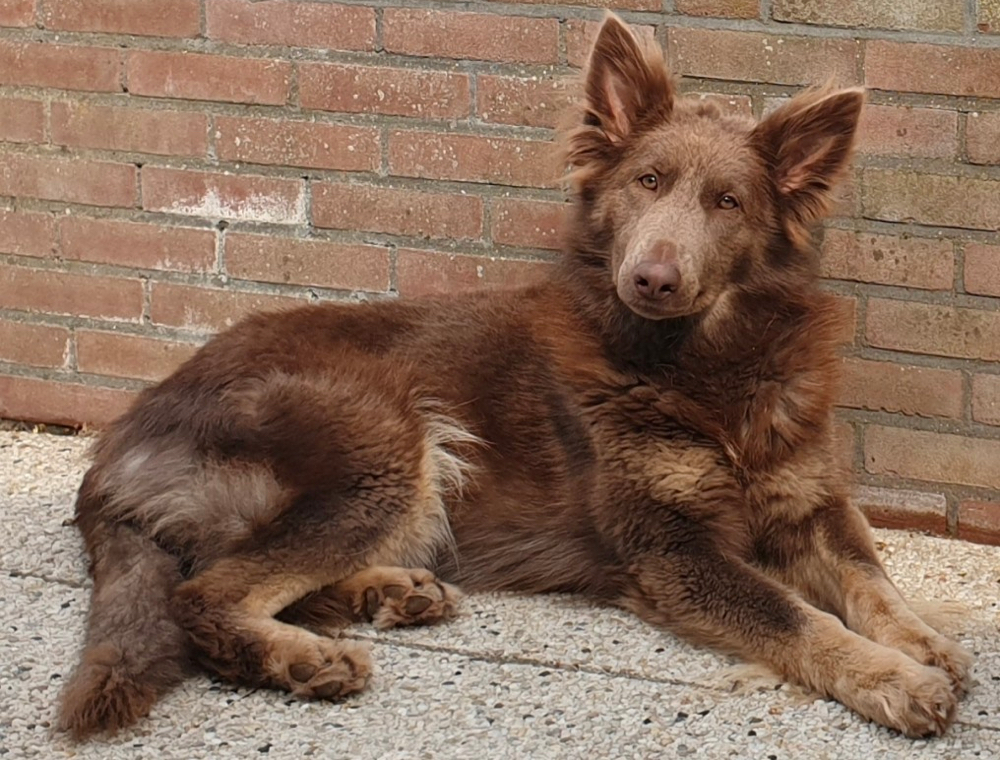 German Shepherds are some of the most intelligent and trainable dogs out there. This breed learns rapidly and retains information for a long time. You can teach your German Shepherd all kinds of skills and routines with ease. Your dog will love to be challenged with new skills all the time, and they will be pleased when they succeed at making you happy.
You can teach your dog tricks, and obedience, or even take part in competitions of many kinds. Your dog will be happy to learn things all the time, and if you enjoy working with a dog that loves to enjoy new skills, this is the right breed for you. German Shepherds benefit from being kept busy so that they do not destroy things or get anxious. You will need to be prepared to keep your German Shepherd busy on a daily basis throughout most of their life.
Isabella German Shepherd Grooming Requirements
Grooming for the Isabella German Shepherd can be more intensive than what is needed for the standard German Shepherd. This is because their coat is longer than the standard coat. While not as long as the long-coated German Shepherd, the Isabella German Shepherd will still require some of the more intensive coat care that long-coated dogs do.
You will want to consider having a groomer work on your Isabella German Shepherd every few months to keep their coat in good health. You will also need to take care of your dog's coat at home on a regular basis. This means removing burrs and other kinds of debris from their coat and making sure to keep on top of mats in the coat. Washing a long-haired dog also requires that you take the time to get them really dry before you start brushing them out.
Grooming this German Shepherd will require more time and effort than the standard dog. You will need to be sure that you are prepared for the investment that this coat type takes if you do get an Isabella German Shepherd.
Isabella German Shepherd Health Risks and Conditions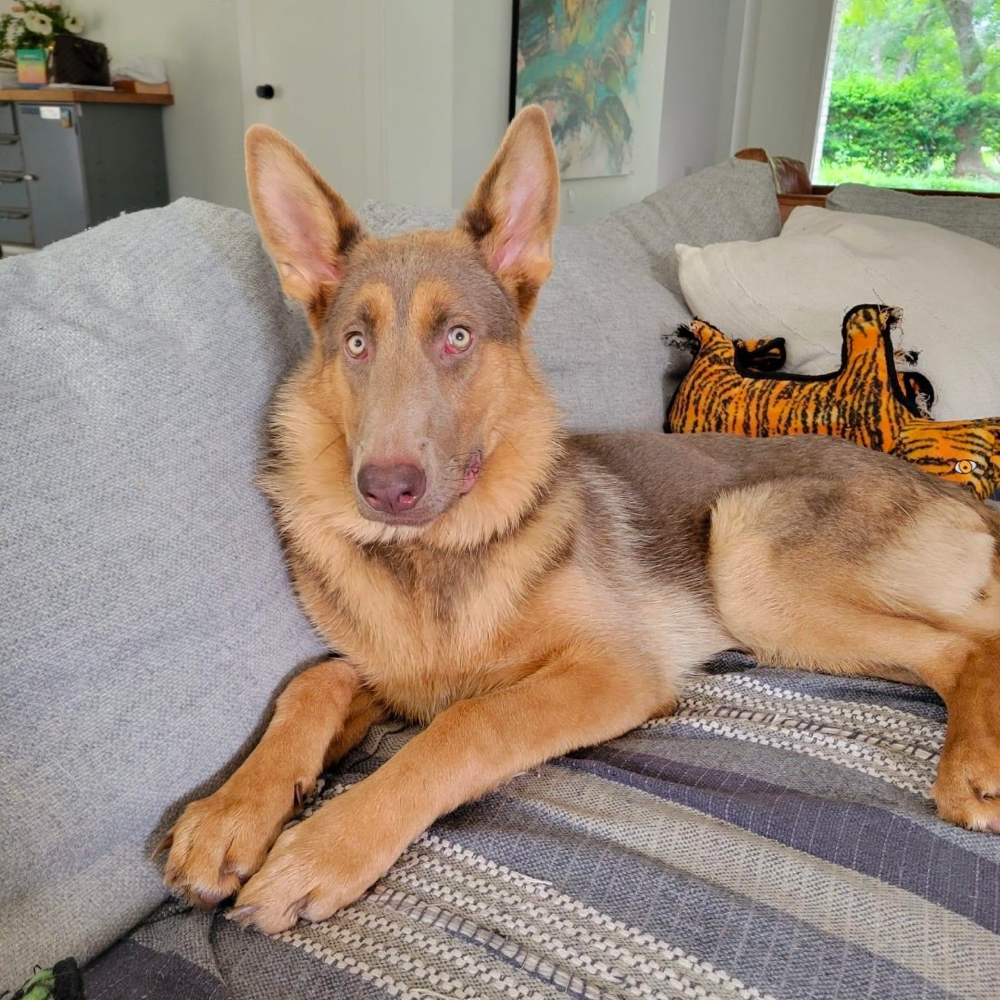 Just like regular German Shepherds, your Isabella German Shepherd can suffer from hip and elbow issues as well as back problems. These dogs are more prone to arthritis than small dogs, but you can manage these kinds of conditions with supportive care of various kinds. Hip dysplasia can impact even young German Shepherds, which is why you need to get your dog from a reputable breeder.
Bloat is common in big dogs of many kinds. You will find that this is not so common that you need to live in fear of this problem happening to your dog. However, this is something that all big dog owners need to be aware of. This can happen due to your dog eating something they should not have, but it can also be spontaneous in some dogs. Your vet will have to do surgery to correct this problem, but the surgery has a very high rate of success.
Progressive retinal atrophy is also common in all German Shepherds. This is a degenerative condition that causes blindness over time. There are few things that can be done about this kind of eye condition, but some vitamins and diet changes have been shown to help slow the progression of this condition. This is not as common as some of the other conditions on this list, but your German Shepherd could end up with this eye problem as they get older.
Diabetes is also common in German Shepherds. Diabetes can usually be well-managed with proper diet and, in some cases, with insulin dosing to help keep your pet's blood sugar at the right levels. This condition can happen to young dogs, but it is almost always a condition that impacts middle-aged and old dogs. Your vet can help you to manage diabetes, and you can avoid it being an issue for your dog in some cases just by sticking to a high-quality feeding plan and keeping your dog's weight under control. Keeping their weight down is good for other issues as well, such as arthritis.
Arthritis is a common problem for big dogs, and you will need to make sure that your dog is not jumping onto tall surfaces or exercising too hard every day as they get older. Between injectable joint support and supplements that you can put on your dog's food, you should be able to help hold off arthritis for many years. All big dogs deal with some level of arthritic limitation as they age, however, and you will need to be prepared for the way that this condition can limit your dog's ability to play and have fun as they get older.
How Much is an Isabella German Shepherd?
This kind of German Shepherd will be about $1,000 – $1,500. This is because this coat pattern is really rare. You will probably need to be sure that you are prepared to wait for a few years to get your dog as well. If the waiting list is long for a breeder, it can take a very long time to get to the top of the list. You will also not be able to be very picky about if you get a female or male dog since the number of Isabella dogs per litter can be small.
You will need to be sure that you are working with a recognized breeder before you get on a waiting list. It can be a good idea to ask around other dog breeders about who they would recommend for a dog with this coat pattern. Alternatively, you can do some research online and ask the breeders who you are thinking of working with for some more information about their breeding process. Breeders who are not willing to talk with you about the details of their operation or who are not interested in providing certifications of health should be avoided. No matter what kind of dog you are getting, you should never work with a breeder who will not answer basic questions and who is not transparent about the health of their dogs.
Isabella German Shepherd Puppies For Sale
1. K9 Pines
Taking up the next spot on this list of top German Shepherd breeders that are focused on the very rare Isabella German Shepherd dog is K9 Pines. They are located in Saluda North Carolina and have been strong breeders of German Shepherds for quite some time. Their main focus is on German Shepherd puppies of different coat colors, especially the rare Isabella German Shepherd dog.  Other rare coat colors they produce are brindle German Shepherds, fawn German Shepherds, and Liver German Shepherds amongst others.
The sires and dams used by K9 pines are registered dogs with the American Kennel Club which is where they are raised according to high standards that elevate the overall integrity of the breed. Their dogs are blessed with impressive titled pedigrees. In over 20 years, they have been able to build a solid line of genetically health-tested dogs that are still given the necessary orthopedic health checks with the proper certifications to show for it.
As a breeding facility or kennel, they are located on a large property that is in Saluda, North Carolina. The dogs are given the proper socialization and training right from day 1 till they eventually go to their new families. Your new dog should come with the needed written health guarantee. They are also properly vaccinated and dewormed with the right shots to keep them healthy and strong.
2. Sprague's German Shepherds
Coming down to Saint Meadows, South Carolina,  you can find the next breeder of the unique Isabella German Shepherd dog. Spragues German Shepherd has been focused on breeding German Shepherd dogs for families living in South Carolina for at least 20 years. They produce German Shepherd puppies of different color coats. These are the isabella, black, white, black, tan, and liver German Shepherd dogs with impressive coats. They are recommended by Gooddog.com and the facility is owned by Sandy Ahrens.
All their dogs are raised according to the high standards set by both the United Kennel Club (UKC) and the American Kennel Club (AKC). They are mostly imports that are carefully researched before being added to the breeding program. Every German Shepherd breeding dog should be fully examined and evaluated for genetic health issues. The dogs are also certified and checked by both the Orthopedic Foundation for Animals (OFA).
Every puppy is raised in the family house which is located in Saint Meadows located in South Carolina. They are shown all the love and attention that they need and each of their dogs is well-fed with the right German Shepherd kibble. Every puppy should come with full written health guarantees. They are also microchipped, given their full vaccinations and deworming with the records to show it.
FAQs
Are Isabella German Shepherds good for families?
This is a great dog for you and your family. These are lovely and loyal dogs who are protective and kind. They will love you passionately and create all kinds of daily joy with their enthusiasm and happiness. This breed is beautiful and gets along well with all kinds of other animals, as well as kids. You will love your Isabella German Shepherd from the day you get them.
Are Isabella German Shepherds good for first-time owners?
This is a dog that does require a lot of time in training, and they do need daily exercise. If you are very busy or you live in an apartment, this might not be the right dog breed for you. You can make sure that you work with a dog trainer if you want to get a high-energy dog for your first dog. Do be sure that you are prepared for this kind of commitment so that you can enjoy your lovely German Shepherd to the fullest and without issues.
Do Isabella German Shepherds change color with age?
Yes, Isabella German Shepherds change colors as they age. They will start out a lot darker when they are puppies, but they will shed out to a more recognizable light, silvery coat as they head out of their puppy months. Later in life, they can get much lighter, but you might not even notice this change until your dog is quite old. This is because the light undercoat of these dogs is already quite silvery in nature, so lightening or grey hairs will not be as obvious as they would be in a darker dog.
How to tell if a puppy is an Isabella German Shepherd
DNA testing can be the best way to confirm that a dog is an Isabella German Shepherd, but you might also have to trust the breeder. Breeders know the telltale coat pattern signs that indicate that your dog will be an Isabella German Shepherd. This coat pattern can be quite obvious from an early age for the lighter, more silver versions of its expression, but it can take a few months to be sure about dogs that are a bit darker in color but eventually lighten up.
Is an Isabella German Shepherd Right for You?
An Isabella German Shepherd is a great family dog, and they love to be included in the daily life of their family. This dog is loyal, beautiful, and highly trainable. You can count on your Isabella German Shepherd to add hours of enjoyment and joy to your life.
Make sure that you are prepared to take care of a dog with a longer coat and that you are prepared to exercise your dog every day. You will need to commit to both of these things if you are going to get an Isabella German Shepherd. This breed is very high-energy and very smart, and you will need to be willing to give them enough exercise to keep them happy every day. If you feel that you can commit to the care and exercise needs of this breed, then an Isabella German Shepherd is probably perfect for you!
German Shepherd Tips and Resources