Getting a new canine is a big decision. There are so many factors to consider. Your lifestyle, breed disposition, or temperament, but most importantly, you want a good family dog.
Are you thinking of getting a German Shepherd and want to know if they will be good with your kids? We have compiled information about these loveable beasts; you can decide for yourself.
German Shepherds are very popular canines, ranking number four in the American Kennel Club's listing of most popular dogs. Read on to find out if a German Shepherd is the right dog for you.
German Shepherd Background
The German Shepherd was a working dog who herded and protected sheep for centuries. In 1889, a man named Captain Max von Stephanitz began breed standardization. The standard was developed based on intelligence and temperament. The first German Shepherd was exhibited in America in 1907.
German Shepherds were utilized during World Wars I and II as messenger dogs. They were the means of communication between soldiers during the war. German Shepherds quickly became extremely important to the military. It was their unmatched loyalty that made them so invaluable. One example was in 1917, an exceptional canine named Filax was honored for leading 54 wounded soldiers to safety.
Here is a brief rundown of all the attributes of the German Shepherd:
Trustworthy
Intelligence
Confidence
Protectiveness
Eager to learn
Loyalty
Bravery
Active
German Shepherds were also starting to be used as guide dogs and service dogs for the blind and disabled. They were also employed as police dogs to apprehend suspects and search and rescue. Police dogs receive the same honor as their human counterparts if killed in the line of duty.
The German Shepherd grew in popularity in the early 1900s, with the breed being recognized by the American Kennel Club in 1908. Today they are still used as guide dogs and in police work. German Shepherds are also considered wonderful family dogs who protect their humans.
Why German Shepherds Make for Good Family Dogs
Many purchase German Shepherd dogs because they want an exceptional companion for their family to guard their kids, protect, and be a trusted and valued family member. German Shepherds are loving and gentle with kids, but they must also be adequately trained and socialized. The following include some of the reasons why German Shepherds make good family dogs:
Temperament and Personality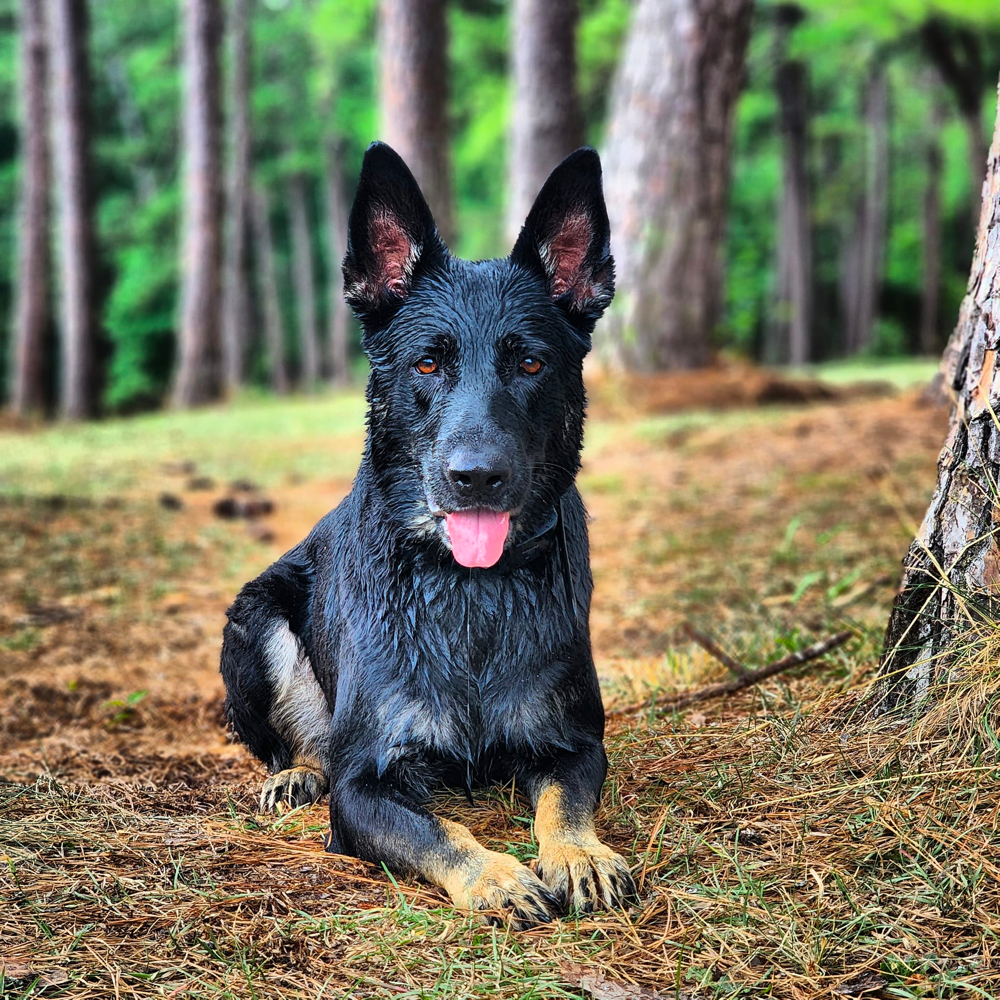 The German Shepherd is typically not enthusiastic about strangers, mainly if they have not been acclimated to new people or pets. However, they tend to bond wholeheartedly with their family or humans, including kids. Introducing your dog into the household when your children are young is a good idea to create a strong bond and lasting relationship.
German Shepherds are very patient pups and are not easily bothered by little people touching and petting them; these dogs welcome attention. They tend to be good with smaller children due to their tremendous patience and high tolerance. German Shepherds need to be trained, but they are generally affectionate and playful pups.
German Shepherds tend to respond better to unpredictability compared to other dog breeds. Kids are often unpredictable and impulsive, so you want a dog that best knows how to handle a loud or rowdy child. Fortunately, most German Shepherds are well equipped for this. The German Shepherd is the least likely to snap or become upset when adequately trained.
They possess an extremely stable and well-balanced character. They are not chosen for roles in law enforcement because of their aggressive nature, but rather, they are selected because of their incredible personality, temperament, and hard-working mindset. The German Shepherd is strong, athletic, and eager to please their masters, including children.
Eager to Be Taught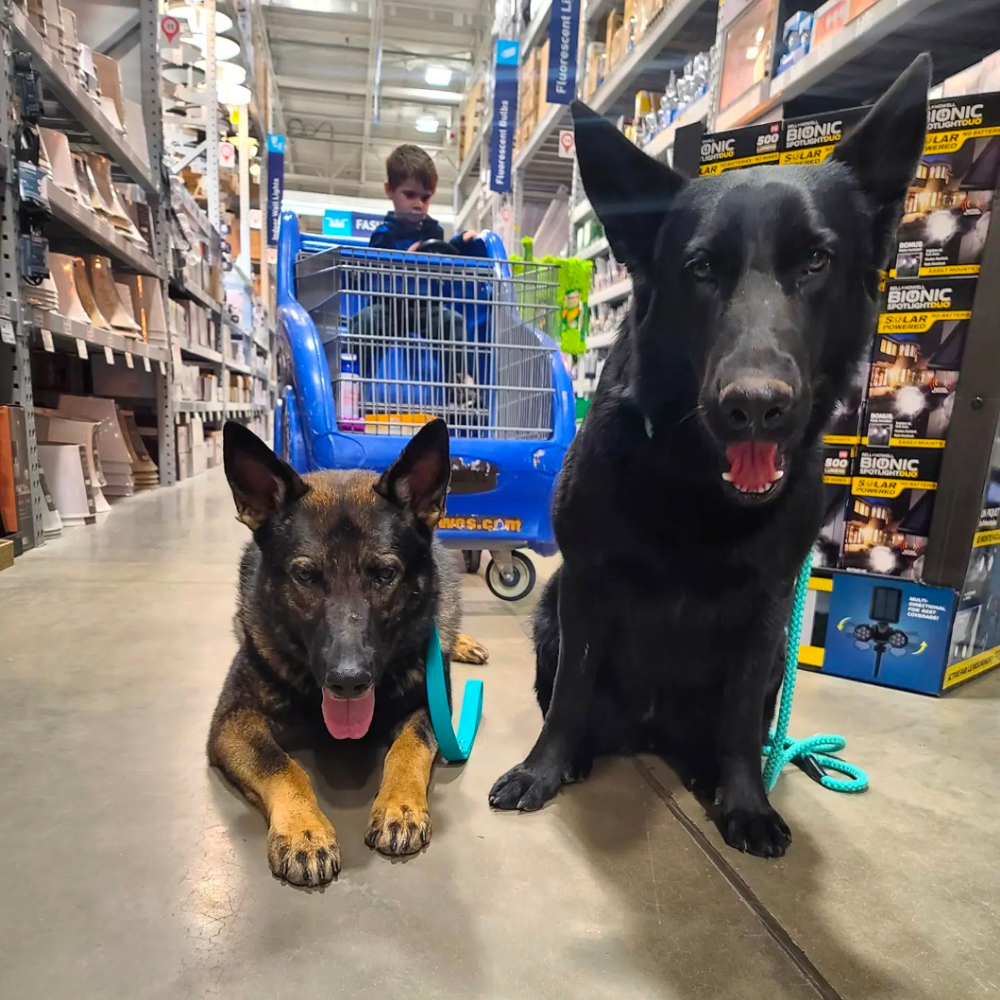 Due to the breed's intelligence, the German Shepherd is easy to train and socialize with. With enough training, these spirited pups can become calm and obedient as they learn to listen. Like most dogs, they tend to respond well to positive reinforcement. It is also essential to teach your dog boundaries, especially around your little ones.
The right way to get your dog to understand that you and your kids are the pack leaders is to get your children involved in training. Give your children dog treats and teach them how to reward your pup for good behavior. Your German Shepherd will make positive associations when your kids give them treats. Your pup will learn that training is fun, and it is a great way to have them bond with your kids.
Your kids may also want to help feed them and facilitate petting and affection so that the dog recognizes the children as caretakers. Kids are naturally great at training; if they have guidance from an adult, they can learn basic handling abilities. The best outcome for you and your kids is if the dog is taught to respect them and the kids reciprocate that same respect.
Since German Shepherds are straightforward to train and diligent workers, they make good military, police, and service dogs. They are one of the most adaptable and intelligent dog breeds. When training them, keep it light, upbeat, and fun. End each session on a positive note, such as with tasty treats and a big bear hug, so they are eager to learn more next time.
High Energy
German shepherds are high-energy dogs that would play all day if given a choice. It will be a fun dog for your children to enjoy, as they can pal around together and play. These pups are suitable for active families who enjoy spending time outdoors. Whether indoors or outdoors, they are fun and lively dogs. Some of the activities that German Shepherds enjoy:
Fetch is good for their high prey drive, and it releases excess energy
Agility is good for their competitive nature and athletic abilities
Tug of War is fun for them, and it can be used as a training tool
Nosework helps teach your dog to find and retrieve objects using their scent
Search and Rescue your dog stays as you hide, and then they are sent to come and rescue you
Pick-Up Time teaches your dog to pick up their toys or other items on command
Treasure Hunt satisfies your dog's hunting instincts as they find the treats you have hidden
Swimming they can swim well if taught, and they love to play around in the water
German Shepherds may also like hiking if you train them to have proper trail conditioning. They will love to experience all the sights, sounds, and smells around them. Since German Shepherds are strong and well-built, running is another activity they can enjoy with the older kids.
If your kids are looking for an excellent dog to play with, German Shepherds stay in their puppy stage until they are about three years old. Your kids will love having a furry family member who can keep up with them during outdoor games and activities.
Protective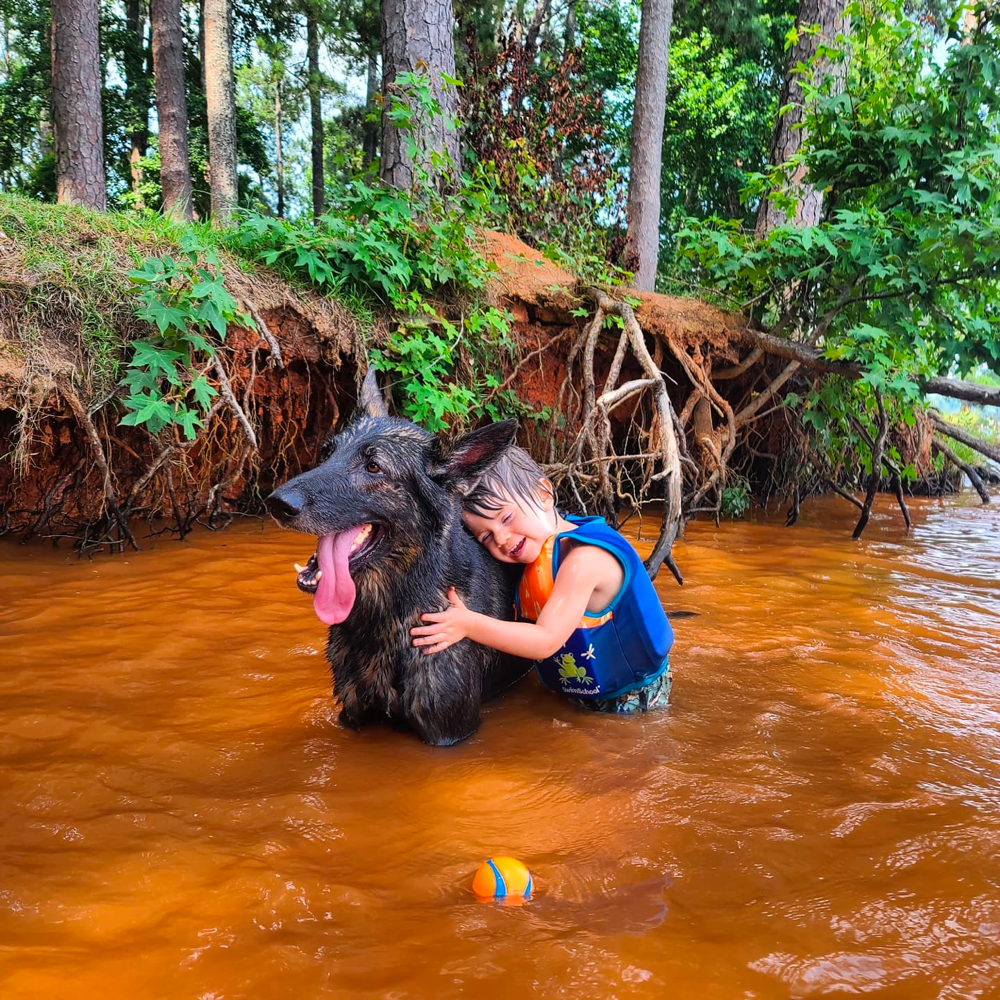 German Shepherds are descendants of pack animals, so being protective of their own comes naturally to them. They are excellent guard dogs who have served in police work for a long time. These dogs instinctively know when someone is a threat and will chase them away. This instinct makes them ideal for protecting your home and children from intruders.
When you have a German Shepherd that has been appropriately trained and exercised, they are better able to focus their energy on keeping your family safe. The loyalty of the German Shepherd is genuine, and there have been many police German Shepherds ready to lay down their life for their handler when faced with a dangerous situation.
This kind of loyalty is indicative of the breed. The German Shepherd's intelligence also helps them perceive danger, and they know they must act when necessary. If you train your dog to pick up on suspicious characters and contexts, they will become adept at protecting you and your children. German Shepherds have the natural inclination to be guard dogs.
German Shepherds require adequate training to know when to be protective. If you do not sufficiently train your pup, they may protect you when it is inappropriate, such as when guests come into your home. Training helps your dog differentiate between a real threat and what is not. German Shepherds tend to learn quickly when their protection is required.
Making Sure Your Children Are Safe With Your GSD
Well-trained German Shepherds will never be aggressive with your kids or children who visit. Teaching your dog how to behave with children is crucial to maintaining a happy household. There are a variety of tips to keep in mind to keep your kids and your dog safe:
Only allow your kids to be around the dog when they are being supervised at first. Once your German Shepherd is trained, leaving them in the same room while you are not there may be safe.
Keep your child close when they are playing with the dog outside. Sometimes dogs can become over-excited during play and may jump on your child and accidentally knock them down.
Teach your children to respect the dog's space. Sometimes a pup needs to be alone to ponder their doggie thoughts, which is okay. Teach your kids to respect the dog.
Body Language teaches your kids to understand the complex moods of your dog. If your German Shepherd is staring intently, they may be experiencing stress or anxiety, and it is best to let them be.
Do not allow your children to startle or wake the dog, as it can make the canine angry and may provoke an aggressive response.
Show your children how to love the dog. Teach them empathy by example in how you treat your German Shepherd. Never be aggressive or yell at the dog.
If you become aggressive or yell at the dog, you run the risk of your German Shepherd not trusting you anymore. This behavior can have a domino effect on your children, as the pup may also stop trusting your kids and humans in general. You want your dog to respond well to your family.
Read more: 14 Major Behavioral Problems That Your German Shepherd May Exhibit
What to Consider Before You Get a German Shepherd Dog
German Shepherds are a great first dog if you choose wisely. They are incredibly loyal dogs who fall in love with their families. However, there are factors you need to take into consideration before you commit. Do you want a male or female canine? What color coat do your kids have their hearts set on? There are so many considerations that go into choosing the right dog:
Companion, Show, or Working German Shepherd
Companion German Shepherds may have a trait that prevents them from being show dogs. It is usually something insignificant, like slightly smaller ears or faded coloring compared to the breed standard that renders them companion dogs. These pups are the best because they make naturally good family dogs.
However, you and your kids may want a dog that can compete in competitions. This situation is when you would consider purchasing a show-quality German Shepherd. These dogs come from Championship show lines and are ready to be shown off.
Working German Shepherds are good for scent competitions and if you have a specific job for them to do. These dogs are better with seasoned handlers since they are utilized to perform specific tasks, like helping the disabled. These pups often need years of training.
Male or Female German Shepherd
Male German Shepherds are usually more robust than their female counterparts, which are smaller and not as commanding a presence. Females may be better for kids intimidated by a larger, more dominant dog. However, the male German Shepherd may better guard your family, as they can be more territorial and protective.
Sometimes it depends on whom you ask, as many female German Shepherds' pet parents say that females can be moodier and more reactive. However, others believe that they have gentler personalities. Since females are maternal, they may be more loving and warmhearted overall, and they can also have adorable puppies.
German Shepherd Coat Color
Your kids may want to adopt a certain color German Shepherd, as these are the type of details children tend to care about. While you should never purchase a dog based solely on their appearance, there may be a special coat color that your kids like. There are many different coat colors of the German Shepherd to choose from:
Black
White
Sable
Liver
Gray
Black and Tan
Red and black
Black and silver
Some of these colors may require you to go directly to a breeder. The best color to purchase is black and tan if you want a German Shepherd for show and competitions. The first coat color of the working German Shepherd was sable.
Older or Younger Pup
All kids love puppies, but if you have younger kids, you may want to consider adopting a well-trained, socialized adult dog because they are the ones who likely have experience with kids and families. They already know how to behave and will not be a danger to your children.
Puppies are better suited to families with older kids who have the capacity to be able to help train the dog. However, adopting a puppy ensures that you, your canine companion, and your kids will have many years together. German Shepherds tend to have a shorter life expectancy of about seven to thirteen years.
The very last thing you want is for your kids to experience trauma and heartbreak because their best furry pal has passed on within a couple of years. Not to mention dealing with your grief over the loss. However, puppies require a lot of work. If your family is up to the task, puppies are fantastic.
Breeder or Rescue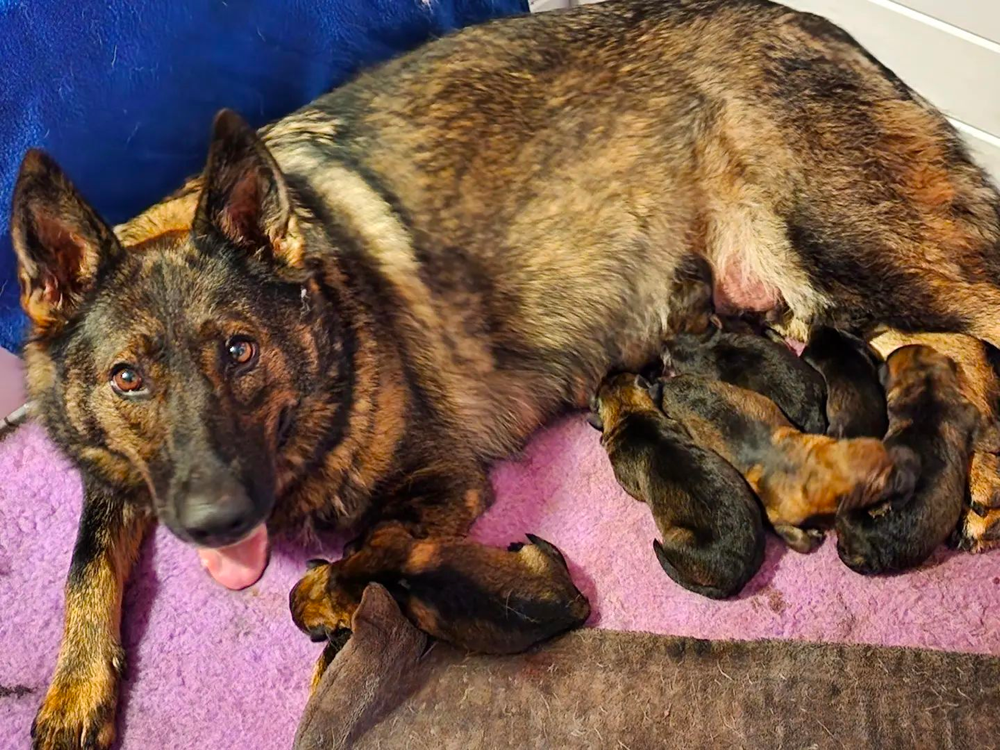 This one is a tough decision, especially if you want a purebred. However, you should not be wary of adopting a dog from a sanctuary or rescue group. Many shelter pups make great family pets, as they appreciate being chosen. If you purchase from a breeder, ensure they adhere to safe breeding practices. Pedigree and vet paperwork should be part of the process.
It should be noted that adopting a German Shepherd can sometimes be more rewarding than purchasing one from a breeder. Pups who have been saved are often thankful and show you that by being such good dogs. They will thank you with lots of years of love and companionship, and as you save them, they save you in return.
Conclusion
German Shepherds can be an excellent choice for families with kids. They are loyal, protective dogs that are quite intelligent and easy to train. Teach your kids and your new pup how they should treat each other. Your German Shepherd will be a wonderful addition to your heart and home.