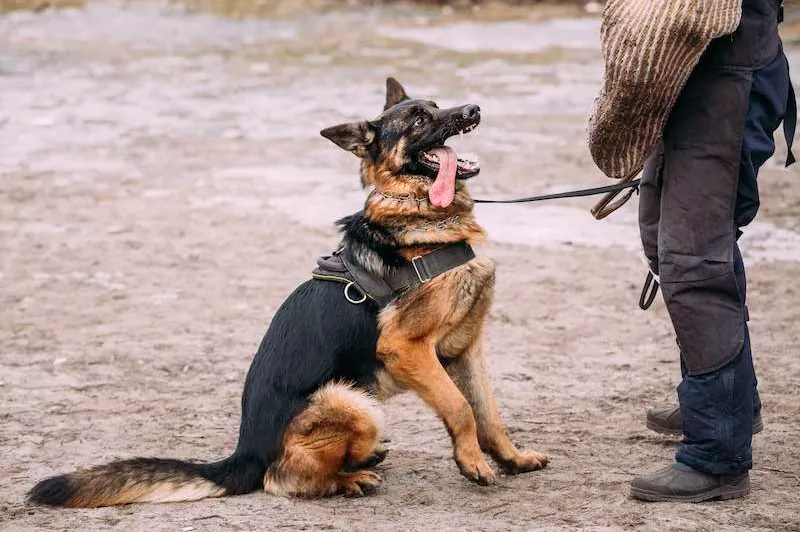 Dogs have a natural tendency of asserting themselves as pack leader (alpha members of the family they belong to). Though every dog breed is known for this specific trait of overpowering the other pack members, this attitude may be more prominent in certain domineering breeds like German Shepherds, Pit Bulls, Rottweilers, Doberman Pinschers, etc. An owner should keep it in mind that a dog who tries to claim the position of the 'alpha' member of the family would ultimately become tough to train, control or follow orders and this problem often takes a terrible shape when the dog poses a danger to the owner and his family by barking, growling, biting or even attacking denial.
Remember that an alpha member of a dog pack is one who generally appears to be pleasant and good and without many expressions and emotions. As a responsible owner, you must establish yourself as the leader or the 'alpha' member of the family since the very first day you bring the puppy home and hence must involve a balanced behavior, action, and treatment towards your puppy, whether you are training him, teaching a trick to him, or you are nurturing or taking care of him. It is important that you dominate, guide, and correct him apart from praising, petting, and exercising him. The first step towards becoming the pack leader is to know the reasons which drive your dog to assert himself to become one.
Why does your dog try to become the pack leader?
As it is said earlier, dogs love to stay within a social order with a proper hierarchical organization, wherein they expect a pack leader to gain a position of dominance and authority. However, it is important that the pack leader or the head of the pack (or the family where he belongs) proves his authority, dominance, leadership, and ruling skills to the other pack members including the dog. When it comes to the owner and the other family members, the dog will take the entire family as a pack. In this situation, if he fails to see and feel that dominance and leadership skills, confidence, and dignity in any of the family members, he believes it to be his duty to become the self-appointed pack leader. Remember, your canine companion is an extremely sensitive animal who picks up hidden emotions and body language from his owner or the people in his family/pack. The moment he understands that his owner lacks the confidence or comfort to dominate or to enforce a command, it confuses him and makes him take charge of the pack to secure his and the family's position.
Now, after understanding the basic reasons why a dog tries to become a pack leader, it would be easier for the owner to establish himself as the 'alpha' member of the family, and this process should start firmly yet subtly from the first day the puppy is brought home:
1. Starting point
To start with, designate yourself as the leader of the household or the pack (which the puppy sees your family as) from the very beginning. It does not mean that you should not love, fondle and care for your little puppy. It simply means hitting a balance between cuddling and controlling your puppy and its various acts, moods, and deeds. Train him aptly and regularly to act on commands like 'to sit', 'to lie', 'to stand on two feet', 'to go fetch' etc. These tricks and training on command will let your puppy feel under your control, and he will start assuming the pack leader gradually.
2. Building your personality
At the same time, it is important for the owner to build his personality on the basis of discipline, dignity, firmness, authority, and dominance; by doing this the owner will gain respect, trust, and loyalty from his dog, who will be happy to follow and be dependent on his leader. Hence, the first step is to establish yourself as a leader and behave confidently with authority while instructing, training, and communicating with your puppy, along with treating and praising him for doing the right things on command.
3. Showing your dog that he is a subordinate
The next important point is that in order to establish leadership you are advised to show your dog that he is not equal to you; he is a subordinate. Dogs will not mind this difference in hierarchical order. In fact, he will feel more secure, assured, and obedient toward his master and leader. However, on the other hand, if you make him feel that he is your equal in getting the comforts that are meant for you (lying with you in your bed, using your washroom, sitting on the sofa, or barking at your family members), you are simply encouraging his dominant side. Instead, firmly yet politely tell him to obey your commands when you want him to step out of your bed or personal space. If you can successfully assert the role of the pack leader, your dog will be happy to recognize and respect the position claimed by you.
4. Consistency is the keyword
Another important fact is that as an owner you should be consistent in retaining the role of the 'alpha' member of the pack and you can do so by expressing and reflecting dignity, authority, and confidence through your gestures, body language, tone of voice, and actions. It is advised to walk straight with a sure and slow pace while walking with your dog, and use a firm, deep and determined voice to command your dog. Build disciplined habits in him like telling him 'to sit' before giving him the meal or any treat, teaching and commanding him to 'lie' or 'go fetch' whenever needed, and training to 'be quiet' when he barks. Proper obedient training is necessary to build submissive traits in your dog and to mitigate his dominance. It is however desirable that submissive tendencies should be exhibited by him only toward his pack members and not toward strangers. This also does not mean that he would be a violent threat to strangers, which means a balanced temperament is of prime significance.
Other Considerations on Becoming The Alpha Member Of Your Pack
1. Anticipate the signs of dominance in your puppy
To end up establishing yourself as a pack leader, it is important to check for behaviors in your puppy that indicate disobedience or dominance, such as not acting on command, growling, biting, nipping, leash-pulling, barking at other family, members, etc. It is important to check these traits and tendencies in your puppy, along with praising and treating him when needed.
2. Limit petting and paying attention to your puppy
Some owners may disagree with this but, you should advisably limit excessive petting and grooming of your puppy or dog, as this is taken as a sign of submitting to your dog and respecting his authority. Also, make sure that your pet, praise or reward your dog or puppy by standing tall to ensure that you are in a higher position than him. It is not necessary to pay attention to all his tantrums and demands; at times a firm 'NO' should be good medicine to make him more docile.
3. Select games carefully
On noticing the indications of dominance and aggression in your growing puppy or dog, you should be careful about avoiding the games which would encourage the sense of force, aggression, and physical dominance through the usage of teeth or paws. Hence, keep away from such games as 'tug of war', 'chewing on toys or treats', etc. Instead, involve him in games like 'go fetch', 'sit and roll', 'hide n seek', 'frisbee' etc. Make sure that you are the one who initiates and ends the game on time.
4. Crate Training
It is important to train your puppy to use his crate properly. Let him spend enough time inside his crate. It is better if you build a habit in him to stay calm and quiet inside the crate. Make sure that your puppy does not look at his crate as a 'punishment'. It is recommended to keep the favorite toys inside the crate and make the crate spacious enough for comfortable movement.
Establishing pack leadership or alpha membership must not be overlooked. Today's flurry fluff is going to be a big powerful dog that will have all capabilities to knock you down anytime, anywhere, if not properly trained and controlled. If you are a successful leader of the pack, it is good for you, your family, and above all, your dog.