Before bringing your GSD puppy to your home, it is assumed that you understand that dog ownership is a lifetime commitment. This is not only a commitment of money and effort but also a commitment of time and relation too. The German Shepherd puppy is going to be a part of your family and will continually grow with different requirements – nutrition, activities, space, and socialization.
Training your GSD puppy involves building desirable habits that include everything starting from feeding habits and potty habits to play behavior. German Shepherd puppies are very intelligent and grab things quite faster, although this is not always the truth. With the growth, the puppy will have a desperate need for daily exercise accompanied by early and ongoing training in order to check all kinds of negative puppy behavior. For successful and effective training, the puppy should be put into the right socializing process. To start off with your puppy should be socialized with other animals from a very early age, for instance, 3 months age.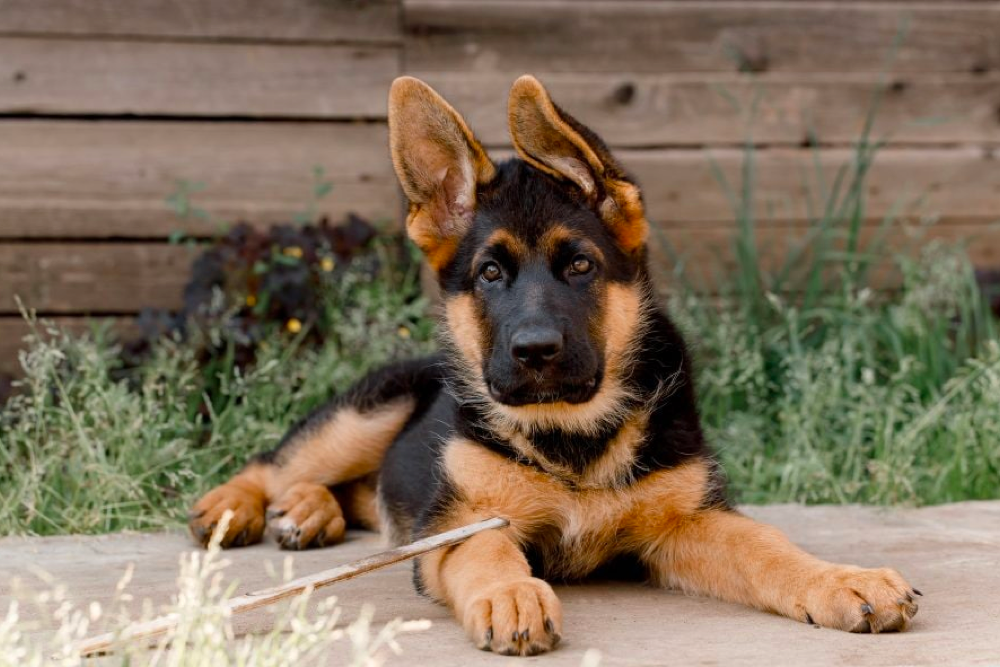 1. First-time outdoor
Take your puppy outdoors for the first time after the first set of vaccine shots are fully done. Keep him in the fenced area and let him explore the entire external world that he can see for the first time ever. Allow him to sniff out the leaves and grasses, and chase the butterflies, moths, and birds. Let him run, play and experience the sounds of the falling leaves, chirping birds, and other sounds. This kind of socialization is considered the most significant part of the beginning of effective dog training.
2. Introduction to the training session
Gradually! Your GSD puppy should be introduced to actual training sessions gradually. Start off with potty training your puppy. After each meal, lead him the way outdoors where you want him to get the thing done. Control him through the lead and don't let him go elsewhere until it is done. It requires a lot of time to potty train your puppy because sometimes GSD puppies are typically headstrong.
3. Crate training
A good option for going about potty training is to carry out crate training for the puppy. Make sure that his creation is just big enough for him to turn around and lie freely inside it. Note that while starting with the crate training your puppy will exhibit behavioral problems with continual whining. It is recommended not to let him out until he stops whining. However, it is advisable to crate him in for a smaller time span, to begin with. As soon as you unlock his crate, make sure to chain him and lead him outdoors without any delay and take him to the place you want him to urinate and potty. It is suggested that you always follow the same and feasible route to that place.
4. Introduction to verbal command obedience training
No age is too early and it is always advisable to start now if he has crossed three months of age and is properly vaccinated. Vaccination is of utmost importance because you may need to take him outdoors if you think inside your house is not the right place for him to be trained. Moreover, training outdoor has its unique effectiveness provided you choose the right time when there will be no single disturbing element that may deviate his attention. Early in the morning and during the night are the two suggested times. You better start off with the command "COME". Let him play enough to be a little tired and will want to sit. Let him sit, while you move away to a distance. Be sited yourself and deliver the command "COME" while encouraging him, showing him a piece of cookie. If he denies it, repeat the command, lovingly and encouragingly. Offer him his tidbits when he comes to you and praise him lavishly. The trick is to let him know which sound is associated with which desirable action and if he makes you happy he will be getting his favorite tidbits.
5. Transition from one command to the other – "COME" to 
This is the most delicate point and chances are there that your puppy will get confused with commands and actions. Consistency, repetition, and patience are the key to the success story. The best command that should be chosen after "COME" is "SIT". After he is well acquainted with the sound "COME", stop offering him his cookies when he comes. Start by teaching him how to sit with the Command "SIT" now. Sit before and hold the cookie run your hand slowly over his nose and head and towards his loin and gently press the loin region and deliver the command softly yet firmly "SIT". He will automatically sit while following the cookie in your hand. Once he sits offer him his cookie and praise him. Repeat the whole process again and again starting from "COME" to "SIT".
6. How To Provide Proper Training to Your German Shepherd Puppy
Training a puppy or an adult dog is an art and science. The most important tip that we seek to offer here is that the training process should be fun as well as an educative session for your dog. It is important to study the subject's mind and its thinking process effectively. Remember that no two dogs are the same, though they may be from the same breed and same bloodline. Customize your training strategy according to the way a puppy actually requires. A suit-to-all strategy applied may turn out to be non-effective. The first you bring him home should be the day you need to start training him. This will not only make your dog understand and relate to the human world but would make him an appreciable addition to any social circle.
Start training at an early age: Although it is never too late to start training your dog, still training your puppy should start spontaneously from the very first day the puppy develops the sense to see, feel, and connect with the human world around. Before taking the first step towards training your puppy, make sure you have acquired a sufficient amount of love, patience, and tenacity needed for the task, as puppies have no clue about human society and the attributes that are desired by their human owner, and hence be ready to face a lot of challenges.
Make the training process as natural as possible: As a dog owner, you should make the process so natural and smooth that it gets etched in the puppy's head and he realizes the difference between acts and deeds which are approved and disapproved by his owner. The training should be a consistent process which should start from morning till night and the owner should continue instilling lessons as the puppy grows up to execute them as a dog.
Keep away from hitting your puppy at any cost: The most important rule of this process is 'never to hit' or punish the puppy. This will not only depress and kill his spirit and enthusiasm but would also depress him and make him cowardly, which will eventually disrupt the trust and the bond with the owner. An owner should play the role of a natural trainer who would not select a particular day to train his puppy but would make each day full of positive lessons for his puppy.
Let the training process be based upon love and trust: Another fact to remember in this method is the importance of training your dog not only to discipline him but to build an unseen bond of unfathomable affection, trust, and loyalty between the owner and the dog, which will facilitate the traits like obedience, patience, and affection in the dog.
Praise your dog for doing things the right way: Apply 'Positive Reinforcement Techniques' to train your puppy which means encouraging and praising your puppy or rewarding him for obeying your commands or for doing something good and desirable like 'eliminating outside'. By concentrating on the positive way of carrying himself and behaving, you would help the puppy learn and execute the right and the desirable acts, rather than be fearful of the wrong deeds (which creates psychological and behavioral problems in them later).
Train your puppy through every action that your puppy takes: Make every act and deed he does an option to teach her what is wrong and what is right and on following the right lesson, reward him with a pet or praise. The process of training your puppy should be a never-ending one, which means, the owner should help the puppy know what is wrong and what is right in every move it takes. This would eventually build his sensitivity toward differentiating the desirable from the undesirable.
Make your training a consistent process: Another important thing to keep in mind while training your puppy is that the owner should be consistent and patient with his instructions and directions, as dogs tend to be confused with when told to do one thing at a time and the opposite at another. For instance, if you do not want your dog to sit and stroll over your bed, do not ever allow him to do so, even if you at times feel like cuddling him. In case he gets over your bed, command him to get off and reward him for obeying your command.
Catch him red-handed and on the cat to let him know the wrong act: Another very important fact to remember is that puppies or dogs have no sense of time and they live in the moment. It would be futile if you rebuke your puppy for a nuisance that he made a day back or an hour ago. He will hardly understand the reason behind your being upset with him and thus would remain clueless without learning the real lesson. Thus, make sure to catch him red-handed or on the spot during the act to let him know that what he's doing is not appreciated.
Learn when to pay attention and when not to: Dogs and puppies are known for their attention-seeking urge and many times they even do something undesirable just to attract your attention. Hence, it is advisable not to overreact to their ill-doings. Hence, it is important to catch him doing something right and to praise him for that, rather than to catch him doing something wrong. Sometimes it pays to leave the room and refuse to communicate with the dog on finding him doing something inappreciable.
The main motto of training your dog is to train and teach him the difference between the acceptable and desirable in human society and which would earn him praise and attention from his owner and the undesirable acts which would make his owner ignore him.
What's next: The best lesson to teach him after "SIT" is the command "DOWN". Once he is quite well with "SIT", start with "DOWN". Teaching the "DOWN" command to your GSD puppy requires additional patience. More importantly, you need to first establish yourself as the ALPHA member (leader of the pack, where the pack mates are you and your puppy). Sometimes, teaching the "DOWN" command is typically tough because the puppy will associate the action of lying down with the sense of submission, and he will try not to be submissive too easily. What is desirable to be achieved with the down command is to make your puppy cool and get down to the laying position, with the belly touching the floor, and his front legs extended in the front. Next Chapter: How to teach your GSD Puppy the "Down Command".
More Training Tips