Immensely important! Your 2-month-old cutie pie is going to grow into a strong, powerful, and sturdy German Shepherd Dog. He will be one of the most intelligent members of your family too, and his superb degree of intelligence will challenge you in every field of your life. German Shepherd – especially adult males are naturally quite dominating and stubborn and need to be handled with firmness. The boldness and confidence in his personality and his territorial and protective instincts can be serious threats to any kind of stranger. Moreover, being a herding or a guardian dog breed, GSD may not be necessarily friendly with other dogs outside of his own pack. Proper socialization and obedience training will make life both easier and happier for you and your German Shepherd Dog.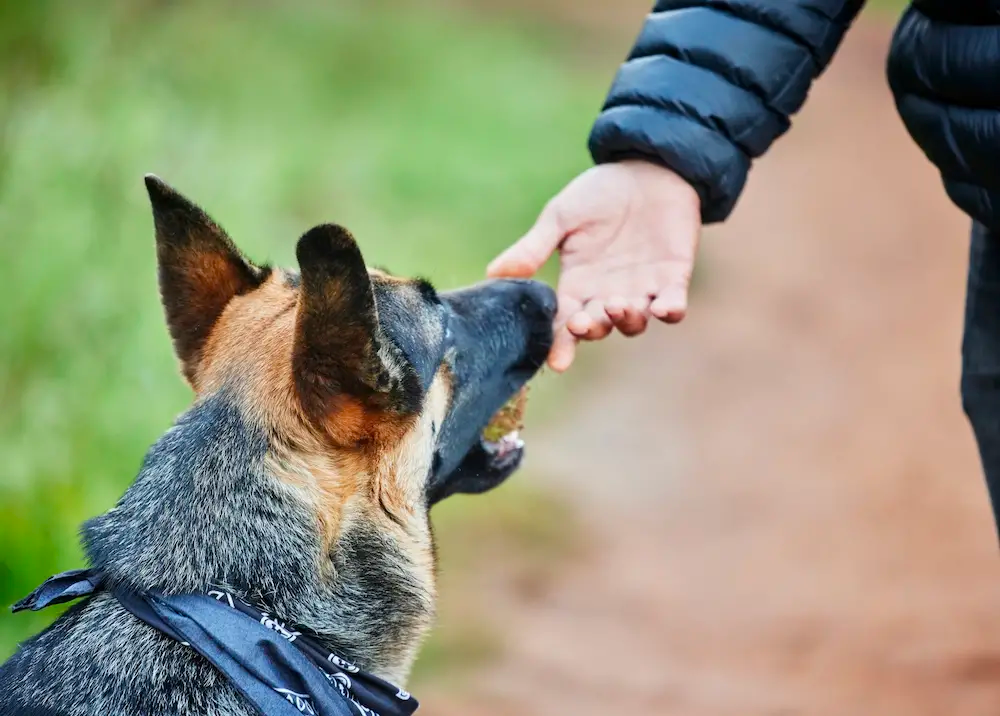 The secret of the success story build a good dog-owner relationship. Becoming an Alpha Member of the pack is of prime importance. Helping your GSD gain confidence, and trust you is another tip to successful training.  Your German Shepherd considers your family as his own pack and every single member is a pack member. By his natural instinct, he would automatically learn to dominate his other pack members. It is your responsibility to let him know that not him, but you are the alpha member of the pack.
Some of the best-ever German Shepherd training tips
Start training as early as possible – for instance at the age of 4 to 5 months.
Start training with socializing him to situations, smells, sounds, incidences, strangers, and other animals. This is the building block for the actual obedience training.
Yelling, hitting, punishing, and threatening him will worsen up the situation.
As the prime GSD training tips, it is advisable to spend quality time with your GSD puppy to develop the bonding that would help him to interact with you in the actual training session.
Consistency with training commands is as important as praising him when he does what is desired.
Praise ensures your GSD puppy identifies what is expected of him and what isn't.
Be Patient: Training Should be a Fun Session Both For You And Your Dog
Dog training is a time-consuming process. If you are a short-tempered person who looses their cool and patience too quickly, you are advised not to experiment with your German Shepherd puppy. By making haste you will mess up with everything. Chances are there that your puppy may build a distrust for you in his mind and he can never be a good companion of yours. Forcing your puppy digest all training commands at a time is a fool's task. Choose one – usually start with the command "SIT". Work with it until it gets completely easy. Then switch off to another command… carry on practicing for the "SIT" exercise. Don't expect too much from your puppy. Not all German Shepherds are fast learners. Expecting gains within a short spell of time is impossible.
Training should be a really enjoyable session for you and your dog. Remember, the training session won't be of any practical benefit if it's not a fun time for your dog. Your dog should know that he would be getting his favorite tidbits if he can please you in the fun session. 90% of the battle ends here!
You might want to read: