Do you want to run with your German Shepherd and want to know their top speed? Training your dog to run can be a bit of a challenge. Luckily, German Shepherds are lean, muscular, quick, and up to task.
German Shepherds can run up to 30 to 32 miles per hour. These dogs can accelerate quickly and reach their top speed in about 7 to 8 strides. They are ideal for working with the police, the military, and as herding dogs. They are also skilled in dog sports like agility.
German Shepherds are not the fastest dog breed, but their speed is still impressive. Read on to discover more about how fast a German Shepherd can run and why these pups are so awesome.
What is the Top Speed of a German Shepherd?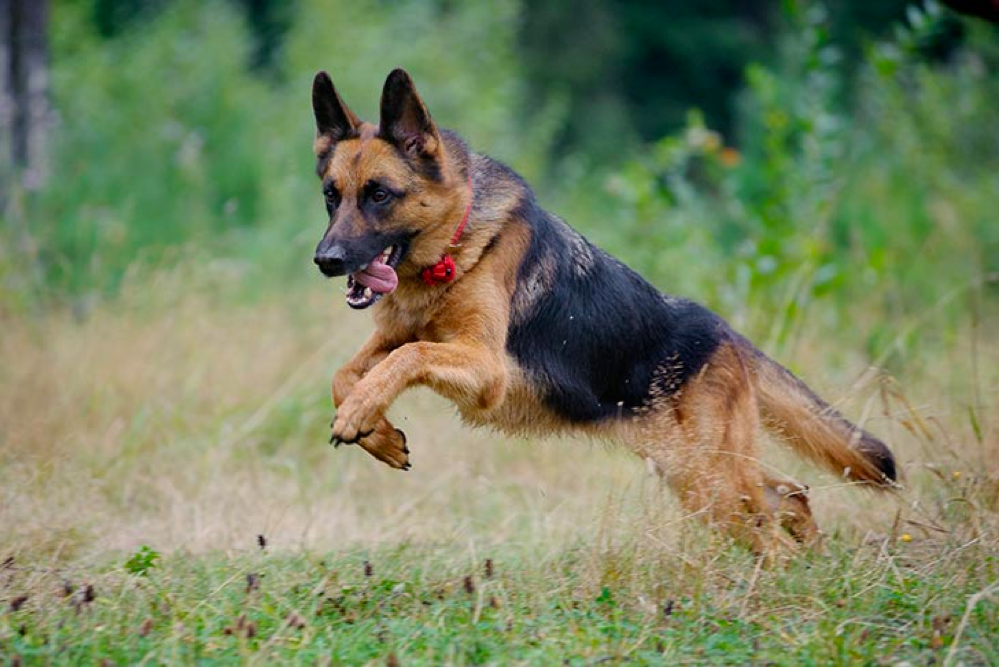 German Shepherds are incredibly fast runners. They can get up to speeds of about 30 miles per hour. Many GSDs can reach this speed with no problem. However, not all German Shepherds can run this fast. Certain factors, such as health issues and the dog's age, can affect their speed. Other dog breeds can accelerate and reach their top speed in about 6 to 12 strides.
However, German Shepherds usually reach their top speed in about 7 to 8 strides, and when they get up there, they fly like the wind. These pups are extremely fast and focused. When they have their eye on something they want, like their favorite toy ball or frisbee, they will run at their best speed to procure it. GSDs are strong, determined creatures and always keep their eye on the prize.
German Shepherds make good running partners. They can keep up with you whenever you are up for a lap or two around the block and decide you want company. German Shepherds will:
Never leave your side
Remain motivated
Continually improve their pace
Withstand vigorous physical activity
GSDs rank among the world's top ten breeds of the fastest dog breeds. They may be able to run extremely fast and can run faster than people, but most of the time, they prefer to maintain a steady pace with their humans. Humans run about 15 miles per hour at their top speed, and German Shepherds have no problem keeping up with them.
How a German Shepherd's Speed Compares with Other Dog Breeds
German Shepherds move rather quickly and are much faster than most dog breeds. However, many other types of pups come close to or exceed 30 miles per hour. Some other fast dog breeds:
Greyhounds
Greyhounds are known for their brilliant hunting skills and running capabilities, and this breed can outrun the fastest German Shepherd at 45 miles per hour. Greyhounds are also skilled at dog racing. The Greyhound is a lean, mean running machine, as they can reach their top speed within six strides. These pups can even maintain a speed of about 35 miles per hour for up to seven miles.
Sloughi
These pups are nicknamed "Arabian Greyhounds." They are lean, swift, and precise. Sloughi are known for their long legs, slim build, dynamic nature, and fast running ability. Their top speed is about 42 miles per hour. This greyhound is a rare, ancient dog breed that is primarily found in:
Morocco
Algeria
Tunisia
Libya
The above places are in North Africa, which is a country known for its busy markets, the Sahara desert, and the Nile river. Sloughis are impeccably fast runners. These canines were initially bred to hunt game, such as foxes, hares, gazelles, and wild pigs.
Afghan Hound
The Afghan Hounds are a captivating and attractive breed. This dog can run up to 40 miles per hour. They love chasing small animals, as their prey instinct is high. These pups were initially bred for hunting in Afghanistan. As fast as a lightning bolt, these beauties can catch even the fastest hare. This breed is built for catching critters and running fast.
Poodle
Poodles are as fast as German Shepherds, as they can also run about 30 miles per hour. These canines may appear pampered, but they are adept at running wild. Poodles were originally bred to be duck hunters. This stylish breed was excellent at retrieving game from water, as they are accomplished swimmers. These canines come in three sizes: standard, miniature, and toy.
What Makes German Shepherds Good Runners?
There are a million reasons why German Shepherds are good runners. German Shepherds were originally bred as herders, as they protected sheep from predators. They can excel at any type of work. GSDs are great runners for many other reasons:
Muscular Build
German Shepherds have naturally muscular builds. They are well-proportioned and robust. You can train them to do almost anything, and they will usually surpass your expectations. Their muscles help them come out on top in sports like agility. GSDs also use their powerful bodies to perform many types of work.
Long Lean Legs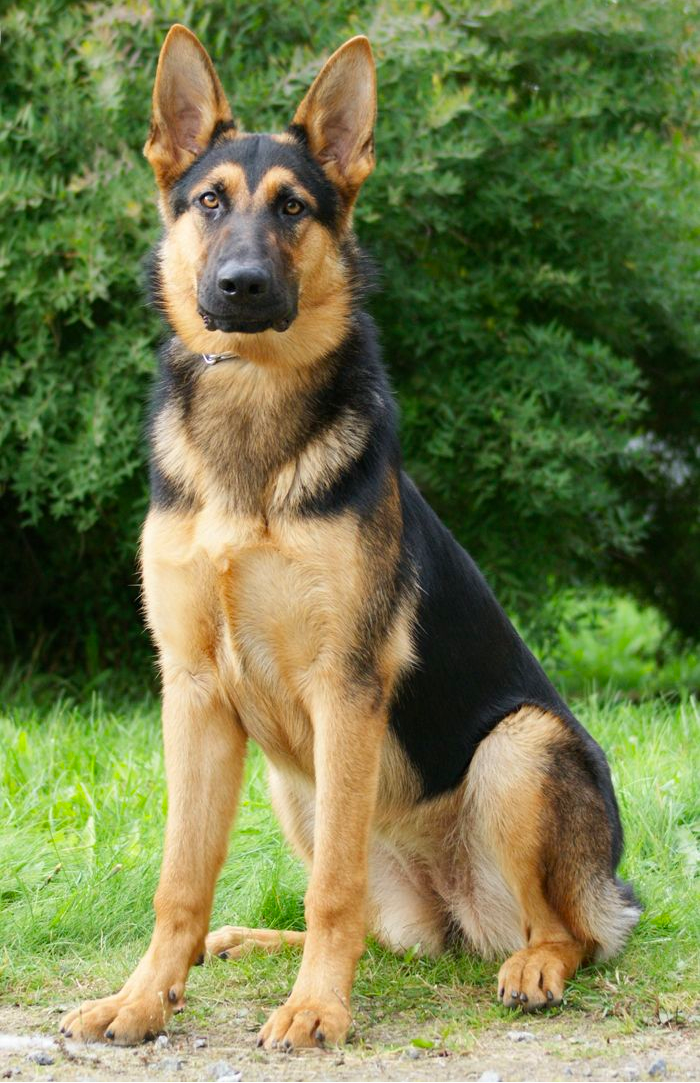 These pups have long, lean legs built for speed that can run faster and farther than the average pooch. They may already have muscular legs, but you can always help them get stronger by having your German Shepherd:
Eat a well-balanced diet
Learn how to swim
Go for regular runs
Use a support harness
A support harness helps take the strain off your German Shepherd's back legs. It relieves the stress on their legs when they exercise until the muscles in the hind legs can thrive without putting too much pressure on them.
They Can Maintain Their Pace
German Shepherds can maintain their pace for about ten minutes and even keep a speed of about 30 miles per hour. They are incredibly confident and hyper-focused dogs. Their stamina is remarkable, and part of the reason they can do this is their motivation. The breed standard is known to be able to run at a consistent pace for more extended periods.
Flexible Spine
The spine of the GSD is solid and flexible, allowing them to gallop and chase down their prey. They can also change direction quickly without sacrificing speed. In canines, their vertebra protects the spinal cord. The discs between each vertebra:
Help maintain proper spacing
Act as shock absorbers
Provide cushioning
Extension
Flexion
Rotation
The flexible spine of the German Shepherd makes them faster than most dogs. German Shepherds have a longer back, which helps them trot faster and allows for stealthier movement.
How Far Can a German Shepherd Run?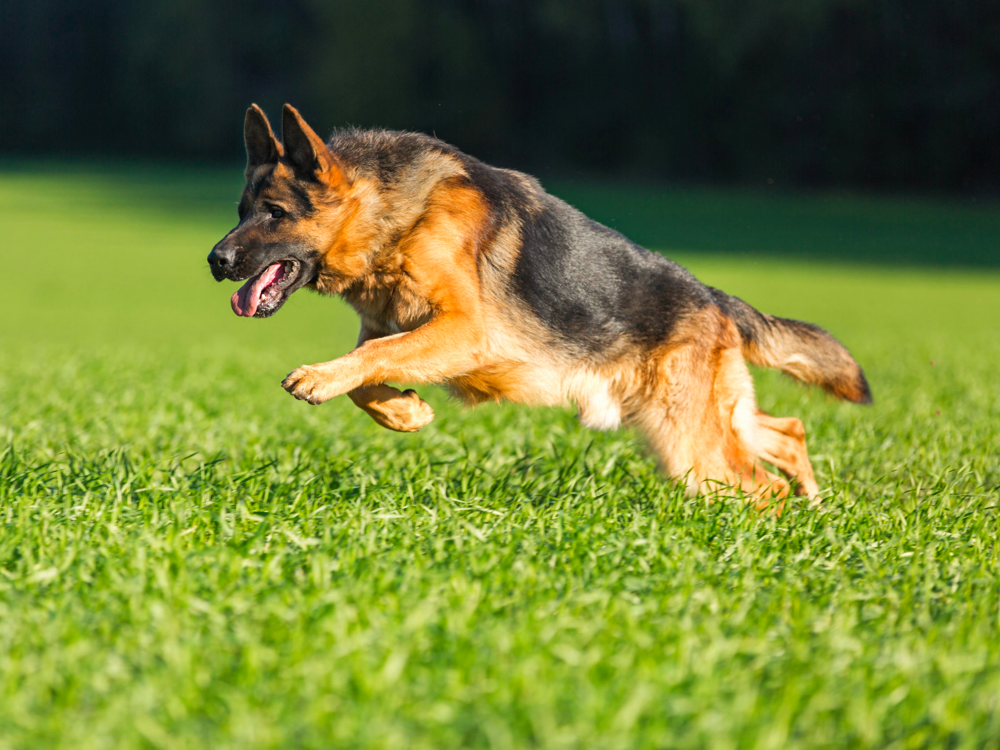 Most German Shepherds can run from about 5 to 20 miles. It generally depends on the physical condition of the individual dog, their training, and the weather outside. If your GSD has sufficient training, they are capable of running far distances. These pups were natural-born runners who generally require about two hours of exercise daily. However, it is essential to be careful not to overexert them. Some of the signs of overexertion:
Excessive panting
Extreme thirst
Hesitant to run
Missing cues and commands
You need to create safe running habits with your German Shepherd. Make sure they take breaks to rest and drink plenty of water. If you take your German Shepherd to run in the summer, try to go outside in the early morning or late evening when it is cooler. You may also want to limit the time or distance you run with your GSD.
Be mindful of the humidity. If it is too hot or humid, skip the run for that day. German Shepherds are prone to heat strokes due to their double coats, and you want to be careful. Hot surfaces may also burn your pup's paw pads. Running in anything over 75 degrees is probably not a good idea. Running in the winter when ice is on the ground can also harm your pup's paws.
When Can You Start Running with Your German Shepherd?
You should not take your puppy running when they are very young, as it could hinder them from growing properly. Significant development occurs in the growth plates, and if you run with your puppy too much, it could cause damage to their growth plates, which can lead to problems like hip or elbow dysplasia or shoulder osteochondrosis later in life.
Once your German Shepherd is about 18 months old, their growth plates will close, and it may be safe to take them running by then, but you should talk to your veterinarian first about what would be appropriate. They may need to take an x-ray to make sure the growth plates have hardened and become solid bones.
Puppies should not run until their bones are fully developed, so if an injury occurs, it will likely not affect them permanently. It does not mean that your puppy should not get to run around and play. Distance running and more organized or strenuous running should be avoided until they are older.
For activities such as agility, most dogs should also wait until they are one to two years old to start training for any high-impact sport. Large dog breeds like German Shepherds may need to wait until they are age two to begin to compete. Regular running and jumping could compromise their development and pull their soft tissue apart from their growth plate, which you do not want to risk.
How to Train Your German Shepherd to Become Faster
German Shepherds are fantastic with any training. They are chosen for jobs in law enforcement and certain other types of work because of their ability to learn quickly and effectively. You can train your GSD to become faster with some help and perseverance. Here are some ideas to train your dog to move their tail:
Bring Their Favorite Toy or Treats
Bring your dog's favorite toy with you when you go out to your neighborhood park or dog park, and use their favorite toy or treats to lure them into following you. Bring the item out and let them chase after you, encouraging play. Gradually move faster every lap you take and reward them when they catch up to you.
Master Loose Leash Walking First
Teach your dog to walk by your side when loose-leash walking. To accomplish this, ensure your pup stays by your side as you walk. Give them some incentive with treats, and reward them when they cooperate. Train them at a walking pace and increase the speed each session. Soon, they will automatically know to walk by your side and continually give your pup treats on the side you are trying to reinforce.
Use Cues to Direct Them
Start incorporating speed into the routine by directing them with cues, such as "come on, boy!" or "let's move it." Teach your dog the cues and how to respond to each signal." Mix short bursts of jogging with walking, affording both equal times, a few minutes each at a time. Gradually increase your speed and reward your pup when they catch up to you.
Improve Endurance
Once your dog masters remaining at your side during exercise, start to pump it up. Start slow by adding a little running into your routine and help them improve their endurance. Once they demonstrate progress, decrease walking during your sessions, and start running at varying speeds. Your German Shepherd will become a better runner, capable of running long distances with you.
Safety Tips for Running with Your German Shepherd
Running with your German Shepherd should be a positive experience. You want to be a good pet parent and keep your dog safe. These tips are simple but extremely important:
Always bring water to offer your dog
Be mindful of inclement weather conditions (too hot, too cold, or snow and ice)
Always warm up with walking or light jogging
Always check your pooch for ticks after a run
Watch for signs of heatstroke, weakness, or injury in your dog
Teach them basic commands, so they do not pull you or run away
Check with your vet first to make sure your pup is fit to run
Start slowly to help prevent injury
Even if your dog is completely healthy, still check with your vet. They may recommend special nutrition for your dog to become more active. Most importantly, have fun with your canine companion and get going!
What is a German Shepherd Dog's Speed Good for?
German Shepherds are known for their high functionality and service, as they can be intelligent, skilled, hard-working dogs. These pups excel in many different areas, and their remarkable speed helps them perform in various jobs:
Herding
German Shepherds train sheep to come when called; if a sheep strays, they push them back. If they try to cross the road, the German Shepherd gets them back. You can get your pup involved in trials. Trails require your dog to be fit and know how to pick up the speed at the correct times. Tending is difficult, but the German Shepherd is up to the task.
Law Enforcement
German Shepherds have been known to capture the bad guys and serve the police with dignity and honor. These dogs do not necessarily need speed to sniff out drugs or bombs, or for search and rescue operations, but with their 30-mile-per-hour running speed, they can chase after those bad guys, track them down, and help the boys in blue apprehend them.
Military
German Shepherds are strong enough for the hard work of the military. They have abundant energy and can perform many tasks required for military duty. These pups are also highly adaptable and can live and work under various conditions. If you combine the willingness and speed of the German Shepherd, these dogs help service members better than any other breed.
Agility
German Shepherds are great at agility because of their speed and ability to perform under pressure. These pups have a flowing gait and have been ranked as one of the best breeds when it comes to their climbing and jumping abilities. They are flexible and have quick reaction times. Their lean, muscular build and stamina allow them to run for longer distances without getting tired.
Conclusion
German Shepherds can run at speeds of up to 30 miles per hour. They are not the fastest breed, but they are faster than most. You can train your German Shepherd to run with you, and you will have a fun, steady-running partner who will never bail on you. Before training your dog to run, check with your veterinarian to find out if it is safe for them.
German Shepherd Resources