Have you seen a dog limp while walking? Can be an outward injury, but in major cases, the culprit is Canine Hip Dysplasia. It is a hip joint disorder affecting most dog breeds; the highest incidence of this disease has been found in larger breed dogs like German Shepherds. It is also counted among the most commonly inherited orthopedic diseases affecting dogs. This genetic anomaly was first diagnosed in 1935 and has been found in 82 recognized dog breeds.
What Exactly Happens in Canine Hip Dysplasia?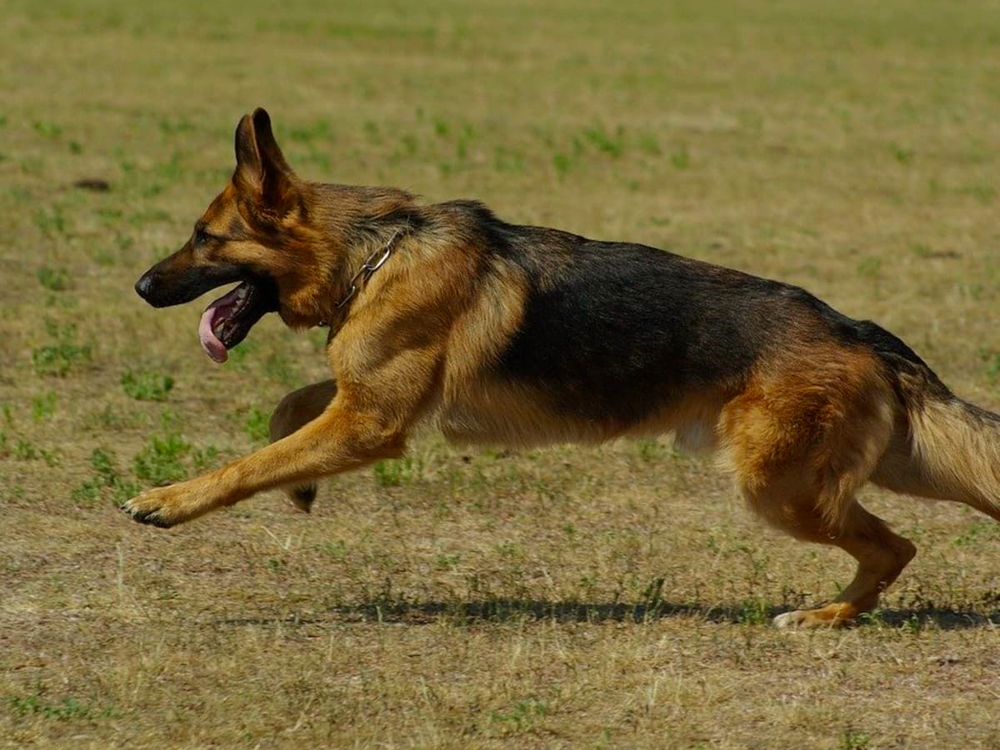 Canine Hip Dysplasia is a debilitating condition of the hip joint which suffers from looseness or partial dislocation (subluxation). The looseness is between the femur and pelvis bones of the dog. Gradually it causes grave damage to the femoral head and socket. This leads to an acute arthritic change and it has often been diagnosed that osteoarthritis accompanies Hip Dysplasia. With this change the motion of the animal gets hindered, accompanied by inflammation and pain. Osteoarthritis, as a degenerative joint disease, causes additional pain, discomfort, and disability.
If there is a discrepancy between the muscle and bone development of the hind limbs it results in an imbalance of muscular support and skeletal growth. It has been found that if a dog has a greater amount of musculature in the rear limbs there is a lower chance of Dysplasia. This is a proven fact in a German Shepherd dog.
The Gene Connection
Genes play a vital role in Hip Dysplasia but the nature of it is complex because several pairs of genes (either 2, 4, or more) are involved in this hereditary issue. The influence of multiple genes points out that it is a polygenic mode of inheritance. Even two dogs with identical genetic patterns might have varied degrees of the disease. Unfortunately, there is no genetic test to detect Hip Dysplasia right at the outset. This disease can easily be passed on to offspring even if two normal but carrier dogs are bred. Interestingly enough, it has been seen that hip joints which develop Dysplasia in later stages are perfectly normal at birth. Either one or both the hip joints of the dog can develop this disease.
The Visible Signs of Hip Dysplasia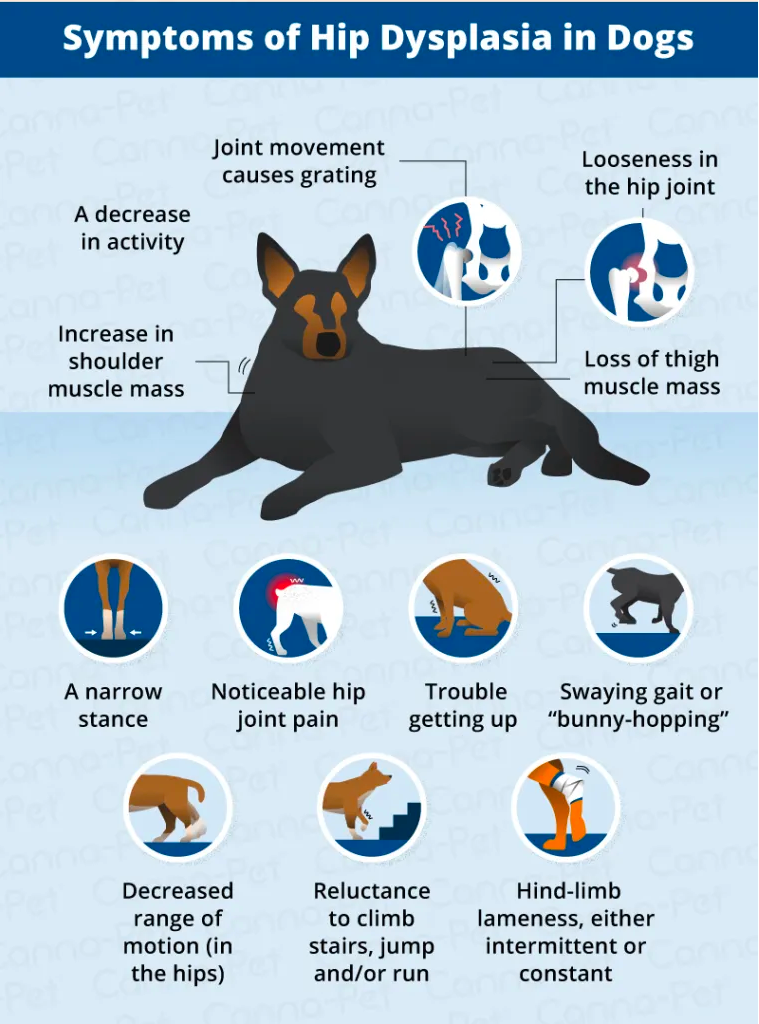 Pain to rise from sleep in the morn and difficulty in leaping are the most prominent signs of Hip Dysplasia. But why this happens? The lameness is due to joint laxity which forces the femoral head into an abnormal position. Additionally, Hip Dysplasia might cause weight loss and reduced appetite.
Ways to Treat Hip Dysplasia
Out of the many Hip Dysplastic treatments, the most curative among them all is 'total hip' surgery – it involves the replacement of the femur head and pelvic socket with artificial components. Another option is in repositioning the pelvic sides and aligning them with the femur head. There's one more which has limited usage on large-sized dogs. It is called head and neck excision of the femur. In this case, a false fibrous joint is created by eliminating bone-to-bone contact. This also happens to be a cost-effective solution for people who cannot afford a total hip replacement. All of these are surgical options in hand but the disease can be managed with pain-relieving medicines if the dog is not required to work hard physically. There are more alternative, non-surgical treatments like the application of Glucosamine and Chondroitin – products that have provided a magic cure for osteoarthritis pain down the years. There's one more medical approach to treating dogs with degenerative arthritis. It is by the use of a product called polysulfated glycosaminoglycans or PSGAGs, which enhances the production of joint fluid.
It must be noted, that with time, analgesic medicines fail to show their effect. Then surgery becomes a dire need for your pet. The veterinary surgeon is the best person to take the call for a conservative mode of treatment or consider surgery. Hydrotherapy treatment is one of the most effective ways to treat hip and elbow dysplasia.
Hydrotherapy Treatment for Dogs
Since ancient times hydrotherapy is considered an effective treatment for human beings. Documentations have proved that several attempts had been made to formalize the practice of hydrotherapy as a treatment during the 18th century.
Until recent times canine experts did not spare thoughts over hydrotherapy as an effective treatment for a number of conditions in dogs – especially in medium to large purebred dogs such as German Shepherds, Labrador Retrievers, Rottweillers, Mastiffs, etc. Certain conditions in canines may worsen or may show almost no improvement due to weight-bearing exercises. As a good alternative to general treatment through medicines and weight-bearing exercises, hydrotherapy is now considered as one of the most effective treatments for such conditions as hip and/or elbow dysplasia, Osteochondritis Dissecans (OCD), Chronic Degenerative Radiculomyelopathy (CDRM), etc.
Degenerative Myelopathy (DM), which is a progressive disease of the spinal cord in older dogs – especially found in medium to large breeds can be effectively treated by hydrotherapy. Hydrotherapy treatment has also proved to be quite effective in small breeds of dogs having Luxating Patella or floating kneecaps. Modern veterinary science also recommends hydrotherapy treatment for dogs having ligament injuries, obesity problems, and any other mobility issues. Significant development can be noticed with this treatment method by employing a professional canine hydrotherapist.
Veterinarians and experts consider that swimming or moving in water has favorable therapeutic effects in pre and post-surgical rehabilitation, increasing body awareness, developing mental and physical balance, and last but not least, maintaining general fitness and developing muscle tone.
Easy Ways to Keep Dysplasia Pain at Bay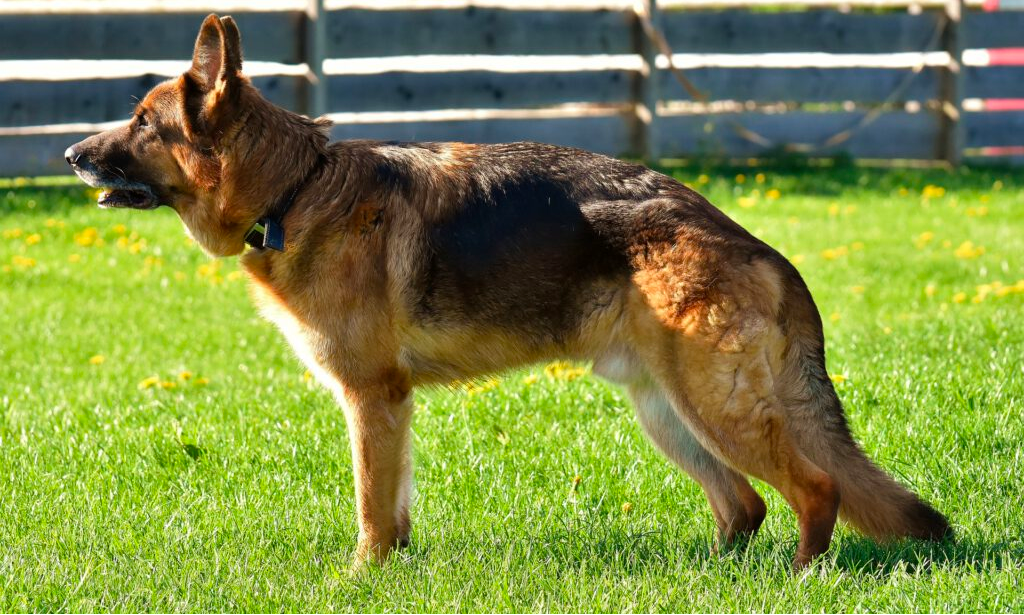 Lifestyle changes like proper weight management and controlled exercise can have a positive effect in relieving arthritic pain. Weight management is possible only through proper nutrition and balanced exercise can really help in stabilizing the dysplastic joint while toning up the muscles and increasing their strength. Food should be taken in proper amounts; poor or excessive food is not good for dogs which have a genetic potential for Dysplasia. Excessive weight gain is detrimental. Swimming, walking and jogging are good options too. The body size and pattern of growth in the dog also matter. So, strict monitoring must be maintained in this regard.
Testing of Hip Dysplasia Always Helps You can now get your two-year-old German Shepherd tested for Hip Dysplasia. You can get Hip Dysplasia free certified from Orthopedic Foundation for Animals (OFA). The X-ray report sent to OFA is examined by expert radiologists and is graded as per the actual appearance of the hips. The grades are:
Excellent
Good
Fair
Borderline
Mildly dysplastic
Severely dysplastic
The acute pain of Hip Dysplasia is crippling – so it is better to take positive measures beforehand. There's another purpose behind OFA certification. It is to stop breeding with affected or carrier dogs and hence stop the perpetuation of the disease in future progeny.