Many people are familiar with the black and tan appearance of German Shepherds. This is the most common coat pattern, and many people think that it is the only one that the breed offers. However, this is not the case, and there are many colors that a German Shepherd can come in. Special breeding programs create a variety of other coat patterns beyond the standard black and tan for those who are looking for something a little bit different when they pick out a pet.
If you have never heard of the Blue German Shepherd, you are not alone! Many people are completely unaware of this coat pattern and do not know that they can look for this kind of dog if they want. Blue German Shepherds are not a common outcropping from other breeding programs, so you will need to work with a special breeder to get a dog in this color.
If you want to learn more about the Blue German Shepherd, you need to keep reading.
What is a Blue German Shepherd?
A Blue German Shepherd is just like a regular German Shepherd, but their coat is very dark with blue undertones in it. This is a very new addition to the German Shepherd breed family, but they share all the other characteristics of the rest of the breed despite their unique color. If you love the German Shepherd breed but don't prefer black and tan coat patterns, then a Blue German Shepherd might be the perfect dog for you.
Are Blue German Shepherds Rare?
Blue German Shepherds are quite rare. They are a new addition to the accepted coat patterns for the breed, and that means that there are not many people who are breeding for these kinds of the litter as of yet. You might have to work hard to find someone to get a Blue German Shepherd from, but if you are sold on these coat patterns, it can be worth the effort to find a breeder that is creating Blue German Shepherd litters. Blue German Shepherds are not a distinct and unique breed, so you will still need to look for a German Shepherd breeder who says that they also can create litters in this color.
Blue German Shepherds at a Glance
| | |
| --- | --- |
| Height | Males can be about 26" tall, and females will be about 24" tall |
| Weight | Males are 75-95 lbs, females are 55-73 lbs |
| Lifespan | 9-13 years |
| Color | Blue |
| Suitable For | Families, agility, competition of various kinds |
| Temperament | Kind, smart, and loyal |
| Exercise Needs | High energy until they enter old age |
| Good With Other Pets/ Kids | Yes |
Facts About Blue German Shepherds
Blue German Shepherds are not their own breed. They are just a variation of the original breed, which means that you will be able to expect the same characteristics and appearance in the dogs that you shop for.
Blue German shepherds are more expensive than regular German Shepherds in most cases. This is because the color variant is not common and might be hard to reserve.
You could wait a very long time before you are able to get a Blue German Shepherd because of this.
Blue German Shepherd litters can be anywhere from 1 to 15 puppies.
These German Shepherds have a slightly squarer head than traditional German Shepherds.
The blue coat actually appears more gray or black than blue.
History of Blue German Shepherds
The Blue German Shepherd shares the same history as the rest of the German Shepherd breed. The breed was originally created to be a herding dog, but over time, they proved to be so loyal and protective that they ended up being used more for this kind of work. The military and various police forces all around the world use German Shepherd dogs for a variety of different tasks, from bomb detection to protection.
The first German Shepherds that we are familiar with were bred by Von Stephanitz, who refined the German Shepherd breed that he had encountered and fallen in love with. He bought a breeding pair and created a bunch of litters of dogs that he felt represented the breed's ideal traits. He created a registry that owners could use to pamper their dogs and started coming up with the breeding standard that spawned the AKC's rules and expectations that are still in use today.
The German Shepherd breed in all colors has long been associated with being a good family dog as well as a working dog. This breed offers the best of both worlds. You can enjoy protection from your pet as well as lots of love and companionship. This was the goal of Von Stephanitz, and he succeeded in creating a dog that could guard your home and be your best friend, all in one pretty, noble, elegant package.
Blue German Shepherds were not intentionally bred until recently. The Blue German Shepherd is actually not recognized within the AKC, and the color is considered to be a fault. That being said, this color can occur when the right parents are crossed, which makes it straightforward to breed for litters that show this trait. The Blue German Shepherd is unlikely to ever be allowed to join other German Shepherds at dog shows, but their blue color does not make them less healthy.
The blue color of the Blue German Shepherd is contributed by a cross well back in the history of the breed that involved the blue wolfdog. This cross is very old, which is why it is hard to get the color to come through in the German Shepherd breed today. The blue wolfdog has a very wolf-like appearance, which is part of why the Blue German Shepherd is often bigger and less elegant than the standard German Shepherd dog. Careful genetic testing is often needed to figure out if a breeding animal will be able to produce this color or not.
Blue German Shepherd Appearance
As mentioned before, this color appears more gray or black than blue. The tones of the coat are where the blue color shows through. If you ruffle a Blue German Shepherd's coat, you will see the blue tone more clearly.
The head shape of the Blue German Shepherd is a bit more square than a regular German Shepherd. They are also usually quite large and will almost always be bigger than black and tans dogs. This color of German Shepherd also tends to have a slightly longer neck than other German Shepherds.
You will essentially be getting a larger and slightly more workmanlike version of the usual German Shepherd breed with a unique coat. Everyone will recognize your Blue German Shepherd as a German Shepherd despite their coat color.
How Long Do Blue German Shepherds Live?
Your Blue German Shepherd dog will live for about 9-13 years. This is the same lifespan that you can expect from a regular German Shepherd. You will need to be prepared for your dog to slow down some in their later years, but supplements and various treatments exist now that can make your dog much more energetic even in their older age.
Both females and males enjoy the same lifespan, so you will not need to choose between one or the other when looking for a dog if lifespan is your concern.
Blue German Shepherds Food & Diet Requirements
Your Blue German Shepherd will need to be fed a high-quality kibble that gives them everything that they need to be healthy. If you are not sure about what food is right for your new dog, the breeder will likely have a brand that they can recommend. Your vet can also be a big help with this part of getting your new dog settled into your family.
You can feed your dog raw dog food as well, but you do need to be sure that you source this kind of food responsibly. Some people also feed their dog butcher block scraps, but this can be really tough to do if you do not have access to a butcher shop. Kibble is almost always the ideal and straightforward way of feeding your dog.
How Much Exercise Does A Blue German Shepherd Need?
These dogs will require a lot of exercises, just like other German Shepherds. They are very high-energy dogs that like to be kept busy with tasks and tricks. Blue German Shepherds love to do things with their families, and they can be trusted to be happy to go on walks, hikes, and adventures in the car.
Many people do obedience competitions with their Blue German Shepherd, but they can also be trained for various other kinds of jobs. Since this was originally a herding breed, your dog might also be suited to learn these tasks. Blue German Shepherds are so trainable that you will have no trouble keeping them busy with tricks, skills, and more.
Make sure that you plan to exercise your dog at least once a day for about half an hour. Most dogs will benefit from more exercise than this when they are young, but you might be able to cut back as they age. If you do not have a large yard, you will need to make sure that your dog gets to visit the dog park or another location where they can run and play.
Blue German Shepherd Trainability and Intelligence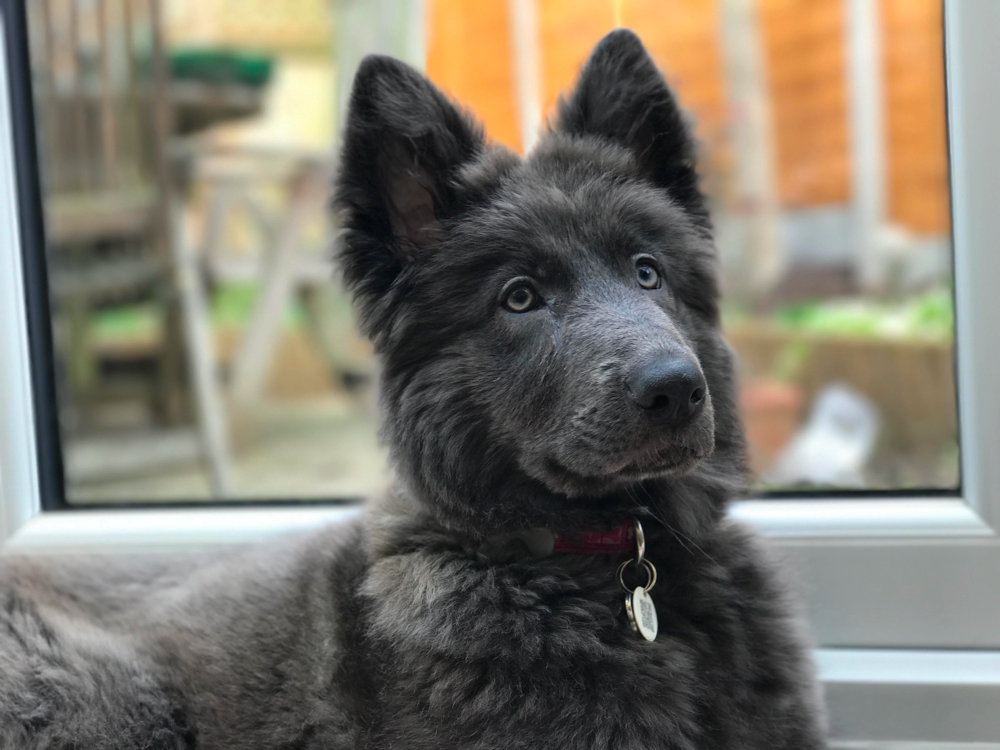 The German Shepherd breed is one of the most trainable dogs breeds out there. This is why they are so valuable to the military and the police. They are incredibly loyal, and they tend to attach strongly to one person. This makes them very good partners, no matter what you are teaching them to do. Despite being inclined to attach strongly to one person, this breed will be happy to hang out with the kids in the family or with trusted neighbors and friends.
This breed is highly intelligent as well. This makes them great partners for competitions, but it also allows the breed to be great protectors. They know who they need to take care of, and they never forget a face. Their intelligence also makes them very brave, and they are willing to do difficult tasks like jumping from airplanes with soldiers or hunting alone for substances and items that have been hidden for work or competition.
Having a very intelligent dog is very rewarding, and you will love that you can teach your dog anything that you want them to learn. German Shepherds learn fast and retain information that they have learned very well. Many people praise the breed for being very simple to keep trained because they are so smart and seem never to forget anything that they have learned.
Read more: How to Train Your German Shepherd Puppy
Blue German Shepherd Grooming
This is a dog breed with a double coat. This means that you will need to take the time to have them groomed twice a year, or you can use an undercoat rake at home during these seasons to try and attend to the shedding when it happens. This breed sheds year-round to some degree, which means that you will need to be willing to brush your dog about once a week to prevent matting and to help your dog to get through shedding season smoothly.
The coat of your Blue German Shepherd will shed water, and they stay warm even in cold weather with ease. This is a coat that is simple to brush clean, and you do not need to be concerned about washing your German Shepherd all the time. This is a breed with a very easy coat to care for, and that is one of the reasons that many people pick a German Shepherd to share their home.
Health Risks of Blue German Shepherd
Hip and elbow dysplasia is a very common defect in all German Shepherds. Breeders who are responsible for their crosses will certify their puppies as being free of this defect. Hip and elbow dysplasia can be very debilitating, and you do not want to have to try and help a dog through this kind of condition if you can avoid it.
German Shepherds are prone to bloat as well, which requires surgery to correct. This can be spontaneous, but you can help your dog to avoid this by making sure that they do not bolt their food or exert undue effort when they have just eaten. Bloating often has a good outcome, but it will always require expensive surgery to treat it.
Eye problems of various kinds can also be an issue for German Shepherds. These conditions can show up in young dogs as well as older animals. Responsible breeders will certify their dogs as being free of these conditions as well. You should always ask about the kinds of health certifications that a breeder will offer and be cautious about getting a dog that is not certified free of eye issues.
The last thing that you should be aware of when you get a German Shepherd dog is that it can be prone to thyroid issues. If your dog loses weight or gains weight rapidly suddenly, it might have a thyroid problem that needs treatment.
What Color is a Blue German Shepherd?
A blue German Shepherd will appear more like a dark grey dog or a black dog. The blue tones of the coat are most visible when you ruffle the coat or in bright sunlight. Blue is a very subtle coat shade, no matter what dog breed you are looking at. Your Blue German Shepherd will be quite distinctive when compared to the regular German Shepherd colors.
Because blue is not a recognized coat color for this breed, you will probably have to inquire about this coat pattern being offered by a breeder. Not all breeders advertise that they also breed for this color because show dog clients will not be interested. You might not be able to really understand what the color looks like without actually seeing it in person or seeing good-quality pictures of it.
How Much Are Blue German Shepherds?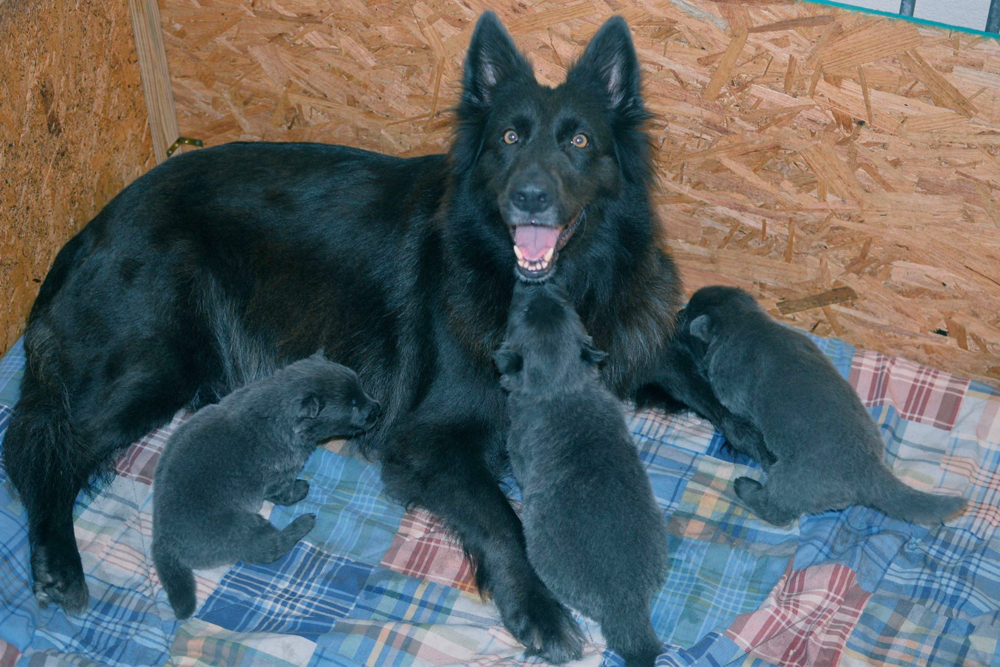 Blue German Shepherds are usually about $1,500 to $1,700. This is usually about double what a German Shepherd puppy will cost when sold to the pet market. This is because it is not easy to breed for this color, and many breeders also have limited breeding pairs that are genetically capable of creating this color. The litter might not all be blue as well, which makes the color even rare from litter to litter.
Frequently Asked Questions
Are Blue German Shepherds good for families?
Blue German Shepherds are excellent family dogs. These dogs love kids and other animals and often fit in really well to a busy family setting. You will need to have the time to exercise your dog every day, but other than this concession, your dog will fit into your family perfectly. You can even let your kids spend time with this dog unsupervised, as they are very kind and will know the difference between adults and kids handling them.
Are Blue German Shepherds good for first-time owners?
Blue German Shepherds might not be ideal for first-time dog owners. They need a lot of exercises, and it can be hard to keep these dogs busy enough if you don't know much about how to train them. First-time dog owners who are going to get a German Shepherd should make sure to work with a dog trainer. Having some help can make it possible for a new dog owner to manage a German Shepherd.
Do Blue German Shepherds darken with age?
Blue German Shepherds do not change color as they age as some other unique coat patterns might. The puppies will be a slightly different color when they are born, but they will darken up as they head into the first months of their life. The color that they end up being will not change over time in the way that Sable German Shepherds can change color.
Are Blue German Shepherds aggressive?
No German Shepherd will be aggressive if they are properly handled and cared for. They can be inadvertently trained to be aggressive, though, due to their naturally protective nature. German Shepherds that have been mistreated might also become aggressive out of self-defense. This is not a part of the normal German Shepherd temperament, however. Assuming your dog has been carefully trained and treated kindly, they will never be aggressive.
How to tell if a German Shepherd Puppy is blue
You will be able to tell that a German Shepherd puppy is blue by looking at them in the sun or lifting up the hair to see if there is a blue tone under the dark part of the coat. This color can be very subtle and hard to see in some lights. The sun outside is often the best place to look for the blue tones in your Blue German Shepherd's coat.
Is a Blue German Shepherd Right for You?
Blue German Shepherds are beautiful and kind dogs that are loyal and love their owners. This dog will offer all the usual German Shepherd traits paired with an unusual dark coat that has a blue undertone. You might have some trouble tracking down a breeder who creates these dogs in your area, as they are fairly uncommon. You might also have to pay a lot more for this dog than you would for a German Shepherd in another color.
A Blue German Shepherd can be the right dog for you and your family if you love a loyal dog that is high-energy and loves to go on adventures. This is a very trainable dog that is easy to love, and you will enjoy years of companionship from your Blue German Shepherd. If you love the German Shepherd breed but want to get a dog in a unique color, the Blue German Shepherd might be the perfect dog for you!
Other German Shepherd Colors
German Shepherd Tips and Resources