The 7-month mark should mark the Adolescent stage or age for the German Shepherd puppy as they should have crossed from the cute, curious, energetic but calm stage of the Juvenile German Shepherd. With this stage of the German Shepherd's development, comes a whole new set of challenges that could not be too favorable for the dog owner.
At 7 months, the German Shepherd puppy could still be regarded as a 'puppy' since they are technically not old enough to be called adults and most definitely not old enough to be called seniors. A 7-month-old canine teenager is largely characterized by fluctuating teenage hormones at this stage.
If you own a 7-month-old German Shepherd puppy, then this article has been created to help you with all the necessary information that would be required in getting the best out of your German Shepherd puppy. The article should contain various information ranging from the size of the puppy to changes in character and even offer some tips that could prove useful in dealing with some of the excesses of the German Shepherd puppy.
The 7-month-old German Shepherd puppy or teenager should be ranging with young adolescent hormones from reaching sexual maturity. One of the problems you would deal with is its strong desire to mate with all other puppies of the opposite sex.
Related posts:
What To Expect From A 7-Month-Old German Shepherd
The German Shepherd should start seeing a slow growth process in the 7th month when compared to the previous 6 months of its life. The growth still is present as they should now be at half of their total adult German Shepherd size and would have added a few pounds since the 6 months mark, however, the puppy growth should be very little.
Mental maturity should also see a little decline in growth as not much difference can separate the 6-month-old German Shepherd puppy from the 7-month-old German Shepherd puppy. But when compared to the 5-month-old German Shepherd, the 7-month German shepherd puppy should be a lot less curious and a lot more familiar with the world it lives in.
Energy levels for the 7-month-old German Shepherd puppy should be at all-time highs and this is mostly classified as sexual energy as it is mostly the strong desire to mate or for a mate that should be guiding the German Shepherd puppy by this age. You would mostly find the male German Shepherds, humping different items around the house if not properly trained.
Speaking of training, you definitely would have a lot of work to do with the 7-month-old German Shepherd puppy as again they would be overtaken by adolescent hormones causing them to be a lot more uncontrollable than ever. But with the right combination of a good or proper training program with the right patience level, it should be managed properly.
There are other attributes you might start to expect from the 7-month-old German Shepherd puppy and one of these attributes would be the possessive attribute. At this stage, your puppy might start gathering personal belongings around the house and might become a bit defensive if you try to interact with any of these belongings it acquires.
At this stage, a lot of training and patience would be required to deal with these attributes or character traits. The stage of teething should be done by the 7th month as your puppy should now be in possession of all its complete adult dentition. Dental hygiene should be taken seriously from now on to keep your puppy healthy.
What It's Like Living With The 7-Month-Old German Shepherd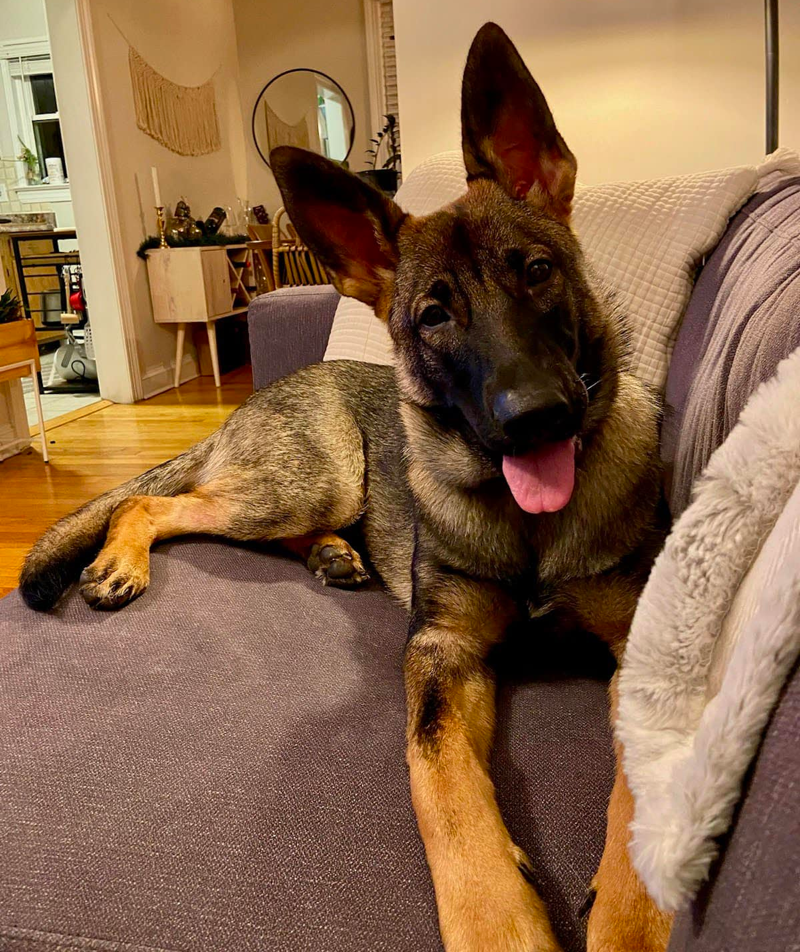 When looking at the overall health of the German Shepherd at 7 months of age, there should be no problems. They should have received all their vaccinations by the 5th month and should be awaiting new vaccination shots and deworming by the 12th month or 1-year mark. Regular checks with the vet are still mandatory.
Grooming should also be something to be done regularly at the 7th-month mark as their rich double coat should be easy to shed, thereby leaving a lot of fur or dandy around the home. Use the appropriate steel comb to go through the coat of the German Shepherd to avoid things like the matting of the German Shepherd puppy. Make use of high-quality shampoo to keep them clean.
There should be signs of dominance assertion present with your male German Shepherd at 7 months of age. You might often find them urinating around corners of the home or yard to help assert dominance over that particular territory. It is part of the possessive trait that comes with the raging teenage hormones of the dog.
For this, a lot of training would be required to properly handle your German Shepherd puppy. With patience and consistent effort, you can try to ascertain dominance over the dog and its belongings using a firm but gentle form of training. Regular exercises are also needed as the puppy can handle a lot more exposure to intense workouts at this stage.
Socialization is also quite crucial to keep the puppies satisfied, but do ensure that they are not left unsupervised especially with dogs of the opposite sex as they can try to mate with them and that could lead to complications and unexpected results. Always keep your puppy on a leash when in public and sometimes in their crate when at home.
How Big is a 7-Month-Old German Shepherd?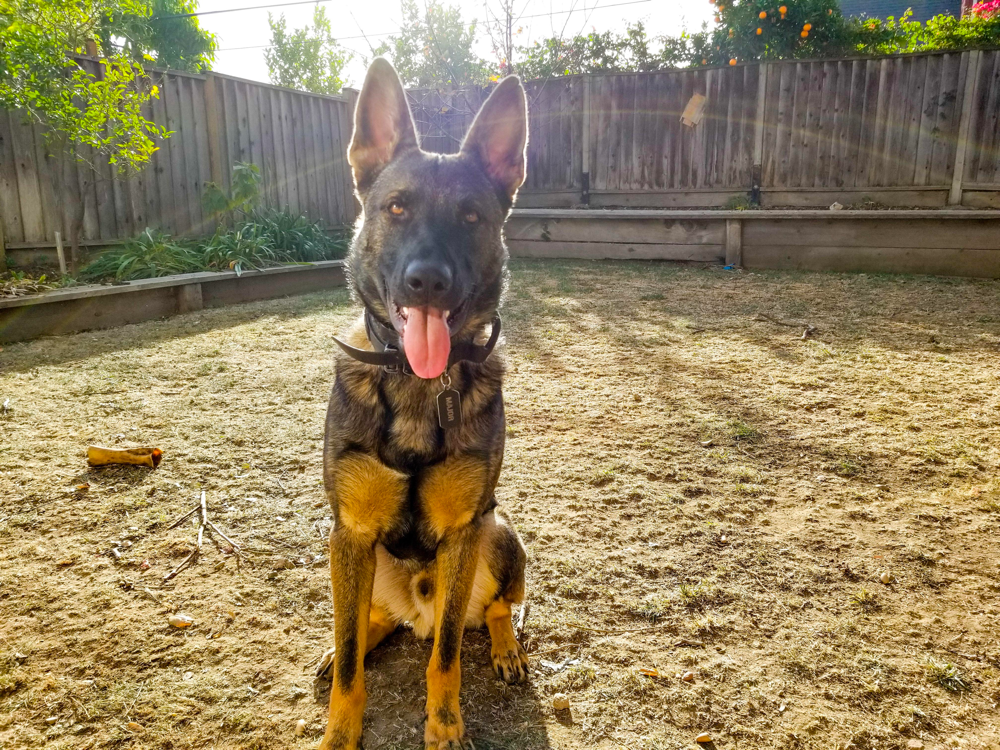 At this stage in the German Shepherd puppy's life, the physical growth should begin to slow down. The 7-month-old German Shepherd should only be adding a few pounds extra than a month ago.
The male German Shepherd puppy at 7 months old is a large dog breed and should be expected to fall between the 55 lbs to 65 lbs range. When looking at the entire size of the German Shepherd adult, this should be at 70% of the entire adult German Shepherd. The height should be between 19 inches to 20 inches.
The female German Shepherd puppy that is at 7 months old, should also be regarded as a large dog and should have a weight that falls between 45 lbs to 55 lbs. Again, this should fall between 70% of the entire adult German Shepherd range. The height range for the female German Shepherd should be between 17 inches and 19 inches.
As you should already know by now, the entire size of the German Shepherd can be influenced by different factors, one of these factors would be the diet of the German Shepherd. The breeding standards can also affect the overall size of the German Shepherd as working dogs are slightly smaller than show dogs.
Other notable changes that could be evident in the 7-month-old German Shepherd are the coat and ears of the German Shepherd puppy. They should be larger and more pronounced than earlier and the 7 month German Shepherd should have fully grown out of its adult coat by this time.
How Much To Feed a 7-Month-Old German Shepherd
At this stage of the German Shepherd's life, eating the right food is more than essential for being healthy. Their bodies are still pretty young and as such require a lot of food to stay strong and healthy. Their appetite should also be quite large considering the fact that the German Shepherd is a large dog breed.
Because the German Shepherd at 7 months old is prone to obesity, you would want to stick to a healthy lean diet that is highly nutritious. It should contain the right proteins and calories sufficient for the German Shepherd puppy.
Make the meal an all-natural meal that contains mainly rich lean proteins ranging from fish to chicken to turkey. It should also be rich in vegetables and fruits like carrots, bananas, peas, pumpkins, apples, and berries. But it is worth noting that some fruits and vegetables can be harmful or toxic to dogs, so speak to your vet and come up with a healthy plan.
To further reduce the chances of your puppy becoming obese, you have to come up with a puppy feeding schedule and stick properly to the plan. Your German Shepherd puppy should be getting a minimum of 3 cups of high-quality kibble each serving for 3 servings each day. This can be spread evenly across the day, for example, feeding should be in the morning, noon, and evening.
It is important that you allow enough time between feedings for the food to be properly digested. Good drinking water is highly important for the German Shepherd puppy and ensures that they eat early (at least a few hours) before they go to sleep.
How Much Sleep Does A 7-Month-Old German Shepherd Truly Require?
The sleeping requirement for the German Shepherd at 7 months of age should still remain the same. As we already know their bodies are quite young and still have a lot of development to go through, so they need enough sleep or rest to be fully active.
With that being said, it is important that you provide the 7-month-old German Shepherd with a minimum requirement of 15 to 18 hours of sleep time each day for them to be fully active. Night sleep is crucial, but they should also get short time periods within the day to sleep.
Try to force the puppy into sleeping early by engaging them in exercises and training to keep them tired and in need of some rest. And late night feeding can greatly affect the sleep pattern of the German Shepherd puppy so do ensure that you avoid it.
Exercising Your 7-Month-Old German Shepherd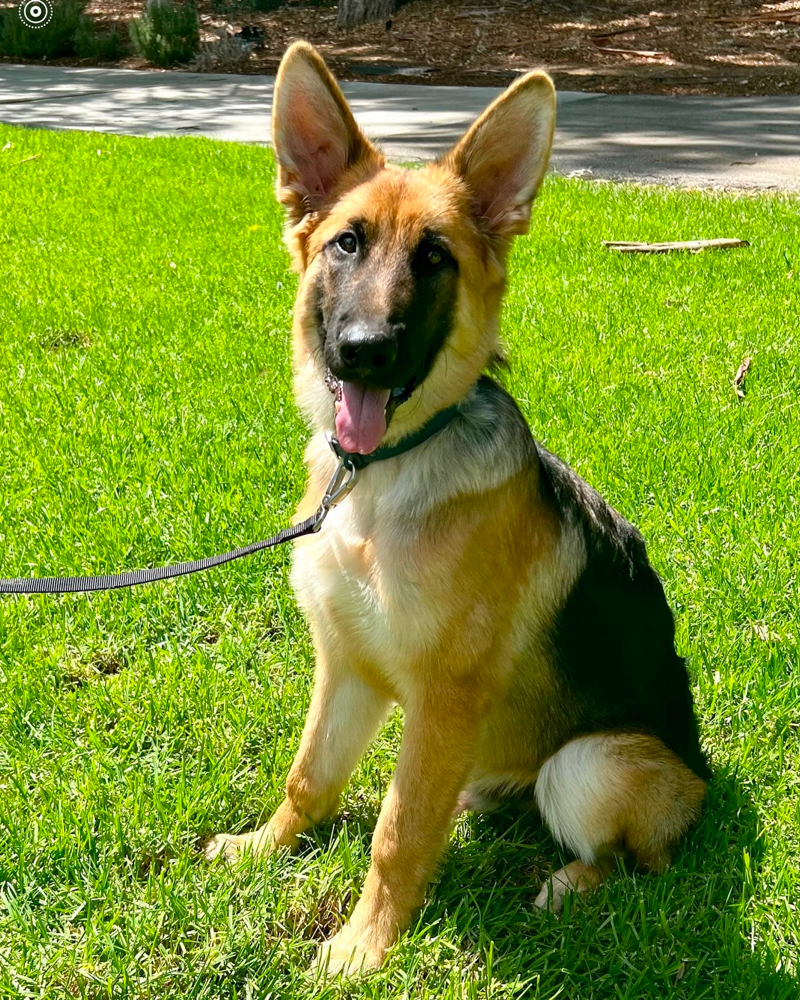 The benefits of exercise for your German Shepherd dog can not be overemphasized. They require at least an hour of exercise each day to stay strong, fit, and happy. Asides from that, German Shepherds are very energetic dogs and if left without enough exercise activities they can easily become restless and then turn destructive around the home.
This is why you need to be committed to exercising your German Shepherd puppy each day. Make an hour of your time and come up with a plan for exercising your puppy. You can spread it across the day so it doesn't put too much stress on your puppy's limbs and joints.
Try a 20-minute walk around the neighborhood at least 3 times each day. You would want to do this in a safe and comfortable environment for your puppy, so ensure the weather isn't too harsh for your beloved puppy.
Mental exercises are also quite important for keeping your German Shepherd sharp and easily trainable. Consider rewarding puppy puzzles for your German Shepherd to partake in. you can also try out other physical exercise activities like swimming, playing tag, and a lot more.
Training Your 7-Month-Old German Shepherd
Training is highly recommended for the German Shepherd puppy at the 7-month age mark. At this stage, they can develop a lot of negative habits which need to be corrected as quickly as possible. One of these is possession acquisition and Guarding, where the German Shepherd starts to gather items around the house and closely protect them.
If left without correcting your German Shepherd might become violent when trying to protect these items. Leash training is also highly recommended at this stage, especially when going on walks to different locations. Because of their raging sexual hormones, the German Shepherd might attempt to mate with any canine of the opposite sex that it finds.
You can correct all these with the use of the positive reinforcement training method and proper leash training. Patience is also quite key in properly training your German Shepherd puppy.
How Healthy Is A 7-Month Old German Shepherd?
At the 7-month mark, your German Shepherd puppy should have received a total of 3 vaccination shots as well as dewormings, the next vaccinations should be scheduled for 1 year or 6 months. If you are meeting the proper requirement for size and weight, your puppy should be healthy.
They do, however, need to visit the vet regularly for checks to make sure they are healthy, and it is also essential that you look out for the following symptoms in your puppy.
Reduced appetite
Frequent urination
Runny nose and eyes
Loose stool
Frequent thirst
Dry skin
Personality changes
Heavy breathing for no reason
Weight loss
Bad gums or red gums
Final Thoughts
A 7-month-old German Shepherd is simply a few months from being a fully matured German Shepherd puppy and as such they need your help getting there. Ensure you provide your German Shepherd with the necessary care.
Keep them properly trained, and pay attention to any health signs or challenges that might develop over time.