German Shepherds are arguably some of the most popular dogs in the world today. And judging from their traits and uses, it comes as no surprise why they are so highly loved. An average German Shepherd is intelligent, easily trainable, good-tempered, and blessed with an impressive work ethic that makes them suitable work dogs, service dogs, and family dogs.
If you're reading this then a month should have passed and your 7 months age German Shepherd puppy would have grown into an 8-month teenager or adolescent. At this stage, there are a few character traits and factors to look out for especially with regard to changes in their hormones and overall mental and physical development.
This article acts as a great resource for the 8 month German Shepherd owner as it provides you with all the necessary or required information to help you properly handle and get the best out of your German Shepherd puppy. We provide a lot of information on what to expect with the 8 month German Shepherd puppy, and what possible changes they might go through and we even provide some useful tips that could really help out with your German Shepherd.
The 8 month German Shepherd tends to develop a few new traits or characters at this stage. Gathering and guarding of certain items should still persist, but they can also develop habits like chewing on shoes, clothes and so much more.
Related posts:
What To Expect From An 8-Month-Old German Shepherd
As with the 7-month-old German Shepherd, the 8-month-old German Shepherd also shares a slight reduction in the overall growth speed of the German Shepherd puppy as it should only increase by a few pounds. At this stage, the 8-month-old German Shepherd puppy should be closer to achieving its maximum height (at least 70% closer).
However, the maturity of a German Shepherd puppy should be a lot higher as the puppy begins to behave more and more like a fully mature German Shepherd adult. But it is still possible to notice slight adolescent or teenage behavior in the puppy. They still remain curious, but they should be less prone to accidents from playing or any movement in general.
Speaking of playful energy, the 8-month General still retains the same amount of energy as the 7 month German Shepherd puppy. It can also become a lot more dominant especially with its owners as you would often find your lovely puppy companion challenging you for alpha status in and around the home. You can achieve control with proper training practices.
The high intelligence of the German Shepherd in general should make training sessions a lot easier for you as they tend to learn faster than some other dog breeds. However, you have to ensure the training sessions are handled properly using the right training methods while exercising the needed patience during your training sessions.
Your puppy does have a high tendency to become destructive if left alone for too long without the proper channels to exercise. Some of these behaviors that might develop in your puppy include chewing almost everything they can find in the house including shoes and clothes, excessive barking mostly at strangers and he may also begin to test boundaries with both you and other familiar faces.
As your puppy begins to reach its peak in physical growth and development, the bones become a lot denser and more difficult to break. So expect your German Shepherd's resilience to certain activities to be quite high as they are a lot stronger than they were months ago. They can also begin to show more aggression toward other dogs in the vicinity. This is their attempt at being more protective of what they love.
Living With An 8 Month German Shepherd, What It's Like
At this stage of the German Shepherd's life, you should be getting a lot more sleep at home than you did during the early stage of the puppy's growth. This is because the German Shepherd puppy should be a lot more comfortable being independent or alone. They can stay in their cages at night and not result in howling to get your attention.
It is still recommended that you regularly visit your vet for frequent evaluations of your German Shepherd puppy. With that being said, your German Shepherd should be 2 months closer to its next round of DHPP vaccination shots and deworming. This should be administered to the puppy at 12 months or 1 year, put that in your schedule.
Asides from regular checks at the vet, your puppy needs to be properly groomed at 8 months. They have a high propensity to shed a lot of their fur at this stage of their life. Regular brushing of fur is required to prevent coat matting. Also, dental care is highly required as your puppy should have grown its full adult teeth by now.
Spaying and neutering of your puppy could be considered at this stage due to the high sexual energy that should be building up in your German Shepherd at 8 months of age. If left to roam freely, your German Shepherd might end up mating with most dogs of the opposite sex it can find, so always keep them on a tight leash when leaving the home on walks to gardens or places where other dogs might be in.
To deal with the excesses of aggression, dominance, and compulsive behaviors that your 8 month German Shepherd puppy might exhibit, proper training should be considered for the German Shepherd as it is highly crucial. Luckily, training your German Shepherd can be easily achieved due to their high intelligence trait.
How Big is an 8-Month-Old German Shepherd?
As stated earlier the growth rate for the German Shepherd at 8 months is heavily reduced or slow. Instead of a much notable increase in overall height and size, what is more, apparent is that the German Shepherd bones should be a lot harder now as bone density should be high. What this means is that your puppy should be a lot more resilient.
For the male German Shepherd puppy at 8 months old, expect the size range to be between 62 lbs and 65 lbs. This makes the male German Shepherd a large dog with it achieving over 70% of the entire size of an adult German Shepherd. Its height should fall between 22 inches to 25 inches, which means there's an increase in height.
Female German Shepherd puppies are a little smaller in size than male German Shepherd puppies but they still count as large dogs. They should range in size between 52 lbs and 57 lbs which is still achieving over 70% of the total size of an adult female German Shepherd. The height range for the female German Shepherd should be between 18 inches to 20 inches.
Your German Shepherd still has a lot growing up to do as they keep improving in growth for the next year and a half. The exact height of a German Shepherd puppy can be influenced by some factors like diet or nutrition and even the breeding line of the German Shepherd does have a slight influence on the growth of each individual dog.
Aside from an increase in the size of the German Shepherd, there are other notable physical changes that could happen to an 8-month-old. One would be the further thickening of its coat as the coat should become a lot more lustrous. Their ears should have stopped growing but should stand upright or perky.
How Much To Feed 8 Months Of Age German Shepherd
Most large dog breeds at this stage (not just the German Shepherds), require a lot of food and nutrients to stay happy and strong. This means their appetite should be quite high as their calorie intake should also be quite high. However, it is highly essential that you develop a proper feeding schedule for your beloved puppy.
The schedule should help you reduce the possibility of overfeeding your German Shepherd puppies by properly rationing each food serving to spread across the day. This way, you can avoid causing them stomach pains from eating too much and even reduce the possibility of obesity for your puppy as they are quite prone to this.
Their food should contain lots of carbohydrates, proteins, and even fats. Proteins should be the most dominant nutrient in their kibble mix followed by carbs and then finally fats. Invest in whole grains, lean meats like chicken, turkey, and fish, and vegetables alongside fruits like bananas and apples for your puppies.
6 ½ cups of high-quality dog kibble spread across 3 meal servings in the day should be enough. One meal in the morning, noon, and in evening. Try to create enough time intervals for the meals to be fully digested before another meal. Always provide good drinking water for your puppies too.
Also, ensure your puppy eats early before they fall asleep. If their food isn't properly digested before they fall asleep, it can lead to pain and can even affect the sleep patterns and schedule of your puppy.
How Much Sleep Does Your 8-Month-Old German Shepherd Really Need?
Sleep at night should be better for both you and your puppy at 8 months of age. Still, they are rapidly growing creatures and they do need all the sleep they can get to be fully active and strong throughout the day.
It is thereby recommended that you provide them with a minimum of 14 to 17 hours of full sleep each day for them to be energetic and playful. Ensure they go to bed early so they can quickly get most of their sleep hours at night leaving room for short bursts of naps during regular activities.
Try to force them to sleep early at night by engaging them in some light exercise and training after each last meal of the day. Take them on walks or play some games with them. You however must ensure they go to sleep early.
Exercising and Training Your 8-Month-Old German Shepherd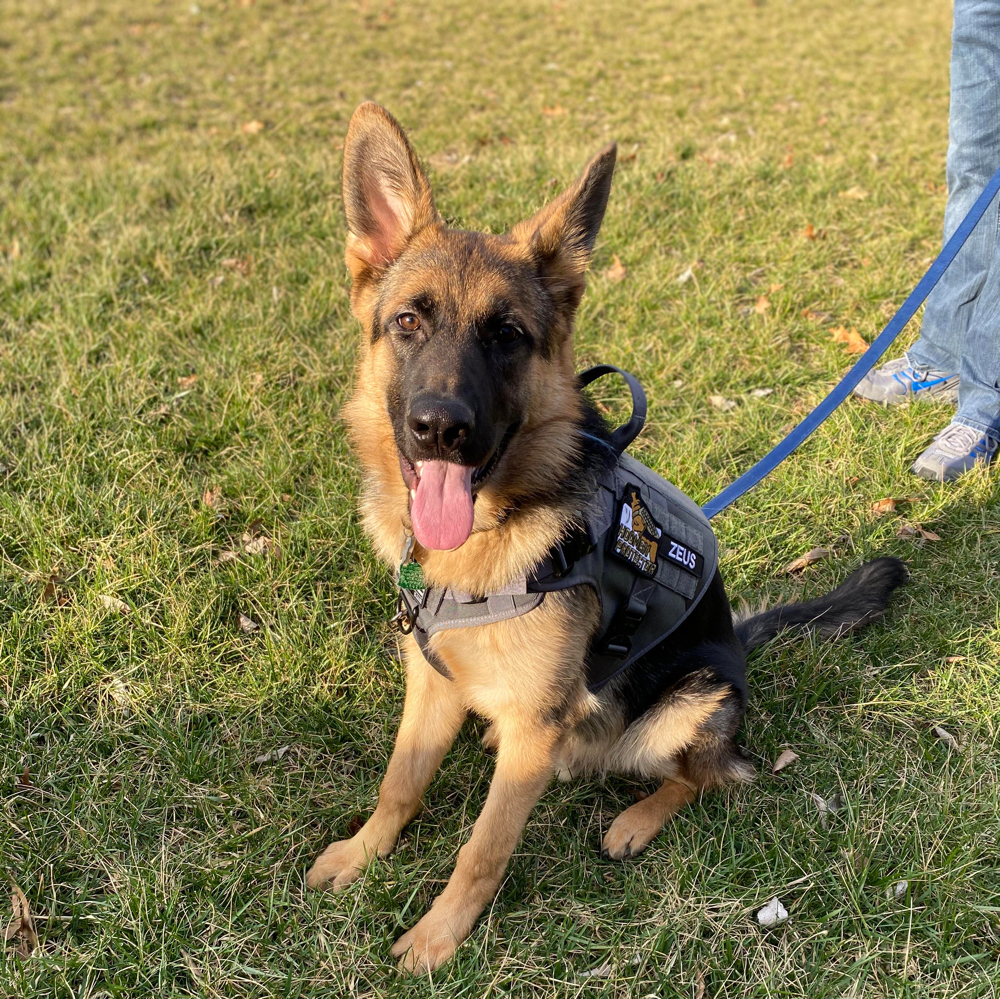 Your puppy can be exercised in various ways. The easiest and most basic way to exercise your German Shepherd puppy can be through regular walks. Due to their high bone density, your puppy can be able to handle an hour of intense exercising by 8 months of age. You can split this into two 30-minute walks or three 20 minutes walks each day.
To achieve the best results go at a slow pace, do not force your puppies to run until they are adults as it can affect their bones and joints causing defects like EIC. Asides from that, your puppy can also partake in other activities like tag and fetch.
Mental exercises are also quite crucial for keeping your dog's wit sharp and strong along the line. Engage them in mental exercises like puppy puzzles with the promise of a reward at the end to keep them stimulated and interested.
Exercising is quite crucial for the German Shepherd. If left without properly being exercised, they can become pretty destructive, especially around the house or the yard.
Training is also quite crucial for the German Shepherd puppy as well as for you as it helps establish a stronger bond between you and your puppy. One thing about proper training of your German Shepherd puppy to consider is the method of training that is being employed.
For you, the best method to be employed is positive reinforcement training which deals with rewards for good behavior and a less harsh but firm punishment for bad behavior. Try establishing some limits and rules for your dogs. One could be that your dog sits properly before each meal.
When using basic commands, try to be consistent with them. Words like 'sit' and 'come' should be consistent with your training sessions. Recall training is highly important for your dog at this stage.
How Healthy is The 8-Month Old German Shepherd?
The German Shepherd puppy should be pretty healthy at this time in their life, as long as you adhere to the proper feeding schedule and have given them their full shots and deworming. With that being said, there are some health issues to look out for.
German Shepherds have sensitive stomachs, and they are prone to allergies, as well to hips and elbow dysplasia. They can also suffer from a terrible illness called bloat. You have to be watchful of your puppy, look out for any of the following signs in your dog.
Frequent urination
Runny nose and eyes
Loose stool
Reduced appetite
Frequent thirst
Dry skin
Personality changes
Heavy breathing for no reason
Weight loss
Bad gums or red gums
Final Thoughts
There you have it! All you need to know about the 8-month-old German Shepherd puppy. They are pretty strong and delicate at the same time, so do ensure you properly take care of them by feeding them the right nutrients, grooming them, and exercising them.
A good dog owner would make the vet his or her best friend, so we encourage you to do the same. Regular visits for checks and evaluations are pretty important.