Are you on a search for the dog of your dreams and have your heart set on a Brindle German Shepherd? Brindle refers to a coat color or pattern that could take much time and effort to find.
A Brindle German Shepherd has an unusual coat pattern resembling tiger stripes with delicate markings. For a dog to have brindle stripes, at least one parent must be brindle. However, the best chance to breed a Brindle German Shepherd is if both parents have the brindle coat pattern.
The brindle coat pattern comes in a variety of beautiful colors. To find out if a brindle German Shepherd is right for you, peruse this article for more information.
Other German Shepherd colors:
What is a Brindle German Shepherd?
A brindle German Shepherd has a unique coat pattern that resembles tiger stripes or marbling. The stripes are subtle, and the base color could be black tan, grey, or sable. In rare instances, the color could be silver, blue, or liver. The markings can be lighter or darker than the base coat. The American Kennel Club does not recognize the brindle color as standard because it is rare.
Are Brindle German Shepherds Rare?
Brindle German Shepherds are among the rarest of the breed. Brindle is not a standard color in the German Shepherd. The gene that creates the brindle color is one of genetic instability. Some of the typical German Shepherd colors:
Black and Cream, Red, Silver, or Tan
Grey
Liver
Pure Black
White
The above tend to be the most popular colors of the German Shepherd. Most people picture the classic black and tan color of the German Shepherd. German Shepherds can also be blue, Isabella, bicolor, or sable.
Black and tan German Shepherds tend to dominate the show ring. Due to its rarity, the brindle German Shepherd is not even on most lists of German Shepherd colors. A German Shepherd with brindle coloring they may not be accepted in the show ring, but they are still beautiful dogs.
What Creates the Brindle Coat Pattern?
Creating the brindle coat pattern can be a challenge for any breeder. It involves a highly complex process. All dogs inherit two main color genes, including eumelanin and phaeomelanin. Eumelanin is dark, and it can appear black, but it can also appear blue, brown, or lilac. Pheomelanin is lighter, red, or yellow but can also appear tan, cream, or white.
The brindle coat color consists of an irregular coat pattern of phaeomelanin and eumelanin stripes in different shades. Brindle coloring is concealed on a eumelanin background. The base color is phaeomelanin, and the stripes are eumelanin. The Brindle is the most dominant allele on the K-locus of German Shepherds. The pattern on the agouti locus shows, and there is brindling on pheomelanin pigment sections.
The significance of the brindle stripes depends on the agouti locus. For the brindle stripes to be seen, at least one copy of Kbr must be produced. The only way to breed a brindle purebred GSD is to have at least one brindle parent. However, there is no guarantee, as the brindle allele, which is Kbr, is recessive to the dominant black allele, which is Kb. The different color varieties of the brindle pattern depend on the following:
Color pigment
Ticking expression
Stripe pattern
Stripe width
Stripes can vary from one dog to the next, as there is no precise way that the genes are expressed, as some German Shepherds have more brindling than others. It is the same way you will see specific types of cats with varying amounts of brindling, such as tortoiseshell cats.
A mutation of the dominant black-colored gene facilitates the brindle pattern in German Shepherds. This gene allows the recessive gene to come through in the dog's coloring, making the brindle pattern. A brindling or striped pattern will only appear if the GSD has the K locus. Both parents should have a brindle coat for the best chance of producing brindle puppies.
Brindle German Shepherds at a Glance
| | | |
| --- | --- | --- |
| Traits | Male | Female |
| Height at Maturity | 24 – 26 inches | 22 – 24 inches |
| Weight | 65 – 90 lbs. | 50 – 70 lbs. |
| Lifespan | 7 – 10 Years | 7 – 10 Years |
| Suitable for | Families, Kids | Families, Kids |
| Temperament | Adaptable and Protective | Adaptable and Protective |
| Personality Traits | Easy to Train and Intelligent | Easy to Train and Intelligent |
| Exercise Needs | High Energy Needs Exercise | High Energy Needs Exercise |
| Color | Sable, Tan, Grey, Black | Sable, Tan, Grey, Black |
As you can see from the chart, Brindle German Shepherds have the same stats as other GSDs. Both brindle German Shepherds and standard GSDs are intelligent, loyal, eager to learn, and protective. However, males and females differ in weight and height.
Facts About Brindle German Shepherds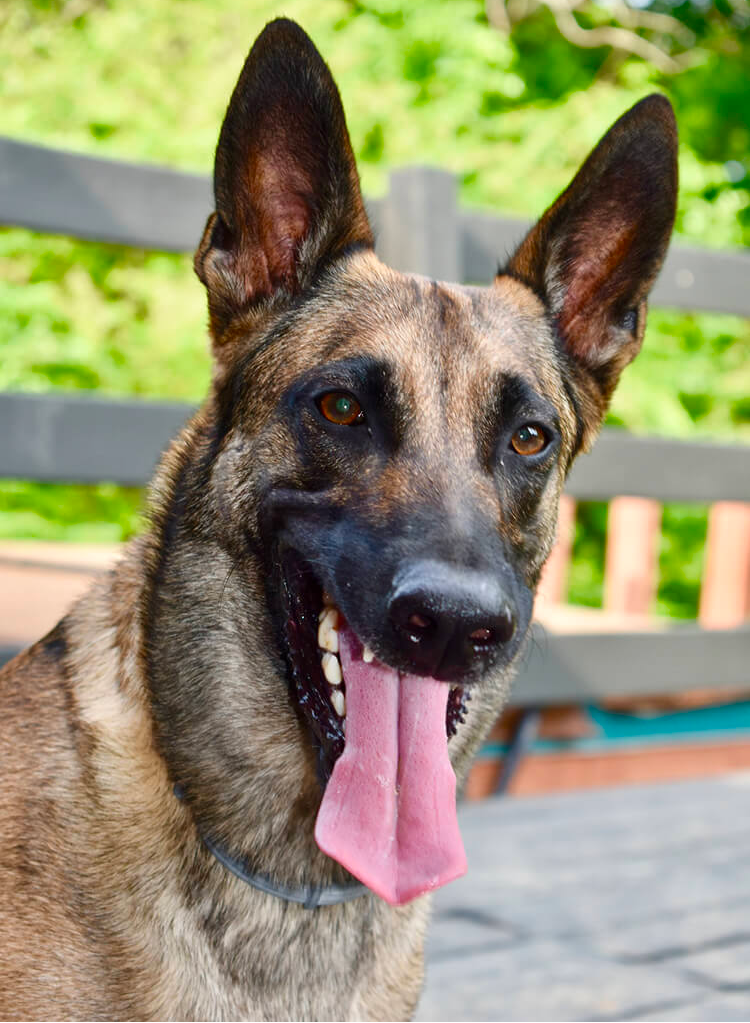 A brindle German Shepherd is a rare find. It is an unusual pattern and one that requires extensive research to be able to find a reputable breeder. There are some interesting facts about the Brindle German Shepherd:
It is Difficult to Find a Brindle Purebred GSD
Purebred German Shepherds are uncommon because it is not an official shade, resulting from recessive genes. IT would be more likely that you could find a mixed breed with Brindle. Dutch Shepherds are in the grouping of those breeds that require the brindling pattern. While the Brindle German Shepherd is not an official American Kennel Club breed, the Dutch Shepherd is.
Brindle GSDs Are Good Family Dogs
Brindle German Shepherds are excellent family dogs. When trained well, they are good with kids and other pets and exhibit a friendly, loyal, and protective demeanor. They possess a similar personality that is characteristic of all GSD. Socialization from an early age is imperative. Brindle GSDs, like most GSDs, are adept at protecting the family from intruders.
Brindle GSDs Are Difficult to Produce
The Brindle color pattern is considered a genetic mutation, making it more difficult for breeders to produce these beautiful pups. Brindled German Shepherds have also been labeled as "defective," according to the German Shepherd Dog Club in Europe, which is a fallacy. This misconception has resulted in the rarity of the Brindle German Shepherd.
Brindle GSDs Can Do Any Job
Brindle German Shepherds, like any GSD, can do almost anything. These pups are highly intelligent and straightforward to train. Therefore, they excel at police work, such as search and rescue, bomb and drug sniffing, not to mention apprehending suspects. They can also work in the military.
GSDs are also ideal as service dogs who can help the blind and disabled. Their original breeding purpose is unique. GSDs were bred to herd sheep. They protected the flock from predators and kept the sheep from going astray. GSDs are intelligent and can achieve multiple purposes and perform various tasks.
Brindle GSDs Have Impeccable Scent
Regardless of the breed, dogs have a keen perception of smell that is at least 100,000 times further powerful than a human can. Researchers still have not developed a detection method rivaling a canine's nose.
It has also recently been determined that dogs can detect certain types of cancer. The fantastic news about the GSD's sense of scent is that they rank near the top in their scenting abilities. Their sense of smell ties with Beagles, and they come in second to bloodhounds.
History of Brindle German Shepherds
A man named Max von Stephanitz wanted to create a working dog. In 1899, he went to a dog show where he saw a German Shepherd named Hektor. He was very impressed with the dog due to its intelligence and overall demeanor. Stephanitz purchased the dog and renamed him Horad von Grafrath. He bred Horad, who had over GSD puppies.
Stephanitz established the Society for the German Shepherd Dog. Horand was proclaimed the first German Shepherd dog and was the first dog recorded in the breed register. The primary purpose of the breed was to develop an exceptional working dog. They were bred to herd sheep. Positive traits of the German Shepherd:
Loyalty
Bravery
Athletic
High energy
Intelligence
Protectiveness
Confidence
Eager to learn
Horad bred two brindle-colored puppies who gave the brindle gene to their offspring. Over the years, The brindle gene has become lost in the GSD. The brindle German Shepherd was last observed in 1922. No GSD with the remarkable brindle pattern has ever been documented in the records of any kennel club. Breeding programs are trying to rectify this today.
German Shepherds were used in both World Wars. They would deliver messages to help soldiers communicate with each other, bring supplies, track down prisoners, and work with the Red Cross. They were also helpful to wounded soldiers on the battlefield. Both sides utilized the work of the German Shepherd.
German Shepherds also quickly became popular police dogs. They would perform various functions, including sniffing drugs and bombs and apprehending or restraining suspects. They were also service dogs used to help the blind and disabled. GSDs are still used for these purposes today.
Brindle German Shepherd Appearance
Brindle GSDs have a unique appearance. The attractive brindle coat looks like small tiger stripes. It is a pattern that alternates from dark to light throughout the body. The markings are usually darker than the undercoat of the base color. For instance, black stripes may be over a reddish-brown or tan coat. The stripes are subtle and may appear as streaks of color.
Unfortunately, kennel clubs do not allow brindle German Shepherds to participate in the show ring. These clubs do not accept washed-out colors in dogs. Brindle is considered washed out and considered a fault in the breed. The brindle German Shepherd is often called "The lost dog pattern." The color or pattern is extremely rare.
How Long Do Brindle German Shepherds Live?
The average lifespan of the Brindle German Shepherd is about 7 to 11 years. Your dog is a cherished part of the family. No matter how you're your dog lives, it will never be long enough.
However, there are some ways you can increase longevity in your German Shepherd:
Limit Calories to Maintain Leaness
If you give your dog exactly what they need daily, they will maintain their weight and remain lean and healthy. Dogs who are given a calorie-restricted diet tend to live longer. Research has shown that a calorie-restricted diet in dogs can help them to live about 1.8 years longer than their larger counterparts. You should also avoid giving your dog too many high calories treats.
Stress increases your pup's chance of getting sick and having behavioral issues. You should avoid punishing your canine, which can trigger stress and anxiety. Make sure they get plenty of exercises to work off that pent-up energy and offer soothing massages to help them relax. Cuddling with your GSD and petting them can also reduce their stress.
Keep Up with Vaccinations
Ensure your German Shepherd gets all required vaccinations, so they do not develop disease or illness. Booster shots are also important. Having your dog current on vaccinations ensures they remain healthy and safe around other animals. Vaccines prompt the immune system to be able to combat illness.
Regular Checkups Are Important
Parasites harm your dog, as being infected with a parasite can trigger a severe condition in your pup. Make sure you are getting your dog regular parasite protection. Heartworm protection can help significantly, as heartworms weaken your dog's heart and cause severe lung disease, heart failure, and harm to other organs.
Brindle German Shepherd Food & Dietary Requirements
German Shepherds should eat two meals a day, about ten to twelve hours apart. They should have about 2.5 to 3.5 cups of dry food each day. An energetic German Shepherd should have at least 3,5 cups of dry kibble. Protein is essential for your GSD. The more active the dog, the more protein they require. The best meats for a German Shepherd include:
Chicken
Turkey
Salmon
Rabbit
Beef
Lamb
For your German Shepherd, their weight and physical activity are how you determine how much to feed them. They require a diet comprised of 22 percent protein with 5 to 8 percent fat. Protein should be high quality. Their fiber intake should be between 3 to 7 percent.
Puppies generally need more food than older German Shepherds. Puppies should have 25 to 30 percent protein, and you should mix dry kibble with healthier wet food for the best results.
German Shepherd adult dogs typically weigh between 60 and 90 pounds. You should aim for a calorie range of 1,200 to 2,100 calories per day, depending on age, weight, and activity level. Active pups usually need between 1,272 to 1,540 calories daily, and active dogs should have between 1,740 to 2,100 calories daily.
Puppies require food that has been tested and proven, as your German Shepherd needs a unique formula to help their bodies learn to combat illness from an early age. Adult dogs require nutrition that helps maintain their energy. They need a balance of protein, fiber, and other nutrients to keep them healthy and strong.
How Much Exercise Does a Brindle German Shepherd Need?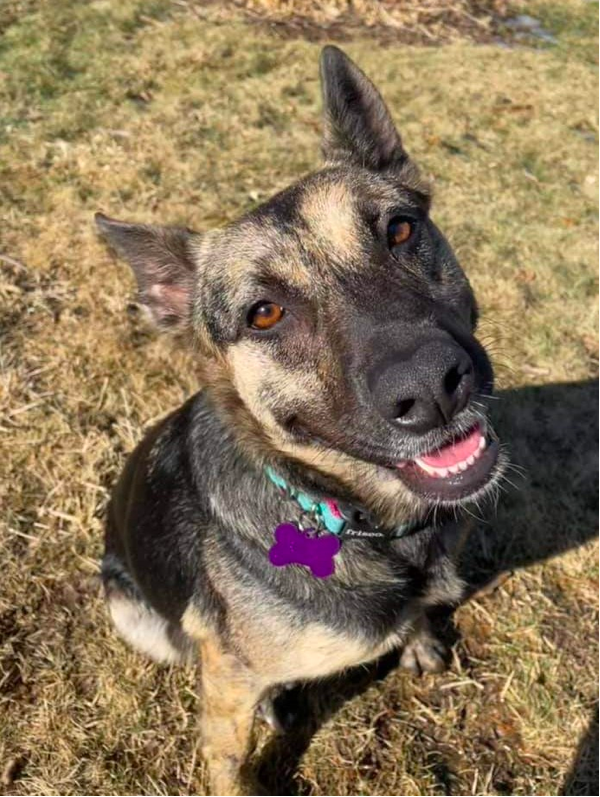 German Shepherds are high-energy dogs requiring about one or two hours of daily exercise. Your pup will be healthy, strong, and physically and mentally stimulated with the right amount of activity. Since their original purpose was to herd sheep, these dogs need a lot of physical activity to keep them happy. They are, after all, working dogs. Some of the activities your German Shepherd may enjoy:
Playing with other pups at the dog park
Games like tug of war
Jogging or running
Swimming
Hiking
Agility
GSDs are also like other dogs in that they enjoy a rousing game of catch or frisbee. Mental exercise is also essential, as food, puzzles, and toys can encourage them to work their mind. You should also walk your GSD 2 or 3 times a day. Break it up throughout the day. For example, you can walk them twice for about a half hour each time. You may also walk them three times for fifteen minutes each.
German Shepherd puppies and senior dogs should not exercise as long and hard. Puppies need protection, as their little bodies are still growing, which could harm their joints. Senior pups should still be active but may develop arthritis as they age. Consult your vet about how much exercise is good for your dog.
Brindle German Shepherd Trainability and Intelligence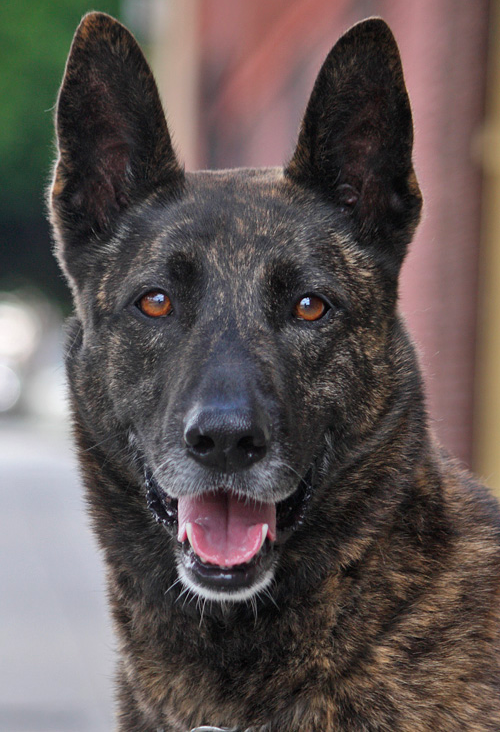 Any German Shepherd is easy to train due to their intelligence and ability to learn and understand commands quickly. They are also very obedient and want to please their master. German Shepherds are one of the most clever dogs with the intelligence to perform various complicated tasks, making them ideal for police work, the military, and service dog work.
The term "obedience intelligence" was created by canine psychologist and researcher Stanley Coren, Ph.D. The term refers to how quickly a dog can learn commands and their ability to retain information. Through research, Stanley Coren concluded that GSDs could learn a new command within about five repetitions. GSDs can also obey a command on their first try.
GSDs can retain information at a 95 percent or higher success rate. They are only outranked in intelligence by two other dog breeds: the Border Collie and the Poodle. These are some intelligent pups! Not only are the German Shepherds able to learn, but they also love to learn. It is evident in their focus and drives to excel at everything they do.
Socialization is also essential to the GSD, as it should be achieved early. If your GSD is not used to being around people and other dogs, they may become anxious, making it challenging to teach them. Fortunately, it is easy to socialize a German Shepherd puppy. They are super bright and can pick up on social cues from a young age. Puppy obedience classes can also be a huge help.
Brindle German Shepherd Grooming
German Shepherds have a double coat, and they do shed. You will need to groom them regularly. You should brush your GSD every other day for the best results, as you want to make their coat sleek and shiny. You can use a de-shedding brush or tool for routine brushing. Ensure you learn how to use the tool correctly, or you can damage your pup's coat.
A special grooming tool, Furminator can be your new best friend and help you groom your GSD. It removes all loose hair without damaging their coat if used correctly. You may need to use this tool more often during heavy shedding periods. If your GSD sheds too much or too frequently, you may need to integrate a higher quality protein into their diet.
Health Risks of Brindle German Shepherd
Brindle German Shepherds have not been specifically linked to any health issues. However, Brindle German Shepherds are at risk for the same health issues all GSDs can have:
Degenerative myelopathy
Eye problems
Gastric dilation and volvulus
Hip and elbow dysplasia
Musculoskeletal problems
Osteoarthritis
It is essential to know the common health issues of GSDs to tell if anything is wrong with your Brindle GSD. You should always make sure your GSD goes for regular vet checkups.
How Much is a Brindle German Shepherd?
Since most breeders tend only to breed dogs to have the standard breed colors, finding a brindle GSD is rare. For this reason, the price of a brindle German Shepherd may not be much more than a typical German Shepherd puppy. You can find German Shepherd puppies for between $1,500 and $2,500. It will depend on certain factors, such as demand for the breed. Some factors that go into the cost of GSD:
Age
Gender
Location
Coat color
Bloodlines
Certification
Adopting a shelter pup is a lot less money. However, there is no guarantee that you will find a Brindle German Shepherd puppy at a shelter. Make sure that if you purchase from a breeder, you find one that is reputable and cares for the dogs' health. You want to research the breeder carefully. There may be special German Shepherd rescues that can help you with your quest to locate a Brindle GSD.
FAQs
How to Tell if a German Shepherd Puppy is Brindle
Brindle is not a dog breed but a coat pattern that can be described as "tiger striped." The coat pattern can be either gray, sable, tan, or black. A brindle GSD will look similar to a Dutch Shepherd.
Can a Purebred GSD Be Born Brindle?
While it is not impossible, GSDs are rarely born Brindle because it is not an official color. Both parents would need to be purebred. However, Dutch Shepherds have brindling, and they are an official breed.
Does a German Shepherd Have a Brindle Coat?
German Shepherds have various colored coats. However, German Shepherds do not have brindle coats unless they are brindle GSDs. Modern dog clubs do not recognize Brindle as a color. The guidelines of The American Kennel Club concerning coats:
The stronger the color, the more favored
Pale-washed-out colors are prohibited
Blue, Liver, and White are defects
Long hair can be disqualified
The AKC has strict rules about coat color and length, and brindled is also seen as a defect despite its unique pattern. The most favored color and coat length of the German Shepherd for the AKC is short and black, and tan.
Is Brindle and Sable German Shepherd the Same?
Sable refers to a specific color coat of the GSD. The sable GSD has a coat with lighter root hairs and darker hair tips covering most of the body. The tips are black and appear gray. Brindle sable German Shepherds are the color sable with a brindle pattern. Sable is a color of a standard German Shepherd, while Brindling is a pattern.
Conclusion
Your work may be cut out for you if your heart is set on a brindle German Shepherd. It is a problematic coat color or pattern to find on a GSD. However, there may be extraordinary rescues that can help you locate the perfect dog for you. The main difference between a Brindle German Shepherd and a standard one is the way they look.
Remember that Brindle German Shepherd dogs are no different from other GSDs in training, dietary, and exercise needs; you know your pup will require much time and care. However, they will give you many years of unconditional love, making it all worth it.
German Shepherd Tips and Resources