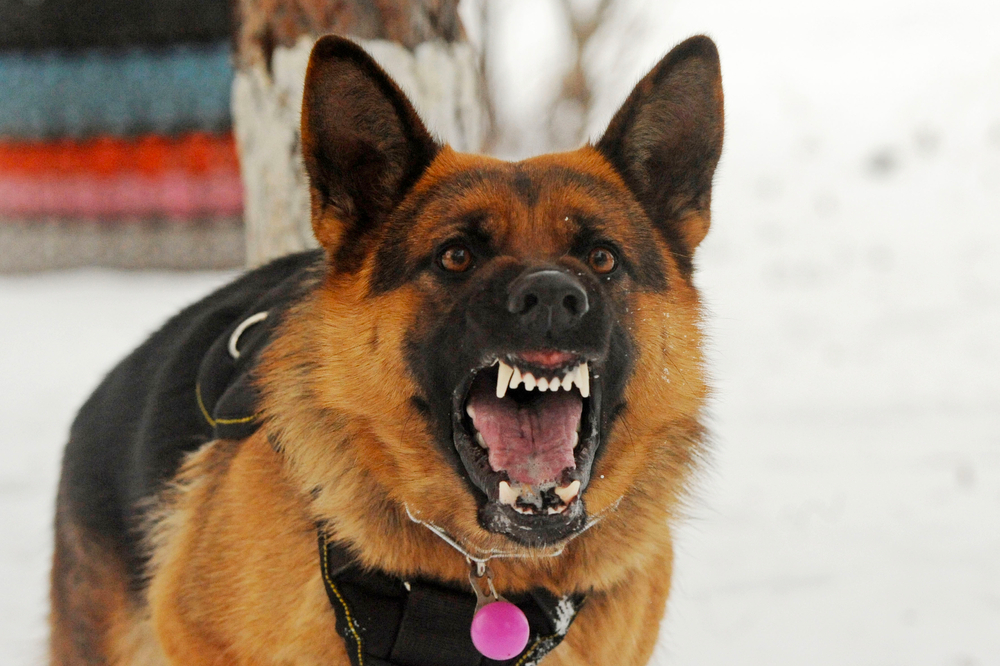 If you are in love with this breed, chances are that you have been mingling with other GSD owners and meeting new German Shepherds. While doing this, you may have come across a German Shepherd Dog with strange behavior – aggressive or overly aggressive that can be a serious threat to any other animals, strangers, or even his own owner and family member.
It is suggested not incorrectly blame the breed. It is rather important to understand the aggression in your German Shepherd Dog. In general, these dogs are not dangerous if handled correctly with proper grammar, although it's true that aggression in GSD is part of genetics, while over-aggression is not. Aggression (to a limit that is desirable) is a genetic trait that helps in stimulating the protective drive of the dog, while over-aggression (beyond the desirable limit) in this breed is considered a psychological imbalance (behavioral problem). Over-aggression is a faulty trait in German Shepherd Dogs and is purely a deviation from the behavioral standard of the breed.
The fact that many German Shepherds turn aggressive is due to the lack of knowledge of the breeder and/or the owner/handler. Over-aggression in any canine breed is a trait that is genetically transmitted to the offspring through wrong selections of breeding partners. This is the lack of knowledge of some breeders engaged in breeding GSDs without sparing thoughts over the science and art of breeding dogs. Sometimes a well-bred GSD turns out to be aggressive beyond the desirable limit, which is considered the fault of the handler or the owner. Having the dog locked in his room the entire day with no or very limited exercise, not providing him with the correct living environment, or treating him in an undesirable way maybe some of the many causes that may make a GSD frustrated and in turn aggressive. Another probable cause of dogs getting bad behavior is the owner not being able to establish his Alpha Membership (leadership) in the pack and being unable to establish rules and limitations for the dogs. This is again a human mistake.
Prior to making the decision to have a beautiful life put down the primary tip to understanding aggression in German shepherd Dogs is to find the root or the cause of this faulty behavior. This makes it easier for you to work on treating the undesirable behavior. However, if aggression is a genetically transmitted problem, the thing becomes tougher.
1. Over-aggression caused by faulty breeding
Formulating a correct breeding program is of utmost importance be it Chihuahuas or German Shepherds. Choosing the right breeding partners is the key to the success story. It is important to understand the lineage and the genetic character traits in each of the dogs in both sire's and dam's sides up to at least 5 generations. It is advisable to bar out one of the partners whose line consists of one or more dogs with aggressive or shy natures. Choosing a different partner is recommended. Shyness is another genetic problem, that causes a huge degree of aggression in dogs – German Shepherds are of no exception.
2. Over-aggression caused by faulty ownership
Over-aggression caused by faulty ownership is another very important thing to consider. There are certain myths as well as technical problems in handling associated with many German Shepherds becoming overly aggressive.
3. Myth
What most novice people seek out in German Shepherds is that these dogs should be a fierce protectors. They consider that the more aggressive their GSD is, the better the dog serves as a protector of their pack. They start treating their dog in a way (mostly non-technical ways) that breaks the balance of the dog's behavior. This is a big myth. German Shepherd Dogs are inherently protective animals. Over-aggression is not something that can help – rather breeds series problems. A well-maintained GSD should be calm, confident, assertive, steady of nerve, and gets aggressive to a desirable level when it's called for by situation(s).
4. Lack of exercise
German Shepherds are working dogs and require lots of exercises to maintain a balanced behavior with contentment. Lack of exercise and play breeds frustration and irritation in your dog's mind, which he would try to release on anybody at any point in time. This is a psychological imbalance due to the owner's lack of time to offer to his dog. Inadequate exercise is one of the major roots of the dog's undesirable behavior like over aggression. Heavy exercise burns excess energy in your dog and helps the dog to be in a healthy state of mind.
It is the owner's full responsibility to socialize his dog. Start off with Socialization as early as possible – maybe at the age of 3-4 months, before putting him into the training session. Take him to places like busy roads, where he can see mobs and automobiles and will come across different sounds, smells, and situations. Take him to the parks and allow him to mingle with other animals and different people. Allow him to sniff things here and there. But don't allow him to accept food from a stranger's hand. Teach him to refuse food whenever your friend (who is a stranger to him) offers him something to eat. It is important to socialize your dog to situations, sounds, strangers, and other animals. This acts as a vital mental nourishment.
6. Failure in establishing the alpha membership
German Shepherds are no more or less aggressive than many of the other dog breeds, although many people and even GSD owners wrongly blame the breed seeing just only a couple of specimens of the breed. It is important to see if the owners have correctly established Alpha Membership (leadership) and set the limitations and rules for their dogs. True that German Shepherds are sometimes more headstrong and stubborn by nature compared to many other dog breeds. This is the most important reason that owners should make their dogs know that they are the leaders and the dogs are not. It is important to set the rules and establish limitations during playtime, walking time, feeding time, and when he comes across any other strangers or other animals. Once your GSD starts considering himself as the Alpha member of his pack he will start his dominion over you, your friends, and other animals. This results in bad behavior, exhibiting over-aggression.
7. Dog wants to be the pack leader
Sometimes your GSD would show unnecessary over-aggression in order to establish dominance, as he can understand that he is not the leader of the pack. This is just a trial to get over your leadership. It is important to handle him firmly without losing your dominance. Ignoring him can be a solution. When you hold his lead keep him on track each time he gets distracted while on the move. It is also important to understand the role of the leader of the pack, which is to direct the other members on the right path. Your mistake in this part will adversely affect the dog's mentality in the pack, thereby resulting in aggression and sometimes inter-pack chaos.
It is important to understand that the overly aggressive German Shepherds are the frustrated specimens of the pack. Maintaining the position of the Alpha membership in your pack consistently is of the highest significance. It is recommended that you take strong and corrective measures by gaining control over the situation and the aggressive behavior of your GSD before it goes out of gear. Remember that German Shepherd dogs are highly intelligent and it is never too young or too old to learn basic desirable behavior. Establish a controlling authority from the very beginning through your firmness in body language and vocal intonations while delivering commands.