German Shepherds are an extremely popular breed, and breeders have popped up everywhere to meet demands. Finding a reputable breeder can be difficult, especially if you don't know what to look for. We have hand-picked the best breeders to help you find the best German Shepherd puppies in Maine. Each breeder will have a general description as well as any guarantee or types of German Shepherds they specialize in, and what their buyers are saying about their business. Although we've done our research, you should always talk to the breeder you are considering and ask questions to make sure they are a good fit for you.
1. Lebenshunger German Shepherds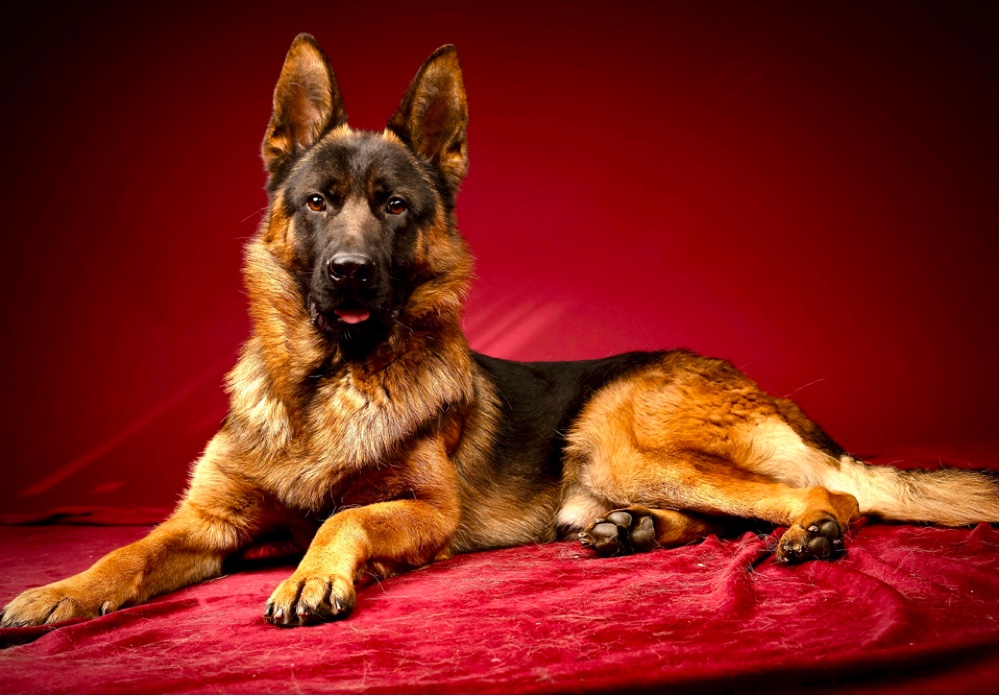 Lebenshunger German Shepherds is a city and state approved kennel in Maine and is owned by Kevin and Patti. Puppies from this breeder are from imported European lines and come with a lifetime health guarantee and an AKC reunite microchip. They also come with a puppy kit that includes health records. All puppies from this breeder receive their first vaccines and deworming treatments and are hip and elbow certified, so dysplasia is an unlikely issue.
Patti and Kevin stand behind their health guarantee and offer lifetime support to the families who adopt from them. They also have an informative FAQ on their website to help new puppy parents with common questions about care, like what to feed their new family friend and information on when it is safe to exercise with their dog.
Lebenshunger German Shepherds will ship your puppy to you if needed for an extra fee. Shipping is available to all 50 states and Canada, so this is a great breeder to choose if you live far away and would like to have your new family member sent to you.
This breeder is loved for their intelligent, well-tempered, and beautiful dogs. Families report that they are extremely satisfied with their experience and that Kevin and Patti are very welcoming and helpful throughout the experience. Many families have returned for a second or a third dog from this breeder.
2. Serious Black German Shepherds
Serious Black German Shepherds is owned by Keith and is a licensed breeder in Maine. This breeder specializes in black-coated German Shepherds and has many dogs competing at National and World level IPO competitions. Parent dogs come from Czech Border Patrol and World WUSV IPO lines. This breeder's goal is to provide the best black coated working German Shepherd dogs around, and they bring 50 years of experience doing it.
Serious Black puppies come with a five-year health guarantee. Keith screens his potential adopters well and will not sell you a puppy if he cannot speak to you, so make sure if you apply for a puppy that you are ready to answer any questions and ask some for yourself.
Families that have purchased from Serious Black say that owner Keith is amazing to work with and that they know they can rely on him to answer when they have questions about their dog. He is praised for knowing exactly what he is doing and breeding dogs with excellent temperament and drive. Many families have returned to purchase additional dogs throughout the 50 years that Keith has been breeding and would recommend him to others.
3. Seelenvoll German Shepherds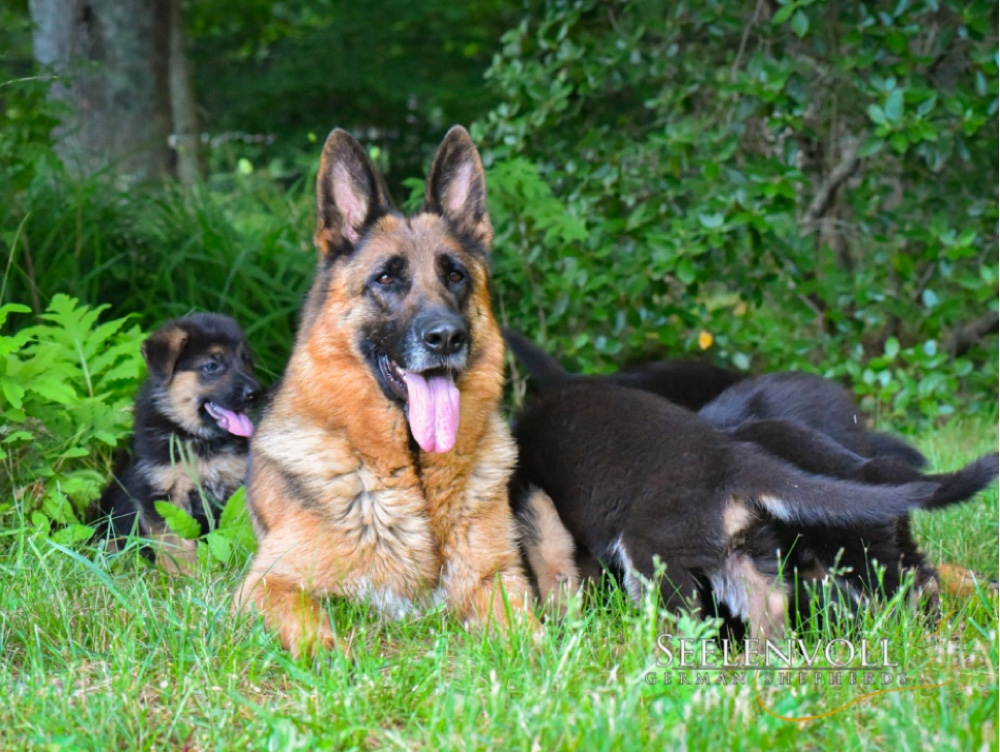 Seelenvoll German Shepherds is owned by Katie and Jennifer and located on 25 acres in scenic Penobscot, Maine. This breeder offers tours of their facility through pack walks, where German Shepherds from their farm and a group of guests go on a 1.5-mile group walk on their land and through some wooded trails. They also allow visits after puppies have their first vet visit at about 7 weeks, for their safety.
Puppies from Seelenvoll come with their first vaccines. They also have a four-year health guarantee. This breeder does not sell any puppies with breeding rights, so if you dream of breeding your dog, this isn't the breeder for you. All puppies are raised in the home in a special nursery room and frequently come into the living areas for socializing and desensitizing to everyday life. Katie and Jennifer invite new puppy parents to join their exclusive Facebook group for adoptive families where they can share puppy updates, connect with other families, and ask questions.
Pack walks are a huge hit at Seelenvoll. People are praising them for being the best way to spend time outside with German Shepherds. Katie and Jennifer are said to be professional, informative, and willing to offer help when needed. As far as the dogs, buyers love their dogs for their well-bred appearance and loving personalities. They love the flexibility from this breeder without sacrificing good standards.
4. Noble German Shepherds of Maine
Noble German Shepherds is owned by David and Valerie and is located on six beautiful acres in Hollis, Maine, where their dogs have plenty of room to run and explore. This breeder is proud to be recognized as a Good Dog Responsible Breeding Program member and breeds from European working and show lines.
Puppies are raised in the home with the family and socialization is started immediately. All puppies from this breeder receive a vet check, microchip, and age-appropriate vaccines and deworming treatments before going home and come with lifetime support from David and Valerie.
If you want to have options, this breeder would be a good fit for you. Puppies can be limited or full AKC registered. Buyers from Noble German Shepherds love their puppies, and report that they are extremely intelligent, are in great health, and have excellent temperaments. David and Valerie get good marks as well for their support of new pet parents. They love to keep relationships with their adoptive families and are always willing to answer questions.
5. SnS German Shepherds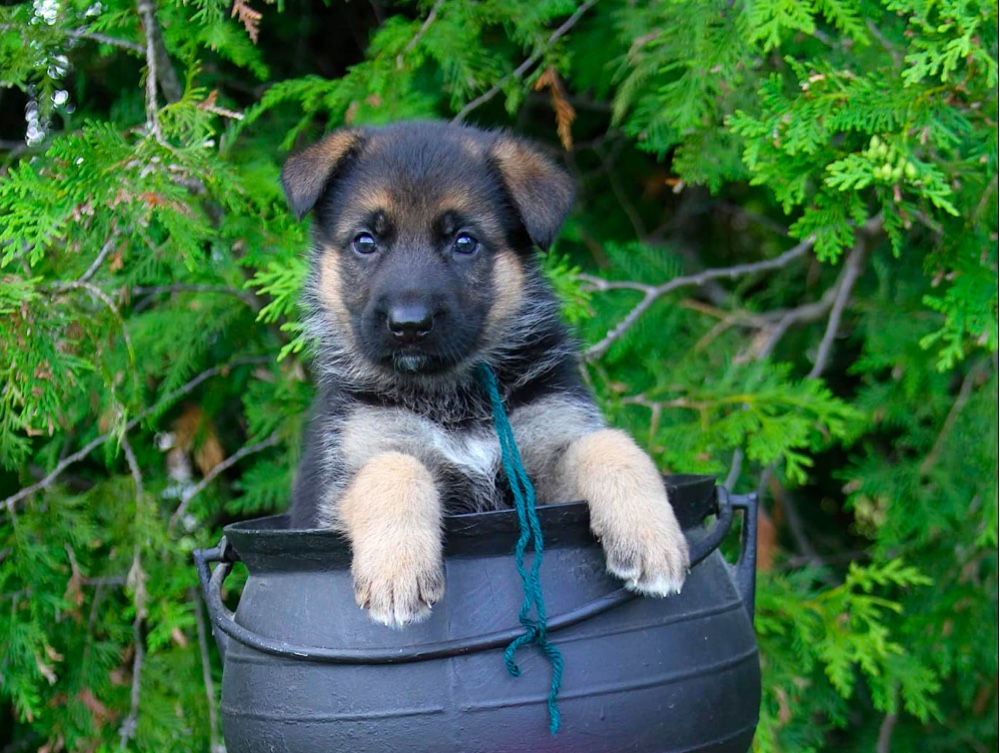 SnS German Shepherds is a long-standing kennel that was established in 1982, which gives them over 40 years of experience raising and breeding German Shepherds. SnS breeds dogs with American and Canadian blood lines and specializes in creating the perfect family companion and protector.
Frank Thibodeau, the owner of SnS, breeds for quality, not quantity, and only has a few litters available a year. He is immensely proud of the dogs he has produced, and proudly displays videos on his website from adoptive families showcasing the easy trainability and love and respect his dogs have for other animals. If you need shipping for your dog, Frank will ship to any of the major airports, or will meet you in Bangor, Maine for an easy transfer.
People who have purchased from Frank say he is a very honest breeder and picks the perfect dogs for his families. His dogs are loved for their great temperaments and high intelligence. Many have returned to S'n'S when they wanted to add another dog to the family, or when their family dog passed on.
6. Meer Kuste German Shepherds
Meer Kuste German Shepherds is owned by Gina White and exclusively breeds West German show lines for their excellent temperaments. Gina runs her business a little differently, as she doesn't keep all of her breeding dogs on-site. Five dogs live at home with her, and the rest are with families or associates. All dogs can still be met, but an appointment is needed so arrangements can be made with the families who have the dogs. Gina has an extensive background in breeding, as she was the breeding an import manager for a company for over 12 years before going off on her own to work with a smaller number of dogs. She has also been a proud owner of German Shepherds for over 30 years.
Puppies do not come with breeding rights, so they are ideal for pet homes. If you decide to purchase a puppy and for whatever reason change your mind after bringing them home, you have 48 hours to return them for a full refund. At the time of sale, the health of your puppy is guaranteed, but there are no guarantees beyond that point.
Meer Kuste offers parent support through education on their website. This includes a first day home guide as well as counseling on what to feed, vet visits, and how to train and socialize your new companion. If you need more guidance, there are links to call or email Gina to discuss the topics further.
Families who have purchased from Meer Kuste love how caring and attentive Gina is to her pups as well as her professional nature. She is reported to be an expert in her field and deeply passionate about her work as a breeder. Dogs from Meer Kuste are referred to as the best dogs they've ever owned and are praised for their great temperaments. Many adopters have returned to this breeder for another dog.
7. Pracovni Bohemia German Shepherds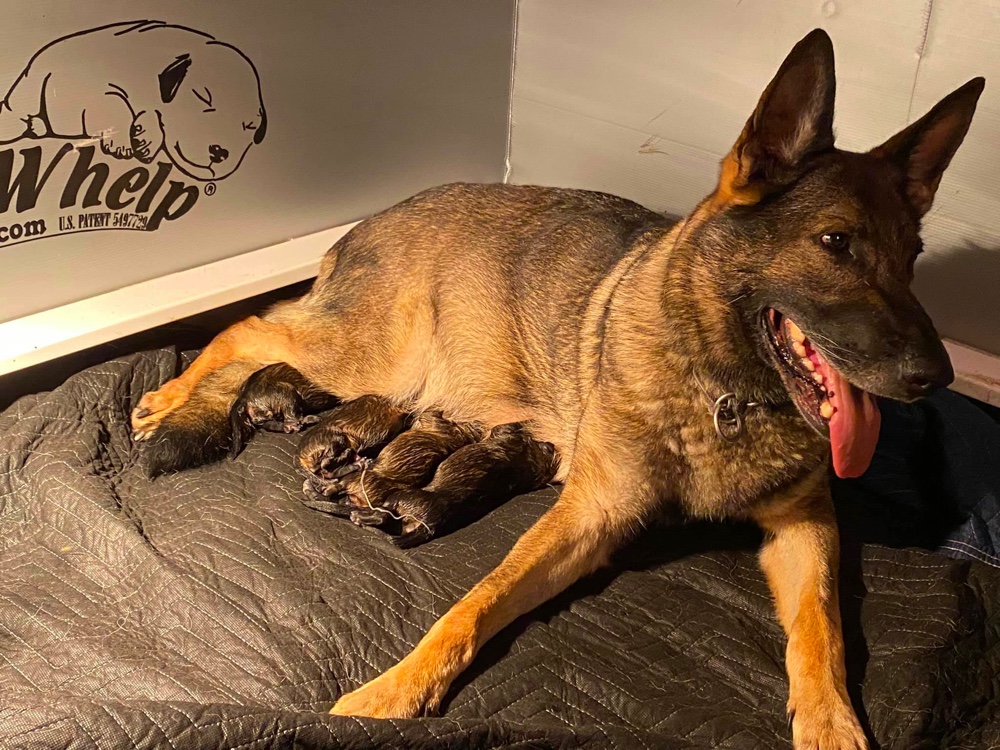 Pracovni Bohemia German Shepherds is located in Sabattus, Maine and breeds from Czech, Slovakian, and West German working lines as well as East German DDR lines. This breeder is proud to be recognized as Good Dog Responsible Breeding Program and has partnered with them to bring their adopters resources on how to care for their new family member. Parent dogs from Pracovni Bohemia are health tested and have pedigrees available on their website, as well as their drive level and what they excel in, so doing parental research for your puppy is made easy.
Puppies from this breeder come with their vaccines, a microchip, limited AKC registration, and a one-year health guarantee. If you are looking for training for your puppy, Pracovni Bohemia offers a stay-behind puppy training program that is 6 weeks long and gives your puppy a solid foundation in basic obedience and commands.
Families who have purchased from Pracovni Bohemia German Shepherds love their dogs for their great temperaments and protective instincts. They also report dogs that are gentle with children which is imperative for families who are interested in purchasing.
If you are active or retired military personnel or in law enforcement or EMS, there may be a discount available to you, so be sure to check with the breeder before making a purchase.
8. Southern Maine German Shepherd
Southern Maine German Shepherd is owned by Cori Long and located in Action, Maine. It is here, on her property with her husband and two daughters that she breeds working line German Shepherds. She considers her dogs her pets, and they live inside with her and her children and other animals.
Puppies from this breeder are raised indoors and are well-socialized and playful, making them the ideal family friend. They offer delivery for their puppies at no cost to select meeting locations if you are unable to come to them.
Cori supports new pet parents with information on her website that covers the appropriate way to feed, train, and select toys for your new companion. She is also available to answer any questions you may have. Cori is also praised for her friendly nature and stress-free adoption process. Dogs from Southern Maine German Shepherds are also held in high regards for their health and gentle nature as well as being great with children.
9. Von Woden K9
Von Woden K9 is owned by David Rackliffe who is a police K9 handler and a certified Police K9 trainer. David breeds working line German Shepherds to be family companions and protectors, as well as potential law enforcement K9s. Parent dogs from this breeder are AKC registered and have undergone health testing. The results for this testing are available to view on the website and are listed under each dog.
Von Woden K9 not only offers breeding services but will train your dog as well. This includes basic training, advanced training, problem solving, police work, and service work. People who have taken advantage of these services are incredibly pleased with the results seen in their dogs and would recommend David as a trainer. David is always willing to help when a training issue comes up with one of his dogs and offers great support to his adoptive families.
Puppies from Von Woden are praised for their high intelligence and ability to be gentle with children. Families say their dogs love to work but will also settle easily when needed. These dogs are also praised for their great temperaments and health. Many families would recommend purchasing a puppy from Von Woden and refer to Daniel as a breeder who cares about his dogs and knows what he is doing.
10. Silver Pines Pups
Silver Pines Pups is owned by Ashley Reed and was inspired by her family's first dog, Mia. Mia was such a wonderful blessing in their life, that she inspired Ashley to want to share that feeling with others, and thus, Silver Pines Pups was created. On any given day, you can find Ashely's pups snuggling up with her and her family or roaming the 12 acres that is their home.
Puppies from Silver Pines are priced at 3,000 dollars and can be limited AKC registered. They do not come with breeding rights and are required to be spayed or neutered by one year of age. Before going home, a health check is performed by a veterinarian and a health certificate issued. First vaccines and deworming treatments are also given. Puppies also receive basic training and can receive more advanced training through this breeder for an extra fee of 1,500 dollars. To help your puppy adjust to their new surroundings, Silver Pines also sends starter food and a toy with a familiar scent.
If you are looking for a service dog, this will get you first pick of the litter. Service dogs are picked by temperament testing that is done when the puppies are between 2-6 weeks old. This ensures you are getting a puppy that is the best possible fit for service work.
Ashley and her family feel responsible for the dogs they breed, and have a first right of refusal clause, which means that if you can't keep your dog for any reason, she will have the choice to take them back before other arrangements are made. She also offers lifetime support for the animal in ways like answering questions, helping with training, and providing resources to new pet parents.
Families who have purchased from Silver Pines say Ashley is kind, knowledgeable, and really cares for her dogs. She is referred to as an ethical breeder and thoughtful in what she does. The dogs from Silver Pines are just as beloved for their temperaments and intelligence. Many dogs have gone on to be successful service animals and their handlers would return to Silver Pines for another service dog when the time comes.
11. Timber Ridge Farm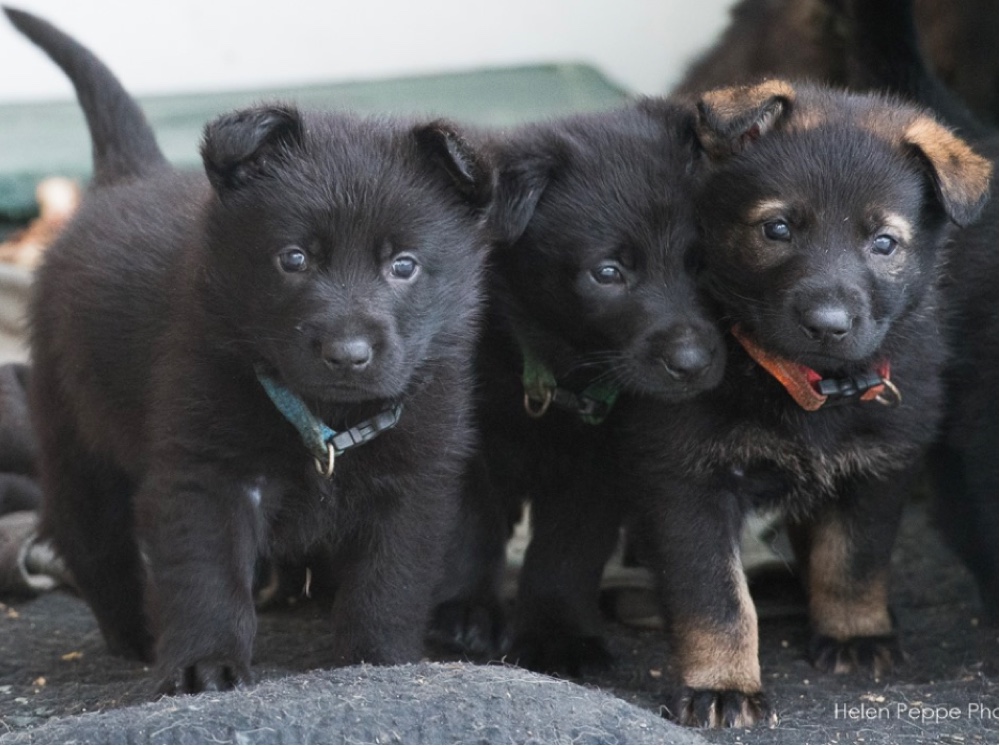 Timber Ridge Farm is owned by Doreen Metcalf and is located on a beautiful farm in Saco, Maine. On this farm, Doreen breeds Shepherds suitable to be family companions or sport dogs, and recommends you choose which kind based on the energy level you would like your dog to have. Meet and greets are available for parent dogs and puppies by appointment only due to the busy nature of the farm.
Puppies from this breeder are priced at 2,400 dollars for a long-coated German Shepherd and 2,000 for a short-coated German Shepherd. This price includes the puppy, videos on training and care, lifetime support for the dog and family, three training classes (in-person or virtual), first vaccines, and deworming treatments. If you need more help with training, Timber Ridge offers dedicated training classes for purchase after you have used the three that come with your dog.
Purchasers of puppies from Timber Ridge Farm refer to their dogs as intelligent, affectionate, and good-tempered. Their dogs are also said to be clear-headed, healthy, and ready to work. Doreen gets positive marks also for her knowledge and professionalism.
Our Top Pick
We picked Silver Pines Pups because the owner, Ashley, was reported to be genuinely nice to deal with. She also cares greatly about individuals needing service animals and works extremely hard to get them an appropriate dog. Her lifetime support is also very appreciated by her customers who love their healthy, even-tempered German Shepherds.
We hope this list eases your search for the German Shepherd of your dreams.
German Shepherd Breeders in The Other States