If you are looking for a German Shepherd then you are looking for a protective, loveable, and brave companion. This breed is by far one of the most versatile breeds that are great family dogs, solid show dogs, or powerful sport and working dogs. No doubt no matter what life your pup is destined for there will be no shortcomings in their hyper and family-oriented personalities.
Getting a German Shepherd Puppy is no quick choice but in this blog, you will find a list of reputable breeders who has that special pup waiting for your family. Here there are the top 10 most reputable German Shepherd Breeders in Michigan. This list is to help you determine a responsive breeder you would like to talk to or go through but remember to always talk to them and make sure you know what you want from the breeder, the dogs, and the bloodline.
1. Vom Dinaburg German Shepherds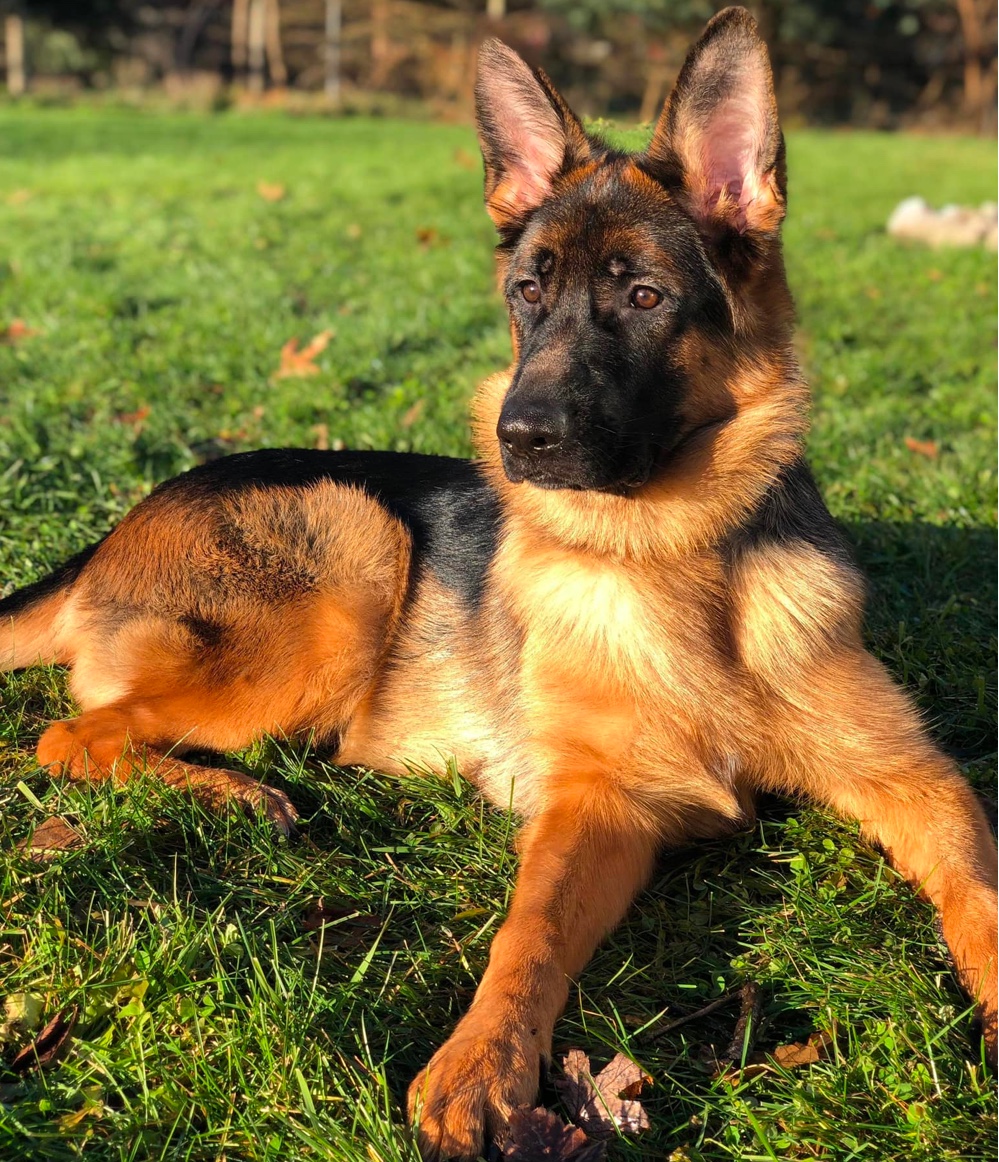 First on the list is Vom Dinaburg German Shepherds a reputable and well-known German Shepherd breeder in Michigan. They have been dedicated to producing some of the highest quality German Shepherd puppies in the state. All their breeding dogs come from the finest bloodlines, and all their puppies are raised with the utmost care and attention.
Their primary focus is the health of all dogs in their care. All their dogs must pass rigorous health testing before they can be bred. They also provide a health guarantee for up to two years of age for all their puppies, ensuring that you get the very best of what German Shepherds have to offer.
Their puppies are known for being intelligent, loyal, and obedient with great personalities. They are perfect for families who want a loyal companion or protection dog, as they are very protective of their owners and have the intelligence to learn commands quickly and go any route their family wants to train them for.
With their commitment to the health and quality of their dogs, they make sure every breeding dog is held to the SV standards and passes testing for genetic health issues and hip dysplasia. Not only do they put so much work into making sure that these puppies are healthy, but they make sure that these puppies will live up to your expectations and need for any future they may have.
And if any new puppy owner needs it they also have training available at their facility to help with a variety of disciplines. With most of their training being positive reinforcement to help build the canine-handler bond it is sure to help any owner. But if you have a show dog stud services are also available to approved matches.
Vom Dinaburg German Shepherds Contact Details
2. Von Buchmann German Shepherds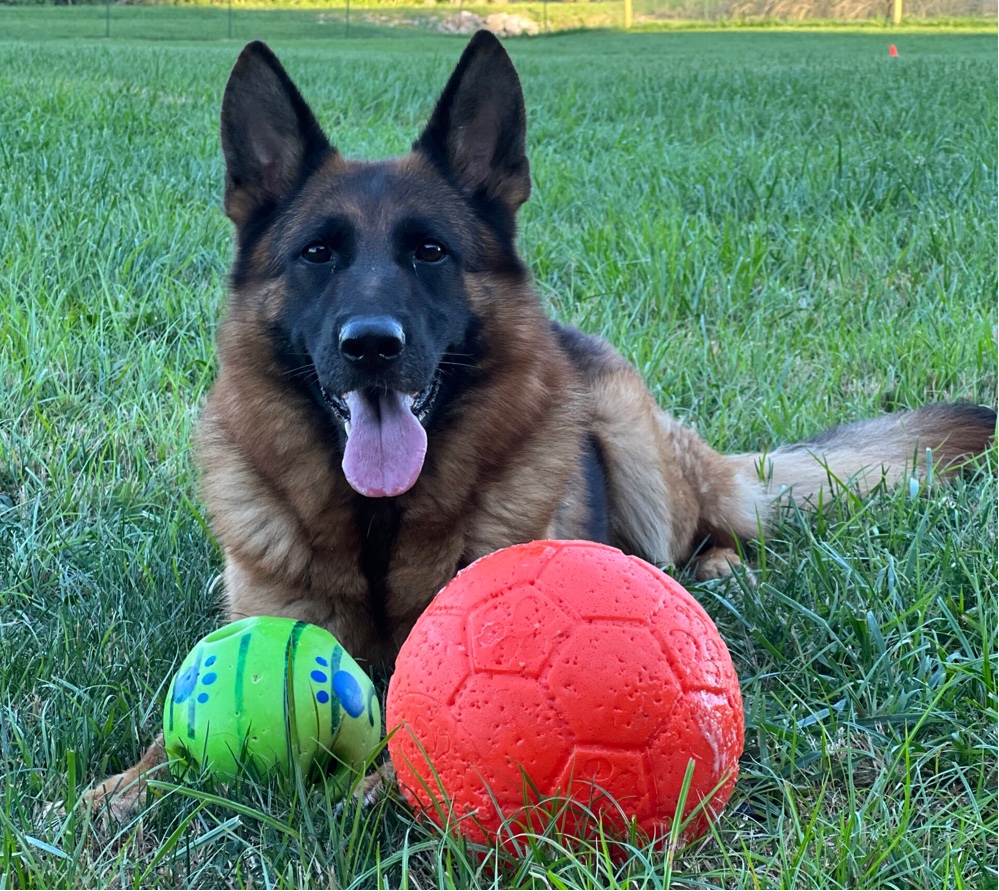 Next, is Von Buchmann German Shepherds located in southwestern Michigan. Their mission is to provide quality puppies with sound temperaments and great health. Their dogs are bred from imported German champion lines with an IGP title that produce puppies with the healthy bone structure, boldness, and intelligence. They focus on providing their puppies with sound backgrounds and healthy lineage.
The Von Buchmann German Shepherds are provided with all the necessary vaccines and health care needed to ensure a long and healthy life. All of the breeding dogs at Von Buchmann undergo rigorous health tests before being used for breeding. This includes hip/elbow scoring and temperament testing to ensure their dogs are held to the German SV standards.
They strive to provide families with a variety of different types of puppies including pet, show, and working-line puppies. Each of their pups is raised in a home environment where they receive ample socialization and lots of love. The puppies have access to a large outdoor exercise area and receive individual attention every day. And they all go home with vaccines and a vet health check to ensure a healthy pup.
Von Buchmann German Shepherds Contact Details
| | |
| --- | --- |
| Owner | Peggy |
| Location | Ira Township, Michigan |
| Email | info@MichiganGermanShepherds.com |
| Phone Number | (586) 413-2782 |
| Website | michigangermanshepherd.com |
3. Kolenda Kennels German Shepherds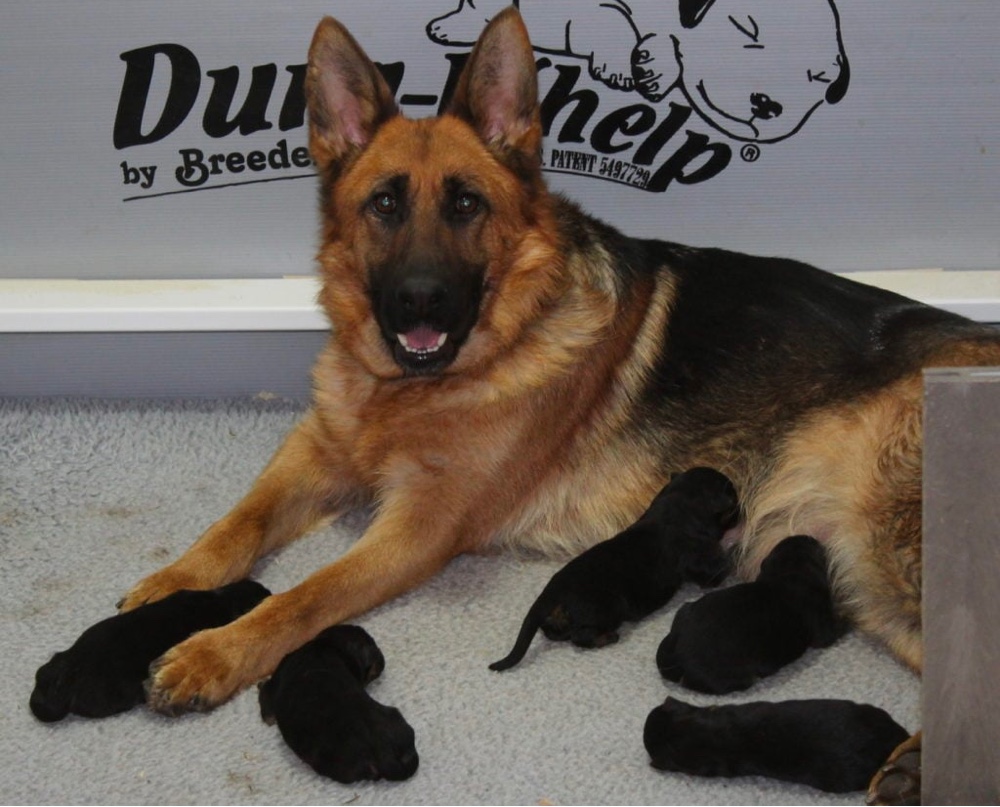 Kolenda Kennels is a long-established breeder of German Shepherds. Started in 2000 by John and Susan Kolenda, the family-owned business has been providing quality German Shepherd puppies to families across the county. They are passionate about breeding only the best pups.
Their dogs are bred with the goal of producing puppies that have both a strong physical and mental temperament, as well as good health. They strive to make sure their puppies have the classic, desirable traits of the breed, such as intelligence, loyalty, strength, and an even disposition.
In terms of health and safety, they ensure that all of their puppies receive their first set of vaccinations before leaving for their new homes. They also ensure that all of their breeding dogs are checked for any genetic conditions or diseases prior to breeding and that they receive an 'A' stamp for hips and elbows. This helps them to provide puppies with the best possible start in life.
Breeding both show-quality and companion-quality German Shepherds. Their show-quality dogs have all of the desirable traits for the breed and are typically bred for show competitions. Meanwhile, their companion-quality German Shepherds are bred for people looking for loyal pets or working dogs. Each puppy is raised with love and kindness, and they make sure to socialize them, so they are well-prepared for life in their new home. All of their puppies come with a five-year health guarantee.
Kolenda Kennels is a highly respected breeder of German Shepherd puppies, dedicated to providing quality pups to families across the country. With a focus on breeding puppies with desirable traits, top-notch health care, and excellent care for their dogs, the respect earned for the breed in the armed services definitely takes root in how they care for their dogs.
Kolenda Kennels German Shepherd Contact Details
4. Pure Black German Shepherds of Hartland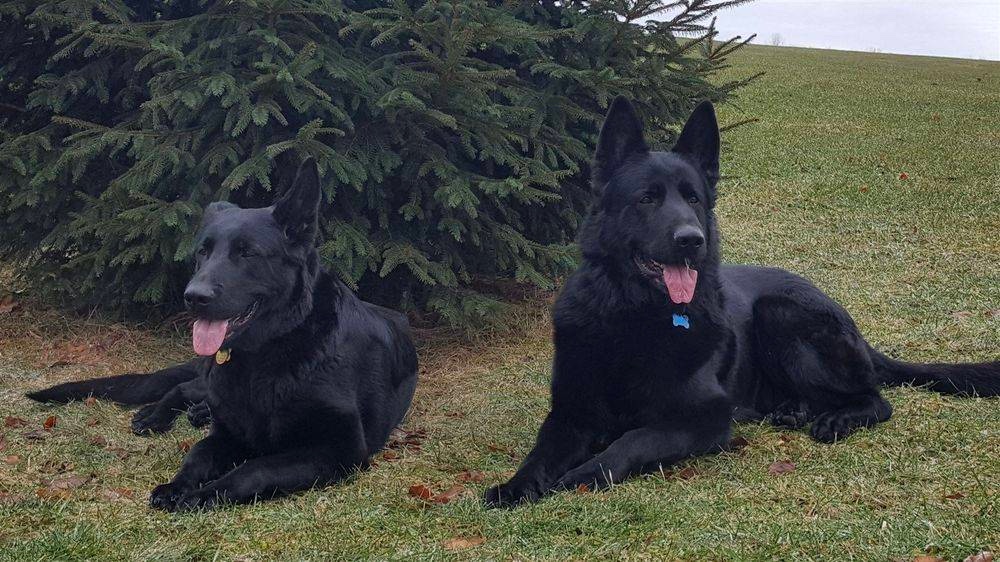 Hartland, Michigan is home to the Pure Black German Shepherds of Hartland, a reputable and long-standing German Shepherd Breeder. They focus on breeding AKC Registered dogs that possess the perfect blend of loyal temperament, intelligence, and beauty. Their dogs are instantly identifiable for their rich black color, noble profile, and elegant gait.
Paying careful attention to the health of their dogs and puppies, vaccinating them regularly, and providing annual health checkups. Furthermore, they test their breeding dogs for genetic diseases to ensure healthy puppies. At Pure Black German Shepherds of Hartland, they breed various German Shepherds, including classic blacks, solid whites, and sable blacks. They also make sure that their dogs are properly taken care of with plenty of exercise, affection, and socialization.
If you are interested in one of the Pure Black German Shepherds of Hartland puppies, please contact Don directly. They will be happy to provide more information about their available German Shepherd puppies and answer any questions you may have about their pups.
Pure Black German Shepherds of Heartland Contact Details
5. Alta-Tollhaus German Shepherds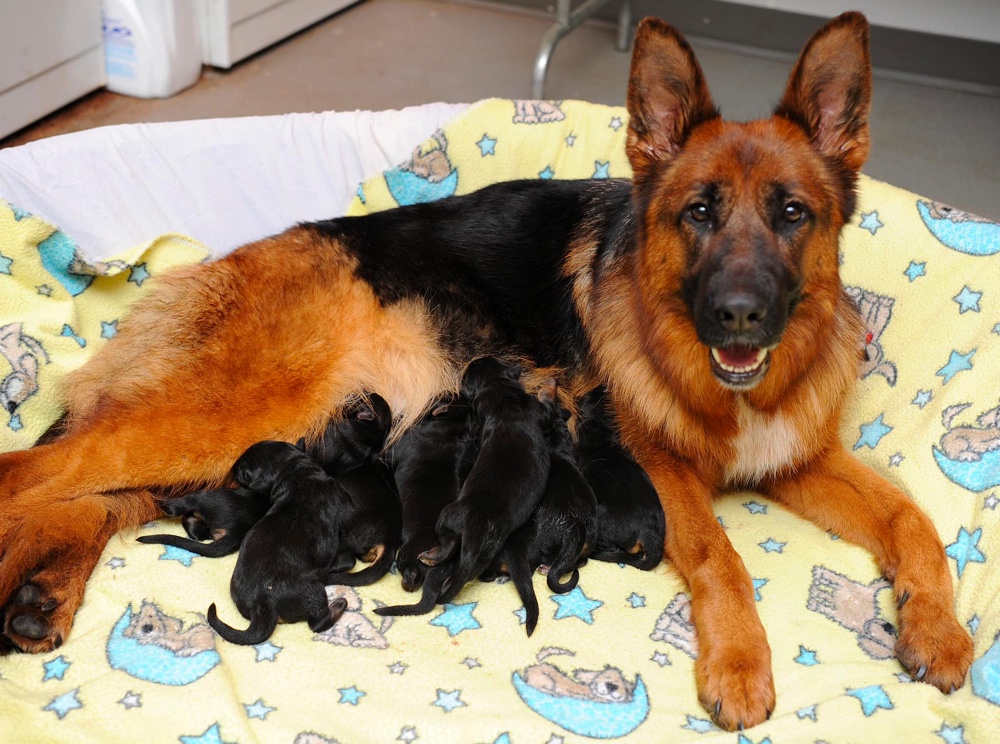 Alta-Tollhaus German Shepherds have been breeding German Shepherds for over 20 years. They focus on creating and maintaining the highest quality of German Shepherds through careful and selective breeding. They are dedicated to producing dogs that are structurally and temperamentally sound, with excellent physical health.
Prioritizing good health in their puppies and vaccinating all of them between seven and eight weeks old. They also test their breeding stock for any genetic conditions, including hip and elbow dysplasia. All of the puppies from Alta-Tollhaus are AKC-registered and are also microchipped.
The dogs bred by Julie typically have very identifiable traits, including high intelligence, loyalty, and trainability. Their dogs also have excellent health, with long lifespans and few illnesses. As part of their commitment to quality care, they only use the best nutrition and supplement products for their breeding dogs.
If you're looking for a German Shepherd puppy, Alta-Tollhaus German Shepherds is an excellent choice. They strive to provide healthy puppies with the best temperaments that make excellent family companions.
Alta-Tollhaus German Shepherd Contact Details
6. Glaurung German Shepherds
Glaurung German Shepherds is one of the leading German Shepherd Breeders. The team behind Glaurung have been dedicated to breeding and raising strong, healthy, and intelligent German Shepherds for more than twenty-five years.
The focus of their breeding program is to create puppies with outstanding temperaments. They believe that temperament is the most important trait in a German Shepherd, and they strive to produce dogs with a friendly, outgoing personalities. In addition to temperament, they also select for health, intelligence, and conformation in their breeding program.
The puppies that come from them are recognizable by their impressive structure and versatility. All puppies are home raised, well-socialized, and exposed to many different sights and sounds during the early stages of development. All puppies receive age-appropriate vaccinations and preventative health care. The breeding dogs are screened for genetic diseases and traits before being bred.
Breeding Working Line German Shepherds tend to be more driven and are used for sports like Schutzhund or agility. Their pups are good all-around for Schutzhund, IPO, Protection work, Search and Rescue, and a variety of other jobs. They put a lot of effort into caring for their dogs. Each puppy is given individual attention throughout their development and all the dogs are kept up to date on vaccinations and preventative health care.
Glaurung also offers lifetime support to their puppy owners and is always available to answer questions. There is also a comprehensive twenty-five-month hip and elbow guarantee and a twenty-four-month guarantee for life-threatening genetic problems.
Glaurung German Shepherd Contact Details
7. Detroit German Shepherds Vom Dana Haus
Detroit German Shepherds vom Dana Haus focuses on breeding quality imported West German Show Line puppies with strong genetic traits to ensure their health and longevity. So at Detroit German Shepherds vom Dana Haus, the health and welfare of their German Shepherd puppies is paramount so all potential buyers need to contact the breeder for more information and to reserve their puppy.
Detroit German Shepherds Vom Dana Haus Contact Details
8. Von Bauernhöfe Bedard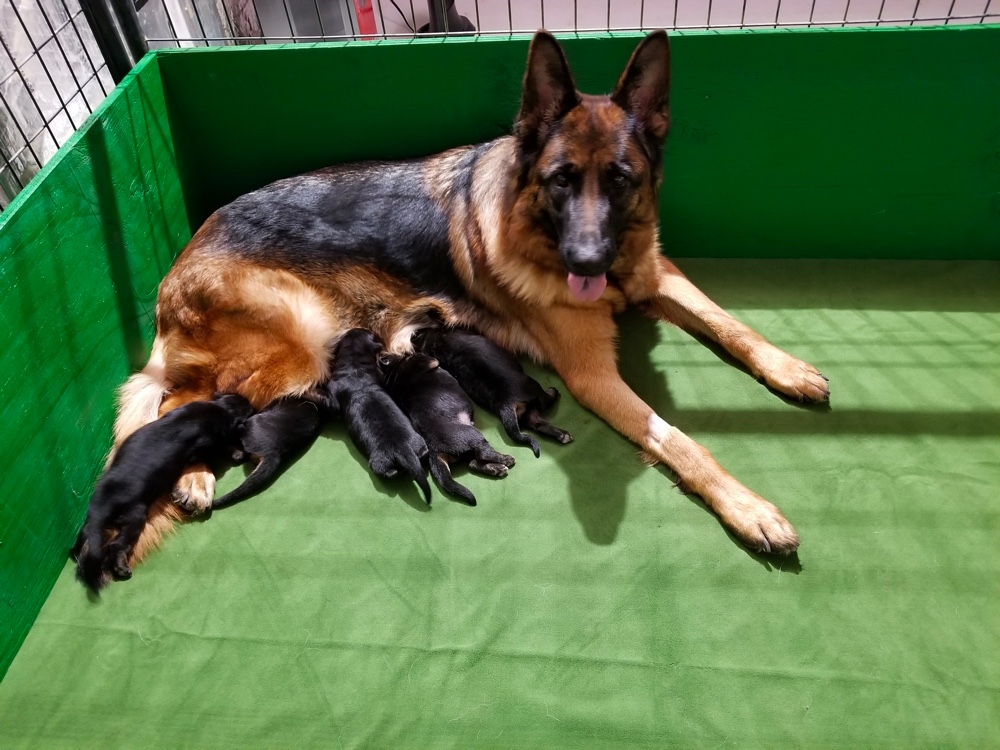 Von Bauernhöfe Bedard is a small hobby German Shepherd Breeder that breeds show-line German Shepherds. They are dedicated to producing the best GSDs possible with a strong focus on health and temperament.
Their puppies are carefully bred and raised with the goal of developing quality family companions with excellent confirmation and stable temperaments. All of their puppies are vaccinated, vet checked, and come with a health guarantee. The dogs here are bred with a focus on specific traits that distinguish them from other breeds. These dogs have a noble expression, robust body type, balanced proportion and movement, solid nerve structure, good bone structure, and dense coat.
The health and welfare of their dogs are of utmost importance, so all of their breeding dogs are tested for genetic diseases as well as hip and elbow dysplasia. Each breeding is selected with care to provide a solid foundation for any pup they breed. To get more information about their dogs and puppies contact the breeder for more information.
Von Bauerhöfe Bedard Contact Details
9. Auf der Marquis German Shepherd Dogs
Auf der Marquis German Shepherd Dogs has been breeding some of the best German Shepherds since 2014. This family-run business is dedicated to producing high-quality, healthy, and intelligent German Shepherds for families who are looking for a loyal and loving pet. But they got their start several years ago with breeding and showing Australian Cattle Dogs before first showing the German Shepherd Kona.
The focus here is on temperament and breed type when it comes to breeding their dogs. All of their German Shepherds have good temperaments and intelligent personalities that make them great family pets. They strive to produce beautiful, balanced German Shepherds with strong bones and muscular bodies that fit in the conformation standards of the breed.
A few of the traits that are identifiable in Auf der Marquis German Shepherds include a wide chest, straight legs, a full coat, a long muzzle, and a strong neck. Their dogs also have impressive agility and strength, and they always display intelligence and loyalty.
The health and welfare of their puppies are a top priority here, so outside visiting is not allowed until all the pups receive their first round of shots. All puppies receive all necessary vaccines before they go to their new homes. They also ensure that their breeding dogs are thoroughly health tested to ensure they are in optimal health and free from any genetic issues.
They also provide training for their puppies so that they can become well-mannered companions for their families. The team at Auf der Marquis provides care and attention for each pup from the day they are born until the day they find their forever homes. With a dedication to health, temperament, and breed type, this family-run business is sure to provide you with the perfect pup to join your family.
Auf Der Marquis German Shepherd Dogs Contact Details
10. Hughston German Shepherds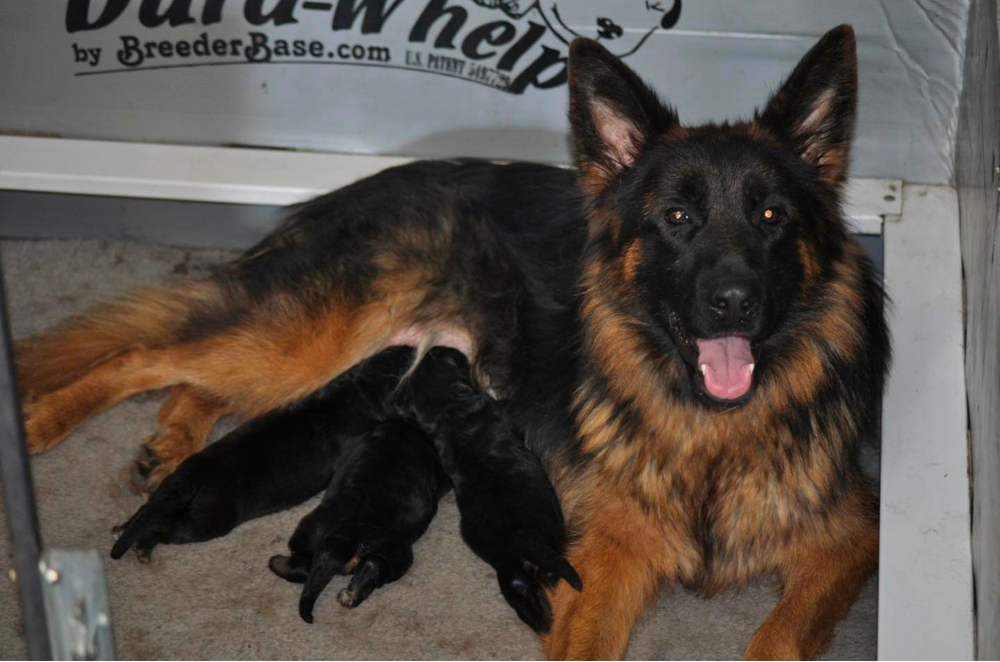 Hughston German Shepherds is the last German Shepherd breeder on our list. With a long history of raising exceptional German Shepherds, they are small family-owned kennel breeding dogs with exceptional health and temperament as the focus. Believing that every dog should have the same level of excellent care, all their puppies are born and raised in a loving environment on their family-owned farm. Their puppies are well-socialized, confident, and eager to please their new owners.
The puppies bred here are prime examples of breed standards. All puppies come with full vaccinations, regular deworming, and a medical health certificate from a licensed veterinarian. Along with their immediate health in the facility, each pup goes home with a two-year hip and elbow guarantee, a one-year genetic health guarantee, and a puppy care package.
Hughston German Shepherds also ensure that their breeding dogs receive the best possible care and attention. All breeding dogs are fully tested for hereditary health issues and are given regular checkups to ensure their overall health and well-being. The breeders also take great care to ensure that the puppies have proper nutrition and exercise throughout their time with them.
Specializing in producing black and red or sloid black West German Show Line German Shepherds. No matter what kind of German Shepherd you're looking for, you can be sure to find it at Hughston German Shepherds. All of their puppies are given individual attention to make sure that they are ready for their new homes.
Hughston German Shepherds Contact Details
My Top Pick
With this list, I would decide to look further into Kolenda Kennels German Shepherds as they have proven their dedication with continuous efforts to learn more about the breed. And the respect they have developed while serving in the armed services. Their goals for the pups in their care and the diligence they take with their health seem to best suit an active lifestyle and they have a passion for their dogs who find a home with military men and women.
They give a good understanding of their dogs and the titles they have earned. They show their devotion to their dogs with the small things they share on their website and how they appear to care for their pups. From these first findings on the website, they seem to hold close to the desires of what I would look for so they would be my first pick to talk to.
But always make sure to do your own research into the puppy that would be best suited for you, don't just take our opinions on all this. Your needs are different from every other person, so not every breeder is going to work for every person. Just remember to always look for a reputable breeder who holds the dogs and puppies in their kennel to the ideas that best suit you and discuss what you both see in the future of their pups.
German Shepherd Breeders in The Other States
German Shepherd Tips and Resources