If you are looking for a German Shepherd then you are looking for a solid, smart, and capable companion. This breed is by far one of the most versatile breeds that are great show dogs, herding dogs, or powerful sports dogs. No doubt no matter what life your pup is destined for there will be no shortcomings in their hyper and family-oriented personalities.
Getting a German Shepherd Puppy is no quick choice but in this blog, you will find a list of reputable breeders who has that special pup waiting for your family. Here there are ten reputable German Shepherd Breeders in Texas. This list is to help you determine a reputable breeder you would like to talk to or go through but remember to always talk to them and make sure you know what you want from the breeder, the dogs, and the bloodline.
1. Nobleheim German Shepherds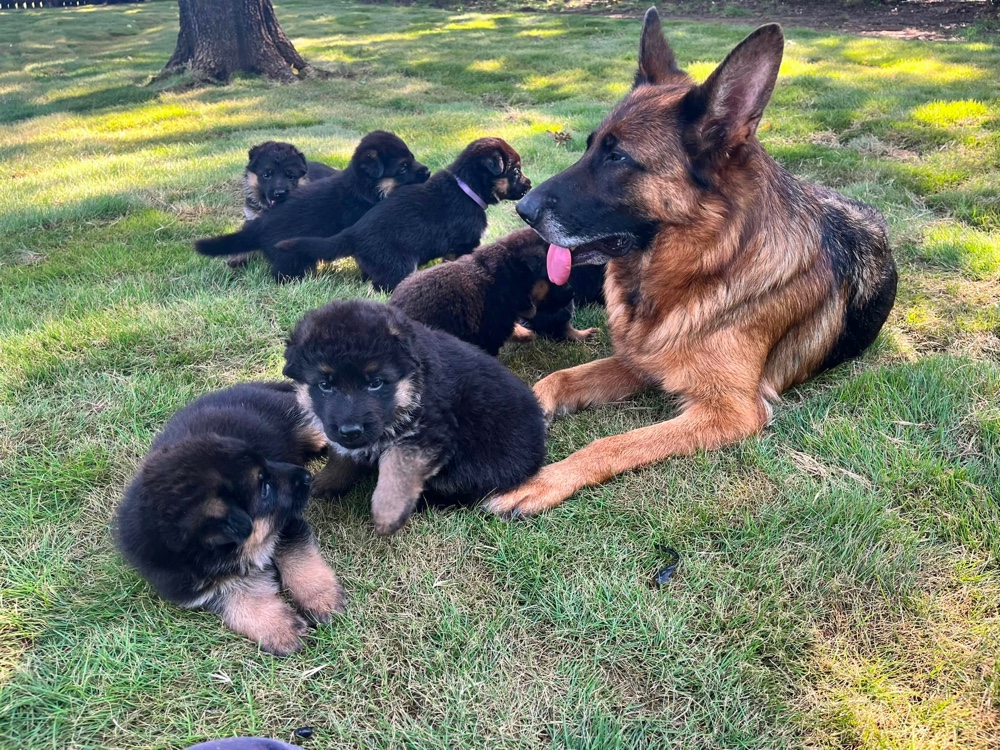 First on the list is Nobleheim German Shepherds a reputable and well-known breeder in North Texas. They have been dedicated to producing some of the highest quality black and red German Shepherd puppies. All their breeding dogs come from the finest bloodlines, and all their puppies are raised with the utmost care and attention for a well-rounded and socialized pup.
Their primary focus is the health of all dogs in their care. They provide a health guarantee for up to one year of age for all their puppies, ensuring you get the best of what German Shepherds offer. And every pup goes home with AKC Registration, vaccines, and deworming.
Their puppies are known for having great temperaments and structure that make them suitable for show and work. They are perfect for families who want a loyal companion or protection dog, as they are very protective of their owners and have the intelligence to learn commands quickly and go any route their family wants to train them for.
And if any new puppy owner needs it they also have training assistance and recommendations available to help with a variety of disciplines. But if you have a show dog stud services are also available to approved matches. Also, if you find a young puppy is not your thing they also have older dogs and puppies for sale at times.
Nableheim German Shepherds Contact Details
2. Nevada Haus German Shepherds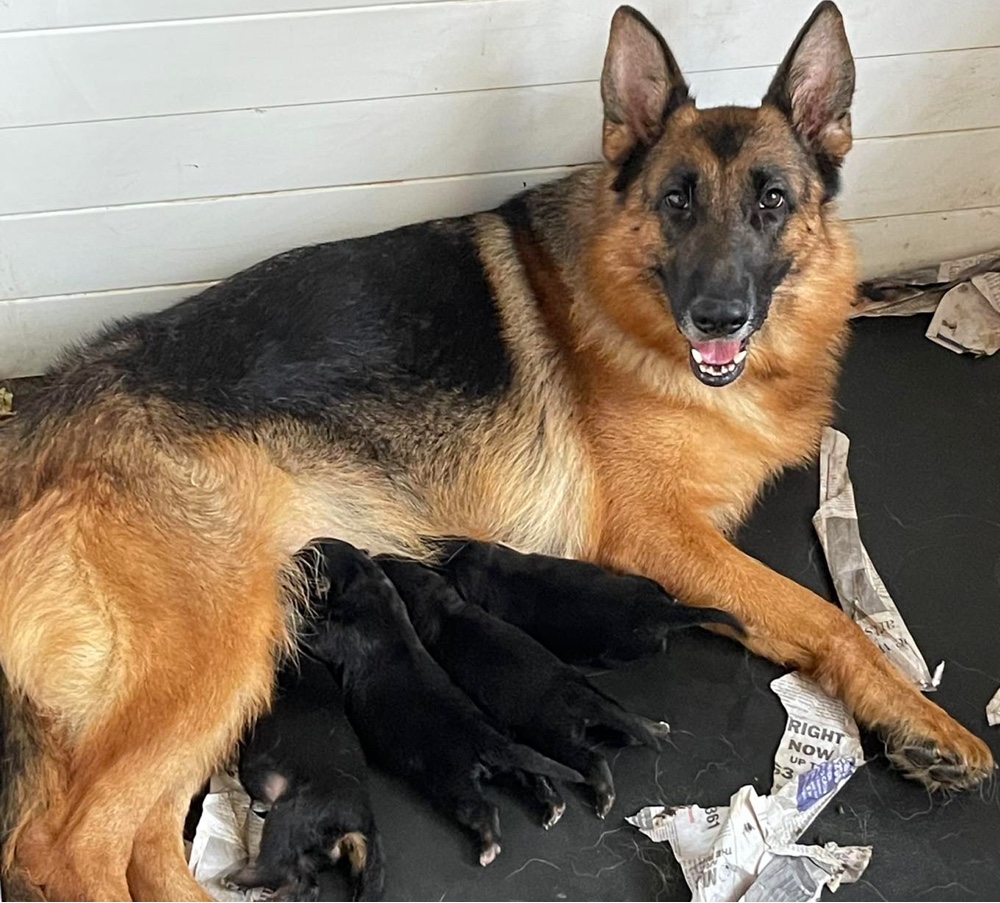 Next, is Nevada Haus German Shepherds located in North Texas. Their mission is to provide quality puppies with sound temperaments and great health. Their dogs are bred from imported West German champion lines with a Schutzhund or IPO and IGP title that produce puppies strong, intelligent, and healthy puppies. They focus on providing their puppies with sound backgrounds and healthy lineage from KKL German Judged sires and dams.
These pups are provided with all the necessary vaccines and health care needed to ensure a long and healthy life. All of the breeding dogs undergo rigorous health tests before being used for breeding. This includes hip/elbow scoring and temperament testing to ensure their dogs are held to the German SV standards.
They strive to provide families with a variety of different types of puppies including pet, show, and working-line puppies. Each of their pups is raised in a home environment where they receive ample socialization and lots of love. The puppies have access to a large outdoor exercise area and receive individual attention every day. And they all go home with vaccines and a vet health check to ensure a healthy pup.
And owners can be sure to get help every step of the way. Offering assistance with housebreaking, leash training, and obedience to cover the basics. But they also help with behavioral problems and modification with positive reinforcement.
Nevada Haus German Shepherds Contact Details
3. Star Shepherds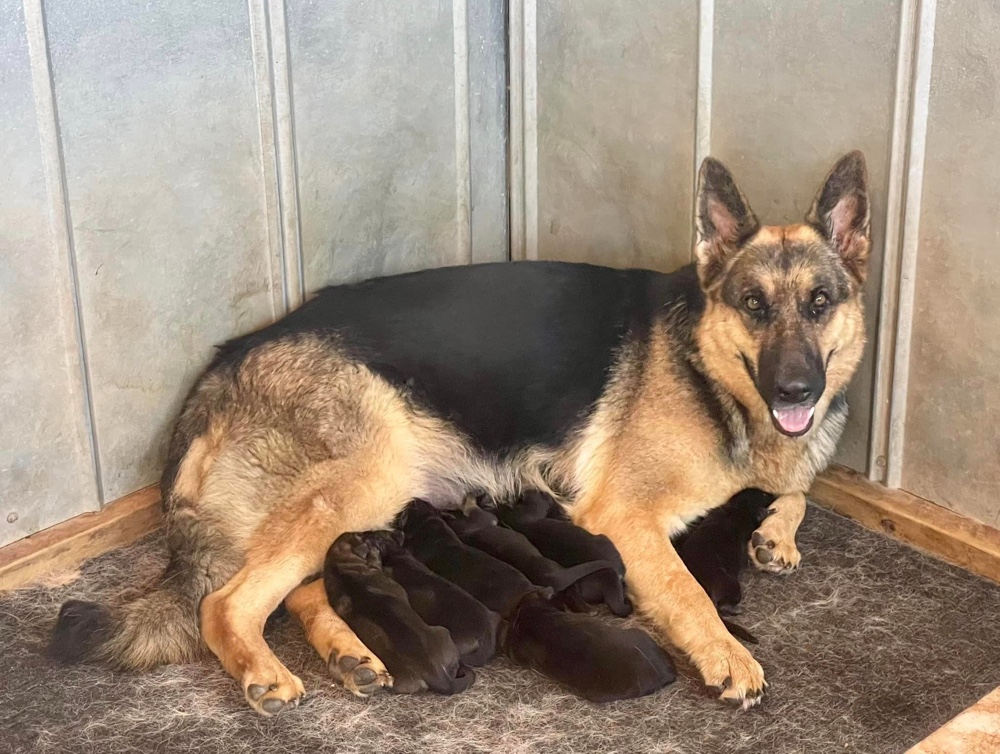 Star Shepherds is a German Shepherds hobby breeder just outside of Austin, Texas. Breeding old-world straight backed German Shepherd's health and temperament is a priority. They strive to make sure their puppies have the classic, desirable traits of the breed, such as intelligence, loyalty, strength, and an even disposition.
Constantly working with them for proper socialization, their pups go out swimming, hiking, and have daily training. They also grow up surrounded by volunteers and an active lifestyle for healthy development. And while ''full'' registration can be discussed; all pups go home with Limited AKC Registration.
Due to website updates, any further inquiries will need to be discussed with the owners.
Star Shepherds Contact Details
4. Jordanhaus Shepherds
Breeding imported line German Shepherds, Jordanhaus Shepherds focuses on the health and temperament of their dogs. Taking care of the parents they choose for each litter, a lot of time goes into insuring the genetics of the pups they produce. They also make sure that their dogs are properly taken care of with plenty of exercise, affection, and socialization.
Due to limited website information for further details please contact them directly, they will be happy to provide more information about their available German Shepherd puppies and answer any questions you may have about their pups.
Jordanhaus Shepherds Contact Details
5. Debut Shepherds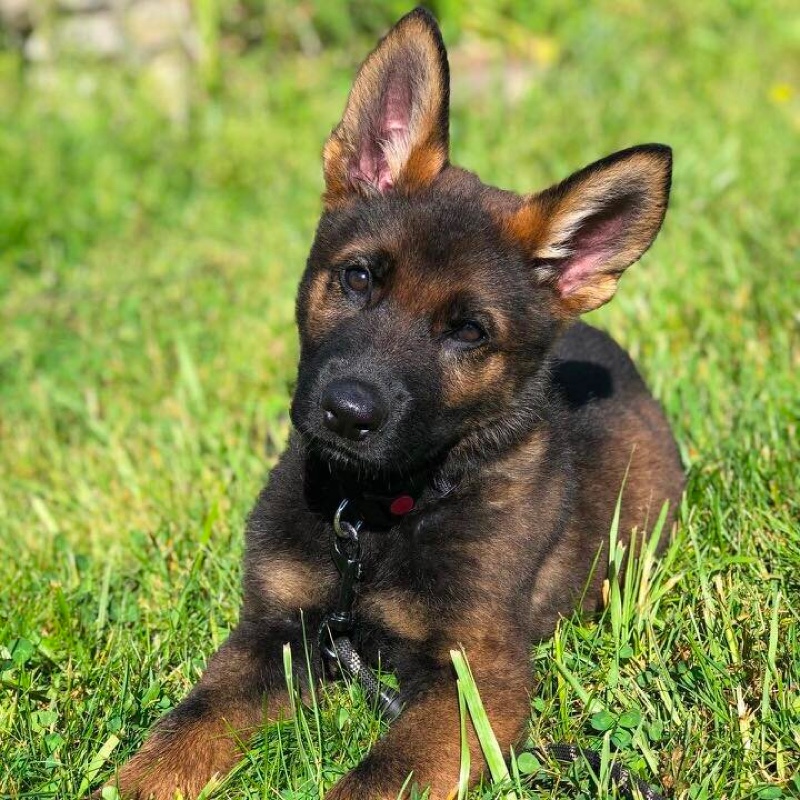 They have been breeding German Shepherds for over 15 years, with a focus on creating and maintaining the highest quality of German Shepherds through careful and selective breeding. They are dedicated to producing dogs that are structurally and temperamentally sound, with excellent physical health. All the while helping their owners out with support, adult dogs if a puppy isn't for you, and training.
Prioritizing good health in their puppies they all come with 30 days of pet insurance, vaccination, and a microchip. Lifetime support and a hip guarantee is also provided with the option the get a training package with your pup. And a two-week puppy training class, AKC Registration, and a full vet exam before leaving the facility.
But the pups are not the only great thing about this kennel, their breeding dogs are something to look at as well. Their sires and dams are all tested and titled to ensure they are the best suited for breeding. With their dogs holding high-ranked titles in shows and sports you can be sure that you see what you are getting with the bloodline.
Debut Shepherds Contact Details
6. Gerdeshaus Kennels
The team behind Gerdeshaus have been dedicated to breeding and raising strong, healthy, and intelligent German Shepherds with the same foundational principles brought about in the 1890s. The focus of their breeding program is to create puppies with outstanding temperaments. They believe that temperament is the most important trait in a German Shepherd, and they strive to produce dogs with a friendly, outgoing personalities. In addition to temperament, they also select for health, intelligence, and conformation in their breeding program.
The puppies that come from them are recognizable by their impressive structure and versatility. All puppies are home raised, well-socialized, and exposed to many different sights and sounds during the early stages of development. All puppies receive age-appropriate vaccinations and preventative health care. The breeding dogs are screened for genetic diseases and traits before being bred.
Breeding imported Working Line German Shepherds who tend to be more driven and are used for sports like Schutzhund or agility. Their pups are good all-around for Schutzhund, Protection work, Search and Rescue, and a variety of other jobs. They put a lot of effort into caring for their dogs. Each puppy is given individual attention throughout their development and keeps prospective owners updated on the pups.
Gerdeshaus Kennels Contact Details
7. Vom Vollkommen German Shepherds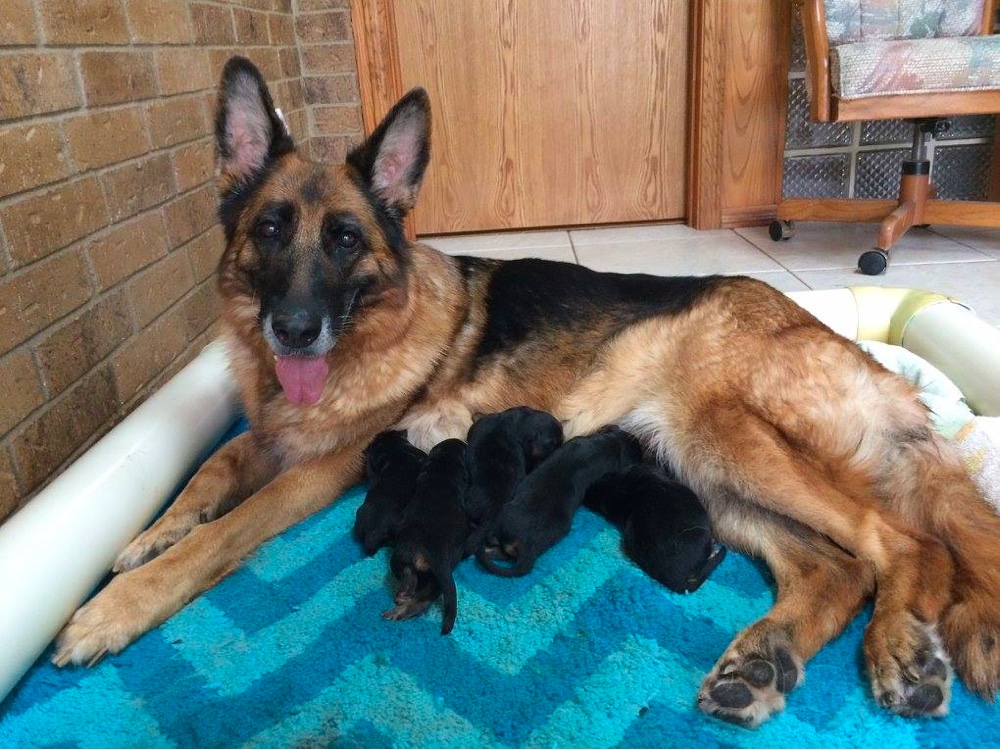 Vom Vollkommen German Shepherds focuses on breeding quality imported West German Show Line puppies with strong genetic traits to ensure their health and longevity. So, the health and welfare of their German Shepherd puppies are paramount. All their pups are guaranteed to be 100% imported German Shepherd lines.
When matching their dogs they are all Schutzhund titled and undergo surveys to insure the breeding stock is of the highest quality. All their dogs are bred to work so they make sure to have dogs sound of body and mind to produce better offspring in each litter. And to ensure the best of the breeding pairs they hold tightly to the German SV standards of breeding.
Each pup is a house raised with constant monitoring and handling from day one. They also go home with up-to-date deworming and vaccines appropriate to their age. They are also checked by a vet before going to their new homes to ensure they are in top health.
Vom Vollkommen German Shepherds Contact Details
8. Kaiser German Shepherds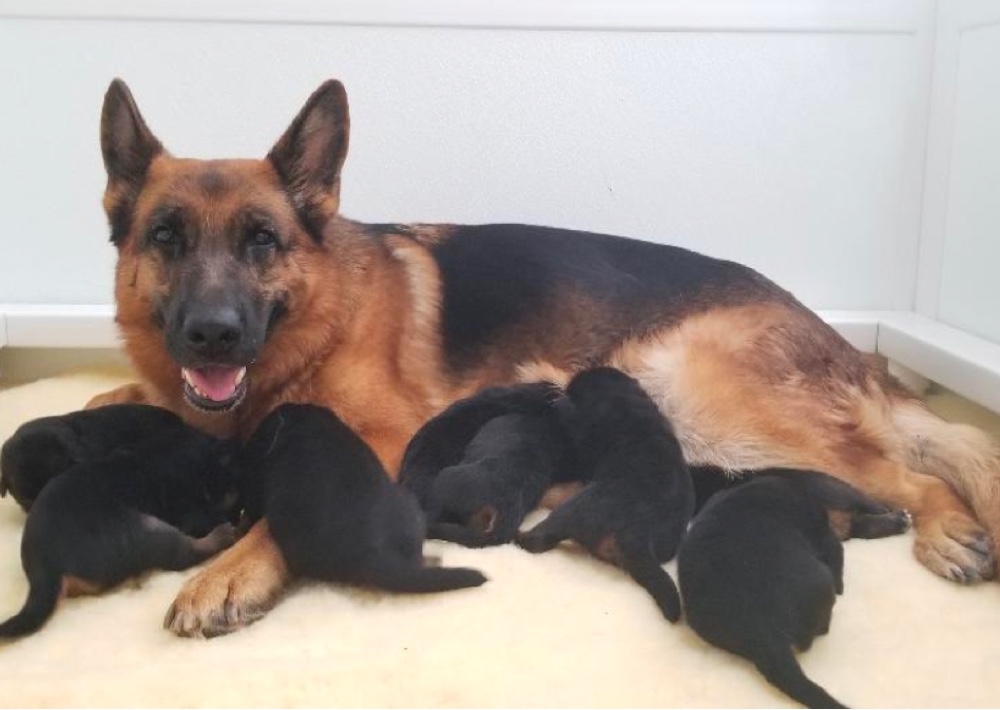 This breeder is dedicated to producing the best GSDs possible with a strong focus on Meeting and improving the breed standards. The kennel is associated with the AKC, German Shepherd Dog Club of America, United Schutzhund Club of America, Better Business Bureau, and SV Association for German Shepherds. Their dogs are carefully bred short and long-haired German Shepherds with a world-class rating from West German bloodlines.
Their puppies are carefully bred and raised with the goal of producing the best they can for the limited number of litters each year. All of their puppies are vaccinated, vet checked, and come with a health guarantee. The dogs here are bred with a focus on specific traits such as trainability, structure, hips, elbows, coat, and color. These dogs are temperament tested by a professional trainer and socialized with humans and dogs.
The health and welfare of their dogs are of utmost importance, so all of their breeding dogs are tested for genetic diseases as well as hip and elbow dysplasia. Each breeding is selected with care to provide a solid foundation for any pup they breed. And they provide extra support and education to any of their puppy parents who need it, along with training for the puppies with their trainer.
Kaiser German Shepherds Contact Details
9. Von Der Otto German Shepherds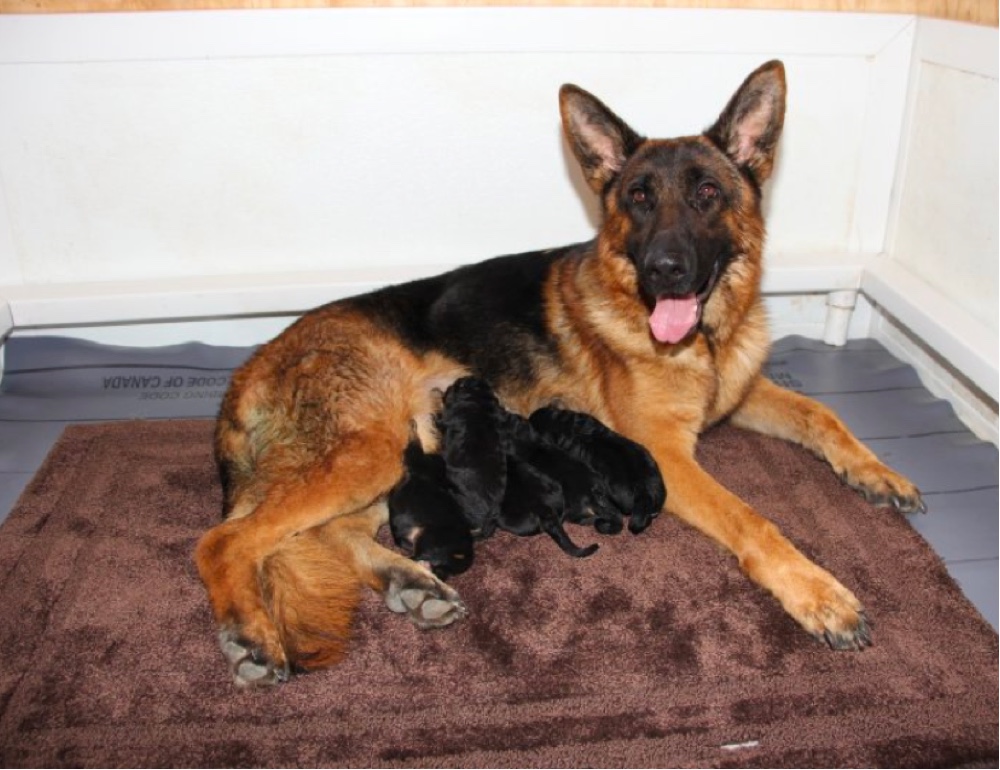 Breeding German Shepherds for several years, Dan and Tia Otto got their start working with police K-9s. Learning a lot about the breed they decided to get the first female that started the kennel. With a goal of producing great representatives of the German Shepherd breed standards.
Breeding their puppies, they make sure to only breed dogs that have a 'V' or 'VA' rating from showing. Their puppies go home with a two-year guarantee of hips and genetic issues and AKC registration. And the temperament of their pups is guaranteed to be sound and stable.
With a five-star rating from previous puppy clients, you can see other happy customers on their website. Due to limited information on their website please contact them for more information.
Von Der Otto German Shepherds Contact Details
| | |
| --- | --- |
| Owner | Dan and Tia Otto |
| Location | Rockwall, Texas |
| Phone Number | (214) 232-0986 |
| Website | ottogsd.com |
10. Fleischerheim German Shepherds
They are large kennel breeding dogs with exceptional health and temperament as the focus in multiple states and Germany. Believing that every dog should have the same level of excellent care, all their puppies are born and raised in a loving environment with lots of socialization and training. Their puppies are well-socialized, confident, and eager to please their new owners.
The puppies bred here are prime examples of breed standards from imported bloodlines placing high in the Sieger shows. All puppies come with full vaccinations, regular deworming, a medical health certificate from a licensed veterinarian, and 'pink papers' for imported pups. Along with their immediate health in the facility, each pup goes home with a guarantee of their quality Seiger and Working lines.
All breeding dogs are fully tested for hereditary health issues and are given regular checkups to ensure their overall health and well-being. And every sire and dam is showed tested and placed before breeding. The breeders also take great care to ensure that the puppies have proper nutrition and exercise throughout their time with them.
Specializing in producing black and red Imported Working Line German Shepherds. No matter what kind of working German Shepherd you're looking for, you can be sure to find it at Fleischerheim German Shepherds.
Fleischerheim German Shepherds Contact Details
My Top Pick
With this list, I would decide to look further into Kaiser German Shepherd Breeders as they have proven their dedication with continuous efforts to learn more about and improve the breed. Their goals for the pups in their care and the diligence they take with their health seem to best suit an active lifestyle and they have a passion for their dogs who find a home with their clients.
They give a good understanding of their dogs and the titles they have earned. They show their devotion to their dogs with the small things they share on their website and how they care for their pups. From these first findings on the website, they seem to hold close to the desires of what I would look for so they would be my first pick to talk to.
But always make sure to do your own research into the puppy that would be best suited for you, don't just take our opinions for all this. Your needs are different from every other person, so not every breeder is going to work for every person. Just remember to always look for a reputable breeder who holds the dogs and puppies in their kennel to the ideas that best suit you and discuss what you both see in the future of their pups.
You might want to check: Top 9 Best German Shepherd Rescues in Texas
German Shepherd Breeders in The Other States