German Shepherds have been a popular breed for many years thanks to their versatility. From service work to tracking to being the family pet, the German Shepherd can do it all. Due to its immense popularity, breeders are abundant, so we've created this list to bring you the top 10 German Shepherd Breeders in Ohio, and we hope that it eases your search.
Although we have hand-picked the best breeders for this list, we always encourage you to do your own research and talk with the breeder of your choice. It is up to you to make sure they are a good fit for your situation and offer a type of dog with the characteristics you are looking for.
This list will include ten carefully chosen breeders with a brief description of each, plus any testing and guarantees they offer, and what their buyers like about their business.
1. Vom Buflod German Shepherds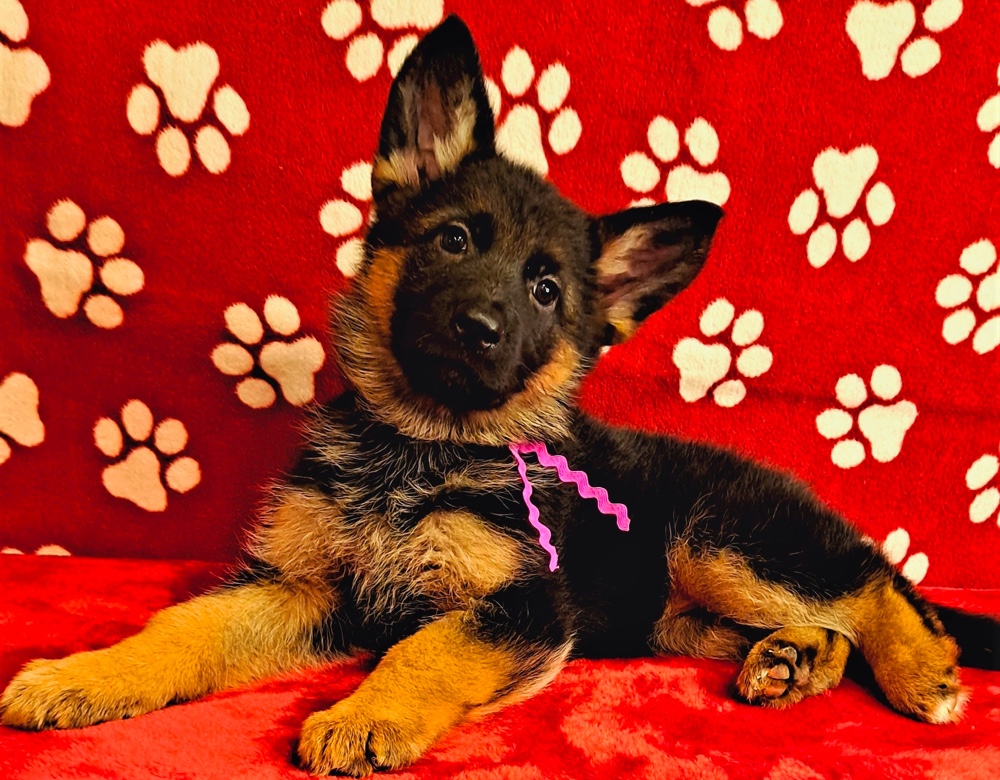 Vom Buflod breeds from parent dogs that are from West German Show lines. They are also Degenerative Myelopathy negative and are certified to have good hips and elbows. Quality is a top priority for this breeder, and they price their dogs accordingly at a price point of around four thousand dollars.
Puppies from Vom Buflod come with their first vaccines, deworming, and health records. They are bred to have a medium drive and be social and confident, so this is a happy medium for those who want their dogs to have energy but also be able to relax and lie around the house. Puppies from this breeder are required to be spayed or neutered, so look elsewhere if you want the option to breed your dog. If you get in a bad situation and can't keep your dog or puppy, Vom Buflod with take them back, but will not offer a refund of any kind.
Not only is Vom Buflod a high-end breeder, but they also offer training services for all breeds of dogs. They train dogs for personal protection, on and off leash obedience, and service work. This would be a great breeder to choose if you are looking for a service dog and the resources to train the dog all in one place.
Purchasers of puppies from Vom Buflod rave about the training offered by Kathy and Hans and report that they are available for questions and are willing to give advice. They say their dog has a great temperament and is easily trainable and intelligent. Many would return to this breeder for their next German Shepherd.
2. Vom Yoderheim German Shepherds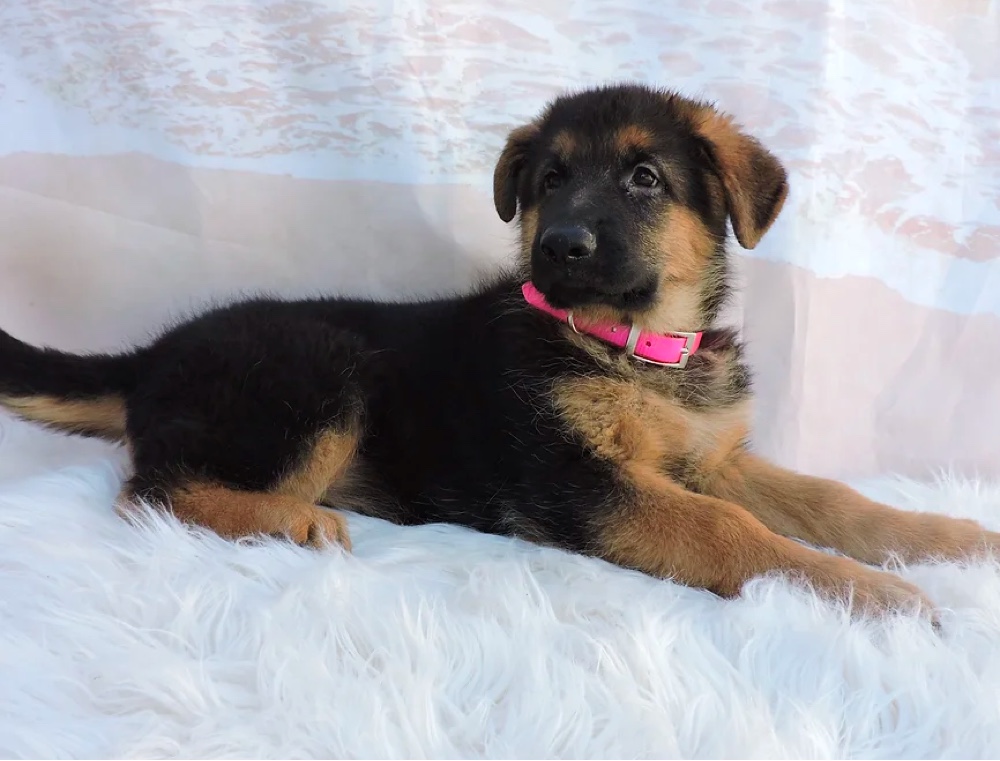 Barb and Dan Yoder live on 56 beautiful acres with their four children and many dogs. Their breeding business, Vom Yoderheim, means "German Shepherd puppies from the home of the Yoders," and is recognized as an AKC breeder of H.E.A.R.T. The Yoder's were inspired to start breeding by their family dog Suki, who fostered their forever love of the breed.
Parent dogs of Vom Yoderheim are from German champion bloodlines, AKC registered, and are German"A" stamped for hips and elbows. Beth and Dan attribute using imported lines as the reason their puppies are high quality and of sound mind and body.
Vom Yoderheim puppies come with quite the going-home package. Included is a bag of food, a 2-year genetic health guarantee, a health certificate, immunization records, a microchip, a familiar smelling blanket, and a puppy care and feeding guide. If you need shipping for your new furry companion, this breeder offers both air and ground shipping for an extra fee. The fee is usually around 400 dollars depending on the distance.
Families who have purchased puppies from this breeder report that their dogs are healthy, smart, and beautiful and refer to the experience as fantastic and impressive. They go on to say that Barb and Dan keep a well-groomed facility and are welcoming and are great at communicating through the entire process.
3. Peters Elite Shepherds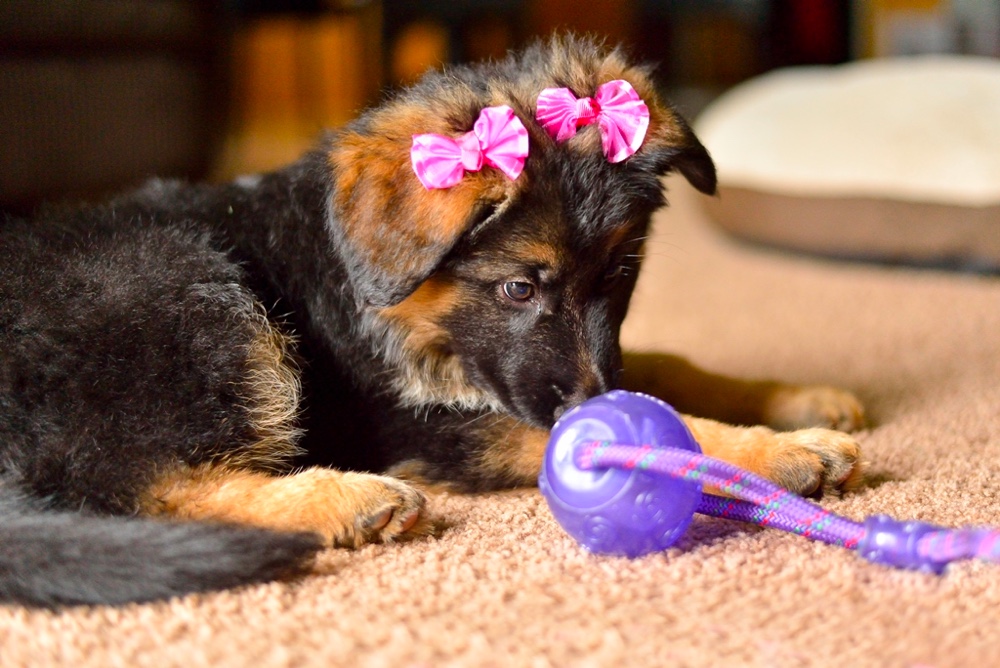 Peters Elite Shepherds is owned By Zoriana Peters and is recognized as an AKC Breeder of Merit. Parent dogs are from world class American and German show lines and are selected for their good health and temperaments. All dogs from Peters Elite Shepherds are treated as family and frequently accompany Zoriana to dog shows, horse shows, art fairs, and training classes. They can also be found playing outside together in all kinds of weather, from a sunny spring day to an exciting winter snowfall.
Puppies from this breeder can be full or limited AKC registered, depending on whether you want your dog to be the family pet, or excel in the show ring. Pricing for these dogs is around 2,500 dollars and there is a 300-dollar deposit to hold a puppy.
Buyers from this breeder call Zoriana honest and helpful and say she really knows what she is doing with her Shepherds. They say their dogs are exactly what they were looking for, a great family pet that will also let them know when there is an intruder present. Dogs from Peters Elite Shepherds are also said to be very smart and healthy with great natural instincts. Customers still report being satisfied with their dog ten years down the road, which really attests to the quality of the dog from this breeder.
4. Locherie Shepherds
Trish Sansbury, owner of Locherie Shepherds, has been a member of United Shutzhund Clubs of America for over 35 years and has many dogs that she has bred and trained that are Shutzhund titled. Trish breeds her dogs to be working dogs as well as good family dogs and protectors. She says her dogs aren't just a business for her, they are part of her family and go everywhere with her.
Dogs used for breeding at Locherie Shepherds come from German bloodlines and are AKC registered. They also undergo temperament testing and are certified to be free of hip and elbow dysplasia. Trish also likes her breeding dogs to be titled in Shutzhund.
All puppies from Locherie Shepherds are started on their basic training before going to their new homes. This includes commands, house, and crate training. They also receive extensive socialization, their first vaccines, deworming treatments, and a microchip.
Trish really believes in her puppies, and because of that they come with a generous health guarantee. She also offers support for new pet parents through advice and help with further training after the puppy leaves with their new family.
People who have purchased dogs from Locherie Shepherds say Trish is a one-of-a-kind breeder and the special attention she pays to her pups really pays off. They say she doesn't just breed genetically superior dogs, but that her dogs are advanced from a young age due to the training she gives them. Trish is also commended for answering questions families have and being willing to help.
5. Meaurroway Opessa Shepherds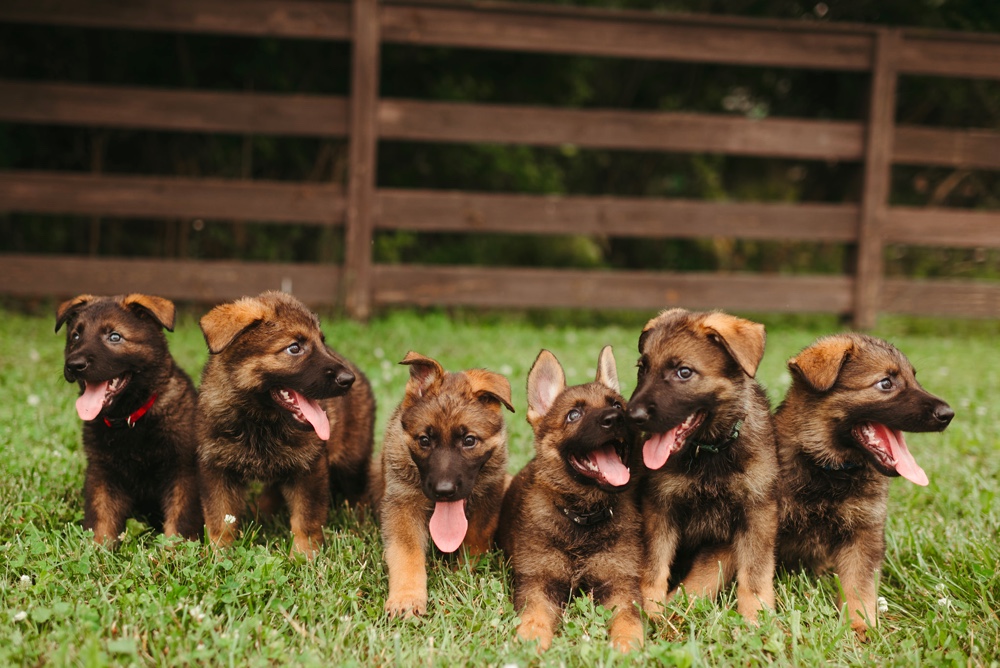 Meaurroway Opessa Shepherds was named a Native American Chief of the Pewaki Tribe. He was also the Chief of the Turtle Clan, which was a religious order within the tribe. Alina, the owner, has a daughter with the nickname "Turtle," and thought this name would be perfect for their breeding business.
Meaurroway Opessa is located in beautiful Blue Creek, Ohio, where Alina and her family of seven are hands-on with their German Shepherds. They breed AKC-registered, genetically tested health screened dogs with excellent temperaments. They believe in their puppies and provide a one-year health guarantee to adoptive families.
This breeder is proud to have the Good Dog Responsible Breeding Program stamp of approval. They provide support to new families with links to training resources on their website and an invitation to email with any questions. Families who have purchased from Meaurroway Opessa say Alina and her family and wonderful and helpful in the adoption process and their puppies have come healthy and well-socialized. They refer to their experience as phenomenal and refreshing and recommend this breeder to those looking for a German Shepherd to add to their family.
Meaurroway Opessa is also pleased to announce that they are starting a German Shepherd dog rescue in addition to their breeding operation and is currently accepting donations on their website under their rescue tab.
6. Reginhard German Shepherds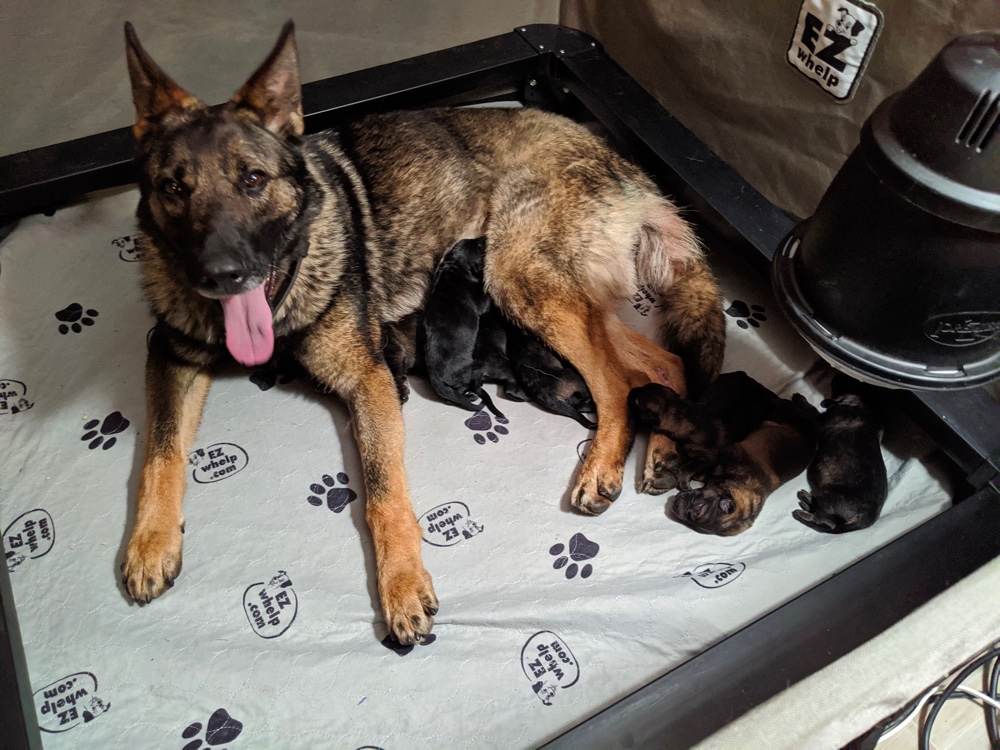 Reginhard German Shepherds is located on a beautiful farm in Fredricktown, Ohio where the dogs of Noelle's family run and play with the various farm animals owned by her and her family. On her farm, you will find German Shepherds that are health tested, AKC registered, and titled. They are from DDR, West German, and Czech bloodlines.
Reginhard is recognized as an AKC Breeder of H.E.A.R.T. and breeds dogs that are suitable as active family companions and would excel in AKC events and Shutzhund sport. Their dogs would also be great at personal protection if that is something that is important to you. Noelle's children are incredibly involved in the socialization process and spend time with the puppies daily, who are raised in their home.
Families who have adopted from this breeder report that they are great at communication and answering questions. Reginhard is said to really take the time to match you to the temperament and energy level that is suitable for you and your family. Buyers have full confidence that this breeder will help them with any future problems or questions they have.
7. Von Holtzapple German Shepherds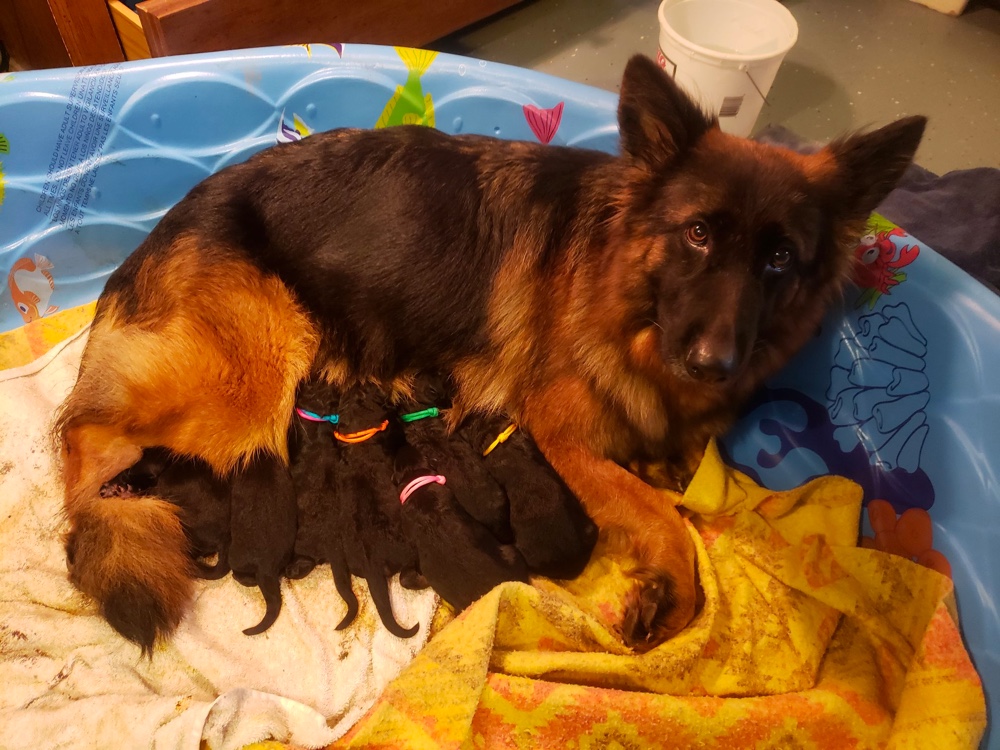 Von Holtzapple German Shepherds is owned by Shannon Albee and was inspired by her first German Shepherd, Elsa. Shannon mainly specializes in long-coated German Shepherds because that is her favorite coat length. All the breeding dogs at Von Holtzapple are from West German show lines, health tested, and have hip and elbow x-rays performed to ensure they are healthy. Shannon treats her dogs like family and takes them on vacations and even while just running errands around town.
Puppies from this breeder are raised in the house for two weeks so they can be under constant supervision. After they are two weeks old, they move out to the whelping shed where they are playing classical music and thunderstorm sounds. Despite this move, they are frequently still in the house and receive socialization and desensitizing to everyday sounds and movements.
Before the puppies go to their new families, they are checked by a chiropractor and receive an adjustment if needed. When their families pick them up, they go home with a goody bag that includes everything that they will need for the first month of life. Shipping is also available for an extra fee by air or ground. This can cost up to 600 dollars since Shannon flies with the dog as a nanny in the cabin to ensure they are safe.
People who have purchased puppies from this breeder note overall satisfaction with their experience and view Shannon as professional and reliable. Dogs from this breeder are said to be healthy and happy with good temperaments.
8. Landshark German Shepherds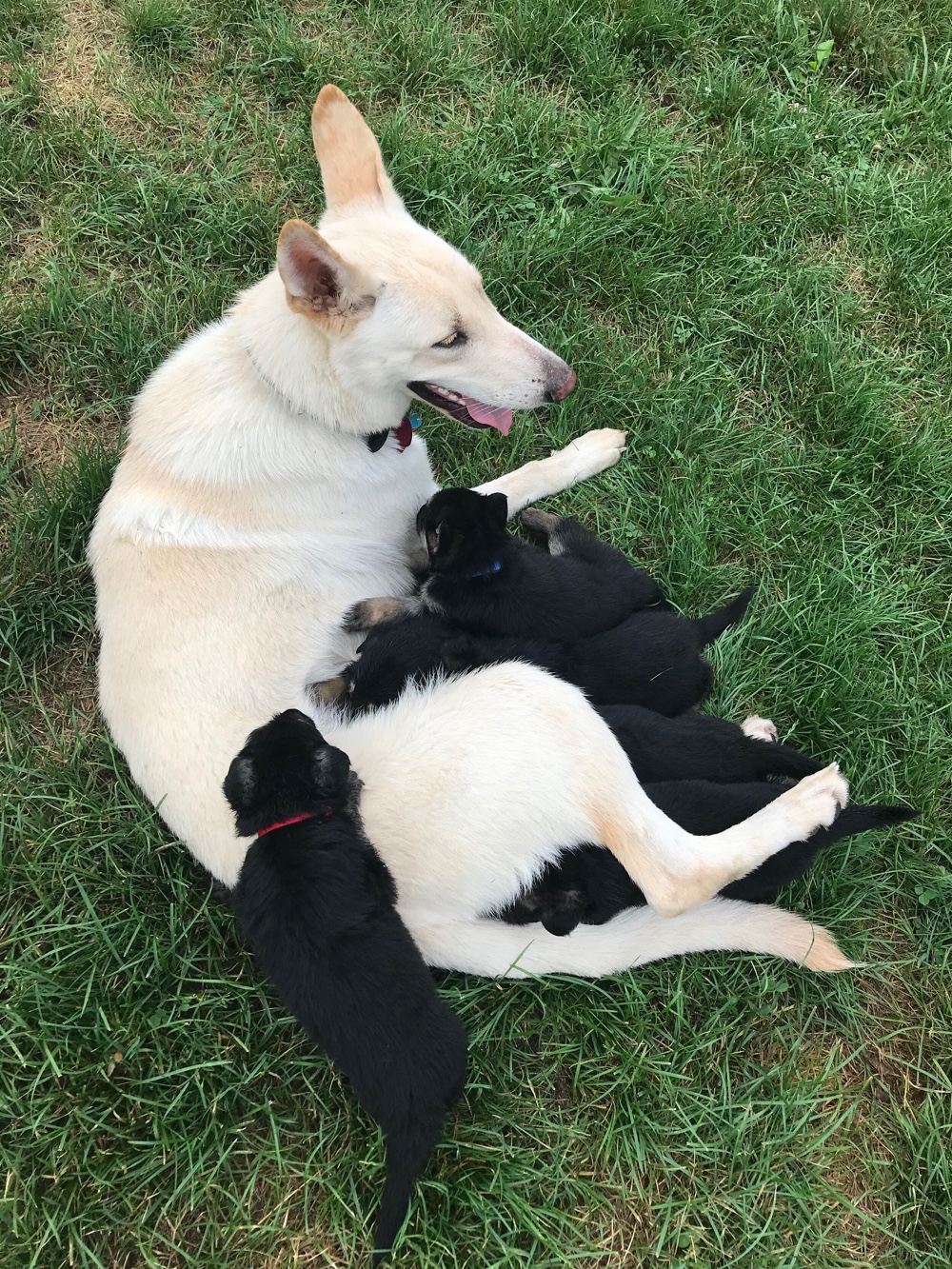 Landshark German Shepherds is a highly accredited breeder and is recognized as an AKC Bred with H.E.A.R.T breeder as well as a Good Dog Responsible Breeding Program breeder. They are also a canine good citizen evaluator, showing that they are knowledgeable in what a dog must be able to do if it has a good temperament.
Puppies from Landshark come from parents that have undergone DNA and genetic testing. They live on-site and are available for meetings if the adoptive family would like to see them. All puppies are raised with the family and socialized with children and come with a microchip and health guarantee.
If you can't keep your dog for any reason, Landshark will take them back. Nikki and Cody have made it their mission to keep more dogs from ending up in shelters, especially since the shelters in their area are already overrun with dogs. Their door is always open for your furry friend if needed.
Adoptive families love Landshark for their never-ending support for new parents. Nikki and Cody are said to always be available for questions and advice when needed and their customer service receives unending praise. Regarding the dogs they've purchased, adopters are saying their dogs are the best they've ever had and would recommend this breeder to others who are interested in adding a German Shepherd to their family.
9. Von Der Haus Gill German Shepherds
Von Der Haus Gill German Shepherds is a breeding operation as well as a K9 and police dog training facility. They breed their dogs to be a family pet or to be working dogs in the law enforcement field. Some of the things their dogs have gone on to do include narcotics, explosives, and cadaver detection. Their dogs also excel at general patrol and suspicious activity reporting.
Puppies from Von Der Haus Gill come with a hip dysplasia guarantee, meaning that they are guaranteed not to have debilitating hip dysplasia at the time of sale. There is also shipping available for families or agencies who wish to adopt but aren't in the area. If you aren't interested in dealing with the high-maintenance puppy stage, this breeder has adult dogs for sale as well.
Buyers love their dogs from Von Der Haus Gill and report that they have wonderful temperaments and great health. Buyers also state that this is the best place to get police dogs and that they would return to buy a police dog from this breeder again. As far as Al and their family, they are loved for the great care they take of their customers and the support they give their adoptive families.
10. Vom Haus-Neufus
Vom Haus-Neufus is owned by Jana and Jan Gabrysch and specializes in long coat German Shepherds. All parent dogs from this breeder are OFA-certified, DNA-tested, and AKC-registered. They are house dogs and are treated like part of the family. They also enjoy romping around outside on the 20-acre property where they live.
Puppies from Vom Haus-Neufus also enjoy the benefits of the vast property and spend their first eight weeks growing up in the house and on the land. Puppies receive a microchip before going home and have a two-year health guarantee. If they are found to have a serious defect that will cause poor quality of life, this breeder will give you a replacement puppy at no cost. If you are considering this breeder but don't feel you live close enough, your puppy can be shipped to you by air through a service this breeder works with. If for some reason you cannot keep your dog, Vom Haus-Neufus will take it back, but will not offer any sort of refund.
If you would like to see the beautiful property where these dogs are raised, then we have great news. Property viewings are available by appointment. There are also photos of the property on their website so those who feel it is too far to travel can get an idea of the environment the dogs live in.
Adoptive families love Vom Haus-Neufus for their smart, well-bred dogs. They also love Jana and Jan for their great communication and willingness to help. Vom Haus-Neufus is referred to as a responsible breeder that breeds from great bloodlines and produces dogs with great temperaments. Many families have returned to this breeder for an additional dog when expanding their family.
My Top Pick
Our favorite breeder from this list is Locherie Shepherds. We feel Trish really gives her dogs a great start with all the training she does with them before they go home. Parent dogs and puppies undergo all the important testing and there is a generous guarantee if you get a dog that has medical issues. We feel Trish's experience of over 35 years sets her apart from other breeders.
We hope this list helps you find the right breeder for your family quickly and easily and gets you on your way to purchasing the puppy you've been envisioning. Whether it be the next family dog or a successful police dog, this list has something for everyone.
German Shepherd Breeders in The Other States
German Shepherd Tips and Resources