What is a Corgi German Shepherd Mix Called?
Can you imagine anything cuter than a Corgi mixed with a German Shepherd? Meet the Corman Shepherd! The Corman Shepherd can be quite spirited, friendly, and somewhat stubborn yet, at the same time, fiercely faithful and steadfast with a keen instinct for guarding their human family. They will make excellent family dogs as long as you start their socialization at an early age. Let's take a closer look at the Corman Shepherd and see why this adorable mixed breed might make a great addition to your family.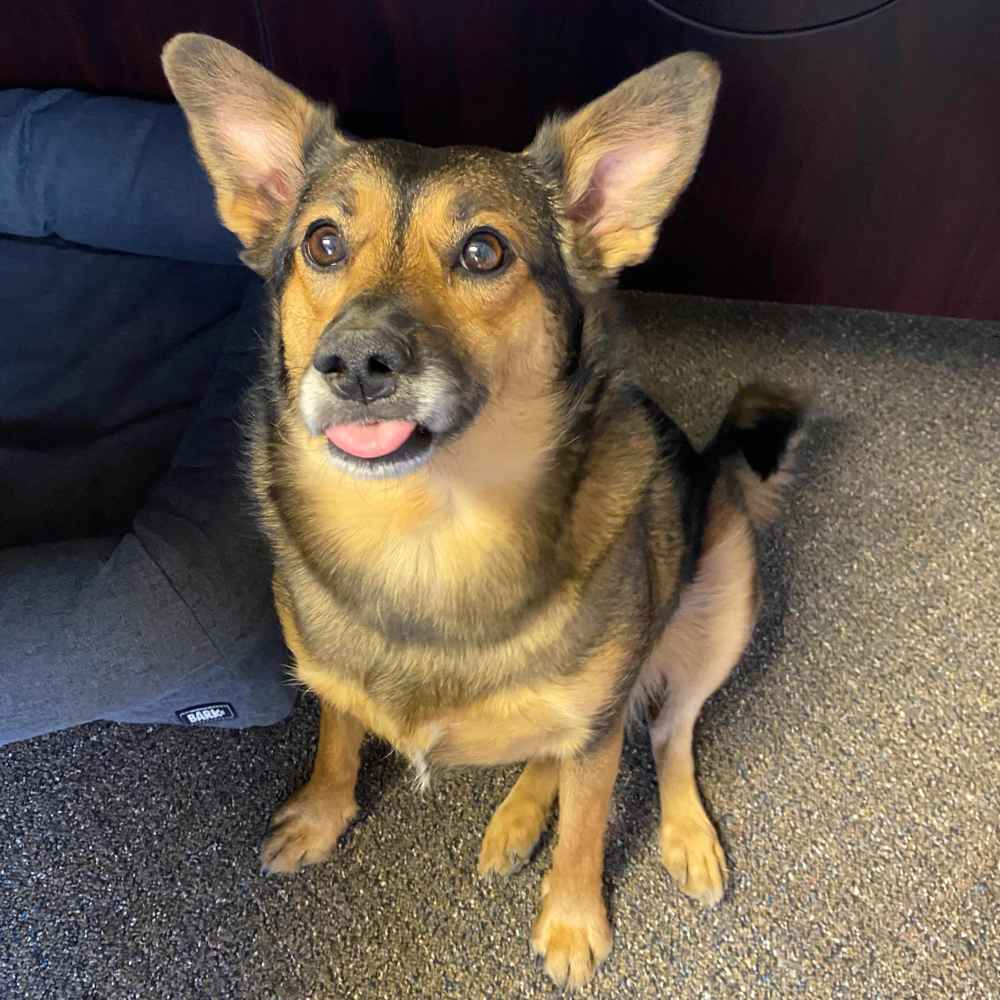 Quick Summary of the Corman Shepherd
| | |
| --- | --- |
| Names | Corman Shepherd, Corgi German Shepherd, German Shepherd Corgi, German Corgi |
| Parental Breeds | Corgi and German Shepherd |
| Height | 12 to 15 Inches |
| Weight | 25 to 70 Pounds |
| Size | Medium to Large |
| Coat | Double Coated, Medium in Length |
| Life Expectancy | 12 to 15 Years |
| Colors | Black, Brown, Gold, Tan, and White |
| Price Range | $250 to $750 USD |
History of the Corman Shepherd
The German Shepherd Mixed with Corgi is more commonly known as the Corman Shepherd. But they are also known as German Corgis and German Shepherd Corgis. The origin of the Corman Shepherd is unknown. While this breed is considered a designer breed, they were thought to have existed naturally throughout the years. It wasn't until the early 2000s that designer breeders started intentionally breeding the Corgi with the German Shepherd, which likely occurred in North America.
While there is no exact reason known why breeders wanted to do this, it is believed that it was done to create a dog with the cuteness of the Corgi with the protectiveness of the German Shepherd.
Corman Shepherd Parental Breeds History
The German Shepherd was first bred in 1899. They were German working dogs, and their job was to herd sheep. Today their main job is to work in public service or to be companion dogs. They are loyal dogs, somewhat stubborn at times, very intelligent, and confident.
The Corgi is also a herding dog from Wales and was first bred in 1925. They then became popular family companion dogs, especially when they were introduced into the British Royal Family in 1944.
Since both parents of the Corman Shepherd are herding dogs, you may find them wanting to herd you!
Corman Shepherd Temperament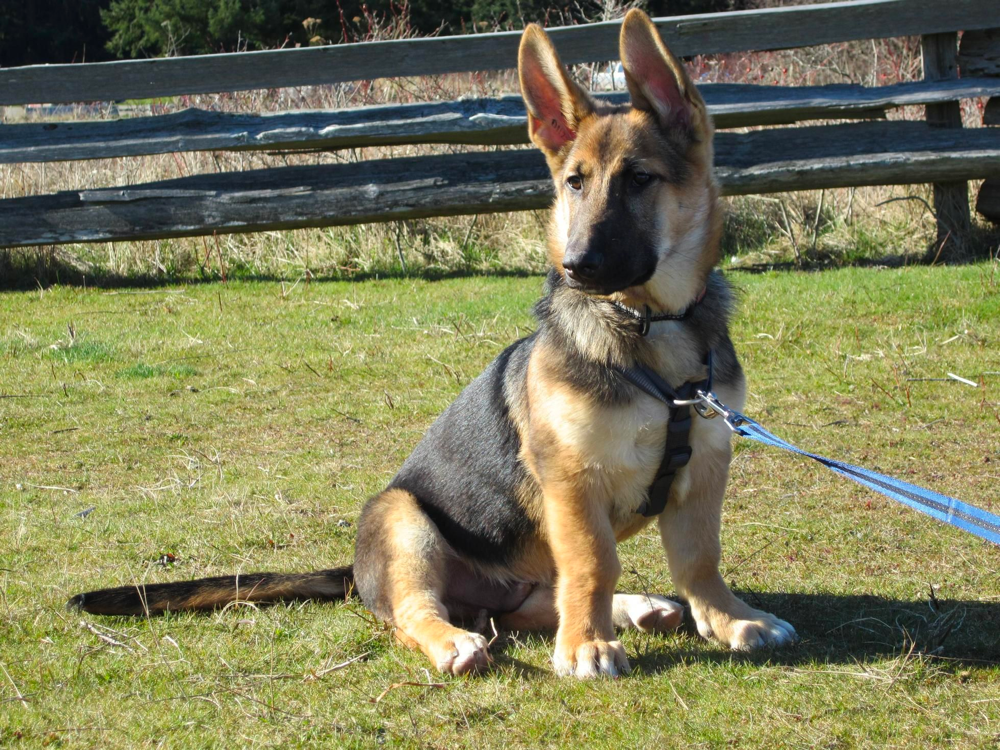 The German Shepherd can be vigilant, confident, courageous, and eager. In comparison, the Corgi can be intelligent and daring yet kind and affectionate. It is only normal that the Corman Shepherd have a mixture of these parental traits, and they can be brilliant, loyal, energetic, and have high-spirited personalities. The Corman Shepherd can be prone to separation anxiety thanks to the Corgi parent, so they tend to be best suited to families where an owner is usually at home and has the time to give them lots of attention, especially when they are young.
Since this breed is very intelligent, they need mental stimulation or tend to get bored. And a bored dog is usually not well received by its owners. Boredom leads to behavior that seeks attention, which generally becomes destructive behavior. So, ensure you have the time to provide adequate mental stimulation for your Corman Shepherd. There are many pet toys and games available to give this.
We should cover barking under temperament also. Both parental breeds are known to be barkers, so it only makes sense that the Corgi Shepherd will also be a barker. While German Shepherds usually bark for a reason, i.e., a warning of some sort, the Corgi can bark just to bark! Corgis can bark because they are hungry, want to play, need to go pee or poo, hear strange noise, or just say hello to you. But please note that your Corgi Shepherd can be trained to minimize their barking. You need to be consistent in your training with this and start early.
How Big Can A Corgi German Shepherd Mix Get?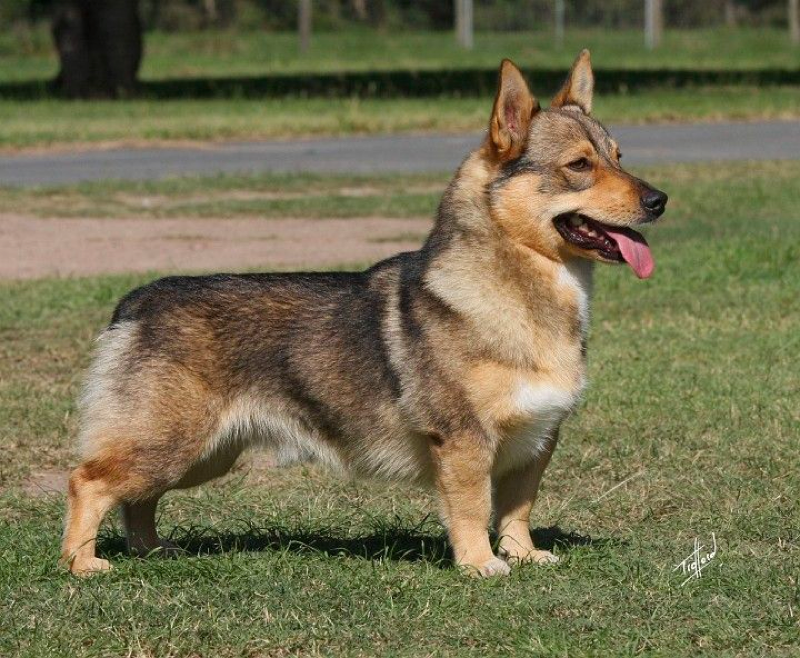 The Corman Shepherd is considered a relatively new designer mixed breed; therefore, there are few standards regarding the breed. That said, the Corman Shepherd usually has the head, markings, and tail of their German Shepherd parent and has the body type and size of their Corgi parent.
Most Corman Shepherds are Corgi-like in size, but some have a more medium to large German Shepherd build. It all depends on whether this mixed dog breed takes more genes from their German Shepherd parent or their Corgi parent.
The height of the Corman Shepherd is usually 12 to 15 inches at the withers (this is the area above the shoulder and is used to measure the height of any dog from the ground up), and they usually weigh between 25 to 70 pounds. With their small legs, the Corman Shepherd tends to look much smaller than she is!
Corman Shepherds are prone to becoming overweight, so owners of this breed need to pay special attention to the quality of kibble given and the amount of kibble given in relation to the amount of exercise and activity this breed has daily.
The coat or fur of the Corman Shepherd is a medium-length double coat. Their top coat is usually wiry and coarse, and it is weather-resistant, while their undercoat is a soft, dense layer of fur. This breed of dog is a seasonal shedder with high shedding tendencies.
The color of the Corman shepherd is usually tan and black or red and black like the German Shepherd parent. Some can have patches of white on their chest area and their paws. Fawn (light brown color) and white is a rare color combination but is known to occur.
Corman Shepherd Care and Grooming
It is essential to keep up with regular veterinary check-ups with your Corman Shepherd, as with any dog, so together, you and your vet can address any health concerns early.
As mentioned earlier, Corman Shepherds are prone to weight gain. Because of this and their high energy levels, it is essential to have a good 30 to 60-minute walk every day with your Corman Shepherd and several good active play sessions with shorter walks mixed in. This dog is a very high-energy dog, so it is important they get the required amount of exercise, or they will become very bored and then turn to chew on furniture, curtains, shoes, etc., which will make you unhappy as a pet owner. These dogs are also amazingly smart, so they also need some mental stimulation thrown in daily as well. It is vital that you, as the owner of these breeds, have the time and capabilities to tend to this aspect of the dog breed.
Therefore, your two main concerns when caring for your Corman Shepherd will be to keep them at a healthy weight and keep them from getting bored and destroying your home and possessions as a form of entertainment!
You should also check their ears daily to ensure they are free from dirt and pests, and their nails should be trimmed once or twice a month as well.
Because the Corman Shepherd has a thick, plush coat of fur, they require brushing twice a week. During the shedding season, which happens in the spring and fall, you should brush their hair daily to remove excess stray hair, keep their fur from getting tangled and knotted, and keep it smooth and shiny.
It would be best if you considered bathing your Corman Shepherd every two to three months, either with a professional groomer or doing it yourself. Their teeth should be cleaned two to three times a week, so maybe consider doing that when brushing their coat of fur.
While your Corman Shepherd is a natural-born beauty, please play your part in keeping them looking sweet and adorable. Neglect this breed, and they will quickly become shabby. Make grooming part of a daily routine, just as exercise is, to keep their natural beauty shining through. Because they shed a fair amount, you might want to invest in a robotic vacuum cleaner to pick up their hair, or you might also be vacuuming daily as well. And while you are at it, you might want to keep a few lint rollers around to remove your pet's fur from your clothing, or you'll be looking shabby too!
Corman Shepherd Feeding Requirements
Corman Shepherds need a lot of food, and you should feed this breed between two and three cups of quality kibble daily. For a puppy, it should be a puppy formula, an adult dog, the adult formula, and a senior dog, the senior formula. This ensures that your dog will receive the nutrients needed for its age group. Remember, this breed is notoriously prone to obesity. So, while it is essential to feed them a lot of food, it is also just as important to ensure they get the proper amount of exercise to burn off those calories!
Check with your vet if you have any questions about your pet's diet. There is far too much variation among individual dogs in this breed, including health, energy, and weight, to make any specific recommendation in this article for a particular dog.
Lastly, do not leave unfinished food from feeding out for your Corman Shepherd to graze on throughout the day. This surely will lead to obesity. And it is very important to limit the number of treats they get throughout the day. So, use these goodies judiciously!
Is it easy to train a Corman Shepherd?
Because the Corman Shepherd can be stubborn, training can sometimes be challenging. It is vital to start training at an early age and to establish yourself as the alpha dog. Let them know that the human is in charge so you can be confident they will obey your command, especially during a critical time such as a dropped pill on the floor, when you have to tell your pet to "leave it."
Never yell at your dog to get them to do something. Positive reinforcement is the best way to get your dog to follow your commands. And dog food is a huge motivator for this breed of dog. So, reward your pup with yummy treats to reinforce your training commands. And praise. Shower them with tons of praise when they follow your orders. Your Corman Shepherd lives to make you happy. Between the treats and praise, when they follow your commands, you will have a happy tail-wagging puppy!
Treats and praise are crucial during training sessions in particular, and in general, any time throughout the day, your pup follows your commands to get good positive behavior to stick!
Corman Shepherd pups like to nip – hands, legs, whatever part of your body they can. While this is a loving gesture on their part, it can become quite painful as they get older and can hurt you and especially a child. Therefore, it is essential to nip this behavior in the bud at a very early age. The best way to do this is with a firm, stern NO! If they stop, shower them with tons of praise. If they continue, another firm, strict NO, and this time turn your back on them. This tells them you will not interact with them when they exhibit this behavior. It might take a few times for them to understand that nipping at your body is inappropriate behavior. Just make sure when they stop, you shower them with tons of praise and maybe throw in a yummy treat.
Crate training is essential for the Corman Shepherd as well. This Corgi mixed breed is prone to separation anxiety, and crate training will help with this. It is vital not to punish your pup by putting them in their crate, and you want them to know that their crate is a safe refuge. Start with short periods of time in the crate. Throw in a few treats, so they associate yummy treats with going into the crate. Reward them with a treat when coming out of the crate if they are quiet while in there. Eventually, you will get to the point when you are at home with your pup, you will be able to let the crate door open, and your pup will freely go in and out of the crate whenever they need a break.
If you really want to keep your Corman Shepherd entertained and in shape, both you and your pup would enjoy training them on an agility course. This will have your pup obeying and following your every word, give them mental and physical stimulation, and provide excellent exercise for you as well!
Your Corman Shepherd will surprise you with their intelligence, agility, and obedience in time and with proper training.
Corman Shepherd's Possible Health Concerns
Generally speaking, Corman Shepherd mixed puppies are very healthy. However, there are a few conditions this pup can inherit from their parents:
1. Allergies
Several things might cause your pup to develop allergies. Things like dust, pollen, laundry detergent, and even a woman's perfume are just some possible triggers in Corman Shepherds for allergies and skin conditions. Sometimes even their food. If you suspect an allergy or skin condition, it is best to contact your vet, and it might be as simple as changing their diet to rid them of the allergy.
2. Joint Dysplasia
This genetic condition is where your pup's joints are not fully developed. As they get older, this will result in arthritis in their joints, which, just like in humans, can make walking difficult and standing up from a laying down position painful. It is essential to keep your pup at a healthy weight as well so as to not put more pressure on their joints. Exercise, physical therapy, and anti-inflammatory drugs can aid with this.
3. Obesity
The Corman Shepherd is more prone to obesity compared to other dogs. Their small size, coupled with their high energy levels, is part of the reason for this. And food is a big motivator for this dog breed. Do not be a sucker for those pitiful begging eyes that look at you whenever you are eating, saying, "I am starving; please share your food with me!"
While obesity is not fatal, it can lead to more severe diseases in your pup, like cancer and stomach issues, and, as mentioned above, make hip dysplasia much worse.
Prevention is much simpler than cure. Resist those tempting begging eyes.
4. Bloat
Because Corman Shepherds love play time as much as they love food, they are very susceptible to bloat. Bloat is when the dog's stomach twists and fills with gas.
Bloat can happen either when your dog eats too quickly or if they engage in vigorous activity immediately after eating.
Bloat can be fatal, and it is entirely preventable. This is very important. Pay attention when your pup is eating. Make sure they eat slowly. When or if they don't, it is time to buy a slow-feeding bowl, so your pup doesn't inhale their food. Make sure your pup rests after eating. While many health conditions are not preventable, this one is, so you must pay attention to your dog during and after their eating time.
5. Cataracts
This condition is typical in older dogs. Cataracts can be genetic or the result of diabetes, and there is no treatment other than surgery for this condition.
With proper veterinary care and regular check-ups, lots of exercises, and proper nutrition, your Corman Shepherd can live between 12 to 15 years,
Is Corman Shepherd Right Fit For You?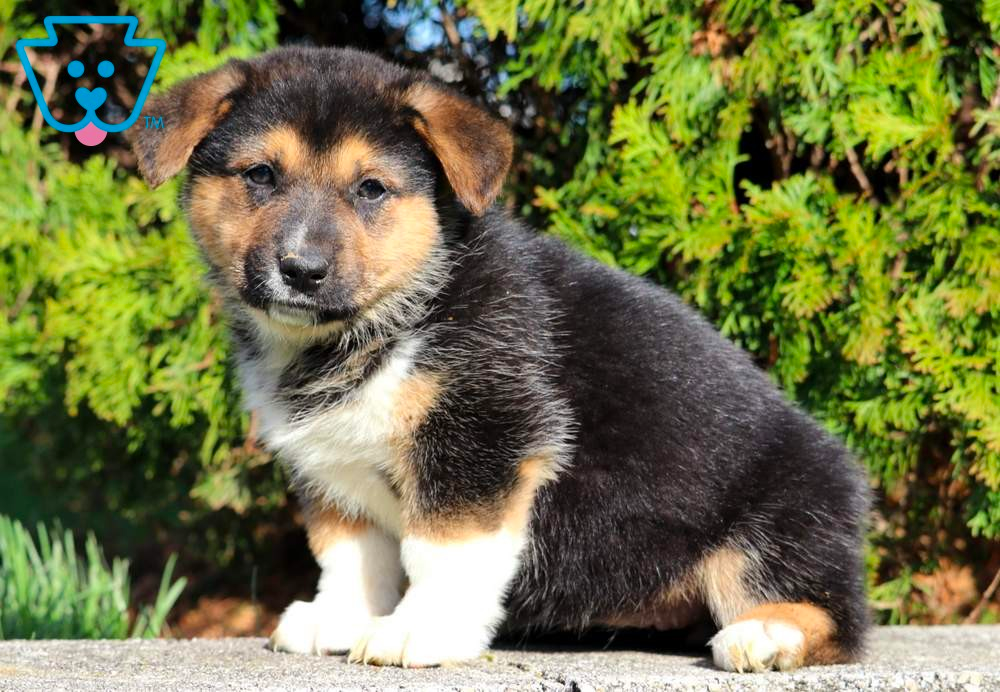 Every dog has traits that might or might not be the right fit for you. Understanding the Corman Shepherd's characteristics is essential before meeting this amazing, fun-loving, adorable pup! The last thing you want is to look into those puppy eyes and fall in love at that particular moment and take this little loving creature home, and this pup destroys your home because they are bored and have to triple your energy level and then ends up in a dog shelter! So please do your homework and read this part several times to ensure this breed is the right fit for you.
1. Do I have an adequate amount of time to spend at home to be with my pet?
This breed loves attention. They want to play with you, follow you around, and be petted by you. They tend to suffer anxiety separation if you are away from them for prolonged amounts of time. If you must be away from the house for long periods, say for your job, and you absolutely have your heart set on this breed of dog, you should enroll your pup in doggie daycare. You will do yourself and your pup a huge injustice if you let your dog sit at home all day alone! This dog needs to be around people and receive tons of love and attention.
2. Do I have the time to train my pet properly?
Since this particular breed tends to be stubborn, it is essential to establish yourself and any other family members as the alpha dog. This breed is brilliant and very high energy. If left to think they are in charge, you will be left with a very unruly (yet strikingly beautiful and adorable) pup. It is imperative to establish yourself as the alpha dog early on. A well-trained, well-behaved Corman Shepherd is one of the most impressive breeds.
3. Do I mind having my pup emit many fibers of joy and love in addition to hair?
The Corman Shepherd sheds a lot. Since both of the pup's parents are heavy shedders, there is no way around this. You will find hair or what I like to call fibers of joy and love everywhere! All over the house and especially your clothes. If you are a clean freak – you may want to consider another breed. But if you see their hair as fibers of joy and love, then you will have much love throughout your home with this pup!
4. Do I have the time and capability to walk my pup throughout the day?
This breed of dog is a working dog and very energetic. The Corman Shepherd needs to run around and play outside to release their pent-up energy. This dog is not for you if you are more of the couch potato type. However, if you love to walk, run, hike, and be outdoors in general, this dog will be an excellent companion for you.
An active lifestyle is crucial for this breed as they are prone to obesity. Regular exercise will help keep you and your dog at a healthy weight. And a regular exercise routine will prevent this dog from getting bored and becoming destructive
Final Thoughts
Corman Shepherds are beautiful dogs. Just look at those eyes; how can you not immediately fall in love? Go into getting your pet knowing they crave attention – lots of attention. Once you have your pet, spend a lot of quality time together. Make sure you establish a level amount of trust and respect. These dogs will be very loyal and protective; therefore, they are excellent family dogs and great around children (as long as the children are respectful to the dog.) I hope you enjoyed this article and learned a lot, and I hope you enjoy your Corman Shepherd if this is the right breed for you!