The German Shepherd is known for its wide versatility. You can find this dog in the thick of war as a bomb dog, as a seeing-eye dog for the blind, or in the home as a family pet. There is no limit to what these dogs can do. After deciding that the German Shepherd is the right dog for your family, the next step is finding a reputable breeder. A reputable breeder is one that will ask you questions about the breed and why you chose it and will meet you at their facility. They should also let you meet the parents of your puppy if you request it.
We have put together this list of the Top 10 German Shepherd Breeders in Pennsylvania to help lead you to your perfect puppy. Each breeder will include some information about the breeder, puppies, and guarantees they may offer. Also included is easy-to-use contact information, for when you select the breeder of your dreams. Even though we have worked hard to put together this information for you, you should always do your own research and talk with the breeder of your choice to make sure that it is an ideal fit for your family.
1. Bergerhaus German Shepherds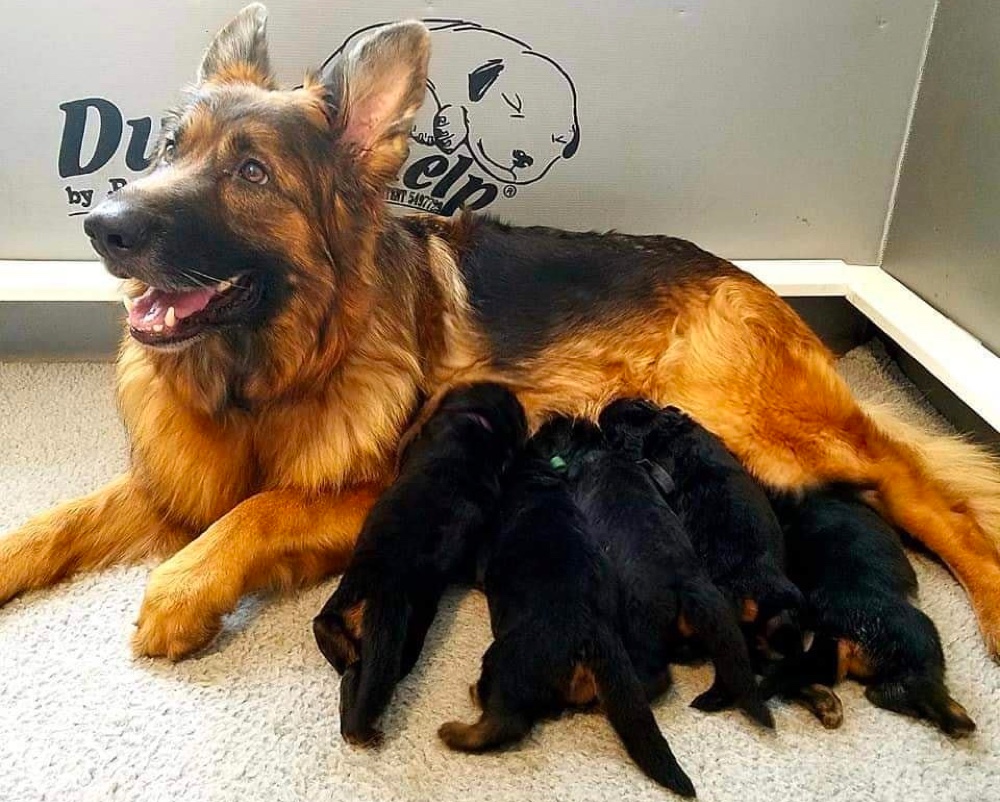 When deployed overseas in Iraq, Tony Berger of Bergerhaus German Shepherds worked alongside German Shepherd bomb dogs. After seeing their courage and intelligence in one of the most challenging environments, he fell in love with the breed. Upon returning home, he decided to start breeding the German Shepherd dogs he loved so much. Tony specifically set his eyes on the long-coated variety, for their unique look, and that is what he specializes in breeding today.
Puppies from Bergerhaus are raised inside the family and are socialized with children and other pets. Before going home, they receive a vet check, all vaccines, four deworming treatments, and a microchip. They also come with a two-year health guarantee. All parents of puppies have their LV papers (the foreign equivalent of OFA) and are AKC registered and DNA tested. Stud services are also available to approve female dogs.
If you are in the military or a law enforcement officer, we have some good news for you. Bergerhaus offers a discount for all military and law enforcement as a thank-you for your service.
Purchasers of puppies report calm, friendly, confident dogs and refer to Tony as knowledgeable and professional. Tony offers lifetime support to all his adoptive families and encourages them to reach out if they have questions. He also invites each new family to his Facebook group "Bergerhaus Puppy Club" where owners can become friends and share puppy updates.
2. Watchman German Shepherd Kennel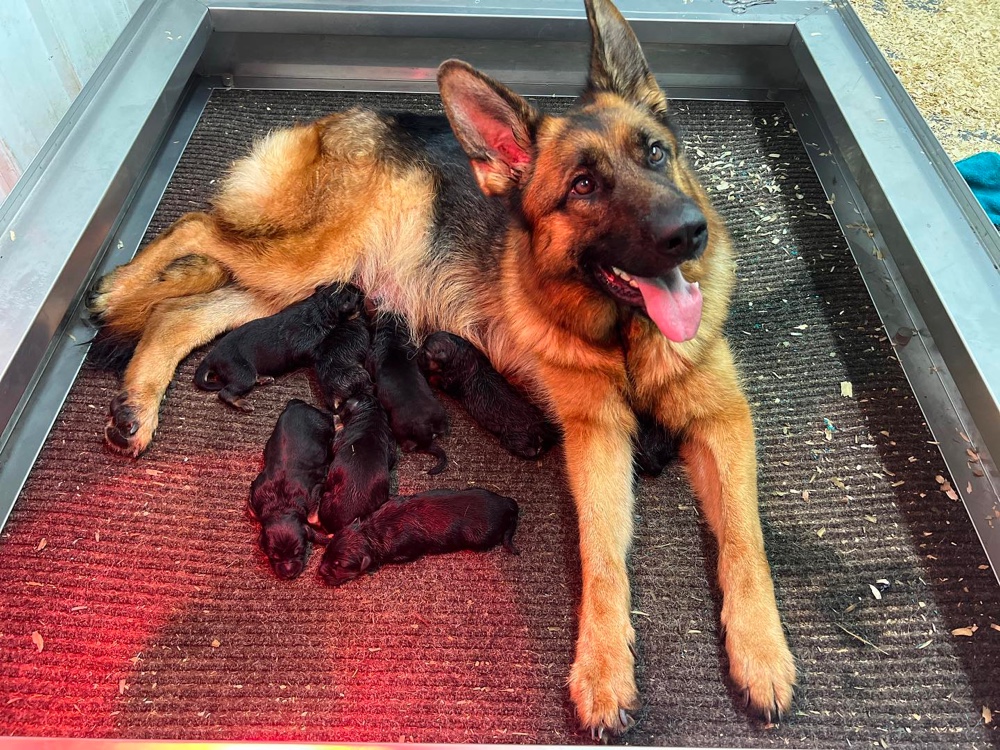 Watchman German Shepherds is a breeding operation that specializes in service and therapy dogs from West German bloodlines. Families who have purchased from them say their dogs are trainable and have excellent temperaments. George, the owner, also got good remarks and was said to be knowledgeable and honest. This breeder was also commended by reviewers for the cleanliness of the area where the dogs stay.
Puppies from Watchman are socialized in-home daily from birth. Before they go to their new homes, they receive a vet check, first vaccines, and a round of deworming treatment. A puppy packet is also included with information for new parents on how to socialize and house-train their new dog. All dogs used for breeding are AKC-registered and OFA-certified. Stud service is also available to approved females if you are looking to breed your dog.
If you love your puppy from Watchman, they want you to show it. This breeder has created an entire merchandise line with items for dog lovers of all sizes.
3. Eichenluft Working German Shepherds
Molly Graf, the owner of Eichenluft, realized her affinity for German Shepherds after attending a Shutzhund demonstration put on by her dog club. She immediately went out and purchased a German Shepherd dog and trained it to Shutzhund level three. A few years later, she purchased another German Shepherd, which become the foundation of her breeding program.
Molly breeds from parents who are from European lines, Shutzhund titled and are health tested. She has bred and raised many National and World Champions in the Shutzhund sport. Many of Molly's male breeding dogs are available for stud services through frozen semen, so Eichenluft is a good choice if you are looking for stud services but don't live nearby.
Puppies from Eichenluft are bred to be very versatile and can excel in many disciplines including Shutzhund, search and rescue, obedience, agility, and police protection. They also make a great family companion if you aren't looking to have your dog participate in any events or special training. Puppies purchased from this breeder come with AKC registration and have a hip and elbow guarantee. Shipping is also available for families who may need it.
If you are looking to provide a home for a rescue dog, you're in luck. Molly frequently rescues and rehomes dogs. Sometimes they are German shepherds, and sometimes they are a completely different breed. These dogs are at a lower price point than the puppies she sells, so it is a good option if you are looking for a friend at a cheaper cost.
Adoptive families say Molly offers great support, and they rave about the yearly reunion she hosts on her farm. All puppy purchasers are welcome, and they spend three days doing various activities with their dogs. Puppy purchasers also state that Molly's dogs are kept in small groups and in sanitary conditions and that the puppies they've adopted are versatile and confident.
4. EZ Brook German Shepherds
Susie of EZ Brook German Shepherds is a lifelong lover of German Shepherds. Her website features photos of her very first German Shepherd, "Rasselas Ezra Brook." He made such a profound impact on her life that she named her business in his honor. EZ Brook is also recognized by the AKC as a Breeder of Merit and has produced many UKC Grand Champions. Dogs bred by EZ Brook make good companions, performance, and working German Shepherd dogs.
All parent dogs undergo hip, elbow, and temperament tests to ensure quality offspring. Puppies are raised in Susie's home and are socialized with children and other dogs. Before the puppies go to live with their new families, they receive their vaccines and deworming as well as a health and hip guarantee.
Buyers love their EZ Brook puppies for their gentle disposition and well-bred appearance. They commend Susie for always being willing to answer their questions and say she genuinely cares about her dogs. Susie also offers support on her website, where she includes links to valuable sources about feeding and care.
| | |
| --- | --- |
| Owner | Susie Zeiner |
| Breeder Since | 1977 |
| Location | Chester County, Pennsylvania |
| Email | woof2me@yahoo.com |
| Phone Number | (610)-405-0451 |
| Website | ezbrook.com |
5. Capriole Farm German Shepherds
Brenda Hendershot, the owner of Capriole German Shepherds, has always had a passion for animals. She was once a vet tech and brings that knowledge with her to properly care for her breeding animals. Parents are carefully chosen from West German show lines and have their OFA certification. Brenda breeds for temperament and correct confirmation in her dogs as well as strongly pigmented coloring.
Puppies from Capriole are born and raised on the farm with the family. They enjoy a good run across the farm as well as socializing with various animals and people. There is a two-year health guarantee on all puppies from this breeder. Capriole also occasionally has adult dogs available for sale, so this is a good breeder to look at if you would like to skip straight to having an adult family companion.
There is a 10% discount available to all military and law enforcement families from Capriole as a thank-you for your service, so definitely take advantage of that perk if it applies to you.
6. Shadowbrook Shepherds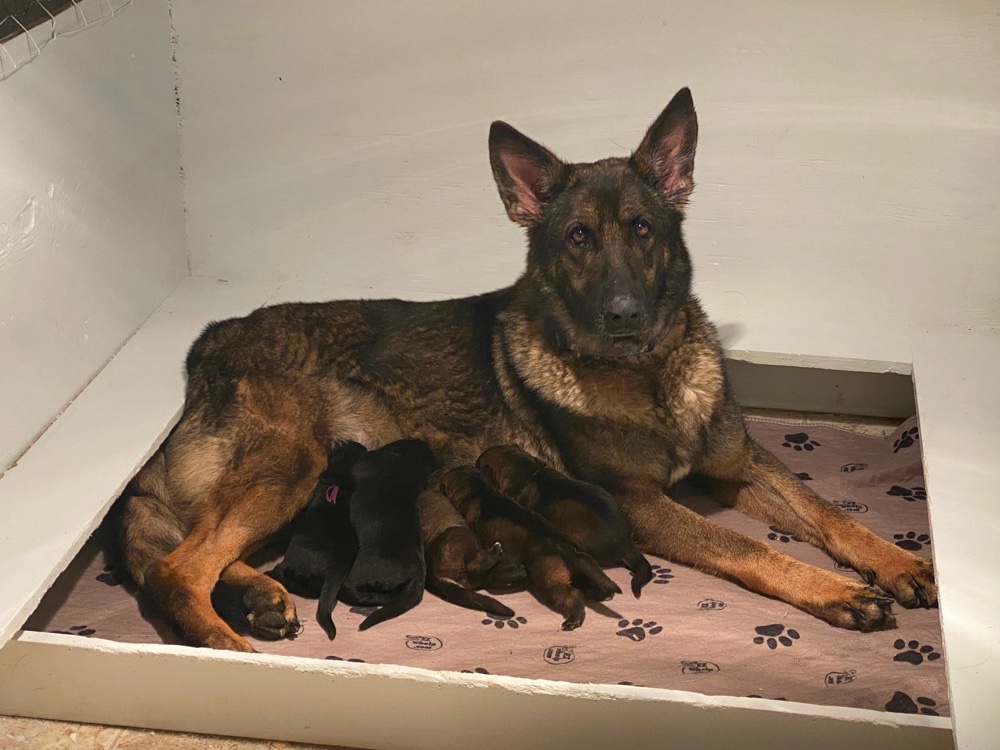 Shadowbrook Shepherds is a Bred with H.E.A.R.T. AKC breeder and is owned by Pat Holley. Pat carefully selects the best German and American lines, and breeds for versatility. Shadowbrook dogs excel in protection, search and rescue, therapy work, or just being the family pet.
Pat raises puppies in her home and starts them on house training immediately using a wood chip method. While being raised indoors, the puppies are exposed to the noises of daily life and people, which is important for their transition to their new families. Before homing, the puppies receive a vet check, vaccines, and deworming. There is a health guarantee from this breeder, but the specifics aren't listed, so be sure to ask Pat about this if you are considering purchasing your puppy from Shadowbrook.
Families who have adopted from Shadowbrook say that Pat is knowledgeable and takes the time to answer questions that arise through the life of the dog. They report excellent facilities for the puppies in Pat's home and report their dogs to be smart and great family companions.
7. Geisterwolfe Shepherds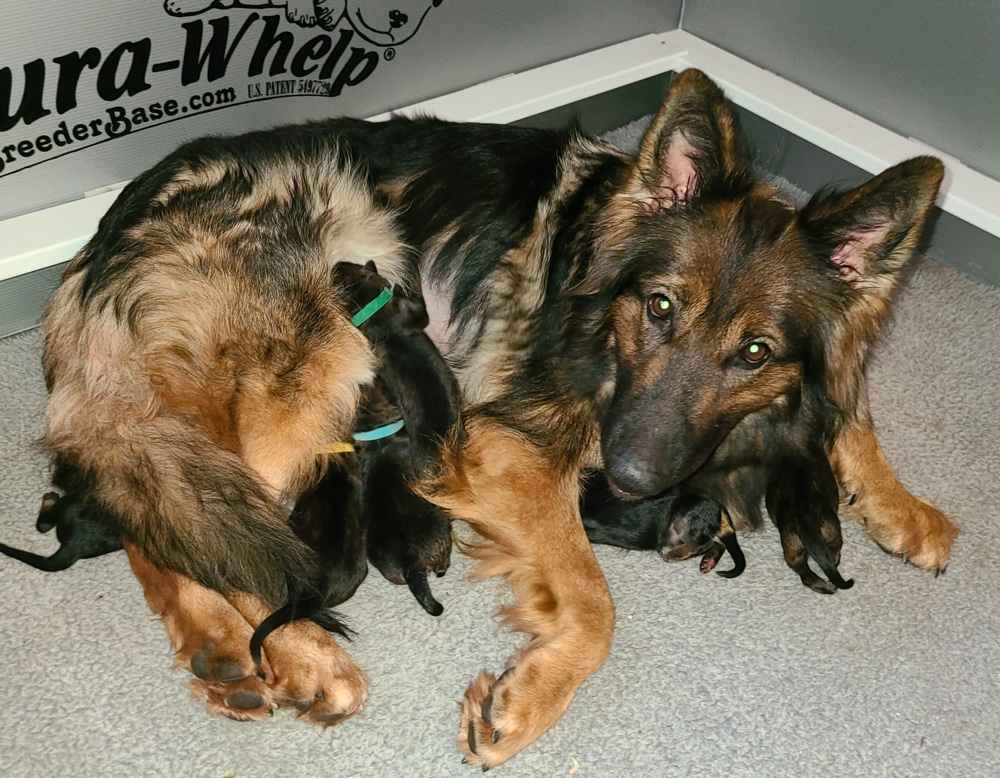 Geisterwolfe Shepherds is owned by Carol and John and is known for its family-friendly German Shepherds. Dogs from here are well-rounded and excel in obedience, herding, therapy work, and much more. Parent dogs are health tested and have their OFA certification.
Puppies are raised in the house and receive socialization and desensitization to noises and people from day one. They are also started on house and crate training, which is a plus if you plan to crate your puppy. Geisterwolfe puppies receive a vet check before going to their new families as well as first vaccines, multiple deworming treatments, and a microchip for safety. There is a health guarantee for this breeder, but it is not specified on the website, so make sure to ask about it when seeing if Geisterwolfe Shepherds is the breeder for you.
Families who have adopted from Carol and John have nothing but great things to say about them as breeders, call them intelligent, and caring, and cite their excellent treatment of their dogs. As far as dogs from this breeder, families report incredible temperaments, often saying that their dog has the best temperament of all the dogs they own.
8. Pine Hill German Shepherd Dogs
Pine Hill German Shepherd Dogs is recognized as an AKC Breeder of Merit and is owned by Kathy Salvucci. Kathy refers to her breeding dogs as beloved house dogs that do some conformation and performance work on the weekends. Kathy has also been a chairperson on the German Shepherd Dog Club of America's Breeders Code of Ethics and is a member of the German Shepherd Dog Club of America.
Breeding dogs at Pine Hill undergo health testing and have their elbows and hips checked. At least one parent is certified to be free of Degenerative Myelopathy to ensure that the puppies are free from DM as well. Pine Hill's breeding dogs have produced multiple AKC Champions, FEMA search and rescue dogs, therapy workers, and service animals.
Kathy raises her puppies in the home and values socialization. Each puppy gets a health check, age-appropriate vaccines, and deworming treatments before leaving with their new family.
Pine Hill supports their adoptive families by providing an informational puppy packet on their website, which covers everything from bringing them home to training and socializing. Also included is a list of helpful books and favorite places to buy puppy supplies.
Owners of puppies from this breeder report smart and loving dogs and not feeling safe and protected by their presence. Their opinions on Kathy are positive as well. Kathy is said to be a passionate and responsible breeder who screens her customers appropriately to make sure her dogs find the best homes.
9. Vom Fasanlauf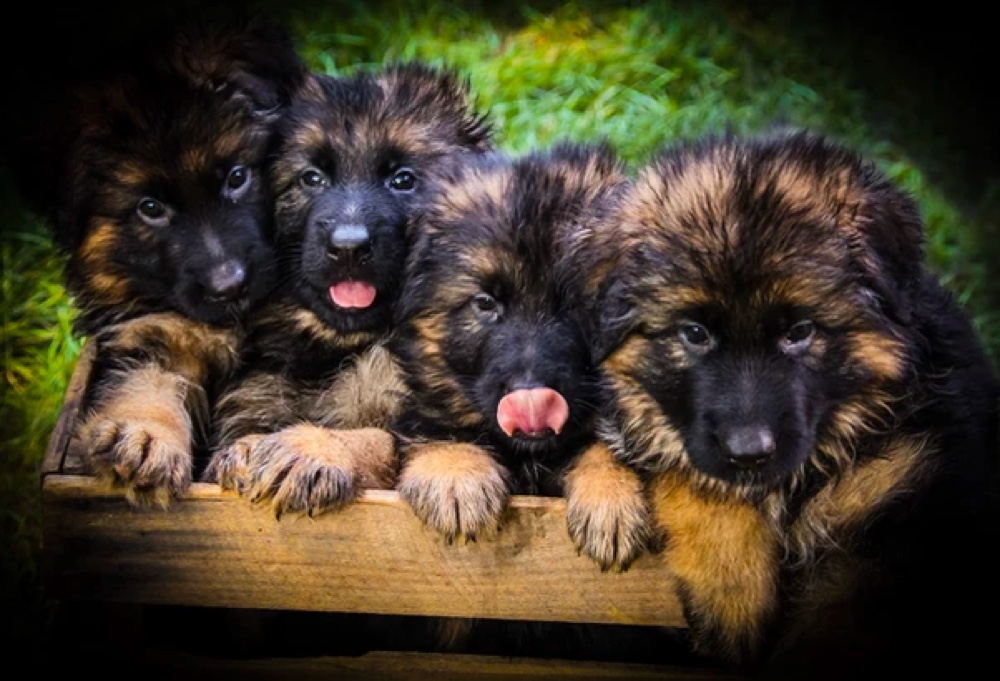 Vom Fasanlauf, owned by Tammy Goshorn, is a breeder that specializes in AKC long-coated German Shepherds. Tammy breeds her German Shepherds to be working dogs with correct conformation and color. She raises her puppies in her home and prides herself in making sure the puppies are well-socialized and find the perfect family. She also offers support for the life of the dog and will answer any questions the new family may have.
Puppies from this breeder can be full or limited AKC registered, however, there is a price increase if you are interested in having a dog that has full AKC registration. There is also a two-year health guarantee on all puppies. Specifics for this guarantee are not listed, so if you are looking to purchase from this breeder be sure to ask what the guarantee covers.
Families who have purchased puppies from Vom Fasanlauf say Tammy truly loves her dogs and finds them the right homes, and that she is a wealth of information and support for adoptive families. They also are pleased with the cleanliness of the area where the dogs are kept and report Tammy as a redeeming breeder after having a bad experience elsewhere. The dogs of these reviewers are also shared in a positive light and said to be intelligent and healthy with great temperaments.
10. Bark Hollow German Shepherds
Bark Hollow is owned by Isaac and Kasie Walk and was inspired by their stud dog, Saint. After seeing Saint's love for their family and experiencing his great personality, Isaac and Katie decided that everyone needed a Saint in their family.
Parent dogs at Bark Hollow are AKC registered, and their litters receive AKC registration as well. All puppies go home with their vaccinations and a microchip installed. Bark Hollow calls themselves a small breeder that breeds DDR Shepherds for quality, not quantity. They consider their dog's family and treat them accordingly. Isaac and Kasie love keeping up with the new families of their dogs and receiving photos and updates on how they are growing.
Reviewers of Bark Hollow report that their dogs are loyal and sweet with laid-back dispositions. They commend the owners for their excellent communication and state that they went above and beyond expectations. The overall experience of adoptive families is positive and many would recommend going through this breeder for a puppy.
My Top Pick
Our favorite breeder from this list is Eichenluft Working German Shepherds. Not only does Molly breed exceptional German Shepherds, but she also takes the time to rescue and rehome unwanted dogs, showing her true passion and love for all dogs. Molly has the most services available to buyers, including shipping puppies to families and semen to breeding homes. She also values her client relationships and shows it by holding a reunion at her farm, which is beyond what is expected from a breeder.
We hope this list makes your search for the right breeder smooth and easy. Always remember to ask questions and visit the breeder to make sure they are the right fit for you and your family. No matter what German Shepherd breeder you decide on, you are sure to get an exceptional, intelligent companion to walk through life with. We wish you the best of luck in your search for your dream puppy.
You might want to check: Top 4 Best German Shepherd Rescue in Pennsylvania
German Shepherd Breeders in The Other States