If you are looking for a German Shepherd then you are looking for a protective, lovable, and devoted companion. This breed is by far one of the most versatile breeds that are great family dogs, agile sport dogs, or calm therapy dogs. No doubt no matter what life your pup is destined for there will be no shortcomings in their loyal personalities.
Getting a German Shepherd Puppy is no quick choice but in this blog, you will find a list of reputable breeders who has that special pup waiting for your family. Here there are ten German Shepherd Breeders in Missouri. This list is to help you determine the breeder you would like to go through but remember to always talk to them and make sure you know what you want from the breeder and the bloodline before getting a puppy.
1. Vom Waldenhaus German Shepherds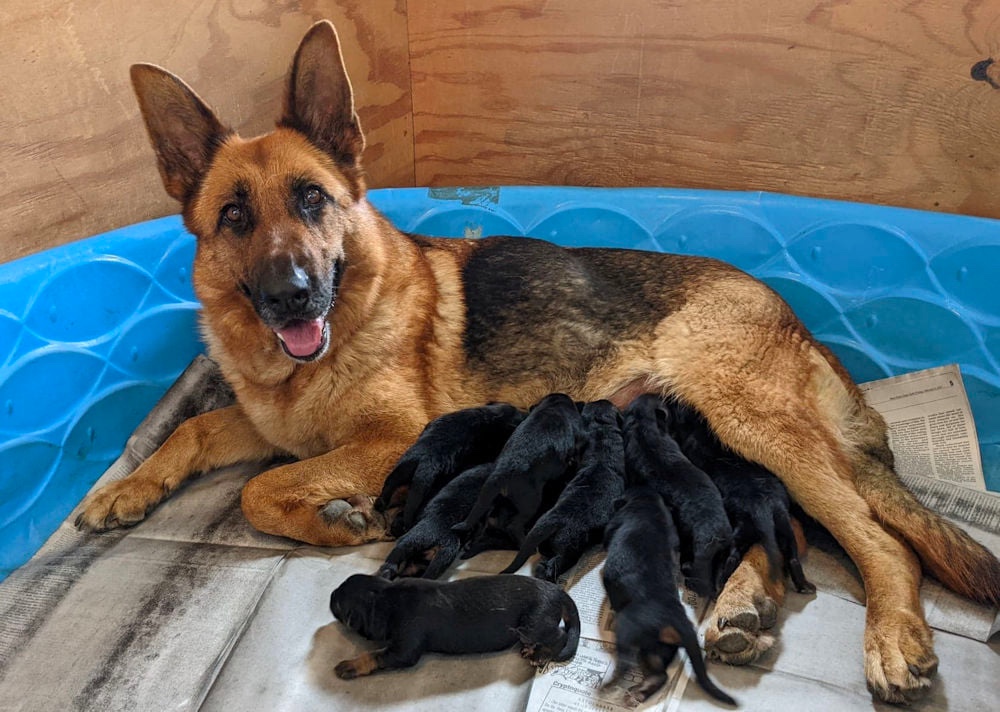 First up on the list is Vom Waldenhaus German Shepherds, a family-run operation dedicated to the health and betterment of the dogs and puppies they breed. Since 1976 the Forrest family has selectively bred their dogs to get a bloodline of sound-minded and well-structured dogs. With a long list of imported West German Show Line dogs used as the foundation of their bloodline, you will find puppies with few, if none, of the breed debilitating diseases such as Hip and Elbow Dysplasia and DM (Degenerative Myelopathy). The selectivity of the stock in the family's bloodline makes for a strong set of genetics for the old breeding standard.
When taking care of the puppies they come with AKC registration, health guarantees, vaccines, and a comprehensive warranty. To ensure the best outcome for your puppy they keep them until ten weeks of age to provide proper socialization and to minimize the stress the puppies receive during transit or when they are first left alone at their new homes. This extra time gives the Forrest family the time to go a little further and ensure another, if not the last, round of puppy shots, starting on crate training, and potty training.
While the puppy's genetics are great, the sires and dams are all bred by the family and imports are hand-picked with lots of testing and consideration before being brought into the program. They breed a specific set of genetics that gives their German Shepherds strong bones, sound minds, great temperaments, a willingness to please, natural protective instincts, and a mild drive for a total all-around family dog. The dogs you get from them are not going to be high-drive dogs with a strong bite, but good all-around dogs for the family that can work well in obedience, search, rescue, or therapy dogs.
With such a specific selection for breeding, most of their dogs are black and red in color. And for 25 years have had no exposure to fleas on the property removing any chance of illness caused by them. You can be certain if you get a puppy from them they will be up to date on all health checks, vaccines, microchipped, and AKC registered.
Vom Waldenhaus German Shepherds Contact Details
2. WindLaufer European German Shepherds
Breeding European German Shepherds Mike and Terry have had excellent reviews about their puppies having 'zero fear' and a 'highly intuitive and instinctual' personality. With each puppy owners are sent home with an information packet and a lifetime pledge to offer help and support. And, on their website, they have helpful sections dedicated to the health and well-being of your new puppy along with a list of commands and a description of the Schutzhund sport.
All German Shepherds, puppies or adults, come with shots and an information book to explain what they have and why. Puppies come with a health guarantee and at least two previous health checkups before leaving. And they have reliable ground transportation for the pups that leave their facility between three eight and ten weeks of age.
Due to website and Facebook updates at the time of this article, contact with the breeder is needed for further information.
WindLaufer European German Shepherds Contact Details
| | |
| --- | --- |
| Owner | Mike and Terry Dirlam |
| Breeder Since | Over 30 years |
| Location | Drexel, Missouri |
| Email | info@windlaufergsd.com |
| Phone Number | (816) 797-8084 |
| Website | windlaufergsd.com |
| Facebook | Terry Dirlam |
3. Fallamhain Working German Shepherds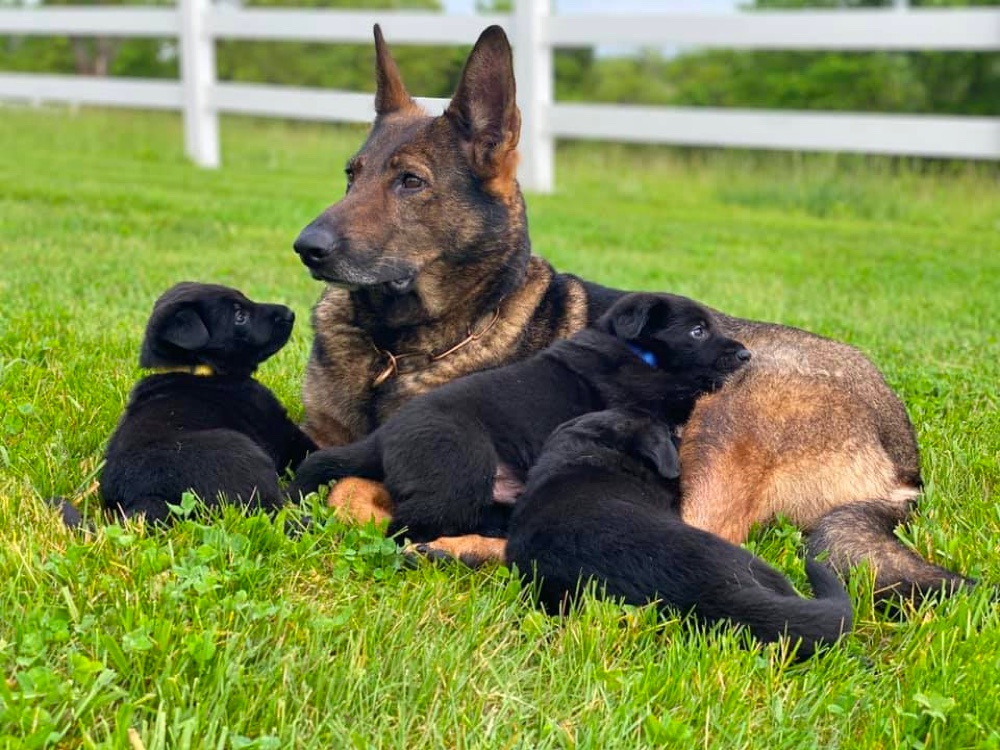 Fallamhian is a breeding and training facility dedicated to the German Shepherd breed just as much as they are to the bond between any dog and owner. Offering board and train classes or single-class packages, they have something to fit every need as they offer training discounts for owners who purchase a pup from them. Christina is an official dog trainer in the facility helping train dogs while also working and training her own dogs for Schutzhund.
Offering comprehensive training is not the only thing this facility has to offer either, all their puppies retain the qualities the German Shepherds were known for as Fallamhain breeding policies adhere to the FCI-SV breeding standard. All their dogs are health tested for hips, elbows, and other genetic issues commonly found in the breed. And all their dogs are trained and handled by the owners with quality attention to best suit their personalities.
People love the Fallamhain stock, but the owners are not forgotten either. Praise from previous clients and current owners really brings out the qualities that this facility has. You can always count on Christina to help you out before, during, or after you get one of their stock. She makes sure to listen to what you want out of a pup and points you in the right direction with what she knows about their stock and is dedicated to making any attempt someone gives to find the best German Shepherd for them a positive experience.
Contact them for further information regarding her pups and breeding program.
Fallamhain Working German Shepherds and FallamOneCanine LLC Contact Details
4. Century Farms German Shepherds of Missouri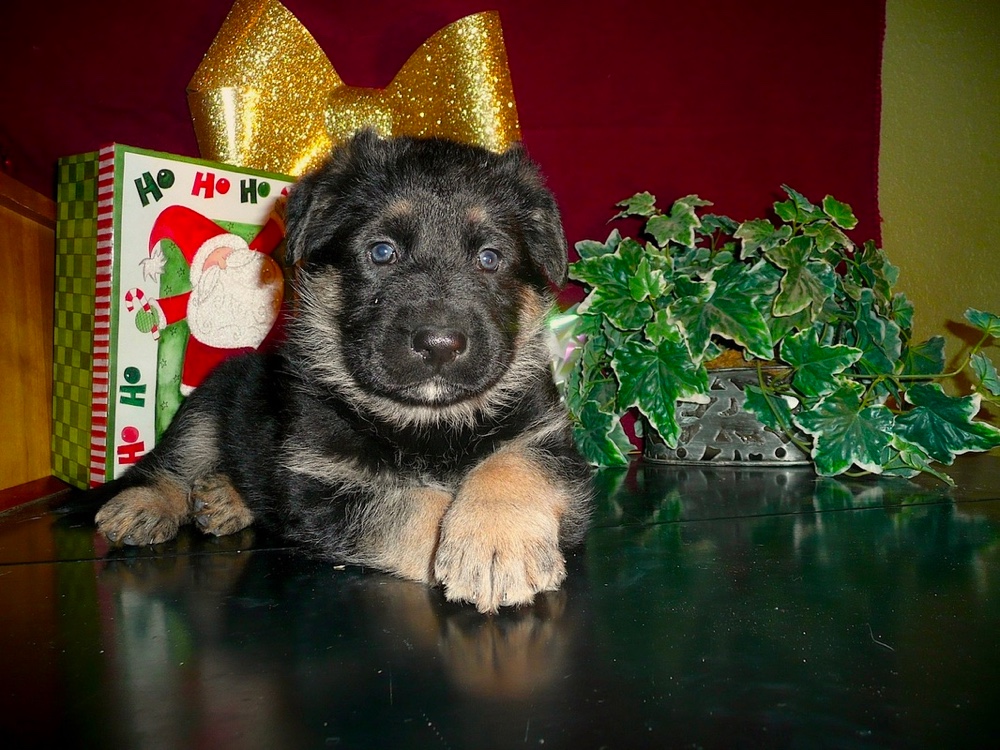 Century Farms is owned by Erika Martin who breeds long-coated German Shepherds with Limited AKC registration. With her puppies coming to you already registered with the AKC and vet check-ups until they leave the facility all you have to worry about is getting to know your new pup in person.
When breeding her dogs she focuses on the health, temperament, and longevity of her stock. And to do that she has high standards in the structure, gait, and movement of the dogs in her care while taking special care with their diet, exercise, and mental stimulation of all dogs every day. To help ensure the quality of her breeding stock and puppies all of her German Shepherds receive yearly blood work and routine vet checks.
For the care of her puppies, she has several guarantees for the parent to ensure that you have and will have a healthy dog with one year of hip and elbow, general health, and congenital health assurances. If discussed a two-year guarantee can be made for the health of the pups. Along with that all of her pups start to explore the farm at four weeks to start their socialization, start on a raw diet to keep their health while weening, and all her dogs are temperament tested and placed. Puppies also come to you with a full set of deworming at two, four, six, and eight weeks and a full set of current vaccines.
Along with all that when it is time for the puppies to go home they will receive a full groom with a bath, blow dry, brush out, and another trimming of the front nails that were done at two, four, and six weeks as well. You will also receive breeder support, up-to-date health records, and microchip information for your German Shepherd pup. But they also get a final vet check-up to ensure they are ready for their forever homes.
Century Farms German Shepherds of Missouri Contact Details
5. Von Haus Wildfang Quality European German Shepherds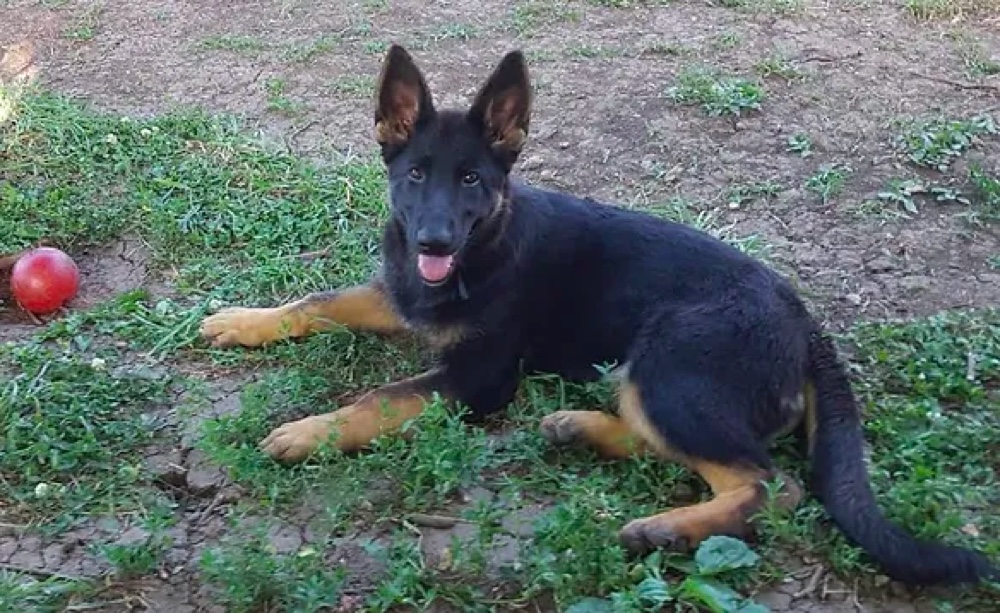 For European German Shepherds who are said to be the 'best of the best' Jan just might be able to help you find the right pup for your family. Having been in the German Shepherd breeding industry since 2004 she has a lot of years learning about and working with the breed before the kennel was named. With a goal to breed European-line German shepherds, she has been very selective about what dogs she brings into the kennel. Focusing on the health and genetics of all her sires and dams to ensure the most pure continuation of the breed with sound health and temperament.
Outside of her breeding program she also offers professional AKC obedience, IPO, and protection work training. There is limited information posted on the Von Haus Wildfang Facebook and their website is under construction you will need to call for further information about their dogs and facility.
Von Haus Wildfang Quality European German Shepherds Contact Details
6. Dach Haus German Shepherds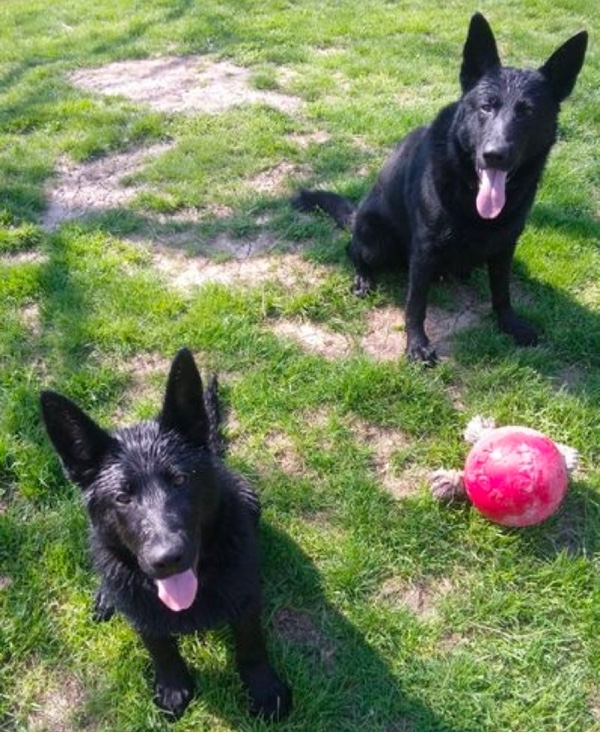 Breeding imported German and Czech ling German Shepherds Donna takes care of her dogs and her clients. Offering Hungarian show and working bloodlines she has tested dogs and a solid training facility to help owners along the way. With thorough health tests and competitive degrees, you don't have to wonder if you are getting the right pup for your house.
Recommended by several for helping you through the whole process of getting a new pup, Donna talks to every potential buyer and listens to what they are looking for in a prospective pup and asks questions to help find the best-suited pup for you. Spending time working with each puppy she will talk with the prospective owners to know their opinion of the pup before sending them to a new home.
Before breeding she health tests and makes sure all her breeding stock is sound and genetically good for breeding. Taking special care to check the hips and elbows of each dog she also has the title to prove what her dogs are suited for. The care of the puppies in her facility are discussed and shown to prospective buyers, so contact her for more information on what each pup receives before going to new families.
To guarantee her dogs they all get sent home with a comprehensive one-year guarantee of good health for genetic defects and two years for OFA passing hips and elbows. Owners will also be offered a discounted price on training at her facility for the duration of ownership of one of her dogs. And she will always provide support for her clients.
Dach Haus German Shepherds Contact Details
7. Blick's German Shepherds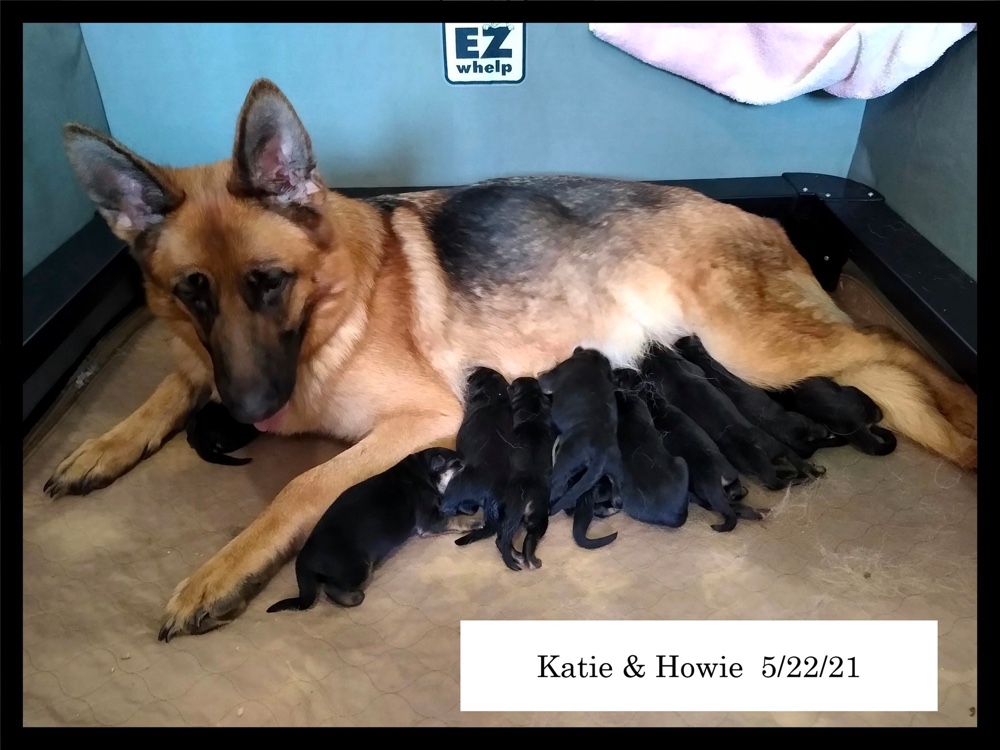 Breeding black and red European German Shepherd Puppies Dawn produces solid-boned dogs with AKC registration. Prioritizing personality, temperament, trainability, and structure they all come out with good attitudes as well. Bred for the working-class with health-tested parents their pups could go in any direction with good exercise and the right owner.
Taking special care all the pups receive deworming at two, four, six, and eight weeks before going home. Another thing they receive is the Neopar and five-way vaccine before going to their forever homes with their microchips. The puppies also have their rear dew claws removed, a two-year hip guarantee, and full AKC registration.
Her previous owners also have good things to say about their dogs as 'they live up to their description.' But Dawn's help and dedication to placing the puppies in the right home defiantly leaves a lasting impression as they have said 'she helps you during the whole process.' If you are uncertain she can definitely help you find the right pup or point you in the direction of the perfect match.
Blick's German Shepherds Contact Details
8. Marilyn's German Shepherds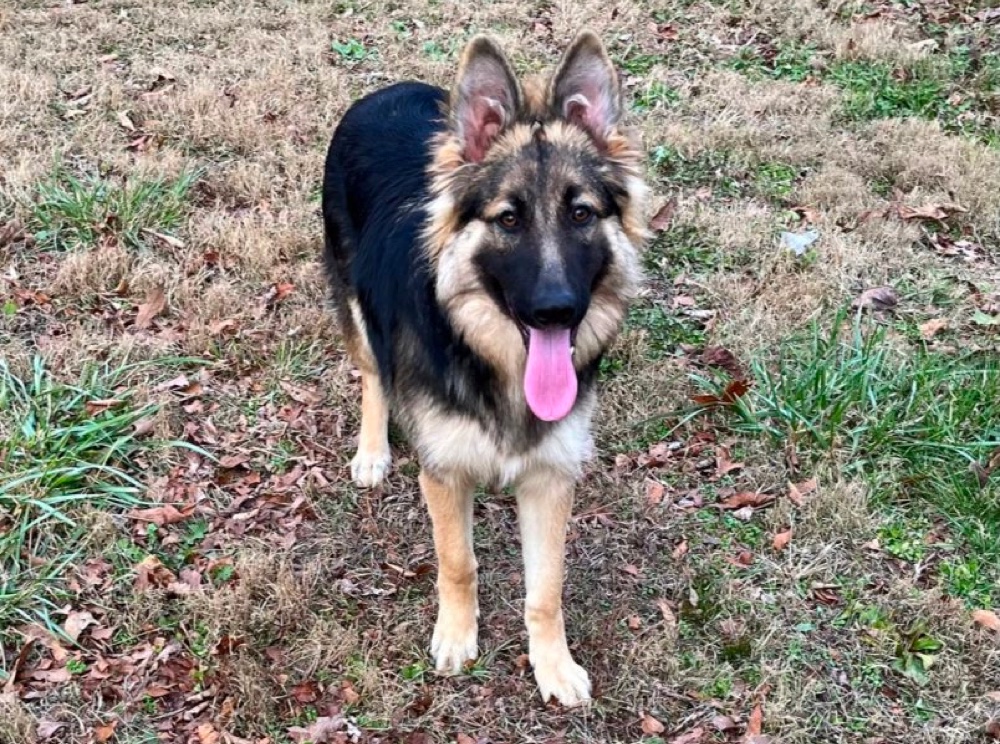 If you are looking for a low dive dog that makes a great family pet Marilyn might have the dog for you. With pet quality dogs who hold on to the desired breed traits the pups produced here would be a good addition to any family. And all dogs come with AKC registration.
Each puppy is either short or long-coated and with a calm temperament and quiet demeanor, they would work perfectly as a family companion or as an obedience dog. Preferring to talk with prospective owners in person, it would be best to contact her for further information on the puppies and dogs in her care.
Marilyn's German Shepherds Contact Details
Owner
Marilyn White
Breeder Since
2004
Location
Piedmont, Missouri
Email
whitefamily@semo.net
Phone Number
Home: (573) 223-2154

Cell: (417) 693-2997

Website
marilynsgermanshepherdpuppies.com
9. Schutzhaus German Shepherds
Focusing on Old-Fashioned German Shepherds, you can guarantee they have a puppy with a calm temperament. With ACK-registered dogs and several health tests to make sure of genetic soundness you don't have to worry about the debilitating genetic issues that can befall the German Shepherd breed. Owned by Sandy you can be sure you are getting a good and sound representation of this breed.
Focusing on breeding dogs with the qualities that ensure intelligence, loyalty, lovability, and good health they make sure their dogs are tested with Embark, DM, and Hip (using PennHIP). Using this method they are able to be certain about their puppies not having Hip Dysplasia or DM (Degenerative Myelopathy). So you don't need to be worried about your pup's genetics leaving them vulnerable to physically debilitating genetic issues that are common in the breed.
To prepare all their pups for their new homes they all will be microchipped and received both deworming and current vaccines. You will also have limited AKC registration for their pups and guarantees of them being DM free, along with a guarantee for them being free of hip dysplasia. You will need to reach out to learn more about their dogs and policies.
Schutzhaus German Shepherds Contact Details
10. Magnum Opus German Shepherds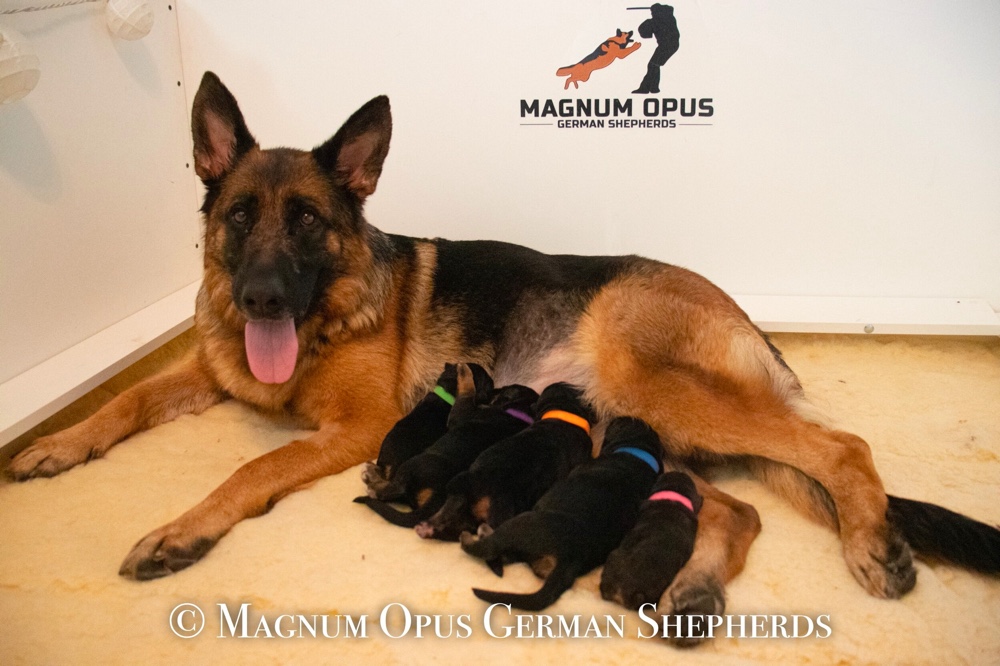 With four different bloodlines in their facility, they take special care to selectively choose sires and dams to import and breed. They have taken care to choose specific dogs from the West German Show and Working lines, American Show Line, and from their own carefully developed bloodline to provide you with the best pups possible. The facility is approved by the AKC, AKC H.E.A.R.T., United Schutzhund Club of America, and the German Shepherd Dog Club of America along with partnering with local rescues and shelters to find the best homes for every dog they can.
Taking pride in the dogs they have every puppy gets special care to develop good socialization, a training regimen, and a healthy body. Starting their training from day one by getting them used to human touch and small household things within the environment. Each pup is also lifetime support for anything you could need input on while you have one of their pups.
With a strict path to ensure the success of one of their dogs, they start working on cues and commands once the puppies are able to hear, see, and run around well. Starting at five weeks they begin learning the foundation of healing, scent work, obedience, show stacking, and grip work. As they grow the lessons grow in difficulty and duration providing a solid foundation. By six weeks they start getting introduced to new people to set the foundation of being comfortable around and/or listening to strange people.
By seven weeks they start exploring the outside and going on walks, leash training, and going on car rides. You can be sure that any puppy you get from them is going to be solid at the start, but you will also get information and support from the owners. You will be leaving with a puppy bag that has information about what they have learned and details about how to continue. A 24-month health guarantee, lifetime support, and finally a promise that if you ever can't keep your pup they will take them back.
Magnum Opus German Shepherds Contact Details
My Top Pick
With this list, I would decide to look further into the Fallamhain Working German Shepherds breeder and trainer as they have proven theirs and their dogs' abilities with several high-ranked titles and provide good warranties and health guarantees. Their goals for the pups in their care and the diligence they take with their health and placement appear to better help an established owner continue learning with their pup.
They give a good understanding of their dogs and what they have earned without pushing the titles to press their knowledge onto clients. They show their devotion to their dogs with the offered lifetime support and training packages they sponsor for clients who purchase a puppy from them. From these first findings on the website, they appear to have the best interest of the future of the dog and client in mind when helping you along the way.
But always make sure to do your own research into the puppy that would be best suited for you, don't make your opinion based solely on the brief overviews of each breeder. Your needs are different from every other person, so not every breeder is going to work for your desired dog. Just remember to always look for a reputable breeder who holds the dogs and puppies in their kennel to the ideas that best suit you and discuss what you both see for the future of the puppies.
German Shepherd Breeders in The Other States