If you are looking for a German Shepherd then you are looking for a smart, brave, and loyal companion. This breed is by far one of the most versatile breeds that are great companion dogs, special support dogs, or determined protection and sport dogs. No doubt no matter what life your pup is destined for there will be no shortcomings in their mouthy and spirited personalities.
Getting a German Shepherd Puppy is no quick choice but, in this blog, you will find a list of reputable breeders in California who might have that special pup waiting for your family. Here there are ten German Shepherd Breeders in California. This list is to help you determine the breeder you would like to go through but remember to always talk to them and make sure you know what you want from the breeder and the bloodline.
1. Nadelhaus German Shepherds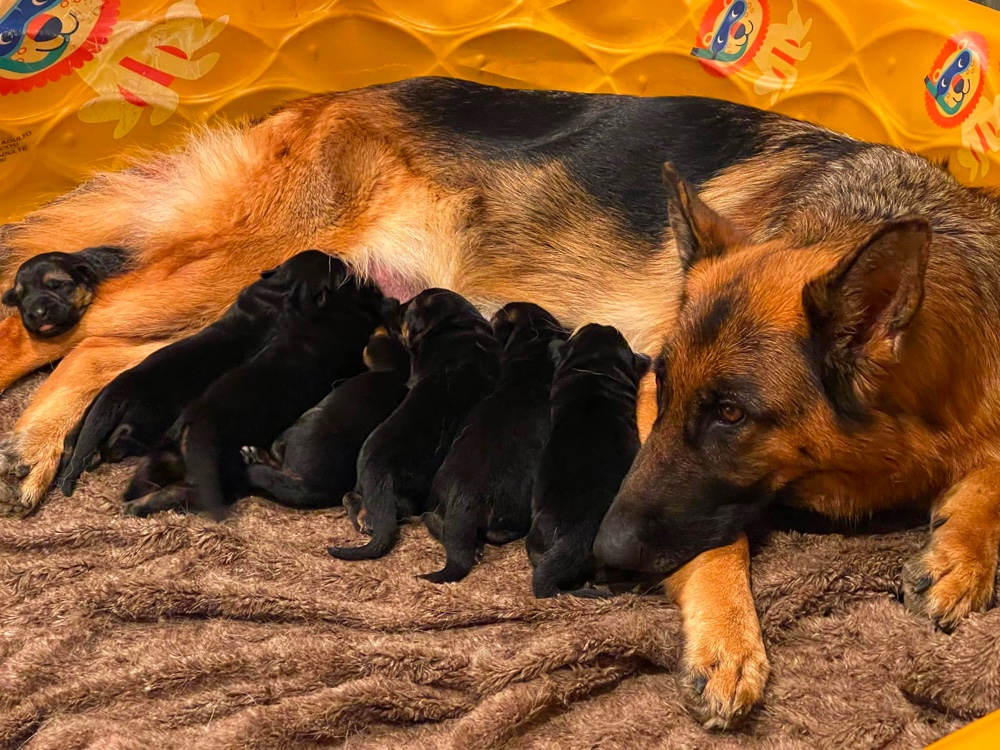 First up is Nadelhaus German Shepherds, dedicated to breeding German Shepherds following the German 'SV' Breeding standards with dogs of black and red coat color with an occasional litter of long-haired puppies. All of their dogs are of exceptional quality with genetically tested dogs that are at least Schutzhund tested and titled. With her devotion to her dogs, she produces puppies of exceptional quality with a focus and their temperament, health, and trainability.
With her experience, she enjoys talking with prospective puppy owners if they ever need help with determining if one of her puppies is the right choice for them. She takes care to socialize all of her puppies so that she can match the puppy with the best family possible to help ensure a lifelong bond. She also makes sure to be there for owners after they receive their pups so that she can see how they develop she can continue improving the quality of the dogs she produces in each litter.
All of the puppies will go home with a lifetime of support from the breeder for any situation that might arise. They will also receive a professional temperament test and vet check before being placed in their new home to help ensure that they are of sound mind and body. They will also have a full set of vaccines and up to date deworming prior to leaving. Lastly, she also provides training, boarding, and importing services for clients with new or current dogs and if in the event that she can not provide you with the perfect match from one of her litters.
Nadelhaus German Shepherds Contact Details
2. Velknerhause German Shepherds
As a small breeder their focus is on providing German Shepherds that hold true to the breed standards of quality, health, and temperament. All of their dogs are of both show and working lines and come in a variety of colors and coat lengths to fit anyone's preference. With their dedication to the dogs in their care, they love to talk to prospective families so that they can help match the right pup with the best family for the best start in life they can give.
Each puppy in their care receives a full set of vaccines and up-to-date on deworming before leaving their facility. They also have a two-year hip and a full health guarantee for the promise that any puppy they produce is of the best quality. They also guarantee the temperament and disposition of their dogs because they are all from legendary bloodlines with a solid and traceable lineage.
Velknerhaus German Shepherds Contact Details
3. Lundborg-Land German Shepherds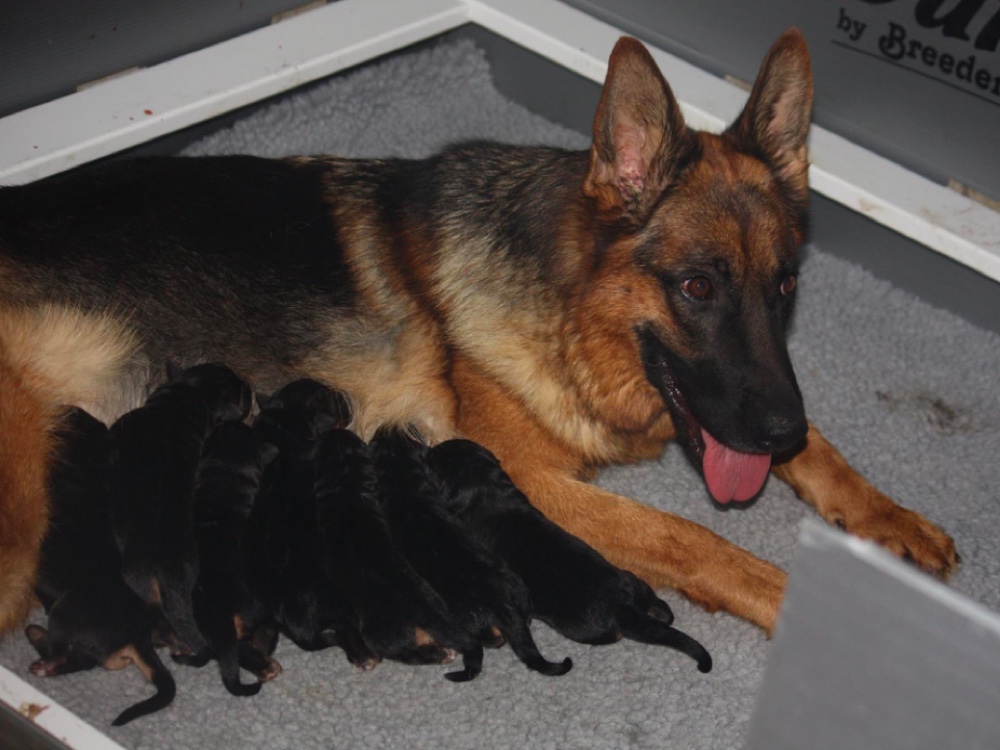 Dedicated to the breed their dogs are top-quality Schutzhund German Shepherds and are bred following the German 'SV' Breeding Standards. All of her dogs are OFA Certified and selected for the best in genetics and pedigrees. All of her dogs are well cared for and she is welcome to accept any visitor with an appointment.
With her knowledge, she provides the best possible socialization for her puppies by handling them and exposing them too busy life with other dogs and people. Her knowledge is also vast for her devotion to the breed and if you have any questions when searching for the right puppy, she is available to help you determine if a German Shepherd is right for you and your family. She also devotes her time to her boarding services and helping a past client who needs to rehome their pup find that perfect home for them.
All of her puppies go home with lifetime support and health guarantees to help provide the best life possible. And if you feel that a puppy is not the right match for you, she might have an older dog in need of a new home that is a perfect match. But she also offers Stud services to approved breeders and females for those not looking to add a dog to their kennel.
Lundborg-Land German Shepherds Contact Details
4. Rotterbarental German Shepherds
As an AKC Certified breeder of German Shepherds with deep red and black coats they take the health of their pups as their number one priority. All of their dogs are genetically tested and certified as being DM-free from top-rated 'V' and 'VA' German Bloodlines with titles in Schutzhund and IPO.  Their focus when breeding is to hone the breeds traits of great conformation, temperament, loyalty, courage, and beauty.
With a devotion to their dogs, they are raised in a home environment and are socialized with a busy hustle and bustle of a working home along with multiple dogs so they have a solid foundation for training as Search and Rescue or Therapy dogs. They have also raised pups that were donated to be trained as guide dogs and service dogs for victims of violent crimes. Their pups have a great disposition and drive as well to be selected as prime candidates for IPO and Schutzhund training.
If one of their puppies seems like a great fit for your family, they are open to supporting you with matching the best pup for your family. Each one will receive a full set of vaccines and deworming before leaving for their new home. You will also receive a five-year health guarantee, a comprehensive puppy package, and lifetime breeder support to help you start out on the right foot.
Rotterbarental German Shepherds Contact Details
5. Central Coast German Shepherds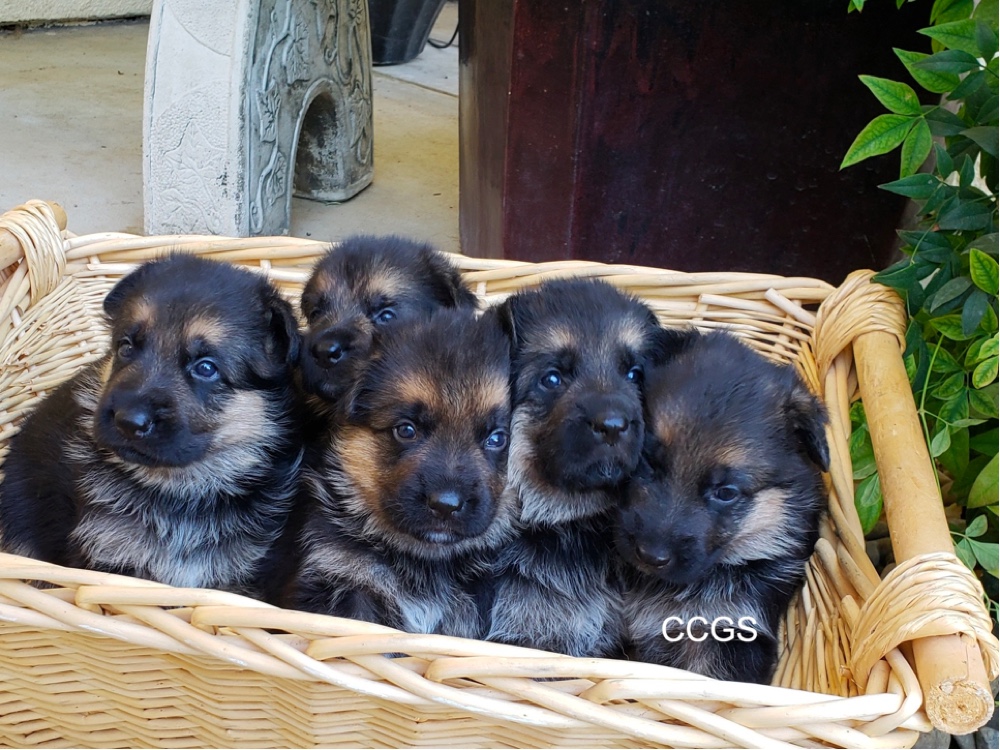 Breeding European German Shepherds, they dedicate their time to ensuring that they produce the best pups with a solid foundation for any type of work they may go into. Their dogs are available for AKC and GSDCA registration and they are members of these organizations. Along with this, they are also certified AKC Breeders of H.E.A.R.T., Excellent Breeders through Good Dog, and BAB Puppy Evaluators.
Taking care to give their dogs the best start possible they devote their time to giving proper socialization to the puppies they produce. One of the things they provide is Early Neurological Stimulation using the Bio Sensor Program which they discuss in detail on their website. They also provide Early Scent Introduction and can take that one step further for Diabetic and Seizure alert dogs by providing Early Scent Imprinting to give the pups a boost for future service work.
As a hobby breeder, they only produce two or three litter a year so they can dedicate time to give each pup a proper foundation for an extraordinary life. With their connections with breeders in Germany, their dogs are all of West German Show and Working Bloodlines with exceptional health and genetics to produce healthy pups ready for any path their life takes. Each pup will also receive a record of health and written health warranty, a microchip, a good puppy exam, and be current on all shots and deworming.
Central Coat German Shepherds Contact Details
6. Top Shepherds Kennel
Breeding both stock and long-coated European Imported German Shepherds their focus is on maintaining and improving the breed with their temperaments, strong bodies, loyalty, and lovability. All of their dogs are from a proven and traceable lineage of dogs being titled and ranked in Schutzhund and IPO. All of the puppies they breed are available for AKC Registration, and all imported dogs come with their own copy of their German Pink Papers.
Being dog professionals, they train their dogs with devotion to showing the outstanding qualities of the breed. Their dogs are also raised around nature to help provide a well-balanced and stable dog that can handle most situations once leaving for their new homes so that they have a solid foundation for training. Their dogs are also raised on a high-quality diet with a variety of supplements and vitamins to help support the growth of the puppies to keep them at their best.
Their puppies will go home with a microchip and current vaccines for their age. You will also have access to breeder support for anything that might arise when choosing or after receiving one of their pups. They will have also received a health and temperament test before leaving to ensure that they are the best they can be for a long and healthy life.
Top Shepherds Kennel Contact Details
Owner
Steve and Natalie
Breeder Since
Over 27 Years
Location
Anza, California
Email
nataliya@topshepherd.com
Phone Number
(951) 440-0722

(844) 844-3323

Website
topshepherd.com
Facebook
Top Shepherds Kennel
7. Zinger vom Roten Wald Kennels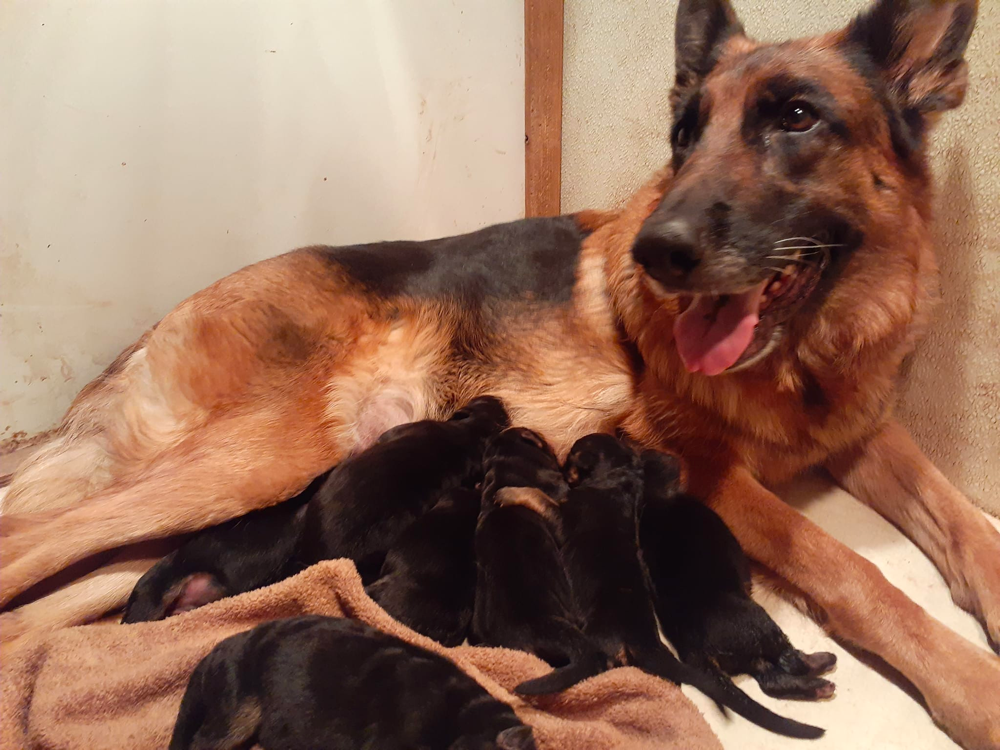 Earning several titles with their dogs in both Schutzhund and IPO they carefully select their German Shepherds before placing them in their program. The focus of their program is to improve the breed with a focus on the traits of loyalty, conformation, temperament, and workability. When choosing dogs for their program they look at the health, pedigree, and hip and elbow scores to ensure that they can produce the best and heartiest pups possible.
All of their pups are raised with a holistic approach to help ensure that they have the best start possible for a healthy life. Dedicated to giving their pups the best start possible they prefer to discuss with the families what they are looking for in their puppies so that they can determine if and which one is the right match for their pups. But if you feel that a puppy is not the right fit, they also have older dogs for sale at times along with a stud service for approved females.
Zinger vom Roten Wald Kennels Contact Details
8. Vom Hause Marzler Shepherds
Starting their experience with over twenty-five years of dog training they breed OFA Certified German Shepherds that are titled and placed in both Schutzhund and IPO. Taking great care of their pups they are dedicated to providing only the best for their pups starting with a solid foundation in socialization and training. The pups are handled from day one so that they can be sure to match the best pup for each family that they go to.
Starting from day one they start to expose their pups to various sights, sounds, and handlings so that they have a solid foundation for the training they receive before going to their families. The care that the puppies receive does not stop with basic in-house socialization since once they are big enough they also get to experience the hustle and bustle of small farm life and learn how to behave with a variety of different animals as well. And at six weeks of age, they also get to start meeting new people so that they are well-versed in how to behave and act around the comings and goings of meeting strangers.
If you find that one of their pups is a good fit for your family then they will come into your home with a basic start on commands and be close to completely potty trained. They will also be fully vaccinated, up to date on deworming, and have a two-year health guarantee. You will also have access to breeder support if any questions arise.
Vom Hause Matzler Shepherds Contact Details
9.

Inland German Shepherds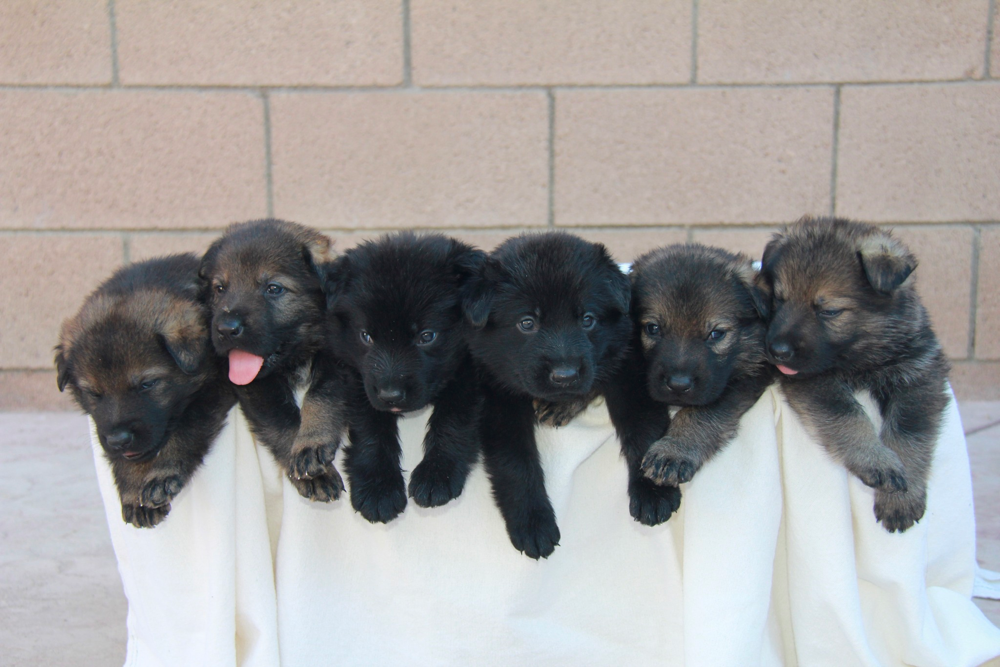 Breeding AKC Registered German Shepherds of German and Czech Working Lines of various colors focus on dogs of excellent health and temperament. Taking care to give their puppies exceptional handling and care from the beginning so that they have the best foundation possible when going to their new homes. With the health of their pups being a top priority, the focus is on only bringing in the best stock in order to preserve and improve the breed's standards.
The dedication they have for their pups does not stop at the care they receive at the facility but with making sure they go to a home that matches well with the pup. Devoted to talking with prospective owners they are available to answer any questions you might have about how the pups are raised or anything after they go to their new homes. Talking with prospective owners also gives them a chance to evaluate and determine if the family is a good fit for the pups and which one would work best with which family.
Inland GSD Contact Details
10. Wustenberger-Land German Shepherds
With German Shepherds that are available for AKC and German SV Registration, they have an international breeding operation with both solid black and red and black dogs. They are an internationally recognized breeder of working and show-line German Shepherds with a 'World Class rating. All of their dogs are proven in Schutzhund and IPO with their rankings and titles.
Their pups come from high-ranking and titled dogs with exceptional lineage and lice of certified dogs with great hips and elbows. With the pups, you will receive a puppy with exceptional care that is available for both AKC and German SV World Union Registrations. Each puppy will also be up to date on all vaccines and deworming, a health guarantee, and a hip and elbow guarantee.
They offer a variety of different training opportunities for clients from personal protection to Schutzhund and obedience. You will also have access to lifetime support from the breeder for any questions that might arise. Getting one of their puppies means you will be part of a family dedicated to the German Shepherd breed.
Wustenberger Contact Details
My Top Pick
With this list, I would decide to look further into Wustenberger-Land Breeders of Uncompromising Excellence as they have proven their dedication with continuous efforts to preserve and strengthen the breed. And they show that they have a deep dedication and love for their dogs that put their needs in the highest regard. Their goals for the pups in their care and the diligence they take with their health seem to best suit an active lifestyle and they have a passion for their dogs and the life they will lead.
They give a good understanding of their dogs and what it is they want to see in the continuation of their dogs and bloodlines. They show their devotion to their dogs with the small things they share on their website and how they appear to care for their pups. From these first findings on the website, they seem to hold close to the desires of what I would look for so they would be my first pick to talk to.
But always make sure to do your own research into the puppy that would be best suited for you, don't just take our opinions on all this. Your needs are different from every other person, so not every breeder is going to work for every person. Just remember to always look for a reputable breeder who holds the dogs and puppies in their kennel for the ideas that best suit you and discuss what you both see in the future of their pups.
German Shepherd Breeders in The Other States