German Shepherds have long captured the hearts of many families for their ability to excel in many roles ranging from the family pet to working police dog. Once you decide to let a German Shepherd into your home and heart, the next step is finding a reputable breeder. If you don't know what to look for, we can help. Please check out our great resource on what to look for in a reputable breeder.
Our guide of breeders is the key to finding the best German Shepherd puppies in Alabama. Each breeder will have a general description and information on any health guarantees they offer as well as what their adoptive families think of their dog and their experience. We have taken great care in putting this guide together, but you should always do your own research and talk with the breeder you are considering to be sure they are a good fit for you and offer the type of German Shepherd you are looking for.
1. Ingram German Shepherds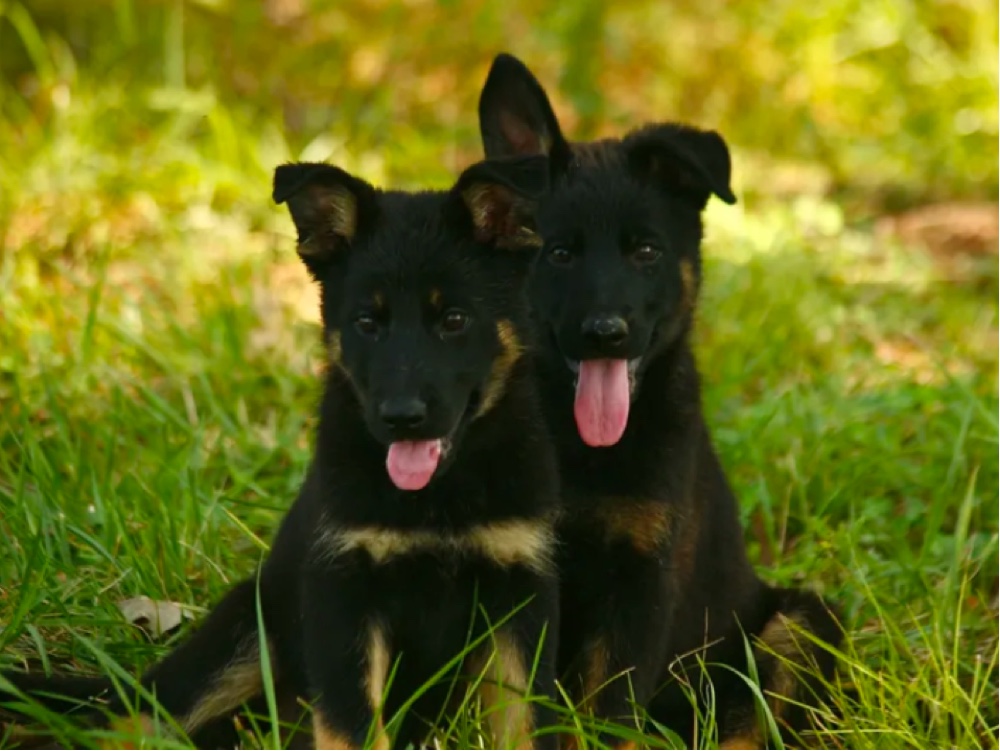 Ingram German Shepherds is owned by Lisa Ingram and located on a beautiful 250-acre ranch in Pike Road, Alabama. It is on this ranch where Lisa raises her German Shepherds alongside her cattle and horses to be superior working dogs. Ingram German Shepherd specializes in imported bloodline working dogs that closely follow the original version that began in Germany in the year 1899. This is your go-to breeder if you are interested in a dog for protection because Lisa offers fully trained protection dogs as a part of her business.
This breeder is proud to have a stud dog that is the winner of the Slovak National Championship of German Shepherds title. His name is Hugo, and he has the highest title a dog can have in tracking, obedience, and protection at the Shutzhund IGP3 level.
Puppies from this breeder can be limited or full AKC registered, which is good for those who want to have breeding rights for their dog. Puppies receive age-appropriate vaccinations and deworming treatments while waiting to go to home with their new families as well as any other health care they may need.
Ingram German Shepherds is held in high regard by its adoptive families. Lisa is praised again and again for her dedication to her dogs and the amazing customer service she gives her buyers. Dogs from this breeder receive the highest praise for their fantastic temperaments, intelligence, and natural protective instincts.
2. Schwarzer Hund German Shepherds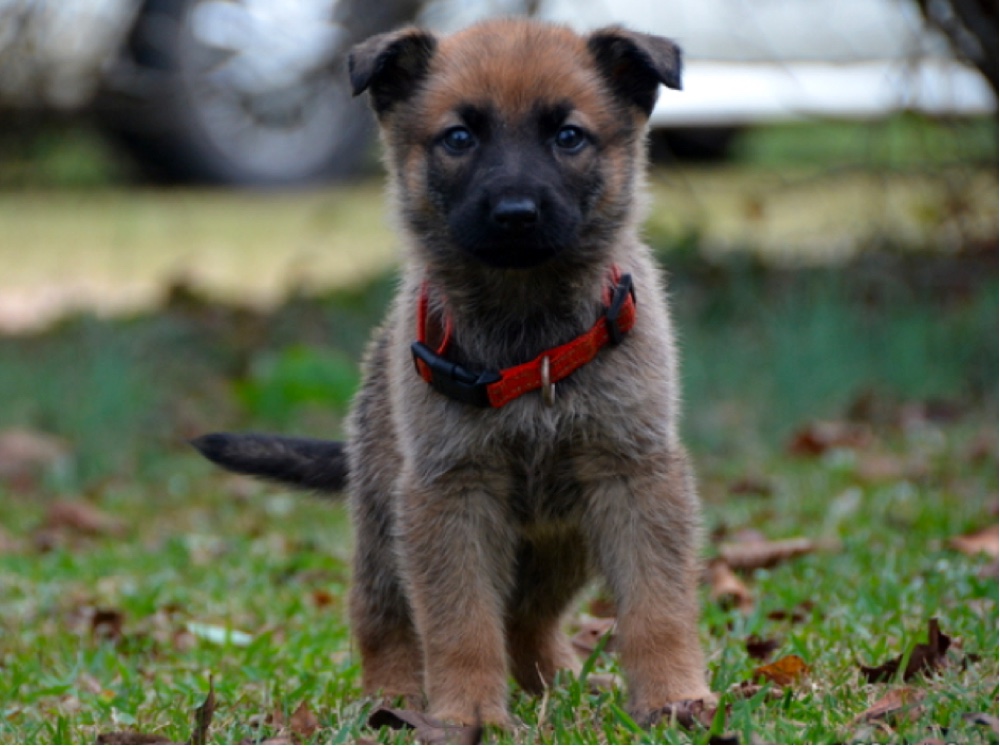 Schwarzer Hund German Shepherds is owned by Robert Whitlock and breeds from West German, DDR, and Eastern European Bloodlines. Schwarzer Hund dogs excel at a great number of things including working, protection, Shutzhund sport, dock diving, herding, and family companionship. The goal of this breeder is to breed even-tempered intelligent dogs with great abilities.
When purchasing a puppy, you can expect them to be vaccinated and temperament tested. They are also socialized with children, dogs, and various environments to set them up for a successful life. All puppies come with a lifetime health guarantee that includes all major diseases and hip and elbow dysplasia. Full and Limited AKC registration is available for these puppies, so this breeder would be a great choice if you would like breeding rights to your dog. Living far away won't cross this breeder off your list either, because Schwarzer Hund ships their puppies worldwide for an extra fee.
Families who have purchased from this breeder love their dogs easy, dependable nature and their gentle touch with children. Robert is said to be a very knowledgeable breeder whose top priority is the care and well-being of his dogs. Many would consider purchasing from Robert again when they are ready for their next furry friend.
3. Myranda Godwin German Shepherds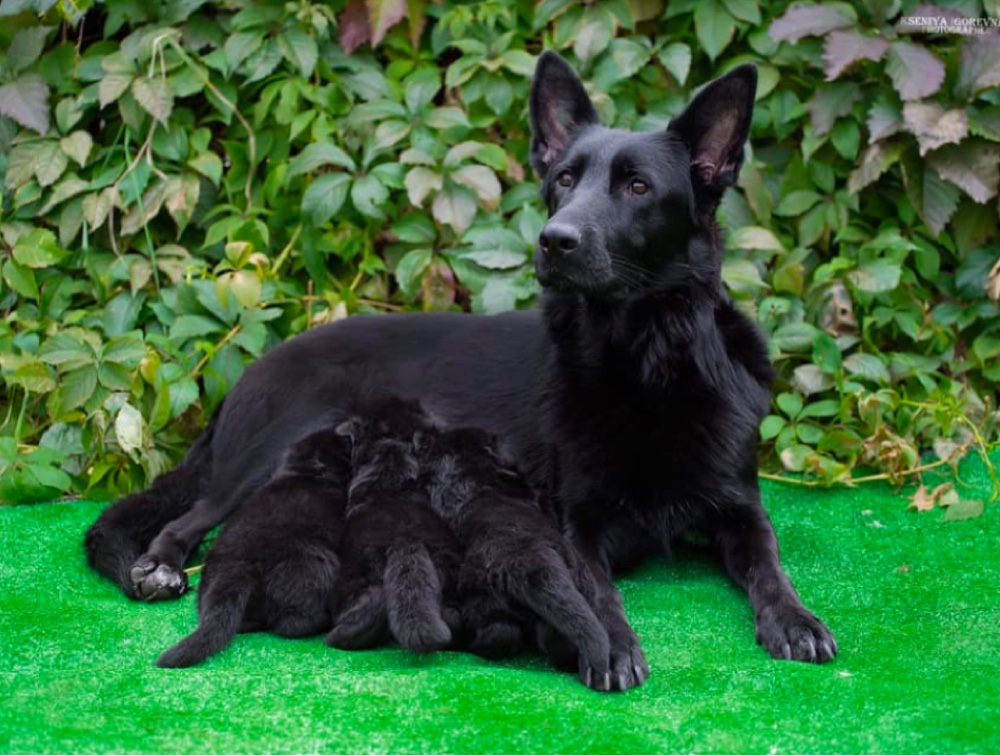 Myranda Godwin German Shepherds is owned by Myranda Godwin and specializes in long-coated German Shepherds. Myranda has many excellent select German Shepherds in her breeding program and claims to be the only breeder with VA1-VA2 BSZS long-coated German Shepherds in the United States.
This breeder raises her puppies in the home with family, children, and other pets. All puppies are AKC registered and bred from German and European bloodlines. Puppies from this breeder would excel in showing, Shutzhund sport, protection, and being a phenomenal family pet.
Parent dogs at Myranda Godwin receive extra-special care and amenities including heating and air-conditioned runs and on-call grooming staff. Full-time caretakers, veterinarians, and trainers are also on staff to attend to each dog's needs. Myranda truly believes that providing this exceptional care for her breeding dogs contributes to happier, healthier puppies.
Reviewers of Myranda Godwin German Shepherds love Myranda for her knowledge, kind demeanor, and willingness to spend time answering questions. Many have developed a friendship with her after adopting their new family member. Dogs from this breeder are loved just as much for being healthy, high-quality German Shepherds.
4. Dry Creek German Shepherds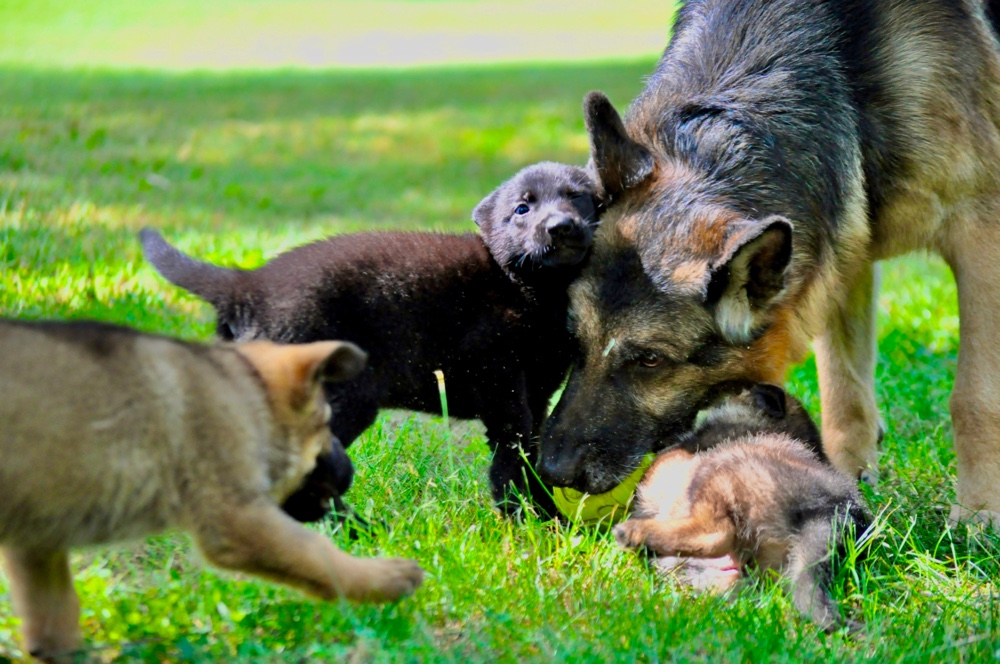 Dry Creek German Shepherds is owned by Richard and Laurie Hoover and is located on a scenic acreage in rural Alabama. Richard and Laurie have owned German Shepherds for over 35 years and have over 20 years of breeding experience. Dry Creek breeds for temperament, trainability, and intelligence. Many of their dogs have gone on to be police workers and personal protection animals as well as the family pet.
This breeder raises their puppies in the family environment and ensures that they receive proper daily socialization. Before going to their new families, puppies receive all necessary vaccinations and deworming treatments. If you find you need training resources for your new addition, Dry Creek offers a six-week training program that teaches the essentials, such as heel, down, and stay.
Dry Creek is celebrated for its knowledgeable owners and great bloodlines. Many purchasers have returned to this breeder for a second or third dog. Dry Creek's training program also gets high praise for the structure and education it provides the dog and owner.
5. The Chozen Shepherds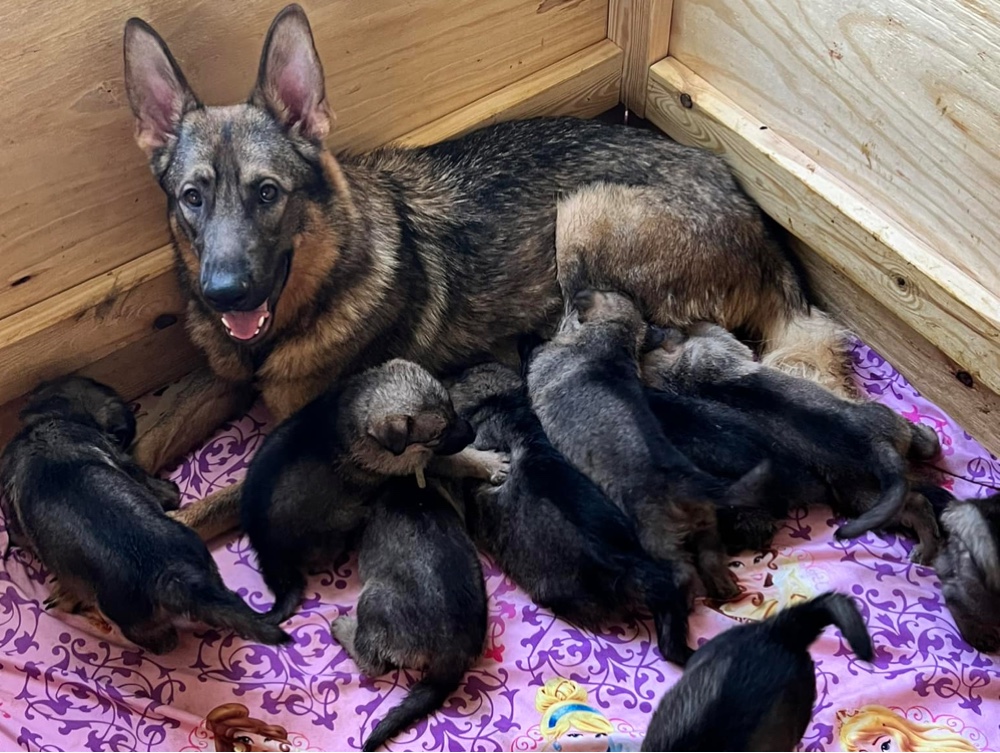 The Chozen Shepherds is a breeding operation that specializes in high-quality companion and working German Shepherds. Rantz Brand, owner of The Chozen Shepherds, carefully chooses his breeding dogs for their excellent temperaments and strong physical abilities. He believes this combination produces the ultimate German Shepherd puppy.
All breeding dogs and their puppies are registered with the AKC. Puppies receive extensive socialization from Rantz to ensure a smooth transition to their new homes. They also receive age-appropriate vaccinations and healthcare before leaving this breeder. Families appreciate the care that has gone into the breeding of their dog and are delighted with how healthy and even-tempered their dogs are.
Reviewers of The Chozen Shepherds absolutely adore Rantz and report that is creates an excellent experience for his buyers. He is said to be a great communicator and very supportive of his families by answering questions and sending regular updates to families about their chosen puppy while under his care. The Chozen Shepherds is recommended by many as a great place to get a dog from, and many buyers would return to this breeder again for an additional dog.
6. Von Richardson Elite German Shepherds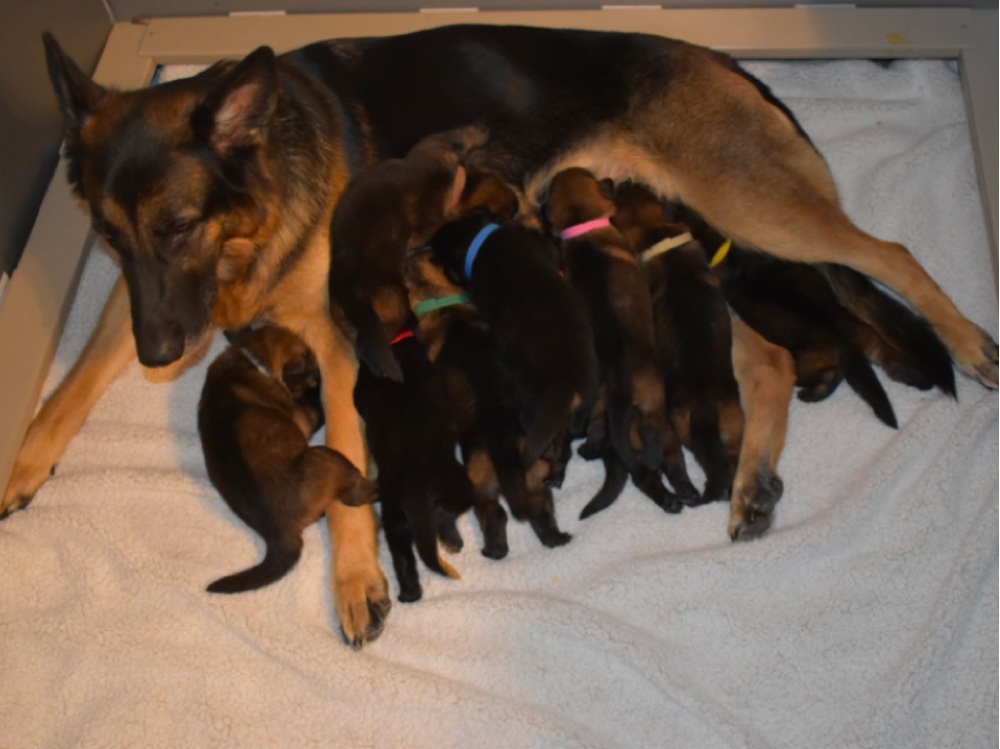 Von Richardson Elite German Shepherds is owned by Angel Richardson and breeds from DDR Czech working and west show lines. These dogs go on to be phenomenal police, military, service, and pet dogs. All breeding dogs from Von Richardson are AKC registered and have either long or standard coats. Parent dogs also receive testing for major genetic diseases like Degenerative Myelopathy to ensure they are creating healthy puppies.
Vaccines and deworming treatments are given to all puppies before they depart for new homes. Angel raises her puppies with children and other animals to maximize their success with their new families. Angel cares about the puppies she produces and has attended the Good Dog Second Annual Health Symposium to further her education on the breeding female and neonatal care.
Adoptive families love their dogs from this breeder for their great temperaments and gentle way with children. They are also commended for their trainability and intelligence. Families had wonderful things to say about Angel's care and dedication to her dogs as well and would recommend her to anyone looking to purchase a puppy.
7. Sweet Country Shepherds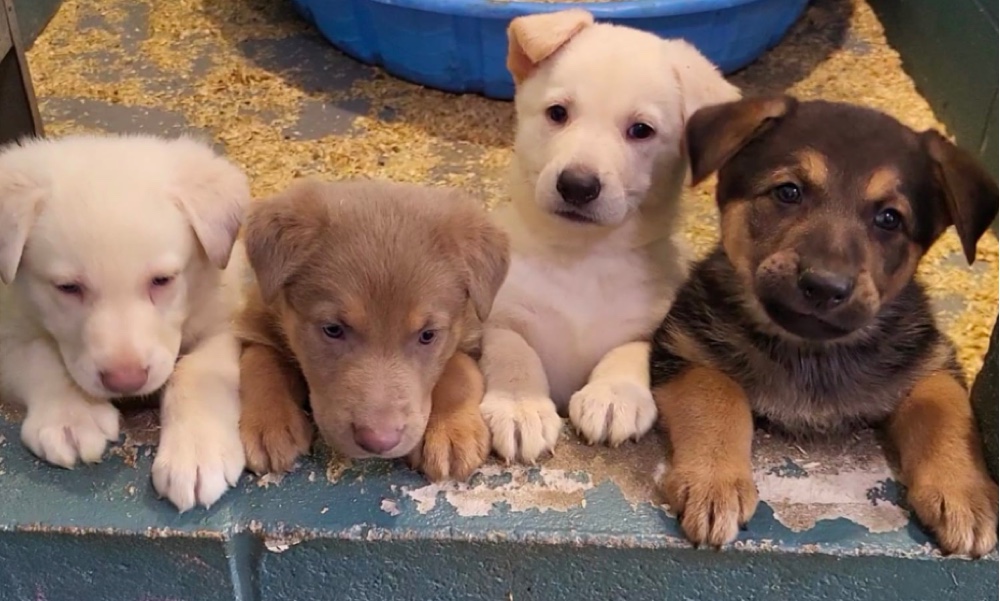 Sweet Country Shepherds specializes in German Shepherds with diverse coat colors. Dogs used for breeding have had color testing done to help predict what they will produce. Different coat colors are available at different prices, which can be viewed on their website.
Dogs and puppies from this breeder are AKC registered and bred from West German working and show lines. Parent dogs are tested to be sure they are negative for degenerative myelopathy, making the puppies negative through lineage. Melissa, the owner, breeds dogs for size, health, and temperament. She prides herself on creating the perfect family companion.
Buyers would agree that dogs from Sweet Country Shepherds are the perfect companion. They report having dogs with sweet dispositions that are intelligent and easily trainable. Melissa also receives praise from her buyers for making the experience of getting a puppy painless and enjoyable. She is held in such high regard that a fellow breeder has complete faith in her and has bought a dog sight unseen and would allow her own dogs to go to this breeder with breeding rights.
8. Lewis Family Dogs
Lewis Family Dogs is recognized as an AKC Breeder of H.E.A.R.T. and breeds AKC and UKC registered German Shepherds. This breeder cares very much about the quality of their puppies and does not breed dogs until they have passed their genetic testing and OFA certifications.
Puppies from Lewis Family Dogs receive their first vaccines, deworming treatments, and a microchip before going home. They are Limited AKC registerable and can be Full AKC registered if they pass their genetic testing and OFA certifications. Puppies also come with a two-year guarantee against hip dysplasia, but this becomes voided if you spay or neuter your dog before they are two years of age.
Emily and Bryan, owners of Lewis Family Dogs, are available for any questions you have about the breed or their dogs and provide lifetime support to adoptive families. They also have a lifetime return policy for all dogs, so if you fall on had times and cannot keep your furry friend, they will take the dog back.
Lewis Family Dogs is highly recommended by families who have purchased puppies. Emily is praised for her dedication to her dogs and their health. She is commended for not breeding any stock that doesn't pass all their health tests. Dogs from this breeder are loved for their great health and temperaments, and many families have returned to Emily for an additional dog.
9. Davidson GS K-9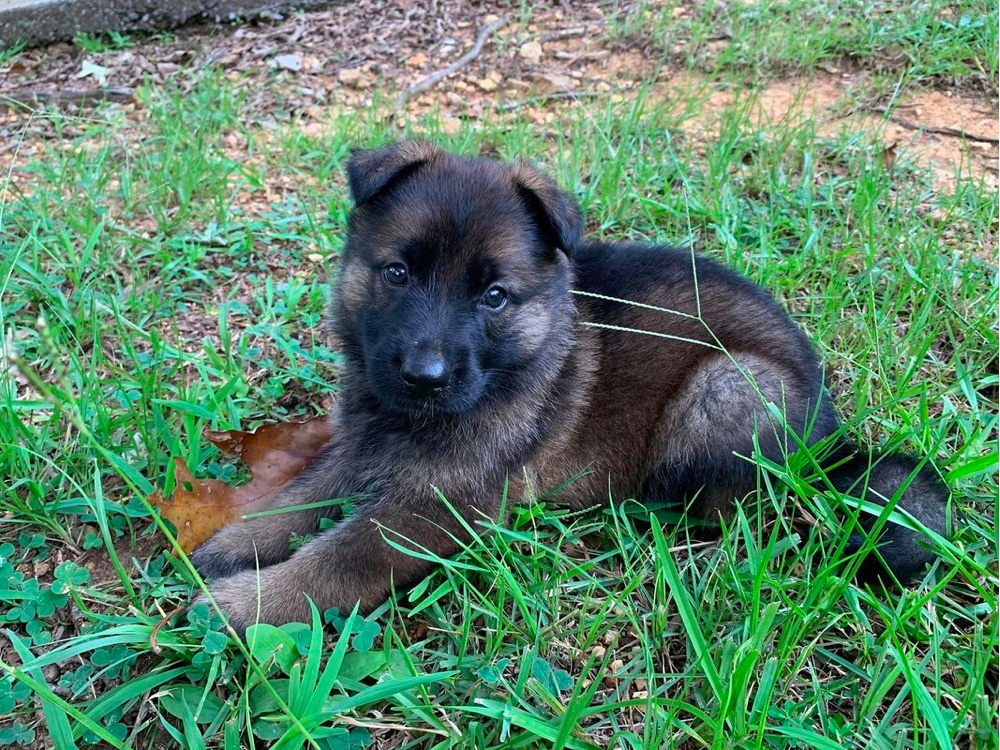 Davidson GS K-9 is owned by Hal Davidson, a breeder with 18 years of experience. Hal breeds from European working line German Shepherds. His dogs are bred to have excellent health, high drive, and exceptional temperaments. All breeding dogs have screening done for hip and elbow dysplasia and many have earned AKC titles including Companion Dog, Canine Good Citizen, and Rally Excellent.
If you need shipping, this breeder will ground ship his puppies within 150 miles for a fee. All litters from Davidson are available to view on their website as well as the parentage of each dog which includes their pedigree and personality to help you easily see the type of German Shepherd being produced.
Davidson German Shepherd buyers love their dogs for their amazing bloodlines and high-quality breeding. As for Hal, he is reported to be extremely helpful and supportive to his families and answers any questions they may have. He is also said to be very professional and loves keeping in touch with adoptive families. Many families have more than one dog from Hal and would return again when looking for another.
10. Dixie K9 LLC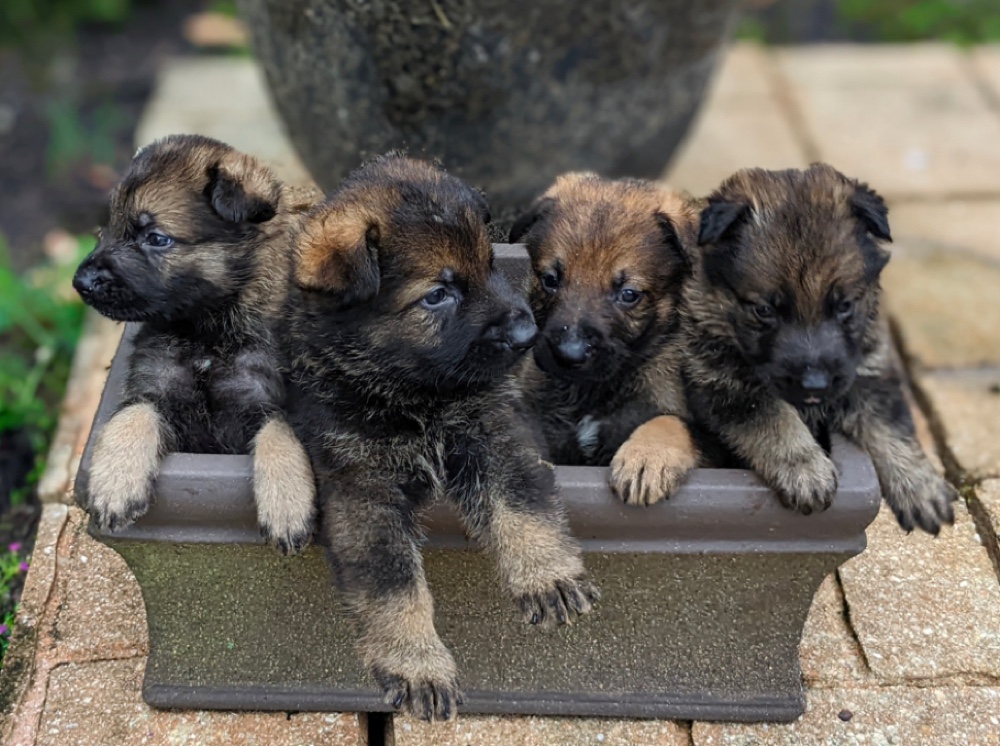 Dixie K9 LLC breeds working-line German Shepherds and is owned by Daniel Lambert. These dogs are bred to excel in many facets of police work including narcotics detection, patrol work, and locating explosives. If you aren't looking for a police dog, have no worries, these dogs also are proficient in Shutzhund sport, personal protection, and being the family companion.
Dixie K9 will ship puppies for a fee. Cost for this service depends on where you need shipping to. Training and police dog certification services are also available through this breeder, as well as training for personal dogs and puppies. Daniel is a certified trainer, and able to host these services at his facility of over 100 acres.
Buyers from Dixie K9 report having beautiful, protective, and loving dogs. They refer to Daniel as a knowledgeable breeder and competent trainer who is willing to answer any questions his new families may have. He is also celebrated for raising high-quality animals and keeping clean and organized environment for his dogs.
Our Top Pick
Our pick is Ingram German Shepherds. We picked Ingram for their customer's absolute love and adoration for Lisa and her facility. Lisa cares for her dogs as if they are family, and that has really been shown to her buyers. She also gives her puppies the appropriate care before going home and breeds responsibly to achieve the healthiest conformation in her German Shepherds.
We hope this guide has given you the resources to find the German Shepherd puppy you've been wishing for.
German Shepherd Breeders in The Other States