If you are looking for a German Shepherd then you are looking for a smart, brave, and loyal companion. This breed is by far one of the most versatile breeds that are great companion dogs, loyal working dogs, or dedicated sports dogs. No doubt no matter what life your pup is destined for there will be no shortcomings in their mouthy and spirited personalities.
Getting a German Shepherd Puppy is no quick choice but in this blog, you will find a list of reputable breeders in Iowa who might have that special pup waiting for your family. Here there are some German Shepherd Breeders in Iowa. This list is to help you determine the breeder you would like to go through but remember to always talk to them and make sure you know what you want from the breeder and the bloodline.
1. German Shepherds of Iowa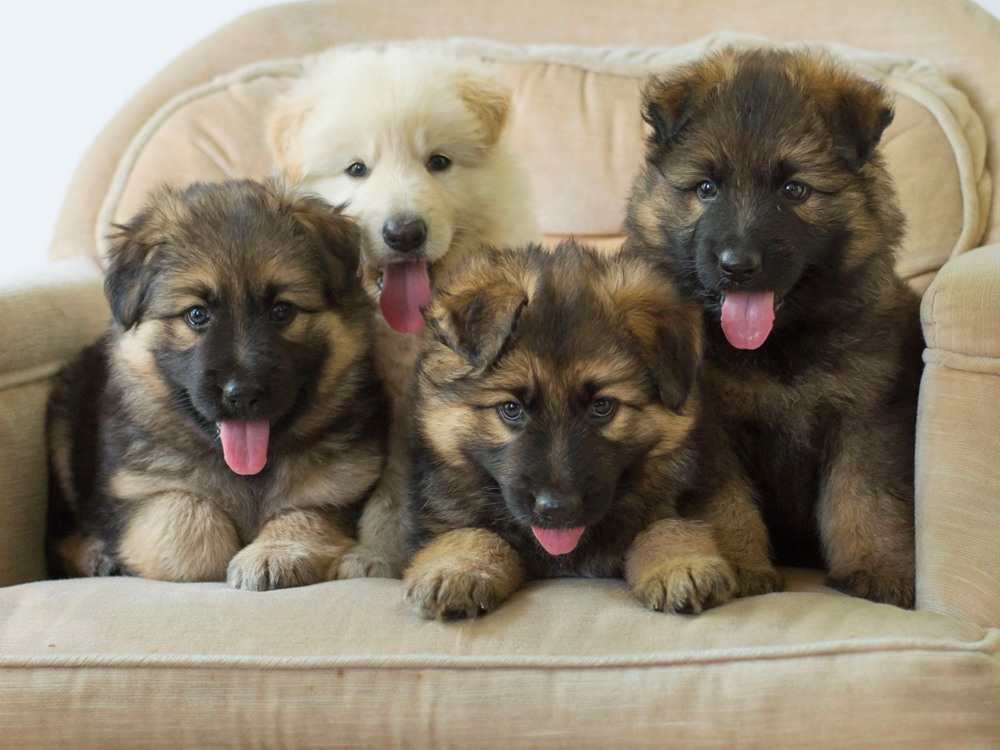 First up is German Shepherds of Iowa, with a family history of raising German Shepherds they have a small farm here in the United States and another family-owned property in England. Taking care of their dogs' genetics their bloodlines are from AKC Registered Working Line German Shepherds with outstanding health backgrounds. Raising their puppies and taking the extra step, they handle their dogs from the start and introduce them to the busy farm life early so you have a solid and sound dog once they go to their new homes.
Being dedicated to their German Shepherds the first step they take when sending them to any family is to get to know the people they are going to. When getting one of their German Shepherds does not stop with you receiving the pup as they are raised as family and the owners will share that and treat any current, prospective, and past puppy parents like family as well. And the care given to the pups is noticeable as they are raised underfoot and introduced to a variety of animals, dogs, and people to help develop early socialization.
The care given to prepare the pups to go home is not lacking either as they will all go home with a health evaluation and current and up-to-date vaccines. Along with this, each puppy will have a two-year guarantee for any crimpling disease, such as DM, and they are also fully dewormed up to the time they leave for their new home.
German Shepherds of Iowa Contact Details
2. Valiant Shepherds
Next is Valiant Shepherds, a dedicated breeder who has the breed interests in mind before placing any of their dogs and puppies with any family. Determined to give their German Shepherds the best life possible they are very diligent in their evaluation process to determine if one of their West German Working Line German Shepherds would be a good match for any possible home.
With both stock standard and long-coated German Shepherds available they have a pup that can fit with anyone's preference as they are devoted to breeding dogs of great quality with outstanding intelligence, beauty, and conformation. And their devotion does not stop with their dogs, if you have questions, they are willing to answer any question you have about the breed or their dogs.
If you find that one of their pups is the right fit for you then you will find all of their dogs are socialized from day one to provide a great start. Each puppy is also going to go home healthy with a sound temperament due to careful breeding and handling. They are also started with basic training and exposure to people for a solid basis for training at their new home.
Valiant Shepherds Contact Details
3. Alte Baum Kennel
Another reputable breeder is Alte Baum Kennel, which brings the best of European working and show-line German Shepherds they can into their breeding program. Being dedicated to the improvement and betterment of the breed they take care to insure all of their dogs pass genetic testing to ensure the pups they produce have the best start in life. When breeding their dogs, they aim to bring you the best dogs they can with an excellent temperament, easy trainability, and a high-achieving character.
All their dogs are bred to have strong bones, big heads, and beautiful coat pigmentation that follows the German Shepherd Breeding Standards. All of their puppies receive the best care and socialization they can give them from day one. And the standards they have for their dogs do not disappoint since all their dogs are able to be taken into Schutzhund and police work, but they also make loyal family companions.
Their dogs are not the only remarkable ones here either as all their clients love their dedication to providing the best life possible. The owners are just as dedicated to their clients and are available to answer any questions you may have when choosing or after you bring one of their pups home.
Alte Baum Kennel Contact Details
4. Knallhart Kennels & Training Academy
Last on the list is a breeder and trainer dedicating their time to producing both German Shepherds and Newfoundland that are well suited for work as service animals. Taking the health of their dogs as a priority they focus on breeding sound dogs with strong structures and great temperaments. Being thorough with their breeding dog, each one has to pass several health and genetic tests along with temperament examinations before being placed in their program.
When getting a German Shepherd puppy from them you will be getting a dog of sound working quality with exceptional health. You can also discuss with them various training packages over the pup's life, as they love to keep in contact with puppy owners so they can help you at any point in time. Your pup will also go home to you with AKC Registration, a full set of vaccines, up-to-date deworming, and an OFA-registered lineage.
If you decide that a puppy is not for you they also have young dogs for sale that have not graduated to higher training. And if you want to see their dogs working background they show their dogs in AKC events during their careers.
Knallhart Kennels & Training Academy Contact Details
My Top Pick
With this list, I would decide to look further at Knallhart Kennels & Training Academy as they have proven their dedication with continuous efforts to preserve and strengthen the breed. And they show that they have a deep dedication and love for their dogs that put their needs in the highest regard. Their goals for the pups in their care and the diligence they take with their health seem to best suit any lifestyle and they have a passion for their dogs and the life they will lead.
They give a good understanding of their dogs and what it is they want to see in the continuation of their dogs and bloodlines. They show their devotion to their dogs with the small things they share on their website and how they appear to care for and look after their pups. From these first findings on the website, they seem to hold close to the desires of what I would look for so they would be my first pick to talk to.
But always make sure to do your own research into the puppy that would be best suited for you, don't just take our opinions on all this. Your needs are different from every other person, so not every breeder is going to work for every person. Just remember to always look for a reputable breeder who holds the dogs and puppies in their kennel for the ideas that best suit you and discuss what you both see in the future of their pups.
You might want to check: Top2 Reputable German Shepherd Rescues in Iowa
German Shepherd Breeders in The Other States