The Pelican State of Louisiana is known for quite a number of good things. From its rich cultural heritage and equally rich, tasty Creole Cuisines to its lovely night life presence with the infusion of beautiful jazz and blues music, it truly is a state to consider living in. And if you already reside in the beautiful, having a loyal, friendly, and largely versatile breed like the German Shepherd as a family companion can be the icing on the cake for both you and your family.
German Shepherds are arguably some of the most popular dog breeds to have in the country. Their impressive intelligence, easy trainability, and overall playful but protective and energetic nature mean there's never a dull moment to be had with these furry angels next to you. If you are searching for German Shepherd puppies in Louisiana then you need a good and reputable German Shepherd breeder to work with. And luckily, you're on the right page!
This article is dedicated to helping you find the right German Shepherd for you in Louisiana by providing you with a list of some really good German Shepherd breeders in the state. These are highly reputable breeders that are selected for their good breed programs, impressive dedication to the socialization and training of each puppy, and much more. We have also included their contact information to make it easier for you.
1. Vom Haus Eames German Shepherd Dogs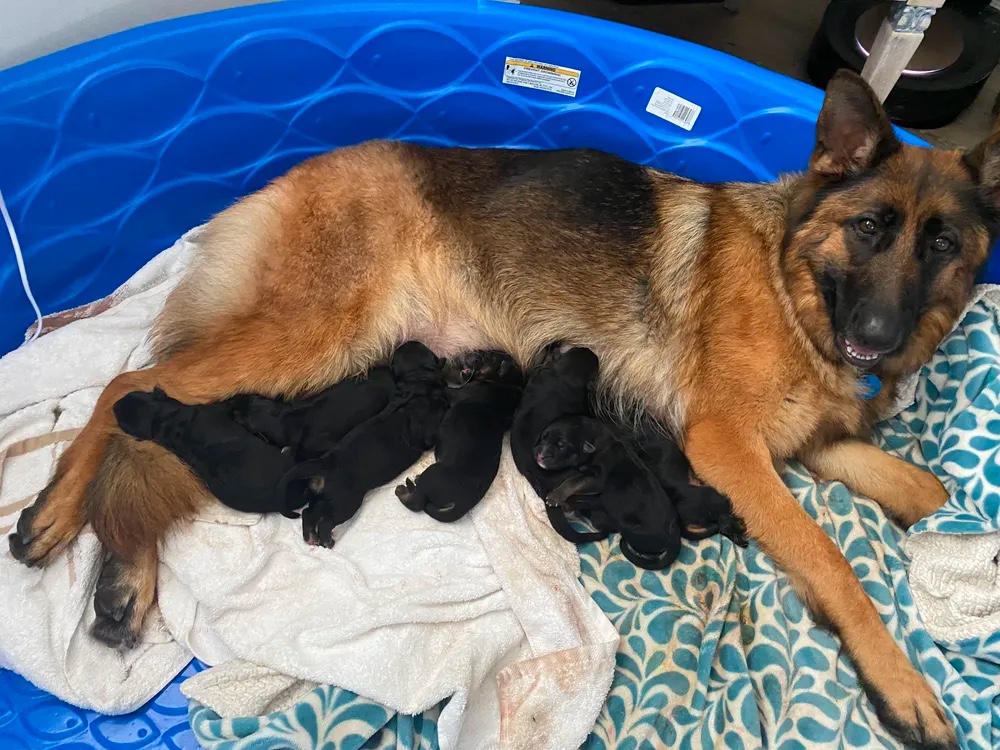 We Kickstart our list with Vom Haus Eames German Shepherd Dogs. Located in Baton Rouge, Louisiana, Vom Haus Eames German Shepherd dogs is a well-experienced breeder of truly impressive show lines. They strive to breed German Shepherd dogs that make the very best in show line dogs as their main focal points in breeding are the conformation, structural soundness, and overall temperament of the German Shepherd dog. They are all about improving the breed of the German Shepherd.
Vom Haus Eames is owned and managed by Brittany Eames and each German Shepherd dog that is added to their breeding line is rated V and VA as they come from some of the best West German Show lines in Europe. All their dogs are genetically sound as they are tested by Embark Genetics and proven to be free from any genetic health defect or condition that is known to affect the German Shepherd breed. They all have their yearly evaluations done to show that their hips, elbows, and eyes are in good working condition.
Every German Shepherd in their care is raised in the family home alongside children and adults to help with proper socialization. They have exposed to different enrichment protocols like Puppy Culture and the Baxter and Bella training program as well as exposure to different sights and sounds to further improve socialization for the dogs. Their dogs come with lifetime breeder support, a 2 years health guarantee, a puppy starter kit containing the right puppy food samples, and AKC registration papers.
| | |
| --- | --- |
| Owner | Brittany Eames |
| Breeder For | Over 5 years |
| Location | Baton Rouge, Louisiana |
| Email | info@eamesgsd.com |
| Phone Number | (225) 288-3561 |
| Website | eamesgsd.com |
2. Schatten Kennels
Schatten Kennels is the 2nd breeder to be added to our list. They are located in Hammond, Louisiana, and were founded in the year 2016 by the daughter and father combo of Bethany and Scott Armstrong. These two have a great love for the German Shepherd and they do share a common goal which is producing such great, high-quality German Shepherds for numerous families in Louisiana and the entire country so they too can fall in love with the breed. This makes their dogs true family companions as they are bred for that purpose.
Their breeding program strives to maintain a certain high level of breed standards that are provided by the American Kennel Club. They carry out extensive or thorough research on each potential sire or dam before adding them to the breeding program. The research enables them to use their experience and other resources into using some of the strongest most genetically sound parent dogs and pedigrees they can find. They work with main imports and each of their dogs is genetic health tested before being added to the program.
Schatten Kennels raises all German Shepherd dogs in the family house in Hammond, Louisiana. There, they are raised as pure family members and nothing less. They get to sleep in comfortable places and are even properly fed and supplemented. Every German Shepherd is vaccinated and dewormed. They are properly socialized through different stimulating experiences around them and they are evaluated by a licensed vet to show that they are indeed healthy before being sent to their new homes and families.
3. Tropisch German Shepherds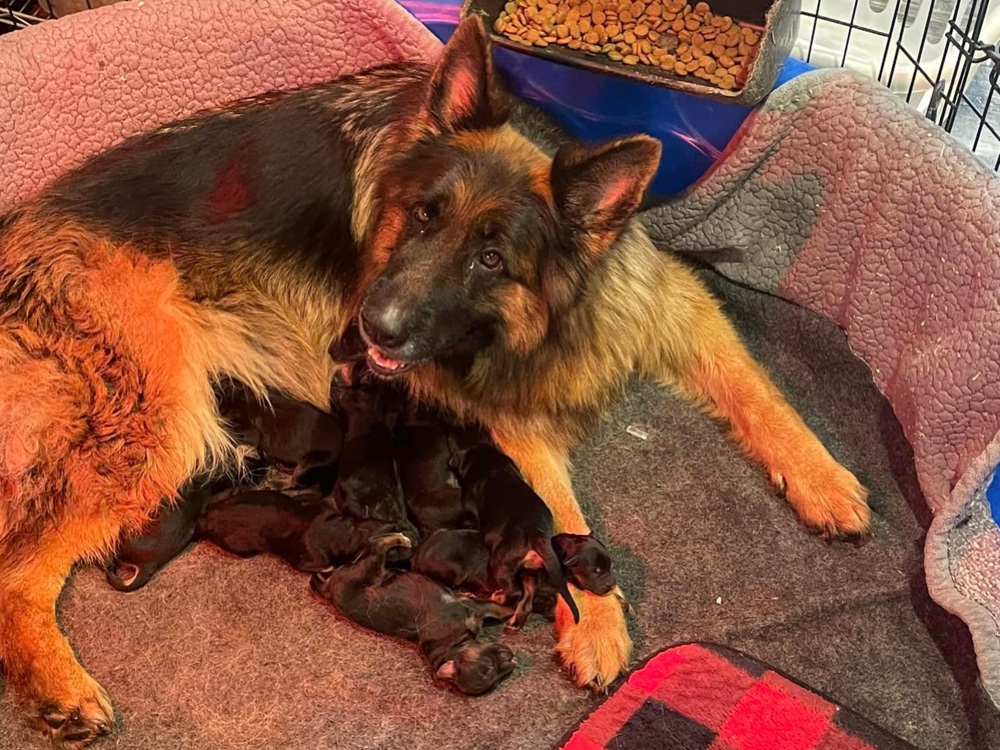 Coming down to Haile in Louisiana, we have Tropisch German Shepherds, our next German Shepherd breeder to be added to our list. They have a simple goal in mind when it comes to their breeding program, and that is to produce healthy German Shepherd dogs that are social and good-looking from their heads to their tails. Their dogs are proper family dogs as they are blessed with the right personality to make great family dogs. But they can also be used in different aspects as work dogs, show dogs, or service dogs.
The chosen sires and dams are from impressive German show lines with good ratings around the world. They come with impressive pedigrees that help show the high quality of each German Shepherd dog. Every sire and dam is given a proper evaluation before being added to the program. Everything is evaluated from their genetic health (which shows that they are free from genetic health defects), to their orthopedic health (which shows that they have good hips, hearts, elbows, and eyes).
As family dogs, they need to be raised in family-centered environments where they can feel the love that comes with a closely-knit family. As such they socialized by different hands, both kids and adults. This is done on a large property in Haile, Louisiana. There the puppies are properly vaccinated and dewormed. They also receive some basic obedience and IPO training to help them get a proper foundation in life. Your German Shepherd puppy should come with a written health guarantee.
4. Louisiana Shepherd Puppies
The German Shepherd is not the only dog breed Louisiana Shepherd Puppies breed, they also produce Dutch shepherds, but their high-quality German Shepherds are why they have made it into our list. They are focused on producing some of the best German Shepherd dogs in the state. Every German Shepherd dog is raised to be a great family dog. The breeding program is located in Youngsville, Louisiana, and is blessed with over 4 years of breeding experience.
Their German Shepherd puppies come from DDR East German working lines. They are carefully researched and selected before being added to the breed program. Every German Shepherd dog is given a thorough evaluation to be sure they have good hips and elbows using the Orthopedic Foundation for Animals to carry out these evaluations. They are also properly tested for genetic health defects which are commonly known to affect the German Shepherd breed.
All German Shepherd dogs in their care are registered with the American Kennel Club and are raised by the high standards that are set by the American Kennel Club. They are raised in a family-centered environment that provides decent opportunities for proper socialization to take place with each German Shepherd dog and its environment. They are given proper training and each has health guarantees to show their confidence in their breeding program.
Final Thoughts
These 4 breeders listed above are some of the finest German Shepherd breeders the Pelican State of Louisiana has to offer. They have shown good breeding programs and are quite good in their socialization and training programs for each German Shepherd dog. My personal pick from the list above will be Vom Haus Eames German Shepherds located in Baton Rouge, Louisiana, and founded by Brittany Eames.
With over 5 years of German Shepherd breeding experience, Brittany Eames of Vom Haus Eames has shown remarkable breeding expertise with their German Shepherd dogs. First off, the caliber of dogs used in their breeding program is quite impressive with VA and V-rated German Shepherds in their program. All their dogs are properly certified by Embark genetics, having gone through complete panel testing.
Another impressive thing about Vom Haus Eames is their use of different enrichment protocols in the raising of these German Shepherd dogs. The combination of both Puppy Culture and Bella and Baxter training programs has helped with improving the overall breed socialization of each German Shepherd dog. This is all very impressive.
With all that has been said so far, we do heavily recommend that you carry out personal research on each dog breed before choosing to work with them or patronize them. Remember to ask the right questions and demand the right certifications from each breeder on the list above.