German Shepherds are some of the most popular dogs around, and for good reason. These sweet and kind dogs are loyal and love people, and they also love being active and going on adventures. If you have been looking for a companion animal to share your home with you, a German Shepherd might be the perfect fit!
Many people are not aware that there are so many different colors of German Shepherds to choose from. There are many colors of German Shepherds that the AKC doesn't recognize, but they are still lovely colors that you might want to select for your pet. Bi-Color German Shepherds are beautiful and can be the right choice for you and your family for many reasons!
What is Bi-Color German Shepherd?

A Bi-Color German Shepherd is almost completely black but has lighter color spread out across their hair coat. These lighter patches are most common under the legs, by the tail, or around the eyebrows and the muzzle. This color pattern gets mistaken for a black coat color all the time, but it is not a version of a black coat at all. If your German Shepherd has any light hair in these areas, it is not a black dog.
This color stems from a specific gene that is carried in a few lines of German Shepherds. This color pattern is not commonly seen in litters unless the breeder is attempting to create dogs with this coat pattern intentionally. In some cases, if the parent dogs are not DNA-tested before being bred, this unique color pattern might come through in the litter.
Read more:
Are Bi-Color German Shepherds Rare?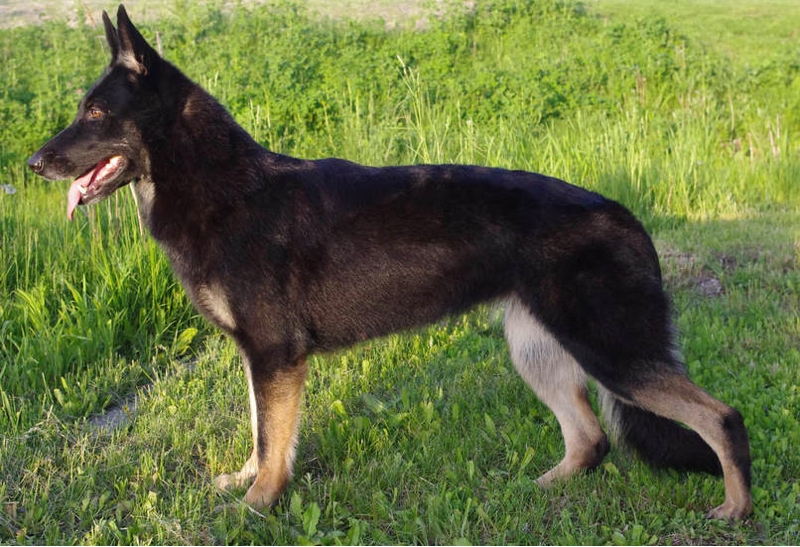 This coat pattern is relatively rare. It is not as uncommon as some of the unique color patterns, but it is not common. Due to the pressure that is brought to bear by the AKC on the accepted colors that breeders can attempt to get in each litter, unique colors are not common. Anything that the breeding standard does not allow will be shunned by most of the German Shepherd breeders that you can get a dog from.
Sable, black, and tan are dominant genes. These unique coat colors can be seen more often because these genes are more common. Black is a dominant color, so the gene that creates the bi-color coloring has to assert itself over black. This is why this coat pattern is so much less common than black and tan and some of the other AKC colors.
What Causes the Bi-Color Coat?
Essentially, a Bi-Color German Shepherd carries dominant black genes as well as recessive genes. The common ratio is 9:1 in order to get the Bi-color coat pattern to shine through. Bi-Color dogs require that at least one parent have the genes that are required to create this coat pattern. There is not much to say about how many of the puppies in a litter will be bi-colored, and it is possible that none of them will.
However, if the breeder is attempting to specifically create this coat color, they might already have the right breeding pair in mind. This will increase the likelihood that the right genes will be passed on to the puppies to ensure that they are the right, unique color.
Bi-Color German Shepherds at a Glance
| | |
| --- | --- |
| Height | Males will be about 26" tall. Females will be about 24" tall |
| Weight | Males will be 60-75 lbs and females will be 50-60 lbs |
| Lifespan | 9-12 years |
| Suitable For | Agility, protection, family life, hunting |
| temperament | Smart, king, loyal |
| Exercise Needs | Very high energy |
| Good With Other Pets/ Kids | Yes |
Facts About Bi-Color German Shepherds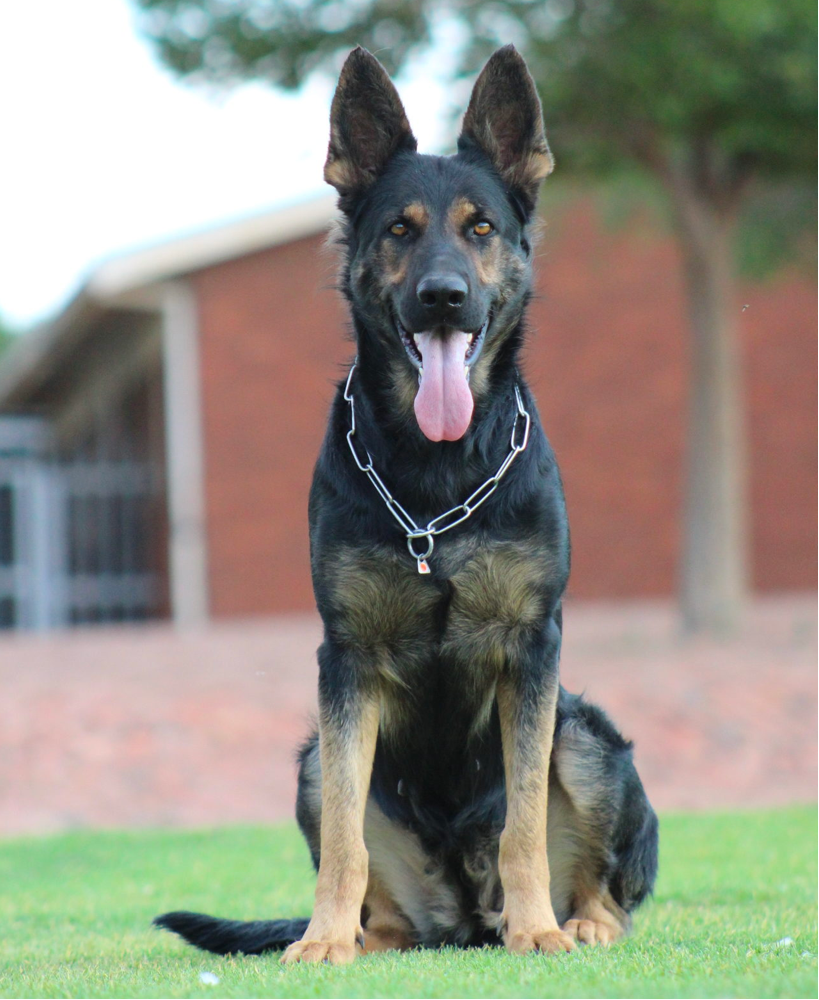 This coat pattern can crop up from time to time when breeders are looking to create black dogs or other color patterns. As such, many breeders will not be motivated to sell this animal and might keep it so that other people do not breed it. You will often need to work with a specific breeder who is open to creating this coat pattern in order to get a Bi-Colored German Shepherd.
Bi-Colored dogs can look black, and many people mistake them for being black at first glance. This is especially true with short-coated dogs, which might hide the lighter hair in their coat really readily due to their thick and short coat.
This coat color comes through in the working dog lines more than show dog lines. You might have better luck getting this color of dog if you work with a hunting dog or sporting dog breeder. These breeders are less focused on the AKC aspect of being a breeder and more worried about the athletic performance of their dogs. Color is a very secondary item on their list in most cases.
This coat pattern actually comes in Agouti, grey, brown, and black. You might not be able to see the lighter parts of the coat very well in the grey and light brown coats, but they are there. A breeder will know what to look for to recognize this coat pattern in dogs that are not black.
History of Bi-Color German Shepherds
All German Shepherd dogs have Max von Stephanitz to thank for helping make the breed so recognizable. Von Stephanitz saw the foundational German Shepherd dog in the German countryside after he joined the military. He fell in love with the beauty and personality of the dogs, and he quickly decided he wanted to have some of his own.
As a result, he got a breeding pair, and he started making litters of dogs. He created his own registry as well, using his dogs as the foundational example animals to help guide the breeding program. This allowed the breed to be seen by more people and to become more well-known.
Once the original breed registry dissolved, the Second World War helped save the breed from falling out of favor again. The German military used dogs for a variety of purposes, and they became well-known as police animals in the US as well. Today, German Shepherds are still some of the preferred dogs for military and police personnel due to their loyalty, athletic ability, and intelligence.
The Bi-Color German Shepherd has never been intentionally bred for. This is an outcropping of a small number of genetic pairings, and it is not as common as black coats or black and tan coats. However, this color pattern can certainly come through in some letters, making it a color choice that you can opt to make.
What Does a Bi-Color German Shepherd Look Like?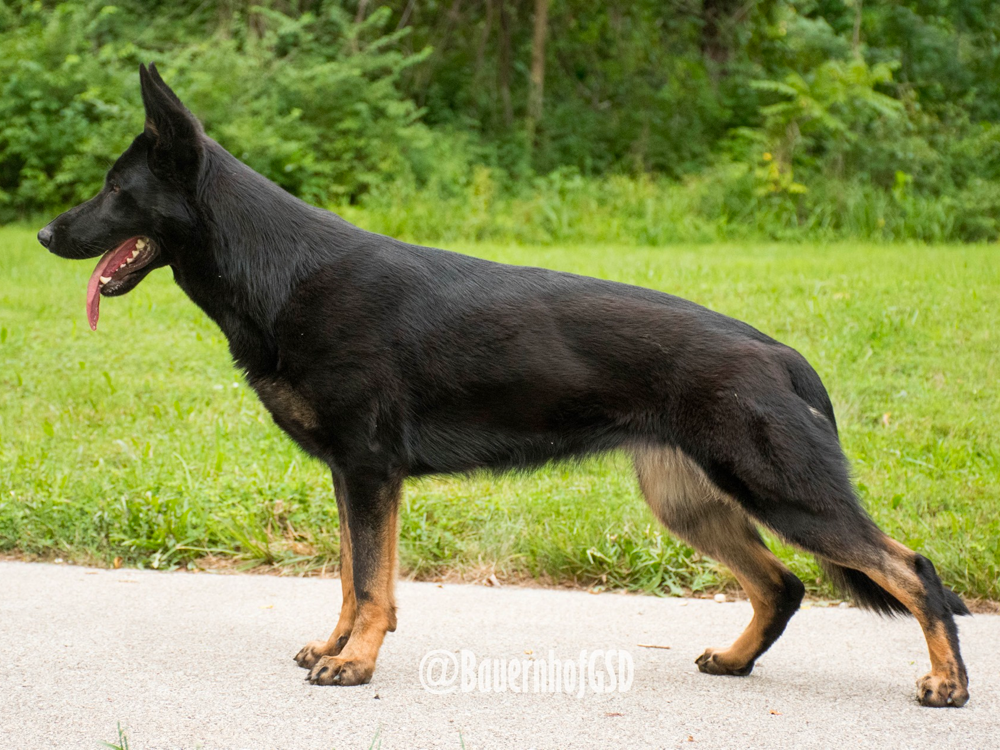 A Bi-Color German Shepherd can be hard to recognize. These dogs might appear all black or all brown to you when you first look at them. It takes looking under the armpits or along the belly or on the muzzle to really see the lighter hair peeking through in their coat. Many people are still not sure that they see any lighter hair unless the dog has a lot of contrast between the light and dark areas of its coat pattern.
This coat color can also vary widely in its contrast. This means that the lighter parts of the coat might not be as light as you might expect. In some cases, however, the contrast will be really striking and noticeable. The variability of this coat pattern is part of why most people don't recognize it right away. It can be easy to think that a Bi-Color German Shepherd just has some aberrant light hairs here and there.
How Long Do Bi-Color German Shepherds Live?
Just like regular German Shepherds, this breed lives for about nine to twelve years. There are many factors that can impact the lifespan of your dog, such as your dog getting cancer, having an injury, or being very active compared with being very sedentary. Always be sure that your dog is eating a healthy diet and getting enough exercise. These factors are key to keeping your pet in the best health possible.
German Shepherds live an average amount of time for a large dog breed, so you will not need to worry about them having a very short lifespan like a Great Dane might.
Food & Diet Requirements
This breed can be very high-energy, which means that they need to eat well to keep up with their activity levels. You will need to make sure that your German Shepherd gets fed a quality kibble dog food that offers them joint support and a healthy balance of nutrients. If you are not sure what dog food to get, your vet can help you to create a feeding plan for your pet.
Some people like to feed raw food to their dogs, but you will need to be sure that there is the right balance of nutrition in these foods for your German Shepherd. Not all of these foods are created equal, and some are not made to be healthy and well-balanced. The same can be said for feeding your dog raw meat as well. If you cannot get butcher cuts for your dog, you should avoid feeding real meat products due to the risk of contamination or dangerously high levels of fat.
It can be a lot harder to feed your dog with raw food than you think. Kibble diets are very easy to feed, very stable, and can be trusted to give your dog everything that it needs to be in great health. This is one of the key benefits of feeding this type of food, and your dog will thank you for taking care of their health by feeding well-balanced kibble food.
Bi-Color German Shepherd's Exercise Requirements
The Bi-Color German Shepherd is a very high-energy dog. You should be sure that you are ready to commit to giving your dog at least a half hour of walking, running, or playing every day. Your dog will probably need even more time playing and moving around than half an hour, but you should make this your bare minimum.
These dogs also like to have a "job," and you will need to keep your German Shepherd from feeling bored and like they don't have a purpose. This breed was created to be a working companion to humans, and this is what they find to be the most comfortable. Keeping your dog busy can be as simple as teaching them lots of tricks, working with them on leash skills and manners, or taking them on hikes or long walks.
Keeping your German Shepherd busy is key if you want them to have a long and happy life with you. Make sure that you have enough time and energy to keep your German Shepherd exercised adequately before you get one.
Trainability and Intelligence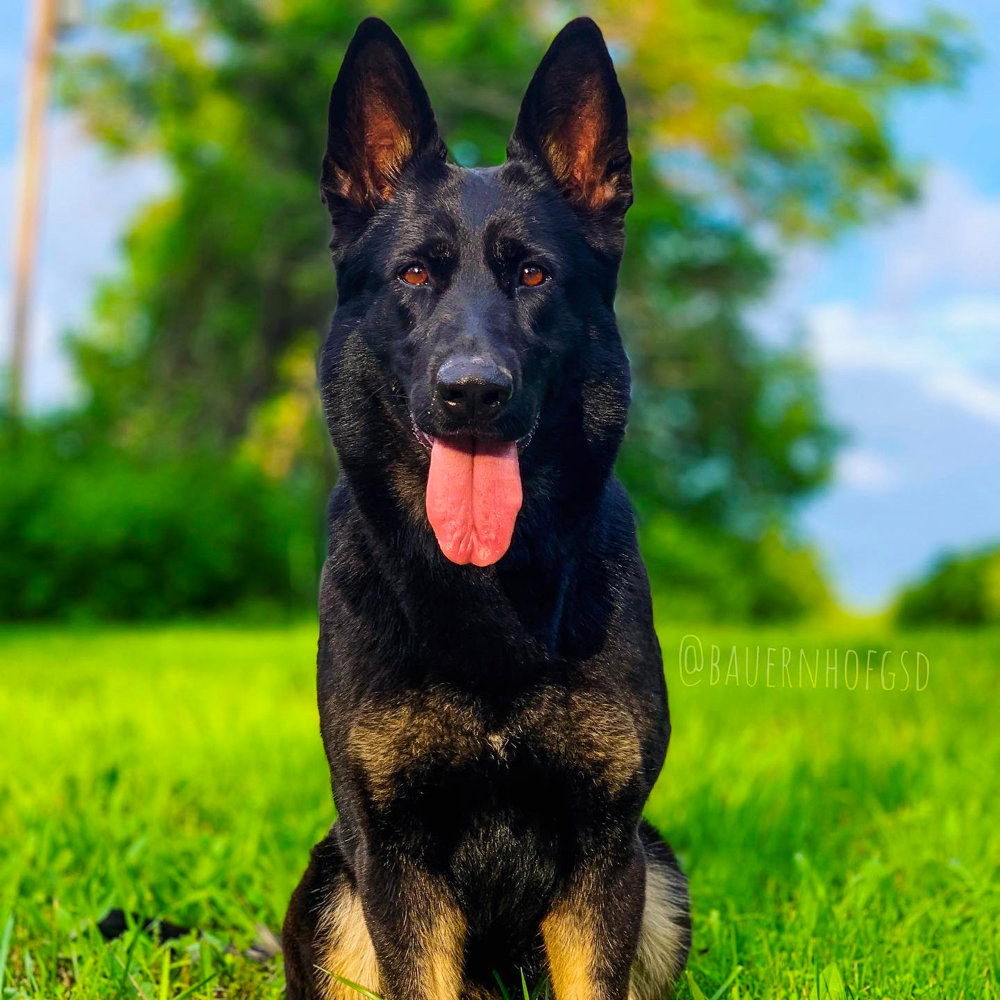 This is one of the smartest dog breeds around. German Shepherds learn quickly and retain information really well. They are also really eager to please, and they love to have a "job". When these dogs feel connected with their family, they will work very hard to do anything that they are asked to do. You can count on your German Shepherd to embrace most tasks with joy and without complaint.
For many dog owners, there is nothing as rewarding as working with a dog that loves to do what they are told. Top that off with the extreme intelligence of this breed, and you have a recipe for training success. These dogs also love to learn new tricks even into adulthood, so you should have no trouble continuing to learn and grow with your dog over the years that you own them.
You can easily use your German Shepherd for agility work or for hunting. There are lots of great ways that your dog can compete, even if the dog show world is not the place for them due to their color. The Bi-Color German Shepherd comes from strong hunting dogs and working dog genetics, so they are always eager to help you to take care of tasks, learn new skills, and protect your home and property as well. Be sure that you do not encourage your dog to be aggressive toward people, as this can set a bad example for the behavior that you want your dog to show.
Grooming Requirements
The Bi-Color German Shepherd can have a short coat or a long coat. You might have more consistent grooming to do if you get a long-haired German Shepherd, but both coat types are relatively easy to take care of. You will need to get some quality grooming tools to have at home. Make sure that you take care of matting in your dog's coat or items that have gotten stuck in their hair. This will avoid problems that might make your dog's skin and coat less healthy.
Most German Shepherds only need to see the groomer during the two times out of the year that they shed. This will be at the changing of the seasons. Be sure that you do not shave your dog's coat, as this can ruin it for months. Also, be sure that you are not washing your dog too much. You might be surprised at just how easy it is to brush dirt and debris off your dog's coat.
German Shepherd coats are made to repel water, to be easy to keep clean, and to be tough enough to handle running through the woods and the brush. Remember, these were sheepdogs in the beginning. Their coats are very practical and can be trusted to be pretty low-maintenance all year long.
Health Risks and Conditions
The Bi-Colored German Shepherd is prone to all the same health ailments as the regular German Shepherd. The bi-color coat pattern does not make them more prone to any specific kinds of ailments. The most common health issues that German Shepherds can have are:
Gastric dilation and volvulus – This is commonly called "bloat". This is more common in all dog breeds that are large and have deep chests. This might be the cause of a big meal, followed by lots of exertion, or it can just happen spontaneously. Surgery is necessary to correct this health issue.
Hip and elbow dysplasia – By far the most common Shepherd ailment, this condition causes the hips or elbows, or both, to be unstable and wobbly. Dogs with this problem might fall down, have a hard time running or jumping, and be in quite a bit of pain.
Eye issues- Some German Shepherds can be prone to eyesight issues. This is often checked out by the breeder, and all puppies should be certified to be free of these problems.
Degenerative Myelopathy -This condition can cause weakness in the hind end, loss of coordination, and pain. It is a lot like ALS in humans and just as hard to treat or manage.
While this list of problems might look discouraging to you, when you work with a skilled breeder, you should be able to get a certification saying that your dog will be free from most of these conditions. Breeders that care about their dogs will take the time to test the parents of all of their litters to try and avoid creating dogs with health issues.
How Much are Bi-Color German Shepherds?
Since this coat pattern is rare, you might think that it will cost you more to get a dog with this coat pattern. However, since the color is not AKC recognized, you can expect to pay regular German Shepherd pet-quality prices for your Bi-Color German Shepherd. You will need about $500-$1,500 on hand to buy this color of dog.
In some cases, breeders will be trying to create this coat pattern, leading to higher costs to get a puppy. You might also need to be on a waiting list for a very long time to get a Bi-Color German Shepherd since this coat pattern is by no means guaranteed, even when breeding dogs that carry the right genes to make it possible.
Make sure that you do not get taken in by breeders charging very high fees just because of the unique coat color of their dogs. Remember that these dogs can not be AKC registered, which means that there is a ceiling to how much they should cost. Also, be wary of breeders who are not friendly, who won't let you see pictures of their other dogs, or who make you place a very high fee to hold a dog.
You should always trust your gut, and if the person that you are dealing with does not seem like they are upfront, look for another breeder to buy from. It is not worth it to struggle to make a deal to get a dog from someone who might not be a responsible breeder in the first place.
Is a Bi-Color German Shepherd Right For You?
Now that you know some more about the Bi-Color German Shepherd, you should feel more prepared to decide if you want to have one or if you think this is not the right breed for you. Make sure that you are ready to give your dog enough exercise each day, and also be sure that you feel that you are skilled enough to work with a large dog that is very driven. A dog trainer can help you to get the skills on board that you need to train this kind of dog if you are in doubt.
The Bi-Color German Shepherd loves kids, having a job, and spending time with humans. This is one of the best dog breeds out there for beauty and intelligence, and getting a unique coat pattern in the deal can be a great combination! If you have been thinking of getting a family dog, a Bi-Color German Shepherd is a great choice.