German Shepherds and Great Danes are two popular dog breeds, which has led to the development of the Great Dane German Shepherd combination. These dogs have spurred the interest of those looking for an intelligent, loveable new breed.
A Great Dane German Shepherd mix is a rare designer breed. It combines the loyal, protective German Shepherd with the gentle giant, the Great Dane. These big dogs are easy to train and make great pets for families with children. This mix is known as a Dane Shepherd.
This article will teach you further about the Great Dane German Shepherd mix. It will help give you some insight into the personality and traits of a Dane Shepherd. Read on to determine if a Great Dane German Shepherd mix suits you.
What is a Great Dane German Shepherd Mix Called?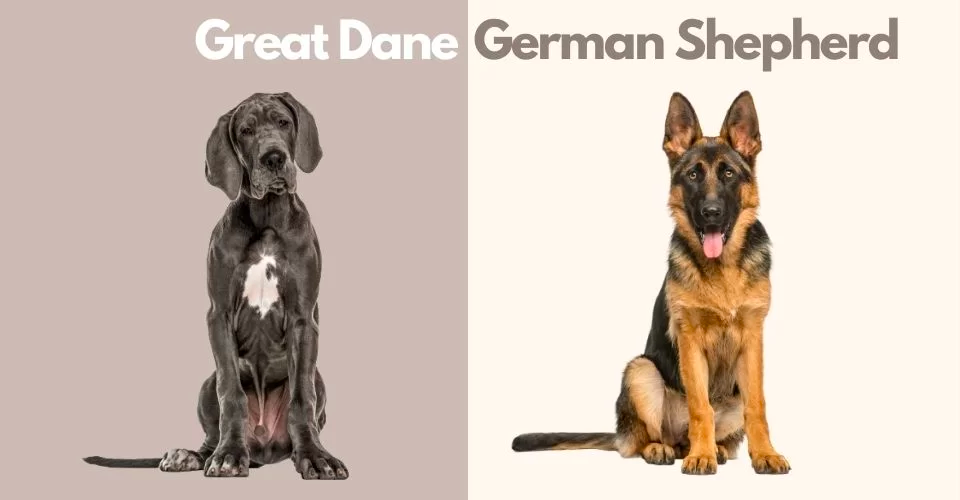 A Great Dane German Shepherd combination is also called a Dane Shepherd and may be called a Great Shepherd. This crossbreed is relatively new, as it mixes the loyal and protective German Shepherd with the "Apollo of Dogs," the Great Dane, creating the loveable gentle giant, the Dane Shepherd. To better understand this crossbreed, it would be helpful to take a brief look at the history behind both breeds:
1. German Shepherd History
The German Shepherd has a rich and powerful history. In 1889, Max von Stephanitz first developed the German Shepherd breed. He wanted a canine with the right balance of intelligence and devotion to make it a successful working dog and a favorable companion. It was then that the breed standard was established. The first registered GSD was named Horand von Grafrath.
The original purpose of the German Shepherd was to herd and protect sheep. Once the incredible versatility of the GSD was revealed, they started being utilized in the military, law enforcement, and as a guide, dog to help the blind and disabled. In 1907, the GSD was first brought to America. To this day, this breed is synonymous with protectiveness, fortitude, and a stellar work ethic.
2. Great Dane History
The Great Dane was first bred in the 1600s for boar-hunting in Europe. Their ancestors were hunting dogs from the Middle Ages. The breed was primarily developed in England and Germany by integrating the greyhound's speed with the English Mastiff's power and presence. They required a strong breed to tackle the savage wild boar.
The Great Dane's reputation for being good family companions, and their large size, allowed them to live on country estates and in mansions and protect the people who lived there. Today, the Great Dane is often used as a service dog due to their calm, steady demeanor and caring temperament, making them similar in personality to the German Shepherd.
Great Dane Shepherd Mix At Glance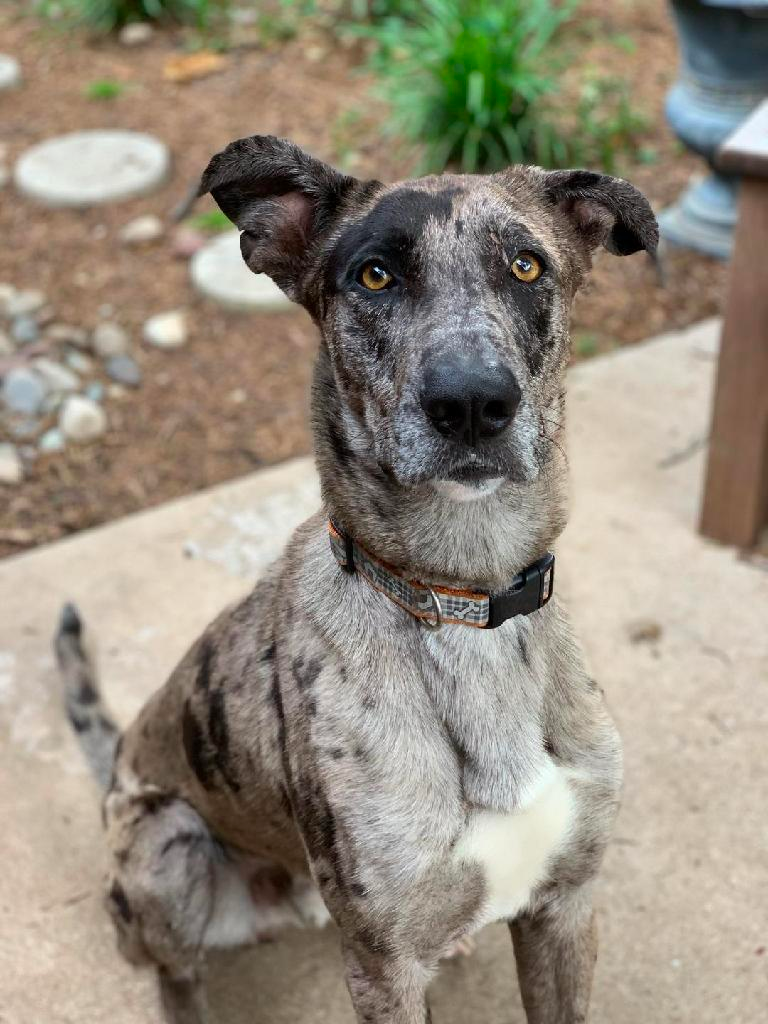 The Dane Shepherd is a newer combination, but it is clear what the crossbreed would be like based on the histories of these two wonderful dog breeds. Both dogs have been beneficial and advantageous to humans for hundreds of years.
The following is a chart illustrating the appearance, personality, and traits of a Dane Shepherd:
| | |
| --- | --- |
| Height at Maturity | 28 – 30 inches |
| Weight at Maturity | Approximately 130 lbs maximum |
| Lifespan | 7 to 10 years |
| Colors | Black, Brown, Hazel, White, Merle |
| Temperament | Intelligent, protective, loving, energetic, friendly |
| Perfect For | Families with children |
| Shedding | Moderate |
| Eyes | Brown |
| Ears | Can be floppy or upright |
| Coat | Double coat, short to medium length |
The chart above displays the Dane Shepherd and its characteristics. As you can see, this breed has many good traits and would make an excellent companion for families looking for an intelligent and loyal pup.
The Pros of Owning a Great Dane German Shepherd Mix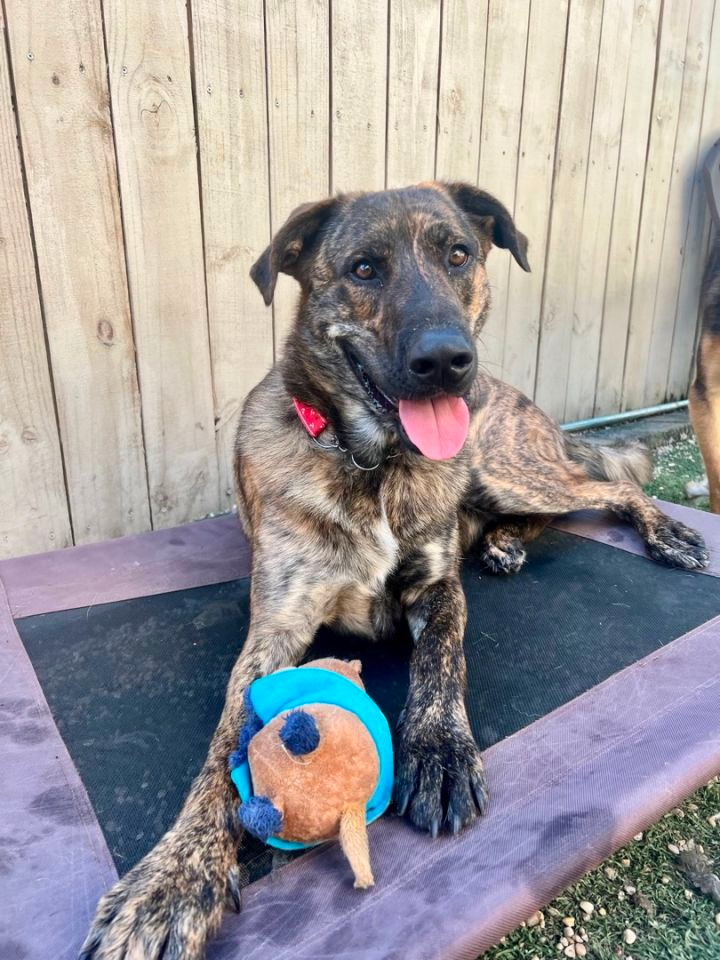 German Shepherds are known for their protectiveness and strong work ethics. They are often used in many noble areas of occupation, such as law enforcement and being guide dogs. Great Danes are also protective but can be shy at times. A Dane Shepherd may have the best attributes of both breeds. The following includes three reasons you should get a Great Dane German Shepherd mix:
1. They Make Great Family Dogs
If you are searching for a dog suitable for your family, look no further than the Great Dane Shepherd canine. Both Great Danes and German Shepherds make excellent family dogs because they have many of the positive traits required to be suitable for kids and adults alike:
Intelligent
Courageous
Protective
Sociable
Playful
Gentle
Loyal
The above traits make these dogs ideal candidates for being service dogs or guard dogs, but they also make great pets. They are good-natured and sweet to the people they live with. Dane Shepherds love children and tend to form strong bonds with their humans, often becoming the heart of the home.
2. They Are Easy to Train
Dane Shepherds are usually compliant and easy to train, as they are highly intelligent and eager to please their master. The breed is obedient; you can teach them tricks or commands, and they will learn quickly and perform whatever task you need. They listen to their owners, and their gentle nature boosts their trainability. Early socialization and training are the keys to their success.
3. They Are Athletic and Fun
Dane Shepherds are athletic and suitable for those who love taking long walks or hiking. It has a very high need for exercise, and they love to run and play off-leash. These pups can provide a little workout motivation and keep you fit. They also like to have outdoor adventures and appreciate the sights, sounds and smells around them. Dane Shepherds are perfect for active families.
The Cons of Owning a Great Dane German Shepherd Mix
Dane Shepherds can be fantastic pets; however, there are some drawbacks. Larger dogs tend to have more health problems and may have shorter lifespans than smaller pups. For this reason, you may want to get another type of dog. The following includes three reasons why you should not get a Great Dane German Shepherd mix:
1. There Are Health Risks Involved
Large dogs like German Shepherds and Great Danes are prone to a health condition known as Gastric dilation volvulus., otherwise referred to as bloat. The dog's stomach becomes blocked, which can be fatal if left untreated. These pups are also known to have a host of joint problems:
Hip or elbow dysplasia
Degenerative myelopathy
Osteoarthritis
Panosteitis
With the health risks involved, and considering that the breed tends to have a shorter lifespan, it may not be a wise idea to have a dog breed known to have certain health conditions. It depends on what you feel you can or cannot handle. However, if your heart is set on a Dane Shepherd, it may be worth it, but only you can decide what is best for you and your family.
2. They May Have Behavioral Issues
German shepherds are incredibly loyal and protective. However, if not properly trained and socialized, they can tend to be aggressive, especially toward people they do not know. Conversely, Great Danes can be shy or fearful. It is safe to say that a Dane Shepherd may be aggressive or anxious. You should spend a lot of time teaching your new pet how to be a good dog.
3. They Need a lot of Space to Move Around
Dane Shepherds are large dogs, meaning if you live in a smaller space, you may need more room to accommodate them. If your pup wants attention, they may follow you around in that small, confined area, which can be a handful. Since these large dogs also tend to be high-energy, keeping them in a less-than-ample home without a big backyard can be difficult.
Great Dane German Shepherd Mix Appearance
The look of the Dane Shepherd can vary from dog to dog. Some Dane Shepherds may look closer to a Great Dane, while others may look closer to a German Shepherd. It will depend on which parent the puppy resembles more.
For example, the puppy may have the same fur and coloring as their German Shepherd mother and the size and stature of their Great Dane father. The puppy's appearance will be determined by whichever parent carries the dominant genes. The following include some ideas as to what the Dane Shepherd can look like:
1. What Does a Great Dane German Shepherd Mix Look Like
The appearance of the Dane Shepherd will vary, but one thing is for sure, the dog will likely be huge. The Great Dane has a look that is very distinguishable of the breed. The look of the German Shepherd varies based on whether it is a male or female. The appearance of a combination of the two breeds will likely have a mix of both.
2. The Face
Great Danes have rectangular faces, and strong foreheads, and they resemble a statue. These pups are regal and dignified looking. German Shepherds have long faces with friendly, loveable expressions, and their faces are strong but not coarse. Dane Shepherds may have a combination of both. They have robust features but have the softer characteristics of the German Shepherd.
3. The Ears
Great Danes have floppy ears, and German Shepherds have pointy ears. However, a German Shepherd is born with ears that are down. The cartilage and muscles must still be stronger or fully formed. Their ears go up when they reach four to five months of age.
A Great Dane may have more ear infections due to their floppy ears. A Dane Shepherd may have the pointy ears of a German Shepherd, but they are more likely to have floppy ears like a Great Dane. At the very least, the ears are less likely to lie closer to the head or stand erect.
4. The Eyes
The Great Dane and the German Shepherd are born with blue eyes, but when they get older, their eyes turn brown. If the color remains blue into adulthood, it is considered a defect in the German Shepherd. The American Kennel Club specifically disqualifies most purebred blue-eyed dogs from dog shows. An adult Dane Shepherd would most likely have brown eyes.
5. How Big Can a Great Dane German Shepherd Mix Get?
Dane Shepherds can become 28 to 30 inches tall and weigh up to 130 pounds. They are among the largest crossbreed dogs. However, they can also be as small as 65 pounds. Most Dane Shepherds more closely resemble a Great Dane in terms of body structure. It is essential to help control their weight, as they tend to be natural overeaters.
Great Dane German Shepherd Mix Personality and Temperament
The disposition of Dane Shepherds will likely acquire some of the best traits of each breed as long as they are adequately trained and socialized from an early age. Some of the personality traits of the Dane Shepherd:
Smart
Brave
Guardian
Friendly
Spirited
Caring
Devoted
These pups tend to have a winning personality. They are incredibly loyal and protective of their family. Considering their GSD and Great Dane heritage, Dane Shepherds should be easy to train and eager to please their masters.
Great Dane German Shepherd Mix Care
Dane Shepherds are easier to care for than you may think. They need a lot of space and attention to thrive. However, they do require some specialized care. The following includes some tips for the maintenance of Dane Shepherds:
1. Coat Color Coat Type
Dane Shepherds may have a shorter coat like a Great Dane or a longer coat like a German Shepherd. However, it is more likely that the coat will be short to moderately long. Some of the possible coat colors:
Gray
Hazel
Black
Brown
White
Silver
Merle is another possibility, though it is more uncommon. Although considering the vast array of colors and markings between both breeds, the possibilities for a Dane Shepherd's coat are a bit more complex. Their coat likely depends on which parent has the dominant color.
2. Does Great Dane German Shepherd Mix Shed a Lot?
Looking at the parent breed is essential to know whether the Dane Shepherd will shed a lot. Great Danes tend to be moderate to heavy shedders, and German Shepherds also shed quite a bit. Dane shepherds may shed more in certain seasons, such as spring and fall. You may need to increase brushing or grooming to every other day during this time.
3. Grooming Requirements
The criteria for grooming your Dane Shepherd are not common knowledge. However, you can glance at the parent breed for an idea. Great Danes have short, smooth coats that are easy to maintain. You only need to brush them about once a week.
Longer-haired German Shepherds require more extensive grooming, about three to four times weekly. Both breeds only need to be bathed occasionally. Considering this, on average, Dane Shepherds should be brushed about twice a week with a smooth bristle brush.
4. Feeding Requirements
Dane Shepherds do not require any particular kind of diet. As long as the food is good quality, it is acceptable to feed your Dane Shepherd. Since these dogs are relatively active, a protein-rich diet is appropriate. These are also big dogs so they will need more calories than the average dog. On average, three to five cups of food per day is ideal.
Dane Shepherd is a deep-chested breed prone to bloat, so you may need some tools to help keep them healthy. A slow feeder bowl, for example, can help your pup take their time eating so they can easily recognize when they are full. It also decreases the risk that your dog will suck down too much air along with their food.
5. Exercise Requirements
The amount of exercise this dog will need depends on the parent breed. Germans Shepherds tend to be very active. Great Danes are energetic but less than German Shepherds. Dane Shepherds maybe somewhere in the middle of the two.
On average, the Dane shepherd is an active dog that requires at least one hour of exercise daily. You can take them to the park to play fetch, or a long walk can be their exercise. They may also enjoy other outdoor activities, such as hiking and swimming. You can always mix up walks and games or activities to prevent boredom.
Is a Great Dane German Shepherd Mix Easy to Train?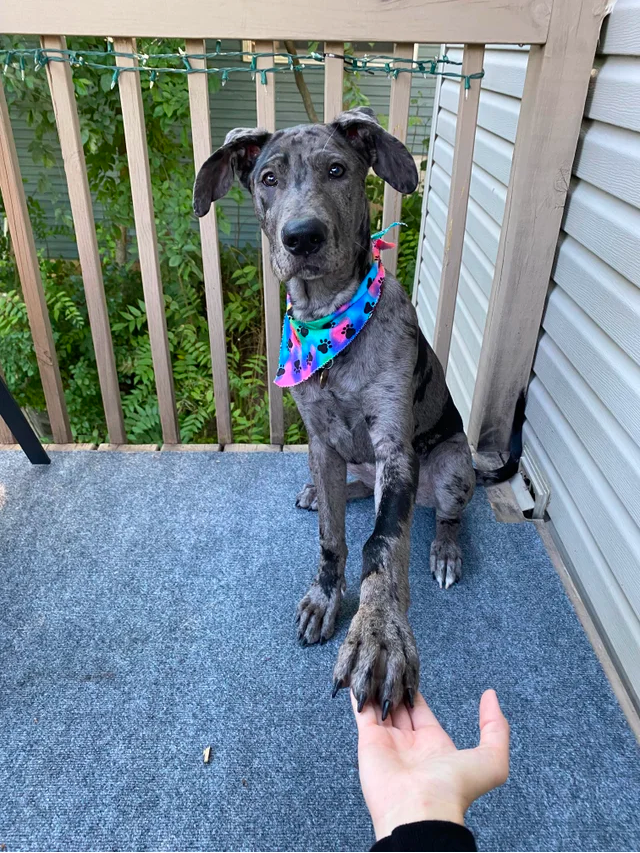 Dane Shepherds should be easy to train, as they love to make their humans happy. They are great with commands and have excellent listening skills. However, due to their protective nature, they often require a lot of training. Otherwise, a guest in your home may be on the receiving end of a not-so-warm welcome from your canine companion.
Dane Shepherds want to protect the family; they may respond to strangers inappropriately if not trained correctly. They must learn how to be good with all kinds of people. Therefore, these dogs may need professional training or group classes to be taught how to behave and proper socialization. Getting started early will help improve their confidence around new people.
Great Dane German Shepherd Mix Health Problems
Dane Shepherds may inherit health problems from the parent breed. It depends on which parents' genes are dominant and what if any, health problems they may have. There are some common health problems that either or both breeds may suffer from that the Dane Shepherd may inherit:
Gastric dilation volvulus
Hip or elbow dysplasia
Degenerative myelopathy
Osteoarthritis
Cardiomyopathy
Panosteitis
Ear infections
Cataracts
Allergies
Cancer is another major health concern sometimes found in Dane Shepherds, especially as they age. Bone cancers are especially prevalent in larger breeds. If you purchase your puppy from a breeder, try to find out everything you can about the parent's health history, which will help give you some idea about the puppy's future health.
Is a Dane Shepherd Right for You?
A Dane Shepherd may be a good fit with your family if you are willing to put the work into training and socializing them. You must also have enough space to offer them to roam around, frolic, and play, as it is only fair to them. You want to give your new canine companion the best life possible.
You should also be prepared that a Dane Shepherd may not have too long of a lifespan. The breed only lives to be about 7 to 10 years old on average, and they are prone to health problems like bloat and joint issues. Considering this, only you can determine whether a Dane Shepherd is right for you.