You might be wondering why knowing how high your dog can jump is considered an important piece of information. Well, the truth is, you never might know when and where your dog's ability to jump high might help keep them or someone safe. German Shepherds are an athletic breed that can serve a lot of purposes. They can be used as search and rescue dogs, therapy dogs, and even be bred as security dogs for families. And if you happen to be getting a German Shepherd dog for any of the purposes listed above, knowing their jumping ability is quite important.
German Shepherds are quite energetic and playful, especially considering the fact that they are a large dog breed. Their big size, energetic nature, and overall work ethic should give them an advantage when it comes to how high they can jump.
In this article, we cover everything you need to know about how high a German Shepherd can jump. We cover why they jump and even provide some tips to help train your German Shepherd better. So do ensure you read till the very end.
How High Can A German Shepherd Dog Jump?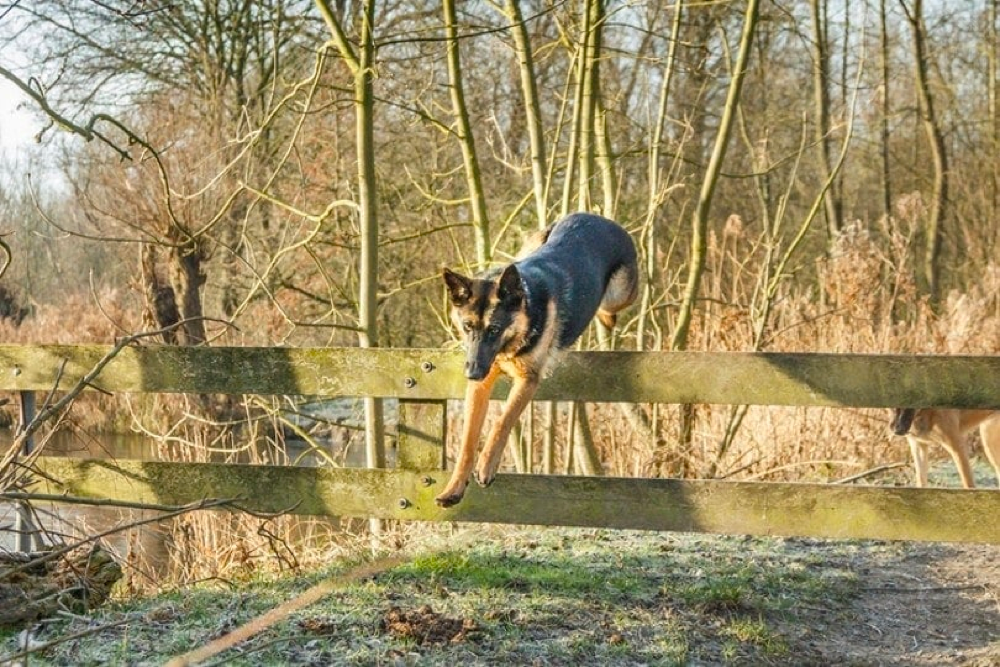 German Shepherds have a lot of advantages, especially to their physical frame that aids them in jumping very high. On average, it is possible for your German Shepherd to jump as high as 4 feet or 6 feet tall. This is mainly due to the long limbs and high energy and athletic build that comes with the special dog breed.
It is also possible for the range to go a lot higher (up to 10 feet high) but this would require enough training and some considerable running distance to help the German Shepherd dog build enough momentum for the jump. The hind legs of the German Shepherd dog can be quite powerful when it needs to be, leaving the dog to easily spring into the air.
German Shepherds aren't just great at reaching large heights from their jumps, they also do well to reach great distances with their jumping ability; this is why they make great competitors in sports like dock diving, where they reach very impressive heights. The sport is divided into two sections, the air retriever and the distance jumps. For the Air retriever, it is possible for the German Shepherd to reach between 15 feet and 18 feet. For the distance jump they can go even further reaching as high as 21 feet in distance.
So, now that we know just how high a German Shepherd dog can jump, we can then shed some light as to why they do jump or feel the need to?
Where Does The German Shepherd Dog Get Its Height From?
You might be wondering where the German Shepherd gets this incredible jumping height and ability from, the answer is really simple, German Shepherds are very athletic dogs, they were originally bred to be working dogs or protective dogs, and to be good at this, they needed to be very athletic in nature.
Strength is also a key component that influences the jump height of a German Shepherd dog, and the German Shepherd is arguably one of the strongest dog breeds in existence. Their large size can be used as an advantage, especially with jobs like protection jobs that force the dog breed to jump fences and go after bad people or criminals. This is why you find German Shepherds working as police or military dogs.
In addition to both strength and athleticism, German Shepherds are also very energetic in nature, they are so energetic, it is mostly advised that you exercise your German Shepherd regularly to keep all the energy inside them from being used to cause trouble.
A lot of people might not know this, but the age of a German Shepherd dog has a strong effect on the jumping height of the dog breed. In studies, the German Shepherd is believed to reach its peak athleticism at the age of 2 years. And as they get older, the incredible jumping ability that they have gained will begin to see a sharp decline, this can happen from 6 years of age and above.
Motivation and training also influence the jump ability of the German Shepherd dog. For those who do not know, the German Shepherd does require a lot of training, and with the right training, they are able to reach new levels of physicality causing them to reach impressive jump heights.
Why Do German Shepherds Jump Fence?
If you have ever owned a German Shepherd before or you own one now, you would have probably seen them leap over or attempt to leap over a fence along the way and you might be wondering what could be causing your German Shepherd to display such behaviors Here are a couple of reasons for such weird behavior;
Your German Shepherd Could Be Bored?
Sometimes the most common reasons might actually be the most simple explanations. Your German Shepherd might be jumping over these fences in search of some excitement. As we have stated already, the German Shepherd is a properly energetic and playful breed. With fewer activities to help with the excess pent up energy, they might have stored inside.
If your dog is bored, try spending a lot more time with your dog, giving them all the attention they require. Take them on exercises, take walks that could easily tire them out, and keep them occupied.
External Interest or Stimulus
This goes hand in hand with boredom. When a German Shepherd is bored, they might find any possible sign of excitement and go after it. It is possible for the German Shepherd to spot some external interest or stimulus and go after it by jumping the fence to get to it.
The external interest or stimulus could be anything ranging from chasing squirrels to frisbees to basically anything that might interest the dog.
Your German Shepherd Dog Might Be Anxious
Although many people do not know this, it is possible for your German Shepherd dog to suffer from anxiety and this can be a sure reason as to why they climb fences. Your German Shepherd might be looking for a quick escape, a sure reason to break free and get away from whatever reason that might be causing its anxiety.
Be on the lookout for any possible signs of anxiety in your German Shepherd. If you do see signs of anxiety you can then take your German Shepherd dog to a reputable vet for advice on how best to handle the situation.
How Can I Stop My German Shepherd Dog From Jumping Over Fences?
Now that we know why German Shepherd dogs jump to fences, the next step would be controlling this behavioral trait of the German Shepherd by learning the best ways to stop your German Shepherd dog from jumping through fences.
Before then, it is worth stating that you never leave your German Shepherd alone especially when they jump over the fence. Always go in search of them and bring them back home safely. As leaving them outside can be too risky for them. Here are some helpful tips to help keep your German Shepherd dog from jumping through fences;
Train Your German Shepherd Dog
Training your German Shepherd is usually a no-brainer solution to most behavioral problems you might have with the breed. They are highly intelligent and can learn a lot faster than some other dog breeds. With that being said, the best training method to use for the German Shepherd would be the positive reinforcement method.
Train your German Shepherds to stop them from jumping over fences. If you are confused about how to go about this, don't be too afraid to ask for help. There are tons of resources available online that could be of use to you. Here is a method that you can try;
Start by having a member of the family or a trainer standing at least 6 feet away from you with the German Shepherd held on a leash
While holding some of your dog's favorite treats in your hand, approach the German Shepherd dog slowly.
As you approach your German Shepherds, pay attention to their movement. If they jump at you, take a step back and say NO, in a calm but also firm voice.
Once they are calm, try approaching them again. If they manage to stay without jumping, give them a pat on the head and some of the treats.
Try not to spoil them with too many treats, sometimes you can use your attention as a reward system for them. German Shepherds do like attention, so it should be easy to achieve.
Keep training them like this until they form a habit that is acceptable.
Remove All Jumping Aids
Another great option would be to empty the yard of any material that could help the German Shepherd in jumping the fence. This could be anything ranging from chairs to tables, to unpacked boxes.
Ensure you properly declutter the yard all you can keep the materials away from the fence, as long as it does not aid the dog in jumping the fence.
Exercise Your German Shepherd
Yes, exercises work both ways in this subject, while they can keep your German Shepherd dog athletic enough to leap through a fence, they can also help tire them out and stop them from gathering up the energy to take a huge leap (literally).
Take your German Shepherd dog on a long 30-minute to 1-hour walk to help them burn some of that pent-up energy that they have. By doing this regularly, your German Shepherd would spend most of its free time resting.
Neuter Your German Shepherds
Upon reaching sexual maturity, your male German Shepherds might become so restless that they can go as far as jumping the fence in order to spread their seeds with the female dogs in the neighborhood. Avoid this by having your male German Shepherd dog neutered.
Before doing this, discuss extensively with your vet to have a full understanding of what the entire process entails.
If After trying this, you can't seem to keep them away from the fence, then you would need to try a different approach by changing the fence itself. Now, this would require you to spend some cash, but it should be a small price to pay for your dear German Shepherd companion. Here are a few tips that could you should consider when changing the fence;
Do Not Extend The Fence
You have to understand that the problem with your German Shepherd jumping the fence is associated with the height of the fence and not the distance. By extending the fence, you simply make it more challenging for them and even give them some more running distance to build momentum for the jump.
The Height of The Fence Should Be At Least 6 Feet High
As we have stated earlier, the maximum height that a German Shepherd can jump is 6 feet high, so it only makes sense that you make your new walls as high as 6 feet to discourage them from jumping.
Make The Fence As Climb Proof As Possible
Inspect the materials to be used in building the fence to ensure they would not further help the German Shepherd when turning to climb through. Instead of a chain link fence, you can opt for composite wood of high quality and durability.
Avoid Installing A Wired Fence Security
Having wired fences can be very good, especially when keeping intruders away from your home. Still, for a German Shepherd eager to jump the fences, the small shock can do more harm than good, so try to avoid installing them.
Conclusion
With all that has been said already, we know that the German Shepherd is quite athletic and can reach incredibly high jumping heights. We also know that the desire to jump fences can be stimulated by a couple of reasons including boredom.
But in all, we do ask that you seek professional help if the problems persist and also that you never leave your German Shepherd alone in the world, especially after a successful jump, and do all you can to bring them home. That is all we have for you in this article, you can check the website for more articles like this.
German Shepherd Tips and Resources