German Shepherds are arguably one of the most popular dog breeds to ever exist. They are loved worldwide for a couple of reasons, their playful and happy temperament, high level of intelligence (higher than most dog breeds), their great conformation and trainability as well as their incredibly versatile nature. All in all, the German Shepherd breed always gives you a brand new reason to love it.
Another great thing about the German Shepherd dog is the very luxurious coat type that it features. The German Shepherd breed possesses a double coat that varies in color and length and has been said to provide adequate protection from different climate types including very cold temperatures. So just how much cold can the German Shepherd's coat handle? Well, let's find out.
In this article, we provide information on the German Shepherd coat and how much cold it can tolerate, how it is able to handle such cold temperatures, and even provide some useful tips to help your German Shepherd during the cold season.
Do German Shepherd Dogs Get Cold?
Of course, the German Shepherd does get cold especially when they are subjected to very low temperatures for long periods of time. However, German Shepherds do enjoy a very high tolerance level to cold temperatures. This tolerance level is higher than most dog breeds and is mainly because of the breed's double coat and its large size.
To fully understand just how much cold a German Shepherd puppy dog can tolerate, you need to look closely into how these incredible creatures are able to cope with such low temperatures.
There are three main factors that help the German Shepherd with coping to very high temperatures:
1. The Body Structure
If you don't already know by now, the German Shepherd breed is a large breed with a very robust body. This large body helps the German Shepherd keep out the cold as the muscle-to-fat ratio that it provides is quite good which generally keeps the most vital organs properly insulated.
Also, their long limbs ensure their bellies are kept safely above the ground to keep them warm and their paws are riddled with a strong network of blood vessels so the blood flowing through them is properly warmed before being sent back into the entire body.
2. The German Shepherd's Double Coat
An even more important factor than the body structure of the German Shepherd that keeps them warm is the coat type. As already stated, the German Shepherd features a double coat which only a few other dog breeds like the Siberian Huskies do have. The outer coat is a coarse coat and the inner coat is a dense coat.
How the double coat functions are quite remarkable, the inner coat or undercoat functions as an insulator that helps in keeping the body heat while the outer coat functions more as a guard which helps to keep moisture from the environment from touching the skin.
One key piece of information about the German Shepherd's coat type is that not all German Shepherds have a dense undercoat. Some are born with none at all, so it is always a good idea to confirm from your breeder the exact coat type of your German Shepherd.
3. The German Shepherd's High Energy
The energy levels of the German Shepherd are quite incredible. This is because they were originally bred to be working dogs. During very low temperatures, Your German Shepherd would be most active in an attempt to keep warm and possibly adjust to the cold temperature.
Factors Help Your German Shepherd Cope During Excess Cold
Asides from the factors that are listed above, there are other factors that could really affect how much cold a German Shepherd can take in, these factors are;
Health Of The German Shepherds
As we have already stated in the article, German Shepherds need the fat and flesh of the body to act as proper insulation and keep the cold away from the vital organs of the German Shepherd dog.
But when a German Shepherd dog is malnourished, they lack the necessary body muscle-to-fat ratio to keep the body warm.
The Age Of The German Shepherd Dog
It takes a while for German Shepherd puppies to fully develop the coat and size that could be used to fight back or cope with the excess cold that they might be subjected to. It should generally take between 8 weeks to 6 months for the German Shepherd puppy to grow an adult coat.
In the same breath, senior German Shepherd dogs can struggle to tolerate excess cold in their bodies. It is even worse when the senior German Shepherd suffers from health conditions like Arthritis.
The Undercoat Type
As we have already established, the German Shepherd has two different coat types, the Undercoat and the top coat or upper coat. Now, there are two different undercoats for the German Shepherd, the wooly coat and the coarse coat.
These two undercoat types provide different levels of insulation for the German Shepherd dog. If your dog has a wooly undercoat, it should be better protected from the cold than when they have a coarse undercoat type.
How Much Cold Would Be Too Much For A German Shepherd
Even with all these great coping mechanisms in place to help deal with very cold temperatures, there are certain temperature levels that might be too much for the tough German Shepherd dog to handle. So just how much cold would be too much for a German Shepherd to handle?
Well, to keep it short and simple, the German Shepherd would not be able to handle long exposure to temperature levels that are lower than 40 degrees Fahrenheit. This is a huge generalization as German Shepherds can certainly handle such low temperatures anyway. Little to average exposure to temperature levels that are lower than 20 degrees Fahrenheit would probably lead to frostbite and possible hypothermia.
But due to the overall playful energy of the German Shepherd dog, they might not let you know how dangerously cold they would be getting at such levels. This is why it is highly important that you remain observant and notice the different signs that might suggest how cold your German Shepherd might be getting.
How To Detect If Your German Shepherd Dog is Cold
As stated earlier, it is highly important that you are able to check and notice signs of excess cold in your German Shepherd as their playful and energetic nature might not allow them to display proper signs.
Always strengthen the bond with your puppy by spending more time with them, this way they can trust you and not try to hide obvious signs of excess cold from you. With that being said, here are some signs and symptoms to look out for in your German Shepherd dogs;
Shivering Skin
One of the most obvious signs to look out for with a cold dog (not just the German Shepherd breed) is shivering. Shivering is best described as the body's natural response or coping mechanism to being subjected to excess cold. By shivering, their muscles help create extra warmth in the body through a series of involuntary movements using the energy stored in the muscle.
Always be on the lookout for shivering in your German Shepherd dog, if you can't notice any signs by merely looking at your German Shepherd dog, then you can try petting them and feeling their coat for signs of shivering.
Hackles Are Raised
If you don't know, the hairs that are lined up to the back of the German Shepherd, particularly between the neck and overall backbone of the German Shepherd are called the hackles. They
Can be used as signs of possible cold for the German Shepherd dog as they would appear raised when the dog gets too cold.
This is almost the same as human beings getting goosebumps when exposed to excess cold. It should be pretty obvious to spot this on the back of the German Shepherd dog.
A Strong Need To Curl Up or Cuddle
German Shepherds are naturally very loving creatures as they love all the cuddles they can get from their owners or loved ones. However if during a cold climate your German Shepherd attempts to cuddle with you or curl up on its own, this is usually a sign or symptom of being exposed to excess cold.
The process of curling up for your German Shepherd could be done either by standing or laying down. In an attempt to curl up, they try to preserve the heat within the body by hunching their backs and touching their tails in for a curl.
Lethargy
Too much exposure to negative climate temperatures for too long can affect the natural energetic, playful charm of the German Shepherd dog. This is because they expend all their energies into trying to keep their internal organs warm and protected so that they become more and more lethargic.
Overall, your German Shepherd dog can become generally unresponsive as the situation begins to worsen. Their pupils become dilated as they lose all that charming energy stored within them.
Obvious Signs of Excess Stress
The more your German Shepherd is exposed to an uncomfortable and possibly life-threatening situation, the more they are prone to obvious signs of stress and anxiety. This can rattle the German Shepherd puppy and make them react by being more vocal than usual.
When stressed by climates of low temperatures, your German Shepherd can react by howling or whining and even by barking to get the attention of people and other pets to it.
Overall Paleness Of The German Shepherd
As the German Shepherd is exposed to excess cold in a particular climate, it is no surprise to find them looking pale and lethargic (of course). Your dog's eyelids specifically would look pale and almost blue in color. Their gums should also show signs of paleness as they get cold.
How To Properly Keep Your German Shepherd Dog Protected From The Cold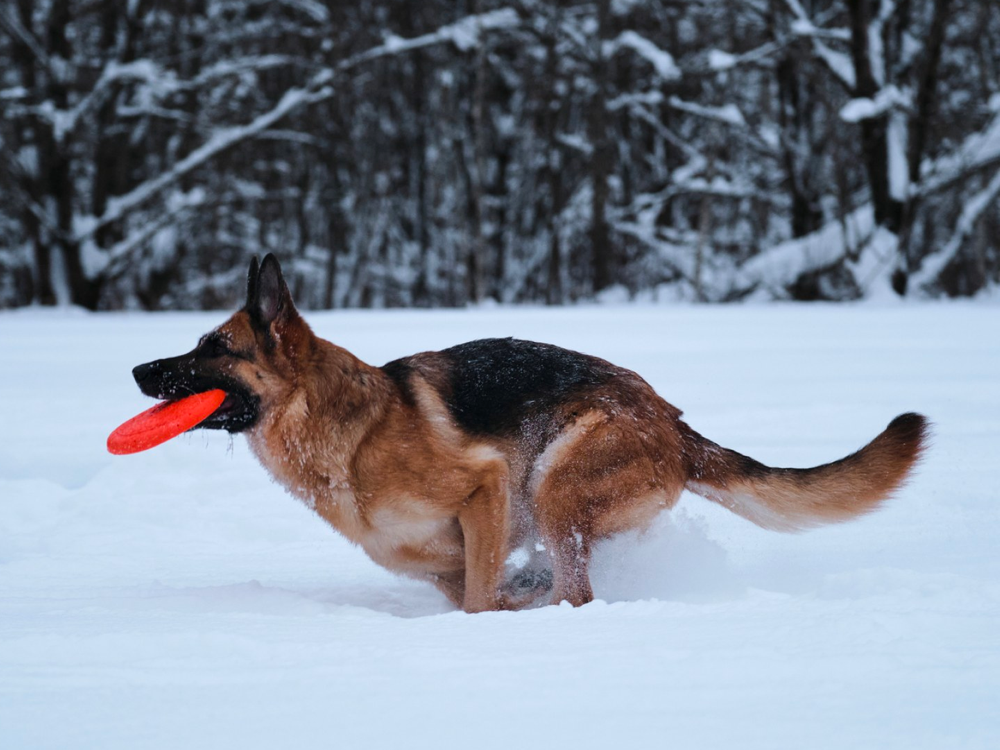 The overall health of your German Shepherd dog should be a top priority, especially during the winter season or generally cold climates. You can try any of the following tips to adequately and properly protect your German Shepherd.
Leave Them Indoors
A great way to protect your German Shepherd dog, especially during the cold seasons like snow, rain, or strong winds is by keeping them snuggled and cozy indoors. Shut all openings that could invite in excess cold, this includes the windows and the doors.
While indoors, you would want to provide them with proper bedding and blankets to generally help keep them warm. You can further assist the dog by rolling the blankets and making them sleep snuggled inside. If they do have a dog bed, try to keep it as far off the ground as possible to keep them safe.
Provide Fresh Water And Adequate Food
While indoors, you would want to ensure they keep their hydration high to further help them in withstanding or tolerating the cold weather or climate. Replace the water in their water bowls regularly with clean and fresh water.
Also, you would want to increase the number of food servings that they receive each day. They need all the energy they can get during the cold season, as their body is constantly trying to maintain proper warmth.
Avoid Bathing Your German Shepherds
Bathing your dogs during the cold seasons might be punishing them as that would drastically reduce their cold tolerance. It would be better if you avoid bathing them in general during this season, besides, German Shepherds do not need to be bathed regularly.
To keep them clean and free from any dirt or debris, try brushing them regularly. Not only would this keep their coat healthy and strong, but it would also help them remove any loose hairs on their coat.
Dress Your German Shepherds
During extreme weather situations, it does help to get proper clothing for your German Shepherd dogs. Try out a few vests or sweaters to act as further insulation for your German Shepherd companion.
Conclusion
Keeping your German Shepherd dog warm during the cold season is a sure great way to show them that you love them as even though German Shepherds have a high tolerance against cold, it is still best the tolerance isn't tested much.
Still, we recommend that you have as much fun with your German Shepherd irrespective of the season, as you definitely want to make every moment with your favorite furry companion count.
German Shepherd Tips and Resources