The German Shepherd and the Chihuahua – what two breeds of dogs could possibly be more completely opposite?
And what do you get when you crossbreed these two dogs – anybody's guess!
The German Shepherd Chihuahua mix is a relatively new designer dog breed, only having been around since the 2000s. The origins of the German Shepherd Chihuahua mix (also known as the Shep-Chi) are debatable. Some say this breed was first developed in the United States, while others say they were created in Germany.
It is probably correct to say that this mix is a product of crossbreeding between the two breeds in both the US and Germany.
Regardless of their exact origins, we can say this is a unique dog breed that is gaining popularity due to their loyalty and brains from their maternal parent (the German Shepherd) and their smaller size thanks to their paternal parent (the Chihuahua).
German Shepherd Chihuahua at Glance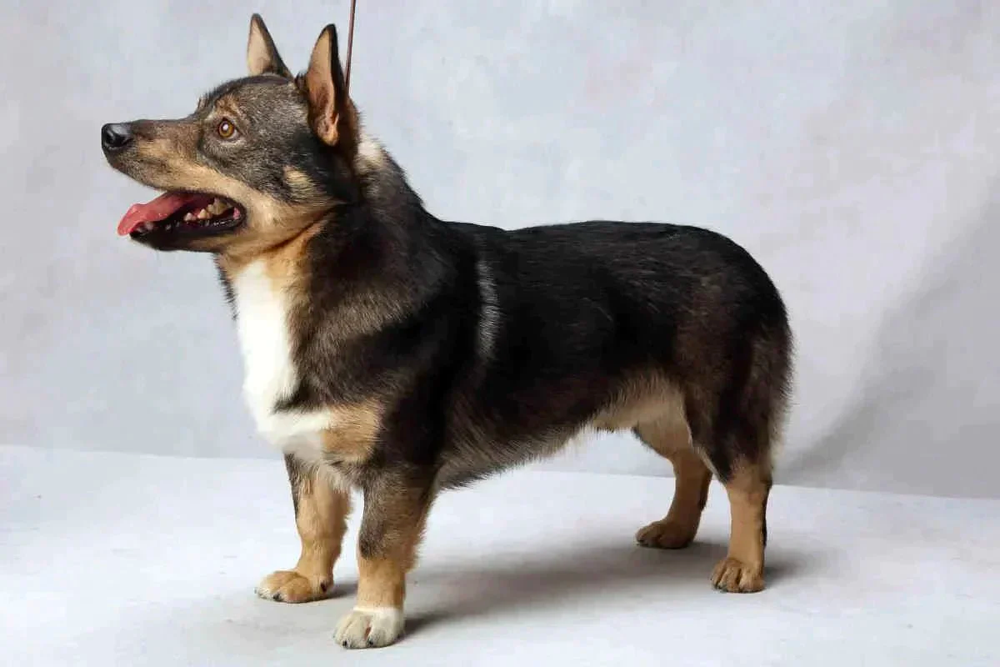 | | |
| --- | --- |
| Height | 7 to 26 inches |
| Weight | 8-60 pounds |
| Life Span | 10-14 years |
| Coat Color | Black, brown/black |
| Eye Color | Usually brown |
| Suitable for | Apartment dwellers, experienced dog owners, those looking for a loyal companion, single owners, or couples |
| Temperament | Loving, loyal, smart, distrusting of strangers, not good with other animals or children |
| Shedding | Yes |
| Easy to Train | Yes |
The Pros of Owning a German Shepherd Chihuahua Mix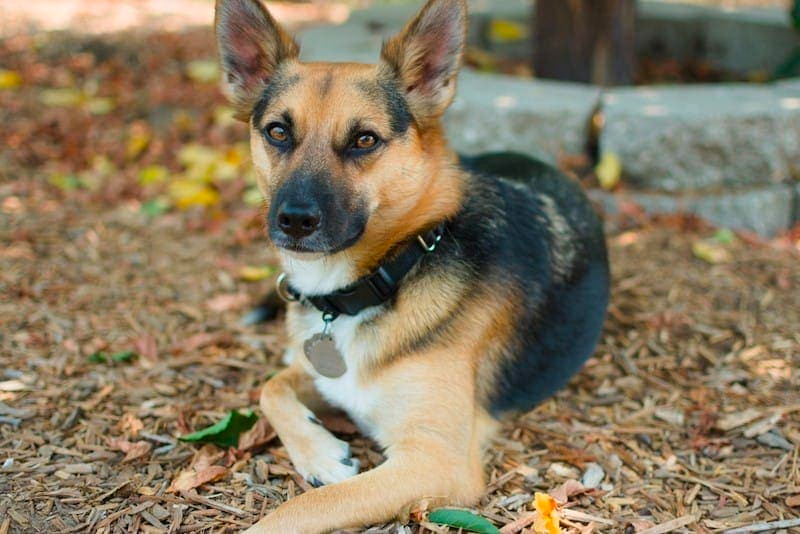 The German Shepherd Chihuahua mix is a unique breed of dog, and while relatively new, this breed will surely gain in popularity over time.
Here are some pros of owning this dog breed:
Their size. This breed is considered a small to medium-sized breed. They do not need large living areas to be happy, meaning they make excellent dogs for apartment living. Also, because of their size, you can save money when buying supplies such as crates, beds, food, and dog toys.
Their unique looks. This breed is new and rare, and their looks are anyone's guess. So, it would be hard to find two people with similar dogs of this breed.
Their health. Because of what's known as hybrid vigor, this breed is healthier than their parental breeds. They really are man's best friend, growing old and experiencing life right by your side.
Their intelligence. This mixed breed is brilliant and is usually easy to train as long as you establish yourself as the alpha dog early on. They typically respond well to obedience exercises and command activities with their owners.
The Cons of Owning a German Shepherd Chihuahua Mix
There are cons to owning any dog breed, and a German Shepherd Chihuahua mix is no different.
Here are some cons to owning this breed:
Their size. Since there is such a vast difference in the size of a full-grown German Shepherd and a full-grown Chihuahua, it is impossible to say how big your pup will be. It depends on which parental breed gives your pup the dominant growth gene. This breed can be anywhere from 7 to 26 inches tall and fully grown.
Their need for consistent training. While this breed is brilliant, they can also be extremely stubborn. The German Shepherd Chihuahua mix can be very vocal and distrusting of strangers, thanks to their paternal breed, the Chihuahua. Because of their high prey instinct, they are also prone to chasing (and maybe biting) small children and other pets. Because of this, they need an experienced dog owner dedicated to training and socializing them from an early age.
Their availability. Because this breed of dog is relatively new, and there are not a lot of breeders for them, it will take a lot of time, effort, and money on your part to find a breeder.
German Shepherd Chihuahua Mix Appearance
As mentioned before, predicting what this mixed breed will look like is difficult. However, in many cases, their face resembles that of the Chihuahua, while the fur resembles that of the German Shepherd.
It can be said that they will be bigger than a Chihuahua and smaller than a German Shepherd, but their overall appearance will resemble that of the German Shepherd. Someone who is unfamiliar with this mixed breed might think at first glance they are miniature German Shepherds! That is one reason they are becoming so popular.
They are considered small-to-medium-sized dog, standing anywhere between 7 to 26 inches tall and weighing between 8 to 60 pounds.
Their fur is likely to be brown/black, resembling that of the maternal parent, the German Shepherd, but they could be other colors and patterns. The German-Chi will likely have short hair, but it could be longer if the parent Chihuahua was long-haired. They might have two layers to their coat or possibly one, again dependent on the paternal parent, the Chihuahua. This breed will probably shed some as well.
Chihuahuas typically have a soft spot on their heads like human babies, but in the case of the puppy, this might or might not go away over time.
Other features of this breed include an apple-sized head with small eyes and large and straight ears.
German Shepherd Chihuahua males are typically larger than the females, as with most breeds of dogs.
German Shepherd Chihuahua Mix Personality & Temperament
German Shepherds and Chihuahuas are both exceptional and loyal dog breeds despite being almost complete opposites in personality and size.
The German Shepherd has a very protective, loyal, and cool-headed nature. On the other hand, the Chihuahua is bossy, cocky, and a bit hot-headed at heart. While the German Shepherd is large in stature, the Chihuahua is large in personality.
It is nearly impossible to predict the personality and temperament of this designer dog breed. Every pup will be completely different and unique depending on how many traits their exhibit from their parental lineages.
For example, suppose the hybrid mix inherited more traits from the Chihuahua father. In that case, they will be more guarded and aggressive toward strangers while remaining calmer and more aloof around their owners. If they inherited more traits from the German Shepherd mother, they will probably follow commands more readily and stand down around strangers if that is what they are told to do.
So, at best, this designer breed will be faithful, attentive, and intelligent and make a wonderful pet.
At worst, this designer breed will be very territorial, constantly barking and attacking anyone and anything in their path. This kind of behavior makes them less suitable for children, especially very young children.
The level of aggression this particular breed has depends on the traits they inherit from their parents, BUT this is a BIG BUT – it also depends on the training they receive.
While Chihuahuas score higher for aggression than other dog breeds and are therefore considered unsuitable pets for young children, my parents got a chihuahua puppy when I was 18 months old. That puppy was never aggressive towards me no matter what I did to her (and females are supposed to be higher strung than males.) I could dress her in doll clothes, play with her, sleep with her – she was my best friend. She would eat out of my hand and never snap at me. However, if a stranger came near me, she would growl and go into attack mode toward that stranger until she knew they were no threat to me.
It all comes down to training! This is why it is suggested that this hybrid dog breed should have an experienced dog owner. This breed is not meant for a first-time dog owner. As a new dog owner, you won't be experienced enough to establish yourself as the alpha dog, and this breed will quickly become the alpha dog, and you will have a nightmare on your hands!
Early socialization is vital to this breed to curb their possible aggressive tendency, but more on this topic will be covered in the training section.
As the owner of this particular designer breed, you must do your diligence to ensure they are socialized early so they are friendly. The German Shepherd Chihuahua can either be a very cooperative, bright, yet independent dog breed, or it can be bright, independent, aggressive, and a complete nightmare. Their personality is truly more dependent on the owner than the traits they inherited from their parents. Ensure you have the time and experience to train these dogs to be the best they can be! You will be thrilled you did.
German Shepherd Chihuahua Mix Care
There are many unknowns when it comes to talking about the German Shepherd Chihuahua mix's qualities. Still, there are also plenty of things that we do know, especially when talking about caring for your hybrid dog breed. You must be prepared to put in ample time for their care and training if you want a well-behaved lovable pet.
Food Requirements
Typically, a smaller pup should get about 1 to 1 ½ cups of quality kibble daily, while a larger pup should get about 2-3 cups daily. Both should be divided in half and given in the morning for breakfast and early evening for dinner.
Exercise Requirements
All dogs, no matter the breed, need some daily exercise, dependent on their personality and size.
A smaller German Shepherd Chihuahua should be happy with about thirty minutes of exercise. If your German Shepherd Chihuahua is on the larger side, they will probably need at least ninety minutes of exercise daily.
Grooming Requirements
Grooming is essential when owning a German Shepherd Chihuahua mix – they shed – sometimes A LOT!
No matter the size of your German Shepherd Chihuahua mix, you will need to invest some consistent time grooming your pup.
Your pup will require a good brushing at least once a week to keep their coat healthy and shiny. Brushing also cuts down on their shedding, which keeps them looking good, and you as well! Remember, this breed is notorious for shedding due to their dense double coats. A robotic vacuum might also be a good idea to keep your home free of dog hair!
You will also want to check their ears for dirt and clean them as needed. Regarding their teeth, it is always a good idea to brush their teeth every couple of days or give them a teeth cleaning treat, such as Greenies, daily.
They should get bathed maybe every 4 to 6 weeks. Too often, their skin will become dry and flaky; not enough, they will begin to smell. Bath time is always a good time to check their nails. If they walk on the concrete daily, they shouldn't require much nail trimming. Investing in a Dremel early on to file their nails is a less traumatic experience for them than cutting their nails. Keep them occupied with a toy filled with peanut butter to make the process easier for you and them!
Training Your German Shepherd Chihuahua Mix
As mentioned earlier, it is essential to start training your German Shepherd Chihuahua mix at an early age. While both parental breeds are smart and want to please their owner, both can be very stubborn.
Patience and calmness are crucial to ensure training goes well with this breed. You need to establish yourself as the alpha dog earlier on, which is why this breed is not best suited for a first-time dog owner!
On the bright side, once they know YOU are the alpha dog, they can quickly pick up commands, and they love to make their owners happy. So, reward them often with treats and praise when they follow commands.
Potty training can be a bit tricky for the smaller dogs of this particular breed. They have tiny bladders, which can make potty training more of a challenge, as you may need to take them out every 60 to 90 minutes. As they mature, they can go out less often, but initially, this can make training more challenging.
Crate training is essential for this breed as they can become quite attached to their owners. When left alone to their own defenses, especially early on, they can become quite destructive if not in a crate when alone. Start crate training early and for short periods of time. Rewarding and praising are essential when they are quiet in their crate. Never let them out when they complain; they will quickly associate their freedom with lots of barking. It might help to play music or TV when in their crate so they don't feel so alone. Also, giving them a toy filled with peanut butter will keep them occupied while in their crate. Let their crate open throughout the day when you are home, and encourage them to go in and out of it freely.
Socialization is another vital aspect of their overall training. This breed becomes very attached to their owners and cautious of strangers. Socializing them early teaches them that not all strangers are a threat.
Potential Health Issues with a German Shepherd Mix
While this hybrid breed is generally a healthy dog, it doesn't mean they are free from some potential risks and issues.
Between unique breeding problems and potential health problems in a senior German Shepherd Chihuahua mix, taking on this hybrid pup can be a big responsibility.
One doesn't see an abundance of this breed because natural breeding is not usually feasible. Artificial insemination is used to impregnate a female German Shepherd. If a female Chihuahua were the mother, she would mostly die during birth, and a male Chihuahua cannot impregnate a female German Shepherd. Artificial insemination is expensive, and only a few breeders will carry out this procedure due to the costs.
While most hybrid breeds are healthier than purebred parental breeds (which is one of the reasons hybrid breeds are becoming more popular), the particular breed may have some health issues later on in life due to the small stature of their legs.
Some of these more common conditions that can affect them, especially in their senior years, include patella luxation (floating kneecap) and hip dysplasia. While these can be very painful, they are treatable. And keeping your dog on the lower end of a healthy weight will help ease these conditions.
More serious conditions that could arise are generally heart conditions that they inherit at birth, but these are extremely rare.
More common conditions your hybrid breed might experience, like most dogs, include heartworms, fleas, and other parasites. But these are easily treated and preventable.
They can also be prone to obesity, so watch their diet and make sure they get daily exercise.
It is imperative to deal with a reputable breed to verify the health and conditions of the parental breeds. Reputable breeders will ensure the parental breeds are healthy and kept in a clean and safe environment before breeding.
Is a German Shepherd Chihuahua Mix Right Fit For You?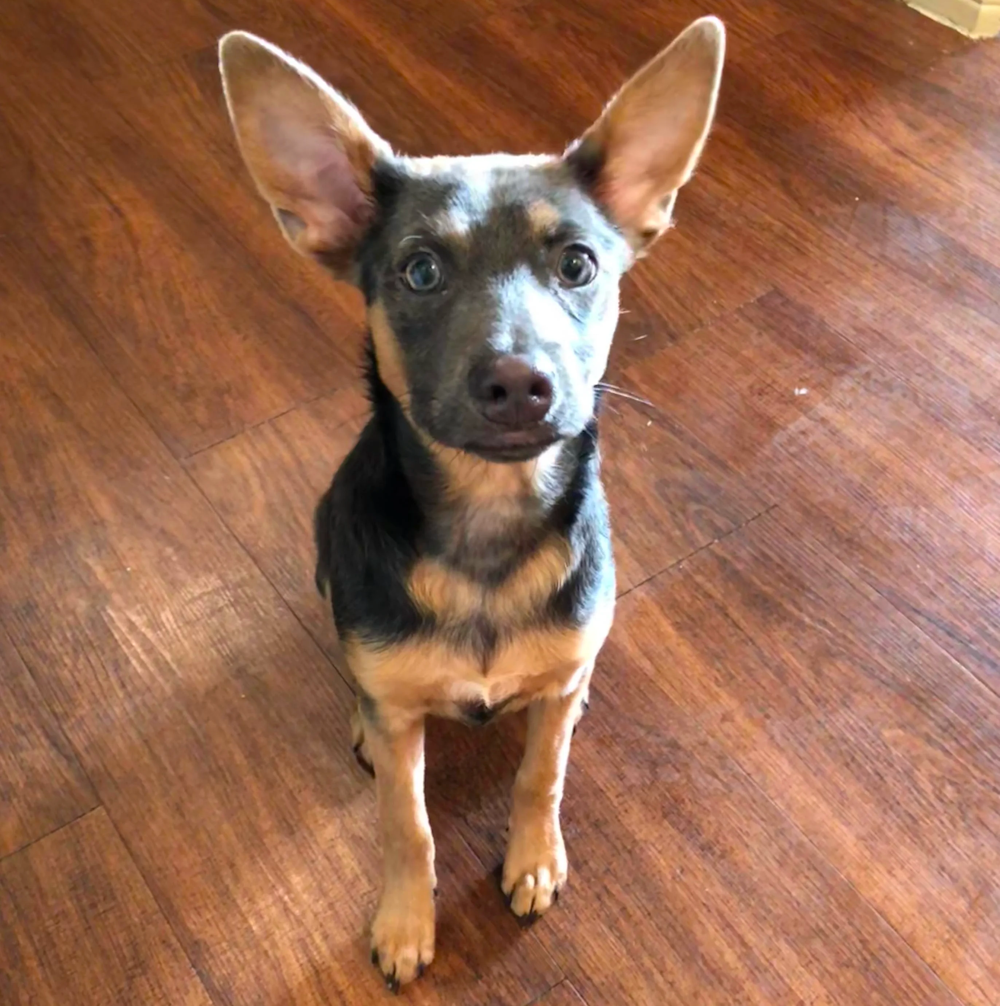 The German Shepherd Chihuahua mix can be a very loving and fun companion for the right owner. But is this hybrid dog breed right for you?
They are if you can answer yes to these questions:
Do you have ample time to spend caring for and training your dog?
The German Shepherd Chihuahua can get very attached to their owner and experience separation anxiety when apart for their owners for long periods.
While they do require some exercise, compared to most dog breeds, it is a relatively small amount, making great lap dogs.
Are you an experienced dog owner?
While this breed does best in homes where they are the only pet, they are better suited for owners with experience owning and training other dogs. This breed tends to inherit the tenacity and temperament of the male chihuahua parent, so if you are a first-time dog owner, this may not be the first dog for you to own. This feisty Chihuahua part will quickly establish themselves as the alpha dog.
Are you a single or married couple with no other pets or young children at home?
This dog breed does best with a single or two-person household or a family with older children. The Chihuahua half of this breed tends not to do well with babies and toddlers. That said, with extensive training, they can be trained to be around toddlers. As I mentioned earlier, my first dog at 18 months old was a Chihuahua, and that dog was my best friend. So never say never.
With proper training and tons of love and affection, this hybrid dog can be an excellent addition to most households!
Other German Shepherd Mixes