So, what do you get when you mix two of the finest working dog breeds in the world?
Well, you get the German Shepherd Australian Shepherd Mix – a mouthful of a name! But one excellent dog breed! This breed is also known as the Australian (Aussie) German Shepherd Mix or German Australian (Aussie) Mix. All still mouthfuls!
Please sit back, and let's delve into the history of the German Aussie Mix, as well as their appearance, temperament, grooming, care and feeding, potential health problems, and more.
So, let's get started now and see why the German Aussie Mix might be the perfect addition to your family.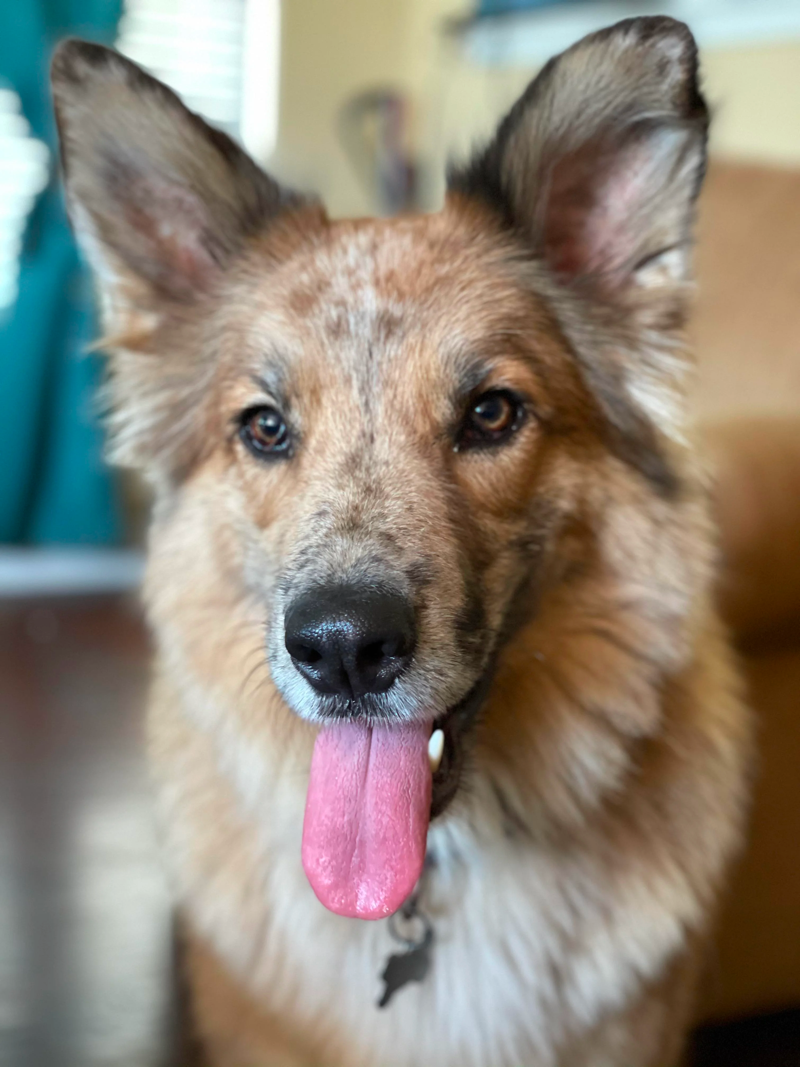 German Shepherd Australian Shepherd Mix at a Glance
| | |
| --- | --- |
| Parental Breeds | German Shepherd & Australian Shepherd |
| Breed Group | Hybrid, herding |
| Height | 19 – 26 inches |
| Weight | 45 – 65 pounds |
| Size | Medium to large |
| Temperament | Faithful, loving, energetic, protective, smart |
| Coat Type | Medium-length, dense, straight |
| Coat Color | White, black, blue, red, cream, silver, sable |
| Amount of Shedding | Moderate to heavy |
| Eyes | Blue or brown can have one of each color |
| Nose | Black |
| Ears | Triangular, floppy |
| Life Expectancy | 12 – 15 years |
| Hypoallergenic | Maybe |
| Kid Friendly | Yes |
| New Owners Friendly | Maybe |
| Daily Exercise | Minimum 90 minutes per day |
| Food Requirements | 2.5 to 3.5 cups per day |
| Breed Recognition | ACHC, DRA |
You might want to read: German Shepherd Vs. Australian Shepherd: A Complete Comparison
German Shepherd Australian Shepherd History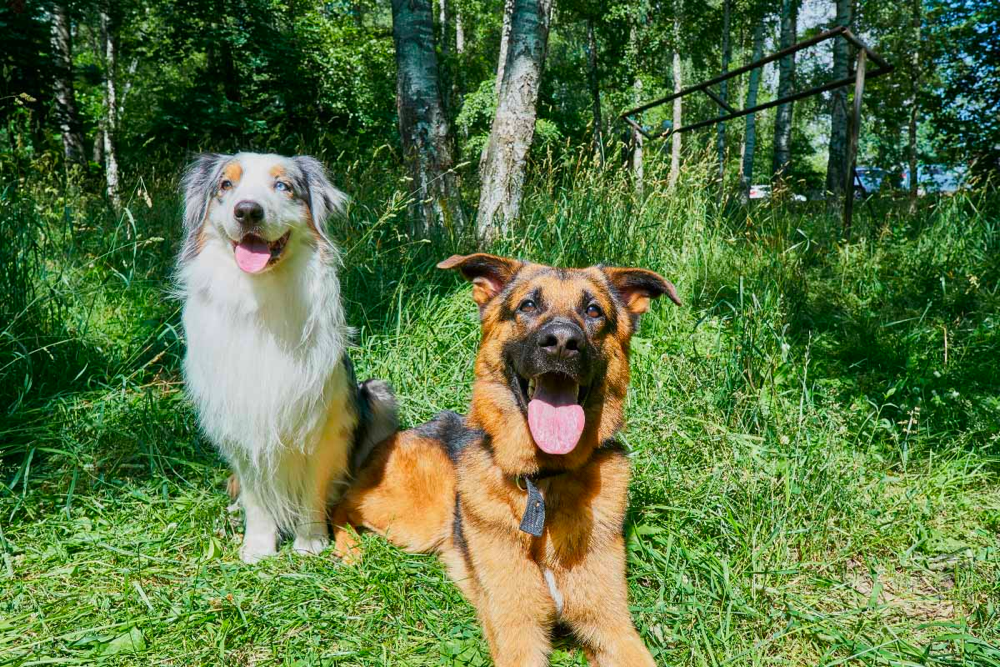 The Australian German Shepherd mix combines two of the most popular breeds of dogs in the United States and is a magnificent mixed breed. This particular combination is a mix between the brave and intelligent German Shepherd and the exuberant and intelligent Australian Shepherd. Since both parental breeds are extremely smart, the offspring of this mix is bound to be very smart as well, and surely this mix will win anyone over!
The exact time of origin for this designer breed is unknown, however.
One can only imagine that this breed was stumbled upon by accident, and now breeders have been intentionally producing them because of the excellent qualities these dogs possess.
This smart pet will be able to learn commands quickly and adjust to multiple different working lifestyles as long as they have the room and time for proper exercise.
So, if you want to add a new member to your family, look no further than this remarkable breed. The Australian Shepherd German Shepherd mix is an active family's dream companion and watchdog.
What Does a German Aussie Look Like?
The German Shepherd Australian Shepherd Mix will share a mixture of both parents' striking appearances. Differences among the parental breeds mean that each particular German Aussie will be unique in appearance.
They typically will be smaller than a standard German Shepherd but bigger than a traditional Australian Shepherd.
A fully grown German Aussie typically weighs between 45-65 pounds. However, they can weigh as much as 85 pounds, and males tend to be on the heavier side of the scale while females are less.
The height of the full-grown German Aussie is anywhere from 19 to 26 inches tall.
Typically, German Shepherds are black and tan in coloring with a double coat, and Australian Shepherds come in various colors with a medium-length coat. Therefore, this means the German-Aussie mix can be many colors and shades of whites, blacks, silvers, blues, tans, and greys.
While this mixed-breed color combination will depend on parental coloring, you can be sure their colors will be unique and beautiful.
Be prepared for daily or minimum every other day brushing as both parents have a medium-length double coat.
These mixes shed a lot typically but profusely twice a year during their bi-annual blowout! During these two times a year, you will definitely need daily brushing of their undercoat to remove the extra trapped dead hair! You also might want to invest in a robotic vacuum cleaner, or in addition to brushing your German Aussie daily, you will also be vacuuming your floors daily!
German Aussie Shepherd 

Temperament
The German Aussie Shepherd is exceptionally loyal, loving, and intelligent while at the same time energetic and loves having a job to do and pleasing their owners.
They make fantastic guard dogs because of their protective instincts. However, because of this, they can be suspicious of strangers, especially if they were not exposed to many people as a puppy. This makes socialization of this breed at an early stage extremely important. While you want your German Aussie to alert you to intruders in your house, you do not want them to be barking at every person you let into your home. So, make sure you begin socialization right from the start.
German Aussie Shepherds are very devoted to their owners. However, they can be very stubborn if training is not consistent and clear. Make sure to establish yourself as the alpha dog right from the beginning, as well as other family members.
The best owner of a German Aussie is someone who is prepared to dedicate plenty of time to their training and care. Since these are high-energy dogs, they need to be cared for by an owner that also leads an active lifestyle. This is not a dog for an owner that loves sitting on a couch watching TV but rather an owner that loves being outdoors and active.
German Aussie Shepherds often experience separation anxiety if left alone for long periods of time. Without sufficient attention throughout the day, these dogs tend to become destructive and anxious and may bark excessively. So, if you have your heart set on this dog breed and have a job that keeps you away from your home for long periods, you might want to consider doggie daycare. This way, your dog will have the proper mental and physical stimulation to keep them happy throughout the day while you are at work.
How Much Grooming Does a German Aussie Shepherd Need?
The German Aussie Shepherd has straight double coats with a dense undercoat that sheds moderately all year round. They require brushing at a bare minimum of three times weekly, but you will surely want to brush them more often, or you will find their many fibers of love and joy EVERYWHERE!
Since German Aussie Shepherds blow their coats twice a year (the process by which dogs switch from their winter to summer coats and vice versa), they require daily brushing during this period.
Nail trimming should be done approximately every 6 to 8 weeks or more. You can usually tell if their nails need to be trimmed more often when they step on your bare foot, and it feels like an actual pin going through the top of your foot! You should check their paws regularly, both for debris stuck between their toes and paw pads and just for them to be comfortable with your handling their toes. This will make nail clipping a much more pleasant experience both for you and your pup. Also, you do not want their nails to get too long, as this in itself is painful for your dog.
Other grooming needs of your German Aussie Shepherd include teeth cleaning, which should be done at least two to three times a week and checking their ears for wax buildup or infections.
While the German Aussie Shepherd's coats tend to resist dirt, these dogs should still get monthly washings to keep their skin and fur healthy. When washing, ensure you use a shampoo formulated for dogs, not humans, as human shampoo is too harsh on their skin and will cause irritations and skin conditions.
All of their grooming needs make excellent bonding times for you with your dog. Make sure to make them enjoyable for both you and your German Aussie, and you will build a strong bond with your pet!
Is a German Shepherd Australian Shepherd Mix Easy to Train?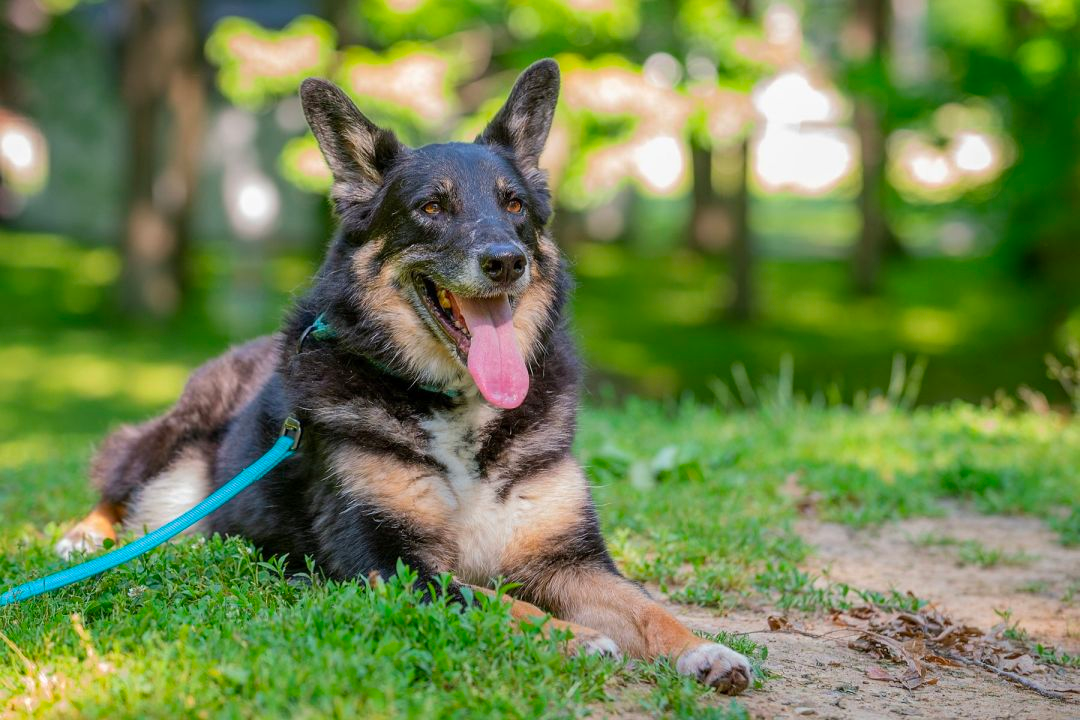 Both parental breeds of the German Aussie Shepherd are considered easy to train. So, it would only hold true that this breed is easy to train. And for the most part, they are. But be forewarned: The German Aussie Shepherd has been known to use their intelligence to outwit their owners at times. This is what I like to call being too smart for their own good!
This means you must establish yourself as the alpha dog right from the start. You do not want this breed to think they are the alpha dog and take control.
It is crucial to start training at an early age, and you might want to invest in obedience classes and make teaching a priority with this breed. This mixed breed needs a robust and experienced dog owner who can help channel their protective instincts and keep this dog on their best behavior.
To install trust between you and your German Aussie Mix, you should consistently positively reinforce your puppy when they do something you want them to do, either with a treat or tons of praise and affection.
Remember, these dogs also require a great deal of physical and mental stimulation as well. Be prepared for tons of exercise and mental stimulation. 
This breed will be the star at herding, agility, and tracking competitions. These all are great ways to bond and instill good communication skills between you and your dog. 
The German Aussie Shepherd mix needs about 60 minutes of mental stimulation per day to be happy and mentally fit. You can achieve this will puzzle toys, as this dog breed excels at problem-solving and always loves a challenge. Learning new tricks and commands and playing with interactive toys with you makes for a great bonding experience with your dog. Mental stimulation could include food puzzles, clicker training, and playing with toys together.
Remember, training is the best when it provides fun for both the dog and you, the owner.
How Much Exercise Does a German Aussie Shepherd Need?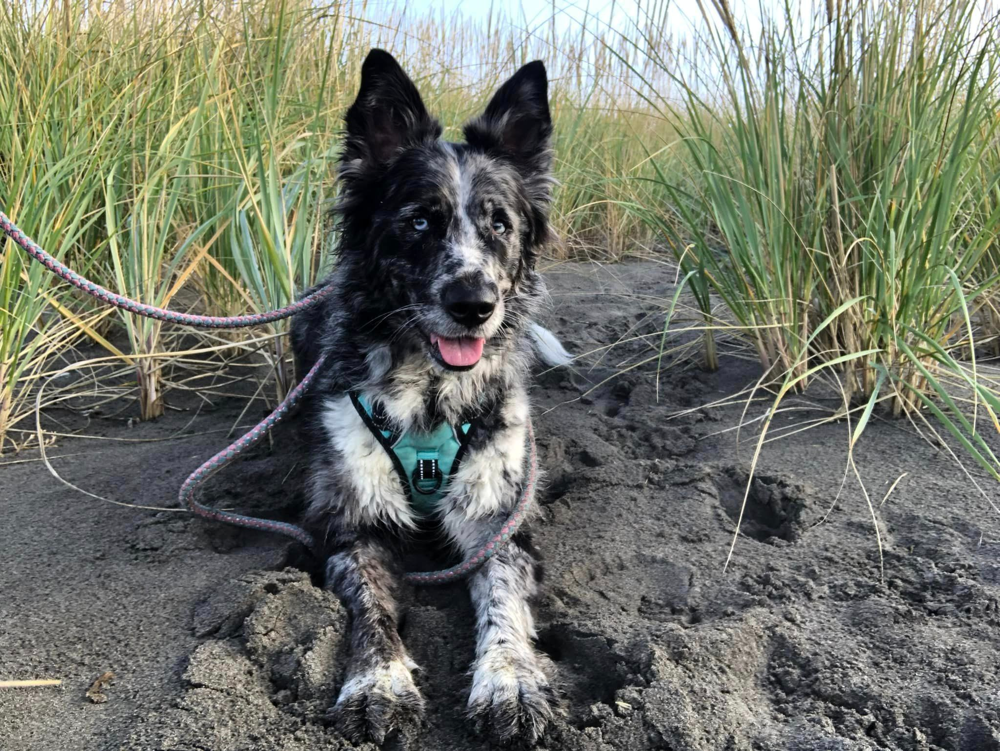 I cannot stress this point enough – This mixed-breed dog requires plenty of exercise and mental activity. Otherwise, boredom will set in. And trust me, you do NOT want a bored German Aussie Shepherd!
They are happiest in a large home with a large yard versus a small apartment.
They would love long walks, preferably two per day of about 45 minutes in length and, as I mentioned before, about 60 minutes of mental stimulation or puzzle playing. They also enjoy water play (when the weather is warm), so they may excel at dock diving competitions.
They are happiest in a large fenced-in yard where they can be kept off-leash to play and explore some. But remember, they possess prey-driven instincts, so while on your twice daily walks in the neighborhood, make sure they are on a leash to keep them safe and out of trouble.
This dog breed wants nothing more than to play and be with their family, make them happy, and keep them safe
Some Possible Health Concerns of the German Aussie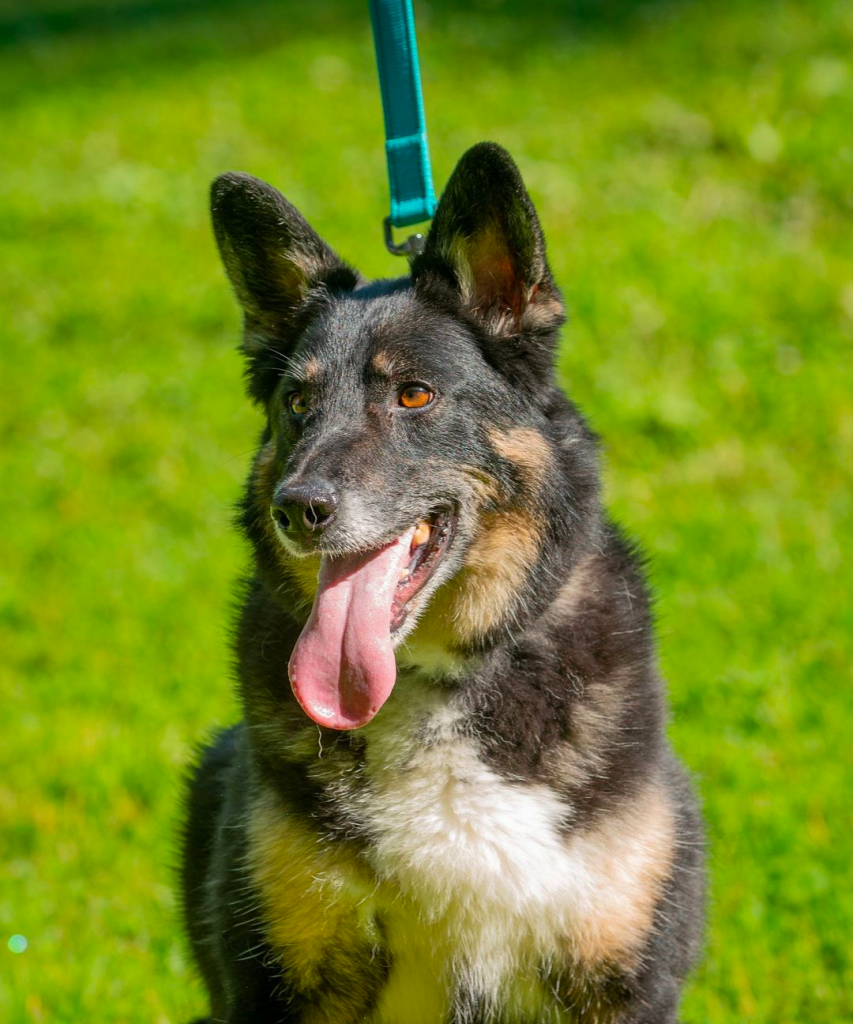 Twelve to fifteen years is the average lifespan of the German Aussie Shepherd mix. This is generally a healthy mixed breed, but like with any dog, issues can still arise. Some common health problems of this breed that you should watch for include the following:
Epilepsy – This is a severe neurological disorder that is typically triggered by injury or infection. For the German Aussie Shepherd, this health issue is idiopathic in nature, meaning there is no known cause or reason for the disorder.
Hemophilia – This health issue is a blood clotting disorder, and it is a spontaneous bleeding disorder that can occur in the dog's muscles or joints.
Progressive Retinal Atrophy – This health issue is a degenerative disease that results in blindness. While it is rare in German Aussies, it can happen.
Collie Eye Anomaly – This health issue is a group of eye issues that may be minor to fatal in nature. This congenital bilateral eye disease affects the retina, choroid, and sclera.
Hip and elbow dysplasia – This health issue is a malformation that can spontaneously occur in the dog, and this leads to joint inflammation at a young age.
Bloat – This health issue is also known as Gastric Dilation-Volvulus (GDV). This condition is entirely preventable, unlike the other conditions mentioned above. Bloat usually happens when your dog has eaten or drank excessively and too quickly, and this can be fatal to your dog. Watch how fast your pet eats or drinks. If your German Aussie is eating too quickly, get one of those feeding bowls which promotes slower eating. Always pay attention when your pet eats to prevent this condition.
Many of these health issues are common among purebred dogs of all kinds. It is believed that when mixing two breeds, the risk of these inherited health issues is reduced.
If you are able, it is wise to establish a good rapport with the German Aussie Shepherd mix breeder. That way, you can contact them more about the possible health issues of your particular dog. Professional breeders will happily inform you about the potential genetic and non-genetic health issues and other things you may need to watch for with your dog.
As with any dog, it is vital to have regular check-ups with a reliable veterinarian who can help you maintain the good health of your German Shepherd Australian Shepherd mix. Your pet will have an even greater chance of avoiding these unpleasant health issues.
German Aussie Shepherd: Is This the Right Breed For You?
Before bringing one into your home, it is essential to consider all the benefits and possible drawbacks of owning a German Aussie Shepherd. This mix is brilliant and loving and makes a wonderful family pet. But their high energy level, proneness to separation anxiety, and their strong guarding instincts mean this breed is not for everyone. Here are some questions to ask yourself before adding the German Aussie to your family:
1. Do I have the space this dog breed needs to be happy?
This dog breed is most suitable for people that live in a home with a large yard, preferably fenced, where your dog can run and explore safely, unleashed, on their own. This breed may not be for you if you live in an apartment or a home that doesn't have much of a yard. These dogs have high energy levels and need to run and play several times a day, rain or shine.
2. Do I have time to train and play with my dog?
German Shepherd Aussies are prone to separation anxiety. If your job keeps you away from your home for long periods of time, this might not be the breed for you. This dog must run, play, socialize, and interact with family members. They are the happiest when they are with you. If you have your heart set on this dog breed and work full-time away from home, you might consider enrolling your pet in doggie daycare. But please, make sure you spend a lot of time with your pet when you are not at work. Play games that stimulate them mentally, take them for walks, and engage them in activities such as flyball, dock diving, and obstacle races. Please provide them with opportunities that give them mental stimulation as well as physical exercise.
It is essential not to let this dog breed become bored. Boredom could manifest in destructive behaviors such as excessive barking and chewing on furniture, shoes, and clothing.
An active German Aussie Shepherd is a happy German Aussie Shepherd.
3. Am I looking for a family dog?
German Aussie Shepherds are wonderful family dogs. They LOVE children. Maybe because children can easily match the German Aussie Shepherd's high-energy level, this breed is loving and loyal, and faithful. They will be excellent watchdogs making great companions for your child. Never leave toddlers unattended with this breed, however. Not because this dog would never bite or intentionally harm your toddler. But because of their high energy level, they could easily knock over a toddler.
Because these dogs are such good watchdogs, though, it is important to start socializing this breed early. Even before they come home to you. Let the breeder you are dealing with know that you want this dog to start socialization, as this skill can be started at 2 ½ weeks old. It is essential to do this as you will want your dog to know that every stranger to them is not a threat to your family. This will allow your pet to be friendly to all of your friends.
Involving your pet in family activities and excursions is essential when possible. Let your German Aussie Shepherd know they are indeed a member of your family, and they will be one delighted dog!
If you answered yes to these above questions, the German Shepherd Australian Shepherd mix is the ideal addition to your family, especially if you have children. That is not to say this breed is unsuitable if you are a single person or a couple, just that they are especially good with children.
Final Thoughts
The German Shepherd Australian Shepherd mix is the perfect dog for an active family and will become their dream companion and an ever-faithful watchdog. This mix is sure to win anyone over.
The German Aussie Shepherd is an intelligent dog breed that will be able to pick up commands easily and should be able to adjust to multiple types of family dynamics. That is, as long as you are active, spend time with them, provide tons of mental and physical stimulation, and make them feel like a beloved family member. This dog wants to love, be loved, and please their owner.
Please consider a different dog breed if you are inactive or have mobility issues. Since this dog breed suffers from anxiety separation, if you need to be away from home for long periods of time and cannot afford doggie daycare, it is best to look for a dog that doesn't suffer from this condition.
Now that we have gone through many of the German Shepherd Australian Shepherd's qualities, I hope you will better understand what it is like to own this intelligent, loyal, and highly energetic dog. And whether or not this dog will fit your style of living and make the best addition to your family.
Other German Shepherd Mixes