When looking at herding dog breeds, these two dog breeds often stand out, especially in countries like the United States, where dogs in general are highly loved and valued. The German Shepherd, one of America's most popular dog breeds, has been a favorite for many dog lovers across the country and the world. The Australian Shepherd hasn't enjoyed as much popularity as the German Shepherd, but this herding dog breed does have its perks.
These two dog breeds make great family companions, so if you're considering adding any of these beauties to your family, then solid congratulations are definitely earned. They both have incredible work ethics and can be trained to get the best out of them. They are happy, healthy, and energetic dogs. But which is the right dog breed for you?
In this article, we provide a clear look into both herding dog breeds. We would be comparing both dog breeds, stating their differences and their respective similarities, especially in areas like temperament, health, grooming, appearance, and a whole lot more. With that being said, we do strongly recommend that you endeavor to read this article till the end as it promises to be both engaging and informative.
Both the German Shepherds and the Australian Shepherds are well-known herding dogs with the German Shepherd being widely more popular than the Australian Shepherd. One good thing about German Shepherds is their high versatility.
You might want to read: German Shepherd Australian Shepherd Mix: Spirited and Courageous
German Shepherd vs Australian Shepherd: Breed Origins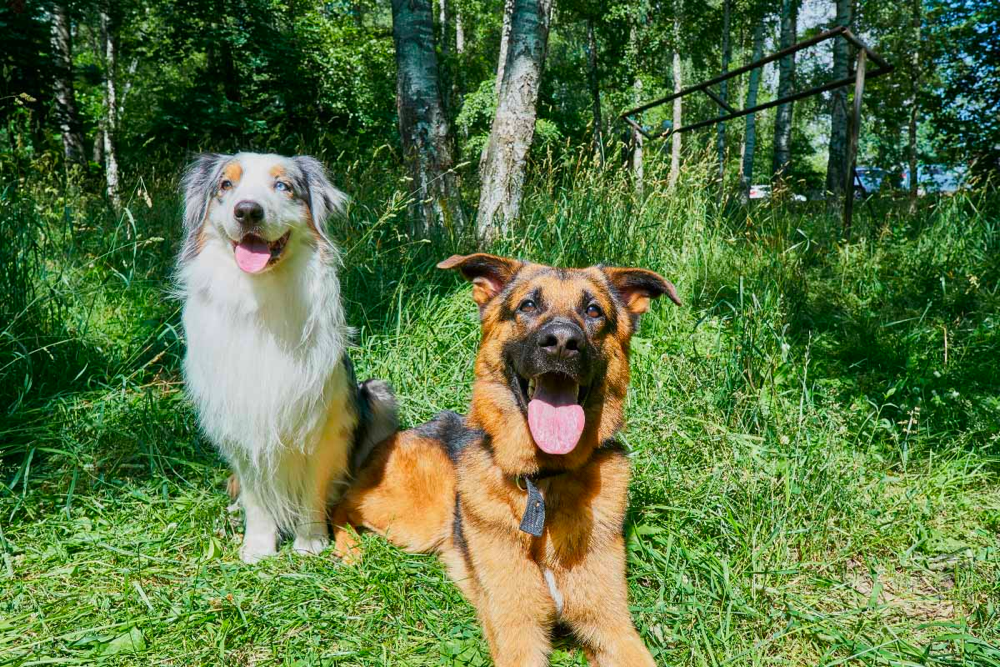 Understanding the breed origins or history is a great way to start this comparison between these two unique herding dog breeds. First, the German Shepherd, Its origin is a lot different from the Australian Shepherd's as they were first bred in Germany, which should come as no surprise judging from the breed's name.
German Shepherds were first bred in the year 1899 by a German called Max Von Stephanitz. They were created using different herding dogs situated in Germany. The intention for creating German Shepherds was so they could become herding dogs tending to sheep and helping the German farming communities. Over the years, a lot has been learned about the German Shepherd, especially with regard to its versatility.
Australian German Shepherds do have a different story around their origins. Although they are called Australian Shepherds, these furry, happy angels were actually created in California, Western USA in the 19th Century, making the breed name a misnomer. Australian Shepherds were bred with the intent of producing through ranch dogs to help with the herding of the cattle at the ranch.
German Shepherd vs Australian Shepherd: Energy Level
Both dog breeds are blessed with high energy as is required from most working dogs especially herding dogs. They can be a handful if not around their owners and as such require to be with them where they can engage in activities like running, tracking, and basically participating in most dog sports and competitions.
They are both blessed with high versatility and as such can be used as special dogs like therapy dogs, and search and rescue dogs among other things. Considering that the energy levels of both dogs are very high, exercises and training are heavily recommended for these dogs to keep them busy at most times. Exercise could serve as a means of release for the pent-up energy residing in both dogs. If left unreleased it can easily become a problem for both dogs.
When looking at the individual dog breeds starting with the Australian Shepherd, their energy levels are always quite high as they are known to maintain the same puppy-like energy all through to their adult life. They require a lot of space to satisfy their playful needs as you would most likely find the Australian Shepherd digging through the yard, chasing smaller animals and practically being a curious dog.
This amount of pent-up energy within the Australian Shepherd shows why exercises are important for the breed. They are more prone to being destructive indoors than the German Shepherd. It is always essential you work out a proper exercise plan for your dog. It should be age-appropriate and should include both mental and physical exercises.
Moving on to the German Shepherd, the energy levels are also quite high, which is why they make great security dogs, search and rescue dogs, and herding dogs. One good thing about the energy levels of the German Shepherd is that they are not as high as the Australian Shepherd, but that doesn't mean they are perfect dogs for small spaces.
The German Shepherd is a large dog, and its size alone suggests that small spaces might not be a good living space for them. They do require a lot of exercise to keep them in check. Again, a healthy mix of both physical and mental exercises is great for the German Shepherd. The mental exercises can help sharpen their intellect further in addition to keeping them satisfied.
German Shepherd vs Australian Shepherd: Appearance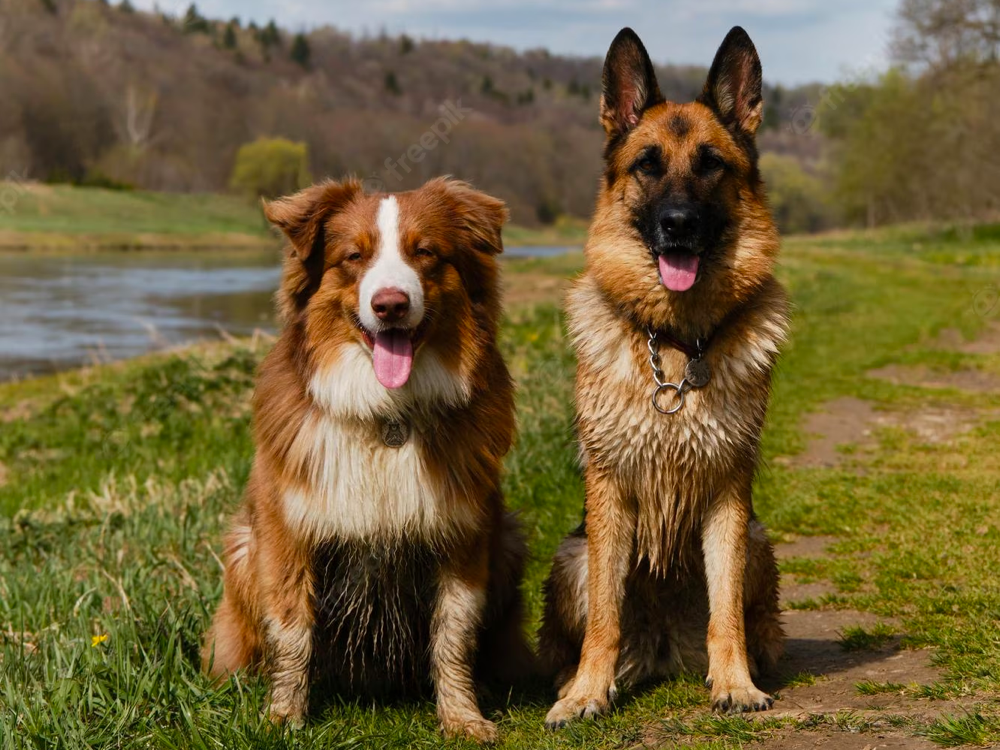 Both dog breeds range from medium sizes to large sizes. However, if you do compare the German Shepherd with the Australian Shepherd, the German Shepherd is a larger breed as they can measure between 85 pounds to 95 pounds while an Australian Shepherd does have a maximum weight that falls between 60 pounds to 65 pounds. Height for the German Shepherd can reach a maximum of 26 to 28 inches. Whereas the Australian Shepherd can reach 20 inches at maximum.
Looking at each dog breed, The German Shepherd is known to have one size category or classification only. The size might have some slight differences, especially between bloodlines as European German Shepherds are said to be bigger than American German Shepherds. But, this size difference is most times too small to really notice.
They feature a double coat which is basically an undercoat and a stock coat or an undercoat and stock long coat. When it comes to color, German Shepherds have up to 13 different coat colors which are quite impressive as many of these coat colors are quite rare, for example, Isabella coat color or the Liver coat color.
German Shepherds do shed a lot, and they require a lot of grooming, so as an owner, you have to make proper plans for handling the excess shedding that comes with this breed. If you do have allergies to dog fur or coat, then the German Shepherd might not be the right dog for you.
The Australian Shepherd does have a lot of differences from the German Shepherd with regard to appearance. They offer a lot more variety when it comes to size as they are generally classified into 3 types. The standard Australian Shepherd, the mini Australian Shepherd, and finally, the toy Australian Shepherd, which is the smallest size available.
The variety of the Australian Shepherd also transfers to coat colors, as they offer more color varieties than the German Shepherd with over 14 different color coats and patterns of the Australian Shepherd. They also feature double coats, the undercoat, and the coarse top coat which is often wavy and long.
Shedding is also a thing to consider with the Australian Shepherd as they do shed a lot. Like the German Shepherd, there are periods when they shed a lot more than normal. If you do have health issues with dog fur, then the Australian Shepherd is not for you.
German Shepherd vs Australian Shepherd: Temperament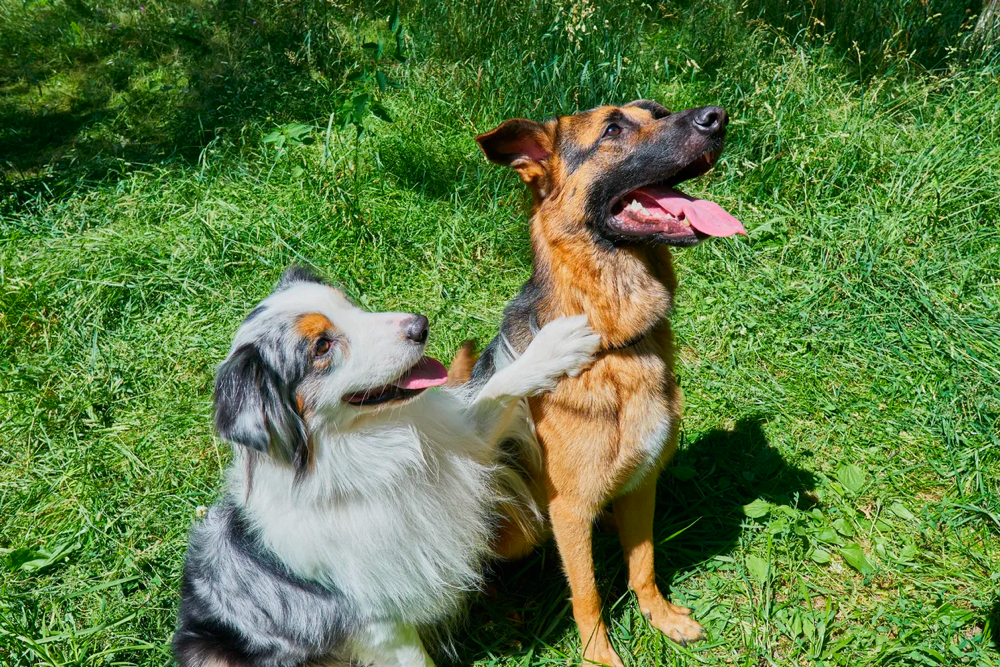 For both dog breeds to make great herding dogs they need strong work ethics and each needs to be highly intelligent and active, which both dog breeds truly have. However, they do have a lot of differences when it comes to temperament as Australian Shepherds are a lot more friendly than German Shepherds would be.
Don't get me wrong, the German Shepherd can also be friendly or just as friendly as the Australian Shepherd, however, they take a longer time to establish friendships with strangers most especially as they are much more protective of their families. This is why the German Shepherd is often used as a guard dog.
Both dog breeds do a great job at staying alert to their environment, but the German Shepherd is a lot more alert as its senses are sharper. And stronger. One thing you have to consider with dogs like the Australian Shepherd is boredom. When bored and with no activities to engage in, the Australian Shepherd can quickly turn your house into a real wreck when in search of activities to keep busy with.
This is why they might not be great dogs to raise in apartments, they need the space. You can prevent actions like these from happening by coming up with a proper exercise plan for your puppy. Help them get rid of the excess energy.
German Shepherd vs Australian Shepherd:

Exercise Needs
By now, you should have a proper understanding of why exercises are crucial for both German Shepherds and Australian Shepherds. However, how much exercise do these breeds really need? And what exercises for each breed?
Starting with the German Shepherd, we have already established that German Shepherds are large breeds, and as such are physically fit to handle some level of intense training and exercise. For the Adult German Shepherd, you might want to consider a minimum duration of 2 hours spent on exercises.
The exercises perfect for them could range from regular walks to some special mental and physical activities like tracking exercises, swimming, puzzles, and a lot more. The Australian Shepherd isn't as large as the German Shepherd, but they are surprisingly almost as resilient as German Shepherds.
They can handle a minimum of 2 hours each day dedicated to both physical and mental exercises. They can handle most exercises like tracking, swimming, ETC. But they are better suited for exercises that require fetching skills. From Frisbees to balls, learn to have fun with your puppies.
German Shepherd vs Australian Shepherd: Trainability
Both German Shepherds and Australian Shepherds are impressive dog breeds to train as they are quite intelligent dog breeds that can be easily trained. They both should be trained pretty early to give them a proper head start in life. They are both highly willing to please their owners assuming you employ the proper training method on them.
The best training method to be used for these highly trainable breeds is the positive reinforcement training method. This involves the use of a reward system in training your puppy. For good behaviors, you can reward your dogs with a treat, or toy, and as punishment for bad behavior you can either opt to ignore the fog or give them a slight non-harsh tap on their head,
One major challenge you might encounter especially with training an Australian Shepherd is a lack of focus. Although the Australian Shepherd can be trained with relative ease, they do have a short attention span and can easily lose focus or find the training program boring. To correct this, you could consider training them in a quiet environment with a lot fewer distractions available. Also try to make a lot of eye contact while you train your Australian Shepherd, as this could help them stay more focused on the training program.
German Shepherd vs Australian Shepherd: Health Issues
When it comes to health, both dog breeds can be described as generally healthy dogs, as their genetic builds are often very strong. However, they do share a few common health issues. One such health issue is dysplasia of the hips and elbows.
Australian Shepherds are also prone to eye problems, so you have to ensure they are properly tested and certified to be free from such health issues. Genetic health testing is also heavily recommended for both dog breeds.
Other things to look out for are over-exercising your young Australian Shepherds and young German Shepherds. Intense exercises at such a young age could greatly affect the joints and ligaments of the puppy. In the same breath, ensure your dogs are fed properly and that they each maintain a healthy weight class as being overweight can affect their joints, as well as lead to other health conditions for both dog breeds.
German Shepherd vs Australian Shepherd: Friendliness
Although both dog breeds can be kept as family pets, you might have a few challenges with both dog breeds if you do not provide an active environment for them. Both the German Shepherd and the Australian Shepherd require a lot of attention and commitment. They love activities and as such an active family would be the best family for them.
Also, both dog breeds are good with children, but it's strongly recommended that you never leave any of these dog breeds unsupervised with children. This is because they are very energetic and this would not be ideal, especially when playing with young children or toddlers. The German Shepherd in particular is a large breed, and its large size can be harmful to children.
When it comes to the relationship with other dogs or pets, the Australian Shepherd is a better choice as they are more friendly to other dogs and pets. The German Shepherd does have an average relationship with other dogs and pets as they are not as friendly as the Australian Shepherd.
German Shepherds are naturally protective, and as such if they do feel threatened by another dog or pet, they do have the tendency to react aggressively by barking or even attacking. Early socialization is important to both dog breeds, as it can help them become more family-friendly.
But with all that has been said so far, both dog breeds still make good family companions as they are both naturally protective, happy, and sweet-tempered.
Australian Shepherd vs German Shepherd: Average Lifespan
The average lifespan of both dog breeds is significantly different as the Australian Shepherd is believed to have a higher or longer lifespan than the German Shepherd. It is worth stating that the lifespan of a dog can be affected by a few factors including health problems (illnesses, genetic defects) and lifestyle (diet, exercise E.T.C).
With that being said, the Average lifespan of a healthy, German Shepherd dog is short. This is because of its large size. Your German Shepherd puppy life expectancy should range between 9 years to 12 years. Again, the range might be higher or lower depending on how healthy and active your German Shepherd is.
The Australian Shepherd, average lifespan is a lot higher than that of the German Shepherd, this is because they are a lot smaller than the German Shepherd. Your Australian Shepherd's life expectancy should range between 12 years to 14 years.
Australian Shepherd vs German Shepherd: Shedding and Grooming Needs
The grooming needs for both dog breeds are quite similar as they both feature double coats and even though the Australian Shepherd has a longer coat than the German Shepherd. Also. both dog breeds have a high shedding propensity and as such would need to be groomed regularly to keep their coat healthy.
Due to the Australian Shepherd's long coat, they would need regular trimming to keep them healthy and looking good, Brush their teeth regularly using good quality canine toothpaste to keep their dentition healthy. Their toenails also need to be trimmed regularly too.
During the spring and fall seasons, Both dog breeds experience heavy shedding. This can be quite problematic especially if you do have an allergy to dog hair. With that being said, try using a de-shedding brush to handle the excess hair during these periods.
Just before you begin brushing your German Shepherd or Australian Shepherd, you can consider taking them outside the house where they can be brushed properly. Doing this can help prevent the extra dog hair from falling into the house. And if you do have an allergy to dog hair, then perhaps these two dog breeds are not the best for you.
Australian Shepherd vs German Shepherd: Price and Cost
The price for both high-sort after-dog breeds can change depending on a few factors. One of these factors is popularity. The German Shepherd has always been highly sought after as they remain the 2nd most popular dog breed in the United States. This is mainly because of their size and high versatility.
The Australian Shepherd does fall largely behind the 17th most popular dog you can find in the United States today. They do have a less impressive body and are not as versatile as the German Shepherd. But, they are still relatively in demand.
Putting popularity as a major factor, German Shepherds are a lot more expensive as you can end up paying between $1500 to $5000 for a German Shepherd. These prices could go higher or lower depending on the breeder, the quality and level of training received, and the exact age of the German Shepherd.
Looking at the Australian Shepherd, you might end up having to spend a lot less than you would with a German Shepherd. The price range for an Australian Shepherd can fall between $700 to $1500. Again these prices depend on the exact breeder, the age of the Australian Shepherd and sometimes the level of training each dog receives.
Australian Shepherds are not as versatile as German Shepherds, so this factor heavily affects the overall price estimate for the Australian Shepherds.
Which One Is the Right Dog Breed For You?
With all that, we know concerning the Australian Shepherd and the German Sheperd, which dog breed is the best for you? To answer this question properly, we have to look at the various pros and cons of both dog breeds.
Both dog breeds were originally bred to be herding dogs, so if you are searching for a herding dog, they are pretty obvious choices. As family dogs, they do pretty well, but you or the family would need to commit a lot of time and energy to them to keep them properly exercised and trained. If you or your family can't make search commitments, then they aren't the ebay dogs for you.
The same goes for your residential building. If you happen to reside in a small apartment, the German and Australian Shepherd might be too much for you except you properly commit to training and exercising them. Go for a much smaller, less energetic dog breed instead at home.
Individually, German Shepherds make great security dogs, as they are a lot less friendly than the Australian Shepherd, and their sheer size does play a big advantage for them. The Australian Shepherd doesn't share as much enthusiasm to protect as much as the German Shepherd. This is because they are a lot more friendly.
Lastly, if you do have a strong allergic reaction towards dog hair and dander, then both dog breeds are a terrible choice for you as they have a high shedding propensity. With all the facts listed above, you can then decide, which of the two breeds is best for you and your family.