Catahoulas leopard dogs, also known as Louisiana Catahoula leopard dogs or simply Catahoulas, are an American breed of herding and hunting dog. Their name comes from the Catahoula Lake in central Louisiana and their unique spotted coloring. However, not all Catahoulas have leopard coloring – they can actually be quite diverse in appearance.
These are hardy, hardworking dogs that are loyal to their family, sometimes to a fault. Because of their independence and protective instincts, Catahoulas are best for experienced dog owners who have plenty of room for them to run and play. If you're looking for a watchdog and outdoor companion and you have the time to put into socialization and obedience training, a Catahoula leopard dog or one of the many Catahoula mixed breeds may be the right dog for you.
You might want to check: Top 10 Best Dog Ramps and Steps to Minimize The Risk of IVDD
Getting to Know the Catahoula
The Catahoula's lineage is undoubtedly American, as they're descendants of Native American "wolf dogs" and the greyhounds, mastiffs, and bloodhounds brought over by early Spanish settlers. Along the way, some French hound ancestry entered the bloodline, and they were first formally bred in central Louisiana to help round up stray cows and wild hogs.
The Catahoula has a unique herding style. Instead of nipping at the heels, it creates a "fence" around a group of livestock to keep them contained while a human master directs the herd. These dogs also have the instincts to track and hunt game both small and large. Since they're largely working dogs, they're typically bred for instinct rather than appearance, resulting in a wide variation of coat colors and patterns.
| | |
| --- | --- |
| Items | Values |
| Popularity | Low |
| Lifespan | 10 to 14 years |
| Temperament | Tough, watchful, hardworking, independent, protective, dedicated |
| Average Height | 20" to 26" |
| Average Weight | 50 to 90 pounds |
| Coat Type | Short to medium |
| Hypoallergenic? | No |
| Grooming Needs | Low |
| Shedding | Low to moderate |
| Brushing | Weekly |
| Touchiness | High |
| Tolerant to Solitude? | Low |
| Tolerance to Heat | Moderate |
| Tolerance to Cold | Moderate |
| Barking | Moderate |
| Good Family Pet? | With training |
| Good with Children? | With training |
| Good with Other Dogs/Pets? | No (but possible with socialization) |
| Good Apartment Dweller? | No |
| Trainability | Low |
| Exercise Needs | Very high (at least 1 hour daily) |
| Tendency to Gain Weight | Moderate |
| Common Health Concerns | Canine hip dysplasia, deafness, eye problems |
| Average New Puppy Price | $500-$750 |
| Average Annual Medical Expense | $400-$700 |
| Yearly Cost to Own This Breed | $500-$900 (not including emergency expenses) |
Catahoula Appearance
The "leopard dog" part of the Catahoula's name may cause you to assume that this breed always has leopard-like spots, but that's not entirely true. Yes, there are red, blue, black, and gray versions of this leopard coloring, which is known as "merle" in other breeds of dogs. However, Catahoulas may also have coats of three, four, or five different colors including black, white, gray, tan, and chocolate. The most common combination is black, white, and gray.
Regardless of its coloring, a Catahoula will have a short to medium-length single coat that may be smooth or coarse. These are athletic dogs with muscular, rectangular bodies; floppy, triangular ears; and slightly tapered muzzles. They usually have long, whip-like tails, though some may have naturally bobbed tails. Interestingly, they have very prominently webbed feet which allow them to move quickly through the water.
Finally, Catahoulas are prone to heterochromia or having two differently-colored eyes. They may have what are sometimes called "glass eyes," or very light irises that look almost white. One or both eyes might also be marbled or "cracked," combining white and colored iris in the same eye.
Catahoula Personality and Temperament
Catahoulas were bred to be working dogs. Specifically, they were bred to catch and pen wild cows and hogs in rural Louisiana. This job requires hardiness and assertiveness, and though Catahoulas aren't naturally aggressive toward people, they are mistrustful of strangers and unknown dogs. Since they were also used for hunting, their strong prey drive may cause them to think of small animals as things to injure or kill.
While loving and loyal toward their own family, Catahoulas may be very protective against outsiders. Though they are typically good with children, whether in their "pack" or not, they may growl or bark at unknown adults. However, they are not a dangerous breed, particularly with good socialization. They may be best as the only dog in the household or alongside a more submissive dog.
As herding dogs, Catahoulas have a lot of energy, and it's important to remember this when planning for training and exercise. They need at least an hour of exercise a day, which can include walks, runs, swimming, hiking, and retrieving balls. Outdoor playtime is also a must – these are not good apartment dogs, and they need a lot of room to run. If left alone for long periods of time, they are likely to become bored and destructive.
Catahoula Training and Socialization
Catahoulas are reasonably intelligent dogs, and they fall somewhere in the middle of "stubborn" and "easy to please." That means they're trainable, but they may require some patience, particularly if they're less than two years old. Always use positive reinforcement with your Catahoula, as they may react badly to physical aggression. In addition to obedience training, Catahoulas may enjoy agility training, in which they learn to run an obstacle course.
Socialization is especially important with Catahoulas, who are naturally wary of that outside of their pack. Introducing them to new people and dogs when they're young will help them learn to accept new situations when they're older. But don't worry – properly socialized Catahoulas still make excellent watchdogs.
Catahoula Health and Longevity
Fortunately, Catahoulas are largely healthy dogs. As with many larger dogs, hip dysplasia can be an issue in up to 20% of Catahoulas. This painful condition is a malformation of the hip socket that eventually leads to arthritis and limits movement. Reputable breeders will know how to pair dogs to lower the chances of offspring being prone to this condition. Additionally, keeping your dog at a healthy weight will help minimize joint problems.
Since some Catahoulas carry the merle gene, which causes the distinctive leopard coloring, the breed, in general, is at risk for the double-merle syndrome. If two dogs with the merle gene breed, there is a 25% chance their offspring will have an excessive white coloring that comes along with severe eye and ear problems. Double-merle dogs may be born deaf, blind, or both. Most good breeders will not pair two merle dogs. However, there is evidence that Catahoulas are somewhat less prone to double-merle syndrome than some other breeds.
Top 18 most popular Catahoula Mixes
Although Catahoulas aren't one of the most popular dog breeds, you will sometimes see them combined with other breeds to create designer dogs. The Catahoula's distinctive coloring combined with other purebreds can make for beautiful dogs. However, the Catahoula is not the only dog that has this leopard or merle coloring, so if having a Catahoula mix is important to you, you will want to ensure you receive documentation that a Catahoula was one of your new dog's parents.
Since designer dogs like Catahoula mixes constitute new breeds, there aren't existing standards for them. Organizations like the AKC and UKC don't recognize them yet, and there aren't specifications for how they should look or act. The first generation of any hybrid breed – that is, the offspring of two different pure breeds – will have highly variable appearances and temperaments. That is, your Catahoula mix may look and act more like a Catahoula or more like the other parent breed. Since there aren't established breeding lines for these hybrids yet, you'll most likely get a first-generation Catahoula mix.
Thus, keep in mind that the following characteristics are only broad guidelines. The more different any two dog breeds are, both in appearance and behavior, the greater the variation within their offspring. For example, Catahoula leopard dogs and Australian shepherds are both herding breeds that are similar in size, temperament, and other characteristics. Thus, Catahoula Aussie shepherd mixes will be more consistent than, say, a Catahoula mixed with a small non-sporting breed.
Quick Look at Catahoula Mixes
| | |
| --- | --- |
| Catahoula Mixes | Description |
| Bloodahoula | Energetic and potentially stubborn. Can be an "escape artist," so requires a high fence. |
| Catahoula Australian Shepherd | The ultimate herding dog. Needs lots of stimulation and exercise to be happy. |
| Catahoula Basset Hound | The high-energy Catahoula and the low-energy basset hound make for an unpredictable combination |
| Catahoula Beagle | The beagle's friendliness balances out the Catahoula's reservation around strangers but may be hard to train |
| Catahoula Blue Heeler | One of the most energetic hybrid breeds you'll find, this dog is loving but prone to separation anxiety |
| Catahoula Border Collie | Both smart and sensitive, this mix needs a job to do and lots of time to play and run |
| Catahoula Boxer | A strong, independent dog that needs a lot of room to run. Easy to groom. |
| Catahoula Bulldog | Alert, loyal, and eager to please. |
| Catahoula Doberman | A great watchdog. They Will likely need to be the only dog in the family. |
| Catahoula German Shepherd | Extremely protective, intelligent working dog. Maybe prone to aggression, so not recommended for first-time owners |
| Catahoula Great Dane | Very large, affectionate dog with strong watchdog potential |
| Catahoula Great Pyrenees | A huge, lovable hybrid mix that will require patient training |
| Catahoula Greyhound | Strong prey drive, loving with family but aloof with strangers |
| Catahoula Husky | This affectionate, playful dog will need a lot of exercises and a high fence, and it may have a stubborn streak |
| English Mastahoula | Loving with family but highly wary of strangers. A very large and powerful dog. |
| Labahoula | High-energy and athletic. The Catahoula's assertiveness tempered by the labrador's even temper. |
| Pitahoula | A muscular dog that also loves to play. Requires dedicated training to handle its strong personality. |
| Poodahoula | The poodle's social temperament helps balance out the Catahoula's wariness of strangers. |
1. Catahoula Bloodhound Mix (Bloodahoula)
| | |
| --- | --- |
| Other Names | Catahoula Bloodhound, Bloodhound Catahoula Leopard Dog mix |
| Lifespan | 10 to 12 years |
| Temperament | Active, independent, curious |
| Average Height | 25 to 28 inches |
| Average Weight | 65 to 110 pounds |
| Trainability | High |
| Exercise Needs | High |
Bloodhounds are a French breed created to track boars and deer by scent, so their noses are incredibly sensitive. For this reason, many bloodhounds now serve as police dogs, sniffing for illicit substances, missing persons, or other clues. However, they're far too sweet-natured to do the work that, for example, German shepherds do. These dogs are friendly with everyone, family, and strangers alike, and they're very good canine citizens around other dogs.
This good nature may help balance out the Catahoula's suspicion toward strangers and other dogs. A Bloodahoula mix is likely to be a highly affectionate dog, though it will undoubtedly have the energy to burn. Bloodhounds are more energetic than their popular image might suggest, and it's already clear that Catahoulas need a lot of activity. Therefore, a Bloodahoula won't do well in an apartment; they need a yard where they can run and sniff.
While bloodhounds are highly intelligent and sensitive, they also have a hound's stubbornness, which a Bloodahoula can easily inherit. For this reason, even though they're easy to train, they're not the best for new dog owners. Their natural curiosity can also lead them beyond the bounds of your yard, and they can jump surprisingly well, so be sure you have a high, sturdy fence. Keep in mind that bloodhounds are prolific droolers. That doesn't mean your Bloodahoula will inherit this tendency, but it's a possibility.
2. Catahoula Australian Shepherd Mix
| | |
| --- | --- |
| Other Names | Aussie Shepherd Catahoula Leopard Dog mix |
| Lifespan | 10 to 15 years |
| Temperament | Hardworking, affectionate, alert |
| Average Height | 18 to 24 inches |
| Average Weight | 40 to 80 pounds |
| Trainability | High |
| Exercise Needs | High |
The bright, energetic Australian shepherd is actually an American breed created to herd sheep. These dogs often have a similar coloring to the Catahoula's leopard spots, but it's called merle in an Aussie Shepherd. They also often have unusually colored eyes that might be light blue or green. They tend to be more playful than Catahoulas, which makes them excellent pets. However, be sure to take this hybrid breed's very high energy and exercise needs into account. This is a hybrid that will become bored and destructive if left alone in an apartment.
Unfortunately, Aussie shepherds tend to have quite a few health problems, and there's a potential for more when bred incautiously with Catahoulas. The same gene causes leopard and merle coloring, and when two dogs with these genes mate, their offspring has a 25% chance of inheriting serious health problems including blindness and deafness. This double-merle syndrome creates a dog that is all or mostly white and has poorly-developed eyes and ears. If a Catahoula Australian shepherd sounds like the dog for you, make sure to adopt or buy from a reputable breeder so you'll know what you're getting into.
Both Aussie Shepherds and Catahoulas are hard workers, so it makes sense that a hybrid breed would be the same. Aussie Shepherds are much friendlier to other dogs, though, so this may balance out the Catahoula's natural suspicion toward other pooches they meet. Fortunately, Catahoula Aussie Shepherd mixes are easy to train, because they'll need a strong hand to manage all that energy and intelligence. And while Catahoulas are easy to groom, Aussie shepherds are the polar opposite, so grooming time will depend on which parent breed your Catahoula Aussie shepherd takes after.
READ MORE: Top 35 Australian Shepherd Mixes – Hard Working Canine Companions
3. Catahoula Basset Hound Mix
| | |
| --- | --- |
| Other Names | Basset Hound Catahoula Leopard Dog mix |
| Lifespan | 10 to 14 years |
| Temperament | Affectionate, alert, stubborn |
| Average Height | 14 to 20 inches |
| Average Weight | 40 to 70 pounds |
| Trainability | Moderate to low |
| Exercise Needs | Moderate |
With their long, low bodies and floppy ears, basset hounds are immediately identifiable. These hounds were originally hunting dogs, following their noses to prey without moving so fast that a human hunter can't follow. Nowadays, they're mostly companion dogs, and their lazy temperament makes them excellent apartment pets. Of course, they still do need daily exercise, but not nearly as much as a Catahoula, so a hybrid is likely to have moderate exercise needs. A brisk walk once a day might be enough.
Keep in mind that basset hounds are prone to health problems like Von Willebrand's disease, thrombopathia, hip dysplasia, eye problems including glaucoma, and back problems. They are also prone to weight gain, which can make back and joint problems even worse. In general, hybrids tend to be healthier than purebreds, but always be aware of the health and genetics of the parent dogs.
In many ways, the calm, slow basset hound is the opposite of the active Catahoula. Thus, a Catahoula basset hound mix could have a temperament anywhere on that wide spectrum. Both are bred hunting dogs that are intelligent and loving. Remember, though, that this is a mix of the Catahoula's independence and the basset hound's stubbornness, so training this hybrid breed may be very difficult.
4. Catahoula Beagle Mix
| | |
| --- | --- |
| Other Names | Beagle Catahoula Leopard Dog mix |
| Lifespan | 10 to 15 years |
| Temperament | Playful, social, stubborn |
| Average Height | 15 to 22 inches |
| Average Weight | 30 to 50 pounds |
| Trainability | Moderate to low |
| Exercise Needs | High |
The beagle is another scenthound that was originally a small-game tracker. Now, they're mostly companion dogs, but they retain the incredibly sensitive noses they were bred for. They can sniff out even well-hidden treats and they have a tendency to overeat, so you'll have to get creative about hiding the food. However, beagles more than make up for this in terms of their happy, outgoing temperament. They do well with children, other dogs, and even strangers. They're poor watchdogs but excellent canine ambassadors even to people who might be afraid of dogs.
As the ultimate social dog, the beagle's friendliness can help counteract the Catahoula's natural wariness of strangers. However, that sociability also comes with stubbornness, so be prepared to exercise your patience while training a Catahoula beagle. Many experts recommend crate training to minimize accidents or destruction of furniture. When done correctly, the crate can provide your Catahoula beagle with a safe place to relax when you can't be around.
However, these hybrid dogs should not be left alone for long periods of time, as they may become loud and destructive. Neither breed is considered "yappy," but beagles can be very vocal in terms of barking or howling. Like many scenthounds, beagles have a tendency to follow their noses wherever they lead, meaning that they can be escape artists and wanderers if not watched. However, they can also be wonderful, active companions for lovers of the outdoors.
5. Catahoula Blue Heeler Mix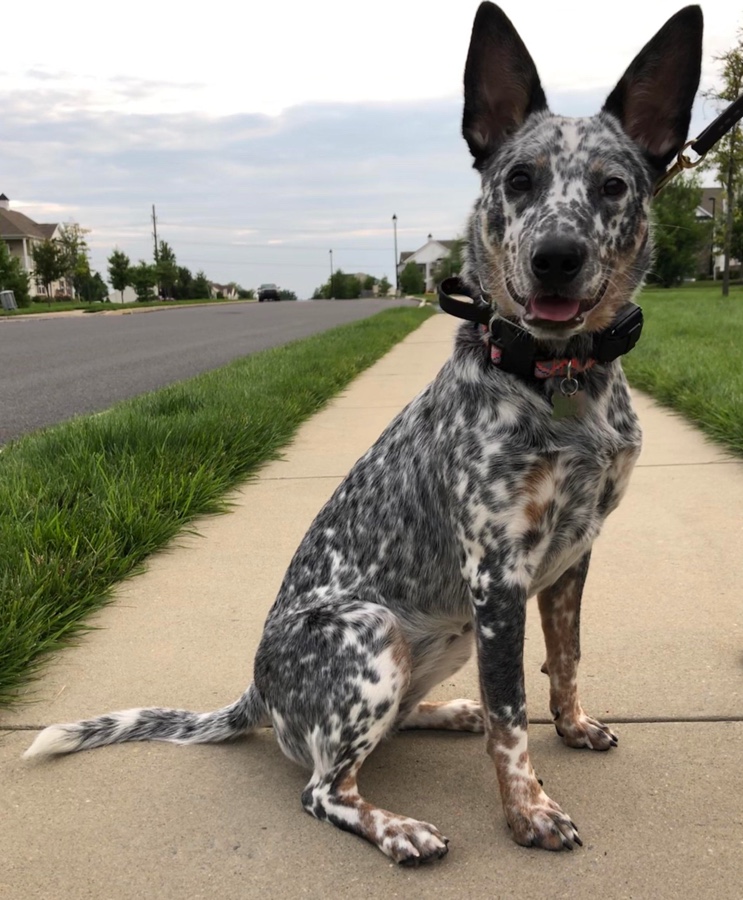 | | |
| --- | --- |
| Other Names | Aussie Cattle Dog Catahoula Leopard Dog mix |
| Lifespan | 12 to 15 years |
| Temperament | Tireless, intense, playful, tough |
| Average Height | 17 to 23 inches |
| Average Weight | 40 to 70 pounds |
| Trainability | High |
| Exercise Needs | High |
Australian cattle dogs, also called red or blue heelers depending on their coloring, are some of the hardest working herding dogs out there. They're medium-sized, sturdy dogs bred to dart in between the legs of cows as they direct them by nipping at their heels, which is where the "heeler" part of the nickname comes from. Thus, they tend to be mouthy dogs, nipping and even biting during play. This means it's important to properly socialize an Aussie cattle dog to teach them how to behave around children.
One distinctive feature of the blue heeler is its tendency to attach to one person and follow them around like a shadow. This doesn't mean the dog won't be affectionate with the rest of the family, just that they are intensely loyal dogs. The Catahoula blue heeler will likely be the same, and may show significant distrust of strangers. They make good watchdogs and are protective of family.
Aussie cattle dogs are generally a very healthy breed, but hip dysplasia is still a concern with a Catahoula blue heeler. Aussie cattle dogs are tough, smart pups that have boatloads of energy, as do Catahoulas, so a Catahoula blue heeler mix is sure to need a lot of exercise. While they can be cuddly at times, they are not couch potatoes. You'll need to plan for 60 to 90 minutes of exercise a day with additional time for play. However, these hybrid dogs are smart enough to do very well with agility training, flyball, and other activities. As challenging as they can be, they're also easy to train.
6. Catahoula Border Collie Mix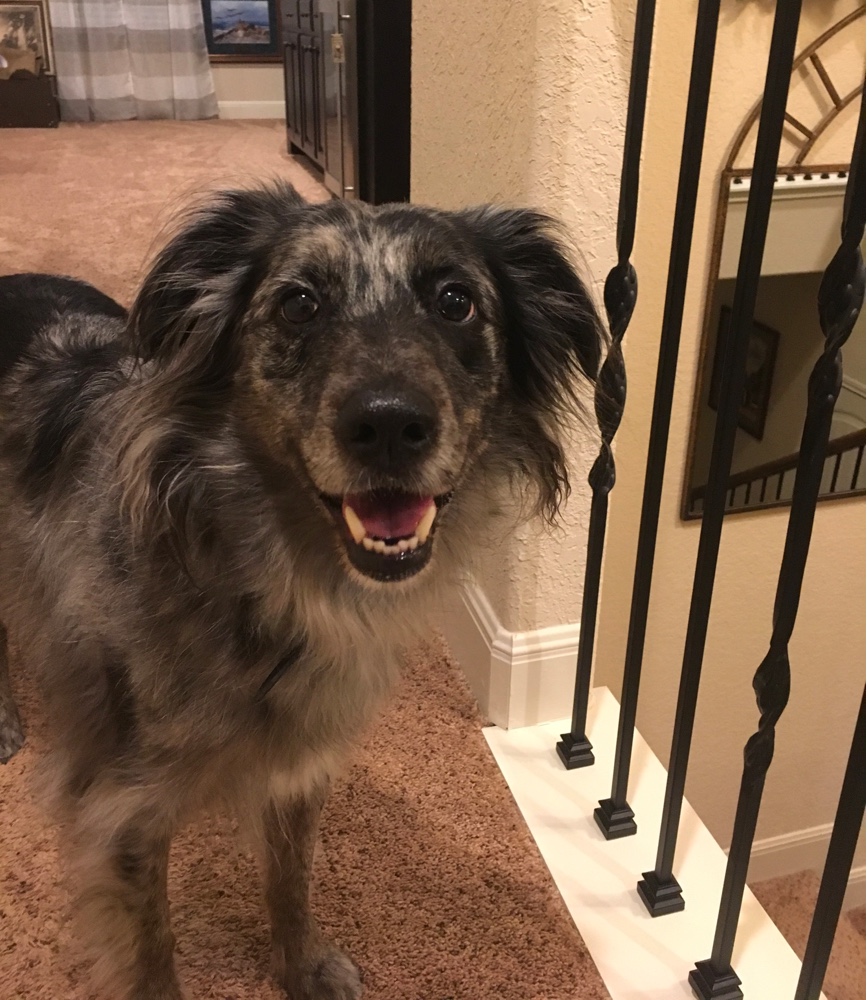 | | |
| --- | --- |
| Other Names | Border Collie Catahoula Leopard Dog mix |
| Lifespan | 11 to 14 years |
| Temperament | Active, intelligent, hardworking |
| Average Height | 20 to 24 inches |
| Average Weight | 40 to 80 pounds |
| Trainability | High |
| Exercise Needs | High |
When you think of a border collie, the words "smart" and "energetic" should be the first descriptions that come to mind. The "border" in their name probably refers to the border between Scotland and England where they were first bred to herd sheep. This is an incredibly focused, hard-working dog that needs a job to do to be happy, but it's also a wonderfully loving companion, particularly when it's been tired out at the end of a long day.
The Catahoula border collie mix is the only one that might beat the Catahoula blue heeler when it comes to energy. Border collies are also widely regarded as the most intelligent dog breed, so your Catahoula mix is sure to be smart. Just make sure you tire them out with plenty of exercises followed by playtime to wear out your dog's mind as well as their body. These are also incredibly loyal, affectionate companions who will want to stick by your side everywhere you go.
Border collies do have a tendency toward some health problems, including hip dysplasia, epilepsy, allergies, eye problems, and joint problems. Additionally, they can carry the same merle gene that Catahoula leopard dogs do, so dogs with merle coloring shouldn't be paired for breeding. Beware of anyone who tries to sell you a "rare" white Catahoula border collie mix, because it could have the double-merle syndrome.
READ MORE: 29 Most Popular Border Collie Mixes You'll Want to Add to Your Home Immediately
7. Catahoula Boxer Mix
| | |
| --- | --- |
| Other Names | Boxer Catahoula Leopard Dog mix |
| Lifespan | 10 to 13 years |
| Temperament | Independent, assertive, fearless |
| Average Height | 21 to 25 inches |
| Average Weight | 60 to 80 pounds |
| Trainability | High |
| Exercise Needs | High |
The boxer is a very distinctive-looking dog with an athletic body and a square muzzle. These dogs hail from late-19th century Germany, and although they were bred from larger hunting dogs, boxers have served many functions over the years. They are easy to train and reasonably easy to care for, as long as they get plenty of exercises, and they love to cuddle. However, they don't tolerate solitude or extreme weather very well. They also display puppy-like behaviors for the first three years of their lives.
Boxers are high-energy companion dogs that are great for active families, and they bring high sociability to the table when bred with a Catahoula. These hybrids might be the easiest dogs to groom with their short low-maintenance coats. Although they're not the largest dogs, they are very muscular and powerful, so make sure you're comfortable with controlling an energetic 60-80 pound dog. However, boxers are especially patient with children, making Catahoula boxers good family dogs.
Unfortunately, boxers are prone to health problems that they may pass on to hybrid offspring. Although they don't carry the merle gene, white or mostly-white boxers are also highly prone to deafness, so care must be taken when breeding these dogs. Although hybrid dogs are usually harder than pure breeds, boxers are especially prone to cancer. If you decide to bring a Catahoula boxer into your family, make sure you keep up with vet check-ups to monitor your pup's health.
8. Catahoula Bulldog Mix
| | |
| --- | --- |
| Other Names | American Mastahoula, Bulldog Catahoula Leopard Dog mix |
| Lifespan | 13 to 15 years |
| Temperament | Athletic, loyal, playful, tough |
| Average Height | 24 to 26" |
| Average Weight | 75 to 100 pounds |
| Trainability | Moderate |
| Exercise Needs | Moderate |
The combination of Catahoula and American bulldog is possibly the most popular Catahoula mix. The American Bulldog is significantly different from its more famous English cousin. These dogs also hail from the Southern US, where they, like the Catahoula, were tough enough to hunt feral pigs. Unfortunately, they were also once used for bull-baiting, though this barbaric sport is no longer around. There are several different types of American bulldog – including the Scott, Johnson, and standard type – but all are intelligent, sturdy, and active.
Despite their stern, muscular appearance, American bulldogs can be goofy, and a Catahoula bulldog could well inherit this playfulness. This is a high-energy hybrid breed that needs a lot of exercise and won't do well in an apartment. However, its loyalty, alertness, and protectiveness make it an excellent watchdog. Keep in mind that this hybrid breed has a very high prey drive, so it might easily cause problems in a house full of cats.
Catahoula bulldogs will have short, easy-to-groom coats that also make them comfortable in hot weather. Correspondingly, they don't tolerate cold well. Since neither parent breed has very particular color specifications, Catahoula bulldogs can come in nearly all combinations of colors. Additionally, these tend to be very robust dogs with few health problems other than occasional allergies.
9. Catahoula Doberman Mix
| | |
| --- | --- |
| Other Names | Doberman Pinscher Catahoula Leopard Dog mix |
| Lifespan | 10 to 12 years |
| Temperament | Sensitive, watchful, protective, playful |
| Average Height | 22 to 28 inches |
| Average Weight | 60 to 80 pounds |
| Trainability | High |
| Exercise Needs | Moderate to high |
Doberman pinschers are best known as guard dogs, and indeed, their sleek, athletic builds and tall stature can be intimidating. However guarded they are around strangers and other dogs, though, Dobermans are very playful and affectionate around family. They are smart and easily trained, and they don't tend to bark excessively or try to escape closed spaces. They're moderately well-suited to apartment living, but they will need careful socialization and training if there are other dogs in your home.
Both the Catahoula and the Doberman pinscher are excellent watchdogs, so it stands to reason that a hybrid of the two would be, as well. However, neither parent breed is innately dog-friendly. Early socialization will help them get along better with other dogs, but they may work best as the only dog in a family. Additionally, these dogs have strong personalities, so they will respond more obediently to an owner who isn't afraid to take charge and be consistent with training.
A Catahoula Doberman's coat is likely to be very short, and while this makes them easy to groom, it also means that they're not well-suited to cold weather. They don't do well with solitude, either, and they tend to be very sensitive to their owners' emotions. Finally, Dobermans are unfortunately prone to health problems like hypothyroidism, cardiomyopathy, and even narcolepsy. A Catahoula Doberman hybrid should be healthier, given the Catahoula's robustness, but care must be taken when pairing these two breeds.
10. Catahoula German Shepherd Mix
| | |
| --- | --- |
| Other Names | German Shepherd Catahoula Leopard Dog mix |
| Lifespan | 10 to 14 years |
| Temperament | Wary, assertive, protective, focused |
| Average Height | 22 to 26 inches |
| Average Weight | 60 to 90 pounds |
| Trainability | High |
| Exercise Needs | High |
The noble German shepherd consistently ranks as one of the most popular dog breeds in America, and it's easy to see why. These herding dogs are smart, easy to train, and incredibly loyal to pack and family. However, intense loyalty can sometimes turn into separation anxiety, and protectiveness can become aggression without proper training. Luckily, German shepherds love having a job to do and tend to take easily to all kinds of training with little stubbornness.
The Catahoula German shepherd is another intelligent, protective hybrid that would make a good watchdog. While there's no reason to think that a Catahoula German shepherd mix will automatically be aggressive, it's important to give these strong, assertive dogs a good foundation of obedience training. Keep in mind that their intelligence means you will need to provide them with plenty of mental stimulation to keep them from getting bored and becoming destructive. This might mean plenty of interactive playtimes or even agility training.
While this mix shouldn't require too much time and effort to groom, keep in mind that German shepherds do tend to shed quite a bit. A Catahoula German shepherd is a combination of two herding dogs, which means a good deal of energy and barking. This isn't a dog you can leave alone all day. However, as a loyal outdoor companion, it would make an ideal pet.
11. Catahoula Great Dane Mix
| | |
| --- | --- |
| Other Names | Great Dane Catahoula Leopard Dog mix |
| Lifespan | 8 to 11 years |
| Temperament | Devoted, powerful, alert, protective |
| Average Height | 26 inches and up |
| Average Weight | 70 pounds and up |
| Trainability | High |
| Exercise Needs | High |
The Great Dane is the gentle giant of the dog world, and they're loved for their sweet nature. Similar giant dogs have been around since 3,000 BC, though we know for sure that the breed dates back to Europe in the Middle Ages. It originally was a hunting dog whose purpose was to immobilize wounded prey until the hunter could arrive to finish it off, thus accounting for its size and strength. Despite their size, though, these are sweet, friendly pups who love everyone they meet.
Clearly, any hybrid breed that involves a Great Dane is going to be an enormous dog. The even temper and people-pleasing nature of the Great Dane can help balance out the wariness of the Catahoula, making for a playful, affectionate pet. Of course, these large hybrid mixes will need plenty of room to play and run, so they're not well-suited to small homes or apartments.
Here's a topic that's difficult to discuss, but you should nevertheless keep it in mind: the larger the dog, generally, the shorter the lifespan. A typical Great Dane lives only 7-10 years. While Catahoulas live longer, and thus a hybrid should as well, it can be hard to think about becoming devoted to a companion who may live less than a decade.
12. Catahoula Great Pyrenees Mix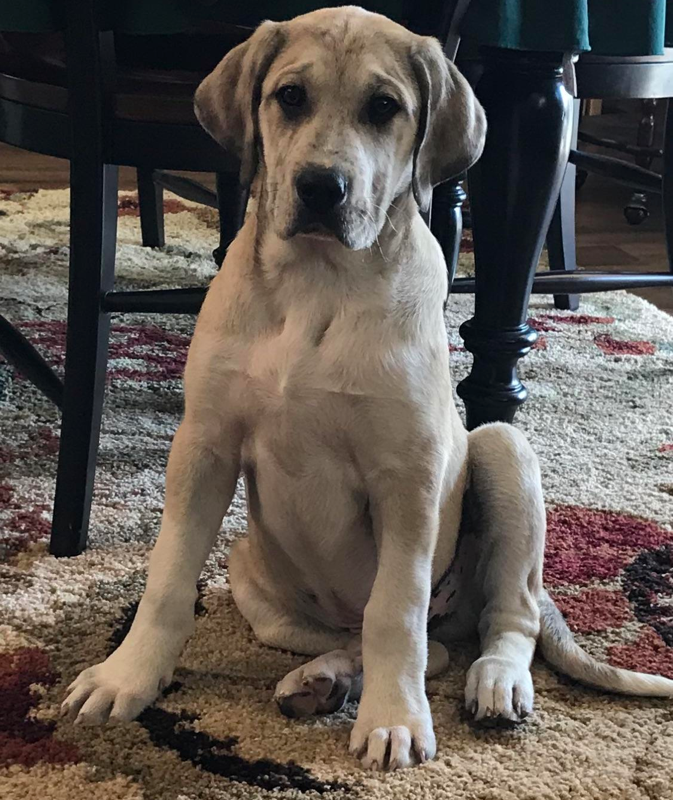 | | |
| --- | --- |
| Other Names | Great Pyrenees Catahoula Leopard Dog mix |
| Lifespan | 10 to 13 years |
| Temperament | Stubborn, watchful, independent |
| Average Height | 24 to 30 inches |
| Average Weight | 75 to 125 pounds |
| Trainability | Low |
| Exercise Needs | Moderate |
Another big, energetic guard dog, the Great Pyrenees or Pyrenean mountain dog was originally bred to guard livestock in the mountain range between France and Spain. They are large, fluffy, and white, with a noble appearance and an affectionate temperament. Additionally, they are particularly gentle with children, making them excellent family dogs.
One unique feature of the Great Pyrenees which a hybrid mix might inherit is the double dewclaws on their hind legs. This allows them to be reasonably good climbers, and while this helps them in their guard dog duties, you must be sure to keep these dewclaws trimmed so they don't snag. Also, you'll have to ensure that your fences are high enough to keep a Catahoula Great Pyrenees mix safely inside. They're somewhat prone to wanderlust.
The Great Pyrenees is independent enough to make training an exercise in patience. Thus, a Catahoula Great Pyrenees mix is best for an experienced owner who is prepared to put plenty of time and effort into the training process. These hybrids are intelligent dogs, but they're bred to work independently, so they don't have the eagerness to please that other breeds do. That said, this combination produces unique, beautiful dogs who make good family pets.
13. Catahoula Greyhound Mix
| | |
| --- | --- |
| Other Names | Greyhound Catahoula Leopard Dog mix |
| Lifespan | 10 to 14 years |
| Temperament | Assertive, independent, sensitive |
| Average Height | 22 to 28 inches |
| Average Weight | 50 to 90 pounds |
| Trainability | High |
| Exercise Needs | Moderate to high |
Although greyhounds are known for their speed and grace on the racetrack, they can actually be cuddly couch potatoes when they're not actively playing. This makes them surprisingly good apartment dogs who can get all their necessary exercise from a daily walk. They're a type of working dog called a sighthound, meaning they were bred to hunt prey by watching it and chasing it down rather than sniffing it out.
Like Catahoulas, greyhounds are highly sensitive dogs who need companionship to thrive. Greyhounds are much friendlier to other dogs than Catahoulas are, so a Catahoula greyhound hybrid is likely to do well in a family with other dogs as long as they receive proper socialization. Both breeds are also quite intelligent and trainable, though they have high prey drives, so you'll always want to keep your Catahoula Greyhound on a leash.
A Catahoula Greyhound will need plenty of room to stretch its legs, as well as protection from cold weather. This is a generally healthy hybrid mix, but you may need to keep an eye on their food to make sure they don't gain excess weight. As long as you exercise your Catahoula Greyhound regularly, they should make an excellent companion for many years.
14. Catahoula Husky Mix
| | |
| --- | --- |
| Other Names | Siberian Husky Catahoula Leopard Dog mix |
| Lifespan | 10 to 14 years |
| Temperament | Independent, hardworking |
| Average Height | 21 to 24 inches |
| Average Weight | 40 to 70 pounds |
| Trainability | High |
| Exercise Needs | High |
Even if you know very little about Siberian huskies, you probably know they're born and bred sled dogs. They're hardworking, high-energy pooches with a strong sense of pack. You'll almost never see a husky show aggression toward a human, so they're poor guard dogs but excellent companions, even to young children. Their beautiful, fluffy coats require substantial grooming, and you'll need to be prepared to clean up a lot of shed fur.
Combine a husky with a Catahoula and you'll get an energy powerhouse that loves and adores its family. The husky's sociability can help balance out the Catahoula's suspicious nature, but be prepared to ensure that a Catahoula husky gets a ton of exercise. The husky is notorious for becoming destructive when bored, so under no circumstances should you leave a Catahoula husky alone in an apartment all day.
The Catahoula Husky is a beautiful dog, but they're probably not right for a novice owner. They don't tolerate solitude well, and while both parent breeds are intelligent working dogs, neither is easy to train. A Catahoula husky may behave well during obedience class and seem to ignore you while at home. However, for an owner prepared to be a firm, consistent master, this high-stamina hybrid mix might be perfect for you, provided you can also commit to giving this energetic dog plenty to keep it occupied.
15. Catahoula Mastiff Mix (Mastahoula)
| | |
| --- | --- |
| Other Names | Catahoula English Mastiff, English Mastiff Catahoula Leopard Dog mix |
| Lifespan | 8 to 11 years |
| Temperament | Protective, energetic, assertive |
| Average Height | 22 to 32 inches |
| Average Weight | 80 to 160 pounds |
| Trainability | Moderate |
| Exercise Needs | High |
The English mastiff is another massive dog breed, so an English Mastahoula will definitely be a very large dog. While the Great Dane and Irish wolfhound have the mastiff beaten in terms of height, English mastiffs have the clear weight and mass advantage. Despite their size, mastiffs are generally docile, even-tempered dogs, particularly with their family members. Although English mastiffs descended from ancient breeds who fought lions in the gladiator arena and accompanied armies into battle, today's mastiffs are excellent watchdogs.
Of course, English mastiffs have some less than ideal qualities, including near-constant shedding and drooling. While they don't have an excess amount of energy, their sheer size means they need a lot of room both indoors and out. Combine that with the Catahoula and you get a dog that may be cramped and destructive in an apartment. Additionally, Catahoula mastiffs may be prone to hip dysplasia, bloat, and eye problems.
Expect this hybrid breed to be extra wary around strangers, both human and dog. Consequently, an English Mastahoula will require quite a bit of socialization at a young age and may still need to be the only dog in a family. Nevertheless, these dogs will make excellent companion animals, though you may have to be careful that they don't accidentally knock over small children.
16. Catahoula Lab Mix (Labahoula)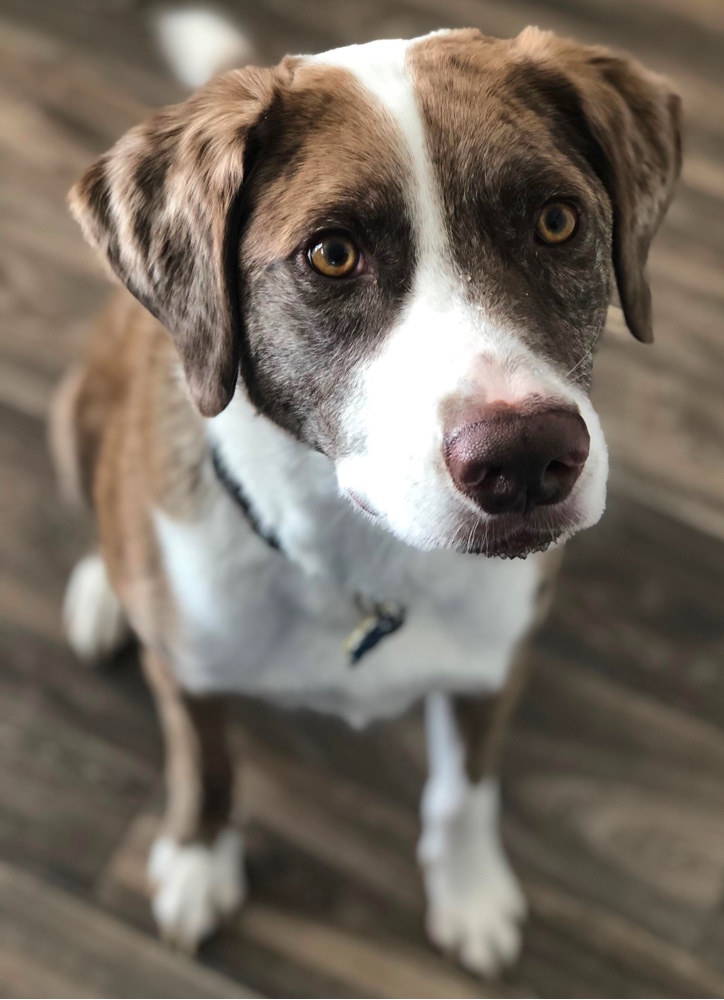 | | |
| --- | --- |
| Other Names | Labrador Catahoula Leopard Dog mix |
| Lifespan | 10 to 14 years |
| Temperament | Intelligent, athletic, enthusiastic |
| Average Height | 21 to 29 inches |
| Average Weight | 50 to 90 pounds |
| Trainability | High |
| Exercise Needs | High |
Year after year, the Labrador retriever remains the most popular dog in America. They are affectionate, playful dogs who do well with children, adults, and other pets, making them ideal for many families. They're smart and easy to train, thanks in a large part to their keen eagerness to please their masters. Although they don't do well in apartments or small homes, if you've got a yard for them to run and play in, you can easily exercise them with a game of fetch.
Labrador retrievers are so popular that it's no surprise they're sometimes bred with Catahoula leopard dogs to create a mix called a Labahoula. Like both the parent breeds, these are athletic, active dogs who make great jogging or hiking partners. The laid-back temperament of the lab should mitigate the focused intensity of the Catahoula, but keep in mind that any given Labahoula may have behavioral characteristics of either parent breed.
A Labahoula should be very easy to groom and maintain good general health, but like many high-energy dogs of their size, they may be prone to joint problems, especially as they age. Make sure you follow your vet's recommendation for food and supplements, as "growth formula" dog foods can actually cause problems as their cartilage develops. However, as long as you give them plenty of exercises, a Labahoula should be a fairly low-maintenance pet.
17. Catahoula Pit Bull Mix (Pitahoula)
| | |
| --- | --- |
| Other Names | Pit Bull Catahoula Leopard Dog mix, Catahoula pit |
| Lifespan | 10 to 16 years |
| Temperament | Confident, alert, intense, social |
| Average Height | 20 to 26 inches |
| Average Weight | 50 to 90 pounds |
| Trainability | Moderate |
| Exercise Needs | High |
The phrase "pit bull" may actually refer to several similar breeds of dog, and the American pit bull terrier (APBT) is one of them. An often misunderstood breed, the APBT won't back down from a fight, but it is no more likely to start one than any other breed. In fact, part of the APBT's breeding is its unwillingness to bite humans, and they actually make poor guard dogs because of it. In fact, despite their size and athleticism, many seem to their they're lapdogs.
Although APBTs don't have a strong pack sense and may not do well with other dogs, they're actually quite gentle with children. As with any breed, they require good socialization when young, and so do Pitahoula hybrids. These dogs may have strong personalities. That doesn't mean they're necessarily aggressive, but they will likely require an experienced owner and good obedience training. Their short fur also makes the Pitahoula easy to groom.
Keep in mind that many neighborhoods and apartment complexes may have breed restrictions that specifically exclude pit bulls and pit bull mixes. Find out if your area has such restrictions before deciding that a Pitahoula is right for you. Even if there are no formal restrictions, you may want to be prepared for neighbors who might misjudge you or your dog based on appearances. It might not be fair, but it's the reality of owning an APBT mix.
18. Catahoula Poodle Mix (Poodahoula)
| | |
| --- | --- |
| Other Names | Poodle Catahoula Leopard Dog mix |
| Lifespan | 12 to 14 years |
| Temperament | Curious, playful, active |
| Average Height | 16 to 20 inches |
| Average Weight | 50 to 75 pounds |
| Trainability | High |
| Exercise Needs | High |
The poodle is a very popular breed among fans of designer dogs for good reason: poodles are smart, easy to train, and shed little or no fur. Despite their size and energy, even standard poodles are good apartment dogs as long as you can take them out for regular exercise. They're social, affectionate dogs who are at east with strangers, children, and other pets. While they do require substantial grooming because they barely shed, their unique coat can take styling in a number of very different looks – not just the classic style.
It's possible that a breeder might pair a Catahoula with a miniature poodle, but most Poodahoulas will probably have a standard poodle as a parent. The poodle's even temperament can also balance out some of the hyperactivity of working dogs like the Catahoula. However, a Poodahoula is still a large, energetic dog who needs a lot of mental and physical exercise. Neither parent breed likes to be left alone, so make sure you have plenty of time to devote to a dog before adopting a Poodahoula.
While Catahoulas are hardy dogs, unfortunately, poodles can be prone to a number of health conditions, especially if a disreputable breeder has engaged in inbreeding. Addison's disease, Cushing's disease, epilepsy, hypothyroidism, and sebaceous adenitis are all problems that are known to afflict poodles. A Poodahoula's hybrid genetics should offer it some extra protection against these problems, but you'll want to work with a breeder who knows how to pair dogs to avoid perpetuating any health issues.
Top Catahoula Rescue Organizations
As herding dogs, Catahoulas can sometimes be adopted by people or families who don't truly understand what it's like to own a working breed. They mistake the Catahoula's high energy and low tolerance to solitude for hyperactivity or willful destructiveness, or they may be unprepared for the Catahoula's wariness around strangers or other dogs. Whatever the reason, some Catahoulas and Catahoula mixes need to find new homes.
Fortunately, a number of rescue organizations exist to find the right new owners for these hardworking dogs. We always recommend adopting dogs from shelters over breeding or buying whenever possible. There are plenty of Catahoulas and Catahoula mixes already looking for their forever families.
This isn't a specific organization but a message board for individuals and foster "parents" looking to rehome Catahoulas. Keep in mind you may not get much information about the heritage or past of a Catahoula from this site.
Although Blackjack rescues all breeds from high-kill shelters, they do focus on Catahoulas. They have a physical shelter in Tennessee but serve the entire southeastern US.
This Facebook group represents a loose organization of foster homes and volunteers who help find new homes for Catahoulas and Catahoula mixes.
This volunteer organization puts the word out about Catahoulas across the country that need adopting. They've even adopted Catahoulas to Canada.
Dedicated to both Catahoulas and Australian cattle dogs (a.k.a. red or blue heelers), this organization helps find new homes for herding dogs.
Catahoulas are only one of the many breeds that this organization rescues, but you can spot the occasional leopard dog on their adoption page.
Although this organization primarily rescues Australian shepherds, they do deal with Catahoulas and English shepherds on occasion.
While the website still needs some work, H3R is a valid rescue organization dedicated to Aussie cattle dogs, Aussie shepherds, and Catahoulas.
This is simply a list of Catahoula rescue organizations in the US. The contact information may be out of date, but it might be worth giving some of these numbers a call.
Conclusion
Catahoula leopard dogs can make wonderful companions for the right person or family. They aren't right for novice owners or apartment living, but experienced owners with an active lifestyle and large property can make a great home for a Catahoula or Catahoula mix. Remember that these are intelligent, energetic working dogs who were bred to herd and hunt, so they won't be content lazing around the house all day. However, if you're looking for an outdoor companion during the day who will also curl up with you at night, a Catahoula might be the right dog for you.