Border collies and Australian shepherds are so similar in size, appearance, and behavior that they're often confused for one another. Both breeds were made to work, independently herding sheep in the fields, and then come home and be a loving companion dog. Thus, a border collie/Australian mix, often called a Border Aussie, is also a hardworking, affectionate, intelligent dog.
Although this hybrid breed isn't right for every owner, for the right person or family, a Border Aussie might be the perfect pet. Read on to find out whether you might be the right home for a Border Aussie.
Border Collie
Border collies are extremely intelligent, hardworking, and lively herding dogs. To learn more about them, read our article on border collie mix.
Australian Shepherd
Another herding dog, the Australian shepherd isn't actually from Australia at all. Instead, it's a breed that was developed in the American West in the late 19th and early 20th century. It was originally known by several other names, including the Spanish shepherd and the Austrian shepherd, further confusing its origins, though it probably descended from a variety of English sheepdogs. What is indisputable, though, is that the Aussie shepherd was bred to work. They are intelligent, energetic, and eager to please, making them highly trainable.
Aussie shepherds are genetically similar to border collies, and indeed, they look similar. However, Australian shepherds are more likely to have merle coloring – that is, a patchwork of dark and light fur that's referred to as either blue merle (gray and black spots) or red merle (cream and copper spots). Additionally, many Australian shepherds have striking blue eyes or heterochromia – eyes of two different colors.
Border Collie Vs.

Australian Shepherd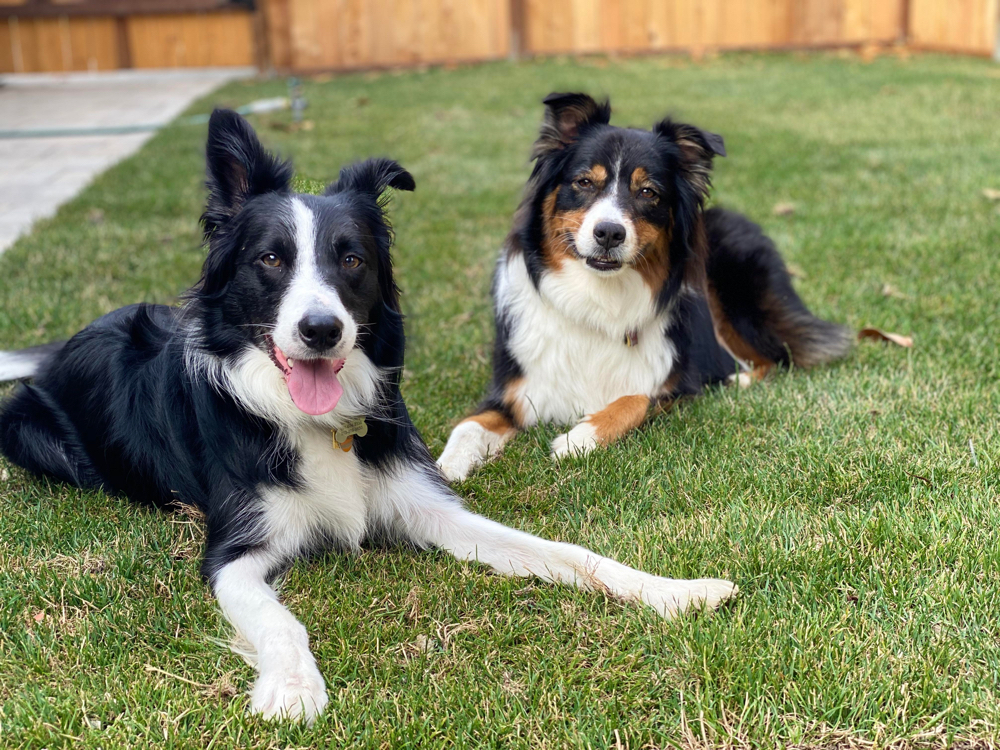 | | | |
| --- | --- | --- |
| Items | Border Collie | Australian Shepherd |
| Type | Herding dog | Herding dog |
| Origins | 19th century | Early 20th century |
| Country of Origin | Scotland and England | United States |
| Size | Medium | Medium |
| Height | 18" to 22" | 18" to 23" |
| Weight | 27 to 45 lbs. | 40 to 65 lbs. |
| Life Span | 12 to 18 years | 12 to 15 years |
| Coat | Rough or smooth | Straight or wavy |
| Coloring | Black and white, bicolor, tricolor, merle, any solid color (except white) | Tricolor, bicolor, red or blue merle, black |
| Shedding | Seasonal and moderate | Moderate |
| Temperament | Obedient, intelligent, energetic, eager | Active, loyal, intelligent |
| Trainability | Easy | Easy |
| Kid friendly? | Yes | With training |
READ MORE:
Border Aussie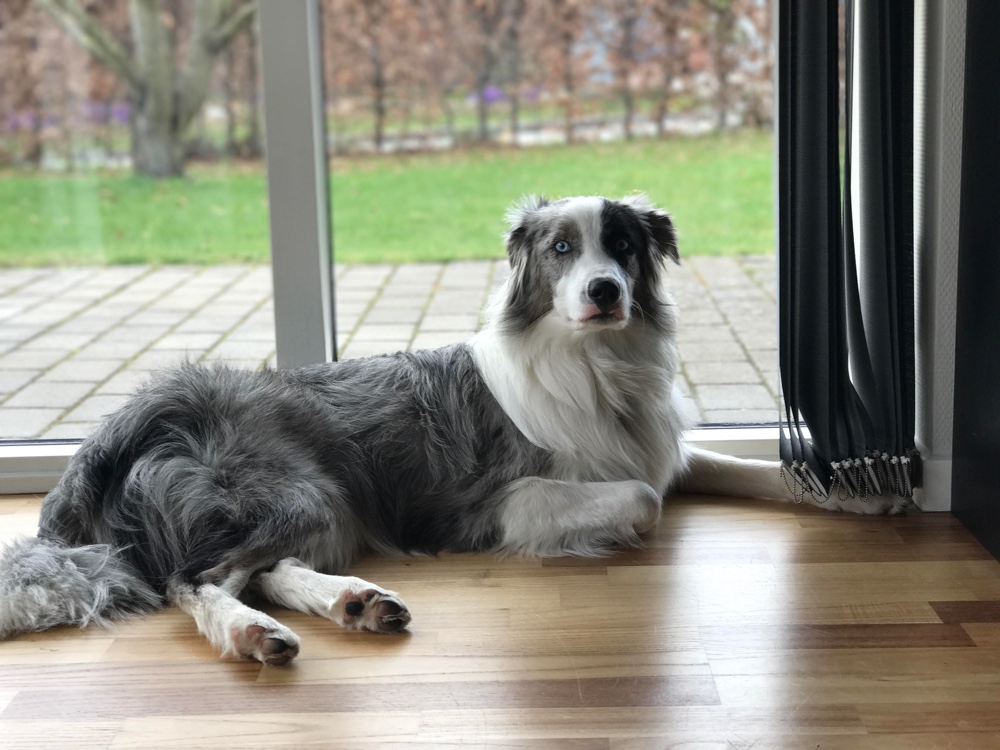 As you might expect from breeding two smart, active herding dogs, a border collie Australian shepherd mix is an energetic, hardworking, affectionate dog. They're most commonly called Border Aussies, but you may hear them referred to as Aussie collies. These medium-sized dogs are often sold as family pets, but they require plenty of exercise and mental stimulation to be happy and healthy. Although they are loving companions, they're recommended for experienced owners, particularly those with prior experience with herding dogs.
Border Aussies are designer hybrid dogs – that is, most breeder organizations don't recognize them as a breed of their own yet. Instead, they are a combination of two pure breeds. Because of this, organizations like the American Canine Hybrid Club, the Designer Dogs Kennel Club, the Dog Registry of America, and the International Designer Canine Registry do recognize the Border Aussie as a designer breed.
Quick Summary of the Border Aussie
| | |
| --- | --- |
| Items | Values |
| Popularity | Unknown |
| Lifespan | 12 to 15 years |
| Temperament | Energetic, loyal, affectionate, work-oriented |
| Average Height | 18" to 22" |
| Average Weight | 30 to 65 lbs. |
| Coat Type | Dense, wavy, medium to long |
| Hypoallergenic? | No |
| Grooming Needs | Moderate |
| Shedding | Moderate to high, seasonal |
| Brushing | 1-3 times a week |
| Touchiness | High |
| Tolerant to Solitude? | Low |
| Tolerance to Heat | High |
| Tolerance to Cold | High |
| Barking | Moderate to high |
| Good Family Pet? | For active families |
| Good with Children? | With training |
| Good with Other Dogs/Pets? | With training |
| Good Apartment Dweller? | No |
| Trainability | Easy |
| Exercise Needs | 60 to 90 minutes a day |
| Tendency to Gain Weight | Moderate |
| Common Health Concerns | Epilepsy, cataracts, thyroid disease, cancer, hip dysplasia, collie eye anomaly |
| Average New Puppy Price | $1,000-$1,500 |
| Average Annual Medical Expense | $250-$320 |
| Yearly Cost to Own This Breed | $1,500-$2,100 |
Pros and Cons to Owning a Border Aussie
Pros
Intelligent, active, affectionate pet
Great jogging (or another outdoor exercise) buddy
Healthy hybrid breed
Cons
Requires quite a lot of daily exercise
May become loud or destructive when bored
Low availability from breeders and rescue organizations
Fun Facts about the Border Aussie
Both border collies and Australian shepherds are collie dogs, a classification that also includes the Old English sheepdog and the rough collie (a.k.a. Lassie).
Australian shepherds were originally associated with Western ranchers and cowboys and worked alongside their horses. Thus, many American crowds were first introduced to this breed as a rodeo dog.
Many experts consider the border collie to be the most intelligent dog breed. In fact, Chaser – who could recognize over 1,000 words and was often called "the smartest dog in the world" – was a border collie. Though she passed away in 2019, she had a long and happy life with her owners/trainers.
One hypothesis for the Australian shepherd's name is that other herding dogs from the "land down under" (Aussie cattle dogs, kelpies, etc.) have the distinctive merle coloring. Ranchers may have assumed any merle dogs were Australian in origin.
The border collie breed is almost certainly an ancestor of the Australian Shepherd breed.
Border Aussie Generations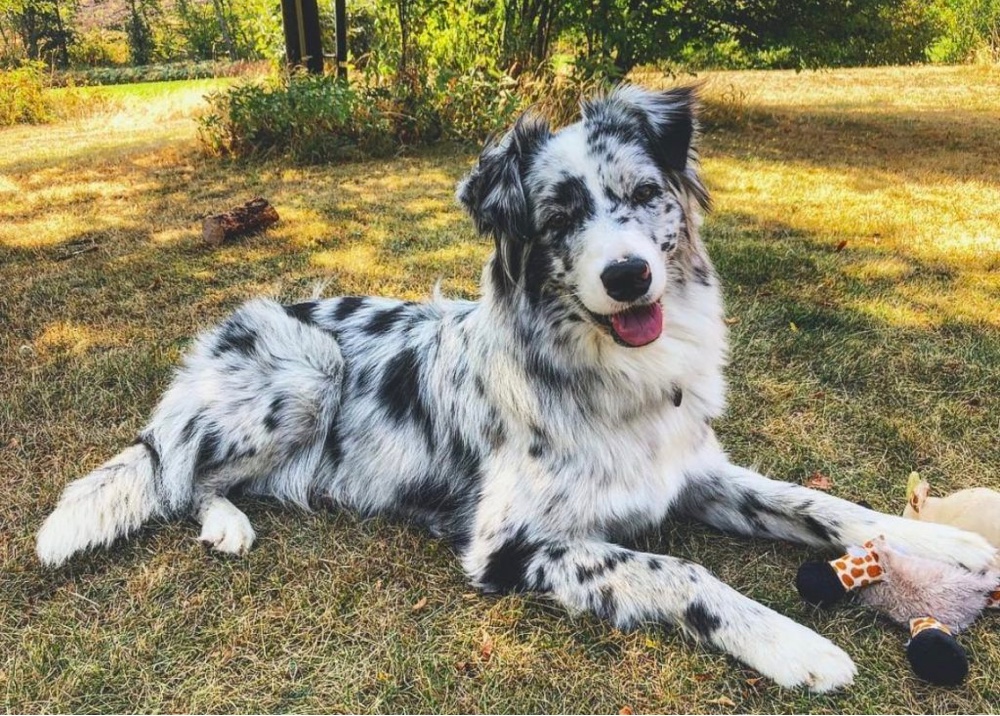 Most of the Border Aussies currently available for sale or adoption are what's called F1 generation dogs. That means one parent is a purebred border collie and the other is a purebred Australian shepherd. Genetically speaking, F1 hybrid dogs are 50% one breed and 50% another breed. Breeding two F1 Border Aussies would create an F2 generation of hybrid dogs.
Some hybrid breeders will begin to introduce more of one or the other parent breed into the gene pool by breeding an F1 dog with a purebred dog of the original parent breed. For example, this is often done with Bordoodles (border collie/poodle hybrids) to increase the percentage of poodle genetics in future generations. This is called an F1b generation. There don't appear to be any breeders creating F1b Border Aussies yet, but since this breed is so new, this may happen in the near future.
Border Aussies Temperament
Border collies and Australian shepherds are similar in temperament, so the temperament of Border Aussies is fairly consistent, even though it's a hybrid breed. Border Aussies are very smart and eager to please their owners. They have the energy and stamina to work hard during the day, but they also love to cuddle with their people after a long day. As herding dogs, they are highly loyal to their family but may be wary of strangers. However, good socialization when the dog is young can help smooth this out.
Because Border Aussies are both smart and sensitive, they can read and respond to their owner's emotions. This can be a wonderful trait in a companion animal, but it can also mean that they'll react fearfully to your anger or anxiety. Never direct these emotions at your dog. If you find a training session with your Border Aussie is becoming frustrating – either for you or the dog – take a break.
Border Aussies Size & Appearance
The Border Aussie is a medium-sized dog, just like its parent breeds. The somewhat large variation in weight may be attributable to the fact that one of the parent dogs could be a "miniature" Australian shepherd. Although the American Kennel Club and similar organizations only recognize the standard Aussie shepherd (approximately 50-65 lbs.), some breeders try to create smaller dogs in the 30-45 pound range. Therefore, Border Aussies may be as small as 30 lbs. or as large as 65 lbs. A Border Aussie will also have the same triangular ears and tapered muzzle as both of its parent breeds.
Border Aussies Coat & Colors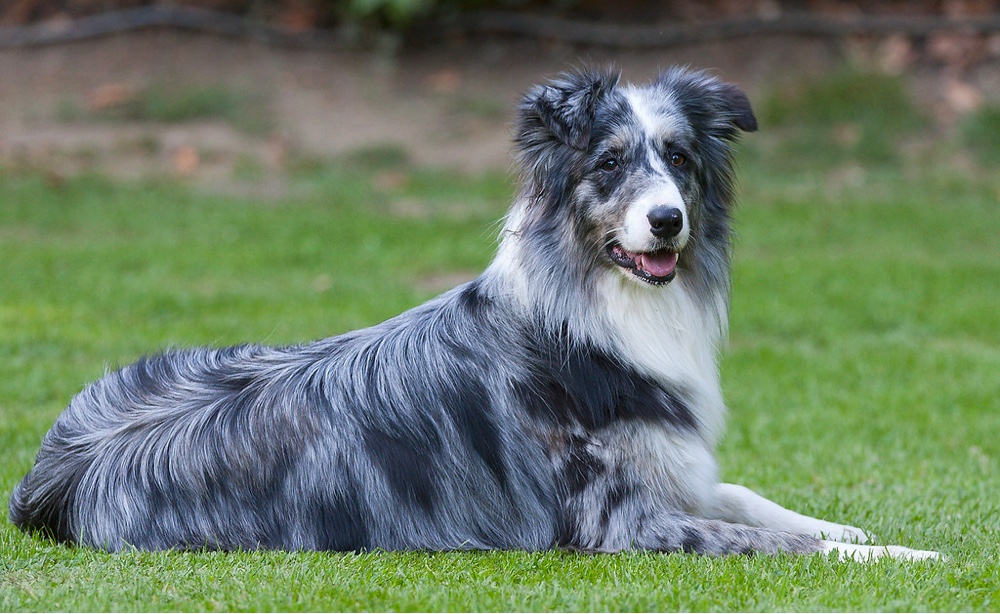 A border collie's coat is medium length, straight or wavy, with a bit of feathering around the legs and britches. An Australian shepherd's coat may either be rough or smooth in texture with much more feathering around the legs, chest, and haunches. Because most Border Aussies are F1 dogs, they might have a coat that resembles either parent breed or anything in between.
There can be quite a variation in Border Aussie colors, thanks mostly to the border collie lineage. While most people think of the typical black and white coloring, border collies can actually come in any solid color except white (black, chocolate, tan, red, blue, etc.) or combination of colors (bicolor, tricolor, blue merle, red merle). Thus, a Border Aussie can also come in nearly every color or combination of colors. However, because of the Australian shepherd parentage, the most common are black and white, tricolor, blue merle, and red merle.
Border Aussies Exercise & Living Conditions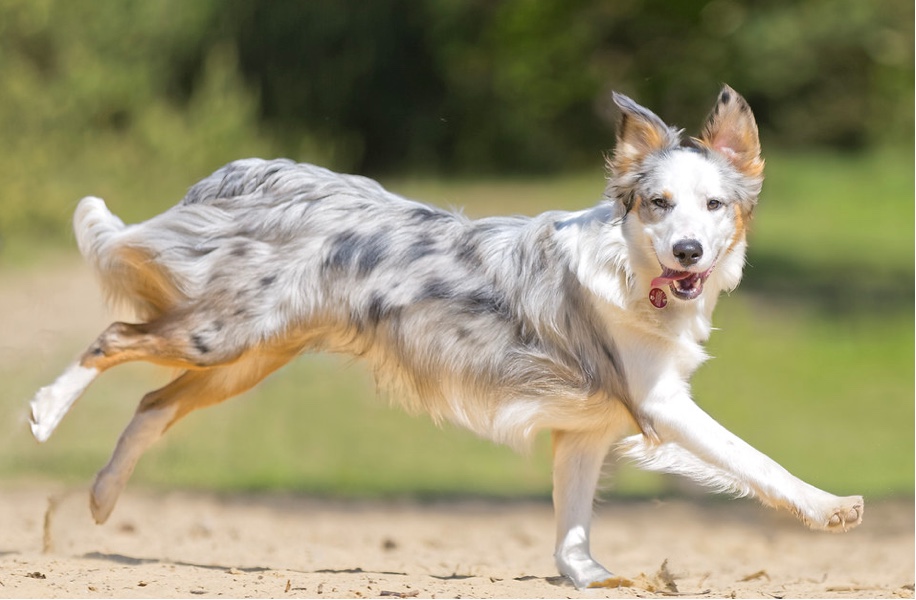 There's no getting around it – Border Aussies need a lot of exercises. Both border collies and Australian shepherds were bred specifically to run after sheep all day, so they have the energy to spare. Your Border Aussie will need between one and two hours of exercise every single day. Because of this, they won't make good apartment dogs unless you can be very diligent about wearing them out every day. Otherwise, they're best for active people and families who have plenty of room for them to run and play.
Additionally, because these dogs are so smart, they require mental stimulation, as well. Social interaction with people or other dogs, active play, puzzle toys, and obedience or agility training are all good for Border Aussies. If your Border Aussie is left alone without something to occupy itself, it will likely become bored and then destructive. If you own a Border Aussie, you'll want to set aside plenty of time daily for both exercise and play.
Guide to Train Border Aussies
It should come as no surprise that this intelligent, obedient hybrid breed is easy to train. They enjoy learning, so as long as you use consistent, positive reinforcement, your Border Aussie will quickly learn to please you. These dogs are moderately prone to weight gain, however, so you may want to try rewards other than treats. You may find your Border Aussie responds very well to praise or toys. Keep in mind that Border Aussies are very sensitive to human emotions, so keeping training positive – without anger or shouting – is extremely important.
If you've always admired dogs who can race through agility training courses and wanted to try this kind of training with your pet, the Border Aussie is the right dog for you. Both parent breeds are aces at events like obstacle courses, flyball, tracking, and other sporting activities, so your Border Aussie will likely enjoy the combination of physical and mental activity.
Border Aussies Health
Like most hybrid breeds, the Border Aussie is commonly a healthy dog. However, it can still fall pretty to some of the health problems that affect its parent breeds. A responsible breeder will know how to pair dogs so that the chance of inheriting diseases or other conditions is low. However, here are some of the most common Border Aussie health problems:
Hip dysplasia
Epilepsy
Collie eye anomaly
Hemangiosarcoma
Lymphoma
Cataracts
Elbow dysplasia
Thyroid disease
Since both Australian shepherds and (less commonly) border collies can have the merle coloring trait, it's important for Border Aussie owners to know about the problems that come with "double-merle" dogs. When two dogs of any breed with the merle trait are bred together, the offspring can have serious health problems about 25% of the time. Double-merle dogs are mostly or all white, but more importantly, they may be congenitally deaf and/or blind due to a number of untreatable birth defects.
Because of this, most responsible breeders won't pair two merle dogs together. However, some unethical breeders may attempt to sell you a "rare" all-white or mostly-white Border Aussie. Instead, they may be selling you a dog with serious health problems. Although many deaf or blind dogs can lead happy lives, they require quite a bit of extra care and training from their owners.
How much food do Border Aussies need daily?
Like most medium-sized dogs, Border Aussies usually need 1.5 to 2 cups of high-quality dry food a day, divided into two meals. If your Border Aussie is a working dog rather than a companion dog, you'll likely need to add a little more. Otherwise, stick to consistent measurements so your dog doesn't gain unnecessary weight.
How to Grooming Border Aussies
Your Border Aussie likely won't require extensive formal grooming, but it will shed. Both Australian shepherds and border collies are moderate shedders that also shed seasonally, so keep the brush close by.  Depending on what kind of coat they inherit from their parents, Border Aussies will need brushing between one and three times per week to keep their coat clean and tangle-free.
Otherwise, you can bathe your Border Aussie every 2-4 weeks, depending on how much time it spends outside and how dirty it gets. Make sure to keep on top of other grooming activities like teeth brushing, ear cleaning, and nail clipping as well. The Border Aussie's needs aren't too extensive in this department, but every dog breed will benefit from regular "maintenance" grooming.
Border Aussies Breeders & Puppy Costs
There aren't many Border Aussie breeders out there yet, but with a little searching, you should be able to find one. Although we always recommend adopting over shopping, if you have your heart set on a Border Aussie, you may need to find a breeder. As always, do your homework to make sure the breeder is licensed and has a good reputation.
Of course, dogs from reputable breeders can be expensive, and indeed, a new Border Aussie puppy will cost between $750 and $2,000, with most falling in the $1,000 to $2,000 range. However, the expense is worth it for a healthy dog from a well-socialized environment. Good breeders know how to pair dogs to get offspring with the best health and temperament.
Border Aussies Rescue & Shelters
Because Border Aussies are hybrid dogs just starting to gain in popularity, there aren't yet any rescue organizations dedicated solely to this breed. Instead, you might have more luck at rescues dedicated to the parent breeds. Here are a few of these border collie or Australian Shepherd rescues. Keep in mind that some are actual shelters, but others are loose organizations of volunteers who foster dogs.
Border Aussie Breeders
Because the Border Aussie is a relatively recent hybrid breed, you'll probably have more luck finding one from a breeder. Unfortunately, there aren't many yet, but here are the ones we know of.
Border Aussies as Family Pets
A Border Aussie can make a great family pet – with some qualifiers. First, you'll need to have a fairly active family. If everyone's a couch potato, a Border Aussie will become bored and restless pretty quickly. Also, while both border collies and Aussie shepherds are good with children, they're both athletic, high-energy dogs, so Border Aussies may inadvertently knock smaller children down. Having a house with a yard will definitely help them get their energy out in other ways.
Since herding dogs are bred to work independently in the fields, they may be initially suspicious of strangers, both human and canine. However, proper socialization of your young Border Aussie will help overcome this. As always, it's important for a dog to learn to be around young children, but it's just as important to teach children how to behave around a dog. With a Border Aussie in the home, just as with any dog, teach your kids how to play nicely without pulling on ears or tails or interrupting your dog's mealtime. Keeping this in mind, a Border Aussie can get along great with children.
Final Thoughts
Border Aussies are wonderful dogs, but they're best suited to certain owners. Experienced dog owners who love to stay active and spend time outdoors will be happiest with this hybrid herding breed. But don't worry – after a long day of exercise, your Border Aussie will love to curl up next to you on the couch and give you all the affection you expect from a loyal companion.