Never heard of the Lycan Shepherd? You're not alone. This German shepherd mix is as new as they come, a combination of the European working German shepherd Dog, the Blue Bay shepherd, and the Belgian Malinois. The result is an intelligent, loyal dog with a wolf-like appearance. Indeed, "Lycan" comes from the Greek word lykos, which means "wolf."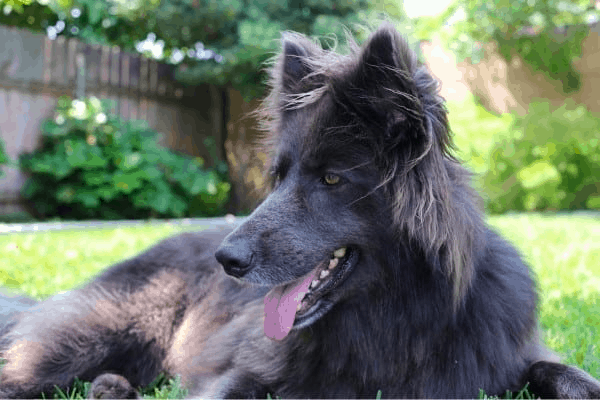 Wolf dogs present unique challenges for dog owners since there is a strain of wild animals still present in their genetic makeup. There are so few Lycan Shepherds in existence that it's impossible to say how wolf-like they are, but given their size and heritage, they almost certainly require an experienced dog owner who knows how to train and handle such a big, smart canine.
Here, we'll give an overview of what we know so far about Lycan shepherds. There are still only a handful of these dogs around, all first-generation hybrids, so there are a lot of unknowns. We'll fill in gaps with information about the parent breeds. However, you won't need to worry about specific ownership tips yet, because Lycan shepherds aren't widely available to the public.
Comparison of the German Shepherd, Blue Bay Shepherd, and Belgian Malinois Breeds
Since the lycan shepherd is such a new breed of dog, we have to look to the parent breeds for information. There simply aren't enough lycan shepherds around yet to make generalizations. Additionally, since this breed is in its early days, individual lycan shepherds may vary substantially in terms of size, appearance, and temperament.
| | | | |
| --- | --- | --- | --- |
| | German Shepherd | Blue Bay Shepherd | Belgian Malinois |
| Type | Herding dog | Companion dog | Working dog |
| Origins | 19th-20th century | 21st century | Late 19th century |
| Country of Origin | Germany | United States (FL) | Belgium |
| Size | Large | Extra large | Medium to large |
| Height | F: 21 to 25" / M: 24 to 27" | F: 26 to 30" / M: 30 to 33" | F: 22 to 24" / M: 24 to 26" |
| Weight | 74 to 98 pounds | F: 70 to 100 lbs. / M: 85 to 130 lbs. | F: 40 to 60 lbs. / M: 60 to 80 lbs. |
| Life Span | 9-13 years |  Unknown | 12-14 years |
| Coat | Thick, dense, short or long | Long or plush | Short, rough, or long |
| Coloring | Black and tan, black, sable | Blue (slate gray that fades as dog ages) | Fawn, red, or brown with black mask |
| Shedding | Constant and seasonal | Unknown | Twice a year |
| Temperament | Alert, intelligent, loyal, outgoing, protective | Affectionate, active, high-maintenance | Active, intelligent, playful |
| Trainability | Easy | Easy | Easy |
| Kid friendly? | Yes | Yes, but consider size | Yes |
Clearly, all three parent breeds are intelligent working dogs, so a Lycan Shepherd will have similar characteristics.
History and Original Purpose of Lycan Shepherd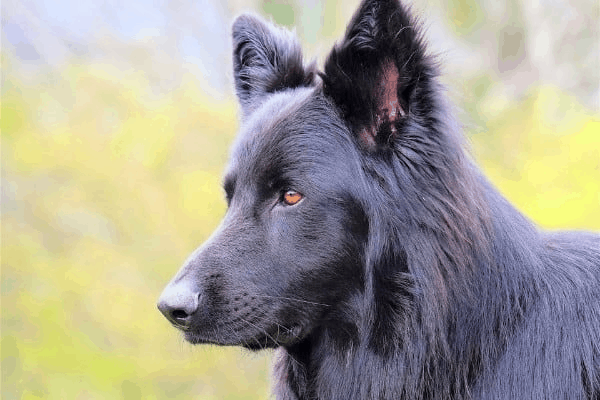 The Lycan Shepherd originated as a breeding project from YouTube user 1st508thAirborne, who owns Gargoyle Kennels in Michigan. He has spent the past few years combining the bloodlines of working European German shepherds (which are slightly different from American show-quality GSDs), Blue Bay shepherds, and Belgian Malinois dogs to create a domestic dog that looks like a black wolf.
Because the breed is so new, it is not recognized by the American Kennel Club (AKC). For a breed to be recognized by the AKC, it must usually be consistent and stable for at least 40 years. Lycan shepherds are still so new and rare that they aren't even on the Designer Breed Registry (DBR), the American Canine Hybrid Club (ACHC), or the International Designer Canine Registry (IDCR).
The Lycan Shepherd was bred for three characteristics: high intelligence, obedience, and a wolf-like appearance. The breeder sought to combine the intellect of a wolf with the loyalty and obedience of a German shepherd and Belgian Malinois. Since Lycan Shepherds are bred from working breeds, they are highly active, curious dogs who need a great deal of exercise and stimulation.
Because these are large wolf dogs that may have variable temperaments, they would be best for experienced dog owners. First-time dog owners would be better served by adopting an established breed that has more predictable characteristics.
Quick Summary of the Lycan Shepherd Breed
Since this is a very new breed, keep in mind that there are still some characteristics that vary substantially. Additionally, since there are so few lycan shepherds, it is too soon to tell how exactly they meet these characteristics.
| | |
| --- | --- |
| Items | Values |
| Popularity | Extremely low (because of low availability) |
| Purpose | Working dog |
| Suitable For | Experienced, active dog owners |
| Lifespan | Likely similar to parent breeds (10-13 years) |
| Temperament | Intelligent, driven, unpredictable (any of the parent breeds) |
| Average Height | 22 to 26 inches (approximate) |
| Average Weight | 48 pounds to 88 pounds (approximate) |
| Coat Type | Thick, dense, plush |
| Color Variations | Black |
| Grooming Needs | Likely moderate |
| Shedding | Likely high |
| Brushing | Likely needs regular brushing |
| Touchiness | Likely highly sensitive |
| Tolerant to Solitude | Likely low |
| Tolerance to Heat | Likely moderate |
| Tolerance to Cold | High |
| Barking | Unknown |
| Good Family Pet? | No, due to large size and unpredictable temperament |
| Good with Children? | Unknown |
| Good with Other Dogs? | Unknown |
| Good with Other Pets? | Unknown |
| Good Apartment Dweller? | No |
| Good Pet for New Owner? | No |
| Trainability | Easy to train |
| Exercise Needs | High |
| Tendency to Gain Weight | Unknown |
| Daily Food Consumption | Likely similar to parent breeds (2 to 3 cups of large-breed kibble a day) |
| Common Health Concerns | Unknown, but likely similar to parent breeds (elbow and hip dysplasia, eye problems) |
| Average New Puppy Price | Unknown – very limited number |
| Average Annual Medical Expense | Unknown |
| Average Annual Non-Medical Expense | Unknown |
| Yearly Cost to Own This Breed | Unknown |
Pros of Getting a Lycan Shepherd
The beautiful and distinctive appearance
High intelligence
Easy to train
Cons of Getting a Lycan Shepherd
Unavailable to the public
Unpredictable temperament
Needs lots of exercises and mental stimulation or may become destructive
Possible aggression
Fun Facts about the Lycan Shepherd
The breeder of the Lycan shepherd has also bred a line of working bulldogs that he calls the Renascence Bulldogge.
Blue Bay shepherds, which make up a substantial part of this breed, originate with a single breeder in Palm Bay, FL. These shepherds are bred from dogs that are five generations distant from pure wolves.
Working European German shepherds, like those that contributed to the Lycan shepherd, have less severe skeletal angles and thus suffer from fewer join problems than their show-quality cousins.
Lycan Shepherd Popularity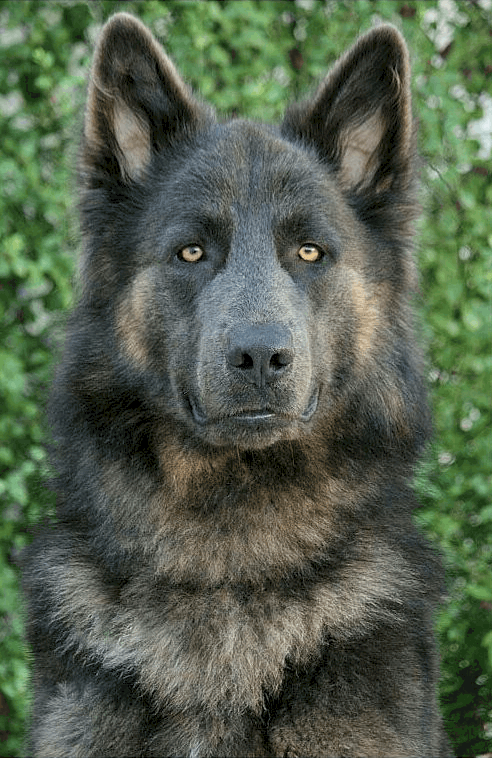 There are only a handful of Lycan shepherds in existence. They come from a single breeder, who in 2017 stated that they weren't available to the public yet and would not be for several more years. Since this breed still appears to be in its first or second generation, it is unknown how long it will be before these dogs are widely available.
Additionally, since there is no standard or paperwork behind the breed, anyone can claim that the dog they are selling you is a lycan shepherd. However, you will have no guarantee that the dog in question does indeed have the genetic makeup of a lycan shepherd. For this reason, it is important to only purchase dogs from registered, reputable breeders. Additionally, if the pedigree is important to you, you will probably be better off choosing an established breed with many generations of registered dogs.
Lifespan of a Lycan Shepherd
Lycan shepherds are too new a breed to say for sure, but it's expected that they'll have similar lifespans to the parent breeds, so about 10-13 years.
Lycan Shepherd Temperament
Similarly, there are so few Lycan shepherds out there that making generalizations about their temperament is difficult, if not impossible. However, we can make some inferences from the parent breeds. A European working German shepherd is an intelligent, loyal, and obedient dog. Since these dogs are bred to herd, they may show some of those behaviors around people as well, nipping at heels and giving chase. However, proper training and socialization yields a well-behaved, if very active, dog. A German shepherd needs plenty of exercises and mental stimulation, or else it may grow bored and destructive.
A Blue Bay shepherd, which is partially bred from German shepherd stock, will have many of these same qualities. However, don't forget that this shepherd also has wolf-dog in its heritage. Although the breeders worked very hard to remove wolfish traits of aggression and fearfulness around humans, there is still a strain of unpredictability in the mix. Although wolves look like dogs, they're wild animals without the hundreds of generations of domestication that go into a breed like the standard German shepherd. However, Blue Bay shepherds were bred to be companions rather than workers, so they may be more loving and attentive than a GSD.
Finally, the Belgian Malinois is a watchdog, meaning it's a confident and protective pet. This breed loves to be part of a family, but it is also a highly active working dog. Similar to the German shepherd, it needs regular exercise and activity to remain happy. The Belgian Malinois is very intelligent and thus highly trainable, but it can be willful enough that it needs an experienced trainer.
Combining these three breeds will almost certainly create a smart, loyal, loving pooch who requires a good deal of exercise and attention. While a lycan shepherd shouldn't be aggressive, between the wolf elements and the protectiveness of its parent breeds, that remains a possibility. Additionally, lycan shepherds are specifically bred for obedience and work ethic, so they won't be content to lie around in the house all day. For these reasons, we find that the lycan shepherd is not a good dog for first-time owners.
How Big a Lycan Shepherd Will Get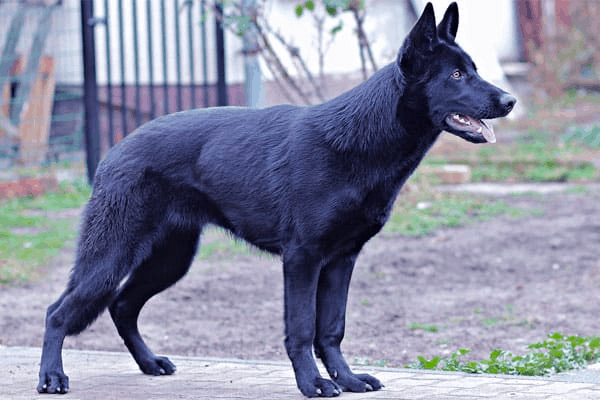 Belgian Malinois are considered medium-sized dogs, but German shepherds are large, and Blue Bay shepherds are larger still. A Lycan Shepherd is certain to be a large dog, though size estimates range from 70 pounds on the low end to 100 pounds on the high end. The lycan shepherd is a big, strong dog, so it might not be appropriate in a house with small children. Although the lycan shepherd is unlikely to be purposefully aggressive toward children, it may easily knock them down.
Lycan Shepherd Appearance
There's no doubt here – these dogs are bred to look like wolves. All available pictures of lycan shepherds show large dogs with solid black fur. They have erect, triangular ears, large heads, and light eyes. Lycan shepherds have long legs and athletic bodies, less broad than the German shepherd and Belgian Malinois.
The Coat of the Lycan Shepherd
Since there are no breed standards yet, Lycan shepherd coats may vary in length, but fur is always black. Most Lycan shepherd coats appear medium-length, and they almost certainly have the characteristic double coat of the German shepherd or Blue Bay shepherd. This means a moderate amount of grooming and quite a bit of shedding.
Grooming and Brushing
The breeder hasn't released specific information about grooming, but both German shepherds and Blue Bay shepherds have thick double coats. This means an outer layer of coarser fur and an underlayer of softer, finer fur. These coats should be brushed 2-3 times a week to prevent the fur from matting, or clumping up into tangles that can be painful and restrict the dog's movement.
All dogs, no matter the size and breed, require regular ear and teeth cleaning. Teeth brushing should be a daily ritual – don't worry, there are plenty of specially-made toothpaste that is appealing to dogs. Ear cleaning can be more of a once-in-a-while routine, but you do need to occasionally check your dog's ears for bugs or debris.
Lycan shepherds are clearly outdoor dogs, so they may not need frequent bathing. For German shepherds, a bath every 1.5 to 2 months is plenty, as more than that can dry out and irritate their skin.
Does the Lycan Shepherd Shed?
Again, we don't know for sure, but German shepherds shed more or less constantly, and even more on a seasonal basis. The Lycan shepherd almost certainly sheds quite a lot. This means it isn't hypoallergenic or suited for people with allergies.
Lycan Shepherd Health and Care
Specifics for the Lycan shepherd are hard to come by, but their health and care is likely to be similar to the parent breeds. That means exercise is vital. Daily walks are essential, as is rigorous training. These dogs are bred to be obedient, but they are large and unpredictable, so they'll need a strong hand. However, they are also intelligent and hardworking enough that they should enjoy the training process. Early and regular socialization is also important. Although herding dogs can often handle solitude, they shouldn't be left alone all day, either.
As for specific health problems, the best we can do is identify health problems that are common in the parent breeds. For German shepherds, you need to watch out for the following:
Hip/elbow dysplasia
Arthritis
Cauda equina syndrome
Bloat
Eye problems
Von Willebrand disease
Exocrine pancreatic insufficiency
Degenerative myelopathy
The Belgian Malinois tends to have similar health issues:
Hip/elbow dysplasia
Epilepsy
Eye problems
Skin problems
Congenital health problems mostly come into play due to inbreeding. Since the breeder of lycan shepherds seems to have quite a bit of experience in canine breeding, there is reason to believe he has taken great care in selecting healthy parents. In general, mixed breed dogs like the lycan shepherds tend to be healthier than purebreds thanks to genetic diversity.
Reputable breeders know how to ensure that they aren't pairing dogs that carry genetic health conditions. That's why we always recommend doing research on the breeder first. In addition, Lycan shepherd availability is so low that anyone other than the original breeder who claims to be selling these dogs is selling false goods. Not all large, black, wolf-like dogs are lycan shepherds, so do your homework to ensure that you're getting a healthy dog.
Lycan Shepherd Tolerance to Weather
All three parent breeds are highly tolerant of cold weather, so the lycan shepherd should be as well, with its thick double coat. Less certain is the lycan shepherd's tolerance of hot weather. The breeder and his lycan shepherds live in Michigan, if that gives you any clue to the dog's comfort range. Regardless, you should never leave your dog in extreme temperatures for extended periods. Make sure they have some protection from extreme heat or cold, including plenty of water to drink.
Barking
Belgian Malinois and Blue Bay shepherds tend to bark a moderate amount, though German shepherds are somewhat prone to barking and howling. It's too soon to tell whether lycan shepherds as a breed are likely to bark excessively, but keep in mind that they are protective dogs, so they'll probably bark at strangers.
Is a Lycan Shepherd Good for Families?
We don't recommend the lycan shepherd as a family dog. Although they may be playful and energetic, which is fun for active families, there are too many unknowns about their temperament as of yet. Remember that they are bred from working dogs, which means that they need to be kept occupied and exercised frequently. This might be hard to fit into a family schedule.
Is a Lycan Shepherd Good with Children and Other Pets?
Similarly, we don't have information to say whether the lycan shepherd is good with children and other pets. However, these are such large animals that the potential to accidentally knock a child over is high. Sometimes large dogs simply don't seem to know their size when interacting with people or other animals. Moreover, the lycan shepherd's wolf instincts may cause it to react with aggression if a child or animal interrupts dinner time or tries to take away a beloved toy.
Is a Lycan Shepherd Good for New Owners?
Because of the breed's unpredictability – including but not limited to its wolf heritage – we have to say that the lycan shepherd isn't a good dog for first-time owners. Although the breeders of both Blue Bay shepherds and lycan shepherds have presumably done their best to remove aggression, there is always a possibility that wolf dogs will revert to their instincts and guard their resources with force.
Additionally, the lycan shepherd is smart enough to "outwit" an inexperienced owner when it comes to getting what it wants. New owners often have to learn how to, for example, guard treasured possessions from being damaged, and that's harder to do with such a smart dog. Although lycan shepherds are beautiful dogs, there are many, many other breeds that are more suitable for new dog owners.
Is a Lycan Shepherd a Good Apartment Dog?
Again, this is an unknown. Some German shepherds and Belgian Malinois can learn to live in an apartment as long as they get lots of walks and outdoor time to be active, but it takes careful planning on the part of the owners. A large, active dog like the lycan shepherd is unlikely to do well in a small space for large amounts of time.
Is a Lycan Shepherd Easy to Train?
One thing we can say with certainty is that the lycan shepherd is intelligent and bred to be trained easily. However, it is large enough that it can put up resistance if it wants to. The good news is that the lycan shepherd's parent breeds are all dogs that are keen to please and respond well to good training. As with all dogs, it's important to rely on positive reinforcement rather than punishment when it comes to training.
Exercise Requirements for Lycan Shepherd
Based on the parent breeds, lycan shepherds require substantial exercise to remain happy and healthy. It's worth noting that simple walks might not be enough. We can't overstate the fact that lycan shepherd come from working breeds, which were created to perform specific tasks. In the same vein, lycan shepherds probably need something to keep them active and engaged. They may be well-suited to agility training, given their physical and mental prowess.
Weight Gain in the Lycan Shepherd
German shepherds are prone to gain weight if they're overfed, and it's likely that the lycan shepherd is, too. All three parent breeds can also develop a problem called bloat if they eat too much. The stomach stretches, fills with gas, and twists, which is painful for the dog and can be fatal if not treated. Although overfeeding isn't the only cause of bloat, it's definitely a factor, so a lycan shepherd will benefit from moderation in food intake. Additionally, these dogs are probably prone to join problems, which can be exacerbated by obesity.
Feeding Your Lycan Shepherd
We can't give specific recommendations for feeding a lycan shepherd, but most dogs of that size require 2-3 cups of high-quality food a day split over two meals. Based on the parent breeds' tendency towards joint problems, lycan shepherds may also benefit from vitamin supplements that protect the joints. As with all dogs, if you're unsure of food or dietary requirements, ask your veterinarian.
How Much Does a Lycan Shepherd Cost?
Unfortunately, there's no available data for this question. As of 2017, the breeder wasn't selling these dogs to the general public. However, if and when he does, the cost is likely to be very high, as availability is so limited. One imagines it could be in the thousands of dollars. Moreover, the cost of keeping a large dog is usually higher than a small one, so keep that in mind.
How to Train a Lycan Shepherd
Here, we don't know specifics for the lycan shepherds, but the same general tips and tricks for training a large, smart dog are likely to apply. You'll need to determine whether your dog is most motivated by food, toys, or praise and use the appropriate positive reinforcement. If it's food, remember to use small, low-calorie treats to prevent weight gain. Luckily, intelligent working dogs like the lycan shepherd enjoy training, but don't try to push a long training session if you or the dog become frustrated.
Where to Get a Lycan Shepherd
At present, lycan shepherds are only bred by YouTube user 1st508thAirborne of Gargoyle Kennels. Word of this breed has spread widely because of his online videos and the distinctive, wolf-like appearance of the lycan shepherd. However, even if he has begun selling some of these dogs, they are very, very limited in availability. If you're buying from anyone other than this particular breeder, you aren't buying a lycan shepherd.
Final Thoughts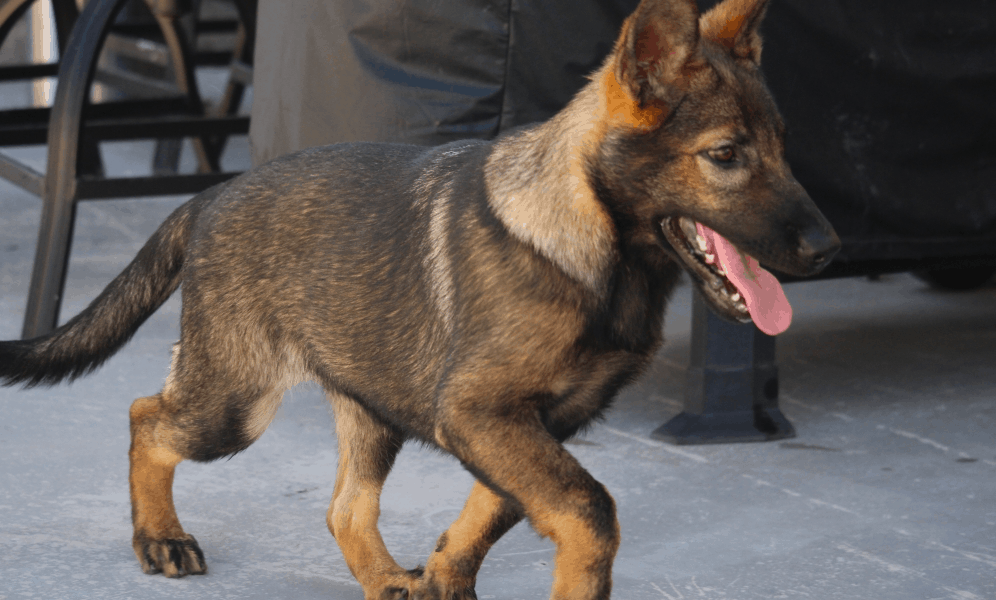 It's much too soon to render a verdict on the Lycan Shepherd and who it's most suited for. However, it's worth noting that the breeder appears to lead an active, outdoor lifestyle and created these dogs to match. Videos show these dogs running through snowy forests, much like their wolf ancestors. We look forward to learning more about this unique breed.
We'll update this article as the breed develops and more is known about these beautiful dogs. In the meantime, check out our articles on Golden Shepherd. These and other Australian Shepherd Mixes are already widely available from reputable breeders and rescue organizations, so you won't have to wait for years before you can get an intelligent, hardworking dog.