The German Shepherd is one of the most popular canines breeds you can find in the world today. They are wonderful dogs that are mostly known for their impressive work ethic as a lot of these dogs are used as security dogs for the police and other organizations.
German shepherds are also great family dogs as they get along with every member of the family, especially kids and teens. If you do reside in Colorado, then the decision to add a German Shepherd to your family is definitely a great one.
Adopting a German Shepherd from a specialist rescue does have its perks. For one, it is most humane to rescue a dog from a shelter and give it a home. Also, German Shepherds gotten from rescues are a lot cheaper than when dealing with a breeder, and you can rescue a German Shepherd at any stage in its life, whether adult or puppy.
With that being said, here are some of the best specialist rescues for German Shepherds residing in the state of Colorado. Do ensure you read on till the end and look out for our personal pick from the list.
1. German Shepherd Rescue of The Rockies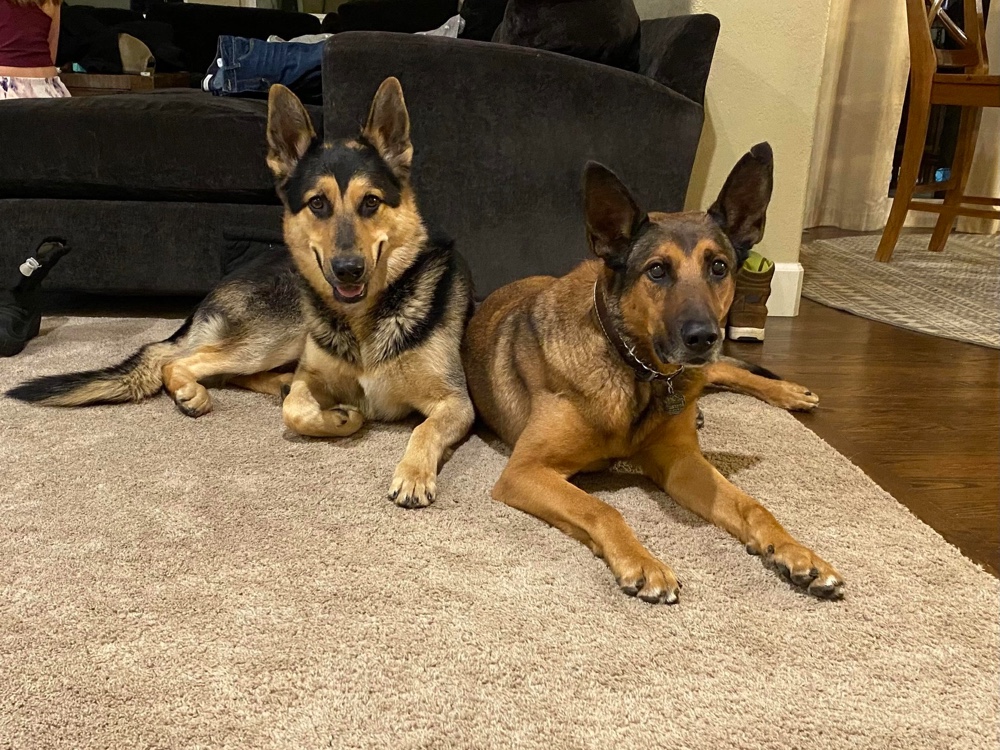 Since 2011, German Shepherd Rescue of the Rockies has been committed to placing beautiful German Shepherd Dogs in equally beautiful and caring forever homes. This is not a shelter but rather a home-based foster organization that is committed to the German Shepherd breed. They are located in Morgan, Colorado, and was founded by Katherine or Katie as she is mostly known.
The rescue is dedicated to ensuring their rescued dogs are sent to only the best possible families they can find. This is why they perform heavy screenings on each family that they consider and also perform other services for the benefit of the community including providing education and training to help you take care of your new furry friend.
To get considered for their German Shepherds, you would have to be above the age of 25 years old. If you happen to fall under this age limit but are very passionate and serious about owning any of their German Shepherds, then you can still submit or apply to get screened. The application fee for their dogs is $350.
This application fee covers the basics like veterinary costs, spaying and neutering costs, heartworm analysis, microchipping costs, and a lot more. If after submitting your applications and you do not get a message from them in 14 days, then it means you were not selected for any of their current dogs and are free to apply in the future.
2. Front Range German Shepherd Rescue
The next German Shepherd rescue on our list is Front Range German Shepherd Rescue. They are breed specific and are located in the Denver area of Colorado, United States. They are volunteer run, which means all their German Shepherd dogs are placed by volunteers. In fact, all the services they render to the dog lover community are made by volunteers and they are constantly in search of volunteers to help them out, so you should consider joining their organization.
See them more as a group of individuals that come together with the purpose of finding new homes for homeless German Shepherds all over the world. Their entire adoption process is a lot more flexible as it can take a period of 1 to 2 weeks before they send a German Shepherd your way. Because they care about matching the right families with the right dogs, their process can sometimes take longer so you would have to be a little patient sometimes.
Their whole goal involves setting their German Shepherds up for success, as such all their dogs are properly maintained with health prioritized at the highest possible level. They also partner up with established institutions like the American German Shepherd Rescue Association to help ensure each rescued German Shepherd is rehomed.
The whole adoption process is quite fluid. You can check their website for an application fee. This should enable them to perform all the screening they need before they decide on setting you up with a German Shepherd that would be great for you. Once a perfect German Shepherd dog is chosen for you, the adoption fee can then be estimated.
3. Snow Capped Shepherd Rescue
Littleton Colorado is the home of the next rescue to be added to our list of the most reputable German Shepherd Rescues located in the state of Colorado. This is not a shelter for German Shepherds as all their dogs are housed and raised in foster homes till they eventually get adopted and moved to their forever families. And they have a special preference for the white German Shepherd even though they rescue all mixes.
This is also run by volunteers. They are not only committed to saving German Shepherds that are homeless but they also help each rescued German Shepherd deal with and recover from whatever negative experiences they might have passed through. They require donations to be run and they offer services like daycare, boarding, grooming, spaying, and neutering services to members of their community.
They also run an online store that you can visit for all things canine and money made from donations and online sales are used in the treatment and care of their rescued German Shepherd dogs. Snow Capped German Shepherd Rescue also does its best to partner with other institutes to help ensure they are more foster homes for their rescued dogs.
Their Adoption process is quite standard, You would need to fill out the application form that is located on their website. Once done, then a location would be selected where you would meet up with your future furry friend and get introduced to them. After this, you would be needed to come over to the home in Littleton and be assessed to ensure you're a great match with the future puppy. Once this is done, you can take home your new friend.
LocationLittleton, Colorado
My Top Pick
My personal pick from the list of rescues listed above is Snow Capped German Shepherd Rescue, located in Littleton, Colorado. Although they do have a preference I find their commitment and goal quite impressive.
Canines that are rescued go through a lot of psychological trauma and this can affect the quality of life they lead even in their new forever homes. What Snow Capped Shepherd Rescue does is rescue German Shepherds, give them the necessary overall health and treatment they might need, and then do their best in finding a good home for them. The whole process shows they truly care about the well-being of each dog.
The decision to adopt a homeless German Shepherd rather than purchase one is an honorable one, do ensure you check out for the German Shepherd that is better suited for you, and treat them with all the love and care you can give because they do deserve it.
With that being said, that is all we have for you in this article, do check out our website for more engaging articles.