German Shepherd or Alsatian Dog is one of the most Versatility canine breeds in the world – this is beyond all controversies! A well-bred German Shepherd Dog is his master's truest companion, although not all shepherds are equally versatile. If bred scientifically a German Shepherd puppy will grow up with all the desirable and mandatory instincts that would make it a true type of royal dog and a perfect protective companion of his owner.
While working on the development projects of making a true type of working dog, Captain Max Von Stephanitz emphasized more on the working ability of the breed, rather than the look. Insofar its capability as a protective working dog is concerned it is mandatory to have the basic instincts of a GSD. Here are the Basic Instincts of well-bred German Shepherd Dogs that are genetically inherited by a puppy from a dam and sire. The idea of selective breeding comes to play its role here. Responsible breeders try to retain the basic instinct of the breed through planned and scientific breed programs. Breeding scientifically will result in near-to-perfect progenitors. Remember no dog is a 100% perfect dog in this world.
The Basic Instincts of a "well-bred" Alsatian dog have been broadly categorized into two categories, viz. Critical/vital Instincts and General Instincts. Both these types of instincts in Alsatian or German Shepherds are of utmost importance and aspiring breeders must keep in forefront of their mind the importance of retaining them in progenitors while breeding German Shepherd Dogs.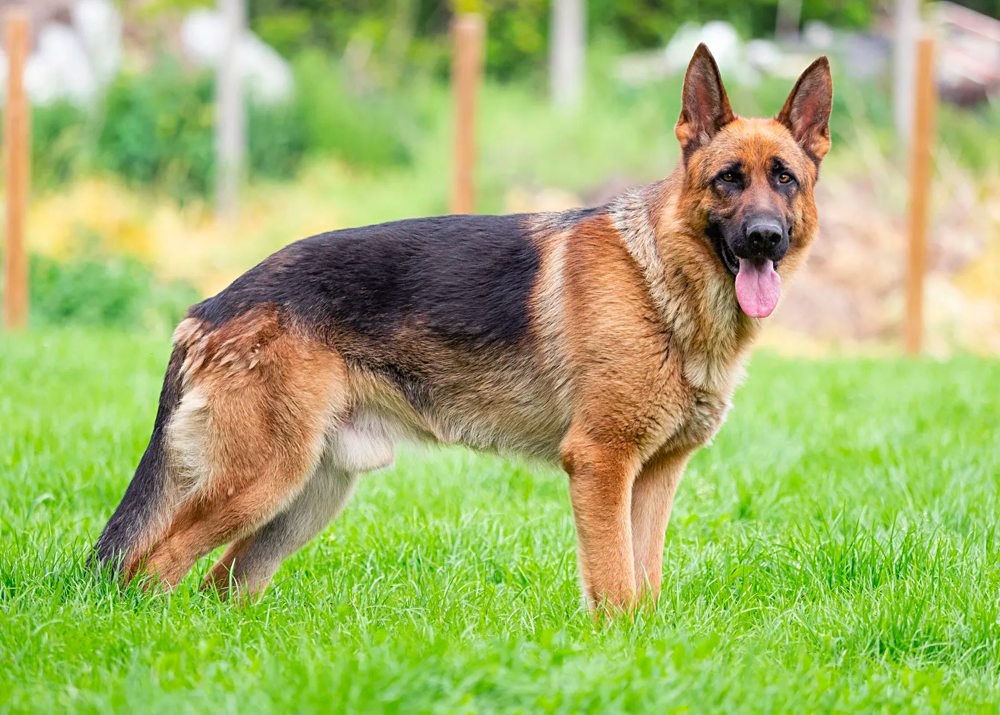 Critical Instincts in German Shepherd Dogs
1. Booty Instinct OR Prey Instinct
This is one of the two Critical Instincts of a well-bred Alsatian or German shepherd dog. This German Shepherd instinct triggers the dog's character trait to chase moving objects like flies, moths, butterflies, mosquitoes, etc., and seize them. This is one of the most vital GSD instincts for excellent Schutzhund protection work. The Booty or Prey Instinct plays the most vital role in acting as one of the most critical motivators of striking with speed and power, which is a mandatory part of a German Shepherd Dog's characteristics. This critical instinct starts to develop as the puppy reaches 6 months of age and eventually becomes prominent as it grows.
2. Fighting Drive
Another Critical instinct in a well-bred German Shepherd Dog is his Fighting Drive. This GSD instinct is also referred to as "Active Aggression" or "Offensive Aggression", which is as important as the Booty Instinct because it stimulates the dog's working ability as a protection dog. This GSD instinct helps the dog to deliver "rhythmic & explosive barks" during protection. Each of those regular deliveries of bark helps the dog to get positively stimulated, which in turn helps him to give a high degree of protection service. The Fighting Drive instinct of German Shepherd Dogs is highly desired for the Schutzhund protection work.
3. Hunting

Drive 
Hunt drive or Hunting drive is another critical instinct of the GSD breed that helps the dog to use and combine all other drives to find prey. The more intense the hunting drive is, the better the dog is for detection work.  Hunt drive is important for any GSD to be a perfect patrol dog. An intense hunting drive helps the dog to effectively find the criminals.
General Instincts German Shepherd Dogs
1. Self Preservation OR Defense Instinct
The Self Preservation of Defense Instinct is also called "Reactive Aggression". This GSD instinct should not be confused up with Prey Instinct and Fighting Drive Instinct in German Shepherds. Reactive Aggression, as a typical Alsatian dog or German Shepherd Instinct, helps the animal in developing an inherent protective trait related to territoriality. This German Shepherd instinct denotes the degree of Sharpness of its behavior as a protective dog. This is one of the most significant parts of GSD's character and behavior. Reactive Aggression Instinct in GSD or Alsatian dogs acts as the catalyst for the two Critical Instincts, viz. Active/offensive aggression and prey instincts, as it heavily stimulates the booty instinct and active aggression. However, the Reactive Aggression Instinct of well-bred German Shepherds also stimulates the Social Aggression Instinct.
2. Pack Instinct
This instinct is almost common for all pack animals including dogs, wolves, foxes, jackals, etc. The Pack Instincts is not unique to the German Shepherd Dog breed but is commonly found in almost all the canine breeds in the world. In a well-bred Alsatian dog, the Pack Instinct is noticed quite prominently, compared to many other breeds. This is another most important German Shepherd Instinct that is highly significant for the Schutzhund trial, as it stimulates the inherent behavior of the dog to protect the pack members and act alike. Acting like all other pack members help the dog to act in the way the handler or the owner wants him to act. This in turn makes it easy for the owners/handlers/trainers to train the dog and teach him desired tricks. Remember… viewing from the dog's perspective, the dog considers his owners/handlers/trainers as his pack members. Easy to train GSD (i.e the dog with a desirable degree of Pack Instinct), backed by the correct blend of Territorial Instinct and Social Aggression makes the dog stay closer to his pack members. This stimulates the dog's protective behavior, which is one of the most important traits considered for Schutzhund.
3. Social Aggression
Social Aggression is another desirable German Shepherd Instinct. Like the other instincts of Alsatian Dogs Social Aggression also increases the degree of trainability — especially for the Schutzhund protection services. Social Aggression Instinct makes the dog deliver a "deep grumbling bark" towards any threatening situation, thereby proving its territoriality and dominance. This typical male German Shepherd Dog instinct can be considered as a warning signal to threats or strangers. Each of such barks stimulates the dog by generating power within him, which in turn helps him express himself more dominantly. This is one of the most important and desirable determinants of a guard dog's character. This particular GSD instinct called "Social Aggression" is exclusively a male instinct found in most canine breeds that have been recognized as guard dog breeds. Found prominently in well-bred male German Shepherds this instinct usually remains unexhibited until the dog is made to face a threatening situation. Social Aggression is profoundly backed by the right degree of Territorial instinct in German Shepherd Dogs and in all other dog breeds used for guarding services.
Related post: Why Are Your German Shepherds Overly Aggressive?
Conclusion
It is probably due to some of these typical instincts that this majestic breed – the German Shepherd Dog has been stigmatized as one of the most aggressive dog breeds in the world. This has given a hard blow to the breed's popularity, although Alsatian Dogs are still one of the most popular dog breeds in the world. It is to be kept in the forefront of the mind that these instincts are typical for the German Shepherd Dog breed and has to be genetically engineered for the heirs through proper breeding. Without the right degree of such aggression, a particular dog would be an incomplete German Shepherd. It is t be noted that the German Shepherd Dog is quite friendly to the pack members including kids, but not so to the strangers, which is of utmost necessity for a perfect protection dog.