Like a cross between two of the most intelligent dog breeds – border collies and poodles – the Bordoodle is itself a smart, active dog. These playful, affectionate dogs make great pets for active families – the puppies and even some adult Bordoodles look a bit like teddy bears. However, as with any dog breed, it pays to know in advance the typical temperament, energy level, and requirements of you as an owner before you buy or adopt.
While the Bordoodle is a designer dog and a fairly recent hybrid breed, there's still plenty of information out there for potential owners. We'll break down what you need to know about Bordoodles to decide whether this is the right dog for you and your family.
Border Collie
The border collie is a born and bred sheepherding dog. The "border" in its name refers to the boundary between England and Scotland in the British Isles where it was first bred. Since it was created to be a hardworking animal, the border collie is a highly intelligent and energetic dog. Its herding instincts are very strong, and as a pet, it may attempt to herd children or other small animals by nipping at their heels. While they are loving, affectionate companions, border collies are also highly sensitive dogs with the instinct to react strongly to changes in the environment.
Additionally, the border collie is well-known for its very high energy. This is a dog that requires a great deal of physical and mental stimulation. If it isn't kept busy, it can become destructive. Thus, border collies are best for active owners who can give their dog a great deal of exercise and training. Their high intelligence means that they are very trainable. Indeed, if you've ever watched canine agility competitions, you've almost certainly seen a border collie showing off its skills.
READ MORE: Top 29 Most Popular Border Collie Mixes
Poodle
Another highly intelligent breed, the poodle was originally bred for duck hunting, though it is now considered a nonsporting companion breed. These dogs come a wide range of sizes, but there are three standard sizes: toy (6-9 lbs.), miniature (15-17 lbs.), and standard (45-70 lbs). Poodles are very popular pets, particularly because most neither shed nor drool but also because they can adapt easily to apartment life. They are friendly with children and strangers and love to be around people.
However, poodles do require a great deal of grooming, including a full groom and haircut every three to six weeks. The stereotypical poodle cut, with its exaggerated balls of fluff around the joints and organs, was originally intended to keep the dog warm in the water as it retrieved fowl. Of course, you can groom your poodle however you want, and many owners keep their coats short for ease of care. A purebred poodle's coat can be nearly any solid color.
The poodle's keen intellect makes it easy to train, but it also makes them mischievous. Poodles of all sizes benefit from obedience training and regular exercise. While they aren't as energetic as some breeds, they do require an outlet for their energy. As long as you keep this in mind, a poodle is a great dog for even the most inexperienced owner.
READ MORE: Top 58 Best Poodle Mixes 
Border Collie and Poodle Comparison
| | | |
| --- | --- | --- |
| Items | Border Collie | Poodle |
| Type | Herding dog | Companion dog |
| Origins | century | century |
| Country of Origin | Scotland and England | France and Germany |
| Size | Medium | Varies (toy, miniature, or standard) |
| Height | 18" to 22" | 10" to 22" |
| Weight | 27 to 45 lbs. | 6 to 70 lbs. |
| Life Span | 12 to 18 years | 12 to 15 years |
| Coat | Rough or smooth | Curly, wiry, and dense |
| Coloring | Black and white, bicolor, tricolor, merle, any solid color (except white) | Black, white, blue, gray, silver, brown, café-au-lait, apricot, or cream |
| Shedding | Seasonal and moderate | Doesn't shed |
| Temperament | Obedient, intelligent, energetic, eager | Intelligent, easy to train, obedient |
| Trainability | Easy | Easy |
| Kid-friendly? | Yes | Yes |
What is Bordoodle?
Border Collie and Poodle blended together to make the world's smartest non-shed dog!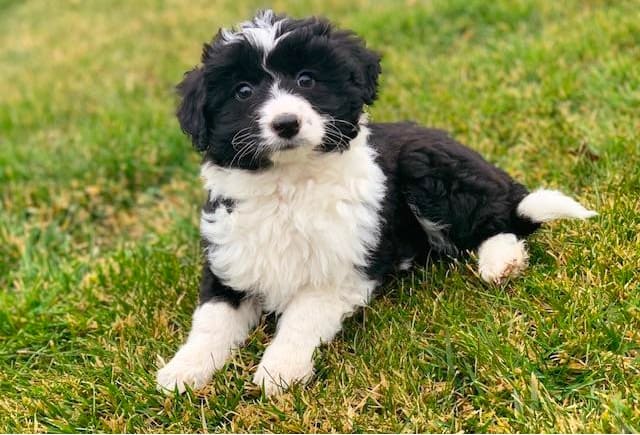 The Bordoodle is also sometimes known as a border doodle, borderpoo, or borpoo. It's typically a very smart, social, medium-sized dog with plenty of energy and affection to give. While there's no guarantee that your Bordoodle will be hypoallergenic, their poodle heritage means that they are likely to be low- to non-shedding dogs. This is a young hybrid breed, so the standards are still developing, but with a second or third-generation Bordoodle, you'll get the best traits of the poodle and the border collie in one dog.
Quick Summary of the Bordoodle
| | |
| --- | --- |
| Items | Values |
| Popularity | High |
| Lifespan | 12 to 15 years |
| Temperament | Friendly, focused, intelligent, affectionate, loyal, playful |
| Average Height | 12" to 22" |
| Average Weight | 30 to 60 lbs. |
| Coat Type | Medium to long, wavy to curly |
| Hypoallergenic? | Potentially |
| Grooming Needs | Full groom every 6-8 weeks |
| Shedding | Low to none |
| Brushing | Once or twice a week |
| Touchiness | Moderate |
| Tolerant to Solitude? | Low |
| Tolerance to Heat | High |
| Tolerance to Cold | High |
| Barking | Low |
| Good Family Pet? | Yes |
| Good with Children? | Yes |
| Good with Other Dogs/Pets? | Yes |
| Good Apartment Dweller? | Yes |
| Trainability | Very easy |
| Exercise Needs | Moderate to high |
| Tendency to Gain Weight | Moderate to high |
| Common Health Concerns | Progressive retinal atrophy, epilepsy, hip dysplasia |
| Average New Puppy Price | $1,500 to $2,500 |
| Average Annual Medical Expense | $300-$700 |
| Yearly Cost to Own This Breed | $900-$2,100 |
Pros and Cons to Owning a Bordoodle
Pros
Very intelligent and easy to train
Potentially little to no shedding
Highly social
Great family dog
Cons
Doesn't like to be left alone
Can be destructive if bored or not properly trained
Requires mental stimulation and regular exercise
May need extensive regular grooming
Fun Facts about the Bordoodle
Thanks to its inheritance of the poodle's shapely coat, a Bordoodle can be groomed in many different ways. The same dog can have dozens of different looks.
It's not completely clear how long the Bordoodle has been around or where it originated, but it's thought to have originated in the US and to be about 20 years old.
The American Kennel Club doesn't yet recognize this hybrid dog as its own breed. However, the International Canine Registry, the Dog Registry of America, Inc., the Designer Breed Registry, the Designer Dogs Kennel Club, and the American Canine Hybrid Club all distinguish the Bordoodle from other designer dogs.
Bordoodle Generations
Although Bordoodles have both border collie and poodle ancestry, that doesn't mean all Bordoodles have one poodle and one border collie parent. Dogs that are bred directly from one purebred poodle and one purebred border collie are called F1s. F1 Bordoodles have great variation in appearance and coat type, as these depend on which parent's genetics are dominant. They also may be more like one of their parents in terms of temperament and behavior.
An F1b is a Bordoodle with one F1 parent and one purebred poodle or border collie parent. The "b" stands for "back bred," as the hybrid is bred back with one of the parent breeds. Usually, F1b Bordoodles come from an F1 and a poodle for a dog that is genetically 75% poodle and 25% border collie. This creates a dog that's more likely to inherit a poodle's low-shedding coat and more easygoing temperament. However, an F1 bred with a border collie will create an F1b that's 75% border collie and 25% poodle.
An F2b is the offspring of one F1 Bordoodle and one F1b Bordoodle for a dog that is, typically, 62.5% poodle and 37.5% border collie. An F3 is bred from one F1b and one F2b. From there, you can have multigenerational F4, F5, and so on, which will create a breed standard that will, hopefully, one day be recognized by the AKC as its own type of dog. In general, the Bordoodle's appearance and temperament will become more consistent over time. However, since the Bordoodle is still in its early days, most puppies currently for sale are F1b or F2b.
Bordoodle

Temperament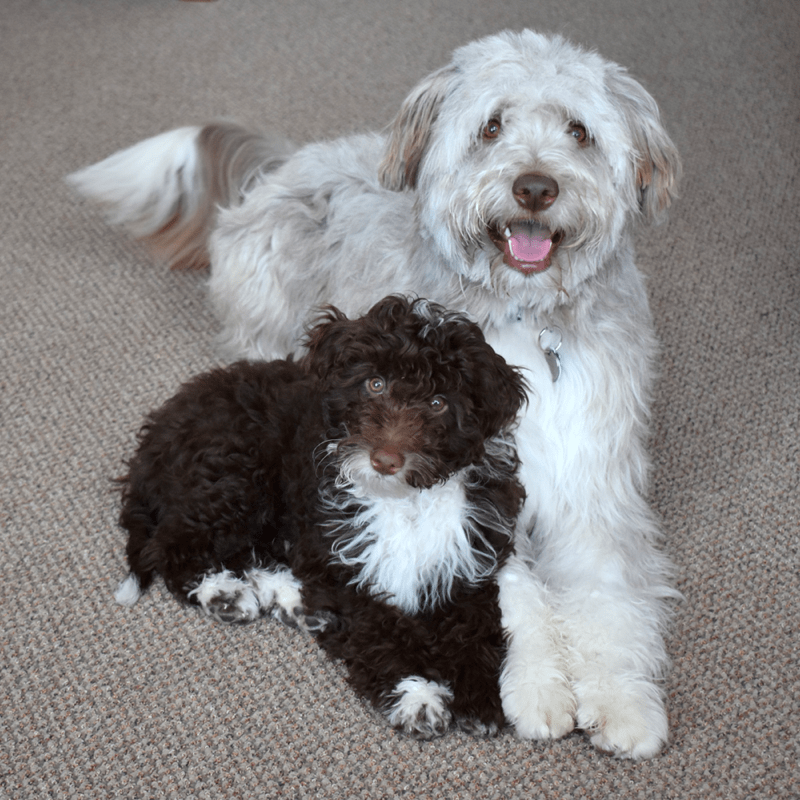 The best-case scenario of a Bordoodle of any generation combines the sociability of the poodle with the focus and obedience of the border collie. However, remember that there's still a great deal of variation within young generations of Bordoodles, so there's a small chance your dog might have the excessive energy and chase instinct of a border collie or the oversensitivity of a poodle.
In general, though, Bordoodles are smart, obedient, and playful dogs. They have more energy than the average dog, though they should be able to focus well on training activities. As long as they get regular exercise and additional playtime, they should remain fit and healthy. Bordoodles love to be around people and don't tend to do well when left alone. However, they do tend to do well with children, other dogs, and other pets. As with any breed, they should be properly socialized when young.
Bordoodle

Size & Appearance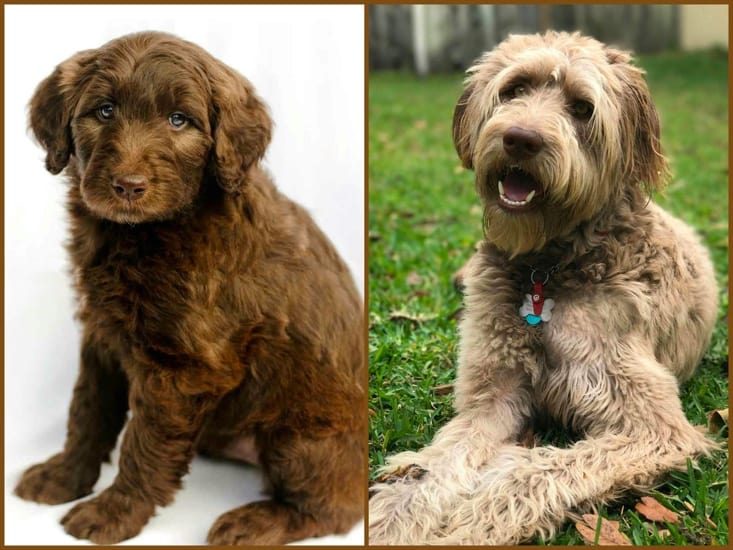 Obviously, the size of the Bordoodle is greatly dependent on the size of its parents. In particular, size will be determined by whether it has been bred from toy, miniature, or standard poodles. Thus, the Bordoodle can range in size from 12 to 20 pounds all the way up to 40 to 55 pounds. However, most Bordoodles have standard poodle ancestry and could be classified as medium-sized dogs with athletic builds.
While their appearance, particularly for F1 Bordoodles, can vary, they will generally have floppy ears and curly to wavy coats. They typically have dark eyes unless they've been bred from a merle border collie. Dogs with merle coloring have mottled patches of color on their coats and often light eyes or eyes of two different colors. Some Bordoodles may inherit this trait, too.
Bordoodle

Coat & Colors
Poodles are common parents for hybrid breeds because they don't shed their coats. Some refer to their coats as "hair" rather than fur because it doesn't shed much, if at all. The tradeoff is that poodles require regular full grooming to keep their coats clean and tidy. Border collies, on the other hand, shed moderately, or more during the change of seasons. Your Bordoodle's coat will greatly depend on its generation and the parent it takes after.
Typically, Bordoodles have a wavy coat texture that's halfway between a poodle's dense curls and a border collie's straight fur with a soft undercoat. Your Bordoodle may or may not shed, but you shouldn't count on this dog is hypoallergenic. In fact, no dog is truly hypoallergenic, as some people have allergies to dander or saliva that have nothing to do with how much a dog sheds. However, it's possible to get a Bordoodle that sheds very little fur or none at all.
Because both parent dogs can have such wide color variations, there are many possibilities for Bordoodles. Here are all the different colors and combinations that you might find on a Bordoodle.
Black and white
Solid black (sometimes fading to gray with age)
Black with tan
Black tricolor
Brown tricolor
Blue merle
Blue merle tricolor
Sable merle
Chocolate merle
Muddy merle
Apricot
Cream
Fawn
Red
Chocolate and white (sometimes fading)
Chocolate sable
Black-based sable
Brindle
Clearly, there's a lot of variation, and one Bordoodle may not look like the next, even within a single litter.
Exercise & Living Conditions
Both border collies and poodles are active breeds that need significant amounts of exercise, but poodles are much better able to adapt to apartment living. Thus, F1b or F2b Bordoodles with significant poodle ancestry can probably do well in apartments. However, all Bordoodles will need at least 45 minutes of exercise a day. Having a yard will help, but it is possible to have a happy Bordoodle in an apartment, though you'll need to plan carefully to make sure it gets plenty of exercise.
In addition to exercise, you also need to consider playtime. A Bordoodle probably won't be content with just a long walk; you also need to make time to play with your pooch and offer mental as well as physical stimulation. These are very smart dogs, and just like you might become bored with nothing productive to do, a Bordoodle will feel the same. Daily playtime with toys and obedience training will keep your Bordoodle happy and stimulated.
How to Train a Bordoodle
Luckily, training should be easy with these whip-smart dogs. They are focused and eager to please, which makes the Bordoodle a highly trainable breed. As with every dog breed, you'll want to focus on positive reinforcement for training purposes. Poodles tend to be praise-driven dogs, but you might also get a Bordoodle that responds better to treats or toys as a positive reward. Learn what motivates your particular dog and use it to reward good behavior.
Since Bordoodles are so active and intelligent, you might also consider formal agility training. This can include running obstacle courses, flyball, flying disc, and other similar activities. Your Bordoodle will relish the chance to use its body and its mind at the same time. A bored Bordoodle can develop anxiety and become destructive, so make sure you give your dog plenty to do.
While it's not usually part of formal training, socialization is important for a dog, too. Particularly with a breed as social as a Bordoodle, you'll want to get your young dog used to being around children, other dogs, and other pets. Reinforce their good behavior and stop any bad behavior as soon as it happens with gentle correction.
Remember that just as dogs must be socialized to children, children must be socialized to dogs, as well. Bordoodles will have no problem keeping up with a young child's energy, but they may not react well to having their tails or ears pulled, for example. Teach your children to play kindly with your Bordoodle and they'll have a friend for years to come.
Bordoodle Health Care
Full-blooded border collies and poodles are two breeds that have historically suffered from inbreeding and thus are more prone to health problems. Fortunately, hybrid dogs – that is, dogs with parents of two or more different pure breeds – tend to be healthier than purebreds. However, Bordoodles still may be predisposed to certain types of illnesses and conditions.
Progressive retinal atrophy, an eye problem that may eventually cause blindness, is common in several breeds, including both border collies and poodles. Thus, Bordoodles are at a higher risk for it. The same is true for epilepsy, which causes seizures, and hip dysplasia, which causes arthritis and pain in the hip joints. Additionally, Bordoodles may be at risk for certain allergies.
As always, if you decide to buy instead of adopting, make sure you choose a reputable breeder. Good breeders know how to match dogs to minimize the chance of poor health outcomes for their puppies. These breeders will likely charge more for the dogs, but you're also more likely to get a Bordoodle who will be your healthy companion for many years.
And, of course, make sure you schedule regular visits with your vet to keep up with your dog's health. If your Bordoodle puppy hasn't already been spayed or neutered, make sure to do so in line with your veterinarian's recommendations. Spaying or neutering can prevent a number of serious health conditions down the line.
What to Feed Bordoodle
Bordoodles will do well with high-quality food made for medium-sized dogs. The amount of food will depend on a number of factors, but it will probably be around 2-2.5 cups of food a day split into two meals. Since Bordoodles are active dogs, they may benefit from diets high in omega fatty acids to protect their joints. Bordoodles are moderately prone to weight gain, particularly if they aren't getting enough exercise, so be sure not to overfeed them.
Bordoodle

Grooming
Like the coat, a Bordoodle's grooming needs will depend on its similarity to its parent breeds. A Bordoodle with a border collie-like coat probably won't need much formal grooming, but it will require brushing once or twice a week. However, during shedding season, it will probably need to be brushed every day.
On the other hand, if you have a non-shedding Bordoodle, it will require a full grooming and haircut every 6-8 weeks. Without either shedding or grooming, a dog's coat can become tangled and matted, which can be uncomfortable for the dog. You can minimize grooming requirements by keeping your Bordoodle's coat short. To save money, you can also buy a pair of clippers and learn to do this yourself, though it may take some time and patience.
Finally, as with any floppy-eared dog, you'll need to clean your Bordoodle's ears regularly and check for debris or insects. Since Bordoodles are so active, their ears may become dirty and need more frequent cleaning. Regular teeth brushing and nail clipping are also essential, so get your Bordoodle used to these procedures when it's still young.
Bordoodle Breeders & Puppy Costs
If you buy from a reputable breeder, a Bordoodle puppy may cost anywhere from $700 to $5,000, though it will probably be in the $1,500-$2,500 range. This is expensive, yes, but because this is a designer dog, you need to make sure it comes from a breeder who knows what they're doing. People who get hybrid dogs are usually looking for the best qualities in each parent breed, and an experienced breeder will know how to do this. However, this experience isn't cheap. Think of it as an investment in your new best friend.
As for other costs, you'll need to factor in the things you need when you first get a dog (if you don't already have them): a collar and tags, a bed, food bowls, toys, treats, and other items. You should also plan to pay about $35-$45 a month for food and $300-$700 a year for non-emergency veterinary bills. Any dog is likely to be expensive, so make sure you budget carefully before you buy or adopt.
Is A Bordoodle Good for Family?
A Bordoodle can be a perfect pet for an active family. However, there are a few things to keep in mind. First of all, if the Bordoodle in question is an F1, it might have more border collie traits like herding and chasing. This can cause problems for small children or pets that the dog might see as prey.
Border collies are also intense, sensitive, energetic dogs, which can be a lot to handle for first-time owners or families with young children. However, you'll have less of a chance of encountering these problems with an F2, F2b, or F3 Bordoodle with more poodle lineage. Bordoodle breeders specifically seek to calm down the hyperactive nature of the border collie when choosing which dogs to mate.
Otherwise, there's no reason why an F2b Bordoodle from a responsible breeder can't be a great family dog. These are sociable, affectionate pets. However, keep in mind that they do need a good deal of exercise and playtime. If you're only looking for a pooch to cuddle on the couch, you should look into less active breeds. However, for a family that likes to play outdoors, the Bordoodle is a great choice.
Final Thoughts
Bordoodles are smart, obedient, active dogs that even a first-time owner will find easy to train. As long as you keep activity and play requirements in mind, they can adapt to a number of different living situations. They're smart enough that they may occasionally escape enclosures or outsmart their owners, but with proper training and socialization, they'll be loving pets that will play with you all afternoon and snuggle with you all evening. If this sounds like the perfect addition to your family, do some research on breeders, get your budget in order, and start looking for your new Bordoodle!
Other Poodle Mixes